Something went wrong. Wait a moment and try again.
What should be a daily routine for PhD Students? Our proven checklist
PhD is the topmost academic honor , we write this line every time in our articles, only to make you understand how serious it is. To achieve the doctoral award, one has to develop some routine habits and self-discipline throughout the tenure.
This article is not the kind of all other articles on the internet which demonstrate some common things. Here is the standard daily routine process we advise our students to follow. This work, and will work for you.
Stay tuned with this content, it will certainly change your PhD journey. 
The 7+8= 6 formula
Your daily planner, parkinson's law , balance reading, writing and research , prepare goals for a day, check the goals for the day .
Learn a single new thing every day
Do exercise
Check your computational work, and make a backup, an ideal daily routine for a phd student, wrapping up: , a daily routine for phd students: .
This one is our proven formula, trust me. Sleep for 7 hours, work for 8 hours, for all 6 days in a week. Rest is very important to reduce the burden and tension. Make sure you rest for at least 7 hours every day no matter how much workload you have.
Work for 8 hours, including your research, lectures and other academic activities. Do check your daily work amount, without failure. No matter what you do (related to your PhD), you have to work for 8 hours every single day.
This routine should be followed for six-day, and you can take a rest, party, read or walk around on Sunday. Follow the 7+8=6 formula and let me know your experience.
As a PhD student, you must have your daily planner on your PC or laptop or on your desk. The daily planner will show you your work picture for the entire month. If you don't have one, download it from here.
Make a red circle when you fail to achieve a goal or daily progress. This will make you a better researcher. Plan, roughly your work for the month and try to achieve every single objective every day.
Here is the secret formula using which you can increase productivity and do more work in less time. Parkinson's law says that work expands to the time allowed for it.
For example, if you give 5 hours to write an article, or paper or anything, you can write in 5 hours. You see your social media, and videos, and do other stuff and reach the goal. But if you give 2 hours for the same work, you can really achieve it in 2 hours.
Trust me, this is scientifically proven. Make a small goal and try to complete it in a shorter time period, put your mobile and all other activities aside and only focus on that particular piece of work.
Try it. You will love it. Remember it's Parkinson's law.
Students work only under pressure or when required. But let me tell you that you can gradually decrease your workload by managing your work from day one. Plan how much time you will give to read, write and research.
I know, at first, it looks unrealistic but it can be managed. Prepare a timetable, for example, 2 hours to search literature early before your college hours. Search sources, material or literature which possibly helps your that day's research work.
2 hours- literature review
College hours (3 to 4)- research and lab work
1 hour- enlist the results
2- read literature to correlate or justify your findings.
This should be your plan for a typical academic day. For example, let's say today you would prepare some chemical solutions for your research. So before 2 hours of your work, read what chemicals are used, and what are their roles, quantity and variation that other scientists use.
After preparing solutions, check them, note results and search what others have found. Correlate it, and find problems so that you can work seamlessly for actual experiments.
This is something less recognized but so important. Wake up early, be prepared and enlist goals for the day. What would you do in the lab? Do remember Parkinson's law and list more goals than the time allotted.
This routine will certainly help you to manage work and decrease your workload. In the long run, I bet you, you will be way ahead of your colleagues.
Now you have goals, planned how to execute them and worked. Go home and take a quick look at the goal book, and whether all goals are achieved, if you have achieved goals in time, before time or if some are left.
Also, note if some crucial goals are achieved in time or not.
Learn a single new thing every day
See, your ultimate goal is not only achieving a PhD degree, but afterward, you also have to go for a job or something else. Your degree is not the only thing required in the future. So try to learn at least a single new thing every day.
For example, a single or two new phrases, an English word or a new language. Learn MS Office or Excel, Some tools, etc.
Do yoga and meditation
Now, this is an obvious routine not only for a PhD student but also for others. Do yoga and meditation, possibly early in the morning. Yoga will strengthen your soul and inner spirit while meditation helps you to keep calm and fight depression and stress.
Again one obvious routine for everyone. If you like or not, do exercise, cardio, and physical activity and strengthen yourself. See, to achieve some serious things like a PhD, one must have been physical and mentally strong.
Do hit the gym or exercise every single day at least for 5 days a week.
Before going to sleep, take a quick look at all of your day's activity, and if required, take a backup of some data or work. Don't take backup lightly, data is everything. If you lose it, you will regret it.
When to write? 
Writing is a serious business. You have to give so much time and can't be managed in a daily routine. You have to read, understand, think and then write so it takes time. Plan to do research for 3 days and write for 3 days, on a weekly basis. 
Again, manage things by yourself, if you are at the early stage, you can give more time to research. If your work is almost done, you can give yourself more days to write.   
It's not military training, first of all, keep in mind. This is just a time management plan. You don't have to always follow this. Manage things by yourself. Remember, your ultimate goal is to achieve a PhD, managing your health, mental status, physical status and social commitments.
However, self-discipline is tough but important. So try to follow this routine at least for 6 months, regularly, if you wish or if you do not wish. Once it is in process, it becomes routine.
Our students always remain ahead of their friends and we train them to follow the routine. I hope this will help you. Be a part of our community, and subscribe to us.
Dr. Tushar Chauhan is a Scientist, Blogger and Scientific-writer. He has completed PhD in Genetics. Dr. Chauhan is a PhD coach and tutor.
Share this:
Share on Facebook
Share on Twitter
Share on Pinterest
Share on Linkedin
Share via Email
About The Author
Dr tushar chauhan, related posts, 20 amazing websites and/or resources for phd students, leave a comment cancel reply.
Your email address will not be published. Required fields are marked *
Save my name, email, and website in this browser for the next time I comment.
Notify me of follow-up comments by email.
Notify me of new posts by email.

Youth Program
Wharton Online
Wharton Stories
What to expect from a phd schedule.
Take a look at a current student's schedule and get the insider perspective from doctoral students and coordinators on what to expect from a PhD schedule.
The life of a PhD candidate can be stressful as you adjust to a rigorous academic and research schedule. Penn and Wharton offer a variety of resources to help support you in the transition to PhD life.
Wharton's sense of community offers a level of comfort when reaching out to faculty as well as fellow students to help solve problems. Doctoral students and coordinators give the insider view on what to expect from a PhD schedule.
Class and Research First
The first two years of a PhD program are mainly made up of classes and the beginning stages of research. Deborah Small , the doctoral coordinator for the Marketing program , said, "It starts with heavy duty coursework and a lot of specific requirements. At the end of your first year, there are qualifying exams on all the core marketing courses. Second year they still have a lot of coursework to do, but more of that is elective with a focus more on their interests. During those years they're expected to get started on research."
In addition to taking classes and getting started with research, the Marketing program requires students to write two papers. The first research paper is due at the end of the second year, the other is due at the end of the third year.
The Real Estate and Business Economics and Public Policy programs run like the Marketing program. Fernando Ferreira , coordinator for the programs, said, "During the first year they complete six core courses. In the second year, the focus shifts to field courses and to independent research. They have two professors advising them in that year."
After completing the main courses, students shift to conducting independent research. For REAL and BEPP students this means writing three dissertation chapters during the third and fourth years.
Time for Conferences and Seminars
Because coursework is usually completed by the second half of the program, there's time for students to attend lectures and seminars. Andrea Contigiani , a fifth year student in the Management program, said, "In my fourth year, I usually attended a seminar around lunchtime. Wharton has an incredible seminar series throughout the year, with a good seminar happening almost everyday. Occasionally, I attended other events, like MBA events or speaker series. I then go back to research for most of the afternoon."
Prof. Small said, "Students are expected to actively participate in seminars and activities. They're also encouraged to go to academic conferences and try to present their work at those conferences. It is similar to the expectations of being a faculty member, minus teaching."
Classes take up the majority of the first two years of the programs. When the focus then switches to research, you're expected to work independently. Sometimes that can be intimidating. You become your own boss, which is an adjustment from being told what to do and when to do it.
So how do you manage it? Get advice from students and coordinators.
Posted: August 4, 2017
Doctoral Programs
Matthew caulfield.
Hometown Ocean City, New Jersey
Concentration Management and Legal Studies & Business Ethics
Doctoral Stage Second Year
Typical Day at a Glance
8:30 am Wake up and get ready for the day
9:15 am Get to PhD Offices, respond to emails, check philosophy blogs and read news
10:30 am Journal article readings
11:30 am Meet with advisor
12:00 pm Attend departmental seminar speaker and lunch
1:30 pm Attend Wharton Social Impact Doctoral Community meeting
3:00 pm Attend business ethics seminar
5:00 pm Read for class
7:00 pm Meet with nonparametric statistics study group
8:00 pm Complete homework
12:00 am Go home
1:00 am Bedtime
What is your favorite part about Wharton?
First, the faculty are excellent. They are often leading experts in their fields, and they can offer advice that would be hard to find elsewhere.
Second, the other PhD students are just as passionate about research as you would hope. A huge part of my scholarly development has been due to the discussions I have had with other graduate students.
Third, the Wharton name can offer you serious advantages. In the course of research, I think industry practitioners as well as other academics have been more willing to talk or correspond with me because I am a graduate student at Wharton.
Related Content
How an MBA Student Navigated Wharton on a Pakistani Passport
Paving the Way for More Women in Real Estate
Empowering Philadelphia Youth with Improv Skills
Student Builds Friendships and Expands Career at Wharton San Francisco
How Diversity Adds Value to Wharton's EMBA Program for this Strategy Executive
Wharton PhD Candidate Explores the Downside of the Lean Startup
How This Tech Industry Expert Found Value in Wharton's MBA Program for Executives
MBA/MPA Student Reflects on What MLK's Legacy Means to Her
Wharton Welcomes Two New Majors and Concentrations: DEI and ESGB
How a Staffing Company Can Tackle Pressing Social Issues
How This Doctoral Student Is Exploring the Nexus Between Business and Brain Science
Introducing Dean Erika James
How a Passion for Solving Problems Became an Academic Career for Prof. Catherine Schrand
Prof. Arthur van Benthem Talks About the Intersection of Corporate Strategy and Government Energy Policy
A Survival Guide for Your First Term in Wharton's EMBA Program
Educational resources and simple solutions for your research journey
PhD student lifestyle: 6 Steps to create the perfect routine
Most budding academics quickly come to realize that the PhD student lifestyle and pursuing a doctorate is challenging in many ways. Life as a PhD student is very different from their earlier undergraduate or post-graduate days. Academics may start out by thinking the life of a PhD student is one which offers them a considerable amount of time. However, this fleeting illusion of having lots of leisure time soon dissipates as they find the PhD student lifestyle is more hectic than a full-time job. More than half the respondents in a Nature survey said they spent 41-60 hours a week on their PhD program, 1 including time for focused study, reading and writing.
In this article, we focus on key aspects that can help you create an effective routine to cope with PhD student lifestyles, with tips on how to manage your time and be more productive.
Table of Contents
6 Steps to create the perfect PhD routine
1. Get into a schedule: The early phase of the doctoral process is an important time for PhD students and researchers. Once you realize that you must adhere to a strict timetable to achieve your goal, the PhD student lifestyle transforms to incorporate important several elements. Some researchers take on teaching or administrative responsibilities as they proceed toward their doctoral degree. Given the various tasks expected from PhD students, it is a good idea to be flexible so that you can deal with unforeseen challenges and new tasks that crop up. Life as a PhD student is more manageable when you plan and adhere to a schedule from the beginning; this allows you to better manage unanticipated tasks without feeling overwhelmed.
2. Structure your work: A day in the life of a PhD student can vary depending on the field of study and where they are in the doctoral process. Those in the social sciences and humanities arena generally tend to spend huge amounts of time in reading and research – poring over online resources, books, journals, periodicals, and archival materials. As part of their research work, they also have to design and implement surveys and conduct interviews. PhD student lifestyles for those in science and medicine usually involves them spending time conducting experiments in laboratories, while others are tasked with supervising undergraduate and post-graduate students. Once you have a better idea of your PhD student lifestyle and routine, structure your work and allocate set times for these tasks to ensure no one activity takes up too much time.
3. Set weekly and monthly goals: Once you understand the type of tasks at hand and have a routine, it's time to start setting goals for every day in your life as a PhD student. Get yourself in the habit of using a planner (daily, weekly, monthly) to organize your PhD student lifestyle and jot down daily tasks, weekly objectives and monthly goals. Your goals could be meeting your research reading goals. polishing some essential researcher skills, or writing initial drafts of your thesis. Strive to accomplish targets listed out without compromising on related work as this can lead to delays in the life of a PhD student and sometimes an overload of stress in the short to medium term.
4. Get enough rest and sleep: The PhD student lifestyle is made up of heavy workloads and tight deadlines, which students manage by sacrificing sleep and time to rest. However, early career researchers must make sure they get a good 6-7 hours of sleep at night to be able to function optimally. Combining this sleep pattern with an 8-hour work schedule for 6 days a week is a good routine that can help optimize a PhD student's lifestyle. A lack of sleep and rest can impact how alert you are and can result in mistakes. The fatigue that generally follows a sleep-deprived schedule often leads to health issues and burnout. Therefore, it is very important for PhD students to ensure that they not only get a good night's sleep but also take frequent small breaks to stay healthy and productive.
5. Take a day off: Life as a PhD student is a challenging one and most are usually so stressed about work and looming deadlines that they drive themselves into a state of exhaustion. For a healthy PhD student lifestyle, it is imperative to avoid this so make it a must to take one day off from any kind of PhD-related work . Set aside one day in the week, perhaps a Sunday, to pursue a favorite hobby, socialize with others, or just laze around. This will ensure that your body and mind are rested and capable of taking on new and difficult challenges as you continue your journey toward your doctorate.
6. Set aside time for exercise: This is important aspect that must be incorporated into the PhD student lifestyle. It always helps to wake up early and go through your listed goals for the day. It is also important to remember to include time for physical exercise in your daily routine. Incorporating meditation and yoga or other relaxing pursuits goes a long way in boosting mental and physical well-bring and confidence in addition to improving memory retention.
Inculcating these simple habits into your PhD student lifestyle can not only help you be more productive and manage unplanned tasks better, but it will also ensure your life as a PhD student is one with a healthy work-life balance. We hope these tips help you create a perfect routine and fast-track your journey to achieving your PhD degree.
References:
Campbell M. Exploring Mental Health in Academia. Technology Networks, April 2020. https://www.technologynetworks.com/tn/articles/we-are-far-from-where-we-want-to-be-an-exploration-into-mental-health-in-academia-331273
Related Posts
How to Build a Personal Brand In Academia
6 Ways Research Societies Can Support Women in STEM

UCL Ear Institute
Typical timetable for full-time PhD student (3 ...

Typical timetable for full-time PhD student (3 Year)
Students and studentships.
Find out what our current cohort of research students are getting up to, where our past students have ended up and whether we have any Studentships currently advertised on our jobs page:
Current students
Alumni testimonials
Studentships (Jobs page)
Resources for students/supervisors
Four scheduling strategies of successful PhD students (book extract)
The ability to concentrate and do focused, cognitively-demanding work is crucial to finishing a PhD (and doing research in general). Yet, we often spend our days in emails, meetings and other busywork that does not bring us closer to completing our goal (e.g., the thesis!). How to keep the busyness at bay so that we dedicate more time to the important stuff? In this post, the first of a series based on Cal Newport's classic book Deep Work , we look at the high-level shape of a deep-worker's calendar. What are the strategies that doctoral students have successfully used to find time to advance in producing their thesis materials?
The main premise of the book is quite simple (what Newport calls his "Deep Work Hypothesis"). He argues that the ability to perform deep work is becoming increasingly rare and valuable in our (knowledge) economy. Thus, the few who cultivate this skill and make it the center of their working life, will thrive.
But let's define deep work (and its opposite, shallow work) first. These are the definitions given in the book 1 :
Deep Work : Professional activities performed in a state of distraction-free concentration that push your cognitive capabilities to their limit. These efforts create new value, improve your skill, and are hard to replicate.
Shallow Work : Noncognitively demanding, logistical-style tasks, often performed while distracted. These efforts tend to not create much new value in the world and are easy to replicate.
These two categories look distinct on the surface, but deciding whether our (PhD) tasks are deep or shallow may not be straightforward. Is this meeting with my supervisors deep work? the very important email about setting up my study participants? Newport provides a question to help us decide which bucket to put tasks in: "how long would it take (in months) to train a smart recent college graduate with no specialized training in my field to complete this task?" .
In research, those activities that ultimately generate value (i.e., our contributions to knowledge) will be, almost by definition, deep work : designing an astute experimental protocol for a study, synthesizing and connecting research papers in a literature review, deciding which analysis method to apply to our data, and performing the analyses correctly and systematically… all are deep work.
However, this is not to say that 100% of our work hours should be deep. Indeed, Newport himself posits that the brain's capacity for deep work is limited. Depending on the kind of deep work one does, four hours a day is a common sustainable quantity; six hours a day is already rare. But the key to great deep work achievements is consistency . Can we make deep work a habit ?
In my work with doctoral students (and my own doctoral period), I have seen many students that get stalled or blocked… but very rarely due to lazyness. More common is the PhD student that does not advance due to overwork … of the wrong kind of work. Too much shallow (or even deep!) admin work on thesis-unrelated projects, jobs or obligations. Conversely, students that manage to consistently make space in their calendars for deep work on the thesis materials seem to breeze through the doctorate. But how do we do that? One key underlying point in the book is that deep work takes time to get into (even if there are tricks, like rituals , to somewhat speed up this transition to deep work). Thus, not every way we organize our time and attention will be useful to carry out the considerable amounts of deep work required by a doctoral dissertation. Especially, haphazard, ad-hoc strategies defined by random external pressures on us, are likely to fail. What deep work scheduling strategies do work, then?
Scheduling Deep (probably Creative ) Work
As we have seen, doing deep research tasks (e.g., study design, data analysis, reading and synthesizing) consistently is what "moves the needle" in a doctoral dissertation. However, every person's circumstances are different: people have families, obligations, side jobs or interests, which can make the consistent and prolonged engagement in deep dissertation work difficult. Thus, if you can organize your life in a way that creates long, regular stretches of uninterrupted time for the thesis, do it (environment often trumps willpower!). If that's not an option, there are multiple paths to deep work success, as documented by Newport (and my own observation of effective doctoral students):
The Monastic strategy: Monastic PhD students have identified the most important, high-value parts of their work and just spend quite a few hours every day away from distractions, doing such deep research work. This strategy is simple: eliminate or radically minimize shallow work, obligations and distractions, so that every day is filled with deep dissertation work . As an example, I can give the first 1-2 years of my own doctoral process. I had quit my job in the industry and was living off savings; I had no children or dependents. Thus, every day I had all the time I wanted to read scholarly papers, do fieldwork related to my thesis topic, etc. Since my desk was in a lab's open floor space (with many other people and frequent interruptions), I got on the habit of frequently going to one of the university libraries (a beautiful, historic building) for long periods of time when concentration was needed. Yet, I was not completely monastic ( social support and connection are important positive factors to avoid mental health troubles): I still came back to the lab for coffee breaks, joint workouts (e.g., frontón matches), etc. I remember this period as one of the happiest of my life, a perfect balance (for my taste) between isolated focus and socialization. If you have a scholarship or other means of covering your economic needs and you have few obligations, I strongly recommend this strategy. But not everyone's life (or PhD work) is amenable to this clarity and reclusiveness…
The Bimodal strategy: Bimodalists alternate between deep, focused stretches of time (Cal notes, at least one full day) and other stretches that are more open to necessary shallow work , communication, and external inputs. We could also call this the "part-time monastic" strategy. One caveat: one probably should not spend a long time away from the thesis , as putting such a complex set of ideas and problems back again in one's head will take some time (an overhead the monastic student does not incur). This strategy is especially useful for PhDs that work in teams, or in projects that necessarily involve collaboration. One doctoral student I know is a great example of this strategy. She has many obligations (professional and family-related) aside from her doctoral studies. However, she makes use of every opportunity her university offers for stretches of several days focusing deeply into her research, paper writing, etc. She has attended (and organized) more doctoral "writing camps" (including unofficial meetups with fellow bimodalist PhD students) and research stays than any other student I know… This is not out of fancy, but rather out of necessity to get her research and publications done (while maintaining a family and another job). This strategy works as long as we can leave those other obligations aside for some days at a time (e.g., someone to cover up for childcare on the days of a deep focus stretch). But, what if we don't have the chance for such long stretches of seclusion and focus? what if we have to take care of kids or a job every day ? We then resort to…
The Rhythmic strategy: Create a daily habit (a ritual , even) of deep work (as in, undistractedly working for, at least, 90 minutes on our hard research stuff) and focusing on following this habit consistently. To keep ourselves motivated for this consistency, we could use tricks like the "Seinfeld strategy" , marking in a physical calendar every day we manage to follow our deep work ritual and aiming for (and tracking as a big number on top of it) the longest uninterrupted chain of days we did it. The key to pull this strategy off is not making the decision to work deeply – deep work is just something that happens every day at X appointed time. Full stop. Newport himself provides an example of a doctoral student using this strategy. Brian Chappell was a PhD student who became a father and decided to take on a university job while doing the thesis. After failing to put 90-min chunks ad-hoc during the day whenever he had time between family and his full-time job (the chunks just ended up not happening), he settled into waking up at 5:30am, working on the dissertation for two hours and then preparing breakfast and going to work with the dissertation work for the day already done (thus qualifying for a great application of "granny's rule" as well). Using this scheme, he finished writing his dissertation (which he had been working on for more than a year unsuccessfully) in a few months. But what if our life is so complicated that we cannot pull off this strategy either?
The Journalistic strategy: Named after the fact that some journalists use it to get their writing done on very tight deadlines, this strategy consists on shifting into deep work whenever you have some time and opportunity . By "shifting into deep work" I mean to seclude ourselves physically: close the door, shut away distractions, and type (or do whatever it is) furiously for an hour or two. This strategy is by far the trickiest to pull off, as it relies on our willpower and attention (which we know are scarce resources ) to do this shift from normal activity to deep research work. Also, it requires a certain level of competence (or confidence) at the kind of deep work we need to do : a lack of confidence in the success of a task is related with procrastination (we will find reasons to not do the deep work). Lack of confidence will also undermine concentration, leading to self-interruptions even if we shut ourselves away (see this post for a technique to counter such impulses ). Since PhD students are, almost by definition, novices at many research tasks, I do not recommend to try this strategy, unless the others above are impossible or have failed unequivocally. This one is the strategy of last resort . Looking for an example, I have to admit that no PhD student comes to mind that used this as her main strategy (but I don't know that many doctoral students). This is, however, the strategy that I find myself trying to implement currently, as a researcher and recent parent. Even if I'm quite confident as a researcher, my productivity so far has not been great. Tips that I have found useful so far include:
Have a clear plan for what is the deep task we will work on (e.g., "this week I'll work deeply on outlining and referencing my next journal paper").
Have the "deep task" ready at a moment's notice, to make the transition to deep work as smooth as possible. I use a different workspace in my laptop to have my deep work task open in full screen mode, which I can switch to with a single keystroke.
Do not multitask . If we are caring for a child that is awake (or taking a short nap), we are not using our deep, uninterrupted focus. The quality of the resulting work will show it.
When shutting ourselves off for deep work, leave our smartphone out of the room .
The image below summarizes these four scheduling strategies: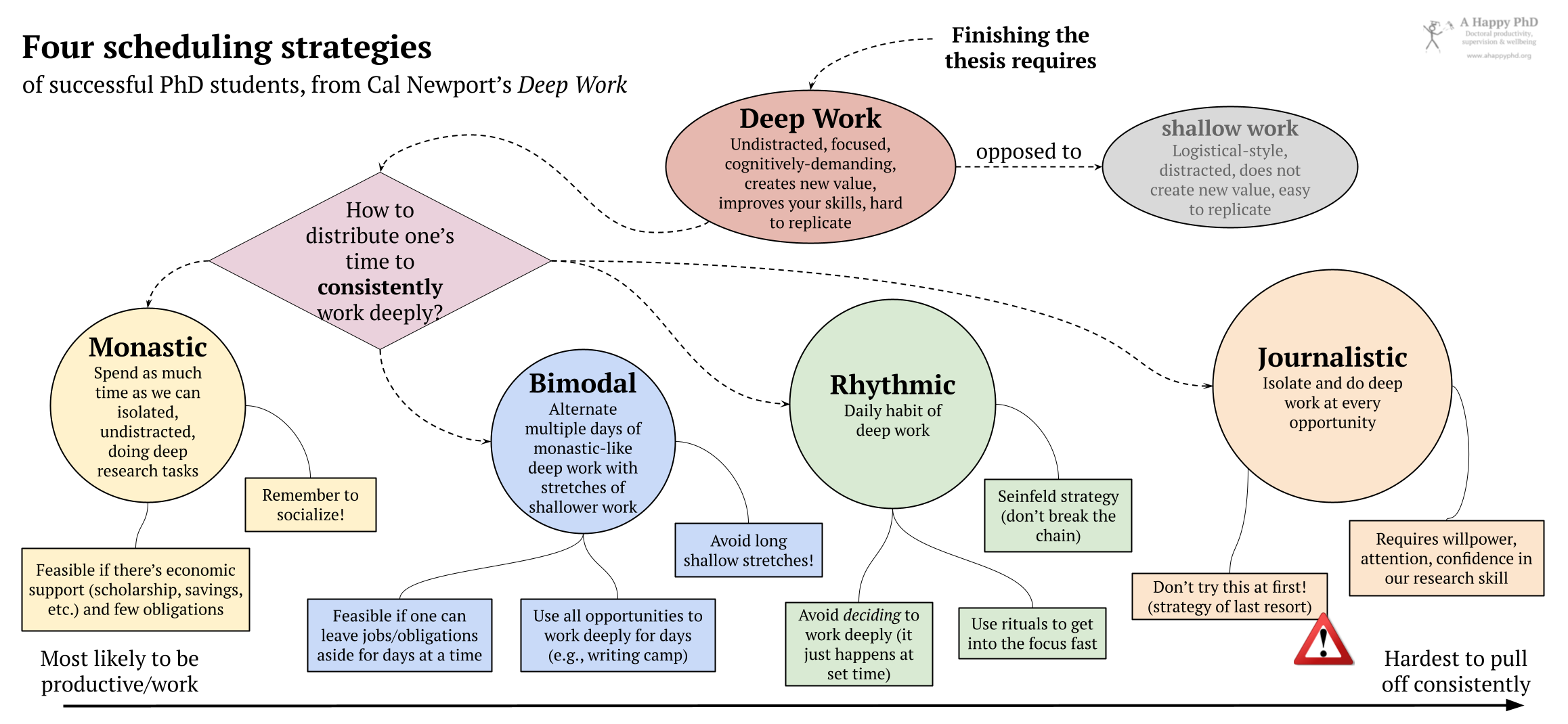 A summary of the main ideas of this post
What will your path to deep doctoral success be?
Did you try any of these strategies? Did they work? Do you have other overall strategies you use to consistently get your deep research work done? Have you successfully applied a journalistic strategy as a doctoral student? How did you do it? Let us know in the comments section below, or leave us a voice message!
Header image by rawpixel.com from PxHere .
Newport, C. (2016). Deep work: Rules for focused success in a distracted world . Hachette UK. ↩︎
Productivity
Performance
Book extract
Time management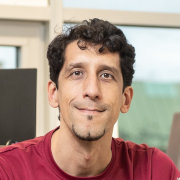 Luis P. Prieto
Luis P. is a Ramón y Cajal research fellow at the University of Valladolid (Spain), investigating learning technologies, especially learning analytics. He is also an avid learner about doctoral education and supervision, and he's the main author at the A Happy PhD blog.
Google Scholar profile