Academic Phrases for Writing Conclusion Section of a Research Paper
Overview   |   Abstract   |  Introduction  |   Literature Review  |  Materials & Methods  |  Results & Discussion  |  Conclusion & Future Work  |  Acknowledgements & Appendix
A research paper should end with a well-constructed conclusion. The conclusion is somewhat similar to the introduction. You restate your aims and objectives and summarize your main findings and evidence for the reader. You can usually do this in one paragraph with three main key points, and one strong take-home message. You should not present any new arguments in your conclusion. You can raise some open questions and set the scene for the next study. This is a good place to register your thoughts about possible future work. Try to explain to your readers what more could be done? What do you think are the next steps to take? What other questions warrant further investigation? Remember, the conclusion is the last part of the essay that your reader will see, so spend some time writing the conclusion so that you can end on a high note.
The conclusion section of your research paper should include the following:
Overall summary
Further research
1. Overall summary
The paper concludes by arguing __ On this basis, we conclude that __ The authors concluded that __ is not confined to __ This allows the conclusion that __ The findings of this study can be understood as __ This may be considered a promising aspect of __ This may be considered a further validation of __ Remaining issues are subject of __ In summary, this paper argued that __ This aspect of the research suggested that __ In conclusion, __ seems to improve __ In summary, this paper argued that __ In conclusion, it would appear that __ The analysis leads to the following conclusions: __ It is difficult to arrive at any conclusions with regard to __ The main conclusion that can be drawn is that __ The present findings confirm __ As we have argued elsewhere __ may be considered a promising aspect of __ Ideally, these findings should be replicated in a study where __ By using __ we tested the hypothesis that __ In conclusion, __ seems to improve __ Broadly translated our findings indicate that __ This is an important finding in the understanding of the __ More generally, these basic findings are consistent with research showing that __ In addition, these findings provide additional information about __ Despite the limitations these are valuable in light of __ Overall, our results demonstrate a strong effect of __ Nevertheless, we found __ To our knowledge, this is the first report of __ Our results on __ are broadly consistent with __ The broad implication of the present research is that __ This conclusion follows from the fact that __ Collectively, our results appear consistent with __ Importantly, our results provide evidence for __ Results provide a basis for __ This experiment adds to a growing corpus of research showing __ Our data indicate that __; a result that casts a new light on __ These findings provide a potential mechanism for __ We have shown that __ Our data suggest that we still have a long way to go to __
2. Future work
Future research should consider the potential effects of __ more carefully, for example __ This assumption might be addressed in future studies. Future research on __ might extend the explanations of __ This is very much the key component in future attempts to overcome __ In future work, investigating __ might prove important. This is desirable for future work. Future investigations are necessary to validate the kinds of conclusions that can be drawn from this study. Future studies could fruitfully explore this issue further by __ Future research is needed to delimitate __ It will be important that future research investigate __ It is a question of future research to investigate __ We believe that apart from looking for __, future research should look for __ Regardless, future research could continue to explore __ This is an issue for future research to explore. Future studies could investigate the association between __ Future studies should aim to replicate results in a larger __ Future research should be devoted to the development of __ This may constitute the object of future studies. Future research could examine __ Interesting research questions for future research that can be derived from __ In future research, more research is needed to apply and test __ This is an interesting topic for future work. Future research should further develop and confirm these initial findings by __ Future research should certainly further test whether __ As also recommended above, future research should __ Future research should examine strategically __ Future research might apply __ In addition, __ might prove an important area for future research. A number of recommendations for future research are given. Therefore, future research should be conducted in more realistic settings to __ Further research on __ issue is warranted. Further work is certainly required to disentangle these complexities in __ Looking forward, further attempts could prove quite beneficial to the literature. Further research is needed to confirm this novel finding. These result warrant further investigation via __ This provides a good starting point for discussion and further research. Further studies should investigate __ The possibility of __ warrants further investigation.
Similar Posts
Academic Phrases for Writing Results & Discussion Sections of a Research Paper
In this blog, we discuss phrases related to results and discussion sections such as findings, limitations, arguments, and comparison to previous studies.
Academic Phrases for Writing Methods Section of a Research Paper
In this blog, we discuss phrases related to materials and methods such as experimental setup, data collection & analysis, and statistical testing.
Academic Phrases for Writing Abstract Section of a Research Paper
In this blog, we discuss phrases related to the abstract section. An abstract is a self-contained and short synopsis that describes a larger work.
Academic Phrases for Writing Literature Review Section of a Research Paper
In this blog, we discuss phrases related to literature review such as summary of previous literature, research gap and research questions.
How to Write a Research Paper? A Beginners Guide with Useful Academic Phrases
This blog explains how to write a research paper and provides writing ideas in the form of academic phrases.
Academic Phrases for Writing Acknowledgements & Appendix Sections of a Research Paper
In this blog, we discuss phrases related to thanking colleagues, acknowledging funders and writing the appendix section.
i humbly ask for some help here……………………i am conducting a science research on water wastage in poor areas and i have also come up with some sort of like a solution to that issue now im stuck i do not know how to wrote the future research please help
Pingback: Scholarly Paraphrasing Tool and Essay Rewriter for Rewording Academic Papers - Ref-N-Write: Scientific Research Paper Writing Software Tool - Improve Academic English Writing Skills
thank you very much
Ksi k pss first five chepter ka conclusion h to plz send urgently Book ranjit Kumar research
Perfect…
Leave a Reply Cancel reply
Your email address will not be published. Required fields are marked *
Save my name, email, and website in this browser for the next time I comment.
Conclusions
What this handout is about.
This handout will explain the functions of conclusions, offer strategies for writing effective ones, help you evaluate conclusions you've drafted, and suggest approaches to avoid.
About conclusions
Introductions and conclusions can be difficult to write, but they're worth investing time in. They can have a significant influence on a reader's experience of your paper.
Just as your introduction acts as a bridge that transports your readers from their own lives into the "place" of your analysis, your conclusion can provide a bridge to help your readers make the transition back to their daily lives. Such a conclusion will help them see why all your analysis and information should matter to them after they put the paper down.
Your conclusion is your chance to have the last word on the subject. The conclusion allows you to have the final say on the issues you have raised in your paper, to synthesize your thoughts, to demonstrate the importance of your ideas, and to propel your reader to a new view of the subject. It is also your opportunity to make a good final impression and to end on a positive note.
Your conclusion can go beyond the confines of the assignment. The conclusion pushes beyond the boundaries of the prompt and allows you to consider broader issues, make new connections, and elaborate on the significance of your findings.
Your conclusion should make your readers glad they read your paper. Your conclusion gives your reader something to take away that will help them see things differently or appreciate your topic in personally relevant ways. It can suggest broader implications that will not only interest your reader, but also enrich your reader's life in some way. It is your gift to the reader.
Strategies for writing an effective conclusion
One or more of the following strategies may help you write an effective conclusion:
Play the "So What" Game. If you're stuck and feel like your conclusion isn't saying anything new or interesting, ask a friend to read it with you. Whenever you make a statement from your conclusion, ask the friend to say, "So what?" or "Why should anybody care?" Then ponder that question and answer it. Here's how it might go: You: Basically, I'm just saying that education was important to Douglass. Friend: So what? You: Well, it was important because it was a key to him feeling like a free and equal citizen. Friend: Why should anybody care? You: That's important because plantation owners tried to keep slaves from being educated so that they could maintain control. When Douglass obtained an education, he undermined that control personally. You can also use this strategy on your own, asking yourself "So What?" as you develop your ideas or your draft.
Return to the theme or themes in the introduction. This strategy brings the reader full circle. For example, if you begin by describing a scenario, you can end with the same scenario as proof that your essay is helpful in creating a new understanding. You may also refer to the introductory paragraph by using key words or parallel concepts and images that you also used in the introduction.
Synthesize, don't summarize. Include a brief summary of the paper's main points, but don't simply repeat things that were in your paper. Instead, show your reader how the points you made and the support and examples you used fit together. Pull it all together.
Include a provocative insight or quotation from the research or reading you did for your paper.
Propose a course of action, a solution to an issue, or questions for further study. This can redirect your reader's thought process and help her to apply your info and ideas to her own life or to see the broader implications.
Point to broader implications. For example, if your paper examines the Greensboro sit-ins or another event in the Civil Rights Movement, you could point out its impact on the Civil Rights Movement as a whole. A paper about the style of writer Virginia Woolf could point to her influence on other writers or on later feminists.
Strategies to avoid
Beginning with an unnecessary, overused phrase such as "in conclusion," "in summary," or "in closing." Although these phrases can work in speeches, they come across as wooden and trite in writing.
Stating the thesis for the very first time in the conclusion.
Introducing a new idea or subtopic in your conclusion.
Ending with a rephrased thesis statement without any substantive changes.
Making sentimental, emotional appeals that are out of character with the rest of an analytical paper.
Including evidence (quotations, statistics, etc.) that should be in the body of the paper.
Four kinds of ineffective conclusions
The "That's My Story and I'm Sticking to It" Conclusion. This conclusion just restates the thesis and is usually painfully short. It does not push the ideas forward. People write this kind of conclusion when they can't think of anything else to say. Example: In conclusion, Frederick Douglass was, as we have seen, a pioneer in American education, proving that education was a major force for social change with regard to slavery.
The "Sherlock Holmes" Conclusion. Sometimes writers will state the thesis for the very first time in the conclusion. You might be tempted to use this strategy if you don't want to give everything away too early in your paper. You may think it would be more dramatic to keep the reader in the dark until the end and then "wow" him with your main idea, as in a Sherlock Holmes mystery. The reader, however, does not expect a mystery, but an analytical discussion of your topic in an academic style, with the main argument (thesis) stated up front. Example: (After a paper that lists numerous incidents from the book but never says what these incidents reveal about Douglass and his views on education): So, as the evidence above demonstrates, Douglass saw education as a way to undermine the slaveholders' power and also an important step toward freedom.
The "America the Beautiful"/"I Am Woman"/"We Shall Overcome" Conclusion. This kind of conclusion usually draws on emotion to make its appeal, but while this emotion and even sentimentality may be very heartfelt, it is usually out of character with the rest of an analytical paper. A more sophisticated commentary, rather than emotional praise, would be a more fitting tribute to the topic. Example: Because of the efforts of fine Americans like Frederick Douglass, countless others have seen the shining beacon of light that is education. His example was a torch that lit the way for others. Frederick Douglass was truly an American hero.
The "Grab Bag" Conclusion. This kind of conclusion includes extra information that the writer found or thought of but couldn't integrate into the main paper. You may find it hard to leave out details that you discovered after hours of research and thought, but adding random facts and bits of evidence at the end of an otherwise-well-organized essay can just create confusion. Example: In addition to being an educational pioneer, Frederick Douglass provides an interesting case study for masculinity in the American South. He also offers historians an interesting glimpse into slave resistance when he confronts Covey, the overseer. His relationships with female relatives reveal the importance of family in the slave community.
Works consulted
We consulted these works while writing this handout. This is not a comprehensive list of resources on the handout's topic, and we encourage you to do your own research to find additional publications. Please do not use this list as a model for the format of your own reference list, as it may not match the citation style you are using. For guidance on formatting citations, please see the UNC Libraries citation tutorial . We revise these tips periodically and welcome feedback.
Douglass, Frederick. 1995. Narrative of the Life of Frederick Douglass, an American Slave, Written by Himself. New York: Dover.
Hamilton College. n.d. "Conclusions." Writing Center. Accessed June 14, 2019. https://www.hamilton.edu//academics/centers/writing/writing-resources/conclusions .
Holewa, Randa. 2004. "Strategies for Writing a Conclusion." LEO: Literacy Education Online. Last updated February 19, 2004. https://leo.stcloudstate.edu/acadwrite/conclude.html.
Make a Gift
Purdue Online Writing Lab Purdue OWL® College of Liberal Arts
Conclusions

Welcome to the Purdue OWL
This page is brought to you by the OWL at Purdue University. When printing this page, you must include the entire legal notice.
Copyright ©1995-2018 by The Writing Lab & The OWL at Purdue and Purdue University. All rights reserved. This material may not be published, reproduced, broadcast, rewritten, or redistributed without permission. Use of this site constitutes acceptance of our terms and conditions of fair use.
This resource outlines the generally accepted structure for introductions, body paragraphs, and conclusions in an academic argument paper. Keep in mind that this resource contains guidelines and not strict rules about organization. Your structure needs to be flexible enough to meet the requirements of your purpose and audience.
Conclusions wrap up what you have been discussing in your paper. After moving from general to specific information in the introduction and body paragraphs, your conclusion should begin pulling back into more general information that restates the main points of your argument. Conclusions may also call for action or overview future possible research. The following outline may help you conclude your paper:
In a general way,
Restate your topic and why it is important,
Restate your thesis/claim,
Address opposing viewpoints and explain why readers should align with your position,
Call for action or overview future research possibilities.
Remember that once you accomplish these tasks, unless otherwise directed by your instructor, you are finished. Done. Complete. Don't try to bring in new points or end with a whiz bang(!) conclusion or try to solve world hunger in the final sentence of your conclusion. Simplicity is best for a clear, convincing message.
The preacher's maxim is one of the most effective formulas to follow for argument papers:
Tell what you're going to tell them (introduction).
Tell them (body).
Tell them what you told them (conclusion).
Link to facebook
Link to linkedin
Link to twitter
Link to youtube
Writing Tips
5 Examples of Concluding Words for Essays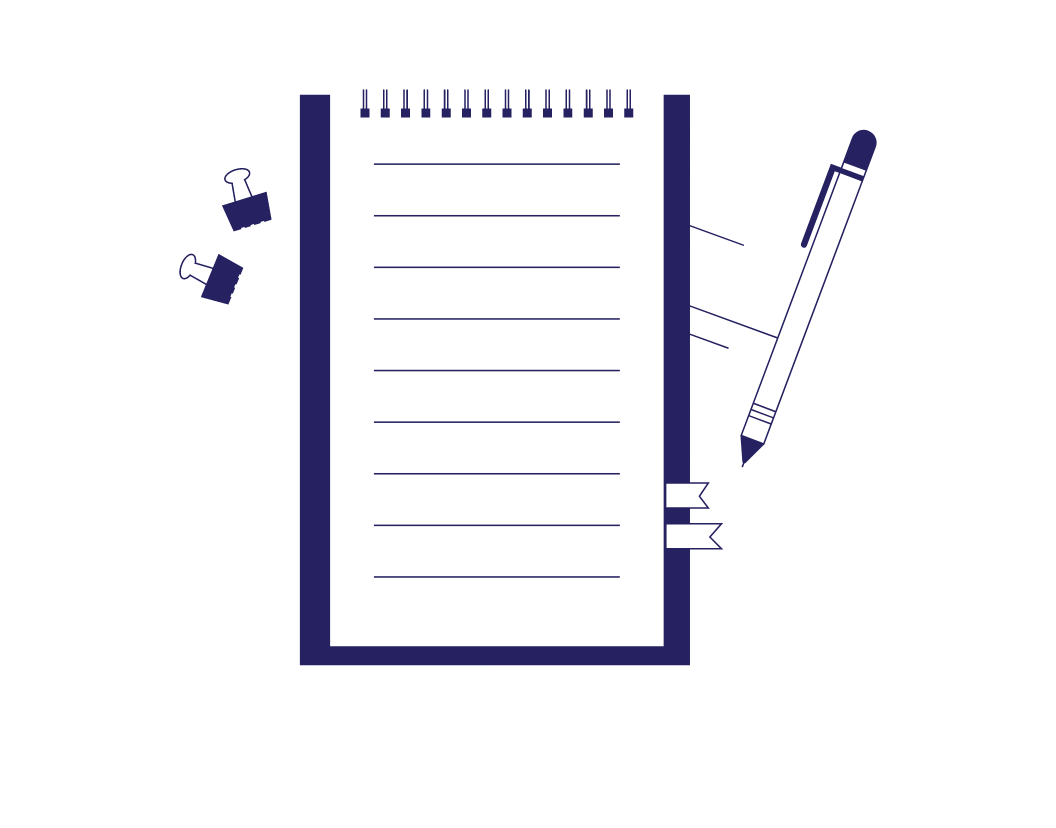 4-minute read
If you're a student writing an essay or research paper, it's important to make sure your points flow together well. You'll want to use connecting words (known formally as transition signals) to do this. Transition signals like thus , also , and furthermore link different ideas, and when you get to the end of your work, you need to use these to mark your conclusion. Read on to learn more about transition signals and how to use them to conclude your essays.
Transition Signals
Transition signals link sentences together cohesively, enabling easy reading and comprehension. They are usually placed at the beginning of a sentence and separated from the remaining words with a comma. There are several types of transition signals, including those to:
● show the order of a sequence of events (e.g., first, then, next)
● introduce an example (e.g., specifically, for instance)
● indicate a contrasting idea (e.g., but, however, although)
● present an additional idea (e.g., also, in addition, plus)
● indicate time (e.g., beforehand, meanwhile, later)
● compare (e.g., likewise, similarly)
● show cause and effect (e.g., thus, as a result)
● mark the conclusion – which we'll focus on in this guide.
When you reach the end of an essay, you should start the concluding paragraph with a transition signal that acts as a bridge to the summary of your key points. Check out some concluding transition signals below and learn how you can use them in your writing.
To Conclude…
This is a particularly versatile closing statement that can be used for almost any kind of essay, including both formal and informal academic writing. It signals to the reader that you will briefly restate the main idea. As an alternative, you can begin the summary with "to close" or "in conclusion." In an argumentative piece, you can use this phrase to indicate a call to action or opinion:
To conclude, Abraham Lincoln was the best president because he abolished slavery.
Find this useful?
Subscribe to our newsletter and get writing tips from our editors straight to your inbox.
As Has Been Demonstrated…
To describe how the evidence presented in your essay supports your argument or main idea, begin the concluding paragraph with "as has been demonstrated." This phrase is best used for research papers or articles with heavy empirical or statistical evidence.
As has been demonstrated by the study presented above, human activities are negatively altering the climate system.
The Above Points Illustrate…
As another transitional phrase for formal or academic work, "the above points illustrate" indicates that you are reiterating your argument and that the conclusion will include an assessment of the evidence you've presented.
The above points illustrate that children prefer chocolate over broccoli.
In a Nutshell…
A simple and informal metaphor to begin a conclusion, "in a nutshell" prepares the reader for a summary of your paper. It can work in narratives and speeches but should be avoided in formal situations.
In a nutshell, the Beatles had an impact on musicians for generations to come.
Overall, It Can Be Said…
To recap an idea at the end of a critical or descriptive essay, you can use this phrase at the beginning of the concluding paragraph. "Overall" means "taking everything into account," and it sums up your essay in a formal way. You can use "overall" on its own as a transition signal, or you can use it as part of a phrase.
Overall, it can be said that art has had a positive impact on humanity.
Proofreading and Editing
Transition signals are crucial to crafting a well-written and cohesive essay. For your next writing assignment, make sure you include plenty of transition signals, and check out this post for more tips on how to improve your writing. And before you turn in your paper, don't forget to have someone proofread your work. Our expert editors will make sure your essay includes all the transition signals necessary for your writing to flow seamlessly. Send in a free 500-word sample today!
Share this article:
Post A New Comment
Get help from a language expert. Try our proofreading services for free.
9-minute read
A Student's Guide to Finding Quality Sources for Essays
So, you've been assigned your first college essay. You need to write at least a...
2-minute read
Punctuation Tips: When to Use a Colon vs. a Semicolon
Colons and semicolons are two of the most misunderstood punctuation marks in written language. Although...
6-minute read
How to Choose the Best Keywords for Your Research Paper
After writing a research paper, you will want others to find your research online. But...
5-minute read
Referencing Translated Sources (APA, MLA, and Chicago) [Updated 2023]
If you're citing a translated source in your research paper or essay, it's important to...
How to Capitalize a Book's Title in a Citation (APA, MLA, and Chicago)
A properly capitalized reference list that is aligned with your style guide is a vital...
How to Write a Thesis Statement for a Research Paper
A strong thesis statement is the foundation of a successful research paper. The thesis gives...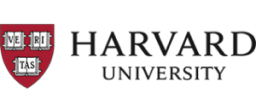 Make sure your writing is the best it can be with our expert English proofreading and editing.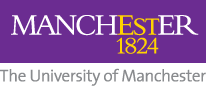 Academic Phrasebank
Writing conclusions.
GENERAL LANGUAGE FUNCTIONS
Being cautious
Being critical
Classifying and listing
Compare and contrast
Defining terms
Describing trends
Describing quantities
Explaining causality
Giving examples
Signalling transition
Writing about the past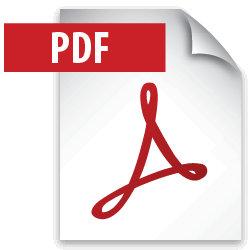 Writing conclusions
Conclusions are shorter sections of academic texts which usually serve two functions. The first is to summarise and bring together the main areas covered in the writing, which might be called 'looking back'; and the second is to give a final comment or judgement on this. The final comment may also include making suggestions for improvement and speculating on future directions.
In dissertations and research papers, conclusions tend to be more complex and will also include sections on the significance of the findings and recommendations for future work. Conclusions may be optional in research articles where consolidation of the study and general implications are covered in the Discussion section. However, they are usually expected in dissertations and essays.
Restating the aims of the study
This study set out to … This paper has argued that … This essay has discussed the reasons for … In this investigation, the aim was to assess … The aim of the present research was to examine … The purpose of the current study was to determine … The main goal of the current study was to determine … This project was undertaken to design … and evaluate … The present study was designed to determine the effect of … The second aim of this study was to investigate the effects of …
Summarising main research findings
This study has identified … The research has also shown that … The second major finding was that … These experiments confirmed that … X made no significant difference to … This study has found that generally … The investigation of X has shown that … The results of this investigation show that … X, Y and Z emerged as reliable predictors of … The most obvious finding to emerge from this study is that … The relevance of X is clearly supported by the current findings. One of the more significant findings to emerge from this study is that …
Suggesting implications for the field of knowledge
The results of this study indicate that … These findings suggest that in general … The findings of this study suggest that … Taken together, these results suggest that … An implication of this is the possibility that … The evidence from this study suggests that … Overall, this study strengthens the idea that … The current data highlight the importance of … The findings of this research provide insights for …
The results of this research support the idea that … These data suggest that X can be achieved through … The theoretical implications of these findings are unclear. The principal theoretical implication of this study is that … This study has raised important questions about the nature of … Taken together, these findings suggest a role for X in promoting Y. The findings of this investigation complement those of earlier studies. These findings have significant implications for the understanding of how … Although this study focuses on X, the findings may well have a bearing on …
Explaining the significance of the findings or contribution of the study
The findings will be of interest to … This thesis has provided a deeper insight into … The findings reported here shed new light on … The study contributes to our understanding of … These results add to the rapidly expanding field of … The contribution of this study has been to confirm … Before this study, evidence of X was purely anecdotal. This project is the first comprehensive investigation of … The insights gained from this study may be of assistance to … This work contributes to existing knowledge of X by providing …
Prior to this study it was difficult to make predictions about how … The analysis of X undertaken here, has extended our knowledge of … The empirical findings in this study provide a new understanding of … This paper contributes to recent historiographical debates concerning … This approach will prove useful in expanding our understanding of how … This new understanding should help to improve predictions of the impact of … The methods used for this X may be applied to other Xs elsewhere in the world. The X that we have identified therefore assists in our understanding of the role of … This is the first study of substantial duration which examines associations between … The findings from this study make several contributions to the current literature. First,…
Recognising the limitations of the current study
A limitation of this study is that … Being limited to X, this study lacks … The small sample size did not allow … The major limitation of this study is the … This study was limited by the absence of … X makes these findings less generalisable to … Thirdly, the study did not evaluate the use of … It is unfortunate that the study did not include … The scope of this study was limited in terms of …
The study is limited by the lack of information on … The most important limitation lies in the fact that … The main weakness of this study was the paucity of … Since the study was limited to X, it was not possible to .. An additional uncontrolled factor is the possibility that … It was not possible to assess X; therefore, it is unknown if … An issue that was not addressed in this study was whether… The generalisability of these results is subject to certain limitations. For instance, … One source of weakness in this study which could have affected the measurements of X was …
Acknowledging limitation(s) whilst stating a finding or contribution
Notwithstanding these limitations, the study suggests that … Whilst this study did not confirm X, it did partially substantiate … Despite its exploratory nature, this study offers some insight into … In spite of its limitations, the study certainly adds to our understanding of the … Notwithstanding the relatively limited sample, this work offers valuable insights into … Although the current study is based on a small sample of participants, the findings suggest …
Making recommendations for further research work
Future studies should… The question raised by this study is … The study should be repeated using … This would be a fruitful area for further work. Several questions still remain to be answered. A natural progression of this work is to analyse … More research using controlled trials is needed to … More broadly, research is also needed to determine … A further study could assess the long-term effects of … What is now needed is a cross-national study involving …
Considerably more work will need to be done to determine … The precise mechanism of X in plants remains to be elucidated. These findings provide the following insights for future research: … Large randomised controlled trials could provide more definitive evidence. This research has thrown up many questions in need of further investigation. A greater focus on X could produce interesting findings that account more for … The issue of X is an intriguing one which could be usefully explored in further research. If the debate is to be moved forward, a better understanding of X needs to be developed. I suggest that before X is introduced, a study similar to this one should be carried out on … More information on X would help us to establish a greater degree of accuracy on this matter.
Setting out recommendations for practice or policy
Other types of X could include: a), b). … There is, therefore, a definite need for … Greater efforts are needed to ensure … Provision of X will enhance Y and reduce Z. Another important practical implication is that … Moreover, more X should be made available to … The challenge now is to fabricate Xs that contain … Unless governments adopt X, Y will not be attained. These findings suggest several courses of action for … A reasonable approach to tackle this issue could be to …
Continued efforts are needed to make X more accessible to … The findings of this study have a number of practical implications. There are a number of important changes which need to be made. Management to enhance bumble-bee populations might involve … This study suggests that X should be avoided by people who are prone to … A key policy priority should therefore be to plan for the long-term care of … This information can be used to develop targetted interventions aimed at … Taken together, these findings do not support strong recommendations to … Ensuring appropriate systems, services and support for X should be a priority for … The findings of this study have a number of important implications for future practice.
+44 (0) 161 306 6000
The University of Manchester Oxford Rd Manchester M13 9PL UK
Connect With Us

The University of Manchester
Accessibility links
Skip to content
Accessibility Help
How to write a conclusion to an essay
Which do you think count more: first impressions or last impressions?
A conclusion is the last impression that a reader will have of your essay: make it count!
Introduction to writing a conclusion
A conclusion is the final idea left with the reader at the end of an essay. Without it, an essay would be unfinished and unfocused.
A conclusion should link back to the essay question and briefly restate your main points drawing all your thoughts and ideas together so that they make sense and create a strong final impression.
A conclusion often includes a final thought or reflection to highlight the significance of the topic . It is usually a short paragraph.
Video about how to reflect on your main points in a conclusion
Reflecting on the argument.
Before you write your conclusion, it is a good idea for you to look again at your ideas in the essay. It can be particularly useful to re-read your introduction and think about what you have realised and explored as you wrote the essay. Your conclusion can then sum up what you have understood more deeply about the literature text and the essay topic.
If you think of your essay as a type of argument, persuading the reader to a particular point of view, then the conclusion can be a powerful way of bringing together the most important aspects of your argument.
Which of these statements is not true?
a) A conclusion brings together lots of new ideas to interest the reader.
b) A conclusion brings together the ideas already discussed in the essay.
c) A conclusion is important because it brings together what you understand about the text and topic.
Answer a) A conclusion is not the moment to introduce new ideas!
Drawing your essay to a close
Link back to the question.
Keep your conclusion focused by linking back to the question, title, statement or topic of the essay. This can be achieved by using key words from the essay question. For example:
Why is Jack an important character in the novel Lord of the Flies ?
In conclusion, the character of Jack is important because he represents the violent side of human nature in the novel.
Summarise the main points
In the conclusion, you should not simply repeat what you have said in the rest of the essay, but aim to reinforce these key ideas by briefly summarising your main points. One way to do this is to look back at all the topic sentences from the paragraphs in your essay and bring them together:
In conclusion, the character of Jack is important because he symbolises violence and savagery in the novel. His desire for power and increasing bloodlust represent the negative side of human nature. He is a charismatic character who is feared by the other boys on the island. He therefore acts as an important contrast to the character of Ralph.
Your conclusion should leave the reader thinking about the significance of the whole topic. So, in a literature essay, it is a good idea to include a final thought or reflection, perhaps one that looks forward, or outwards from the novel. For example:
At the end of the novel Jack's reign of terror ends with the arrival of the British Naval Officer and this perhaps leaves the reader with some sense of optimism that human beings can change for the better when they are no longer frightened and under the power of an evil leader.
Which links back to the question?
Which of the following concluding sentences clearly links back to this question: How is the character important in the novel?
a) In the novel, the main character changes from being selfish and angry to being caring and happy. b) Overall, this character is important in the novel because they learn the most important life lesson: look after others not just yourself. c) The novel is a ghost story and the sinister setting of the orphanage adds to the horror.
Answer: b) 'Overall, this character is important in the novel because they learn the most important life lesson: look after others not just yourself.' Key words in the title 'character' and 'important' have been used to link the conclusion back to the essay question.
Useful sentence starters
You could use one of the following sentence starters to signal to the reader that you are concluding the essay:
In conclusion…
In summary…
What to avoid
Avoid including any new points or ideas.
Avoid making your conclusion too long.
Avoid lots of repetition.
The conclusion is an important way to wrap up your ideas. Without a conclusion, your writing may seem unfinished or your overall aim may not be clear. The conclusion is your final chance to leave an impression on the reader.
Test your knowledge
Writing in response to fiction, how to use evidence from a text, how to write an essay, how to write an introduction to an essay.
Have a language expert improve your writing
Run a free plagiarism check in 10 minutes, generate accurate citations for free.
Knowledge Base
Research paper
Writing a Research Paper Conclusion | Step-by-Step Guide
Published on October 30, 2022 by Jack Caulfield . Revised on April 13, 2023.
Restate the problem statement addressed in the paper
Summarize your overall arguments or findings
Suggest the key takeaways from your paper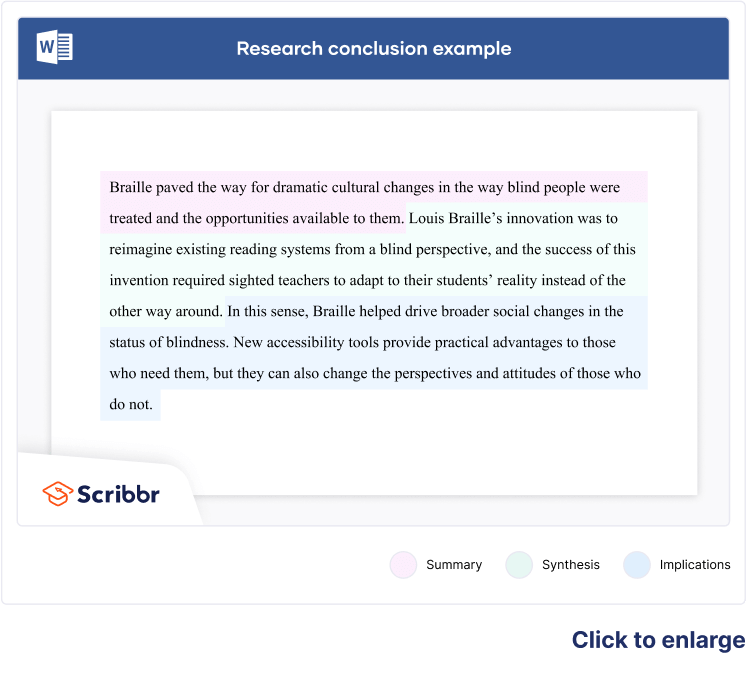 The content of the conclusion varies depending on whether your paper presents the results of original empirical research or constructs an argument through engagement with sources .
Table of contents
Step 1: restate the problem, step 2: sum up the paper, step 3: discuss the implications, research paper conclusion examples, frequently asked questions about research paper conclusions.
The first task of your conclusion is to remind the reader of your research problem . You will have discussed this problem in depth throughout the body, but now the point is to zoom back out from the details to the bigger picture.
While you are restating a problem you've already introduced, you should avoid phrasing it identically to how it appeared in the introduction . Ideally, you'll find a novel way to circle back to the problem from the more detailed ideas discussed in the body.
For example, an argumentative paper advocating new measures to reduce the environmental impact of agriculture might restate its problem as follows:
Meanwhile, an empirical paper studying the relationship of Instagram use with body image issues might present its problem like this:
"In conclusion …"
Avoid starting your conclusion with phrases like "In conclusion" or "To conclude," as this can come across as too obvious and make your writing seem unsophisticated. The content and placement of your conclusion should make its function clear without the need for additional signposting.
What can proofreading do for your paper?
Scribbr editors not only correct grammar and spelling mistakes, but also strengthen your writing by making sure your paper is free of vague language, redundant words, and awkward phrasing.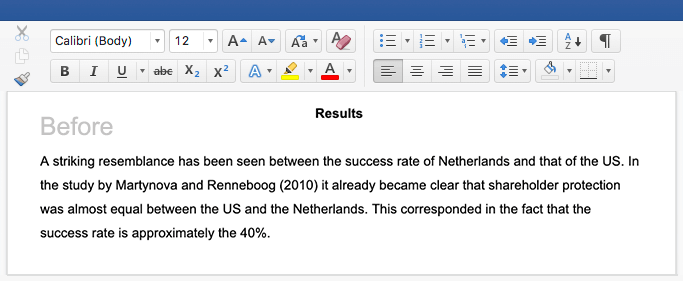 See editing example
Having zoomed back in on the problem, it's time to summarize how the body of the paper went about addressing it, and what conclusions this approach led to.
Depending on the nature of your research paper, this might mean restating your thesis and arguments, or summarizing your overall findings.
Argumentative paper: Restate your thesis and arguments
In an argumentative paper, you will have presented a thesis statement in your introduction, expressing the overall claim your paper argues for. In the conclusion, you should restate the thesis and show how it has been developed through the body of the paper.
Briefly summarize the key arguments made in the body, showing how each of them contributes to proving your thesis. You may also mention any counterarguments you addressed, emphasizing why your thesis holds up against them, particularly if your argument is a controversial one.
Don't go into the details of your evidence or present new ideas; focus on outlining in broad strokes the argument you have made.
Empirical paper: Summarize your findings
In an empirical paper, this is the time to summarize your key findings. Don't go into great detail here (you will have presented your in-depth results and discussion already), but do clearly express the answers to the research questions you investigated.
Describe your main findings, even if they weren't necessarily the ones you expected or hoped for, and explain the overall conclusion they led you to.
Having summed up your key arguments or findings, the conclusion ends by considering the broader implications of your research. This means expressing the key takeaways, practical or theoretical, from your paper—often in the form of a call for action or suggestions for future research.
Argumentative paper: Strong closing statement
An argumentative paper generally ends with a strong closing statement. In the case of a practical argument, make a call for action: What actions do you think should be taken by the people or organizations concerned in response to your argument?
If your topic is more theoretical and unsuitable for a call for action, your closing statement should express the significance of your argument—for example, in proposing a new understanding of a topic or laying the groundwork for future research.
Empirical paper: Future research directions
In a more empirical paper, you can close by either making recommendations for practice (for example, in clinical or policy papers), or suggesting directions for future research.
Whatever the scope of your own research, there will always be room for further investigation of related topics, and you'll often discover new questions and problems during the research process .
Finish your paper on a forward-looking note by suggesting how you or other researchers might build on this topic in the future and address any limitations of the current paper.
Full examples of research paper conclusions are shown in the tabs below: one for an argumentative paper, the other for an empirical paper.
Argumentative paper
Empirical paper
While the role of cattle in climate change is by now common knowledge, countries like the Netherlands continually fail to confront this issue with the urgency it deserves. The evidence is clear: To create a truly futureproof agricultural sector, Dutch farmers must be incentivized to transition from livestock farming to sustainable vegetable farming. As well as dramatically lowering emissions, plant-based agriculture, if approached in the right way, can produce more food with less land, providing opportunities for nature regeneration areas that will themselves contribute to climate targets. Although this approach would have economic ramifications, from a long-term perspective, it would represent a significant step towards a more sustainable and resilient national economy. Transitioning to sustainable vegetable farming will make the Netherlands greener and healthier, setting an example for other European governments. Farmers, policymakers, and consumers must focus on the future, not just on their own short-term interests, and work to implement this transition now.
As social media becomes increasingly central to young people's everyday lives, it is important to understand how different platforms affect their developing self-conception. By testing the effect of daily Instagram use among teenage girls, this study established that highly visual social media does indeed have a significant effect on body image concerns, with a strong correlation between the amount of time spent on the platform and participants' self-reported dissatisfaction with their appearance. However, the strength of this effect was moderated by pre-test self-esteem ratings: Participants with higher self-esteem were less likely to experience an increase in body image concerns after using Instagram. This suggests that, while Instagram does impact body image, it is also important to consider the wider social and psychological context in which this usage occurs: Teenagers who are already predisposed to self-esteem issues may be at greater risk of experiencing negative effects. Future research into Instagram and other highly visual social media should focus on establishing a clearer picture of how self-esteem and related constructs influence young people's experiences of these platforms. Furthermore, while this experiment measured Instagram usage in terms of time spent on the platform, observational studies are required to gain more insight into different patterns of usage—to investigate, for instance, whether active posting is associated with different effects than passive consumption of social media content.
If you're unsure about the conclusion, it can be helpful to ask a friend or fellow student to read your conclusion and summarize the main takeaways.
Do they understand from your conclusion what your research was about?
Are they able to summarize the implications of your findings?
Can they answer your research question based on your conclusion?
You can also get an expert to proofread and feedback your paper with a paper editing service .
Scribbr Citation Checker New
The AI-powered Citation Checker helps you avoid common mistakes such as:
Missing commas and periods
Incorrect usage of "et al."
Ampersands (&) in narrative citations
Missing reference entries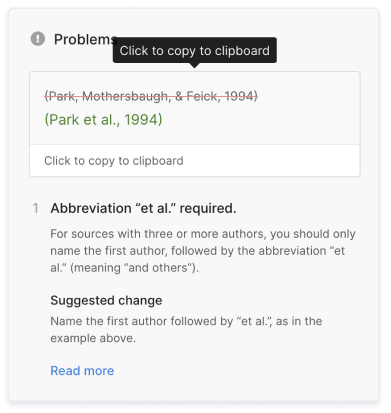 The conclusion of a research paper has several key elements you should make sure to include:
A restatement of the research problem
A summary of your key arguments and/or findings
A short discussion of the implications of your research
No, it's not appropriate to present new arguments or evidence in the conclusion . While you might be tempted to save a striking argument for last, research papers follow a more formal structure than this.
All your findings and arguments should be presented in the body of the text (more specifically in the results and discussion sections if you are following a scientific structure). The conclusion is meant to summarize and reflect on the evidence and arguments you have already presented, not introduce new ones.
Cite this Scribbr article
If you want to cite this source, you can copy and paste the citation or click the "Cite this Scribbr article" button to automatically add the citation to our free Citation Generator.
Caulfield, J. (2023, April 13). Writing a Research Paper Conclusion | Step-by-Step Guide. Scribbr. Retrieved August 30, 2023, from https://www.scribbr.com/research-paper/research-paper-conclusion/
Is this article helpful?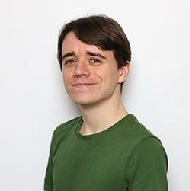 Jack Caulfield
Other students also liked, writing a research paper introduction | step-by-step guide, how to create a structured research paper outline | example, checklist: writing a great research paper.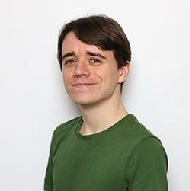 Jack Caulfield (Scribbr Team)
Thanks for reading! Hope you found this article helpful. If anything is still unclear, or if you didn't find what you were looking for here, leave a comment and we'll see if we can help.
Still have questions?
What is your plagiarism score.
39 Different Ways to Say 'In Conclusion' in an Essay (Rated)
The phrase "In conclusion …" sounds reductive, simple and … well, just basic.
You can find better words to conclude an essay than that!
So below I've outlined a list of different ways to say in conclusion in an essay using a range of analysis verbs . Each one comes with an explanation of the best time to use each phrase and an example you could consider.
Read Also: How to Write a Conclusion using the 5C's Method
List of Ways to Say 'In Conclusion' in an Essay
The following are the best tips I have for to say in conclusion in an essay.
1. The Weight of the Evidence Suggests…
My Rating: 10/10
Overview: This is a good concluding phrase for an evaluative essay where you need to compare two different positions on a topic then conclude by saying which one has more evidence behind it than the other.
You could also use this phrase for argumentative essays where you've put forward all the evidence for your particular case.
Example: "The weight of the evidence suggests that climate change is a real phenomenon."
2. A Thoughtful Analysis would Conclude…
My Rating: 9/10
Overview: I would use this phrase in either an argumentative essay or a comparison essay. As an argument, it highlights that you think your position is the most logical.
In a comparison essay, it shows that you have (or have intended to) thoughtfully explore the issue by looking at both sides.
Example: "A thoughtful analysis would conclude that there is substantial evidence highlighting that climate change is real."
Related Article: 17+ Great Ideas For An Essay About Yourself
3. A Balanced Assessment of the Above Information…
Overview: This phrase can be used to show that you have made a thoughtful analysis of the information you found when researching the essay. You're telling your teacher with this phrase that you have looked at all sides of the argument before coming to your conclusion.
Example: "A balanced assessment of the above information would be that climate change exists and will have a strong impact on the world for centuries to come."
4. Across the Board…
My Rating: 5/10
Overview: I would use this phrase in a less formal context such as in a creative discussion but would leave it out of a formal third-person essay. To me, the phrase comes across as too colloquial.
Example: "Across the board, there are scientists around the world who consistently provide evidence for human-induced climate change."
5. Logically…
My Rating: 7/10
Overview: This phrase can be used at the beginning of any paragraph that states out a series of facts that will be backed by clear step-by-step explanations that the reader should be able to follow to a conclusion.
Example: "Logically, the rise of the automobile would speed up economic expansion in the United States. Automobiles allowed goods to flow faster around the economy.
6. After all is Said and Done…
Overview: This is a colloquial term that is more useful in a speech than written text. If you feel that the phrase 'In conclusion,' is too basic, then I'd also avoid this term. However, use in speech is common, so if you're giving a speech, it may be more acceptable.
Example: "After all is said and done, it's clear that there is more evidence to suggest that climate change is real than a hoax."
7. All in All…
Overview: 'All in all' is a colloquial term that I would use in speech but not in formal academic writing. Colloquialisms can show that you have poor command of the English language. However, I would consider using this phrase in the conclusion of a debate.
Example: "All in all, our debate team has shown that there is insurmountable evidence that our side of the argument is correct."
8. All Things Considered…
My Rating: 6/10
Overview: This term is a good way of saying 'I have considered everything above and now my conclusion is..' However, it is another term that's more commonly used in speech than writing. Use it in a high school debate, but when it comes to a formal essay, I would leave it out.
Example: "All things considered, there's no doubt in my mind that climate change is man-made."
9. As a Final Note…
My Rating: 3/10
Overview: This phrase gives me the impression that the student doesn't understand the point of a conclusion. It's not to simply make a 'final note', but to summarize and reiterate. So, I would personally avoid this one.
Example: "As a final note, I would say that I do think the automobile was one of the greatest inventions of the 20 th Century."
10. As Already Stated…
My Rating: 2/10
Overview: I don't like this phrase. It gives teachers the impression that you're going around in circles and haven't organized your essay properly. I would particularly avoid it in the body of an essay because I always think: "If you already stated it, why are you stating it again?" Of course, the conclusion does re-state things, but it also adds value because it also summarizes them. So, add value by using a phrase such as 'summarizing' or 'weighing up' in your conclusion instead.
Example: "As already stated, I'm going to repeat myself and annoy my teacher."
11. At present, the Best Evidence Suggests…
My Rating: 8/10
Overview: In essays where the evidence may change in the future. Most fields of study do involve some evolution over time, so this phrase acknowledges that "right now" the best evidence is one thing, but it may change in the future. It also shows that you've looked at the latest information on the topic.
Example: "At present, the best evidence suggests that carbon dioxide emissions from power plants is the greatest influence on climate change."
12. At the Core of the Issue…
Overview: I personally find this phrase to be useful for most essays. It highlights that you are able to identify the most important or central point from everything you have examined. It is slightly less formal than some other phrases on this list, but I also wouldn't consider it too colloquial for an undergraduate essay.
Example: "At the core of the issue in this essay is the fact scientists have been unable to convince the broader public of the importance of action on climate change."
13. Despite the shortcomings of…
Overview: This phrase can be useful in an argumentative essay. It shows that there are some limitations to your argument, but , on balance you still think your position is the best. This will allow you to show critical insight and knowledge while coming to your conclusion.
Often, my students make the mistake of thinking they can only take one side in an argumentative essay. On the contrary, you should be able to highlight the limitations of your point-of-view while also stating that it's the best.
Example: "Despite the shortcomings of globalization, this essay has found that on balance it has been good for many areas in both the developed and developing world."
14. Finally…
My Rating: 4/10
Overview: While the phrase 'Finally,' does indicate that you're coming to the end of your discussion, it is usually used at the end of a list of ideas rather than in a conclusion. It also implies that you're adding a point rather that summing up previous points you have made.
Example: "Finally, this essay has highlighted the importance of communication between policy makers and practitioners in order to ensure good policy is put into effect."
15. Gathering the above points together…
Overview: While this is not a phrase I personally use very often, I do believe it has the effect of indicating that you are "summing up", which is what you want out of a conclusion.
Example: "Gathering the above points together, it is clear that the weight of evidence highlights the importance of action on climate change."
16. Given the above information…
Overview: This phrase shows that you are considering the information in the body of the piece when coming to your conclusion. Therefore, I believe it is appropriate for starting a conclusion.
Example: "Given the above information, it is reasonable to conclude that the World Health Organization is an appropriate vehicle for achieving improved health outcomes in the developing world."
17. In a nutshell…
Overview: This phrase means to say everything in the fewest possible words. However, it is a colloquial phrase that is best used in speech rather than formal academic writing.
Example: "In a nutshell, there are valid arguments on both sides of the debate about socialism vs capitalism."
18. In closing…
Overview: This phrase is an appropriate synonym for 'In conclusion' and I would be perfectly fine with a student using this phrase in their essay. Make sure you follow-up by explaining your position based upon the weight of evidence presented in the body of your piece
Example: "In closing, there is ample evidence to suggest that liberalism has been the greatest force for progress in the past 100 years."
19. In essence…
Overview: While the phrase 'In essence' does suggest you are about to sum up the core findings of your discussion, it is somewhat colloquial and is best left for speech rather than formal academic writing.
Example: "In essence, this essay has shown that cattle farming is an industry that should be protected as an essential service for our country."
20. In review…
Overview: We usually review someone else's work, not our own. For example, you could review a book that you read or a film you watched. So, writing "In review" as a replacement for "In conclusion" comes across a little awkward.
Example: "In review, the above information has made a compelling case for compulsory military service in the United States."
21. In short…
Overview: Personally, I find that this phrase is used more regularly by undergraduate student. As students get more confident with their writing, they tend to use higher-rated phrases from this list. Nevertheless, I would not take grades away from a student for using this phrase.
Example: "In short, this essay has shown the importance of sustainable agriculture for securing a healthy future for our nation."
22. In Sum…
Overview: Short for "In summary", the phrase "In sum" sufficiently shows that you are not coming to the moment where you will sum up the essay. It is an appropriate phrase to use instead of "In conclusion".
But remember to not just summarize but also discuss the implications of your findings in your conclusion.
Example: "In sum, this essay has shown the importance of managers in ensuring efficient operation of medium-to-large enterprises."
23. In Summary…
Overview: In summary and in sum are the same terms which can be supplemented for "In conclusion". You will show that you are about to summarize the points you said in the body of the essay, which is what you want from an essay.
Example: "In summary, reflection is a very important metacognitive skill that all teachers need to master in order to improve their pedagogical skills."
24. It cannot be conclusively stated that…
Overview: While this phrase is not always be a good fit for your essay, when it is, it does show knowledge and skill in writing. You would use this phrase if you are writing an expository essay where you have decided that there is not enough evidence currently to make a firm conclusion on the issue.
Example: "It cannot be conclusively stated that the Big Bang was when the universe began. However, it is the best theory so far, and none of the other theories explored in this essay have as much evidence behind them."
25. It is apparent that…
Overview: The term ' apparent ' means that something is 'clear' or even 'obvious'. So, you would use this word in an argumentative essay where you think you have put forward a very compelling argument.
Example: "It is apparent that current migration patterns in the Americas are unsustainable and causing significant harm to the most vulnerable people in our society."
26. Last but not least…
Overview: The phrase "last but not least" is a colloquial idiom that is best used in speech rather than formal academic writing. Furthermore, when you are saying 'last', you mean to say you're making your last point rather than summing up all your points you already made. So, I'd avoid this one.
Example: "Last but not least, this essay has highlighted the importance of empowering patients to exercise choice over their own medical decisions."
27. Overall…
My Rating: 7.5/10
Overview: This phrase means 'taking everything into account', which sounds a lot like what you would want to do in an essay. I don't consider it to be a top-tier choice (which is why I rated it 7), but in my opinion it is perfectly acceptable to use in an undergraduate essay.
Example: "Overall, religious liberty continues to be threatened across the world, and faces significant threats in the 21 st Century."
28. The above points illustrate…
Overview: This phrase is a good start to a conclusion paragraph that talks about the implications of the points you made in your essay. Follow it up with a statement that defends your thesis you are putting forward in the essay.
Example: "The above points illustrate that art has had an overwhelmingly positive impact on humanity since the renaissance."
29. The evidence presented in this essay suggests that…
Overview: I like this phrase because it highlights that you are about to gather together the evidence from the body of the essay to put forward a final thesis statement .
Example: "The evidence presented in this essay suggests that the democratic system of government is the best for securing maximum individual liberty for citizens of a nation."
30. This essay began by stating…
Overview: This phrase is one that I teach in my YouTube mini-course as an effective one to use in an essay conclusion. If you presented an interesting fact in your introduction , you can return to that point from the beginning of the essay to provide nice symmetry in your writing.
Example: "This essay began by stating that corruption has been growing in the Western world. However, the facts collected in the body of the essay show that institutional checks and balances can sufficiently minimize this corruption in the long-term."
31. This essay has argued…
Overview: This term can be used effectively in an argumentative essay to provide a summary of your key points. Follow it up with an outline of all your key points, and then a sentence about the implications of the points you made. See the example below.
Example: "This essay has argued that standardized tests are damaging for students' mental health. Tests like the SATs should therefore be replaced by project-based testing in schools."
32. To close…
Overview: This is a very literal way of saying "In conclusion". While it's suitable and serves its purpose, it does come across as being a sophomoric term. Consider using one of the higher-rated phrases in this list.
Example: "To close, this essay has highlighted both the pros and cons of relational dialectics theory and argued that it is not the best communication theory for the 21 st Century."
33. To Conclude…
Overview: Like 'to close' and 'in summary', the phrase 'to conclude' is very similar to 'in conclusion'. It can therefore be used as a sufficient replacement for that term. However, as with the above terms, it's just okay and you could probably find a better phrase to use.
Example: "To conclude, this essay has highlighted that there are multiple models of communication but there is no one perfect theory to explain each situation."
34. To make a long story short…
My Rating: 1/10
Overview: This is not a good phrase to use in an academic essay. It is a colloquialism. It also implies that you have been rambling in your writing and you could have said everything more efficiently. I would personally not use this phrase.
Example: "To make a long story short, I don't have very good command of academic language."
35. To Sum up…
Overview: This phrase is the same as 'In summary'. It shows that you have made all of your points and now you're about to bring them all together in a 'summary'. Just remember in your conclusion that you need to do more than summarize but also talk about the implications of your findings. So you'll need to go beyond just a summary.
Example: "In summary, there is ample evidence that linear models of communication like Lasswell's model are not as good at explaining 21 st Century communication as circular models like the Osgood-Schramm model ."
36. Ultimately…
Overview: While this phrase does say that you are coming to a final point – also known as a conclusion – it's also a very strong statement that might not be best to use in all situations. I usually accept this phrase from my undergraduates, but for my postgraduates I'd probably suggest simply removing it.
Example: "Ultimately, new media has been bad for the world because it has led to the spread of mistruths around the internet."
37. Undoubtedly…
Overview: If you are using it in a debate or argumentative essay, it can be helpful. However, in a regular academic essay, I would avoid it. We call this a 'booster', which is a term that emphasizes certainty. Unfortunately, certainty is a difficult thing to claim, so you're better off 'hedging' with phrases like 'It appears' or 'The best evidence suggests'.
Example: "Undoubtedly, I know everything about this topic and am one hundred percent certain even though I'm just an undergraduate student."
38. Weighing up the facts, this essay finds…
Overview: This statement highlights that you are looking at all of the facts both for and against your points of view. It shows you're not just blindly following one argument but being careful about seeing things from many perspectives.
Example: "Weighing up the facts, this essay finds that reading books is important for developing critical thinking skills in childhood."
39. With that said…
Overview: This is another phrase that I would avoid. This is a colloquialism that's best used in speech rather than writing. It is another term that feels sophomoric and is best to avoid. Instead, use a more formal term such as: 'Weighing up the above points, this essay finds…'
Example: "With that said, this essay disagrees with the statement that you need to go to college to get a good job."
Do you Need to Say Anything?
Something I often tell my students is: "Can you just remove that phrase?"
Consider this sentence:
"In conclusion, the majority of scientists concur that climate change exists."
Would it be possible to simply say:
" In conclusion, The majority of scientists concur that climate change exists."
So, I'd recommend also just considering removing that phrase altogether! Sometimes the best writing is the shortest, simplest writing that gets to the point without any redundant language at all.
How to Write an Effective Conclusion
Before I go, I'd like to bring your attention to my video on 'how to write an effective conclusion'. I think it would really help you out given that you're looking for help on how to write a conclusion. It's under 5 minutes long and has helped literally thousands of students write better conclusions for their essays:
You can also check out these conclusion examples for some copy-and-paste conclusions for your own essay.
In Conclusion…
Well, I had to begin this conclusion with 'In conclusion…' I liked the irony in it, and I couldn't pass up that chance.
Overall, don't forget that concluding an essay is a way to powerfully summarize what you've had to say and leave the reader with a strong impression that you've become an authority on the topic you're researching. 
So, whether you write it as a conclusion, summary, or any other synonym for conclusion, those other ways to say in conclusion are less important than making sure that the message in your conclusion is incredibly strong.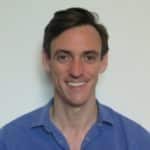 Chris Drew (PhD)
Dr. Chris Drew is the founder of the Helpful Professor. He holds a PhD in education and has published over 20 articles in scholarly journals. He is the former editor of the Journal of Learning Development in Higher Education. [Image Descriptor: Photo of Chris]
Chris Drew (PhD) https://helpfulprofessor.com/author/admin/ 50 Examples of Self-Management Skills
Chris Drew (PhD) https://helpfulprofessor.com/author/admin/ 50 Classroom Norms For All Ages
Chris Drew (PhD) https://helpfulprofessor.com/author/admin/ 13 Best Examples of Social Capital
Chris Drew (PhD) https://helpfulprofessor.com/author/admin/ 25 Imperialism Examples
Leave a Comment Cancel Reply
Your email address will not be published. Required fields are marked *
3 Ways to Write Better Conclusions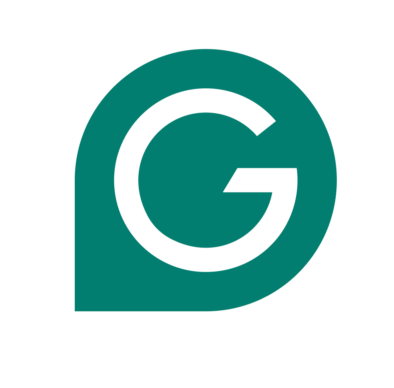 Conclusions are an important part of any research paper, essay, and other academic papers. Here are three methods you can use to make sure your conclusions are sound.
Here's a tip: Want to make sure your writing shines? Grammarly can check your spelling and save you from grammar and punctuation mistakes. It even proofreads your text, so your work is extra polished wherever you write.
Your writing, at its best Grammarly helps you communicate confidently Write with Grammarly
1 Don't restate your paper
Have you been told to summarize everything you have written in the conclusion? There's nothing wrong with doing so. Nevertheless, there is a more effective way to conclude an essay. Synthesize rather than restate the material. If you presented an argument, show the reader how all the points fit together to form a logical conclusion.
2 Don't tell your readers how to react
It doesn't do much good to give a reader information if they have no idea what to do with it. Some topics lend themselves to a "call to action," a direct statement that lets readers know how to use new knowledge. The best statements also demonstrate how readers will benefit from taking such an action. For example, evaluate these two sentences:
Write a good conclusion. Write a conclusion that will move your readers to action.
The first sentence tells the reader what to do. The second example shows the personal benefit of taking action. This type of concluding statement doesn't work well with all essays. Use it when you want your readers to feel equipped to perform a task.
3 Do consider your style
The words and sentence structure of your conclusion influence how your readers perceive it. For example, employing parallel structure in the last paragraph creates a sense of order that may contribute to your credibility. Short, simple phrases seem dramatic. Connecting the ideas, words, or phrases of your first paragraph to your last one adds an air of cohesiveness.
A conclusion can be a powerful tool if correctly wielded. In it, you can provide an effective review of how its components relate to one another. Once you accomplish that, don't make your audience guess what step to take next. A call-to-action statement may be just what you need to show readers how to put your information to good use. Choose your words wisely! The length and structure of your sentences as well as your word choice will have an impact on how readers receive your message. If you apply these simple tips to your next project, your readers will flock to you!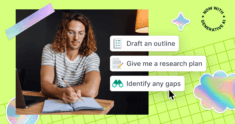 Transitional Words and Phrases
One of your primary goals as a writer is to present ideas in a clear and understandable way. To help readers move through your complex ideas, you want to be intentional about how you structure your paper as a whole as well as how you form the individual paragraphs that comprise it. In order to think through the challenges of presenting your ideas articulately, logically, and in ways that seem natural to your readers, check out some of these resources: Developing a Thesis Statement , Paragraphing , and Developing Strategic Transitions: Writing that Establishes Relationships and Connections Between Ideas.
While clear writing is mostly achieved through the deliberate sequencing of your ideas across your entire paper, you can guide readers through the connections you're making by using transitional words in individual sentences. Transitional words and phrases can create powerful links between your ideas and can help your reader understand your paper's logic.
In what follows, we've included a list of frequently used transitional words and phrases that can help you establish how your various ideas relate to each other. We've divided these words and phrases into categories based on the common kinds of relationships writers establish between ideas.
Two recommendations: Use these transitions strategically by making sure that the word or phrase you're choosing matches the logic of the relationship you're emphasizing or the connection you're making. All of these words and phrases have different meanings, nuances, and connotations, so before using a particular transitional word in your paper, be sure you understand its meaning and usage completely, and be sure that it's the right match for your paper's logic. Use these transitional words and phrases sparingly because if you use too many of them, your readers might feel like you are overexplaining connections that are already clear.
Categories of Transition Words and Phrases
Causation Chronology Combinations Contrast Example
Importance Location Similarity Clarification Concession
Conclusion Intensification Purpose Summary
Transitions to help establish some of the most common kinds of relationships
Causation– Connecting instigator(s) to consequence(s).
accordingly as a result and so because
consequently for that reason hence on account of
since therefore thus
Chronology– Connecting what issues in regard to when they occur.
after afterwards always at length during earlier following immediately in the meantime
later never next now once simultaneously so far sometimes
soon subsequently then this time until now when whenever while
Combinations Lists– Connecting numerous events. Part/Whole– Connecting numerous elements that make up something bigger.
additionally again also and, or, not as a result besides even more
finally first, firstly further furthermore in addition in the first place in the second place
last, lastly moreover next second, secondly, etc. too
Contrast– Connecting two things by focusing on their differences.
after all although and yet at the same time but
despite however in contrast nevertheless nonetheless notwithstanding
on the contrary on the other hand otherwise though yet
Example– Connecting a general idea to a particular instance of this idea.
as an illustration e.g., (from a Latin abbreviation for "for example")
for example for instance specifically that is
to demonstrate to illustrate
Importance– Connecting what is critical to what is more inconsequential.
chiefly critically
foundationally most importantly
of less importance primarily
Location– Connecting elements according to where they are placed in relationship to each other.
above adjacent to below beyond
centrally here nearby neighboring on
opposite to peripherally there wherever
Similarity– Connecting to things by suggesting that they are in some way alike.
by the same token in like manner
in similar fashion here in the same way
likewise wherever
Other kinds of transitional words and phrases Clarification
i.e., (from a Latin abbreviation for "that is") in other words
that is that is to say to clarify to explain
to put it another way to rephrase it
granted it is true
naturally of course
finally lastly
in conclusion in the end
to conclude
Intensification
in fact indeed no
of course surely to repeat
undoubtedly without doubt yes
for this purpose in order that
so that to that end
to this end
in brief in sum
in summary in short
to sum up to summarize
Improving Your Writing Style
This is an accordion element with a series of buttons that open and close related content panels.
Clear, Concise Sentences
Use the active voice
Put the action in the verb
Tidy up wordy phrases
Reduce wordy verbs
Reduce prepositional phrases
Reduce expletive constructions
Avoid using vague nouns
Avoid unneccessarily inflated words
Avoid noun strings
Connecting Ideas Through Transitions
Using Transitional Words and Phrases
How to Write a Conclusion for an Essay
By the time you get to the final paragraph of your paper, you have already done so much work on your essay, so all you want to do is to wrap it up as quickly as possible. You've already made a stunning introduction, proven your argument, and structured the whole piece as supposed – who cares about making a good conclusion paragraph?
The only thing you need to remember is that the conclusion of an essay is not just the last paragraph of an academic paper where you restate your thesis and key arguments. A concluding paragraph is also your opportunity to have a final impact on your audience. 
Feeling Overwhelmed Writing Your Essay Conclusion?
Simply send us your paper requirements, choose a writer and we'll get it done fast.
How to write a conclusion paragraph that leaves a lasting impression – In this guide, the team at EssayPro is going to walk you through the process of writing a perfect conclusion step by step. Additionally, we will share valuable tips and tricks to help students of all ages impress their readers at the last moment.
Instead of Intro: What Is a Conclusion?
Before we can move on, let's take a moment here to define the conclusion itself. According to the standard conclusion definition, it is pretty much the last part of something, its result, or end. However, this term is rather broad and superficial.
When it comes to writing academic papers, a concluding statement refers to an opinion, judgment, suggestion, or position arrived at by logical reasoning (through the arguments provided in the body of the text). Therefore, if you are wondering "what is a good closing sentence like?" – keep on reading.
What Does a Good Conclusion Mean?
Writing a good conclusion for a paper isn't easy. However, we are going to walk you through this process step by step. Although there are generally no strict rules on how to formulate one, there are some basic principles that everyone should keep in mind. In this section, we will share some core ideas for writing a good conclusion, and, later in the article, we will also provide you with more practical advice and examples.
Here are the core goals a good conclusion should complete:
"Wrap up" the entire paper;
Demonstrate to readers that the author accomplished what he/she set out to do;
Show how you the author has proved their thesis statement;
Give a sense of completeness and closure on the topic;
Leave something extra for your reader to think about;
Leave a powerful final impact on a reader.
Another key thing to remember is that you should not introduce any new ideas or arguments to your paper's conclusion. It should only sum up what you have already written, revisit your thesis statement, and end with a powerful final impression.
When considering how to write a conclusion that works, here are the key points to keep in mind:
A concluding sentence should only revisit the thesis statement, not restate it;
It should summarize the main ideas from the body of the paper;
It should demonstrate the significance and relevance of your work;
An essay's conclusion should include a call for action and leave space for further study or development of the topic (if necessary).
How Long Should a Conclusion Be? 
Although there are no strict universal rules regarding the length of an essay's final clause, both teachers and experienced writers recommend keeping it clear, concise, and straight to the point. There is an unspoken rule that the introduction and conclusion of an academic paper should both be about 10% of the overall paper's volume. For example, if you were assigned a 1500 word essay, both the introductory and final clauses should be approximately 150 words long (300 together).
Why You Need to Know How to End an Essay:
A conclusion is what drives a paper to its logical end. It also drives the main points of your piece one last time. It is your last opportunity to impact and impress your audience. And, most importantly, it is your chance to demonstrate to readers why your work matters. Simply put, the final paragraph of your essay should answer the last important question a reader will have – "So what?"
If you do a concluding paragraph right, it can give your readers a sense of logical completeness. On the other hand, if you do not make it powerful enough, it can leave them hanging, and diminish the effect of the entire piece.
Strategies to Crafting a Proper Conclusion
Although there are no strict rules for what style to use to write your conclusion, there are several strategies that have been proven to be effective. In the list below, you can find some of the most effective strategies with some good conclusion paragraph examples to help you grasp the idea.
One effective way to emphasize the significance of your essay and give the audience some thought to ponder about is by taking a look into the future. The "When and If" technique is quite powerful when it comes to supporting your points in the essay's conclusion.
Prediction essay conclusion example: "Taking care of a pet is quite hard, which is the reason why most parents refuse their children's requests to get a pet. However, the refusal should be the last choice of parents. If we want to inculcate a deep sense of responsibility and organization in our kids, and, at the same time, sprout compassion in them, we must let our children take care of pets."
Another effective strategy is to link your conclusion to your introductory paragraph. This will create a full-circle narration for your readers, create a better understanding of your topic, and emphasize your key point.
Echo conclusion paragraph example: Introduction: "I believe that all children should grow up with a pet. I still remember the exact day my parents brought my first puppy to our house. This was one of the happiest moments in my life and, at the same time, one of the most life-changing ones. Growing up with a pet taught me a lot, and most importantly, it taught me to be responsible." Conclusion:. "I remember when I picked up my first puppy and how happy I was at that time. Growing up with a pet, I learned what it means to take care of someone, make sure that he always has water and food, teach him, and constantly keep an eye on my little companion. Having a child grow up with a pet teaches them responsibility and helps them acquire a variety of other life skills like leadership, love, compassion, and empathy. This is why I believe that every kid should grow up with a pet!"
Finally, one more trick that will help you create a flawless conclusion is to amplify your main idea or to present it in another perspective of a larger context. This technique will help your readers to look at the problem discussed from a different angle.
Step-up argumentative essay conclusion example: "Despite the obvious advantages of owning a pet in childhood, I feel that we cannot generalize whether all children should have a pet. Whereas some kids may benefit from such experiences, namely, by becoming more compassionate, organized, and responsible, it really depends on the situation, motivation, and enthusiasm of a particular child for owning a pet."
What is a clincher in an essay? – The final part of an essay's conclusion is often referred to as a clincher sentence. According to the clincher definition, it is a final sentence that reinforces the main idea or leaves the audience with an intriguing thought to ponder upon. In a nutshell, the clincher is very similar to the hook you would use in an introductory paragraph. Its core mission is to seize the audience's attention until the end of the paper. At the same time, this statement is what creates a sense of completeness and helps the author leave a lasting impression on the reader.
Now, since you now know what a clincher is, you are probably wondering how to use one in your own paper. First of all, keep in mind that a good clincher should be intriguing, memorable, smooth, and straightforward.
Generally, there are several different tricks you can use for your clincher statement; it can be:
A short, but memorable and attention-grabbing conclusion;
A relevant and memorable quote (only if it brings actual value);
A call to action;
A rhetorical question;
An illustrative story or provocative example;
A warning against a possibility or suggestion about the consequences of a discussed problem;
A joke (however, be careful with this as it may not always be deemed appropriate).
Regardless of the technique you choose, make sure that your clincher is memorable and aligns with your introduction and thesis.
Clincher examples: - While New York may not be the only place with the breathtaking views, it is definitely among my personal to 3… and that's what definitely makes it worth visiting. - "Thence we came forth to rebehold the stars", Divine Comedy - Don't you think all these advantages sound like almost life-saving benefits of owning a pet? "So we beat on, boats against the current, borne back ceaselessly into the past.", The Great Gatsby
Conclusion Writing Don'ts 
Now, when you know what tricks and techniques you should use to create a perfect conclusion, let's look at some of the things you should not do with our online paper writing service :
Starting with some cliché concluding sentence starters. Many students find common phrases like "In conclusion," "Therefore," "In summary," or similar statements to be pretty good conclusion starters. However, though such conclusion sentence starters may work in certain cases – for example, in speeches – they are overused, so it is recommended not to use them in writing to introduce your conclusion.
Putting the first mention of your thesis statement in the conclusion – it has to be presented in your introduction first.
Providing new arguments, subtopics, or ideas in the conclusion paragraph.
Including a slightly changed or unchanged thesis statement.
Providing arguments and evidence that belong in the body of the work.
Writing too long, hard to read, or confusing sentences.
In case, you have written a conclusion, but you're not sure if it's good enough?
EssayPro provides all kinds of writing assistance. Send your work to one of our top writers to get it reviewed in no time.
Conclusion Paragraph Outline
The total number of sentences in your final paragraph may vary depending on the number of points you discussed in your essay, as well as on the overall word count of your paper. However, the overall conclusion paragraph outline will remain the same and consists of the following elements:
The first part of your paragraph should drive readers back to your thesis statement. Thus, if you were wondering how to start a conclusion, the best way to do it is by rephrasing your thesis statement.
Summary of the body paragraphs:
Right after revisiting your thesis, you should include several sentences that wrap up the key highlights and points from your body paragraphs. This part of your conclusion can consist of 2-3 sentences—depending on the number of arguments you've made. If necessary, you can also explain to the readers how your main points fit together.
Finally, you should end your paragraph with a last, powerful sentence that leaves a lasting impression, gives a sense of logical completeness, and connects readers back to the introduction of the paper.
These three key elements make up a perfect essay conclusion. Now, to give you an even better idea of how to create a perfect conclusion, let us give you a sample conclusion paragraph outline with examples from an argumentative essay on the topic of "Every Child Should Own a Pet:
Sentence 1: Starter
~ Thesis: "Though taking care of a pet may be a bit challenging for small children. Parents should not restrict their kids from having a pet as it helps them grow into more responsible and compassionate people."
~ Restated thesis for a conclusion: "I can say that taking care of a pet is good for every child."
Sentences 2-4: Summary
~ "Studies have shown that pet owners generally have fewer health problems."
~ "Owning a pet teaches a child to be more responsible."
~ "Spending time with a pet reduces stress, feelings of loneliness, and anxiety."
Sentence 5: A concluding sentence
~ "Pets can really change a child life for the better, so don't hesitate to endorse your kid's desire to own a pet."
This is a clear example of how you can shape your conclusion paragraph.
How to Conclude Various Types of Essays
Depending on the type of academic essay you are working on, your concluding paragraph's style, tone, and length may vary. In this part of our guide, we will tell you how to end different types of essays and other works.
How to End an Argumentative Essay
Persuasive or argumentative essays always have the single goal of convincing readers of something (an idea, stance, or viewpoint) by appealing to arguments, facts, logic, and even emotions. The conclusion for such an essay has to be persuasive as well. A good trick you can use is to illustrate a real-life scenario that proves your stance or encourages readers to take action. More about persuasive essay outline you can read in our article.
Here are a few more tips for making a perfect conclusion for an argumentative essay:
Carefully read the whole essay before you begin;
Re-emphasize your ideas;
Discuss possible implications;
Don't be afraid to appeal to the reader's emotions.
How to End a Compare and Contrast Essay
The purpose of a compare and contrast essay is to emphasize the differences or similarities between two or more objects, people, phenomena, etc. Therefore, a logical conclusion should highlight how the reviewed objects are different or similar. Basically, in such a paper, your conclusion should recall all of the key common and distinctive features discussed in the body of your essay and also give readers some food for thought after they finish reading it.
How to Conclude a Descriptive Essay
The key idea of a descriptive essay is to showcase your creativity and writing skills by painting a vivid picture with the help of words. This is one of the most creative types of essays as it requires you to show a story, not tell it. This kind of essay implies using a lot of vivid details. Respectively, the conclusion of such a paper should also use descriptive imagery and, at the same time, sum up the main ideas. A good strategy for ending a descriptive essay would be to begin with a short explanation of why you wrote the essay. Then, you should reflect on how your topic affects you. In the middle of the conclusion, you should cover the most critical moments of the story to smoothly lead the reader into a logical closing statement. The "clincher", in this case, should be a thought-provoking final sentence that leaves a good and lasting impression on the audience. Do not lead the reader into the essay and then leave them with dwindling memories of it.
How to Conclude an Essay About Yourself
If you find yourself writing an essay about yourself, you need to tell a personal story. As a rule, such essays talk about the author's experiences, which is why a conclusion should create a feeling of narrative closure. A good strategy is to end your story with a logical finale and the lessons you have learned, while, at the same time, linking it to the introductory paragraph and recalling key moments from the story.
How to End an Informative Essay
Unlike other types of papers, informative or expository essays load readers with a lot of information and facts. In this case, "Synthesize, don't summarize" is the best technique you can use to end your paper. Simply put, instead of recalling all of the major facts, you should approach your conclusion from the "So what?" position by highlighting the significance of the information provided.
How to Conclude a Narrative Essay
In a nutshell, a narrative essay is based on simple storytelling. The purpose of this paper is to share a particular story in detail. Therefore, the conclusion for such a paper should wrap up the story and avoid finishing on an abrupt cliffhanger. It is vital to include the key takeaways and the lessons learned from the story.
How to Write a Conclusion for a Lab Report
Unlike an essay, a lab report is based on an experiment. This type of paper describes the flow of a particular experiment conducted by a student and its conclusion should reflect on the outcomes of this experiment.
In thinking of how to write a conclusion for a lab, here are the key things you should do to get it right:
Restate the goals of your experiment
Describe the methods you used
Include the results of the experiment and analyze the final data
End your conclusion with a clear statement on whether or not the experiment was successful (Did you reach the expected results?)
How to Write a Conclusion for a Research Paper
Writing a paper is probably the hardest task of all, even for experienced dissertation writer . Unlike an essay or even a lab report, a research paper is a much longer piece of work that requires a deeper investigation of the problem. Therefore, a conclusion for such a paper should be even more sophisticated and powerful. If you're feeling difficulty writing an essay, you can buy essay on our service.
However, given that a research paper is the second most popular kind of academic paper (after an essay), it is important to know how to conclude a research paper. Even if you have not yet been assigned to do this task, be sure that you will face it soon. So, here are the steps you should follow to create a great conclusion for a research paper:
Start your final paragraph with a quick reminder of what the topic of the piece is about. Keep it one sentence long.
Next, you should remind your readers what your thesis statement was. However, do not just copy and paste it from the introductory clause: paraphrase your thesis so that you deliver the same idea but with different words. Keep your paraphrased thesis narrow, specific, and topic-oriented.
Just like the case of a regular essay's conclusion, a research paper's final paragraph should also include a short summary of all of the key points stated in the body sections. We recommend reading the entire body part a few times to define all of your main arguments and ideas.
Showcase the Significance of Your Work
In the research paper conclusion, it is vital to highlight the significance of your research problem and state how your solution could be helpful.
Make Suggestions for Future Studies
Finally, at the end of your conclusion, you should define how your findings will contribute to the development of its particular field of science. Outline the perspectives of further research and, if necessary, explain what is yet to be discovered on the topic.
Then, end your conclusion with a powerful concluding sentence – it can be a rhetorical question, call to action, or another hook that will help you have a strong impact on the audience.
Answer the Right Questions
To create a top-notch research paper conclusion, be sure to answer the following questions:
What is the goal of a research paper?
What are the possible solutions to the research question(s)?
How can your results be implemented in real life? (Is your research paper helpful to the community?)
Why is this study important and relevant?
Additionally, here are a few more handy tips to follow:
Provide clear examples from real life to help readers better understand the further implementation of the stated solutions;
Keep your conclusion fresh, original, and creative.
Address to our term paper writers if you need to proofread or rewrite essay.
So, What Is a Good Closing Sentence? See The Difference
One of the best ways to learn how to write a good conclusion is to look at several professional essay conclusion examples. In this section of our guide, we are going to look at two different final paragraphs shaped on the basis of the same template, but even so, they are very different – where one is weak and the other is strong. Below, we are going to compare them to help you understand the difference between a good and a bad conclusion.
Here is the template we used: College degrees are in decline. The price of receiving an education does not correlate with the quality of the education received. As a result, graduated students face underemployment, and the worth of college degrees appears to be in serious doubt. However, the potential social and economic benefits of educated students balance out the equation.
Strong Conclusion ‍
People either see college as an opportunity or an inconvenience; therefore, a degree can only hold as much value as its owner's skillset. The underemployment of graduate students puts the worth of college degrees in serious doubt. Yet, with the multitude of benefits that educated students bring to society and the economy, the equation remains in balance. Perhaps the ordinary person should consider college as a wise financial investment, but only if they stay determined to study and do the hard work.
Why is this example good? There are several key points that prove its effectiveness:
There is a bold opening statement that encompasses the two contrasting types of students we can see today.
There are two sentences that recall the thesis statement and cover the key arguments from the body of the essay.
Finally, the last sentence sums up the key message of the essay and leaves readers with something to think about.
Weak Conclusion
In conclusion, with the poor preparation of students in college and the subsequent underemployment after graduation from college, the worth associated with the college degree appears to be in serious doubt. However, these issues alone may not reasonably conclude beyond a doubt that investing in a college degree is a rewarding venture. When the full benefits that come with education are carefully put into consideration and evaluated, college education for children in any country still has good advantages, and society should continue to advocate for a college education. The ordinary person should consider this a wise financial decision that holds rewards in the end. Apart from the monetary gains associated with a college education, society will greatly benefit from students when they finish college. Their minds are going to be expanded, and their reasoning and decision making will be enhanced.
What makes this example bad? Here are a few points to consider:
Unlike the first example, this paragraph is long and not specific enough. The author provides plenty of generalized phrases that are not backed up by actual arguments.
This piece is hard to read and understand and sentences have a confusing structure. Also, there are lots of repetitions and too many uses of the word "college".
There is no summary of the key benefits.
The last two sentences that highlight the value of education contradict with the initial statement.
Finally, the last sentence doesn't offer a strong conclusion and gives no thought to ponder upon.
In the body of your essay, you have hopefully already provided your reader(s) with plenty of information. Therefore, it is not wise to present new arguments or ideas in your conclusion.
To end your final paragraph right, find a clear and straightforward message that will have the most powerful impact on your audience.
Don't use more than one quote in the final clause of your paper – the information from external sources (including quotes) belongs in the body of a paper.
Be authoritative when writing a conclusion. You should sound confident and convincing to leave a good impression. Sentences like "I'm not an expert, but…" will most likely make you seem less knowledgeable and/or credible.
Good Conclusion Examples
Now that we've learned what a conclusion is and how to write one let's take a look at some essay conclusion examples to strengthen our knowledge.
The ending ironically reveals that all was for nothing. (A short explanation of the thematic effect of the book's end) Tom says that Miss Watson freed Jim in her final will.Jim told Huck that the dead man on the Island was pap. The entire adventure seemingly evaporated into nothingness. (How this effect was manifested into the minds of thereaders).
All in all, international schools hold the key to building a full future that students can achieve. (Thesis statement simplified) They help students develop their own character by learning from their mistakes, without having to face a dreadful penalty for failure. (Thesis statement elaborated)Although some say that kids emerged "spoiled" with this mentality, the results prove the contrary. (Possible counter-arguments are noted)
In conclusion, public workers should be allowed to strike since it will give them a chance to air their grievances. (Thesis statement) Public workers should be allowed to strike when their rights, safety, and regulations are compromised. The workers will get motivated when they strike, and their demands are met.
In summary, studies reveal some similarities in the nutrient contents between the organic and non-organic food substances. (Starts with similarities) However, others have revealed many considerable differences in the amounts of antioxidants as well as other minerals present in organic and non-organic foods. Generally, organic foods have higher levels of antioxidants than non-organic foods and therefore are more important in the prevention of chronic illnesses.
As time went by, my obsession grew into something bigger than art; ('As time went by' signals maturation) it grew into a dream of developing myself for the world. (Showing student's interest of developing himself for the community) It is a dream of not only seeing the world from a different perspective but also changing the perspective of people who see my work. (Showing student's determination to create moving pieces of art)
In conclusion, it is evident that technology is an integral part of our lives and without it, we become "lost" since we have increasingly become dependent on its use. (Thesis with main point)
You might also be interested in reading nursing essay examples from our service.
Stuck On Your Conclusion?
Hopefully, this guide helped you grasp the general idea of what an essay's conclusion is and how to write a good one. However, if you are still struggling with making an impactful final clause, do not hesitate to entrust this matter to professionals. The expert writers from EssayPro can help you cope with essay writing and ensure you an excellent grade. Just ask us ' write my essay online ' and we will process your requests asap.
Related Articles
Enrolments for 2024 are now open. Book your place before Oct 1st at 2023 prices!

40 Useful Words and Phrases for Top-Notch Essays
To be truly brilliant, an essay needs to utilise the right language. You could make a great point, but if it's not intelligently articulated, you almost needn't have bothered.
Developing the language skills to build an argument and to write persuasively is crucial if you're to write outstanding essays every time. In this article, we're going to equip you with the words and phrases you need to write a top-notch essay, along with examples of how to utilise them.
It's by no means an exhaustive list, and there will often be other ways of using the words and phrases we describe that we won't have room to include, but there should be more than enough below to help you make an instant improvement to your essay-writing skills.
This article is suitable for native English speakers and those who are  learning English at Oxford Royale Academy and are just taking their first steps into essay writing.
General explaining
Let's start by looking at language for general explanations of complex points.
1. In order to
Usage: "In order to" can be used to introduce an explanation for the purpose of an argument. Example: "In order to understand X, we need first to understand Y."
2. In other words
Usage: Use "in other words" when you want to express something in a different way (more simply), to make it easier to understand, or to emphasise or expand on a point. Example: "Frogs are amphibians. In other words, they live on the land and in the water."
3. To put it another way
Usage: This phrase is another way of saying "in other words", and can be used in particularly complex points, when you feel that an alternative way of wording a problem may help the reader achieve a better understanding of its significance. Example: "Plants rely on photosynthesis. To put it another way, they will die without the sun."
4. That is to say
Usage: "That is" and "that is to say" can be used to add further detail to your explanation, or to be more precise. Example: "Whales are mammals. That is to say, they must breathe air."
5. To that end
Usage: Use "to that end" or "to this end" in a similar way to "in order to" or "so". Example: "Zoologists have long sought to understand how animals communicate with each other. To that end, a new study has been launched that looks at elephant sounds and their possible meanings."
Adding additional information to support a point
Students often make the mistake of using synonyms of "and" each time they want to add further information in support of a point they're making, or to build an argument . Here are some cleverer ways of doing this.
6. Moreover
Usage: Employ "moreover" at the start of a sentence to add extra information in support of a point you're making. Example: "Moreover, the results of a recent piece of research provide compelling evidence in support of…"
7. Furthermore
Usage:This is also generally used at the start of a sentence, to add extra information. Example: "Furthermore, there is evidence to suggest that…"
8. What's more
Usage: This is used in the same way as "moreover" and "furthermore". Example: "What's more, this isn't the only evidence that supports this hypothesis."
9. Likewise
Usage: Use "likewise" when you want to talk about something that agrees with what you've just mentioned. Example: "Scholar A believes X. Likewise, Scholar B argues compellingly in favour of this point of view."
10. Similarly
Usage: Use "similarly" in the same way as "likewise". Example: "Audiences at the time reacted with shock to Beethoven's new work, because it was very different to what they were used to. Similarly, we have a tendency to react with surprise to the unfamiliar."
11. Another key thing to remember
Usage: Use the phrase "another key point to remember" or "another key fact to remember" to introduce additional facts without using the word "also". Example: "As a Romantic, Blake was a proponent of a closer relationship between humans and nature. Another key point to remember is that Blake was writing during the Industrial Revolution, which had a major impact on the world around him."
12. As well as
Usage: Use "as well as" instead of "also" or "and". Example: "Scholar A argued that this was due to X, as well as Y."
13. Not only… but also
Usage: This wording is used to add an extra piece of information, often something that's in some way more surprising or unexpected than the first piece of information. Example: "Not only did Edmund Hillary have the honour of being the first to reach the summit of Everest, but he was also appointed Knight Commander of the Order of the British Empire."
14. Coupled with
Usage: Used when considering two or more arguments at a time. Example: "Coupled with the literary evidence, the statistics paint a compelling view of…"
15. Firstly, secondly, thirdly…
Usage: This can be used to structure an argument, presenting facts clearly one after the other. Example: "There are many points in support of this view. Firstly, X. Secondly, Y. And thirdly, Z.
16. Not to mention/to say nothing of
Usage: "Not to mention" and "to say nothing of" can be used to add extra information with a bit of emphasis. Example: "The war caused unprecedented suffering to millions of people, not to mention its impact on the country's economy."
Words and phrases for demonstrating contrast
When you're developing an argument, you will often need to present contrasting or opposing opinions or evidence – "it could show this, but it could also show this", or "X says this, but Y disagrees". This section covers words you can use instead of the "but" in these examples, to make your writing sound more intelligent and interesting.
17. However
Usage: Use "however" to introduce a point that disagrees with what you've just said. Example: "Scholar A thinks this. However, Scholar B reached a different conclusion."
18. On the other hand
Usage: Usage of this phrase includes introducing a contrasting interpretation of the same piece of evidence, a different piece of evidence that suggests something else, or an opposing opinion. Example: "The historical evidence appears to suggest a clear-cut situation. On the other hand, the archaeological evidence presents a somewhat less straightforward picture of what happened that day."
19. Having said that
Usage: Used in a similar manner to "on the other hand" or "but". Example: "The historians are unanimous in telling us X, an agreement that suggests that this version of events must be an accurate account. Having said that, the archaeology tells a different story."
20. By contrast/in comparison
Usage: Use "by contrast" or "in comparison" when you're comparing and contrasting pieces of evidence. Example: "Scholar A's opinion, then, is based on insufficient evidence. By contrast, Scholar B's opinion seems more plausible."
21. Then again
Usage: Use this to cast doubt on an assertion. Example: "Writer A asserts that this was the reason for what happened. Then again, it's possible that he was being paid to say this."
22. That said
Usage: This is used in the same way as "then again". Example: "The evidence ostensibly appears to point to this conclusion. That said, much of the evidence is unreliable at best."
Usage: Use this when you want to introduce a contrasting idea. Example: "Much of scholarship has focused on this evidence. Yet not everyone agrees that this is the most important aspect of the situation."
Adding a proviso or acknowledging reservations
Sometimes, you may need to acknowledge a shortfalling in a piece of evidence, or add a proviso. Here are some ways of doing so.
24. Despite this
Usage: Use "despite this" or "in spite of this" when you want to outline a point that stands regardless of a shortfalling in the evidence. Example: "The sample size was small, but the results were important despite this."
25. With this in mind
Usage: Use this when you want your reader to consider a point in the knowledge of something else. Example: "We've seen that the methods used in the 19th century study did not always live up to the rigorous standards expected in scientific research today, which makes it difficult to draw definite conclusions. With this in mind, let's look at a more recent study to see how the results compare."
26. Provided that
Usage: This means "on condition that". You can also say "providing that" or just "providing" to mean the same thing. Example: "We may use this as evidence to support our argument, provided that we bear in mind the limitations of the methods used to obtain it."
27. In view of/in light of
Usage: These phrases are used when something has shed light on something else. Example: "In light of the evidence from the 2013 study, we have a better understanding of…"
28. Nonetheless
Usage: This is similar to "despite this". Example: "The study had its limitations, but it was nonetheless groundbreaking for its day."
29. Nevertheless
Usage: This is the same as "nonetheless". Example: "The study was flawed, but it was important nevertheless."
30. Notwithstanding
Usage: This is another way of saying "nonetheless". Example: "Notwithstanding the limitations of the methodology used, it was an important study in the development of how we view the workings of the human mind."
Giving examples
Good essays always back up points with examples, but it's going to get boring if you use the expression "for example" every time. Here are a couple of other ways of saying the same thing.
31. For instance
Example: "Some birds migrate to avoid harsher winter climates. Swallows, for instance, leave the UK in early winter and fly south…"
32. To give an illustration
Example: "To give an illustration of what I mean, let's look at the case of…"
Signifying importance
When you want to demonstrate that a point is particularly important, there are several ways of highlighting it as such.
33. Significantly
Usage: Used to introduce a point that is loaded with meaning that might not be immediately apparent. Example: "Significantly, Tacitus omits to tell us the kind of gossip prevalent in Suetonius' accounts of the same period."
34. Notably
Usage: This can be used to mean "significantly" (as above), and it can also be used interchangeably with "in particular" (the example below demonstrates the first of these ways of using it). Example: "Actual figures are notably absent from Scholar A's analysis."
35. Importantly
Usage: Use "importantly" interchangeably with "significantly". Example: "Importantly, Scholar A was being employed by X when he wrote this work, and was presumably therefore under pressure to portray the situation more favourably than he perhaps might otherwise have done."
Summarising
You've almost made it to the end of the essay, but your work isn't over yet. You need to end by wrapping up everything you've talked about, showing that you've considered the arguments on both sides and reached the most likely conclusion. Here are some words and phrases to help you.
36. In conclusion
Usage: Typically used to introduce the concluding paragraph or sentence of an essay, summarising what you've discussed in a broad overview. Example: "In conclusion, the evidence points almost exclusively to Argument A."
37. Above all
Usage: Used to signify what you believe to be the most significant point, and the main takeaway from the essay. Example: "Above all, it seems pertinent to remember that…"
38. Persuasive
Usage: This is a useful word to use when summarising which argument you find most convincing. Example: "Scholar A's point – that Constanze Mozart was motivated by financial gain – seems to me to be the most persuasive argument for her actions following Mozart's death."
39. Compelling
Usage: Use in the same way as "persuasive" above. Example: "The most compelling argument is presented by Scholar A."
40. All things considered
Usage: This means "taking everything into account". Example: "All things considered, it seems reasonable to assume that…"
How many of these words and phrases will you get into your next essay? And are any of your favourite essay terms missing from our list? Let us know in the comments below, or get in touch here to find out more about courses that can help you with your essays.
At Oxford Royale Academy, we offer a number of  summer school courses for young people who are keen to improve their essay writing skills. Click here to apply for one of our courses today, including law , politics , business , medicine  and engineering .
One response to "40 Useful Words and Phrases for Top-Notch Essays"
Thanks in favor of sharing such a pleasant idea, post is pleasant, thats why i have read it fully
Leave a Reply Cancel reply
Your email address will not be published. Required fields are marked *
Save my name, email, and website in this browser for the next time I comment.
100+ Good Conclusion Starters for the Last Paragraph
Table of Contents
Like the introductory paragraph, the conclusion paragraph should also be given utmost importance because it is the closing section of your essay or paper where you need to effectively convince your readers about your thoughts and arguments. Also, most importantly, when writing a conclusion paragraph, you should concisely present all the major points already discussed in the introduction and the body section of the essay. Do you know how to write a strong conclusion? If not, continue reading this post and learn how to write a good conclusion using perfect conclusion starters.
What is a Good Conclusion?
A conclusion is typically the last paragraph of an essay or research paper that provides a summary of the entire work. It is one of the most important parts of an essay because it shows your readers where your writing ends.
A good conclusion is one that
Provides a concise summary of the essay or research topic.
Helps the readers remember how strong your arguments were.
Encourages readers to post comments.
Draws attention to the evidence that backs up the arguments.
Most of the time, writers finish their essays quickly, and some writers forget to include a concluding section in their writing. Therefore, you must be careful to effectively conclude your essay or research paper with powerful sentences or statements in order to emphasize your ideas on a particular topic.
Remember, when you write a strong paragraph , then obviously the key points that you have included in the last section of your essay or paper will easily get stored in your readers' minds. If your conclusion is weak, then your readers will forget it quickly.
Occasionally, readers will regret selecting your topic for reading because of your poor conclusion. So, when you write the conclusion statement for an essay or research paper, remember the important steps and advice for writing a good conclusion and then craft it accordingly.
How to Write an Excellent Conclusion Paragraph?
Till now, we saw the significance of a good conclusion paragraph. Now, let us step forward and learn how to write a good conclusion paragraph.
Seriously, you can't impress your readers if you don't know to write a good conclusion. In order to conclude your essay powerfully, you can either ask provocative questions or include quotes, a warning, or a call to action.
Not just for essays, a specific structure should also be followed for writing a strong conclusion too. Your conclusion will be thoughtful and impressive only if you stick to a general conclusion outline or a standard conclusion structure containing the following elements.
A good conclusion starter
Summary of the main points presented in the body of your writing
A closing sentence
Points to Remember While Writing a Conclusion Paragraph
Never introduce a new idea or topic in your conclusion paragraph that was not covered in the introduction and body of your essay or research paper.
Don't stress the insignificant parts of your essay. Always make an effort to draw attention to the main points you want your readers to understand.
The points made in the conclusion paragraph ought to be easy to remember for the readers.
What are Conclusion Starters?
The conclusion starters are the opening sentence in your concluding paragraph. It generally acts as a link between the body and the conclusion paragraph.
One of the significant things that should be used when writing a good conclusion paragraph of your essay is the conclusion starters. With the help of conclusion starters, you can inform your readers that you are about to wrap up your writing.
There are plenty of conclusion starters available in the English language. Usually, the concluding sentences' paragraph structure will always vary depending on your writing type. However, the conclusion starters are the same for the essay types like compare and contrast, narratives, descriptive, and argumentative.
List of the Best Conclusion Starters for Final Paragraphs
Listed below are some of the best conclusion starter ideas that you can use while writing the conclusion paragraph of your essay.
Simple Conclusion Starter Words
In conclusion
All aspects considered
In drawing to the closure
The logical conclusion seems to be
Considering the perspective of
Thus, it can be restarted
On considering the different facts presented in this work
On the whole
Conclusion Starters for Essays and Speeches
In my opinion
Nevertheless
As expressed
With all these in mind
In a nutshell
Now that we know
I think there is no option but to conclude
For this reason
When faced with the question of
Given these points
There is nothing else we can conclude but
Effective Conclusion Paragraph Starters for Students
To summarize
I conclude that
To sum it all up
To put it briefly
As a result
In the final analysis
For the most part
As a final point
All things considered
For these reasons
So, I have come to the conclusion that
To wrap it all up
Impressive Conclusion Starters
The summative conclusion is that
The broad conclusion
The study concluded
Towards this end
After all, has been said
I recommend that
The informative conclusion is that
Now you know why
From now on
Looking back
I hope you can now learn that
Last but not least
In the future
You should now consider it
I think I have shown that
Without doubt
The time has come to
I agree with that
Good Conclusion Starters for Research Paper
As per the final analysis
Based on the evidence presented
As expected, the results signify
Due to the result
In light of these findings
The data reveals
As per the data, it can be indicated
The significant revelations made by the study
Unexpectedly the data revealed
To assume from the data
The result of this research showcases
What the study reveals is
On reviewing these findings it can be stated
In the context of the concept
While further research is competent
A Few More Powerful Conclusion Starters
As I observe things
At the end of the day
After all, it has been told and done
To reach the core of the heart.
As per my perspective
To make a long story short
No one could have assumed that
As the time comes to wrap up
In a simple language
As stated in the introduction
I would like to say finally
One final idea
My conclusions are
The data indicate that
It is worth re-examining
The nexus between
As this paper demonstrates
After discussing
I'm looking forward to
It is my conviction that
My final bow is that
It is my sincere belief that
Through this research, we learn that
My verdict is that
The research proves that
That was the conclusion reached
The summative end is that
Final Words
In the list mentioned above, we saw the various conclusion starters you can use to start a conclusion paragraph. No matter what your topic is, you can make your speech or write-up memorable for your audiences with the help of a great and effective conclusion. If you wish to add value to your writing, then make sure to use any good conclusion starters at the beginning of your conclusion paragraph.
If you find it difficult to conclude your essay, then contact us and get assignment help from our professional writers who are experts in writing strong and powerful conclusion statements.
Related Post
Learn How to Write a PEEL Paragraph in an Essay
140 Best Persuasive Essay Topics on Various Themes
210 Inspiring Business Essay Topics to Deal With
About author.
Jacob Smith
I am an Academic Writer and have affection to share my knowledge through posts'. I do not feel tiredness while research and analyzing the things. Sometime, I write down hundred of research topics as per the students requirements. I want to share solution oriented content to the students.
Leave a Reply Cancel reply
You must be logged in to post a comment.
140 Unique Geology Research Topics to Focus On
200+ outstanding world history topics and ideas 2023, 190 excellent ap research topics and ideas, 150+ trending group discussion topics and ideas, 170 funny speech topics to blow the minds of audience, learn how to avoid hasty generalization in your writing, 210 great religious research paper topics that will boost your academic scores, who invented exams learn the history of examination, how to focus on reading 15 effective tips for better concentration, top 15 reasons why homework should be banned, get help instantly.
Raise Your Grades with Assignment Help Pro
Questions? Call us:
Email:
Essay Writing
Essay service
Essay writers
College essay service
Write my essay
Pay for essay
Essay topics
Term Paper Writing
Term paper service
Buy term papers
Term paper help
Term paper writers
College term papers
Write my term paper
Pay for term paper
Term paper topic
Research Paper Writing
Research paper service
Buy research paper
Research paper help
Research paper writers
College research papers
Write my research paper
Pay for research paper
Research paper topics
Dissertation Writing
Dissertation service
Buy dissertation
Dissertation help
Dissertation writers
College thesis
Write my dissertation
Pay for dissertation
Dissertation topics
Other Services
Custom writing services
Speech writing service
Movie review writing
Editing service
Assignment writing
Article writing service
Book report writing
Book review writing
Popular request:
Concluding sentence: easy writing guide.
January 21, 2021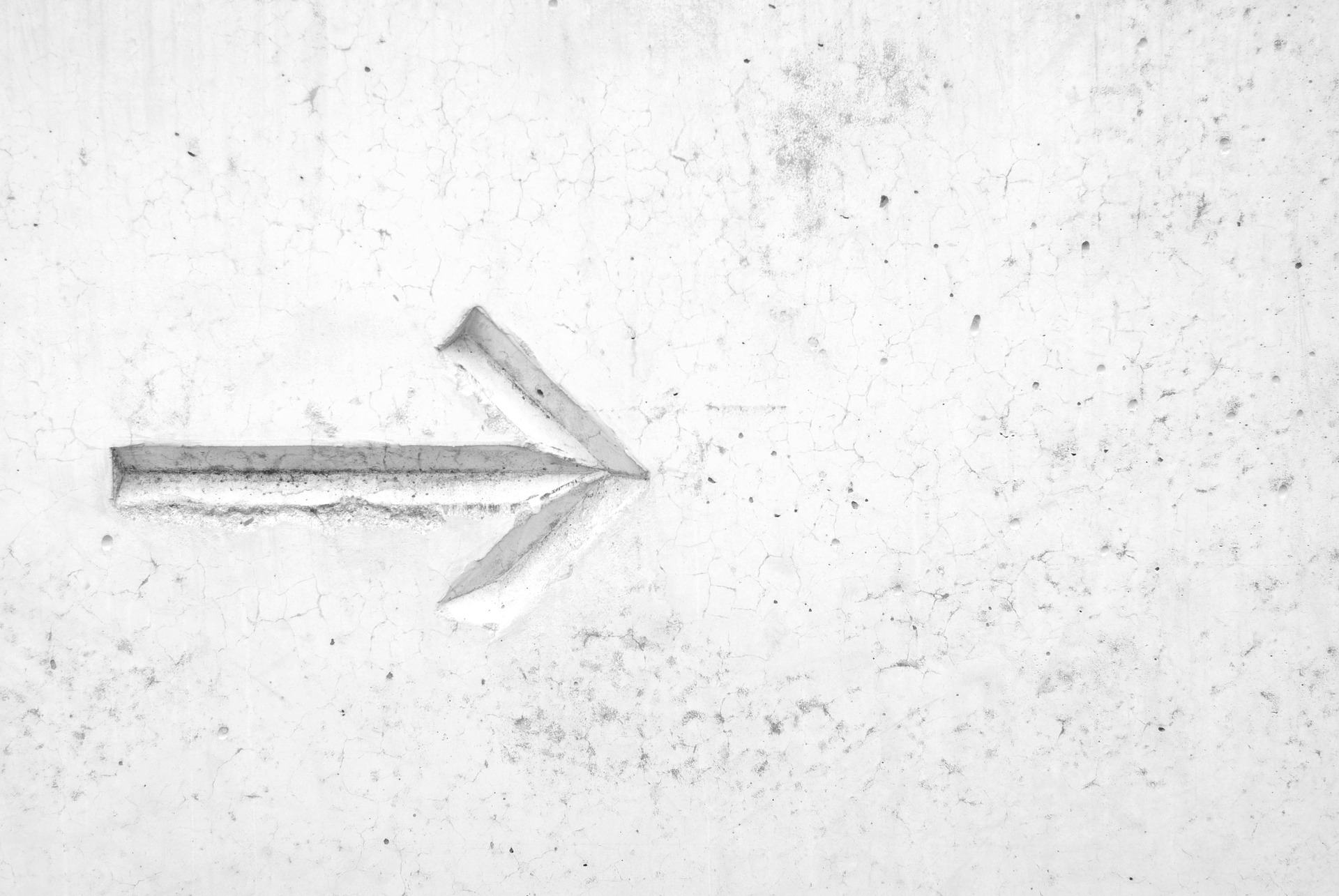 A concluding sentence should tie up an argument in a paragraph, essay, or paper. Unfortunately, many people make a mistake when writing essays and papers by leaving out this sentence. Others don't even know what a conclusion sentence is and why it is important, leave alone knowing how to write it. So, let's start by answering, what is a conclusion sentence?
What is a Concluding Sentence?
Every paragraph has a topic sentence, supporting sentences, and a concluding sentence. But, what's a concluding sentence? Well, this is the sentence that sums up all the information that has been presented in the paragraph. It tells the readers that you're getting to the closure of the paragraph.
Essentially, this sentence completes a paragraph while restating the main argument or idea. Conclusion sentence starters include words and phrases like "thus", "therefore", "resulting", "in brief", "hence", and "to sum up" are often used to start this sentence.
This sentence summarizes the main argument. It also ties the paragraph without rephrasing or your topic sentence. A concluding sentence in a paragraph wraps up the entire argument while guiding the readers regarding the information that you have provided.
How to Write a Concluding Sentence
The concluding sentence definition may vary. However, this sentence should serve its purpose effectively. To achieve this, you should learn how to write a good concluding sentence. Here is a step-by-step guide on how to write a conclusion sentence.
Summarize Start by summarizing the paragraph's content. Remember that this sentence should not introduce anything new to the paragraph. It should recap what you've shared with your readers in simple and few words. Essentially, this sentence should wrap up your main points briefly.
Make your sentence short The concluding sentence words should be few. However, the length of this sentence should depend on the essay or paragraph size. For instance, two lines could be sufficient for a paragraph that has ten lines. Essentially, summarize everything without losing the meaning.
Provide a closure In addition to summarizing a paragraph, this sentence should provide a solid closure to your readers. The importance of a solid close is less when composing a cliff-hanger only. Readers should feel at ease after reading your paper or essay. They should not be confused by the last sentence. Therefore, make sure that your sentence wraps up everything nicely.
Read the sentence Learning how to make a concluding sentence alone is not enough. You should also ensure that this sentence serves its purpose. Therefore, check your sentence to ensure that it mentions the chief points. It should provide a sense of summarization to the paragraph by wrapping up and summarizing all the key points. It should also rephrase the thesis statement to enhance understanding. What's more, it should restate your topic sentence. It should represent all the findings, data, figures, materials, logic, and facts.
When learning how to write concluding sentence, bear in mind that this is a final word on the topic. As such, it should leave readers with a sense of closure or completion. This should be the clincher instead of a summary. The essential points of your write-up should be presented in your essay conclusion. What's more, this sentence should compel readers to focus on new views regarding the topic. And most importantly, it should end on a positive note.
How to Start a Concluding Sentence
There are many ways of starting this sentence. You can learn about these ways by checking out well written concluding sentence examples. For instance, you can use these concluding sentence starters:
In conclusion ,
In general ,
Therefore ,
To understand how these starters can be used, check these conclusion sentence examples for essays.
Example 1 : In conclusion, marijuana may become recognized as a healing tool one day because it has more than recreational value.
Example 2 : Lastly, the widespread abuse of marijuana and its profitability should compel lawmakers to decriminalize its use in the U.S
Example 3: Therefore, marijuana should be availed to the general public due to its therapeutic benefits.
Example 4 : Clearly, a significant correlation between health risks and marijuana risks that explain why it should be decriminalized exist.
Example 5 : In general, marijuana should be legalized globally because its use is as old as the history of mankind.
The effective use of starters signals the beginning of this paragraph to the readers. It also ensures a smooth transition from the explanation of the main points to the end of the paragraph.
Concluding Sentence Transitions
You've probably read a good concluding sentence example and come across what seems like a transition word. Well, some of these sentences start with transition words. Here are examples of such transitions:
In other words ,
All in all ,
A writer can also include their final thought. This is very common in write-ups that do not provide a chance for writers to interject their opinion. Here is a concluding sentence essay sample that includes the final thought and a concluding statement.
In short, you can gain both stamina and muscle by following these steps though all exercise programs take time to achieve the desired results.
In this example, the writer starts the sentence with a transition, then moves on to the concluding statement before giving their opinion about the program's results.
Useful Tips and Insights
In addition to using conclusion sentence examples, follow these tips:
Add a summary – Include a summary of your essay or paper in the sentence to serve as the crux of your writing. Your final thought or judgment should be supported by the summary of the main point in this sentence.
Call for action – This sentence should call readers to take action using an emotional and factual argument to evoke the desired response from the readers.
Evoke a certain image – Make sure that your sentence has an impact on the readers by painting a vivid picture. You should convey your ideas and transfer your mental image into the mind of the readers.
Make suggestions – Recommend beneficial changes to the surrounding and the audience.
Add quotations – Starting or ending your paper or essay with a quotation can create a good impression. It can also leave a lasting effect on the reader. Therefore, consider using a quotation in your conclusion.
By reading a good conclusion sentence example, you will see how the author restates their thesis or topic sentence using the right synonyms. You will also learn to wrap up the paragraph with the right words. What's more, a good example will show you the best way to use starters and transition words to signal the beginning of this paragraph.
The purpose of the last sentence in a paragraph is to remind the audience about the discussed topic. It also sums up all the information provided in that paragraph. Although you can use a concluding sentence generator, you should learn and practice writing it. This will enable you to give every paragraph that you write a great sense of completion or closure. Writing services may also come in handy here. In short, your readers will feel that you addressed the main point to its conclusion.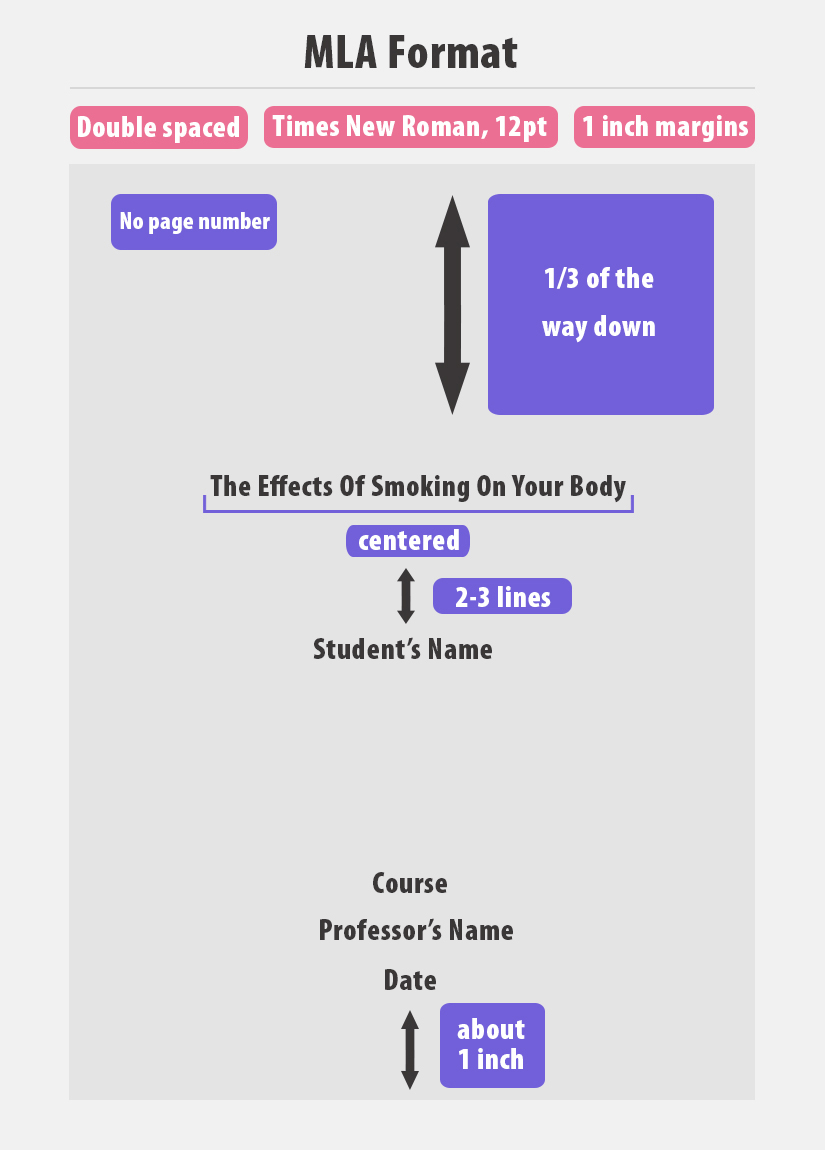 Take a break from writing.
Top academic experts are here for you.
How To Write An Autobiography Guideline And Useful Advice
182 Best Classification Essay Topics To Learn And Write About
How To Manage Stress In College: Top Practical Tips  
How To Write A Narrative Essay: Definition, Tips, And A Step-by-Step Guide
How To Write Article Review Like Professional
Great Problem Solution Essay Topics
Creating Best Stanford Roommate Essay
Costco Essay – Best Writing Guide
How To Quote A Dialogue
Wonderful Expository Essay Topics
Research Paper Topics For 2020
Interesting Persuasive Essay Topics
50 Other Ways to Say "In Conclusion" in Writing (In Conclusion Synonyms)
List of other ways to say in conclusion in English with ESL picture. Learn these synonyms for "in conclusion" to improve your vocabulary and fluency in English.
Desserts are delicious, they are the perfect way to end a great meal. After reading a long piece of writing, so is a good conclusion. Don't believe me? You've probably read a piece of writing at some point and found yourself a little confused or left with some questions, only to find the ending paragraph/s most likely starting with 'in conclusion' to clear it all up for you. This is especially important in professional and academic writing .
So, if you're interested in taking your writing to the next step, then keep on reading!
Table of Contents
In Conclusion
What is 'in conclusion'.
As you may already know, a conclusion is located at the end of a piece of writing. Its purpose is to evaluate everything that has been included in the writing before it, leaving the readers clear on what they just read, answering any questions that they may have developed while reading your writing.
If you've read a conclusion, then it may have started with 'in conclusion'. This is just a way the writer can transition from the writing to the conclusion, while letting the readers know. However, there are many other ways to transition to your conclusion.
When to Use 'In Conclusion'?
Although 'in conclusion' is a great way to begin your conclusion, it all depends on how you want to approach your conclusion.
For example, if your goal is to clearly indicate to the audience that you're about to transition to your last words, then 'in conclusion' is perfect. However, several writers claim that 'in conclusion' is best used when you are presenting a piece of writing in an oral presentation, as in writing it can be seen as an unnecessary term.
If you're writing for a professional or academic purpose, then you may want to find a better way to start your conclusion. However, if your piece of writing isn't meant to come across as formal, then 'in conclusion' is perfectly fine.
How to use 'in conclusion'?
'In conclusion' is best used when you are starting your very last words in your piece of writing, as well as, concluding what you have said throughout. Here is an example of how you can use the concluding term 'in conclusion':
In conclusion, including a conclusion in your writing proves to state your ideas to your reader in a much better way, as you are making sure that your audience is left understanding exactly what they've read, as well as, possibly reminding them of anything they may have missed while reading your piece of writing.
In Conclusion Synonym
Other ways to say in conclusion.
List of 50 synonyms for in conclusion in English. They also are known as conclusion transition words and phrases which are used to sum up what has bee n previously stated in writing.
In summary,…
After all is said and done,..
All in all,…
All things considered,…
As a result,…
As a final observation,…
At the end of the day…
Briefly to conclude…
Bringing up rear,…
By and large,…
Considering all of these,…
Everything considered,…
Finally, it may be concluded…
Finally/ Lastly,…
In a nutshell…
In closing,…
In concluding,…
In consolidation,…
In ending this,…
In essence,…
In review,…
In the end,…
In the final analysis…
It is concluded that…
It's apparent that through…
Last but not least…
On a final note…
On the whole,…
Overall, it may be said…
Summing up,…
Taking everything into account,…
Taking this into account,…
The research papers in the main…
To briefly paraphrase…
To come to the point…
To conclude,…
To end things off…
To make the long story short…
To put it all together…
To put it bluntly…
To sum up,…
To summarise the above…
To summarise,…
To wrap it all up,…
Ultimately,..
Learn more with a useful list of transition words in English.
Here are the 15 best alternatives 'in conclusion' to begin/transition to your conclusion:
In summary…
To sum up…
On the whole…
Overall, it may be said…
To conclude…
All things considered…
Finally…
Taking everything into account…
To put it all together…
Ultimately…
To briefly paraphrase…
Everything considered…
In closing…
Last but not least…
It is concluded that…
In Conclusion Synonyms with Examples
Learn many other ways to say in conclusion with example sentences.
In summary , it is difficult for this writer to recommend this book.
All in all , it has been a great success.
All things considered , your article is of great value.
As a result , services have been drastically reduced.
At the end of the day , he'll still have to make his own decision.
By and large , the new arrangements have worked well.
Lastly , the course trains students to think logically.
In a nutshell , the owners thought they knew best.
In brief , the meeting was a disaster.
In concluding , he promised to go to prison rather than pay his fine.
In essence , formal systems and procedures depend on local knowledge.
In short , we must be prepared.
In sum , we need to cut costs.
In the end , a draw was a fair result.
In the final analysis , the project was a failure.
Last but not least , it will definitely benefit the citizens.
On the whole , I'm in favour of the proposal.
To conclude  , I'd like to express my thanks to my family.
To sum up , there are two main ways of tackling the problem.
To summarise , this is a clever approach to a common problem.
Ultimately , you'll have to make the decision yourself.
Other Ways to Say IN CONCLUSION | Image
Last Updated on April 25, 2023
58 thoughts on "50 Other Ways to Say "In Conclusion" in Writing (In Conclusion Synonyms)"
Leave a comment cancel reply.

Shiny Essays Blog
Essay conclusion | example words & phrases.
Do you know what people remember most from your essay or speech? It is the beginning and the conclusion.
Our professionals know how to make your report catchy. One can learn helpful tips from our mature writers or order a ready-made captivating text with a strong conclusion.
Why does the conclusion matter?
The last paragraph reflects your ability to select the most important things from the whole flow of information. This abstract ends the text; thus, it makes the final impression.
We know from experience that the last phrase forms sort of aftertaste. Rest assured that it will be associated with your paper. So, pay enough attention to your closing words.
Good conclusion for your essay | Tips from experts
A conclusion is a final push to your brilliant essay. You have already spent so many efforts to come up with original ideas, find strong facts, and explain the core points of your project.
Now it is time to sum up your thoughts and reveal key findings. Do not give it up since you are one step away from success. If you feel absolutely exhausted at this stage, turn to our specialists for help.
For those who feel power and enthusiasm to write an essay till the last point, we have selected effective recommendations.
A magic formula to write a conclusion for an essay
For more than ten years of successful writing experience, we have written an unlimited number of conclusions for essays. We have found that the final paragraph should be composed according to the rule.
1. Short and to the point
The final part of the essay is definitely not for long reflections and new suggestions. The point is to recap all the information you have presented above. Do not overload your readers.
2. Memorable
Use eye-catching phrases to conclude your essay. You can reach this goal by selecting the most suitable words.
3. Valuable
The sense of the conclusion boils down to summarizing and, what is more important, analyzing all the above information. Herein lies its value for a reader.
A strong conclusion leaves a lasting impression on the reader. It is what shows the best of your essay.
Essay conclusions: the ultimate list of pro tips
We want to share our experience and, thus, provide this guidance on effective endings for your high school and college essays. Inspiration and in-depth knowledge enable us to write a conclusion in one breath. But what if a muse does not come? Then, one can try some routine ways. Here we emphasize practical advice.
1. Make a list of the core ideas presented in the main part
It will help you concentrate attention around them for summing up. Meantime, having this outline in front of eyes, you avoid repeating the same wordings.
2. Reread the introduction
The conclusion must follow from the first part of the paper. Start with a transition sentence connecting the initial idea to your closing thoughts.
3. Rewrite the main thoughts
Rephrase wordings to avoid duplication. Or ask our rewriter to do it https://shinyessays.com/blog/essay-rewriter-for-hire . Wrapping up is essential for this part of the report. Meantime, it cannot be an end in itself. A conclusion should be much more than a summary.
4. Look one more time at your final abstract
Cross out new arguments and facts from it.
5. "Dig deeper"
What is the sense of my essay? What is my central message? Why is it helpful? What is the value of my suggestions for a reader (field of science, humankind, in general...) Ask yourself similar questions to synthesize and highlight key points of your project. A professor expects to see a logical flow of thoughts related to each other in your conclusion.
6. Add confidence
If you need a powerful conclusion, eliminate all the doubts from this paragraph. Avoid words: "probably," "maybe," "I am not sure," etc.
7. Give food for thought
If the format of the essay allows, end it on a provocative note. A rhetorical question is remembered since it leaves a reader alone with his/her thoughts.
Are there any alternatives to conclusions?
It happens that an essay has no conclusion in the traditional sense. Yes, sometimes, professors do not require to end a paper according to academic standards. So, you are free to come up with new ideas.
Here are some prompts for inspiration and practical use.
Describe only implications of the core issue.
Speculate on the further course of events.
Pose an unexpected question to the reader. (Still it, should be relevant to the topic.)
Go from the particular to the general. Show how the object of your study influences the whole picture.
Rules for writing conclusions may vary depending on the type of the essay. Let's figure it out in detail.
What is the best conclusion for a critical essay?
A critical essay is a matter of analysis, firstly. Students might associate it with a negative review (critique), yet, it's not like that. The sense is to study a particular object and give an objective evaluation. Therefore, the final part of these papers must contain the core findings made during this examination.
Some ideas on how to write it:
put it all together;
find stronger wordings to recap the main suggestions,
come up with a succinct phrase reflecting your discovery.
Conclusions for academic papers
Obviously, academic papers require a serious approach to writing. Educational institutions set their rules for composing essays, and their chapters, in particular. Students are restricted with these standards and have to operate within rigid frames. These may vary according to colleges and types of academic papers. Yet, we can reveal the most common of them.
In fact, you need to answer the following questions in a couple phrases.
What is the purpose of the paper?
What is the best way to prove your thesis statement?
Why is your academic paper worth reading? Demonstrate the importance of your insights.
Is there any value of your treatise for further research?
Conclusions that irritate
The truth is your teachers and professors read thousands of essays every year. They explain the rules of good conclusions and give practical recommendations. Still, some students go against these principles and common sense, in general.
Our assistants have selected phrases that may spoil the overall impression of your report. However, do take them as the only truth. You could have quite another college policy.
1. "In conclusion," "the conclusion is..."
If you want to stand out among other multiple applicants and pupils, think about more interesting wording. Stop being Captain Obvious, look for new catchphrases, and get a well-earned A.
2. "And now let's talk about a new concept (event, phenomena, theme)..."
Wait, it is the conclusion, not a new chapter. Thus, do not give any new facts and explanations. The reader expects a summary but not a continuation or a beginning, which is even worse. Calculations, clarifications, statistics, and other arguments must be written in the main part.
3. "Look at this issue from the new angle," "I have just revealed that, ..."
Unexpected conclusions are good for fiction. An academic field does not appreciate such twists. They definitely need "spoilers" in the body of your paper.
4. "That' all, folks…"
It's not a good idea to cite Looney Tunes cartoons in essays for high schools or colleges. The same can be said about jargon and slang.
Here are some more variants on how to annoy a professor.
Typical mistakes in conclusions
We want you to avoid common misconceptions concerning the final paragraph. For this purpose, we have selected some of the most popular remarks from professors.
✓ It is too long
You need to monitor the proportions of this part. Obviously, the conclusion cannot be longer than the main part.
✓ Pupils start a new page to write it
The conclusion is the last part of an essay. It is not the same as a new chapter of a dissertation.
✓ The style of the conclusion differs from the manner of writing of the previous parts
Sometimes we witness this dissonance, and it really comes across as something weird. Your teacher might also think that another person wrote it.
Conclusion in an opinion essay
The purpose of the opinion essay is to express a personal point of view. One can take it as an opportunity to show individuality. Importantly, this principle must be reflected in the final paragraph.
Here is an abstract from an essay by an actor James Franco . He demonstrates his positive attitude to selfies and sums up thoughts in one beautiful abstract.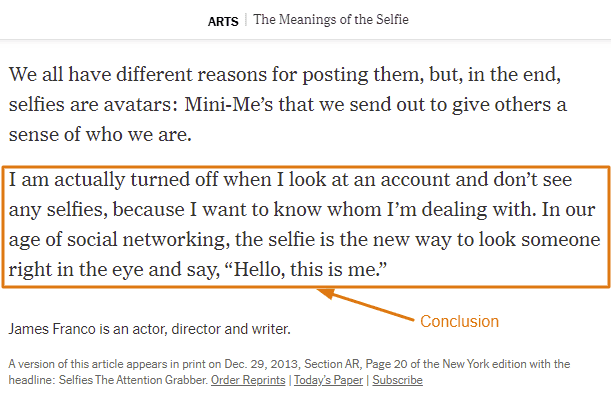 Source: nytimes.com/2013/12/29/arts/the-meanings-of-the-selfie.html
Some hints from our authors
Do not change your attitude in the final part
It is not recommended to write sudden new views. You need to demonstrate a consistent piece of writing.
Formulate your viewpoint in one phrase
Learn to be concise. The conclusion is not for repeating the same thoughts that are presented in the body of the essay. What is even more important, it is not about overloading your readers with a bunch of information.
Show the uniqueness of your thoughts and reflections. Your fresh view is what professors will definitely appreciate.
A conclusion from "an essay about knowledge in 2020" (random example from our author):
"In fact, one needs to know only the basic things and principles. Yet, you need to understand much more. The sense is not to memorize encyclopedic data but to comprehend it. Your abilities are unlimited when you are good at observing, analyzing, and predicting."
How to conclude a problem solution essay?
One clear answer is what a professor wants to read at the end of your problem solution essay. You can come up with various decisions, yet do not forget about a concise manner of the final abstract. Here are some of our variants from our specialists:
✓ reveal preventive measures;
✓ show well-known ways of fight against the issue;
✓ determine the most effective strategies;
✓ demonstrate the effectiveness of your solution;
✓ add your personal recommendations.
General phrases for an essay conclusion
There are numerous synonyms to a banal phrase "in conclusion." If you cannot find proper words for your final part, check out our hints.
A little bit sophisticated :
unquestionably,
all things considered,
in view of all the above aspects,
in the final analysis.
Convincing:
most would agree that,
as a result of,
there is general agreement that,
the present findings confirm.
In case you need academic wordings:
The findings of this essay can be understood as…
The research leads to the following findings…
The results demonstrate...
These outcomes suggest that...
Parts of an essay conclusion
For your convenience, we present a classical structure of the essay conclusion. It could help you put thoughts together and finish your text quickly and efficiently.
1. So, how to start a conclusion?
Formulate the thesis using new words. It could be your first sentence.
2. The main part of the conclusion
"Squeeze" essential moments from the body of the essay.
3. The final concluding sentence
It is a place for the best "polished" thoughts and ideas.
Purposes of conclusions:
leave an aftertaste (it is not compulsory to end your essay on a positive note. It depends on the topic of the paper),
draw attention to the bottom line of the essay.
Things to avoid in conclusions:
new data on your topic,
long abstracts,
irrelevant information.
Strategies for writing conclusions
1. Three layers of "so-what?"
We know firsthand that " So-what model " of analysis is helpful for writing conclusions. The thing is to get to the root of the issue.Let's consider an example. Say, you are working on an essay "The importance of education in 2020." You need to answer three questions:
What is the core message of the report?
Education is extremely essential for students today.
You cannot get a dream job without a college degree.
Ignoring education, you deprive yourself of opportunities to succeed in life.
In fact, you need to question your takeaway and prove the point. Herein lies the sense of in-depth analysis that forms the basis of a well-considered essay.
2. Tie it to the introduction
A sense of completion is what your conclusion must leave. A reader has to find brief answers to questions posed at the beginning.
3. Analyze, but do not repeat
There is no value in duplicating the same thoughts at the end of the essay. Instead, you need to reveal cause and effect, provide an outlook, interpret the results from your angle. In doing so, you add value to your piece of writing.
4. Find a balance between emotions and rational suggestions
In most cases, sentimental phrases are not acceptable for academic writing. Still, sometimes you can draw emotional images to add sincerity.
Conclusion examples for inspiration
Have you read an essay by Angelina Jolie about so-called "wicked" women?
It is about female power and independence.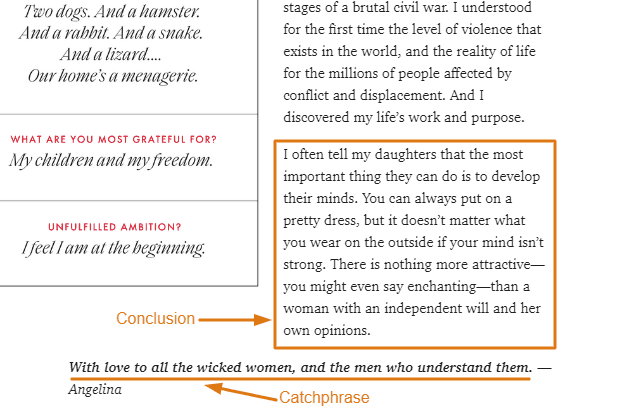 Source: https://www.elle.com/culture/a28555952/angelina-jolie-maleficent-interview/
Expert opinion:
We really appreciate this article for revealing such acute matters. And the conclusion is written perfectly. What do we see here?
1. Summing. It is about the significance of a woman's self-sufficiency and her active life position, since "there is nothing more attractive and enchanting."
2. Catchphrase. We like this wording about the love of "wicked" women and, especially, of men who accept them. It comes across as a sincere message.
If you need a similar essay, you can order it from our team of skilled writers .
George Orwell's essay on an atomic bomb was the reason for numerous discussions all over the world back in the day.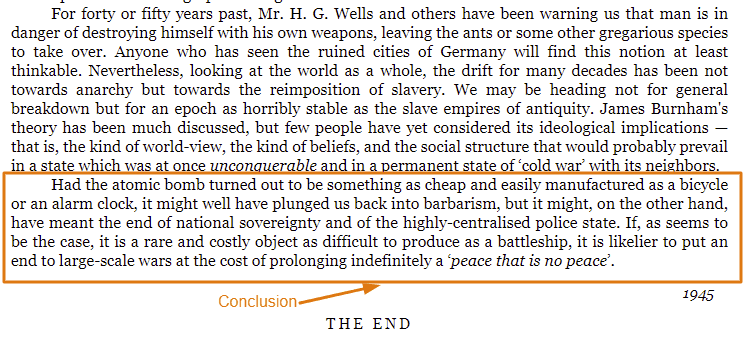 Source: https://orwell.ru/library/articles/ABomb/english/e_abomb
Expert's opinion:
It is a classic example of a short-and-to-the-point conclusion. It concisely demonstrates the implications of the atomic bomb, which is a restriction of the savagery and establishing some semblance of peace.
What about your good old friends Shinyessays.com? We cannot share the conclusions we have written for clients due to the Privacy Policy. So, why not consider our pages?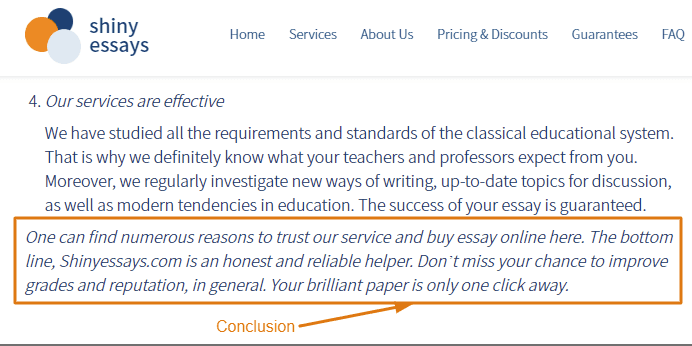 https://shinyessays.com/purchase
This conclusion does not contain banal words. Apparently "the bottom line" sounds better than "in conclusion." One can find an answer to the question "Your services are good, so what?" Here we show obvious benefits you get: better grades and ratings.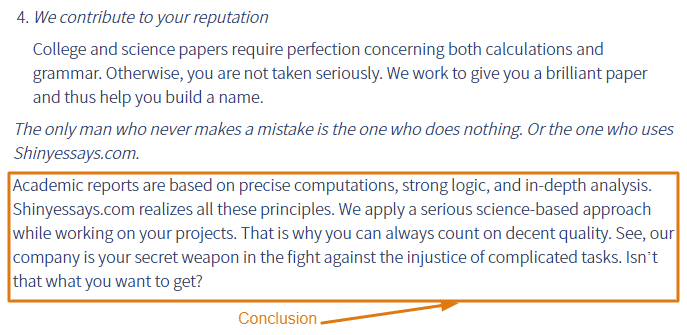 As we see, attention is drawn to the academic level of services, which is the main thought of this post. The last question makes readers ponder on their wishes.
Send us your essay to get a review on your conclusion or order essay writing and related services on our website.
What is it all for?
We are sure this post will be helpful for you sooner or later. If you have read it till the end, you might become a " guru of conclusions ." Having studied the above tips and examples, you can write the ending for your essay in a snap. If you are stuck with this assignment, our writing agency Shinyessays.com will do it with skill.
You might also like:
Why are Veterans Important Essay Example
"Should Transgender Athletes Compete in Sports" Essay
Do Video Games Cause Violence" Essay
Place your order — make the first step to your hassle-free life!
Resume title
AI Content Shield
AI KW Research
AI Assistant
SEO Optimizer
AI KW Clustering
Customer reviews
The NLO Revolution
Press Center
Help Center
Content Resources
Facebook Group
Good Words To Start an Effective Conclusion
Table of Contents
Conclusions are one of the most challenging and essential paragraphs you will write in your essay or paper.
The concluding paragraph should summarize the thoughts discussed in your writing. It should also convey the most important arguments and leave a powerful impression on readers. But how exactly do you start this important paragraph? Well, we're here with some tips and creative ideas on good words to start your conclusion paragraph !
The way you start your conclusion is very important. You want to steer clear of overused conclusion starters such as: "I concluded that" or "In this essay I have." Keep on reading to learn how to start your conclusion in a way that will make it stand out.
What Makes a Good Conclusion
The conclusion is the last paragraph of an essay or research paper that summarizes your entire writing . It conveys the main points of your work.
A good conclusion has the following characteristics:
It gives a clear overview of what the essay or research topic is about
Helps motivate the readers to ponder on the issue or act on it
It serves as a reminder of the strength of your arguments.
Provides significant evidence in support of the argument.
Tips for Writing an Effective Conclusion Paragraph
Conclusions are meant to reiterate the arguments and thesis of the essay . In other words, it provides a sense of closure and suggests that you have accomplished the goal.
Keep these tips in mind when writing your conclusion to ensure its effectiveness:
End the essay with a positive note
Communicate the significance of your ideas and the subject matter
Provide a sense of closure to the reader
Summarise your main points and re-emphasize them
Rephrase your thesis statement and support it with evidence
Good Words to Start Your Conclusion Paragraph
It's common for papers to start their conclusion with common phrases like "In conclusion" or "To conclude." But there are more effective ways to begin your conclusion. Here are just some of them.
Conclusion Starter Ideas for Research Paper
As per the final analysis
Based on the evidence presented
As expected, the results signify
In light of these findings
The research data reveals that
As per the data, we can infer that
The significant revelations made by the study
Unexpectedly the data revealed
To assume from the data
The result of this research showcases
What the study shows is
Through reviewing these findings, we can state
In the context of this paper,
While further research is competent
In the final analysis
For the most part
In my opinion
As a final point
All things considered
For these reasons
As such, I have come to a conclusion that
To wrap it all up
Other Good Conclusion Starters
Based on our observation
After all, it has been told and done
In my point of view
To make a long story short
No one could have assumed that
In a simple language
As stated in the introduction
I would like to say finally
One final idea
My conclusions are
The data indicate that
It is worth re-examining
The nexus between
As this paper demonstrates
After discussing
I'm looking forward to
The conclusion paragraph of your paper is meant to wrap up all the essential things you've discussed. It should bring your paper to a close by connecting the points you've made. Transition to your conclusion clearly, using these good words to start your conclusion paragraph .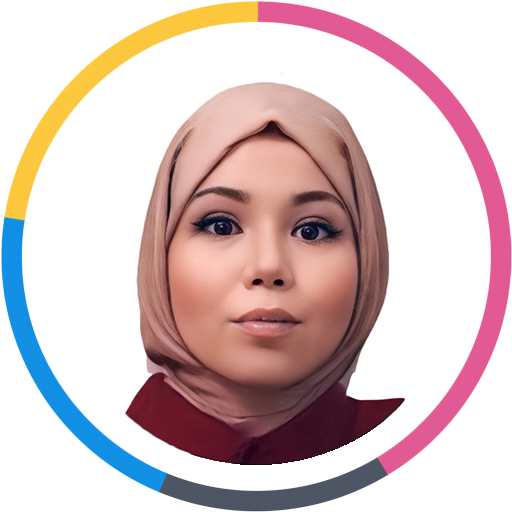 Abir Ghenaiet
Abir is a data analyst and researcher. Among her interests are artificial intelligence, machine learning, and natural language processing. As a humanitarian and educator, she actively supports women in tech and promotes diversity.
Explore All Blog Post Conclusion Articles
A guide to writing a conclusion for a speech.
A quality speech or presentation is comparable to a quality play, film, or song. It begins by grabbing the listener's…
The Ideal Length Of a Conclusion Paragraph
You have spent a lot of time writing your essay by the time you reach the final paragraph, so your…
Writing a Conclusion for Persuasive Essays!
Conclusions bring everything you have been discussing in your paper to a close. In the introduction and body paragraphs, you…
Clear Guide to Introduction & Conclusion Paragraphs Examples
The introduction and conclusion play a major role in academic essays. Writing these paragraphs typically requires much of your focus.…
Effective Guide to Write a Discussion & Conclusion
How to write a discussion and conclusion section of a paper? This is often one of the most confusing aspects,…
Importance of Good Conclusion Paragraph for a Research Paper
Writing a good conclusion paragraph for a research paper can sometimes be challenging. Writers often find it difficult to draft…
More From Forbes
6 common marketing mistakes your business could be making.
Share to Facebook
Share to Twitter
Share to Linkedin
Alex Quin is CMO of award-winning Digital Marketing firm UADV. He is a full-stack marketing expert, global keynote speaker & podcast host.
Marketing strategies play a crucial role in shaping business success. However, even the best-laid plans can go wrong when mistakes are made. From overlooking audience analysis to neglecting the power of data, each misstep can impact your brand's success.
By understanding some of the most common pitfalls and implementing improvement strategies, you can navigate the complexities of modern marketing more effectively. Here are the six most common marketing mistakes I see businesses making.
1. Neglecting A Target Audience Analysis
Understanding and connecting with the right audience is the foundation of successful marketing. But failing to conduct a comprehensive target audience analysis can result in campaigns that miss the mark and fail to resonate with potential customers. This often leads to inefficient resource allocation and a diminished return on investment.
To address this issue, make sure you conduct detailed audience research and segmentation. This helps you identify the demographics, preferences, pain points and behaviors of different audience segments. And with the insight gained from your research, you can tailor your marketing messages to speak directly to each group.
Ukrainian Troops Have Crossed The First Of The Russians' Three Main Trenchlines
Tropical storm idalia reaches south carolina after barreling through florida and georgia, is chelsea and spain's marc cucurella a clever signing for manchester united.
According to research by McKinsey & Company , "companies that excel at personalization generate 40 percent more revenue from those activities than average players." Essentially, investing in audience analysis and then acting on what you learn yields substantial returns and fosters a deeper connection between brands and consumers.
2. Not Setting Clear And Measurable Goals
Marketing without clearly defined and measurable goals is comparable to sailing without a compass. Ambiguous or unrealistic goals can lead to misalignment between marketing efforts and broader business objectives. With clear objectives, you can keep sight of what you intend to achieve, and it's easier to accurately assess your campaigns' outcomes.
I recommend setting SMART goals . These are goals that are specific, measurable, achievable, relevant and time-bound. The SMART framework is widely used in various fields, including marketing.
So how do you set SMART goals? Well, aiming to increase website traffic by 20% within six months or achieving a 15% growth in sales leads through a particular campaign are simple examples of SMART goals that provide clear direction and benchmarks for success. Such goals not only guide marketing strategies effectively but also ensure alignment with the broader business agenda.
3. Overlooking The Power Of Content Marketing
Content marketing is definitely a cornerstone of modern marketing strategies. It generates three times as many leads as traditional outbound marketing but costs 62% less. It has been shown time and again that brands that provide valuable, informative and engaging content not only establish themselves as authorities in their industries but also foster lasting relationships with their audience.
Incorporating content marketing across various channels is key to success. Each piece of content—from blog posts and videos to social media updates—contributes to your brand's narrative and engagement. Combine it with paid advertising and SEO efforts to create a synergy that amplifies the impact of each approach.
4. Neglecting Data And Analytics
Data plays a critical role in shaping decisions and strategies across various industries. Overlooking the insights that data and analytics provide may result in missed opportunities for optimization and growth.
Make sure you're using marketing analytics tools to evaluate your brand's performance. Paying attention to metrics such as conversion rates, customer acquisition costs and customer lifetime value can provide actionable insights that can guide your decision making.
5. Ignoring The Power Of Social Media
Social media platforms have revolutionized the way businesses connect with their audiences. Neglecting these platforms means missing out on an immense opportunity for brand visibility, engagement and customer interaction. With billions of users across various platforms, social media offers a direct channel to reach target audiences and build lasting relationships.
Effective social media management and content curation are essential strategies to harness the power of these platforms. To create a vibrant social presence, make sure you're posting consistently, sharing engaging visuals and interacting meaningfully with your followers.
6. Failing To Adapt To Changing Trends
The marketing landscape is constantly in flux, with industry trends and consumer preferences evolving rapidly. Failing to adapt to these changes can render your brand irrelevant and hinder your ability to compete effectively.
Embracing innovation and new technologies is crucial for staying relevant. Make sure you're incorporating emerging trends into your marketing strategies. Some examples include artificial intelligence, augmented reality and influencer marketing. This can help you capture your audience's attention and differentiate yourself from competitors.
Marketing mistakes can be both enlightening and costly. As the marketing industry continues to transform, identifying errors and rectifying them are pivotal for steering your brand toward achievement and resilience. At the core of successful marketing strategies lie continuous improvement, informed decisions derived from data and the flexibility to embrace shifting paradigms.
Forbes Agency Council is an invitation-only community for executives in successful public relations, media strategy, creative and advertising agencies. Do I qualify?
Editorial Standards
Reprints & Permissions
'Yacht' races, concerts galore: 5 things to do in metro Detroit for Labor Day weekend
This weekend symbolizes the informal conclusion of summer, accompanied by enjoyable Labor Day traditions all over metro Detroit.
Festivities will bring together crowds for music, food and amusements in Hamtramck, Romeo, Royal Oak, Franklin, Detroit and Novi.
Here are few things to do for the weekend of Sept.1-4:
Hamtramck Labor Day Festival
This festival sponsored by Hatch will feature "yacht" races (a Hamtramck tradition), wrestling, live music, food, carnival rides, a parade on Monday, and more.
There will be music performances by Day Residue, The Stools , Detroit Cobras, The Dead Milkmen, Coxiopioxio, Dark Red, Duende and more.
Noon-10 p.m. Saturday-Monday on Jos. Campau in Hamtramck. Free admission.
Detroit Jazz Fest
This free, four-day annual tradition will take place in Hart Plaza and Campus Martius Sept. 1-4, and will include  2023 National Endowment for the Arts Jazz Masters Louis Hayes, Regina Carter and Kenny Garrett  — all of whom hail from Detroit.
This year's artist in residence, Detroit's own Karriem Riggins, is an award-winning jazz, R&B and hip-hop drummer, songwriter and producer who's collaborated with jazz and pop musicians as Ray Brown, Paul McCartney, Roy Hargrove, Norah Jones, Esperanza Spalding, Cedar Walton and Milt Jackson, and hip-hop artists like The Roots, Kanye West, Consequence, singers Erykah Badu and Dwele and late Detroit rap producer J Dilla.
A tribute to the uber-influential Dilla, "J Dilla Lives Forever," will be performed the evening of Sunday, Sept. 3, as a part of the weekend's diverse offerings. T3, the lone surviving original member of the Dilla-led Detroit rap group Slum Village, is also set to perform at the festival.
Celebrated rapper Common and renowned producer Madlib are also scheduled to perform, infusing this year's festival with a heavy dose of hip-hop.
Full program schedule at detroitjazzfest.org .
Romeo Peach Festival
This 92nd annual festival in the Village of Romeo will include carnival rides, games, fireworks, live music, food, a classic car show and cruise, parades, a pancake breakfast, and more.
Events will be held at various locations around the Romeo area. Times and Admission fees will vary by event.
Romeo Lions festival grounds admission is free on Thursday; Friday-Monday $5 daily admission to the carnival grounds starting at noon; children 12 and younger are free.
Soaring Eagle Arts, Beats & Eats
This four-day, mile-long event will bring music, food and art to downtown Royal Oak.
A juried fine art show at the southern edge of the festival site will showcase artists from across the nation.
This year's music headliners scheduled to perform on more than nine stages will include Joan Jett & The Blackhearts , Halestorm , Russell Dickerson , and Bell Biv DeVoe , American Authors , Collective Soul and Randy Houser .
More: Joan Jett, Bell Biv DeVoe lead Arts, Beats & Eats lineup; first-ever cannabis zone to debut
A variety of food trucks and restaurant booths will feature unique cultural dishes, classic American cuisine, desserts and more.
New to the festival this year will be a designated cannabis zone, including sales and consumption,
Festival hours are 11 a.m.-11 p.m. Friday-Sunday and 11 a.m.-9:30 p.m. Monday. Single-day tickets are $7 in advance; admission is free until 5 p.m. Friday and $12 after that. Saturday-Monday entry is $10 until 3 pm. and $12 after 3 p.m.
Michigan State Fair
This annual event will include carnival rides, animal shows, a circus, live music, food and more.
There will be music performances by James Wailin, Laura Mendoza, George Montrelle , Kathleen Murray , Mike Ward , Barelyon and more.
11 a.m.-10 p.m. Thursday and Friday; 10 a.m.-10 p.m. Saturday and Sunday; and 10 a.m.-9 p.m. Monday at Suburban Collection Showplace, 46100 Grand River in Novi. Tickets start at $10, which includes admission to the fair.
Labor Day Round Up and Art Fair
The 78th Franklin Community Association Labor Day Round Up family fair will feature a parade at noon, giant inflatables, pony rides, petting farm, magic show, jugglers, interactive circus, midway games, face painting, food, classic car show, Historical Society and Garden Club displays, and more. 10 a.m.-3 p.m. Monday in downtown Franklin.
Art in the Village , a fine art fair, will feature works in glass, pottery, fiber, furniture, jewelry, photography, painting, watercolor, wood, sculpture and metal. There will also be musical performances throughout the day. 10 a.m.-5 p.m. Monday on Franklin Road between 13 Mile and 14 Mile in Franklin. Free admission.
Brendel Hightower is an assistant editor at the Detroit Free Press.   Contact her at  [email protected] .   Support local journalism:  Subscribe to the Detroit Free Press .
What is a BRICS currency and is the U.S. dollar in trouble?
Delegates walk past the logos of the BRICS summit during the 2023 BRICS Summit at the Sandton Convention Centre in Johannesburg, South Africa on August 23, 2023. GIANLUIGI GUERCIA/Pool via REUTERS Acquire Licensing Rights
JOHANNESBURG, Aug 23 (Reuters) - Brazil's President called on Wednesday for the BRICS nations to create a common currency for trade and investment between each other, as a means of reducing their vulnerability to dollar exchange rate fluctuations.
Luiz Inacio Lula da Silva made the proposal at a BRICS summit in Johannesburg.
Officials and economists have pointed out the difficulties involved in such a project, given the economic, political and geographic disparities between Brazil, Russia, India, China and South Africa.
WHY DOES LULA WANT A BRICS CURRENCY?
Brazil's president doesn't believe nations that don't use the dollar should be forced to trade in the currency, and he has also advocated for a common currency in the Mercosur bloc of South American countries.
A BRICS currency "increases our payment options and reduces our vulnerabilities," he told the summit's opening plenary session.
WHAT DO OTHER BRICS LEADERS THINK?
South African officials had said a BRICS currency was not on the agenda for the summit.
In July, India's foreign minister said, "there is no idea of a BRICS currency". Its foreign secretary said before departing for the summit that boosting trade in national currencies would be discussed.
Russian President Vladimir Putin said the gathering, which ha attended via videolink, would discuss switching trade between member countries away from the dollar to national currencies.
China has not commented on the idea. President Xi Jinping spoke at the summit of promoting "the reform of the international financial and monetary system".
WHAT ARE THE CHALLENGES OF SETTING UP A BRICS CURRENCY?
Building a BRICS currency would be a "political project", South African central bank governor Lesetja Kganyago told a radio station in July.
"If you want it, you'll have to get a banking union, you'll have to get a fiscal union, you've got to get macroeconomic convergence," Kganyago said.
"Importantly, you need a disciplining mechanism for the countries that fall out of line with it... Plus they will need a common central bank... where does it get located?"
Trade imbalances are also a problem, Herbert Poenisch, a senior fellow at Zhejiang University, wrote in a blog for think-tank OMFIF.
"All BRICS member countries have China as their main trading partner and little trade with each other."
IS THE U.S. DOLLAR IN TROUBLE?
BRICS leaders have said they want to use their national currencies more instead of the dollar, which strengthened sharply last year as the Federal Reserve raised interest rates and Russia invaded Ukraine, making dollar debt and many imports more expensive.
Russia's sanctions-imposed exile from global financial systems last year also fuelled speculation that non-western allies would shift away from the dollar.
"The objective, irreversible process of de-dollarisation of our economic ties is gaining momentum," Putin told the summit on Tuesday.
The greenback's share of official FX reserves fell to a 20-year low of 58% in the final quarter of 2022, and 47% when adjusted for exchange rate changes, according to International Monetary Fund data.
However, the dollar still dominates global trade. It is on one side of almost 90% of global forex transactions, according to Bank of International Settlements Data.
De-dollarising would need countless exporters and importers, as well as borrowers, lenders and currency traders across the world, to independently decide to use other currencies.
Reporting by Rachel Savage, Additional reporting by Ethan Wang in Beijing, Marcela Ayres in Brasilia, Gabriel Stargardter in Rio de Janeiro, and Naomi Rovnick, Libby George and Marc Jones in London, Editing by John Stonestreet
Our Standards: The Thomson Reuters Trust Principles.
Thomson Reuters
Rachel Savage is Africa Senior Markets Correspondent at Reuters, where she covers finance and economics across Sub-Saharan Africa, from sovereign debt crises and IMF programs to foreign exchange markets and cryptocurrencies. Previously she was LGBT+ Correspondent at the Thomson Reuters Foundation for just over three years and was awarded Journalist of the Year in 2021 by the NLJGA: The Association of LGBTQ Journalists, a U.S. group. Before that, Rachel was based in Nairobi and then Lagos as an East and West Africa Correspondent for The Economist, after starting her career a decade ago as a business journalist in London.
China's on the move again, economic outlook brightens
Japan's biggest banks to raise housing loan rates after BOJ's policy tweak
Japan's tourism restart stirs hope of service-sector recovery -PMI
South Korea's Sept inflation slows but tightening bias seen intact
More from Reuters
Rupee to receive boost from yuan rally, growth data
The Indian rupee is set to rise at open on Friday on the back of a rally in the Chinese yuan following steps by the country's central bank and on robust domestic June-quarter growth.
Indian shares set to open lower as investors eye US jobs data
Dollar set for weekly loss as crucial US jobs data looms
Asia stocks edge higher as China acts on housing, yuan weakness
Indonesia's annual inflation inched up in August, but was below market expectations and still within the central bank's target range, statistics bureau data showed on Friday.