Writing an Abstract for Your Research Paper
Definition and Purpose of Abstracts
An abstract is a short summary of your (published or unpublished) research paper, usually about a paragraph (c. 6-7 sentences, 150-250 words) long. A well-written abstract serves multiple purposes:
an abstract lets readers get the gist or essence of your paper or article quickly, in order to decide whether to read the full paper;
an abstract prepares readers to follow the detailed information, analyses, and arguments in your full paper;
and, later, an abstract helps readers remember key points from your paper.
It's also worth remembering that search engines and bibliographic databases use abstracts, as well as the title, to identify key terms for indexing your published paper. So what you include in your abstract and in your title are crucial for helping other researchers find your paper or article.
If you are writing an abstract for a course paper, your professor may give you specific guidelines for what to include and how to organize your abstract. Similarly, academic journals often have specific requirements for abstracts. So in addition to following the advice on this page, you should be sure to look for and follow any guidelines from the course or journal you're writing for.
The Contents of an Abstract
Abstracts contain most of the following kinds of information in brief form. The body of your paper will, of course, develop and explain these ideas much more fully. As you will see in the samples below, the proportion of your abstract that you devote to each kind of information—and the sequence of that information—will vary, depending on the nature and genre of the paper that you are summarizing in your abstract. And in some cases, some of this information is implied, rather than stated explicitly. The Publication Manual of the American Psychological Association , which is widely used in the social sciences, gives specific guidelines for what to include in the abstract for different kinds of papers—for empirical studies, literature reviews or meta-analyses, theoretical papers, methodological papers, and case studies.
Here are the typical kinds of information found in most abstracts:
the context or background information for your research; the general topic under study; the specific topic of your research
the central questions or statement of the problem your research addresses
what's already known about this question, what previous research has done or shown
the main reason(s) , the exigency, the rationale , the goals for your research—Why is it important to address these questions? Are you, for example, examining a new topic? Why is that topic worth examining? Are you filling a gap in previous research? Applying new methods to take a fresh look at existing ideas or data? Resolving a dispute within the literature in your field? . . .
your research and/or analytical methods
your main findings , results , or arguments
the significance or implications of your findings or arguments.
Your abstract should be intelligible on its own, without a reader's having to read your entire paper. And in an abstract, you usually do not cite references—most of your abstract will describe what you have studied in your research and what you have found and what you argue in your paper. In the body of your paper, you will cite the specific literature that informs your research.
When to Write Your Abstract
Although you might be tempted to write your abstract first because it will appear as the very first part of your paper, it's a good idea to wait to write your abstract until after you've drafted your full paper, so that you know what you're summarizing.
What follows are some sample abstracts in published papers or articles, all written by faculty at UW-Madison who come from a variety of disciplines. We have annotated these samples to help you see the work that these authors are doing within their abstracts.
Choosing Verb Tenses within Your Abstract
The social science sample (Sample 1) below uses the present tense to describe general facts and interpretations that have been and are currently true, including the prevailing explanation for the social phenomenon under study. That abstract also uses the present tense to describe the methods, the findings, the arguments, and the implications of the findings from their new research study. The authors use the past tense to describe previous research.
The humanities sample (Sample 2) below uses the past tense to describe completed events in the past (the texts created in the pulp fiction industry in the 1970s and 80s) and uses the present tense to describe what is happening in those texts, to explain the significance or meaning of those texts, and to describe the arguments presented in the article.
The science samples (Samples 3 and 4) below use the past tense to describe what previous research studies have done and the research the authors have conducted, the methods they have followed, and what they have found. In their rationale or justification for their research (what remains to be done), they use the present tense. They also use the present tense to introduce their study (in Sample 3, "Here we report . . .") and to explain the significance of their study (In Sample 3, This reprogramming . . . "provides a scalable cell source for. . .").
Sample Abstract 1
From the social sciences.
Reporting new findings about the reasons for increasing economic homogamy among spouses
Gonalons-Pons, Pilar, and Christine R. Schwartz. "Trends in Economic Homogamy: Changes in Assortative Mating or the Division of Labor in Marriage?" Demography , vol. 54, no. 3, 2017, pp. 985-1005.
Sample Abstract 2
From the humanities.
Analyzing underground pulp fiction publications in Tanzania, this article makes an argument about the cultural significance of those publications
Emily Callaci. "Street Textuality: Socialism, Masculinity, and Urban Belonging in Tanzania's Pulp Fiction Publishing Industry, 1975-1985." Comparative Studies in Society and History , vol. 59, no. 1, 2017, pp. 183-210.
Sample Abstract/Summary 3
From the sciences.
Reporting a new method for reprogramming adult mouse fibroblasts into induced cardiac progenitor cells
Lalit, Pratik A., Max R. Salick, Daryl O. Nelson, Jayne M. Squirrell, Christina M. Shafer, Neel G. Patel, Imaan Saeed, Eric G. Schmuck, Yogananda S. Markandeya, Rachel Wong, Martin R. Lea, Kevin W. Eliceiri, Timothy A. Hacker, Wendy C. Crone, Michael Kyba, Daniel J. Garry, Ron Stewart, James A. Thomson, Karen M. Downs, Gary E. Lyons, and Timothy J. Kamp. "Lineage Reprogramming of Fibroblasts into Proliferative Induced Cardiac Progenitor Cells by Defined Factors." Cell Stem Cell , vol. 18, 2016, pp. 354-367.
Sample Abstract 4, a Structured Abstract
Reporting results about the effectiveness of antibiotic therapy in managing acute bacterial sinusitis, from a rigorously controlled study
Note: This journal requires authors to organize their abstract into four specific sections, with strict word limits. Because the headings for this structured abstract are self-explanatory, we have chosen not to add annotations to this sample abstract.
Wald, Ellen R., David Nash, and Jens Eickhoff. "Effectiveness of Amoxicillin/Clavulanate Potassium in the Treatment of Acute Bacterial Sinusitis in Children." Pediatrics , vol. 124, no. 1, 2009, pp. 9-15.
"OBJECTIVE: The role of antibiotic therapy in managing acute bacterial sinusitis (ABS) in children is controversial. The purpose of this study was to determine the effectiveness of high-dose amoxicillin/potassium clavulanate in the treatment of children diagnosed with ABS.
METHODS : This was a randomized, double-blind, placebo-controlled study. Children 1 to 10 years of age with a clinical presentation compatible with ABS were eligible for participation. Patients were stratified according to age (<6 or ≥6 years) and clinical severity and randomly assigned to receive either amoxicillin (90 mg/kg) with potassium clavulanate (6.4 mg/kg) or placebo. A symptom survey was performed on days 0, 1, 2, 3, 5, 7, 10, 20, and 30. Patients were examined on day 14. Children's conditions were rated as cured, improved, or failed according to scoring rules.
RESULTS: Two thousand one hundred thirty-five children with respiratory complaints were screened for enrollment; 139 (6.5%) had ABS. Fifty-eight patients were enrolled, and 56 were randomly assigned. The mean age was 6630 months. Fifty (89%) patients presented with persistent symptoms, and 6 (11%) presented with nonpersistent symptoms. In 24 (43%) children, the illness was classified as mild, whereas in the remaining 32 (57%) children it was severe. Of the 28 children who received the antibiotic, 14 (50%) were cured, 4 (14%) were improved, 4(14%) experienced treatment failure, and 6 (21%) withdrew. Of the 28children who received placebo, 4 (14%) were cured, 5 (18%) improved, and 19 (68%) experienced treatment failure. Children receiving the antibiotic were more likely to be cured (50% vs 14%) and less likely to have treatment failure (14% vs 68%) than children receiving the placebo.
CONCLUSIONS : ABS is a common complication of viral upper respiratory infections. Amoxicillin/potassium clavulanate results in significantly more cures and fewer failures than placebo, according to parental report of time to resolution." (9)
Some Excellent Advice about Writing Abstracts for Basic Science Research Papers, by Professor Adriano Aguzzi from the Institute of Neuropathology at the University of Zurich:
Academic and Professional Writing
This is an accordion element with a series of buttons that open and close related content panels.
Analysis Papers
Reading Poetry
A Short Guide to Close Reading for Literary Analysis
Using Literary Quotations
Play Reviews
Writing a Rhetorical Précis to Analyze Nonfiction Texts
Incorporating Interview Data
Grant Proposals
Planning and Writing a Grant Proposal: The Basics
Additional Resources for Grants and Proposal Writing
Job Materials and Application Essays
Writing Personal Statements for Ph.D. Programs
Before you begin: useful tips for writing your essay
Guided brainstorming exercises
Get more help with your essay
Frequently Asked Questions
Resume Writing Tips
CV Writing Tips
Cover Letters
Business Letters
Proposals and Dissertations
Resources for Proposal Writers
Resources for Dissertators
Research Papers
Planning and Writing Research Papers
Quoting and Paraphrasing
Writing Annotated Bibliographies
Creating Poster Presentations
Thank-You Notes
Advice for Students Writing Thank-You Notes to Donors
Reading for a Review
Critical Reviews
Writing a Review of Literature
Scientific Reports
Scientific Report Format
Sample Lab Assignment
Writing for the Web
Writing an Effective Blog Post
Writing for Social Media: A Guide for Academics
Project Graduate School
The Blog of the University of Oregon McNair Scholars Program
Tag Archives: 150 word abstract
How to write a proposal abstract.
Today we look at the paper/conference proposal abstract .  This is a critical genre of writing for scholars in the humanities and social sciences.  Usually between 200 and 500 words long, it is a short abstract that describes research/a talk/a journal article that you are GOING to write.  This is in contrast to the abstract of the research/dissertation/article that you have already written.
Mastering the paper abstract is one of the most important skills you can acquire while still a graduate student.  Learn the tricks of the paper abstract and you have the ticket in hand to a steady ride of conference and publishing opportunities.  These are the conferences and publications that a few years down the line, set your c.v. apart from your peers, and land you that job.
~~~~~~~~~~~~~~~~~~~~~~~~~~~~~~~~~~~~~~~~~~~~~~~~~~~~~~~~~~~~~~~~~~~~
The paper abstract is highly formulaic.  Let's break it down.  It needs to show the following:
1) big picture problem or topic widely debated in your field.
2) gap in the literature on this topic.
3) your project filling the gap.
4) the specific material that you examine in the paper.
5) your original argument.
6) a strong concluding sentence.
~~~~~~~~~~~~~~~~~~~~~~~~~~~~~~~~~~~~~~~~~~~~~~~~~~~~~~~~~~~~~~~~~~~~~~~~
Each of these six elements is mostly likely contained in a single sentence.
Sentence 1:  Big picture topic that is being intensively debated in your field/fields, possibly with reference to scholars ("The question of xxx has been widely debated in xxx field, with scholars such as xxx and xx arguing  xxx]").
Sentence 2:  Gap in the literature on this topic.  This GAP IN KNOWLEDGE is very, very bad, and detrimental to the welfare of all right thinking people.  This is the key sentence of the abstract. ("However, these works/articles/arguments/perspectives have not adequately addressed the issue of xxxx." ).
Sentence 3:  Your project fills this gap ("My paper addresses the issue of xx with special attention to xxx").
Sentence 4+ (length here depends on your total word allowance, and more sentences may be possible):  The specific material that you are examining–your data, your texts, etc. ( "Specifically, in my project, I will be looking at xxx and xxx, in order to show xxxx.  I will discuss xx and xx, and juxtapose them against xx and xx, in order to reveal the previously misunderstood connections between xx and xx.")
Sentence 5:  Your main argument and contribution, concisely and clearly stated. ("I argue that…")
Sentence 6:  Strong Conclusion!  ("In conclusion, this project, by closely examining xxxxx, sheds new light on the neglected/little recognized/rarely acknowledged issue of xxxxx. ").
~~~~~~~~~~~~~~~~~~~~~~~~~~~~~~~~~~~~~~~~~~~~~~~~~~~~~~~~~~~~~~~~~~~~~~~~~
Start by writing out your own version of the sentences above, succinctly if you can, but without stressing about your word limit too much.
Once that is done, edit to your word count.
One of the key points of the paper abstract is that it is very short, and every word must count. No fluff, no filler, no blather.
Remove wordy phrases like, "it can be argued that," "Is is commonly acknowledged that," "I wish to propose the argument that"—these are all empty filler. Work in short, declarative sentences.
If you are wondering—how do I make an argument when I haven't written the paper yet?  Well–that's the challenge.  Come up with a plausible, reasonable argument for the purposes of the abstract.  If you end up writing something different in the actual paper itself, that's ok!
Make sure that your final product shows your:
1) big picture
2) gap in the literature
3) your project filling the gap
5) your argument.
6) A strong conclusion.
For your reference, here are two abstracts that demonstrate how the principles above work.  Each has parts missing, as noted.  Inclusion would have strengthened the abstract:
1.  Access to marriage or marriage-like institutions, and the recognition of lesbian and gay familial lives more generally, has become central to lesbian and gay equality struggles in recent years [Sentence 1–Big problem].  [Sentence 2–Gap in literature MISSING here].  This paper considers what utopian fiction has to offer by way of alternatives to this drive for ever more regulation of the family [Sentence 3–Her project fills the gap]. Through analysis of Marge Piercy's classic feminist novel,  Woman on the Edge of Time , and Thomas Bezucha's award-winning gay film,  Big Eden , alternative ways of conceptualizing the place of law in lesbian and gay familial lives are considered and explored [Sentence 4–Her specific material in the paper]. Looking to utopia as a method for rethinking the place of law in society offers rich new perspectives on the issue of lesbian and gay familial recognition [Sentence 5–Her argument, weak]. I argue that utopian fiction signals that the time is now ripe for a radical reevaluation of how we recognize and regulate not only same-sex relationships but all family forms [Sentence 6– a strong conclusion.].
[Imagining a Different World: Reconsidering the Regulation of Family Lives. Rosie Harding.  Law and Literature . Vol. 22, No. 3 (Fall 2010) (pp. 440-462)]
2.  History, it seems, has to attain a degree of scientificity, resident in the truth-value of its narrative, before it can be called history, as distinguished from the purely literary or political [Sentence 1–Big problem]. Invoking the work of Jacques Rancière and Hayden White, this essay investigates the manner in which history becomes a science through a detour that gives speech a regime of truth [Sentence 2–Literature, no gap mentioned]. It does this by exploring the nineteenth-century relationship of history to poetry and to truth in the context of the emerging discipline of history in Bengal [Sentence 3–Her project fills the gap]. The question is discussed in relation to a patriotic poem, Palashir Yuddha (1875), accused of ahistoricality, as well as to a defense made by Bengal's first professional historian, Jadunath Sarkar, against a similar charge in the context of Bankimchandra Chatterjee's historical novels [Sentence 4–Her specific material in the paper]. That the relationship of creativity to history is a continuing preoccupation for the historian is finally explored through Ranajit Guha's invocation of Tagore in "History at the Limit of World-History" (2002) [Sentence 5–Her argument, weakly stated].  [MISSING Sentence 6—a strong  conclusion].
[History in Poetry: Nabinchandra Sen's "Palashir Yuddha" and the Question of Truth. Rosinka Chaudhuri.  The Journal of Asian Studies . Vol. 66, No. 4 (Nov., 2007) (pp. 897-918)]
Good luck with your abstract!! And be sure and get in touch with Karen at [email protected] if you need some help.
(this post originally published by Karen on http://theprofessorisin.com .)
1 Comment | tags: 150 word abstract , 250 word abstract , 350 word abstract , academic writing , how to succeed in graduate school , how to write a paper abstract , how to write a proposal abstract , how to write a research abstract , how to write academic papers , writing research proposals | posted in Academic writing , Strategies for Success , Winning Research Proposals
Email Subscription
Enter your email address to subscribe to this blog and receive notifications of new posts by email.
Email Address:
Sign me up!
Twitter Updates
Already have a WordPress.com account? Log in now.
Follow Following
Report this content
View site in Reader
Manage subscriptions
Collapse this bar
How to Write an Abstract Within a Word Limit (Part I)
What is an Abstract in a Research Paper?
An abstract is a self-contained, short, and powerful statement that covers the main points of a piece of writing. Unlike executive summaries written for non-specialist audiences, abstracts use the same level of technical language and expertise found in the article itself. And unlike general summaries, which can be adapted in many ways to meet various readers' and writers' needs, abstracts are typically 150–250 words and have a fairly standard format.
An abstract is not a review, nor does it evaluate the work being abstracted. That is, the abstract is an original document rather than an excerpted passage.
Why is an Abstract Required?
You may be writing an abstract for various reasons. The two most important are
Selection – to help readers decide if they want to read your article
Indexing – for quick recovery and cross-referencing.
Many abstracts are published in abstract journals or in online databases without the complete paper itself. Thus, an abstract might serve as the only means by which a researcher determines what information a paper contains.
Therefore, although limited in word count, an abstract must do almost as much work as the multi-page paper that follows it. This means that it should, in most cases, include the following components: motivation, problem statement, approach, results, and conclusions. Each component is typically a single sentence or sometimes spreads across two sentences. Abstracts must also contain keywords and phrases that allow for easy searching.
Think of a half-dozen search phrases and keywords that people working in your field might use. Be sure that those exact phrases appear in your abstract, so that they will appear at the top of a search result listing.
How to Meet the Word Limit?
One of the most critical points to consider while writing an abstract is observing the word limit. Ignoring the limit often leads to the abstract being returned with a request to make it shorter. Reviewers say so easily, however, when abstracting your own work, it may be difficult to condense a piece of writing that you agonized over for weeks (or months or even years) into a 150- to 250-word statement. Described in this article are three simple steps to writing an abstract within a word limit .
The Word Count feature of MS Word can help you track the length of your abstract. Click on the status bar in the bottom left hand corner of the Word window. It will tell you the character count, word count, and number of lines and paragraphs.
Step 1: Write the "Best" First Draft
One way of writing an effective abstract is to start with a draft of the complete paper and apply the following treatment. At this stage, don't be overly concerned about the length. Understanding what to write in the abstract of a research paper is crucial. Just make sure you include all the key information listed below:
Highlight the objective and conclusion that are in the paper's Introduction and Discussion.
Bracket information in the Methods section of the paper that contains relevant keyword information.
Highlight the results from the Discussion or Results section of the paper.
Combine the above highlighted and bracketed information into a single paragraph. One way of doing this is to begin the first sentence with the general topic.
Condense the bracketed information into key words and phrases that identify but do not explain the methods used.
Delete extra words and phrases.
Delete any irrelevant background information.
Rephrase the first sentence so that it starts off with the new information contained in the paper, rather than with the phrase "this paper" or "this study."
Revise the paragraph so that the abstract conveys only essential information.
Step 2: Apply the "Avoid" Checklist
After completing the first draft, we need to ensure that no unnecessary content has been included in the abstract:
Do not add information not contained in the original work.
Avoid abbreviations or acronyms. Only define an abbreviation if the term appears multiple times in the abstract.
Omit background information, literature review , and detailed description of methods.
Avoid reference to other works.
Omit bibliography or citations.
Omit references, tables, and graphs.
In our next article , let's look at the other ways you can further reduce the word count of your Abstract.
Rate this article Cancel Reply
Your email address will not be published.
Enago Academy's Most Popular
Global Spanish Webinars
Old Webinars
Webinar Mobile App
Errores comunes al escribir un abstract científico y cómo evitarlos
Consejos para redactar un abstract Tipos de abstracts Uso de palabras clave Errores comunes
논문 초록 작성 시 자주 일어나는 실수와 이런 실수를 피하는 법
초록 작성 팁 초록의 유형 키워드 사용 일반적으로 범하는 실수
もう悩まない!英語論文アブストラクトの書き方
アブストラクトの書き方のコツ アブストラクトの種類 キーワードの活用法 見落としやすいポイント
Manuscripts & Grants
Reporting Research
7 Simple SEO Tips to Increase Research Paper Visibility
Search Engine Optimization (SEO) refers to ensuring that your manuscript can be found using search…
Scientific Papers: Is Readability Declining?
Are scientific papers getting more difficult to comprehend? According to a report in BioRxiv, the…
How to Write an Abstract Within a Word Limit (Part 2)
How to Optimize Your Abstract for Search Engines
Sign-up to read more
Subscribe for free to get unrestricted access to all our resources on research writing and academic publishing including:
2000+ blog articles
50+ Webinars
10+ Expert podcasts
50+ Infographics
10+ Checklists
Research Guides
We hate spam too. We promise to protect your privacy and never spam you.
I am looking for Editing/ Proofreading services for my manuscript Tentative date of next journal submission:
According to you, which is/are the major drawbacks in making open access initiatives sustainable?
Reference management. Clean and simple.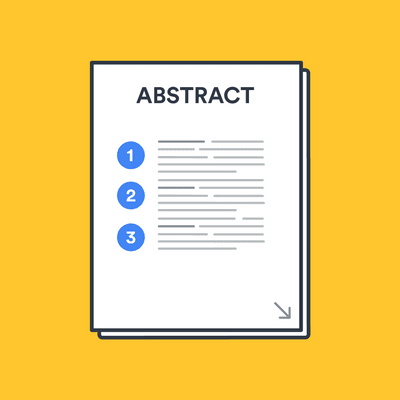 An abstract is a summary of the main contents of a paper.
The abstract is the first glimpse that readers get of the content of a research paper. It can influence the popularity of a paper, as a well-written one will attract readers, and a poorly-written one will drive them away.
➡️ Different types of papers may require distinct abstract styles. Visit our guide on the different types of research papers to learn more.
Tip: Always wait until you've written your entire paper before you write the abstract.
Before you actually start writing an abstract, make sure to follow these steps:
Read other papers : find papers with similar topics, or similar methodologies, simply to have an idea of how others have written their abstracts. Notice which points they decided to include, and how in depth they described them.
Double check the journal requirements : always make sure to review the journal guidelines to format your paper accordingly. Usually, they also specify abstract's formats.
Write the abstract after you finish writing the paper : you can only write an abstract once you finish writing the whole paper. This way you can include all important aspects, such as scope, methodology, and conclusion.
➡️ Read more about  what is a research methodology?
General format of an abstract
The general format of an abstract includes the following features:
Between 150-300 words .
An independent page , after the title page and before the table of contents.
Concise summary including the aim of the research, methodology , and conclusion .
Keywords describing the content.
The content of an abstract
As mentioned before, an abstract is a text that summarizes the main points of a research. Here is a break down of each element that should be included in an abstract:
Purpose : every abstract should start by describing the main purpose or aim of the research.
Methods : as a second point, the methodology carried out should be explained.
Results : then, a concise summary of the results should be included.
Conclusion : finally, a short outline of the general outcome of the research should be given.
Keywords : along with the abstract, specific words and phrases related to the topics discussed in the research should be added. These words are usually around five, but the number can vary depending on the journal's guidelines.
Abstract example
This abstract, taken from ScienceDirect , illustrates the ideal structure of an abstract. It has 155 words, it's concise, and it clearly shows the division of elements necessary to write a successful abstract.
This paper explores the implicit assumption in the growing body of literature that social media usage is fundamentally different in business-to-business (B2B) companies than in the extant business-to-consumer (B2C) literature. Sashi's (2012) customer engagement cycle is utilized to compare organizational practices in relation to social media marketing in B2B, B2C, Mixed B2B/B2C and B2B2C business models. Utilizing 449 responses to an exploratory panel based survey instrument, we clearly identify differences in social media usage and its perceived importance as a communications channel. In particular we identify distinct differences in the relationship between social media importance and the perceived effectiveness of social media marketing across business models. Our results indicate that B2B social media usage is distinct from B2C, Mixed and B2B2C business model approaches. Specifically B2B organizational members perceive social media to have a lower overall effectiveness as a channel and identify it as less important for relationship oriented usage than other business models.
The exact format of an abstract depends on the citation style you implement. Whether it's a well-known style (like APA, IEEE, etc.) or a journal's style, each format has its own guidelines, so make sure you know which style you are using before writing your abstract.
APA is one of the most commonly used styles to format an abstract. Therefore, we created a guide with exact instructions on how to write an abstract in APA style, and a template to download:
📕 APA abstract page: format and template
Additionally, you will find below an IEEE and ASA abstract guide by Purdue Online Writing Lab :
📗 IEEE General Format - Abstract
📘 ASA Manuscript Formatting - Abstract
Frequently Asked Questions about writing an abstract
No. You should always write an abstract once you finish writing the whole paper. This way you can include all important aspects of the paper, such as scope, methodology, and conclusion.
The length of an abstract depends on the formatting style of the paper. For example, APA style calls for 150 to 250 words. Generally, you need between 150-300 words.
No. An abstract has an independent section after the title page and before the table of contents, and should not be included in the table of contents.
Take a look at APA abstract page: format and template for exact details on how to format an abstract in APA style.
You can access any paper through Google Scholar or any other search engine; pick a paper and read the abstract. Abstracts are always freely available to read.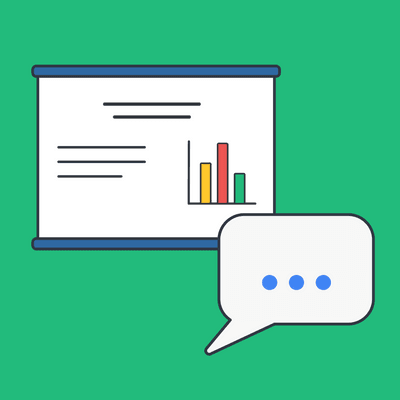 Have a language expert improve your writing
Run a free plagiarism check in 10 minutes, generate accurate citations for free.
Knowledge Base
Dissertation
How to Write an Abstract | Steps & Examples
How to Write an Abstract | Steps & Examples
Published on February 28, 2019 by Shona McCombes . Revised on July 18, 2023 by Eoghan Ryan.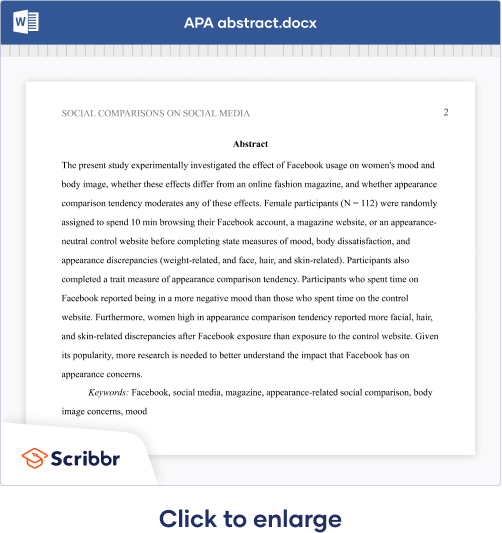 An abstract is a short summary of a longer work (such as a thesis ,  dissertation or research paper ). The abstract concisely reports the aims and outcomes of your research, so that readers know exactly what your paper is about.
Although the structure may vary slightly depending on your discipline, your abstract should describe the purpose of your work, the methods you've used, and the conclusions you've drawn.
One common way to structure your abstract is to use the IMRaD structure. This stands for:
Abstracts are usually around 100–300 words, but there's often a strict word limit, so make sure to check the relevant requirements.
In a dissertation or thesis , include the abstract on a separate page, after the title page and acknowledgements but before the table of contents .
Table of contents
Abstract example, when to write an abstract, step 1: introduction, step 2: methods, step 3: results, step 4: discussion, tips for writing an abstract, other interesting articles, frequently asked questions about abstracts.
Hover over the different parts of the abstract to see how it is constructed.
This paper examines the role of silent movies as a mode of shared experience in the US during the early twentieth century. At this time, high immigration rates resulted in a significant percentage of non-English-speaking citizens. These immigrants faced numerous economic and social obstacles, including exclusion from public entertainment and modes of discourse (newspapers, theater, radio).
Incorporating evidence from reviews, personal correspondence, and diaries, this study demonstrates that silent films were an affordable and inclusive source of entertainment. It argues for the accessible economic and representational nature of early cinema. These concerns are particularly evident in the low price of admission and in the democratic nature of the actors' exaggerated gestures, which allowed the plots and action to be easily grasped by a diverse audience despite language barriers.
Keywords: silent movies, immigration, public discourse, entertainment, early cinema, language barriers.
A faster, more affordable way to improve your paper
Scribbr's new AI Proofreader checks your document and corrects spelling, grammar, and punctuation mistakes with near-human accuracy and the efficiency of AI!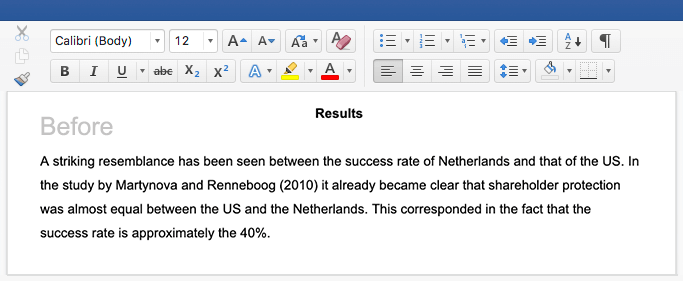 Proofread my paper
You will almost always have to include an abstract when:
Completing a thesis or dissertation
Submitting a research paper to an academic journal
Writing a book or research proposal
Applying for research grants
It's easiest to write your abstract last, right before the proofreading stage, because it's a summary of the work you've already done. Your abstract should:
Be a self-contained text, not an excerpt from your paper
Be fully understandable on its own
Reflect the structure of your larger work
Start by clearly defining the purpose of your research. What practical or theoretical problem does the research respond to, or what research question did you aim to answer?
You can include some brief context on the social or academic relevance of your dissertation topic , but don't go into detailed background information. If your abstract uses specialized terms that would be unfamiliar to the average academic reader or that have various different meanings, give a concise definition.
After identifying the problem, state the objective of your research. Use verbs like "investigate," "test," "analyze," or "evaluate" to describe exactly what you set out to do.
This part of the abstract can be written in the present or past simple tense  but should never refer to the future, as the research is already complete.
This study will investigate the relationship between coffee consumption and productivity.
This study investigates the relationship between coffee consumption and productivity.
Next, indicate the research methods that you used to answer your question. This part should be a straightforward description of what you did in one or two sentences. It is usually written in the past simple tense, as it refers to completed actions.
Structured interviews will be conducted with 25 participants.
Structured interviews were conducted with 25 participants.
Don't evaluate validity or obstacles here — the goal is not to give an account of the methodology's strengths and weaknesses, but to give the reader a quick insight into the overall approach and procedures you used.
Next, summarize the main research results . This part of the abstract can be in the present or past simple tense.
Our analysis has shown a strong correlation between coffee consumption and productivity.
Our analysis shows a strong correlation between coffee consumption and productivity.
Our analysis showed a strong correlation between coffee consumption and productivity.
Depending on how long and complex your research is, you may not be able to include all results here. Try to highlight only the most important findings that will allow the reader to understand your conclusions.
Finally, you should discuss the main conclusions of your research : what is your answer to the problem or question? The reader should finish with a clear understanding of the central point that your research has proved or argued. Conclusions are usually written in the present simple tense.
We concluded that coffee consumption increases productivity.
We conclude that coffee consumption increases productivity.
If there are important limitations to your research (for example, related to your sample size or methods), you should mention them briefly in the abstract. This allows the reader to accurately assess the credibility and generalizability of your research.
If your aim was to solve a practical problem, your discussion might include recommendations for implementation. If relevant, you can briefly make suggestions for further research.
If your paper will be published, you might have to add a list of keywords at the end of the abstract. These keywords should reference the most important elements of the research to help potential readers find your paper during their own literature searches.
Be aware that some publication manuals, such as APA Style , have specific formatting requirements for these keywords.
It can be a real challenge to condense your whole work into just a couple of hundred words, but the abstract will be the first (and sometimes only) part that people read, so it's important to get it right. These strategies can help you get started.
Read other abstracts
The best way to learn the conventions of writing an abstract in your discipline is to read other people's. You probably already read lots of journal article abstracts while conducting your literature review —try using them as a framework for structure and style.
You can also find lots of dissertation abstract examples in thesis and dissertation databases .
Reverse outline
Not all abstracts will contain precisely the same elements. For longer works, you can write your abstract through a process of reverse outlining.
For each chapter or section, list keywords and draft one to two sentences that summarize the central point or argument. This will give you a framework of your abstract's structure. Next, revise the sentences to make connections and show how the argument develops.
Write clearly and concisely
A good abstract is short but impactful, so make sure every word counts. Each sentence should clearly communicate one main point.
To keep your abstract or summary short and clear:
Avoid passive sentences: Passive constructions are often unnecessarily long. You can easily make them shorter and clearer by using the active voice.
Avoid long sentences: Substitute longer expressions for concise expressions or single words (e.g., "In order to" for "To").
Avoid obscure jargon: The abstract should be understandable to readers who are not familiar with your topic.
Avoid repetition and filler words: Replace nouns with pronouns when possible and eliminate unnecessary words.
Avoid detailed descriptions: An abstract is not expected to provide detailed definitions, background information, or discussions of other scholars' work. Instead, include this information in the body of your thesis or paper.
If you're struggling to edit down to the required length, you can get help from expert editors with Scribbr's professional proofreading services or use the paraphrasing tool .
Check your formatting
If you are writing a thesis or dissertation or submitting to a journal, there are often specific formatting requirements for the abstract—make sure to check the guidelines and format your work correctly. For APA research papers you can follow the APA abstract format .
Checklist: Abstract
The word count is within the required length, or a maximum of one page.
The abstract appears after the title page and acknowledgements and before the table of contents .
I have clearly stated my research problem and objectives.
I have briefly described my methodology .
I have summarized the most important results .
I have stated my main conclusions .
I have mentioned any important limitations and recommendations.
The abstract can be understood by someone without prior knowledge of the topic.
You've written a great abstract! Use the other checklists to continue improving your thesis or dissertation.
If you want to know more about AI for academic writing, AI tools, or research bias, make sure to check out some of our other articles with explanations and examples or go directly to our tools!
Research bias
Anchoring bias
Halo effect
The Baader–Meinhof phenomenon
The placebo effect
Nonresponse bias
Deep learning
Generative AI
Machine learning
Reinforcement learning
Supervised vs. unsupervised learning
 (AI) Tools
Grammar Checker
Paraphrasing Tool
Text Summarizer
AI Detector
Plagiarism Checker
Citation Generator
An abstract is a concise summary of an academic text (such as a journal article or dissertation ). It serves two main purposes:
To help potential readers determine the relevance of your paper for their own research.
To communicate your key findings to those who don't have time to read the whole paper.
Abstracts are often indexed along with keywords on academic databases, so they make your work more easily findable. Since the abstract is the first thing any reader sees, it's important that it clearly and accurately summarizes the contents of your paper.
An abstract for a thesis or dissertation is usually around 200–300 words. There's often a strict word limit, so make sure to check your university's requirements.
The abstract is the very last thing you write. You should only write it after your research is complete, so that you can accurately summarize the entirety of your thesis , dissertation or research paper .
Avoid citing sources in your abstract . There are two reasons for this:
The abstract should focus on your original research, not on the work of others.
The abstract should be self-contained and fully understandable without reference to other sources.
There are some circumstances where you might need to mention other sources in an abstract: for example, if your research responds directly to another study or focuses on the work of a single theorist. In general, though, don't include citations unless absolutely necessary.
The abstract appears on its own page in the thesis or dissertation , after the title page and acknowledgements but before the table of contents .
Cite this Scribbr article
If you want to cite this source, you can copy and paste the citation or click the "Cite this Scribbr article" button to automatically add the citation to our free Citation Generator.
McCombes, S. (2023, July 18). How to Write an Abstract | Steps & Examples. Scribbr. Retrieved November 3, 2023, from https://www.scribbr.com/dissertation/abstract/
Is this article helpful?
Shona McCombes
Other students also liked, how to write a thesis or dissertation introduction, shorten your abstract or summary, how to write a literature review | guide, examples, & templates, what is your plagiarism score.