How To Write The Results/Findings Chapter
For quantitative studies (dissertations & theses).
By: Derek Jansen (MBA). Expert Reviewed By: Kerryn Warren (PhD) | July 2021
So, you've completed your quantitative data analysis and it's time to report on your findings. But where do you start? In this post, we'll walk you through the results chapter (also called the findings or analysis chapter), step by step, so that you can craft this section of your dissertation or thesis with confidence. If you're looking for information regarding the results chapter for qualitative studies, you can find that here .
Overview: Quantitative Results Chapter
What exactly the results/findings/analysis chapter is
What you need to include in your results chapter
How to structure your results chapter
A few tips and tricks for writing top-notch chapter
What exactly is the results chapter?
The results chapter (also referred to as the findings or analysis chapter) is one of the most important chapters of your dissertation or thesis because it shows the reader what you've found in terms of the quantitative data you've collected. It presents the data using a clear text narrative, supported by tables, graphs and charts. In doing so, it also highlights any potential issues (such as outliers or unusual findings) you've come across.
But how's that different from the discussion chapter?
Well, in the results chapter, you only present your statistical findings. Only the numbers, so to speak – no more, no less. Contrasted to this, in the discussion chapter , you interpret your findings and link them to prior research (i.e. your literature review), as well as your research objectives and research questions. In other words, the results chapter presents and describes the data, while the discussion chapter interprets the data.
Let's look at an example.
In your results chapter, you may have a plot that shows how respondents to a survey  responded: the numbers of respondents per category, for instance. You may also state whether this supports a hypothesis by using a p-value from a statistical test. But it is only in the discussion chapter where you will say why this is relevant or how it compares with the literature or the broader picture. So, in your results chapter, make sure that you don't present anything other than the hard facts – this is not the place for subjectivity.
It's worth mentioning that some universities prefer you to combine the results and discussion chapters. Even so, it is good practice to separate the results and discussion elements within the chapter, as this ensures your findings are fully described. Typically, though, the results and discussion chapters are split up in quantitative studies. If you're unsure, chat with your research supervisor or chair to find out what their preference is.
What should you include in the results chapter?
Following your analysis, it's likely you'll have far more data than are necessary to include in your chapter. In all likelihood, you'll have a mountain of SPSS or R output data, and it's your job to decide what's most relevant. You'll need to cut through the noise and focus on the data that matters.
This doesn't mean that those analyses were a waste of time – on the contrary, those analyses ensure that you have a good understanding of your dataset and how to interpret it. However, that doesn't mean your reader or examiner needs to see the 165 histograms you created! Relevance is key.
How do I decide what's relevant?
At this point, it can be difficult to strike a balance between what is and isn't important. But the most important thing is to ensure your results reflect and align with the purpose of your study .  So, you need to revisit your research aims, objectives and research questions and use these as a litmus test for relevance. Make sure that you refer back to these constantly when writing up your chapter so that you stay on track.
As a general guide, your results chapter will typically include the following:
Some demographic data about your sample
Reliability tests (if you used measurement scales)
Descriptive statistics
Inferential statistics (if your research objectives and questions require these)
Hypothesis tests (again, if your research objectives and questions require these)
We'll discuss each of these points in more detail in the next section.
Importantly, your results chapter needs to lay the foundation for your discussion chapter . This means that, in your results chapter, you need to include all the data that you will use as the basis for your interpretation in the discussion chapter.
For example, if you plan to highlight the strong relationship between Variable X and Variable Y in your discussion chapter, you need to present the respective analysis in your results chapter – perhaps a correlation or regression analysis.
Need a helping hand?
How do I write the results chapter?
There are multiple steps involved in writing up the results chapter for your quantitative research. The exact number of steps applicable to you will vary from study to study and will depend on the nature of the research aims, objectives and research questions . However, we'll outline the generic steps below.
Step 1 – Revisit your research questions
The first step in writing your results chapter is to revisit your research objectives and research questions . These will be (or at least, should be!) the driving force behind your results and discussion chapters, so you need to review them and then ask yourself which statistical analyses and tests (from your mountain of data) would specifically help you address these . For each research objective and research question, list the specific piece (or pieces) of analysis that address it.
At this stage, it's also useful to think about the key points that you want to raise in your discussion chapter and note these down so that you have a clear reminder of which data points and analyses you want to highlight in the results chapter. Again, list your points and then list the specific piece of analysis that addresses each point. 
Next, you should draw up a rough outline of how you plan to structure your chapter . Which analyses and statistical tests will you present and in what order? We'll discuss the "standard structure" in more detail later, but it's worth mentioning now that it's always useful to draw up a rough outline before you start writing (this advice applies to any chapter).
Step 2 – Craft an overview introduction
As with all chapters in your dissertation or thesis, you should start your quantitative results chapter by providing a brief overview of what you'll do in the chapter and why . For example, you'd explain that you will start by presenting demographic data to understand the representativeness of the sample, before moving onto X, Y and Z.
This section shouldn't be lengthy – a paragraph or two maximum. Also, it's a good idea to weave the research questions into this section so that there's a golden thread that runs through the document.
Step 3 – Present the sample demographic data
The first set of data that you'll present is an overview of the sample demographics – in other words, the demographics of your respondents.
For example:
What age range are they?
How is gender distributed?
How is ethnicity distributed?
What areas do the participants live in?
The purpose of this is to assess how representative the sample is of the broader population. This is important for the sake of the generalisability of the results. If your sample is not representative of the population, you will not be able to generalise your findings. This is not necessarily the end of the world, but it is a limitation you'll need to acknowledge.
Of course, to make this representativeness assessment, you'll need to have a clear view of the demographics of the population. So, make sure that you design your survey to capture the correct demographic information that you will compare your sample to.
But what if I'm not interested in generalisability?
Well, even if your purpose is not necessarily to extrapolate your findings to the broader population, understanding your sample will allow you to interpret your findings appropriately, considering who responded. In other words, it will help you contextualise your findings . For example, if 80% of your sample was aged over 65, this may be a significant contextual factor to consider when interpreting the data. Therefore, it's important to understand and present the demographic data.
 Step 4 – Review composite measures and the data "shape".
Before you undertake any statistical analysis, you'll need to do some checks to ensure that your data are suitable for the analysis methods and techniques you plan to use. If you try to analyse data that doesn't meet the assumptions of a specific statistical technique, your results will be largely meaningless. Therefore, you may need to show that the methods and techniques you'll use are "allowed".
Most commonly, there are two areas you need to pay attention to:
#1: Composite measures
The first is when you have multiple scale-based measures that combine to capture one construct – this is called a composite measure .  For example, you may have four Likert scale-based measures that (should) all measure the same thing, but in different ways. In other words, in a survey, these four scales should all receive similar ratings. This is called " internal consistency ".
Internal consistency is not guaranteed though (especially if you developed the measures yourself), so you need to assess the reliability of each composite measure using a test. Typically, Cronbach's Alpha is a common test used to assess internal consistency – i.e., to show that the items you're combining are more or less saying the same thing. A high alpha score means that your measure is internally consistent. A low alpha score means you may need to consider scrapping one or more of the measures.
#2: Data shape
The second matter that you should address early on in your results chapter is data shape. In other words, you need to assess whether the data in your set are symmetrical (i.e. normally distributed) or not, as this will directly impact what type of analyses you can use. For many common inferential tests such as T-tests or ANOVAs (we'll discuss these a bit later), your data needs to be normally distributed. If it's not, you'll need to adjust your strategy and use alternative tests.
To assess the shape of the data, you'll usually assess a variety of descriptive statistics (such as the mean, median and skewness), which is what we'll look at next.
Step 5 – Present the descriptive statistics
Now that you've laid the foundation by discussing the representativeness of your sample, as well as the reliability of your measures and the shape of your data, you can get started with the actual statistical analysis. The first step is to present the descriptive statistics for your variables.
For scaled data, this usually includes statistics such as:
The mean – this is simply the mathematical average of a range of numbers.
The median – this is the midpoint in a range of numbers when the numbers are arranged in order.
The mode – this is the most commonly repeated number in the data set.
Standard deviation – this metric indicates how dispersed a range of numbers is. In other words, how close all the numbers are to the mean (the average).
Skewness – this indicates how symmetrical a range of numbers is. In other words, do they tend to cluster into a smooth bell curve shape in the middle of the graph (this is called a normal or parametric distribution), or do they lean to the left or right (this is called a non-normal or non-parametric distribution).
Kurtosis – this metric indicates whether the data are heavily or lightly-tailed, relative to the normal distribution. In other words, how peaked or flat the distribution is.
A large table that indicates all the above for multiple variables can be a very effective way to present your data economically. You can also use colour coding to help make the data more easily digestible.
For categorical data, where you show the percentage of people who chose or fit into a category, for instance, you can either just plain describe the percentages or numbers of people who responded to something or use graphs and charts (such as bar graphs and pie charts) to present your data in this section of the chapter.
When using figures, make sure that you label them simply and clearly , so that your reader can easily understand them. There's nothing more frustrating than a graph that's missing axis labels! Keep in mind that although you'll be presenting charts and graphs, your text content needs to present a clear narrative that can stand on its own. In other words, don't rely purely on your figures and tables to convey your key points: highlight the crucial trends and values in the text. Figures and tables should complement the writing, not carry it .
Depending on your research aims, objectives and research questions, you may stop your analysis at this point (i.e. descriptive statistics). However, if your study requires inferential statistics, then it's time to deep dive into those .
Step 6 – Present the inferential statistics
Inferential statistics are used to make generalisations about a population , whereas descriptive statistics focus purely on the sample . Inferential statistical techniques, broadly speaking, can be broken down into two groups .
First, there are those that compare measurements between groups , such as t-tests (which measure differences between two groups) and ANOVAs (which measure differences between multiple groups). Second, there are techniques that assess the relationships between variables , such as correlation analysis and regression analysis. Within each of these, some tests can be used for normally distributed (parametric) data and some tests are designed specifically for use on non-parametric data.
There are a seemingly endless number of tests that you can use to crunch your data, so it's easy to run down a rabbit hole and end up with piles of test data. Ultimately, the most important thing is to make sure that you adopt the tests and techniques that allow you to achieve your research objectives and answer your research questions .
In this section of the results chapter, you should try to make use of figures and visual components as effectively as possible. For example, if you present a correlation table, use colour coding to highlight the significance of the correlation values, or scatterplots to visually demonstrate what the trend is. The easier you make it for your reader to digest your findings, the more effectively you'll be able to make your arguments in the next chapter.
Step 7 – Test your hypotheses
If your study requires it, the next stage is hypothesis testing. A hypothesis is a statement , often indicating a difference between groups or relationship between variables, that can be supported or rejected by a statistical test. However, not all studies will involve hypotheses (again, it depends on the research objectives), so don't feel like you "must" present and test hypotheses just because you're undertaking quantitative research.
The basic process for hypothesis testing is as follows:
Specify your null hypothesis (for example, "The chemical psilocybin has no effect on time perception).
Specify your alternative hypothesis (e.g., "The chemical psilocybin has an effect on time perception)
Set your significance level (this is usually 0.05)
Calculate your statistics and find your p-value (e.g., p=0.01)
Draw your conclusions (e.g., "The chemical psilocybin does have an effect on time perception")
Finally, if the aim of your study is to develop and test a conceptual framework , this is the time to present it, following the testing of your hypotheses. While you don't need to develop or discuss these findings further in the results chapter, indicating whether the tests (and their p-values) support or reject the hypotheses is crucial.
Step 8 – Provide a chapter summary
To wrap up your results chapter and transition to the discussion chapter, you should provide a brief summary of the key findings . "Brief" is the keyword here – much like the chapter introduction, this shouldn't be lengthy – a paragraph or two maximum. Highlight the findings most relevant to your research objectives and research questions, and wrap it up.
Some final thoughts, tips and tricks
Now that you've got the essentials down, here are a few tips and tricks to make your quantitative results chapter shine:
When writing your results chapter, report your findings in the past tense . You're talking about what you've found in your data, not what you are currently looking for or trying to find.
Structure your results chapter systematically and sequentially . If you had two experiments where findings from the one generated inputs into the other, report on them in order.
Make your own tables and graphs rather than copying and pasting them from statistical analysis programmes like SPSS. Check out the DataIsBeautiful reddit for some inspiration.
Once you're done writing, review your work to make sure that you have provided enough information to answer your research questions , but also that you didn't include superfluous information.
If you've got any questions about writing up the quantitative results chapter, please leave a comment below. If you'd like 1-on-1 assistance with your quantitative analysis and discussion, check out our hands-on coaching service , or book a free consultation with a friendly coach.
Psst… there's more (for free)
This post is part of our dissertation mini-course, which covers everything you need to get started with your dissertation, thesis or research project. 
You Might Also Like:
Thank you. I will try my best to write my results.
Awesome content 👏🏾
Submit a Comment Cancel reply
Your email address will not be published. Required fields are marked *
Save my name, email, and website in this browser for the next time I comment.
Have a language expert improve your writing
Run a free plagiarism check in 10 minutes, generate accurate citations for free.
Knowledge Base
Dissertation
What Is a Dissertation? | Guide, Examples, & Template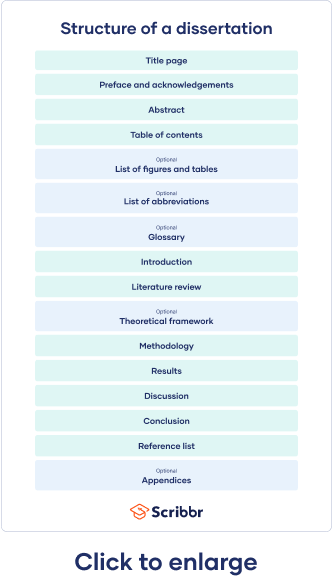 A dissertation is a long-form piece of academic writing based on original research conducted by you. It is usually submitted as the final step in order to finish a PhD program.
Your dissertation is probably the longest piece of writing you've ever completed. It requires solid research, writing, and analysis skills, and it can be intimidating to know where to begin.
Your department likely has guidelines related to how your dissertation should be structured. When in doubt, consult with your supervisor.
You can also download our full dissertation template in the format of your choice below. The template includes a ready-made table of contents with notes on what to include in each chapter, easily adaptable to your department's requirements.
Download Word template Download Google Docs template
In the US, a dissertation generally refers to the collection of research you conducted to obtain a PhD.
In other countries (such as the UK), a dissertation often refers to the research you conduct to obtain your bachelor's or master's degree.
Table of contents
Dissertation committee and prospectus process, how to write and structure a dissertation, acknowledgements or preface, list of figures and tables, list of abbreviations, introduction, literature review, methodology, reference list, proofreading and editing, defending your dissertation, free checklist and lecture slides.
When you've finished your coursework, as well as any comprehensive exams or other requirements, you advance to "ABD" (All But Dissertation) status. This means you've completed everything except your dissertation.
Prior to starting to write, you must form your committee and write your prospectus or proposal . Your committee comprises your adviser and a few other faculty members. They can be from your own department, or, if your work is more interdisciplinary, from other departments. Your committee will guide you through the dissertation process, and ultimately decide whether you pass your dissertation defense and receive your PhD.
Your prospectus is a formal document presented to your committee, usually orally in a defense, outlining your research aims and objectives and showing why your topic is relevant . After passing your prospectus defense, you're ready to start your research and writing.
Here's why students love Scribbr's proofreading services
Discover proofreading & editing
The structure of your dissertation depends on a variety of factors, such as your discipline, topic, and approach. Dissertations in the humanities are often structured more like a long essay , building an overall argument to support a central thesis , with chapters organized around different themes or case studies.
However, hard science and social science dissertations typically include a review of existing works, a methodology section, an analysis of your original research, and a presentation of your results , presented in different chapters.
Dissertation examples
We've compiled a list of dissertation examples to help you get started.
Example dissertation #1: Heat, Wildfire and Energy Demand: An Examination of Residential Buildings and Community Equity (a dissertation by C. A. Antonopoulos about the impact of extreme heat and wildfire on residential buildings and occupant exposure risks).
Example dissertation #2: Exploring Income Volatility and Financial Health Among Middle-Income Households (a dissertation by M. Addo about income volatility and declining economic security among middle-income households).
Example dissertation #3: The Use of Mindfulness Meditation to Increase the Efficacy of Mirror Visual Feedback for Reducing Phantom Limb Pain in Amputees (a dissertation by N. S. Mills about the effect of mindfulness-based interventions on the relationship between mirror visual feedback and the pain level in amputees with phantom limb pain).
The very first page of your document contains your dissertation title, your name, department, institution, degree program, and submission date. Sometimes it also includes your student number, your supervisor's name, and the university's logo.
Read more about title pages
The acknowledgements section is usually optional and gives space for you to thank everyone who helped you in writing your dissertation. This might include your supervisors, participants in your research, and friends or family who supported you. In some cases, your acknowledgements are part of a preface.
Read more about acknowledgements Read more about prefaces
Receive feedback on language, structure, and formatting
Professional editors proofread and edit your paper by focusing on:
Academic style
Vague sentences
Style consistency
See an example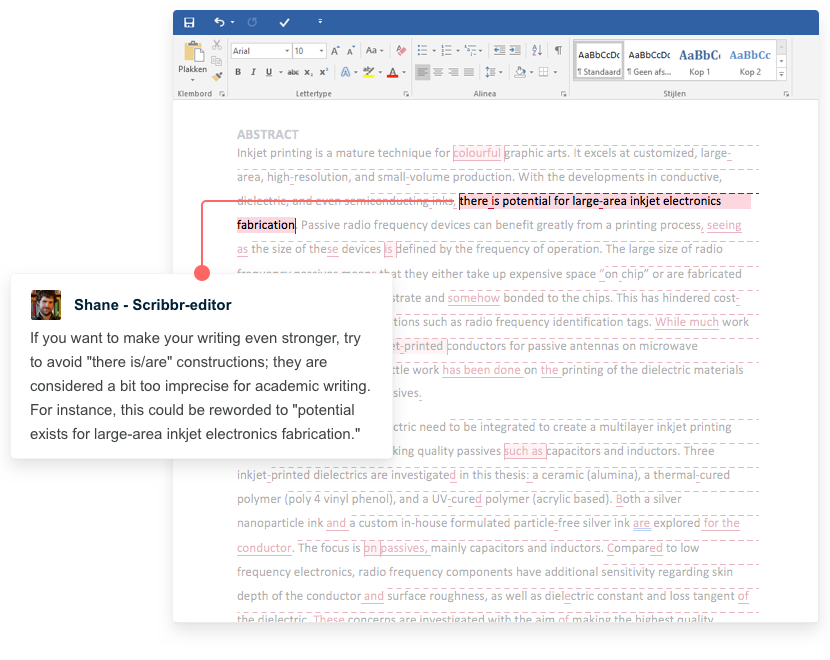 The abstract is a short summary of your dissertation, usually about 150 to 300 words long. Though this may seem very short, it's one of the most important parts of your dissertation, because it introduces your work to your audience.
Your abstract should:
State your main topic and the aims of your research
Describe your methods
Summarize your main results
State your conclusions
Read more about abstracts
The table of contents lists all of your chapters, along with corresponding subheadings and page numbers. This gives your reader an overview of your structure and helps them easily navigate your document.
Remember to include all main parts of your dissertation in your table of contents, even the appendices. It's easy to generate a table automatically in Word if you used heading styles. Generally speaking, you only include level 2 and level 3 headings, not every subheading you included in your finished work.
Read more about tables of contents
While not usually mandatory, it's nice to include a list of figures and tables to help guide your reader if you have used a lot of these in your dissertation. It's easy to generate one of these in Word using the Insert Caption feature.
Read more about lists of figures and tables
Similarly, if you have used a lot of abbreviations (especially industry-specific ones) in your dissertation, you can include them in an alphabetized list of abbreviations so that the reader can easily look up their meanings.
Read more about lists of abbreviations
In addition to the list of abbreviations, if you find yourself using a lot of highly specialized terms that you worry will not be familiar to your reader, consider including a glossary. Here, alphabetize the terms and include a brief description or definition.
Read more about glossaries
The introduction serves to set up your dissertation's topic, purpose, and relevance. It tells the reader what to expect in the rest of your dissertation. The introduction should:
Establish your research topic , giving the background information needed to contextualize your work
Narrow down the focus and define the scope of your research
Discuss the state of existing research on the topic, showing your work's relevance to a broader problem or debate
Clearly state your research questions and objectives
Outline the flow of the rest of your work
Everything in the introduction should be clear, engaging, and relevant. By the end, the reader should understand the what, why, and how of your research.
Read more about introductions
A formative part of your research is your literature review . This helps you gain a thorough understanding of the academic work that already exists on your topic.
Literature reviews encompass:
Finding relevant sources (e.g., books and journal articles)
Assessing the credibility of your sources
Critically analyzing and evaluating each source
Drawing connections between them (e.g., themes, patterns, conflicts, or gaps) to strengthen your overall point
A literature review is not merely a summary of existing sources. Your literature review should have a coherent structure and argument that leads to a clear justification for your own research. It may aim to:
Address a gap in the literature or build on existing knowledge
Take a new theoretical or methodological approach to your topic
Propose a solution to an unresolved problem or advance one side of a theoretical debate
Read more about literature reviews
Theoretical framework
Your literature review can often form the basis for your theoretical framework. Here, you define and analyze the key theories, concepts, and models that frame your research.
Read more about theoretical frameworks
Your methodology chapter describes how you conducted your research, allowing your reader to critically assess its credibility. Your methodology section should accurately report what you did, as well as convince your reader that this was the best way to answer your research question.
A methodology section should generally include:
The overall research approach ( quantitative vs. qualitative ) and research methods (e.g., a longitudinal study )
Your data collection methods (e.g., interviews or a controlled experiment )
Details of where, when, and with whom the research took place
Any tools and materials you used (e.g., computer programs, lab equipment)
Your data analysis methods (e.g., statistical analysis , discourse analysis )
An evaluation or justification of your methods
Read more about methodology sections
Your results section should highlight what your methodology discovered. You can structure this section around sub-questions, hypotheses , or themes, but avoid including any subjective or speculative interpretation here.
Your results section should:
Concisely state each relevant result together with relevant descriptive statistics (e.g., mean , standard deviation ) and inferential statistics (e.g., test statistics , p values )
Briefly state how the result relates to the question or whether the hypothesis was supported
Report all results that are relevant to your research questions , including any that did not meet your expectations.
Additional data (including raw numbers, full questionnaires, or interview transcripts) can be included as an appendix. You can include tables and figures, but only if they help the reader better understand your results. Read more about results sections
Your discussion section is your opportunity to explore the meaning and implications of your results in relation to your research question. Here, interpret your results in detail, discussing whether they met your expectations and how well they fit with the framework that you built in earlier chapters. Refer back to relevant source material to show how your results fit within existing research in your field.
Some guiding questions include:
What do your results mean?
Why do your results matter?
What limitations do the results have?
If any of the results were unexpected, offer explanations for why this might be. It's a good idea to consider alternative interpretations of your data.
Read more about discussion sections
Your dissertation's conclusion should concisely answer your main research question, leaving your reader with a clear understanding of your central argument and emphasizing what your research has contributed to the field.
In some disciplines, the conclusion is just a short section preceding the discussion section, but in other contexts, it is the final chapter of your work. Here, you wrap up your dissertation with a final reflection on what you found, with recommendations for future research and concluding remarks.
It's important to leave the reader with a clear impression of why your research matters. What have you added to what was already known? Why is your research necessary for the future of your field?
Read more about conclusions
It is crucial to include a reference list or list of works cited with the full details of all the sources that you used, in order to avoid plagiarism. Be sure to choose one citation style and follow it consistently throughout your dissertation. Each style has strict and specific formatting requirements.
Common styles include MLA , Chicago , and APA , but which style you use is often set by your department or your field.
Create APA citations Create MLA citations
Your dissertation should contain only essential information that directly contributes to answering your research question. Documents such as interview transcripts or survey questions can be added as appendices, rather than adding them to the main body.
Read more about appendices
Making sure that all of your sections are in the right place is only the first step to a well-written dissertation. Don't forget to leave plenty of time for editing and proofreading, as grammar mistakes and sloppy spelling errors can really negatively impact your work.
Dissertations can take up to five years to write, so you will definitely want to make sure that everything is perfect before submitting. You may want to consider using a professional dissertation editing service or grammar checker to make sure your final project is perfect prior to submitting.
After your written dissertation is approved, your committee will schedule a defense. Similarly to defending your prospectus, dissertation defenses are oral presentations of your work. You'll present your dissertation, and your committee will ask you questions. Many departments allow family members, friends, and other people who are interested to join as well.
After your defense, your committee will meet, and then inform you whether you have passed. Keep in mind that defenses are usually just a formality; most committees will have resolved any serious issues with your work with you far prior to your defense, giving you ample time to fix any problems.
As you write your dissertation, you can use this simple checklist to make sure you've included all the essentials.
Checklist: Dissertation
My title page includes all information required by my university.
I have included acknowledgements thanking those who helped me.
My abstract provides a concise summary of the dissertation, giving the reader a clear idea of my key results or arguments.
I have created a table of contents to help the reader navigate my dissertation. It includes all chapter titles, but excludes the title page, acknowledgements, and abstract.
My introduction leads into my topic in an engaging way and shows the relevance of my research.
My introduction clearly defines the focus of my research, stating my research questions and research objectives .
My introduction includes an overview of the dissertation's structure (reading guide).
I have conducted a literature review in which I (1) critically engage with sources, evaluating the strengths and weaknesses of existing research, (2) discuss patterns, themes, and debates in the literature, and (3) address a gap or show how my research contributes to existing research.
I have clearly outlined the theoretical framework of my research, explaining the theories and models that support my approach.
I have thoroughly described my methodology , explaining how I collected data and analyzed data.
I have concisely and objectively reported all relevant results .
I have (1) evaluated and interpreted the meaning of the results and (2) acknowledged any important limitations of the results in my discussion .
I have clearly stated the answer to my main research question in the conclusion .
I have clearly explained the implications of my conclusion, emphasizing what new insight my research has contributed.
I have provided relevant recommendations for further research or practice.
If relevant, I have included appendices with supplemental information.
I have included an in-text citation every time I use words, ideas, or information from a source.
I have listed every source in a reference list at the end of my dissertation.
I have consistently followed the rules of my chosen citation style .
I have followed all formatting guidelines provided by my university.
Congratulations!
The end is in sight—your dissertation is nearly ready to submit! Make sure it's perfectly polished with the help of a Scribbr editor.
If you're an educator, feel free to download and adapt these slides to teach your students about structuring a dissertation.
Open Google Slides Download PowerPoint
Is this article helpful?
Other students also liked.
How to Write a Literature Review | Guide, Examples, & Templates
Dissertation Table of Contents in Word | Instructions & Examples
How to Choose a Dissertation Topic | 8 Steps to Follow
More interesting articles
Checklist: Writing a dissertation
Dissertation & Thesis Outline | Example & Free Templates
Dissertation Binding and Printing | Options, Tips, & Comparison
Example of a dissertation abstract
Figure and Table Lists | Word Instructions, Template & Examples
How to Write a Discussion Section | Tips & Examples
How to Write a Dissertation or Thesis Proposal
How to Write a Results Section | Tips & Examples
How to Write a Thesis or Dissertation Conclusion
How to Write a Thesis or Dissertation Introduction
How to Write an Abstract | Steps & Examples
How to Write Recommendations in Research | Examples & Tips
List of Abbreviations | Example, Template & Best Practices
Operationalization | A Guide with Examples, Pros & Cons
Prize-Winning Thesis and Dissertation Examples
Purpose and structure of an advisory report
Relevance of Your Dissertation Topic | Criteria & Tips
Research Paper Appendix | Example & Templates
Shorten your abstract or summary
Theoretical Framework Example for a Thesis or Dissertation
Thesis & Dissertation Acknowledgements | Tips & Examples
Thesis & Dissertation Database Examples
Thesis & Dissertation Title Page | Free Templates & Examples
What is a Dissertation Preface? | Definition & Examples
What is a Glossary? | Definition, Templates, & Examples
What Is a Research Methodology? | Steps & Tips
What Is a Theoretical Framework? | Guide to Organizing
What Is a Thesis? | Ultimate Guide & Examples
What is your plagiarism score?
Have a language expert improve your writing
Run a free plagiarism check in 10 minutes, automatically generate references for free.
Knowledge Base
Dissertation
How to Write a Results Section | Tips & Examples
How to Write a Results Section | Tips & Examples
Published on 27 October 2016 by Bas Swaen . Revised on 25 October 2022 by Tegan George.
A results section is where you report the main findings of the data collection and analysis you conducted for your thesis or dissertation . You should report all relevant results concisely and objectively, in a logical order. Don't include subjective interpretations of why you found these results or what they mean – any evaluation should be saved for the discussion section .
Table of contents
How to write a results section, reporting quantitative research results, reporting qualitative research results, results vs discussion vs conclusion, checklist: research results, frequently asked questions about results sections.
When conducting research, it's important to report the results of your study prior to discussing your interpretations of it. This gives your reader a clear idea of exactly what you found and keeps the data itself separate from your subjective analysis.
Here are a few best practices:
Your results should always be written in the past tense.
While the length of this section depends on how much data you collected and analysed, it should be written as concisely as possible.
Only include results that are directly relevant to answering your research questions . Avoid speculative or interpretative words like 'appears' or 'implies'.
If you have other results you'd like to include, consider adding them to an appendix or footnotes.
Always start out with your broadest results first, and then flow into your more granular (but still relevant) ones. Think of it like a shoe shop: first discuss the shoes as a whole, then the trainers, boots, sandals, etc.
Prevent plagiarism, run a free check.
If you conducted quantitative research , you'll likely be working with the results of some sort of statistical analysis .
Your results section should report the results of any statistical tests you used to compare groups or assess relationships between variables . It should also state whether or not each hypothesis was supported.
The most logical way to structure quantitative results is to frame them around your research questions or hypotheses. For each question or hypothesis, share:
A reminder of the type of analysis you used (e.g., a two-sample t test or simple linear regression ). A more detailed description of your analysis should go in your methodology section.
A concise summary of each relevant result, both positive and negative. This can include any relevant descriptive statistics (e.g., means and standard deviations ) as well as inferential statistics (e.g., t scores, degrees of freedom , and p values ). Remember, these numbers are often placed in parentheses.
A brief statement of how each result relates to the question, or whether the hypothesis was supported. You can briefly mention any results that didn't fit with your expectations and assumptions, but save any speculation on their meaning or consequences for your discussion  and conclusion.
A note on tables and figures
In quantitative research, it's often helpful to include visual elements such as graphs, charts, and tables , but only if they are directly relevant to your results. Give these elements clear, descriptive titles and labels so that your reader can easily understand what is being shown. If you want to include any other visual elements that are more tangential in nature, consider adding a figure and table list .
As a rule of thumb:
Tables are used to communicate exact values, giving a concise overview of various results
Graphs and charts are used to visualise trends and relationships, giving an at-a-glance illustration of key findings
Don't forget to also mention any tables and figures you used within the text of your results section. Summarise or elaborate on specific aspects you think your reader should know about rather than merely restating the same numbers already shown.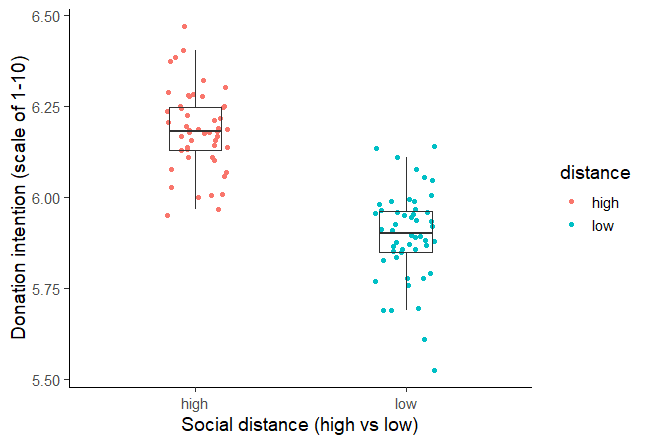 Figure 1: Intention to donate to environmental organisations based on social distance from impact of environmental damage.
In qualitative research , your results might not all be directly related to specific hypotheses. In this case, you can structure your results section around key themes or topics that emerged from your analysis of the data.
For each theme, start with general observations about what the data showed. You can mention:
Recurring points of agreement or disagreement
Patterns and trends
Particularly significant snippets from individual responses
Next, clarify and support these points with direct quotations. Be sure to report any relevant demographic information about participants. Further information (such as full transcripts , if appropriate) can be included in an appendix .
'I think that in role-playing games, there's more attention to character design, to world design, because the whole story is important and more attention is paid to certain game elements […] so that perhaps you do need bigger teams of creative experts than in an average shooter or something.'
Responses suggest that video game consumers consider some types of games to have more artistic potential than others.
Your results section should objectively report your findings, presenting only brief observations in relation to each question, hypothesis, or theme.
It should not  speculate about the meaning of the results or attempt to answer your main research question . Detailed interpretation of your results is more suitable for your discussion section , while synthesis of your results into an overall answer to your main research question is best left for your conclusion .
I have completed my data collection and analyzed the results.
I have included all results that are relevant to my research questions.
I have concisely and objectively reported each result, including relevant descriptive statistics and inferential statistics .
I have stated whether each hypothesis was supported or refuted.
I have used tables and figures to illustrate my results where appropriate.
All tables and figures are correctly labelled and referred to in the text.
There is no subjective interpretation or speculation on the meaning of the results.
You've finished writing up your results! Use the other checklists to further improve your thesis.
The results chapter of a thesis or dissertation presents your research results concisely and objectively.
In quantitative research , for each question or hypothesis , state:
The type of analysis used
Relevant results in the form of descriptive and inferential statistics
Whether or not the alternative hypothesis was supported
In qualitative research , for each question or theme, describe:
Recurring patterns
Significant or representative individual responses
Relevant quotations from the data
Don't interpret or speculate in the results chapter.
Results are usually written in the past tense , because they are describing the outcome of completed actions.
The results chapter or section simply and objectively reports what you found, without speculating on why you found these results. The discussion interprets the meaning of the results, puts them in context, and explains why they matter.
In qualitative research , results and discussion are sometimes combined. But in quantitative research , it's considered important to separate the objective results from your interpretation of them.
Cite this Scribbr article
If you want to cite this source, you can copy and paste the citation or click the 'Cite this Scribbr article' button to automatically add the citation to our free Reference Generator.
Swaen, B. (2022, October 25). How to Write a Results Section | Tips & Examples. Scribbr. Retrieved 30 August 2023, from https://www.scribbr.co.uk/thesis-dissertation/results-section/
Is this article helpful?
Other students also liked
What is a research methodology | steps & tips, how to write a discussion section | tips & examples, how to write a thesis or dissertation conclusion.