Wei Dai (戴维 in Pinyin). [1] is a computer engineer [2] and cypherpunk [3] best known as creator of b-money and the developer of the Crypto++ library. Dai is listed as inventor on U.S. patents 5724279 and 6081598 which were assigned to Microsoft.
1 Education and career
2.1 Crypto++
2.3 b-money
3.1 Relationship with Satoshi Nakamoto
4 External links
5 References
Education and career
Mr. Dai graduated from the University of Washington with a degree in computer science [4] and is described as an "intensely private computer engineer". [2] His profile as a member of the advisory board [5] for the (now defunct) VoteHere.net indicated:
"Mr. Dai worked in the Cryptography Research Group at Microsoft Corporation in Redmond, Washington. While at Microsoft, he was involved in the study, design and implementation of cryptosystems for specialized applications. Prior to joining Microsoft, Mr. Dai was a programmer with TerraSciences of Acton, Massachusetts. Mr. Dai holds a Bachelor of Science degree from the University of Washington in computer science, with a minor in mathematics."
Cryptography
Dai has made numerous contributions to the field of cryptography and has identified critical Cipher Block Chaining (CBC) vulnerabilities affecting SSH2 [6] and the browser exploit against SSL/TLS known as BEAST (Browser Exploit Against SSL/TLS). [7] [8]
Crypto++ (also known as CryptoPP , libcrypto++ , and libcryptopp ) is a free and open source C++ class library of cryptographic algorithms and schemes written by Wei Dai. Crypto++ has been widely used in academia, student projects, open source and non-commercial projects, as well as businesses.
VMAC is a block cipher-based message authentication code (MAC) algorithm using a universal hash proposed by Ted Krovetz and Wei Dai in April 2007. The algorithm was designed for high performance backed by a formal analysis. [9]
In 1998, Dai helped to spark interest in cryptocurrencies [10] with the publication of "b-money, an anonymous, distributed electronic cash system". In the paper, Dai outlines the basic properties of all modern day cryptocurrency systems: "...a scheme for a group of untraceable digital pseudonyms to pay each other with money and to enforce contracts amongst themselves without outside help". [11]
Influence on the development of Bitcoin
Described as "money which is impossible to regulate", [12] Dai's b-money described the core concepts later implemented in Bitcoin [13] and other cryptocurrencies:
Requires a specified amount of computational work (aka Proof of work ).
The work done is verified by the community who update a collective ledger book.
The worker is awarded funds for their effort.
Exchange of funds is accomplished by collective bookkeeping and authenticated with cryptographic hashes.
Contracts are enforced through the broadcast and signing of transactions with digital signatures (i.e., public key cryptography ).
Relationship with Satoshi Nakamoto
Wei Dai and Adam Back were the first two people contacted by Satoshi Nakamoto as he was developing Bitcoin in 2008 [2] and the b-money paper was referenced in the subsequent Bitcoin whitepaper. [14]
In a May 2011 article, noted cryptographer Nick Szabo states:
Myself, Wei Dai, and Hal Finney were the only people I know of who liked the idea (or in Dai's case his related idea) enough to pursue it to any significant extent until Nakamoto (assuming Nakamoto is not really Finney or Dai). [15]
However Dai questions b-money's influence on Bitcoin:
...my understanding is that the creator of Bitcoin, who goes by the name Satoshi Nakamoto, didn't even read my article before reinventing the idea himself. He learned about it afterward and credited me in his paper. So my connection with the project is quite limited. [16]
There has been much speculation as to the identity of Satoshi Nakamoto, with suspects including Wei Dai, Nick Szabo , Hal Finney and accompanying denials. [17] [18] [10] [19]
External links
Profile on SourceForge
Posts on LessWrong
Profile at the Nakamoto Institute
Wei Dai - Google Scholar Citations
↑ Wei Dai (January 12, 2014). "Wei Dai Ask any LessWronger anything" . https://www.lesswrong.com/posts/YdfpDyRpNyypivgdu/aalwa-ask-any-lesswronger-anything#TLvSTxuypiHBuoCLM .
↑ 2.0 2.1 2.2 Popper, Nathaniel (May 15, 2015). "Decoding the Enigma of Satoshi Nakamoto and the Birth of Bitcoin" . New York Times . https://www.nytimes.com/2015/05/17/business/decoding-the-enigma-of-satoshi-nakamoto-and-the-birth-of-bitcoin.html . Retrieved 31 August 2015 .
↑ Andrew Smith (March 2, 2014). "Desperately seeking Satoshi" . The Sunday Times . http://failover-www.thesundaytimes.co.uk/Magazine/article1379779.html .
↑ Morgen E. Peck (May 30, 2012). "Bitcoin: The Cryptoanarchists' Answer to Cash" . IEEE Spectrum . https://spectrum.ieee.org/computing/software/bitcoin-the-cryptoanarchists-answer-to-cash .
↑ Kerry Alexander (April 19, 2000). "B-Money" . http://www.zoominfo.com/CachedPage/?archive_id=0&page_id=305671154&page_url=//www.registerhere.net/news/archive00/041900.html&page_last_updated=2002-07-16T11:05:01&firstName=Wei&lastName=Dai .
↑ ZiJie, Xu. "Some Fixes To SSH" . https://eprint.iacr.org/2013/151.pdf . Retrieved 16 September 2015 .
↑ Goodin, Dan (Sep 21, 2011). "Google preps Chrome fix to slay SSL-attacking BEAST" . The Register . https://www.theregister.co.uk/2011/09/21/google_chrome_patch_for_beast/ . Retrieved 16 September 2015 .
↑ Bard, Gregory V.. "A Challenging but Feasible Blockwise-Adaptive Chosen-Plaintext Attack on SSL" . University of Maryland, Department of Mathematics . https://citeseerx.ist.psu.edu/viewdoc/download?doi=10.1.1.61.5887&rep=rep1&type=pdf . Retrieved 16 September 2015 .
↑ Krovetz, Ted; Dai, Wei (2007). "VHASH Security" . https://citeseerx.ist.psu.edu/viewdoc/summary?doi=10.1.1.65.9987 . Retrieved 16 September 2015 .
↑ 10.0 10.1 Peterson, Andrea (January 3, 2014). "Hal Finney received the first Bitcoin transaction. Here's how he describes it." . The Washington Post . https://www.washingtonpost.com/news/the-switch/wp/2014/01/03/hal-finney-received-the-first-bitcoin-transaction-heres-how-he-describes-it/ . Retrieved 16 September 2015 .
↑ Wei Dai (1998). "B-Money" . http://www.weidai.com/bmoney.txt .
↑ Daniel Cooper (May 8, 2013). "The rise (and rise?) of Bitcoin" . Engadget . https://www.engadget.com/2013/05/08/engadget-primed-bitcoin/ .
↑ DuPont, Quinn (2014). "The politics of cryptography: Bitcoin and the ordering machines.". Journal of Peer Production (1.4).
↑ Satoshi Nakamoto . "Bitcoin: A Peer-to-Peer Electronic Cash System" . https://bitcoin.org/bitcoin.pdf .
↑ Nick Szabo (2011-05-28). "Bitcoin, what took ye so long?" . Unenumerated . https://unenumerated.blogspot.com/2011/05/bitcoin-what-took-ye-so-long.html . Retrieved 2014-03-12 .
↑ Wei Dai. "Wei_Dai comments on Making money with Bitcoin?" . https://www.lesswrong.com/posts/ijr8rsyvJci2edxot/making-money-with-bitcoin#hbEu9ue9eymNzaF2J .
↑ "Satoshi Nakamoto is (probably) Nick Szabo" . LikeInAMirror . WordPress. Archived from the original on 2014-04-13 . https://likeinamirror.wordpress.com/2013/12/01/satoshi-nakamoto-is-probably-nick-szabo/#%21 . Retrieved 5 December 2013 .
↑ Weisenthal, Joe (19 May 2013). "Here's The Problem With The New Theory That A Japanese Math Professor Is The Inventor Of Bitcoin" . Business Insider. Archived from the original on 2013-11-03 . https://www.businessinsider.com/did-shinichi-mochizuki-invent-bitcoin-2013-5?IR=T . Retrieved 19 May 2013 .
↑ Vigna, Paul (Apr 16, 2014). "Bitcoin Creator 'Satoshi Nakamoto' Unmasked–Again?" . Wall Street Journal . https://blogs.wsj.com/moneybeat/2014/04/16/bitcoin-creator-satoshi-nakamoto-unmasked-again/ . Retrieved 16 September 2015 .
Navigation menu
Personal tools.
Create account
View source
View history
Bitcoin FAQ
Editing help
Recent changes
What links here
Related changes
Special pages
Printable version
Permanent link
Page information
Sister projects
This page was last edited on 24 April 2019, at 00:40.
Content is available under Creative Commons Attribution 3.0 unless otherwise noted.
Privacy policy
About Bitcoin Wiki
Disclaimers
Home » A Closer Look At Wei Dai Proposed B-Money, The Vital Bitcoin Predecessor
A Closer Look At Wei Dai Proposed B-Money, The Vital Bitcoin Predecessor
Join Us on Google News
In the previous article of this series, we discussed in brief about Wei Dai and some of the areas he got involved in, such as B-money, Crypto++ library, VMAC Internet Draft and many more. We are going to dig a little deeper about B-Money, one of the important predecessors of Bitcoin.
What Is B-Money?
B-money by Wei Dai was among the very first proposed cryptocurrencies before they actually emerged like we witness them today. It was supposed to be an anon and dispersed E-cash system, similar to the digital assets we know today.
While many people, especially the ones who know that Bitcoin is the first ever cryptocurrency or the 1st generation of digital coins, do not know that there were some prominent predecessors of the crowned crypto asset, B-money was among them. But it was never launched officially.
Wai Dei got motivated from the crypto anarchy manifesto written by Tim May. It is a concept where authority is forbidden completely as it becomes useless here. Crypto anarchy eliminates the physical chaos as the folks and their locations remain anonymous here.
B-money uses the kind of encryption that services like military and other government services utilizes, a language which only they can interpret.
How B-Money Was Supposed To Be Used?
We discussed a couple of protocols, one impractical and other was practical, in the previous article.
The impractical approach consisted of 5 sections — money creation, money transfer, effecting of contracts, conclusion of those contracts, and their enforcement. Here every individual owns a dataset associated with the total money belonging to the pseudonymous account.
Wei Dai says that money creation is easy as it can be done by broadcasting solutions to the past computational problem. Amount of computing effort should be determined it will take to solve the previous problem, and this is the important element as if it is not done then it neither will have intellectual or practical value.
In the second protocol, the pseudonymous accounts were kept with servers instead of everyone. Here, validation of the messages is required, which is done by server subset (participants).
Alternative B-Money Creation
Wei Dai proposed an alternative to the b-money creation due to persisting issues in the money creation. He proposed that a consensus must be there among the account keepers or the participants regarding how much B-money to be created every time, where an auction will determine the cost of money creation.
His proposal is categorized into 4 stages — Planning, Bidding, Computation and Money Creation.
In the planning stage, account keepers are required to discuss the total increase in money supply for the upcoming period. And they do not have to be in consensus but they have to broadcast their thoughts or whatever numbers they think are right.
In the bidding stage, participants desiring to broadcast need to make the bid, and there must be a nominal cost on which the participants should be agreed.
In the computation stage, bidders can broadcast solutions to the problems.
Finally, in the money creation stage, account keepers choose the highest bidder with respect to the nominal cost on every b-money unit created and appropriately credit the accounts of the bidders.
So, here I conclude the article and I hope it helps you understand the concept of B-money , as a solution offered by Wei Dai before Bitcoin which never got launched. In the next part, I am going to discuss with you guys about some of his applications in cryptography like Crypto++, VMAC etc.  See you in the next article of this series folks.
Floki Inu: Everything About This Memecoin's Origin and Utility - November 10, 2023 8:12 pm EST
AMD Stock (NASDAQ: AMD) Surpassed $110, Will AMD Shoot Beyond $130? - November 10, 2023 4:03 pm EST
5 Best Canadian Real Estate Stocks Rocking the Stock Marketplace  - November 10, 2023 1:36 pm EST
Leave a Reply Cancel reply
Your email address will not be published. Required fields are marked *
Save my name, email, and website in this browser for the next time I comment.
Download our App for getting faster updates at your fingertips.
We Recommend
Top rated cryptocurrency exchange.
The Verdict on Sam Bankman-Fried & Its Impact on Crypto Space
What is dYdX? All About the Modern Decentralized Crypto Exchange 
Sui Blockchain (SUI): Unlocking the Power of On-Chain Assets 
What is GMX, What Makes the Decentralized Exchange Stunning?
All About GateChain, The Next-Generation Public Blockchain 
Exploring Nexo (NEXO): An All-in-One Leading Crypto Platform   
Disclaimers
Terms and Conditions
Privacy Policy
Cookie Policy
© Copyright 2022. The Coin Republic
Search Search Please fill out this field.
Cryptocurrency
Strategy & Education
B-Money: Overview, Goals, Differences From Bitcoin
Erika Rasure is globally-recognized as a leading consumer economics subject matter expert, researcher, and educator. She is a financial therapist and transformational coach, with a special interest in helping women learn how to invest.
What Is B-Money?
First revealed in 1998 by computer scientist Wei Dai, b-money was intended to be an anonymous, distributed electronic cash system. In this way, it endeavored to provide many of the same services and features that contemporary cryptocurrencies today do as well.
Although digital currencies have risen to new levels of prominence around the world in the last several years, it's important to remember that cryptocurrency has a history dating back decades . While the oldest of the current generation of virtual tokens is Bitcoin (BTC) , there were many important predecessors to Bitcoin. B-money was one of these early, proposed cryptocurrencies. B-money was never officially launched.
Key Takeaways
First revealed in 1998 by computer scientist Wei Dai, b-money was intended to be an anonymous, distributed electronic cash system.
Although it was never officially launched, b-money endeavored to provide many of the same services and features that contemporary cryptocurrencies today do as well.
Wei Dai, a computer engineer and graduate of the University of Washington, published an essay in 1998 introducing the concept of b-money.
Understanding B-Money
Wei Dai, a computer engineer and graduate of the University of Washington, published an essay in 1998 introducing the concept of b-money. The paper provided the general outline for the currency, which in many ways predates the modern-day digital currency world. Dai described b-money as "a scheme for a group of untraceable digital pseudonyms to pay each other with money and to enforce contracts amongst themselves without outside help."
Dai's concept for b-money included a number of specific features that have become common to cryptocurrencies today, including the requirement for computational work in order to facilitate the digital currency, the stipulation that this work must be verified by the community in a collective ledger, and rewarding workers for their input. To ensure that transactions remained organized, Dai proposed that collective bookkeeping would be necessary, with cryptographic protocols helping to authenticate transactions. This proposal is very similar to present-day blockchain technology. Further, Dai suggested the use of digital signatures, or public keys , for authentication of transactions and enforcement of contracts.
Dai's concept for b-money included two proposals. The first was seen as largely impractical and relied on a proof-of-work (PoW) function in order to generate b-money. The second proposal more closely predicts the structure of many modern-day blockchain systems.
While Dai's work with b-money has perhaps been overshadowed by more recent and successful cryptocurrency projects, he remains a primary figure in the early development of the industry. Indeed, the smallest unit of ether , the digital currency of the Ethereum network, is called a "wei" in honor of Dai's work and the b-money concept.
How Is B-Money Different From Bitcoin?
B-money was never officially launched; it remained in existence only as a proposal (the equivalent of a white paper ). However, Dai's work did not go unnoticed. Indeed, when Satoshi Nakamoto was developing Bitcoin roughly a decade after Dai produced the proposal for b-money, the pseudonymous founder of the largest cryptocurrency in the world reached out to Dai before any other developers. Along with other cryptocurrency pioneers like Nick Szabo and Hal Finney, Dai supported Nakamoto's plan.
While there are many similarities between the b-money proposal and Bitcoin (and, in turn, many other subsequent digital tokens and coins as well), the exact relationship between b-money and Bitcoin is difficult to identify. Dai has stated in recent years that "my understanding is that the creator of Bitcoin...didn't even read my article before reinventing the idea himself. He learned about it afterward and credited me in his paper. So my connection with the project is quite limited."
Beyond that, there are many within the cryptocurrency community who suspect that, because of the similarities between b-money and Bitcoin, that Wei Dai may someday be revealed as the true identity of the mysterious Satoshi Nakamoto.
Goals of B-Money
By creating b-money, Dai dreamed of a community where there would be little to no violence because the physical locations and real identities of people would be obscured from public knowledge. Because there would be no violence, this community would have no need for a government.
However, Dai knew that in order for the institution of government to become permanently unnecessary, a community would need to communicate and transact in a peer-to-peer way. Dai said, "Until now it's not clear, even theoretically, how such a community could operate. A community is defined by the cooperation of its participants, and efficient cooperation requires a medium of exchange (money) and a way to enforce contracts. Traditionally these services have been provided by the government or government-sponsored institutions and only to legal entities."
B-money's protocol was conceived of in such a way that it could preserve the privacy of all participants while still acting as a medium of exchange and providing executable contracts to a community.
Investing in cryptocurrencies and Initial Coin Offerings ("ICOs") is highly risky and speculative, and this article is not a recommendation by Investopedia or the writer to invest in cryptocurrencies or ICOs. Since each individual's situation is unique, a qualified professional should always be consulted before making any financial decisions. Investopedia makes no representations or warranties as to the accuracy or timeliness of the information contained herein. As of the date this article was written, the author owned Bitcoin and Ripple.
Wei Dai. " B-money ." Accessed March 16, 2021.
Wei Dai. " Homepage ." Accessed March 16, 2021.
Lesswrong. " Wei-Dai ." Accessed March 16, 2021.
Terms of Service
Editorial Policy
Privacy Policy
Your Privacy Choices
By clicking "Accept All Cookies", you agree to the storing of cookies on your device to enhance site navigation, analyze site usage, and assist in our marketing efforts.
Enjoyed the article? Share:
B-money was an early proposal created by Wei Dai for an "anonymous, distributed electronic cash system". B-money was referenced by Satoshi Nakamoto through the creating of the world famous Bitcoin . He published on the cypherpunks mailing-list in November 1998, Dai proposed two protocols in his essay.
3 Appendix A of "white paper"
4 External Links
6 See Also on BitcoinWiki
History [ edit ]
In 1998, a graduate of the Washington University Wei Dai (Wei Dai) offered B-money. "My idea was to create a free financial system on the Internet. So that no one could introduce taxation and force people to do anything," he explained. Very few will remember the times of B-Money, as this cryptocurrency was first presented to the public in 1998-more than 10 years before the appearance of bitcoins. Nevertheless, B-Money is very unlike bitcoins, although the developer of the first — Wei Da (Wei Da) — also sought to create an anonymous and distributed method of issuing coins. For the speedy implementation of B-money, technical documents (link) (the so-called "white paper") were published, which contained the same basic principles as the modern cryptocurrency. It was assumed that the "digital aliases" will be able to send and receive money through a decentralized network and even ensure the implementation of contracts among themselves without the involvement of a third party. Unfortunately, the B-Money project has not moved from the dead end after the implementation of the white paper.
Concept [ edit ]
In the first protocol, the use of a proof of work function is proposed as a means of creating money. Dai's B-Money was proposed in the context of cypherpunks mailing-list discussions relating to possible applications of Hashcash, the first symmetric proof-of-work function, which was itself also published on the same mailing-list, the previous year - May 1997. (Like the B-money proposal, bitcoin itself also uses the hashcash cost-function as the proof-of-work during coin minting). In B-Money, money is transferred by broadcasting the transaction to all participants, all of whom keep accounts of all others. Contracts can be made with possible reparation in case of default, with a third party agreeing to be the arbitrator. If there is no agreement, each party broadcasts arguments or evidence in its favor and each of the participants determines the reparations/fines in his accounts for himself.
The second protocol has only a subset of the participants (the "servers") keeping accounts, which they have to publish, and the participants who do transactions verifying their balances by asking many of them. The participants also verify that the money supply is not being inflated. An amount of money as bail is required to become a server, which is lost if the server is found to be dishonest.
An alternate method of creating money is proposed, via an auction where participants bid on the solution of computational problems of known complexity.
Appendix A of "white paper" [ edit ]
One of the more problematic parts in the b-money protocol is money creation. This part of the protocol requires that all of the account keepers decide and agree on the cost of particular computations. Unfortunately because computing technology tends to advance rapidly and not always publicly, this information may be unavailable, inaccurate, or outdated, all of which would cause serious problems for the protocol. Wei Day wrote: "So I propose an alternative money creation subprotocol, in which account keepers (everyone in the first protocol, or the servers in the second protocol) instead decide and agree on the amount of b-money to be created each period, with the cost of creating that money determined by an auction. Each money creation period is divided up into four phases, as follows: "
Planning . The account keepers compute and negotiate with each other to
determine an optimal increase in the money supply for the next period. Whether or not the account keepers can reach a consensus, they each broadcast their money creation quota and any macroeconomic calculations done to support the figures.
Bidding . Anyone who wants to create b-money broadcasts a bid in the
form of <x, y> where x is the amount of b-money he wants to create, and y is an unsolved problem from a predetermined problem class. Each problem in this class should have a nominal cost (in MIPS-years say) which is publicly agreed on.
Computation . After seeing the bids, the ones who placed bids in the
bidding phase may now solve the problems in their bids and broadcast the solutions.
Money creation . Each account keeper accepts the highest bids (among
those who actually broadcasted solutions) in terms of nominal cost per unit of b-money created and credits the bidders' accounts accordingly.
External Links [ edit ]
b-money, an anonymous, distributed electronic cash system
Hashcash cost-function
Links [ edit ]
See also on bitcoinwiki [ edit ].
Bitcoin Core 0.11 (ch 6): The Blockchain
Bitcoin Media
Bitcoin Core 0.11 (ch 5): Initial Block Download
Anonymity and security
Navigation menu
Personal tools.
Not logged in
Contributions
Create account
View history
Wanted pages
Recent changes
Random page
What links here
Related changes
Special pages
Printable version
Permanent link
Page information
This page was last modified on 25 March 2019, at 16:13.
BitcoinWiki project since 2014
Content is available under BY-SA unless otherwise noted.
Privacy policy
About BitcoinWiki
Disclaimers

Wei Dai/Satoshi Nakamoto 2009 Bitcoin emails
Emails in 2009 between Wei Dai and Satoshi Nakamoto discussing Bitcoin draft proposal and B-money.
External Links
[ Warning : JavaScript Disabled!]
[For support of key website features (link annotation popups/popins & transclusions, collapsible sections, backlinks, tablesorting, image zooming, sidenotes etc), you must enable JavaScript.]
Below are 3 emails 2008–2009 between cryptographers Wei Dai & Satoshi Nakamoto ; they were quoted in the Sunday Times 's 2014-03-02 article "Desperately seeking Satoshi; From nowhere, bitcoin is now worth billions. Where did it come from? Andrew Smithset off to find Satoshi Nakamoto, the mysterious genius behind the hit e-currency" . The then-unknown Satoshi Nakamoto contacted Wei Dai, one of the few cryptographers to even dabble in e-currency speculation at the time, for citation details for his draft Bitcoin white paper , and to advertise his ideas. Wei Dai was not particularly interested but told Nakamoto about Nick Szabo's uncited Bit Gold; in retrospect, Wei Dai interprets this as evidence that Satoshi is not Nick Szabo.
The Sunday Times article quotes Wei Dai:
…Szabo, an American computer scientist who has also served as law professor at George Washington University, developed a system for "bit gold" between 1998 and 2005, which has been seen as a precursor to Bitcoin. Is he saying that Szabo is Satoshi? "No, I'm pretty sure it's not him." you, then? "No. When I said just Nick and me, I meant before Satoshi" So where could this person have come from? "Well, when I came up with b-money I was still in college, or just recently graduated, and Nick was at a similar age when he came up with bit gold, so I think Satoshi could be someone like that." "Someone young, with the energy for that kind of commitment?" "yeah, someone with energy and time, and that isn't obligated to publish papers under their real name." …I go back to Szabo's pal, Wei Dai. "Wei", I say, "the other night you said you were sure Nick Szabo wasn't Satoshi. What made you sure?" "Two reasons", he replies. "One: in Satoshi's early emails to me he was apparently unaware of Nick Szabo's ideas and talks about how bitcoin 'expands on your ideas into a complete working system' and 'it achieves nearly all the goals you set out to solve in your b-money paper'. I can't see why, if Nick was Satoshi, he would say things like that to me in private. And, two: Nick isn't known for being a C++ programmer." Perversely, a point in Szabo's favour. But Wei forwards me the relevant emails, and it's true: Satoshi had been ignorant of Szabo's bit-gold plan until Wei mentioned it. Furthermore, a trawl through Szabo's work finds him blogging and fielding questions about bit gold on his Unenumerated blog on December 27, 2008, while Satoshi was preparing bitcoin to meet the world a week later. Why? Because Szabo didn't know about bitcoin: almost no one outside the Cryptography Mailing List did, and I can find no evidence of him ever having been there. Indeed, by 2011, the bit-gold inventor is blogging in defence of bitcoin, pointing out several improvements on the system he devised.
The full emails are being provided publicly by Wei Dai to support his judgment that Satoshi is not Nick Szabo:
…the more important reason for me thinking Nick isn't Satoshi is the parts of Satoshi's emails to me that are quoted in the Sunday Times . Nick considers his ideas to be at least an independent invention from b-money so why would Satoshi say "expands on your ideas into a complete working system" to me, and cite b-money but not Bit Gold in his paper, if Satoshi was Nick? An additional reason that I haven't mentioned previously is that Satoshi's writings just don't read like Nick's to me.
Satoshi Nakamoto:
The title does not mention Bitcoin, and the abstract is not identical to the final one, which is slightly better written (eg. no "broadcasted" typo); a word-level diff of the abstracts using Mergeley.com :
The bit about Adam Back has been mentioned before; on 2013-04-18 , Adam Back posted to the BitcoinTalk forums a self-introduction mentioning that
…So anyway I know a few things about ecash, privacy tech, crypto, distributed systems (my comp sci PhD is in distributed systems) and I guess I was one of the moderately early people to read about and try to comprehend the p2p crypto cleverness that is bitcoin. In fact I believe it was me who got Wei Dai's b-money reference added to Satoshi's bitcoin paper when he emailed me about hashcash back in 2008. If like Hal Finney I'd actually tried to run the miner back then, I may too be sitting on some genesis/bootstrap era coins. Alas I own not a single bitcoin which is kind of ironic as the actual bitcoin mining is basically my hashcash invention…
The "pre-release draft" link is now broken. I have tried to refind it:
the original fly-by-night filehosting site disappeared years ago, and does not appear to have been renamed or moved
the filehosting download page & PDF are unavailable in the Internet Archive
the earliest version of the whitepaper on Bitcoin.org in the Internet Archive is a later draft, using the name "Bitcoin" (unsurprisingly); looking at the full list of mirrored files for that domain, there don't appear to be any other PDFs in the snapshots which might be an earlier still draft & possibly the original
Google searches for queries like "ecash-pdf" and variants (sometimes adding in "Satoshi Nakamoto" since he was using that nick at the time even if he had not settled on "Bitcoin" as a name) have turned up no mirrors or people discussing that version of the whitepaper who might have copies
a more targeted search on BitcoinTalk did not turn up any copies
the whitepaper was never checked into the original Subversion repository set up after the alpha code was released, so no revision history there either
I asked them and learned that early correspondents Wei Dai, Adam Back, and Gregory Maxwell do not have copies. (I also asked Hal Finney but did not expect a reply given his condition & did not receive one before he passed away 2014-08-28.)
If anyone has a copy of it or a tip as to where it might be or who might have it stashed away, please contact me. It would likely shed some further insight on the development of Bitcoin and how Satoshi had his key insight of proof-of-work.
A request on the original "cryptography" mailing list yielded a SHA-256 hash of a draft paper earlier than the current bitcoin.org -hosted version, which then turned up a matching bitcoin.pdf ( rehosted locally ). This one has a few noticeable differences: the Vistomail email address, the final title, a few word changes ("digital signatures provide part" rather than " offer ") etc 1 .
Is this the earliest draft of the paper, the one Satoshi sent to Wei Dai? No:
Satoshi's initial email to Dai is dated "August 22, 2008"; the metadata for this PDF ( pdftk bitcoin.pdf dump_data ) yields as the CreationDate the value 20081003134958-07'00' —without getting into the gory details of PDF metadata formatting, this implies 2008-10-03 or a bit over a month later, which is consistent with the local date mentioned in the cryptography ML email. (This is however an earlier draft than the final draft on bitcoin.org , which is dated 20090324113315-06'00' or 2009-03-24; interestingly, the timezone differs: -7 vs -6.)
Satoshi says in the Dai email that the URL is ...ecash-pdf.html , which is an auto-link generated by the filehost, suggesting the filename was ecash.pdf and not bitcoin.pdf
Satoshi says also that the title is "Electronic Cash Without a Trusted Third Party", but in this October 2008 version, the title has already changed to "Bitcoin: A Peer-to-Peer Electronic Cash System"
Satoshi's pretext is getting the right citation for Dai's B-money, and he implies there is either no citation to Dai currently (consistent with Adam Back's claim to have noticed the absence and told Satoshi) or it would be to '2006?' (his quoted example citation); however, this file has the full correct citation " 1 W. Dai, 'b-money,' http://www.weidai.com/bmoney.txt, 1998."—dated to 1998 (as Dai tells Satoshi), not 2006 (as was Satoshi's best guess).
"The Crypto-Currency: Bitcoin and its mysterious inventor" ( New Yorker 2011)
Bitcoin is Worse is Better
HN discussion
A fuller diff:
[ Error : JavaScript disabled.]
[Backlinks, similar links, and the link-bibliography require JS enabled to load.]
Further Reading
Link bibliography.
[ Send Anonymous Feedback ]
Satoshi Files: Wei Dai
Wei Dai is a computer scientist known for theorizing b-money: an anonymous, distributed cash system similar to Bitcoin.
Table of Contents
Connections with bitcoin, the evidence that wei dai could be satoshi nakamoto, the evidence that wei dai is likely not satoshi nakamoto.
Source: Journal Du Coin
Join us in showcasing the cryptocurrency revolution, one newsletter at a time. Subscribe now to get daily news and market updates right to your inbox, along with our millions of other subscribers (that's right, millions love us!) — what are you waiting for?
Even the mighty Google can't find the real Wei Dai it seems.
The little else we know about Wei Dai relates to his passion for computer science and cryptography.
Source: Bitcoin.com
May's Crypto Anarchist manifesto suggested that cryptographic tools could even bring about the end of government (hence the name "Crypto Anarchy"). "Governments will have a hard time collecting taxes, regulating the behavior of individuals and corporations (small ones at least), and generally coercing folks when it can't even tell what continent folks are on," he said.
Source: Reddit
Given his contributions to the SL4 and Cypherpunk groups, we can see that Wei Dai believed technology and cryptography could drastically alter the course of human history. But did he have what it takes to create a ground-breaking new piece of technology that could change the course of human history – like Bitcoin?
"I was very interested to read your b-money page. I'm getting ready to release a paper that expands on your ideas into a complete working system."
It's plausible that when Satoshi emailed Dai, he didn't really need anything from him, and that he was only asking for a reference to give his paper more credibility. After all, did he need to cite a paper theorizing a digital currency he hadn't heard of until after he finished building his own digital currency?
Dai actually acknowledged this point:
"My understanding is that the creator of Bitcoin, who goes by the name Satoshi Nakamoto, didn't even read my article before reinventing the idea himself. He learned about it afterward and credited me in his paper. So my connection with the project is quite limited."
"Coming up with Bitcoin required someone who, a) thought about money on a deep level, and b) learnt the tools of cryptography, c) had the idea that something like Bitcoin is possible, d) was motivated enough to develop the idea into something practical, e) was technically skilled enough to make it secure, f) had enough social skills to build and grow a community around it."
"The number of people who even had a), b) and c) was really small -- ie, just Nick Szabo and me -- so I'd say not many people could have done all these things," Dai said.
Dai later clarified that he thought Satoshi could be a university student or a recent graduate. He said:
"When I came up with b-money I was still in college, or just recently graduated, and Nick [Szabo] was at a similar age when he came up with bit gold, so I think Satoshi could be someone like that."
His first name, Wei, was also chosen to be the smallest subunit of Ether, Ethereum's native currency, thanks to Dai's contributions to the crypto space.
Now that we've explored Wei Dai's career and association with Bitcoin, let's take a look at the evidence to determine if he could be Satoshi Nakamoto.
#1 He Has the Technical Ability
Dai even acknowledges this point himself. When he was asked who could have invented Bitcoin, he provided a series of six competencies with which he felt nobody he knew matched up. In fact, suggested "just Nick Szabo and me" matched up with the first three of six.
Szabo actually suggested that Dai could be Satoshi. "Myself, Wei Dai, and Hal Finney were the only people I know of who liked the idea [digital currency] (or in Dai's case his related idea) enough to pursue it to any significant extent until Nakamoto (assuming Nakamoto is not really Finney or Dai)."
Furthermore, Dai was an expert at C++, the programming language that the Bitcoin code was written in. There are not many Satoshi suspects that had the technical background and C++ knowledge that Dai had.
Even experts agree that Wei Dai was one of the few people who could have created Bitcoin.
#2 He Proposed a Similar Idea on Digital Money Back in 1998
Dai proposed b-money, which essentially amounted to an early first draft of Bitcoin, about ten years before Satoshi published the Bitcoin whitepaper.
This doesn't qualify as direct evidence, but it would make sense for the person who developed Bitcoin to have had a few earlier attempts in their past. The three people who have attempted to do so are Hal Finney, who created Reusable Proof Of Work; Nick Szabo, who created Bit gold; and Wei Dai, who created b-money.
#3 He Was a Cypherpunk
Satoshi Nakamoto shared the Bitcoin whitepaper with the Cypherpunks before anyone else, so it makes sense to assume that he might have joined the group before adopting his now famous pseudonym, only with a different name.
The Cypherpunks had several hundred members at their peak, so we can't say that Dai must be Satoshi simply because he was a Cypherpunk, but it's still useful contextual evidence.
#4 He's a Master at Hiding His Personal Life
The fact that Wei Dai is one of the leading candidates to be Satoshi Nakamoto and yet almost nobody can find any information about him is truly remarkable. Better yet, there's not even a verified photo of him online. This isn't true of Nick Szabo, Half Finney, or basically any of the other people who could be Satoshi.
So given that Satoshi is obviously adept at hiding his true identity as well – could Wei Dai and Satoshi be the same person?
#1 Satoshi Didn't Know About Dai's work Before He Created Bitcoin
Before he published the Bitcoin whitepaper, Satoshi contacted Cypherpunk Adam Back to see if he or anybody he knew had tried to build a digital currency before.
#2 He Says He Isn't Satoshi
When Times journalist Andrew Smith asked Dai whether he knew who Satoshi was, Dai said he didn't. He bravely speculated, however, that he was one of only two people who possessed the technical knowhow to have built Bitcoin – the other being Nick Szabo.
So, do you think Wei Dai created Bitcoin?
Will Kendall
I'm a UK-based writer covering cryptocurrency and technology.
Related Articles
Join the thousands already learning crypto!
Join our free newsletter for daily crypto updates!
Home
Article citations
Biomedical & Life Sci.
Business & Economics
Chemistry & Materials Sci.
Computer Sci. & Commun.
Earth & Environmental Sci.
Engineering
Medicine & Healthcare
Physics & Mathematics
Social Sci. & Humanities
Journals by Subject
Biomedical & Life Sciences
Chemistry & Materials Science
Computer Science & Communications
Earth & Environmental Sciences
Social Sciences & Humanities
Paper Submission
Information for Authors
Peer-Review Resources
Open Special Issues
Open Access Statement
Frequently Asked Questions
Publish with us
Article citations more>>.
Dai, W. (1998) B-Money. http://www.weidai.com/bmoney.txt
has been cited by the following article:
TITLE: Cryptocurrencies: Are Disruptive Financial Innovations Here?
KEYWORDS: Bitcoin , Cryptocurrency , Digital Currency , Virtual Currency , Cryptography , Finance , Economics , Regulation , Disruptive Innovation
JOURNAL NAME: Modern Economy , Vol.6 No.7 , July 20, 2015
ABSTRACT: Digital currencies, virtual currencies, in-game currencies, etc., have gathered a lot of attention, despite the difficulties of definition, from all corners of society for many years. Cryptocurrency has gained unprecedented attention since the birth of Bitcoin in 2009. Bitcoin is an online system of making and receiving payments in bitcoins. The system distinguishes itself by providing an open-source, cryptographically secure, confidentiality-preserving platform for transactions and/or making payments. The number of transactions as well as the number of accounts (held by individuals and businesses) is steadily increasing. A whole industry of service-providers has sprung up alongside. We consider the development of Bitcoin and its sister currencies as an important disruptive financial innovation which is here to stay unless throttled by ill-considered legislative or regulatory actions. Potential problems are analyzed and solutions offered. The overall assessment is that cryptocurrencies and variants of virtual currencies are a welcome development, they will offer competition to the existing modalities of money and governmental regulation, they will provide alternative means to economic agents for their transactions, and their innovative existence should be encouraged so that their beneficial features outperform any deleterious ones.
Related Articles:
Open Access Articles The associations between socioeconomic status and obesity in Korean children from 1998 to 2009 So-Young Nam, Soo-Kyung Lee Health Vol.5 No.11 , November 27, 2013 DOI: 10.4236/health.2013.511256
Open Access Articles Proposal and Pilot Study: A Generalization of the W or W' Statistic for Multivariate Normality José Moral-De La Rubia Open Journal of Statistics Vol.13 No.1 , February 28, 2023 DOI: 10.4236/ojs.2023.131008
Open Access Articles A Brief Look into the Lambert W Function Thomas P. Dence Applied Mathematics Vol.4 No.6 , June 4, 2013 DOI: 10.4236/am.2013.46122
Open Access Articles w-MPS Risk Aversion and the CAPM Phelim P. Boyle, Chenghu Ma Theoretical Economics Letters Vol.3 No.6 , December 5, 2013 DOI: 10.4236/tel.2013.36052
Open Access Articles Modified Fletcher-Reeves and Dai-Yuan Conjugate Gradient Methods for Solving Optimal Control Problem of Monodomain Model Kin Wei Ng, Ahmad Rohanin Applied Mathematics Vol.3 No.8 , August 1, 2012 DOI: 10.4236/am.2012.38128
Journals A-Z
About SCIRP
Publication Fees
For Authors
Peer-Review Issues
Special Issues
Manuscript Tracking System
Subscription
Translation & Proofreading
Volume & Issue
Open Access
Publication Ethics
Preservation
Privacy Policy
Bahasa Indonesia
Slovenščina
Science & Tech
Russian Kitchen
4 stories of real Russian mob bosses that put Hollywood to shame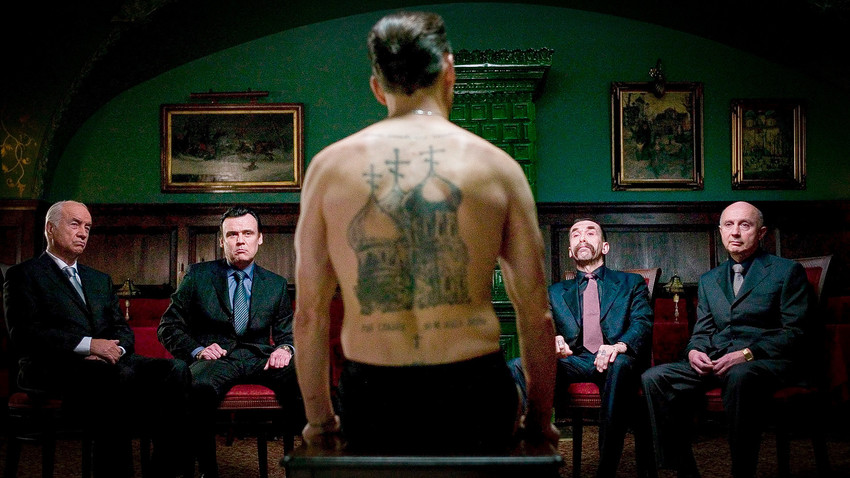 A scene from 'Eastern Promises' by David Cronenberg, a gangster film portraying Russian mafia. It was quite accurate in terms of prison tattoos.
Russia's criminal culture is something special. Traditionally, it goes by the name "thieves-in-law", and high-ranking kingpins who live according to a strict code (no links or cooperation with the powers-that-be), command the most respect and authority. Though few really follow that code ( ponyatiya – the understandings), it's almost impossible to rise up the ranks of the criminal elite without at least pretending to follow them.
Back in the 1990s, the criminal world of post-Soviet Russia was in turmoil. Young and ruthless gangsters challenged the old thieves-in-law, gangs and clans fought turf battles known as razborki , leaving numerous bodies behind. Here are stories of the four most infamous Russian gangsters: three now dead, the other behind bars.
1. Sergey Timofeev (Silvester)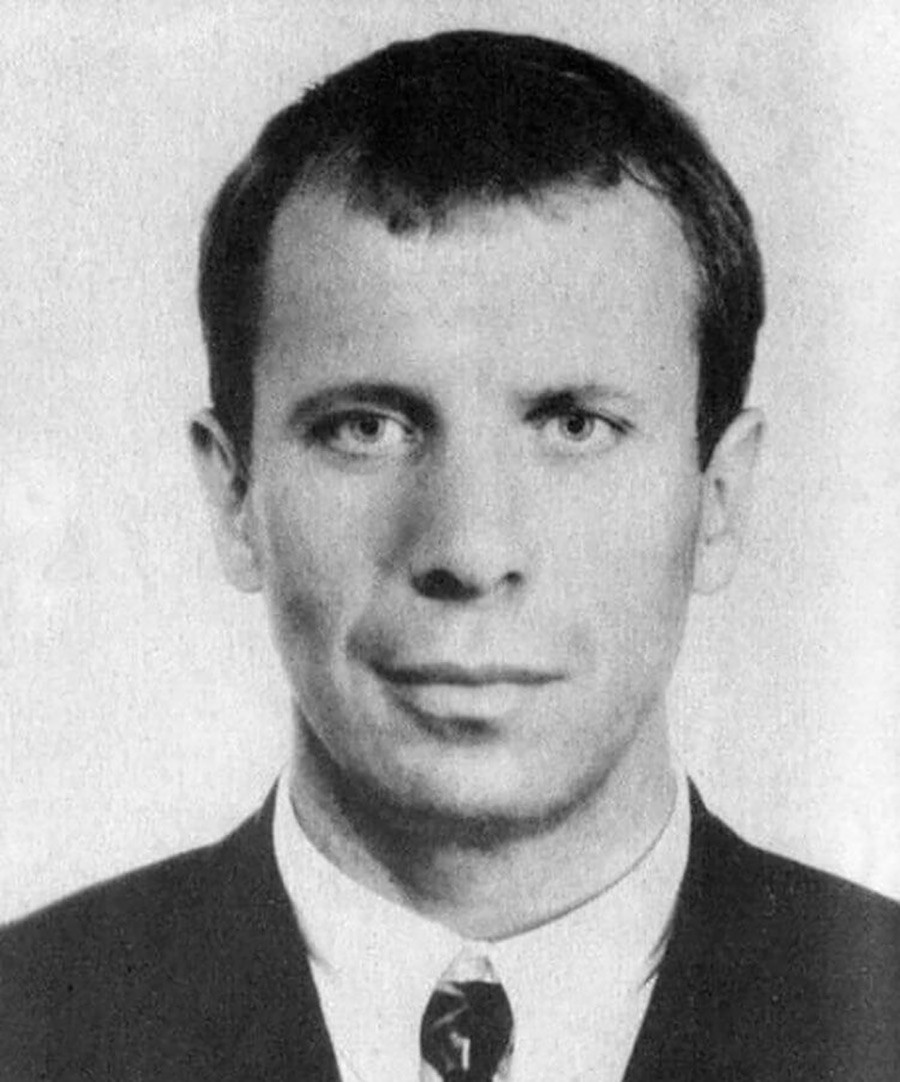 Timofeev, nicknamed Silvester for his love of Rambo and Rocky , led Moscow's most influential gang, based in Orekhovo district. In the early 1990s, at the peak of his career, Silvester controlled more than 30 banks and all the city's markets and his fortune was counted in billions of rubles. Pretty cool for a man who used to be a tractor driver.
Often referred to as the "CEO of Moscow crime", Timofeev belonged to the new generation of 90s criminals, who despised ponyatiya and the old thieves-in-law. "He didn't accept this code, he didn't need it," senior cop Alexander Gurov, says. Silvester's "soldiers" were extremely violent and didn't mind torturing or killing children.
Timofeev had so many enemies that it is still unclear who blew him to bits in his Mercedes-Benz on September 13, 1994. Rumors persist that Silvester faked his death and disappeared with his money, leaving other criminals to fight for his throne.
2. Vyacheslav Ivankov (Little Japanese)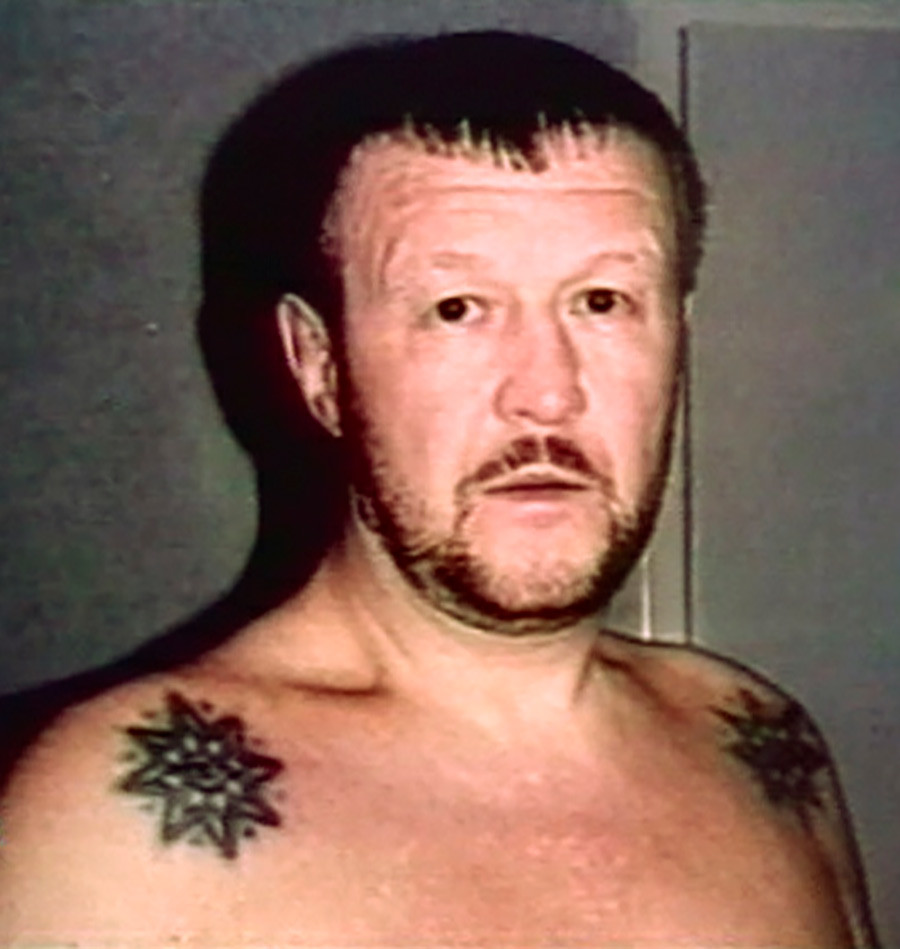 Unlike Silvester, Ivankov, or Yaponchik (literally Little Japanese), was an old-school thief-in-law, among the first who used racketeering and blackmailing to rip off entrepreneurs in the 1970s. His authority was great: Little Japanese held the so-called obshchak (thieves' common fund) – a privilege only the crème de la crème of the criminal world enjoyed.
The law wasn't happy with Ivankov's success: he spent the 1980s in prison, released only in 1991 to take part in the war between Slav and Caucasian gangs. A year later he decided to start anew and left Russia for the U.S. The Americans hardly laid out the welcome mat - and jailed him for nine years in 1995.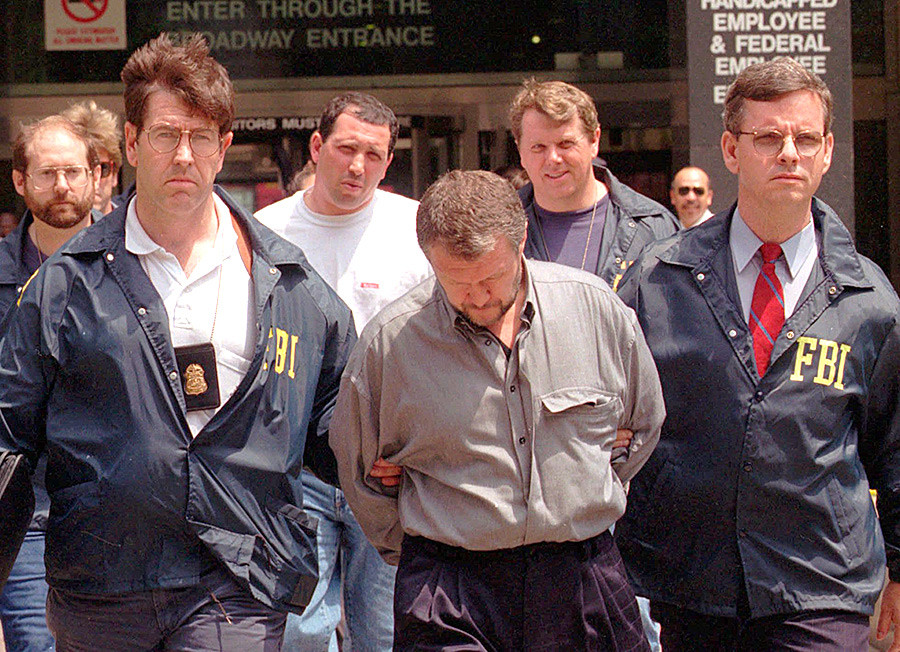 Ivankov, center, flanked by FBI agents.
"They blamed me for all crimes. I didn't try to rape the Statue of Liberty! I didn't bomb Pearl Harbor!" Ivankov grumbled. (In fact, he was convicted for racketeering and entering into a sham marriage.) In 2004, after his release, he returned to Russia, reaffirming his status as a senior thief-in-law, and entered an alliance with the other kingpin, Grandpa Hassan. His career ended suddenly in 2009 when a sniper shot him in the center of Moscow.
3. Aslan Usoyan (Grandpa Hassan)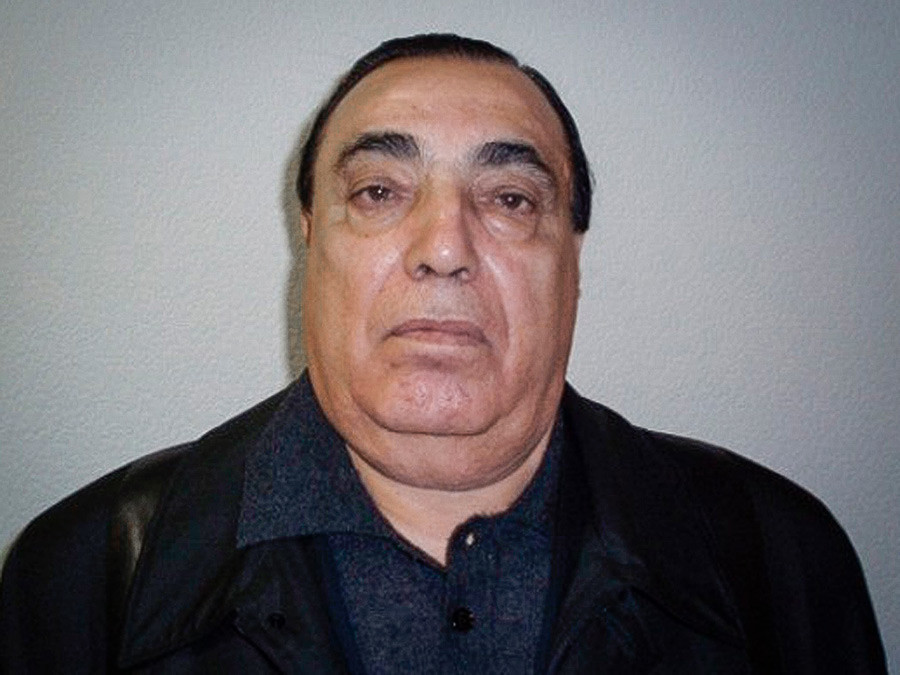 Grandpa Hassan.
Many crime experts believe that it was Usoyan who ruled Russia's criminal world in the late 2000s – early 2010s, not Yaponchik. "He turned Ivankov into a nonexecutive figurehead," PrimeCrime website noted.
For decades, Hassan was a real game-changer among criminals. An ethnic Kurd with a dubious reputation among thieves-in-law – many considered him too liberal, not living in accordance with ponyatiya – Usoyan outplayed his rivals in cruel wars. "For instance, in his war to gain control of businesses controlled by the Oganov brothers, more than 150 people were killed," PrimeCrime writes.
"Grandpa" ruled the criminal world with an iron hand, successfully playing "divide and rule" with his enemies and showed himself unwilling to retire. He never did: it was a sniper's bullet that ended his life in 2013, which was a real bolt from the blue. Yes, criminal kings are really bad at dying peacefully.
4. Tariel Oniani (Taro)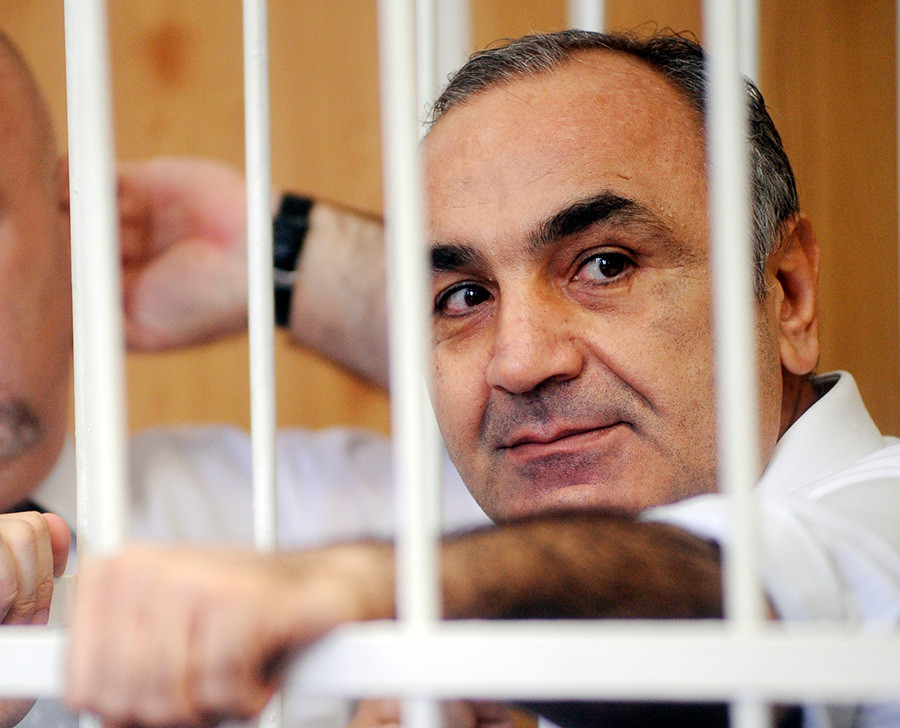 While it's still unclear who ordered the hits on Yaponchik and Grandpa Hassan, the chief suspect is their former business partner Tariel Oniani (Taro), an influential thief-in-law from Georgia. Back in the 1990s, he and Hassan cooperated on building a money laundering business in Spain, SovSekretno writes: "This 'laundry' was so successful that other criminal groups from Russia used it as well."
Nevertheless, in 2005 the Spanish police closed down the 'laundry' and Taro went back to Russia where his interests clashed with those of Hassan and Yaponchik. Grandpa Hassan won, and in addition to that Oniani was imprisoned for 10 years in 2009 for racketeering and kidnapping. "By the time of his arrest Taro was almost as authoritative as Hassan," Rosbalt notes – but Grandpa did everything he could to destroy Taro.
In 2009, Hassan, Yaponchik and their allies sent a letter to all "thieves-in-law" in prison, demanding they consider Taro "a whore" and "act in accordance with that", which usually means killing. Nevertheless, Taro survived now and his time in jail is coming to an end and both his enemies are dead. He's facing other problems though – after his release, he faces extradition to Spain and could be put back behind bars.
We have a separate article on the concept of thieves-in-law, their code and behavior - feel free to read it.
If using any of Russia Beyond's content, partly or in full, always provide an active hyperlink to the original material.
to our newsletter!
Get the week's best stories straight to your inbox
Tales of the crypt: 4 of Moscow's most famous historical cemeteries
History in pics: How the Soviet basketball team beat the Americans
Why was it so dangerous to live in Russia in the 90s?
This website uses cookies. Click here to find out more.
Expedia Rewards is now One Key™
Elektrostal, visit elektrostal, check elektrostal hotel availability, popular places to visit, electrostal history and art museum.
You can spend time exploring the galleries in Electrostal History and Art Museum in Elektrostal. Take in the museums while you're in the area.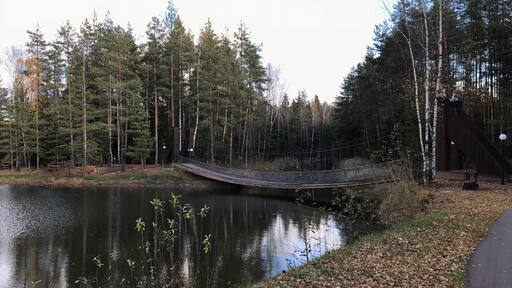 Places of interest
Electrostal History and Art Museum Vacations
Yuri Gagarin Cosmonaut Training Center Vacations
Peter the Great Military Academy Vacations
Central Museum of the Air Forces at Monino Vacations
Balashikha Arena Vacations
History of Russian Scarfs and Shawls Museum Vacations
Noginsk Museum and Exhibition Center Vacations
Ramenskii History and Art Museum Vacations
Balashikha Museum of History and Local Lore Vacations
Bykovo Manor Vacations
Pekhorka Park Vacations
Malenky Puppet Theater Vacations
Likino Dulevo Museum of Local Lore Vacations
Fairy Tale Children's Model Puppet Theater Vacations
Saturn Stadium Vacations
Orekhovo Zuevsky City Exhibition Hall Vacations
Additional information about Expedia Group
AI fake nudes are booming. It's ruining real teens' lives.
Artificial intelligence makes it frighteningly easy to transform ordinary pictures into realistic nudes, triggering a surge of fake images of women and teens.
When Gabi Belle learned there was a naked photo of her circulating on the internet, her body turned cold. The YouTube influencer had never posed for the image, which showed her standing in a field without clothes. She knew it must be fake.
But when Belle, 26, messaged a colleague asking for help removing the image he told her there were nearly 100 fake photos scattered across the web, mostly housed on websites known for hosting porn generated by artificial intelligence. They were taken down in July, Belle said, but new images depicting her in graphic sexual situations have already surfaced.
"I felt yucky and violated," Belle said in an interview. "Those private parts are not meant for the world to see because I have not consented to that. So it's really strange that someone would make images of me."
Artificial intelligence is fueling an unprecedented boom this year in fake pornographic images and videos. It's enabled by a rise in cheap and easy-to-use AI tools that can "undress" people in photographs — analyzing what their naked bodies would look like and imposing it into an image — or seamlessly swap a face into a pornographic video.
On the top 10 websites that host AI-generated porn photos, fake nudes have ballooned by more than 290 percent since 2018, according to Genevieve Oh, an industry analyst. These sites feature celebrities and political figures such as New York Rep. Alexandria Ocasio-Cortez alongside ordinary teenage girls, whose likenesses have been seized by bad actors to incite shame, extort money or live out private fantasies.
Victims have little recourse. There's no federal law governing deepfake porn, and only a handful of states have enacted regulations. President Biden's AI executive order issued Monday recommends, but does not require, companies to label AI-generated photos, videos and audio to indicate computer-generated work.
Meanwhile, legal scholars warn that AI fake images may not fall under copyright protections for personal likenesses, because they draw from data sets populated by millions of images. "This is clearly a very serious problem," said Tiffany Li, a law professor at the University of San Francisco.
The advent of AI images comes at a particular risk for women and teens, many of whom aren't prepared for such visibility. A 2019 study by Sensity AI, a company that monitors deepfakes, found 96 percent of deepfake images are pornography, and 99 percent of those photos target women.
"It's now very much targeting girls," said Sophie Maddocks, a researcher and digital rights advocate at the University of Pennsylvania. "Young girls and women who aren't in the public eye."
'Look, Mom. What have they done to me?'
On Sept. 17, Miriam Al Adib Mendiri was returning to her home in southern Spain from a trip when she found her 14-year-old daughter distraught. Her daughter shared a nude picture of herself.
"Look, Mom. What have they done to me?" Al Adib Mendiri recalled her daughter saying.
She'd never posed nude. But a group of local boys had grabbed clothed photos from the social media profiles of several girls in their town and used an AI "nudifier" app to create the naked pictures, according to police.
Scarlett Johansson on fake AI-generated sex videos: 'Nothing can stop someone from cutting and pasting my image'
The application is one of many AI tools that use real images to create naked photos, which have flooded the web recent months. By analyzing millions of images, AI software can better predict how a body will look naked and fluidly overlay a face into a pornographic video, said Gang Wang, an expert in AI at the University of Illinois at Urbana-Champaign.
Though many AI image-generators block users from creating pornographic material, open source software, such as Stable Diffusion, makes its code public, letting amateur developers adapt the technology — often for nefarious purposes. (Stability AI, the maker of Stable Diffusion, did not return a request for comment.)
Once these apps are public, they use referral programs that encourage users to share these AI-generated photos on social media in exchange for cash, Oh said.
When Oh examined the top 10 websites that host fake porn images, she found more than 415,000 had been uploaded this year, garnering nearly 90 million views.
AI-generated porn videos have also exploded across the web. After scouring the 40 most popular websites for faked videos, Oh found more than 143,000 videos had been added in 2023 — a figure that surpasses all new videos from 2016 to 2022. The fake videos have received more than 4.2 billion views, Oh found.
The Federal Bureau of Investigation warned in June of an uptick of sexual extortion from scammers demanding payment or photos in exchange for not distributing sexual images. While it's unclear what percentage of these images are AI-generated, the practice is expanding. As of September, over 26,800 people have been victims of "sextortion" campaigns, a 149 percent rise from 2019, the FBI told The Post.
'You're not safe as a woman'
In May, a poster on a popular pornography forum started a thread called "I can fake your crush." The idea was simple: "Send me whoever you want to see nude and I can fake them" using AI, the moderator wrote.
Within hours, photos of women came flooding in. "Can u do this girl? not a celeb or influencer," one poster asked. "My co-worker and my neighbor?" another one added.
Minutes after a request, a naked version of the image would appear on the thread. "Thkx a lot bro, it's perfect," one user wrote.
These fake images reveal how AI amplifies our worst stereotypes
Celebrities are a popular target for fake porn creators aiming to capitalize on search interest for nude photos of famous actors. But websites featuring famous people can lead to a surge in other kinds of nudes. The sites often include "amateur" content from unknown individuals and host ads that market AI porn-making tools.
Google has polices in place to prevent nonconsensual sexual images from appearing in search results, but its protections for deepfake images are not as robust. Deepfake porn and the tools to make it show up prominently on the company's search engines, even without specifically searching for AI-generated content. Oh documented more than a dozen examples in screenshots, which were independently confirmed by The Post.
Ned Adriance, a spokesman for Google, said in a statement the company is "actively working to bring more protections to search" and that the company lets users request the removal of involuntary fake porn.
Google is in the process of "building more expansive safeguards" that would not require victims to individually request content gets taken down, he said.
Li, of the University of San Francisco, said it can be hard to penalize creators of this content. Section 230 in the Communications Decency Act shields social media companies from liability for the content posted on their sites, leaving little burden for websites to police images.
Victims can request that companies remove photos and videos of their likeness. But because AI draws from a plethora of images in a data set to create a faked photo, it's harder for a victim to claim the content is derived solely from their likeness, Li said.
"Maybe you can still say: 'It's a copyright violation, it's clear they took my original copyrighted photo and then just added a little bit to it,'" Li said. "But for deep fakes … it's not that clear … what the original photos were."
See why AI like ChatGPT has gotten so good, so fast
In the absence of federal laws, at least nine states — including California, Texas and Virginia — have passed legislation targeting deepfakes. But these laws vary in scope: In some states victims can press criminal charges, while others only allow civil lawsuits — though it can be difficult to ascertain whom to sue.
The push to regulate AI-generated images and videos is often intended to prevent mass distribution, addressing concerns about election interference, said Sam Gregory, executive director of the tech human rights advocacy organization Witness.
But these rules do little for deepfake porn, where images shared in small groups can wreak havoc on a person's life, Gregory added.
Belle, the YouTube influencer, is still unsure how many deepfake photos of her are public and said stronger rules are needed to address her experience.
"You're not safe as a woman," she said.