Want to create or adapt books like this? Learn more about how Pressbooks supports open publishing practices.
8.3 Drafting
Learning objectives.
Identify drafting strategies that improve writing.
Use drafting strategies to prepare the first draft of an essay.
Drafting is the stage of the writing process in which you develop a complete first version of a piece of writing.
Even professional writers admit that an empty page scares them because they feel they need to come up with something fresh and original every time they open a blank document on their computers. Because you have completed the first two steps in the writing process, you have already recovered from empty page syndrome. You have hours of prewriting and planning already done. You know what will go on that blank page: what you wrote in your outline.
Getting Started: Strategies For Drafting
Your objective for this portion of Chapter 8 "The Writing Process: How Do I Begin?" is to draft the body paragraphs of a standard five-paragraph essay. A five-paragraph essay contains an introduction, three body paragraphs, and a conclusion. If you are more comfortable starting on paper than on the computer, you can start on paper and then type it before you revise. You can also use a voice recorder to get yourself started, dictating a paragraph or two to get you thinking. In this lesson, Mariah does all her work on the computer, but you may use pen and paper or the computer to write a rough draft.
Making the Writing Process Work for You
What makes the writing process so beneficial to writers is that it encourages alternatives to standard practices while motivating you to develop your best ideas. For instance, the following approaches, done alone or in combination with others, may improve your writing and help you move forward in the writing process:
Begin writing with the part you know the most about. You can start with the third paragraph in your outline if ideas come easily to mind. You can start with the second paragraph or the first paragraph, too. Although paragraphs may vary in length, keep in mind that short paragraphs may contain insufficient support. Readers may also think the writing is abrupt. Long paragraphs may be wordy and may lose your reader's interest. As a guideline, try to write paragraphs longer than one sentence but shorter than the length of an entire double-spaced page.
Write one paragraph at a time and then stop. As long as you complete the assignment on time, you may choose how many paragraphs you complete in one sitting. Pace yourself. On the other hand, try not to procrastinate. Writers should always meet their deadlines.
Take short breaks to refresh your mind. This tip might be most useful if you are writing a multipage report or essay. Still, if you are antsy or cannot concentrate, take a break to let your mind rest. But do not let breaks extend too long. If you spend too much time away from your essay, you may have trouble starting again. You may forget key points or lose momentum. Try setting an alarm to limit your break, and when the time is up, return to your desk to write.
Be reasonable with your goals. If you decide to take ten-minute breaks, try to stick to that goal. If you told yourself that you need more facts, then commit to finding them. Holding yourself to your own goals will create successful writing assignments.
Keep your audience and purpose in mind as you write. These aspects of writing are just as important when you are writing a single paragraph for your essay as when you are considering the direction of the entire essay.
Of all of these considerations, keeping your purpose and your audience at the front of your mind is the most important key to writing success. If your purpose is to persuade, for example, you will present your facts and details in the most logical and convincing way you can.
Your purpose will guide your mind as you compose your sentences. Your audience will guide word choice. Are you writing for experts, for a general audience, for other college students, or for people who know very little about your topic? Keep asking yourself what your readers, with their background and experience, need to be told in order to understand your ideas. How can you best express your ideas so they are totally clear and your communication is effective?
You may want to identify your purpose and audience on an index card that you clip to your paper (or keep next to your computer). On that card, you may want to write notes to yourself—perhaps about what that audience might not know or what it needs to know—so that you will be sure to address those issues when you write. It may be a good idea to also state exactly what you want to explain to that audience, or to inform them of, or to persuade them about.
Writing at Work
Many of the documents you produce at work target a particular audience for a particular purpose. You may find that it is highly advantageous to know as much as you can about your target audience and to prepare your message to reach that audience, even if the audience is a coworker or your boss. Menu language is a common example. Descriptions like "organic romaine" and "free-range chicken" are intended to appeal to a certain type of customer though perhaps not to the same customer who craves a thick steak. Similarly, mail-order companies research the demographics of the people who buy their merchandise. Successful vendors customize product descriptions in catalogs to appeal to their buyers' tastes. For example, the product descriptions in a skateboarder catalog will differ from the descriptions in a clothing catalog for mature adults.
Using the topic for the essay that you outlined in Section 8.2 "Outlining" , describe your purpose and your audience as specifically as you can. Use your own sheet of paper to record your responses. Then keep these responses near you during future stages of the writing process.
My purpose: ____________________________________________
____________________________________________
My audience: ____________________________________________
Setting Goals for Your First Draft
A draft is a complete version of a piece of writing, but it is not the final version. The step in the writing process after drafting, as you may remember, is revising. During revising, you will have the opportunity to make changes to your first draft before you put the finishing touches on it during the editing and proofreading stage. A first draft gives you a working version that you can later improve.
Workplace writing in certain environments is done by teams of writers who collaborate on the planning, writing, and revising of documents, such as long reports, technical manuals, and the results of scientific research. Collaborators do not need to be in the same room, the same building, or even the same city. Many collaborations are conducted over the Internet.
In a perfect collaboration, each contributor has the right to add, edit, and delete text. Strong communication skills, in addition to strong writing skills, are important in this kind of writing situation because disagreements over style, content, process, emphasis, and other issues may arise.
The collaborative software, or document management systems, that groups use to work on common projects is sometimes called groupware or workgroup support systems.
The reviewing tool on some word-processing programs also gives you access to a collaborative tool that many smaller workgroups use when they exchange documents. You can also use it to leave comments to yourself.
If you invest some time now to investigate how the reviewing tool in your word processor works, you will be able to use it with confidence during the revision stage of the writing process. Then, when you start to revise, set your reviewing tool to track any changes you make, so you will be able to tinker with text and commit only those final changes you want to keep.
Discovering the Basic Elements of a First Draft
If you have been using the information in this chapter step by step to help you develop an assignment, you already have both a formal topic outline and a formal sentence outline to direct your writing. Knowing what a first draft looks like will help you make the creative leap from the outline to the first draft. A first draft should include the following elements:
An introduction that piques the audience's interest, tells what the essay is about, and motivates readers to keep reading.
A thesis statement that presents the main point, or controlling idea, of the entire piece of writing.
A topic sentence in each paragraph that states the main idea of the paragraph and implies how that main idea connects to the thesis statement.
Supporting sentences in each paragraph that develop or explain the topic sentence. These can be specific facts, examples, anecdotes, or other details that elaborate on the topic sentence.
A conclusion that reinforces the thesis statement and leaves the audience with a feeling of completion.
These elements follow the standard five-paragraph essay format, which you probably first encountered in high school. This basic format is valid for most essays you will write in college, even much longer ones. For now, however, Mariah focuses on writing the three body paragraphs from her outline. Chapter 9 "Writing Essays: From Start to Finish" covers writing introductions and conclusions, and you will read Mariah's introduction and conclusion in Chapter 9 "Writing Essays: From Start to Finish" .
The Role of Topic Sentences
Topic sentences make the structure of a text and the writer's basic arguments easy to locate and comprehend. In college writing, using a topic sentence in each paragraph of the essay is the standard rule. However, the topic sentence does not always have to be the first sentence in your paragraph even if it the first item in your formal outline.
When you begin to draft your paragraphs, you should follow your outline fairly closely. After all, you spent valuable time developing those ideas. However, as you begin to express your ideas in complete sentences, it might strike you that the topic sentence might work better at the end of the paragraph or in the middle. Try it. Writing a draft, by its nature, is a good time for experimentation.
The topic sentence can be the first, middle, or final sentence in a paragraph. The assignment's audience and purpose will often determine where a topic sentence belongs. When the purpose of the assignment is to persuade, for example, the topic sentence should be the first sentence in a paragraph. In a persuasive essay, the writer's point of view should be clearly expressed at the beginning of each paragraph.
Choosing where to position the topic sentence depends not only on your audience and purpose but also on the essay's arrangement, or order. When you organize information according to order of importance, the topic sentence may be the final sentence in a paragraph. All the supporting sentences build up to the topic sentence. Chronological order may also position the topic sentence as the final sentence because the controlling idea of the paragraph may make the most sense at the end of a sequence.
When you organize information according to spatial order, a topic sentence may appear as the middle sentence in a paragraph. An essay arranged by spatial order often contains paragraphs that begin with descriptions. A reader may first need a visual in his or her mind before understanding the development of the paragraph. When the topic sentence is in the middle, it unites the details that come before it with the ones that come after it.
As you read critically throughout the writing process, keep topic sentences in mind. You may discover topic sentences that are not always located at the beginning of a paragraph. For example, fiction writers customarily use topic ideas, either expressed or implied, to move readers through their texts. In nonfiction writing, such as popular magazines, topic sentences are often used when the author thinks it is appropriate (based on the audience and the purpose, of course). A single topic sentence might even control the development of a number of paragraphs. For more information on topic sentences, please see Chapter 6 "Writing Paragraphs: Separating Ideas and Shaping Content" .
Developing topic sentences and thinking about their placement in a paragraph will prepare you to write the rest of the paragraph.
The paragraph is the main structural component of an essay as well as other forms of writing. Each paragraph of an essay adds another related main idea to support the writer's thesis, or controlling idea. Each related main idea is supported and developed with facts, examples, and other details that explain it. By exploring and refining one main idea at a time, writers build a strong case for their thesis.
Paragraph Length
How long should a paragraph be?
One answer to this important question may be "long enough"—long enough for you to address your points and explain your main idea. To grab attention or to present succinct supporting ideas, a paragraph can be fairly short and consist of two to three sentences. A paragraph in a complex essay about some abstract point in philosophy or archaeology can be three-quarters of a page or more in length. As long as the writer maintains close focus on the topic and does not ramble, a long paragraph is acceptable in college-level writing. In general, try to keep the paragraphs longer than one sentence but shorter than one full page of double-spaced text.
Journalistic style often calls for brief two- or three-sentence paragraphs because of how people read the news, both online and in print. Blogs and other online information sources often adopt this paragraphing style, too. Readers often skim the first paragraphs of a great many articles before settling on the handful of stories they want to read in detail.
You may find that a particular paragraph you write may be longer than one that will hold your audience's interest. In such cases, you should divide the paragraph into two or more shorter paragraphs, adding a topic statement or some kind of transitional word or phrase at the start of the new paragraph. Transition words or phrases show the connection between the two ideas.
In all cases, however, be guided by what you instructor wants and expects to find in your draft. Many instructors will expect you to develop a mature college-level style as you progress through the semester's assignments.
To build your sense of appropriate paragraph length, use the Internet to find examples of the following items. Copy them into a file, identify your sources, and present them to your instructor with your annotations, or notes.
A news article written in short paragraphs. Take notes on, or annotate, your selection with your observations about the effect of combining paragraphs that develop the same topic idea. Explain how effective those paragraphs would be.
A long paragraph from a scholarly work that you identify through an academic search engine. Annotate it with your observations about the author's paragraphing style.
Starting Your First Draft
Now we are finally ready to look over Mariah's shoulder as she begins to write her essay about digital technology and the confusing choices that consumers face. As she does, you should have in front of you your outline, with its thesis statement and topic sentences, and the notes you wrote earlier in this lesson on your purpose and audience. Reviewing these will put both you and Mariah in the proper mind-set to start.
The following is Mariah's thesis statement.

Here are the notes that Mariah wrote to herself to characterize her purpose and audience.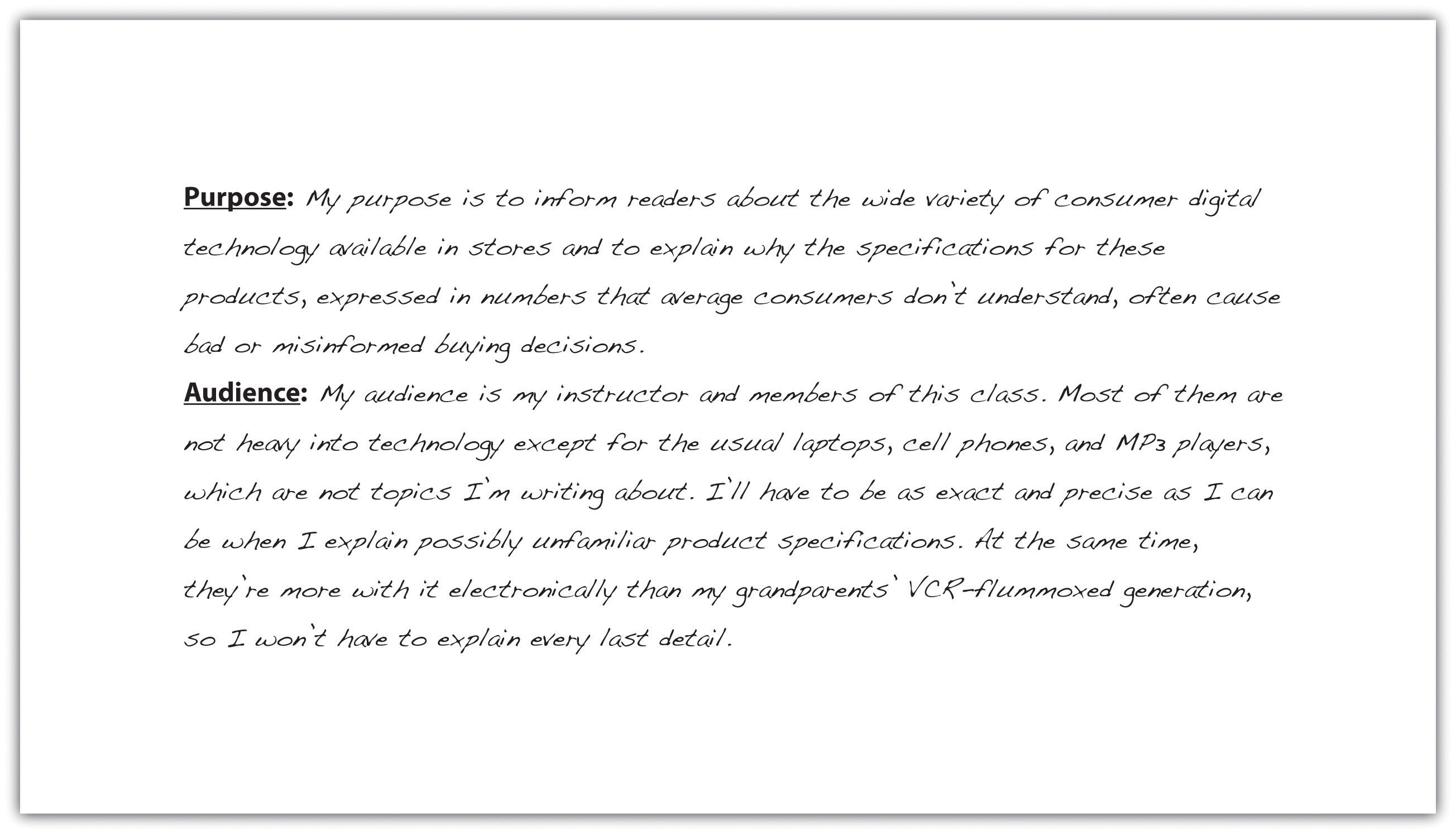 Mariah chose to begin by writing a quick introduction based on her thesis statement. She knew that she would want to improve her introduction significantly when she revised. Right now, she just wanted to give herself a starting point. You will read her introduction again in Section 8.4 "Revising and Editing" when she revises it.
Remember Mariah's other options. She could have started directly with any of the body paragraphs.
You will learn more about writing attention-getting introductions and effective conclusions in Chapter 9 "Writing Essays: From Start to Finish" .
With her thesis statement and her purpose and audience notes in front of her, Mariah then looked at her sentence outline. She chose to use that outline because it includes the topic sentences. The following is the portion of her outline for the first body paragraph. The roman numeral II identifies the topic sentence for the paragraph, capital letters indicate supporting details, and arabic numerals label subpoints.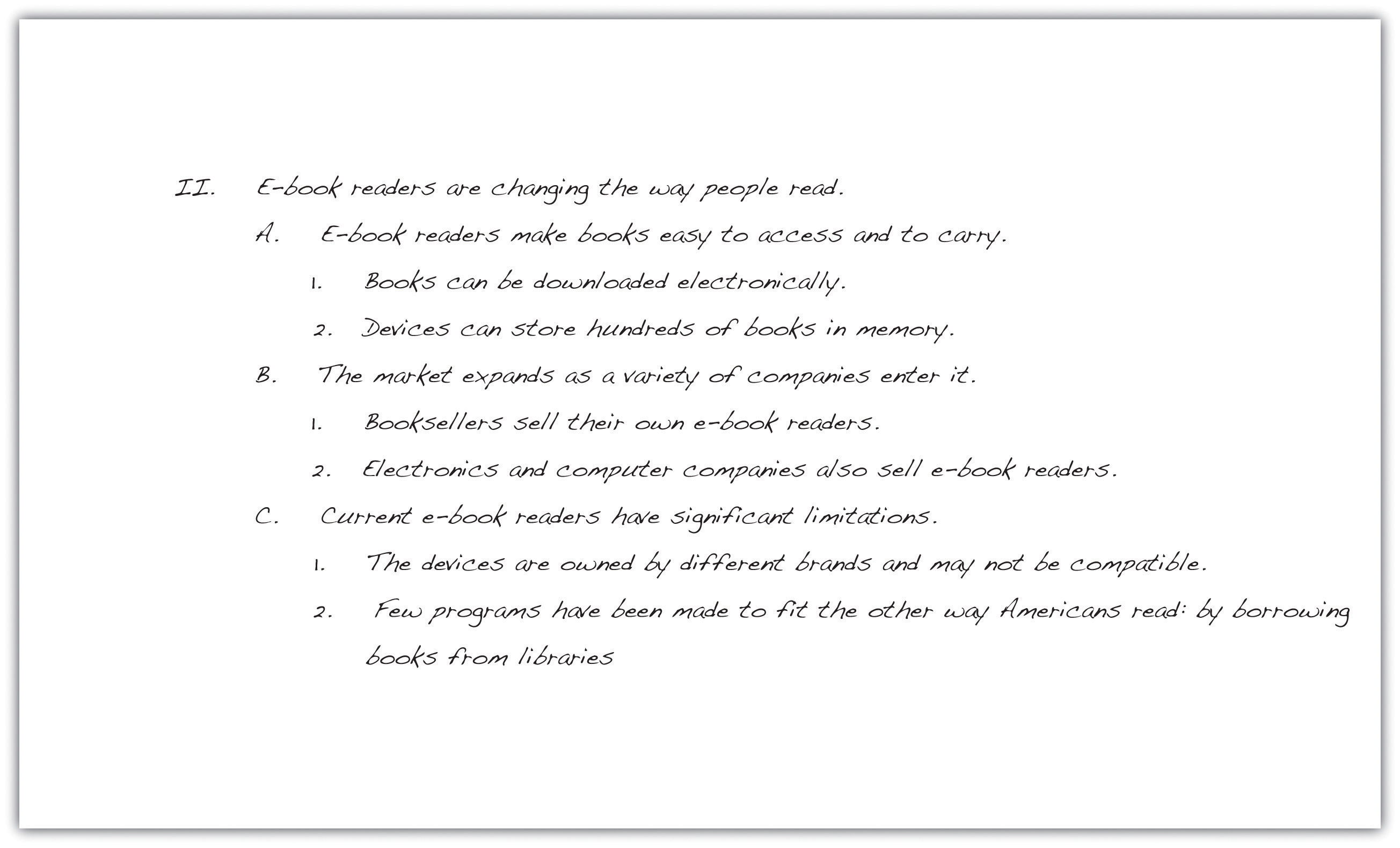 Mariah then began to expand the ideas in her outline into a paragraph. Notice how the outline helped her guarantee that all her sentences in the body of the paragraph develop the topic sentence.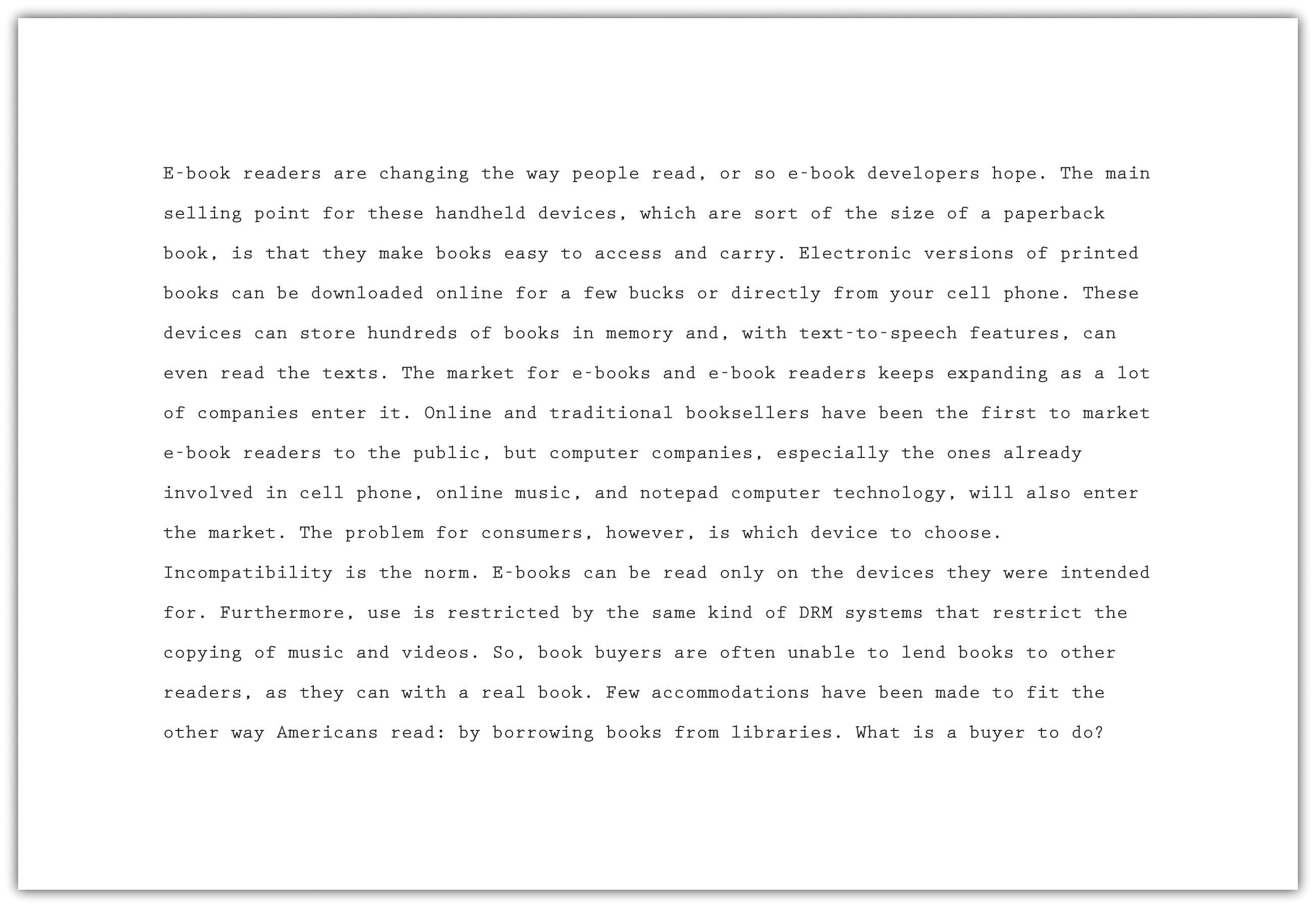 If you write your first draft on the computer, consider creating a new file folder for each course with a set of subfolders inside the course folders for each assignment you are given. Label the folders clearly with the course names, and label each assignment folder and word processing document with a title that you will easily recognize. The assignment name is a good choice for the document. Then use that subfolder to store all the drafts you create. When you start each new draft, do not just write over the last one. Instead, save the draft with a new tag after the title—draft 1, draft 2, and so on—so that you will have a complete history of drafts in case your instructor wishes you to submit them.
In your documents, observe any formatting requirements—for margins, headers, placement of page numbers, and other layout matters—that your instructor requires.
Study how Mariah made the transition from her sentence outline to her first draft. First, copy her outline onto your own sheet of paper. Leave a few spaces between each part of the outline. Then copy sentences from Mariah's paragraph to align each sentence with its corresponding entry in her outline.
Continuing the First Draft
Mariah continued writing her essay, moving to the second and third body paragraphs. She had supporting details but no numbered subpoints in her outline, so she had to consult her prewriting notes for specific information to include.
If you decide to take a break between finishing your first body paragraph and starting the next one, do not start writing immediately when you return to your work. Put yourself back in context and in the mood by rereading what you have already written. This is what Mariah did. If she had stopped writing in the middle of writing the paragraph, she could have jotted down some quick notes to herself about what she would write next.
Preceding each body paragraph that Mariah wrote is the appropriate section of her sentence outline. Notice how she expanded roman numeral III from her outline into a first draft of the second body paragraph. As you read, ask yourself how closely she stayed on purpose and how well she paid attention to the needs of her audience.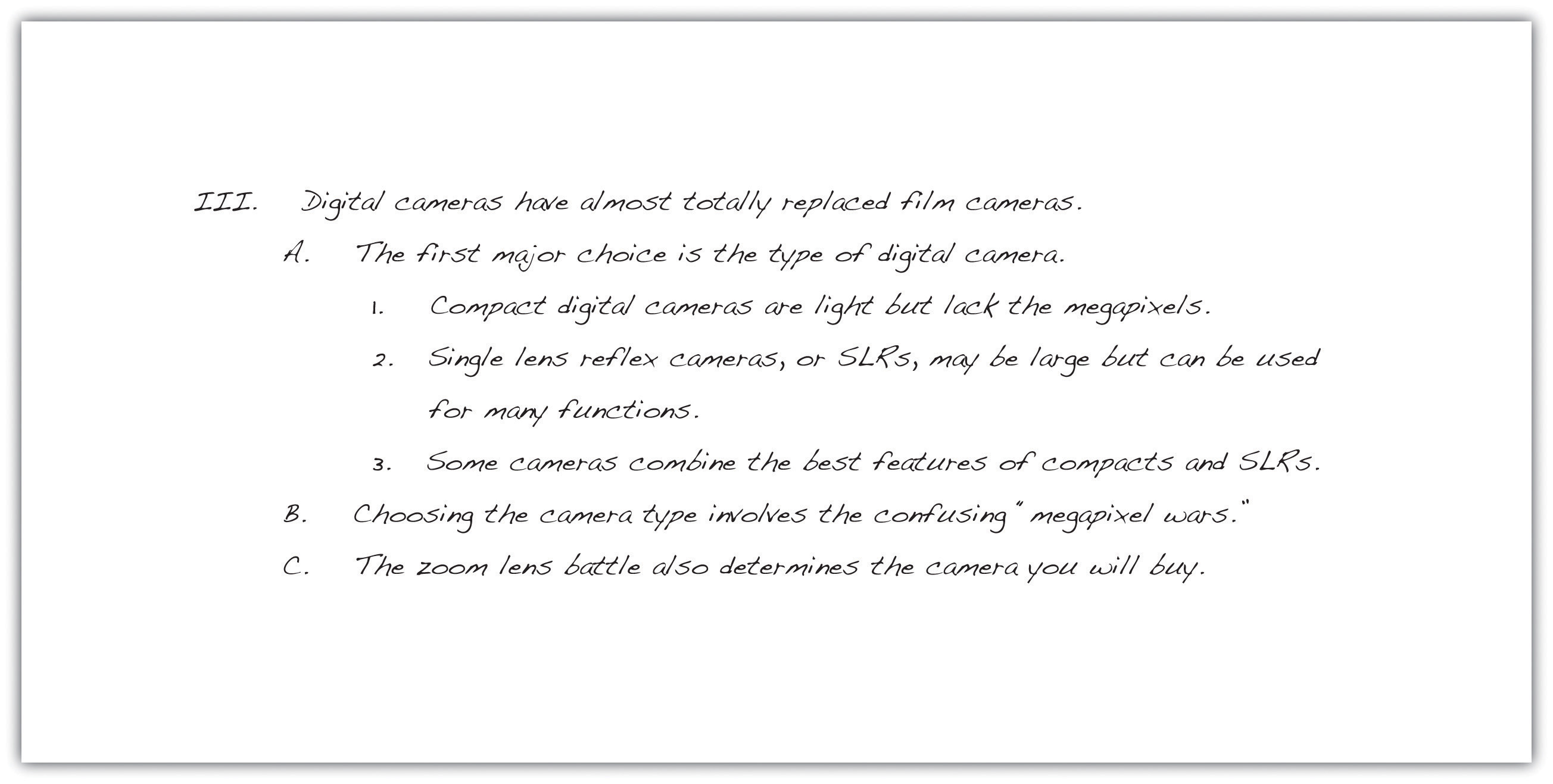 Mariah then began her third and final body paragraph using roman numeral IV from her outline.
Reread body paragraphs two and three of the essay that Mariah is writing. Then answer the questions on your own sheet of paper.
In body paragraph two, Mariah decided to develop her paragraph as a nonfiction narrative. Do you agree with her decision? Explain. How else could she have chosen to develop the paragraph? Why is that better?
Compare the writing styles of paragraphs two and three. What evidence do you have that Mariah was getting tired or running out of steam? What advice would you give her? Why?
Choose one of these two body paragraphs. Write a version of your own that you think better fits Mariah's audience and purpose.
Writing a Title
A writer's best choice for a title is one that alludes to the main point of the entire essay. Like the headline in a newspaper or the big, bold title in a magazine, an essay's title gives the audience a first peek at the content. If readers like the title, they are likely to keep reading.
Following her outline carefully, Mariah crafted each paragraph of her essay. Moving step by step in the writing process, Mariah finished the draft and even included a brief concluding paragraph (you will read her conclusion in Chapter 9 "Writing Essays: From Start to Finish" ). She then decided, as the final touch for her writing session, to add an engaging title.

Writing Your Own First Draft
Now you may begin your own first draft, if you have not already done so. Follow the suggestions and the guidelines presented in this section.
Key Takeaways
Make the writing process work for you. Use any and all of the strategies that help you move forward in the writing process.
Always be aware of your purpose for writing and the needs of your audience. Cater to those needs in every sensible way.
Remember to include all the key structural parts of an essay: a thesis statement that is part of your introductory paragraph, three or more body paragraphs as described in your outline, and a concluding paragraph. Then add an engaging title to draw in readers.
Write paragraphs of an appropriate length for your writing assignment. Paragraphs in college-level writing can be a page long, as long as they cover the main topics in your outline.
Use your topic outline or your sentence outline to guide the development of your paragraphs and the elaboration of your ideas. Each main idea, indicated by a roman numeral in your outline, becomes the topic of a new paragraph. Develop it with the supporting details and the subpoints of those details that you included in your outline.
Generally speaking, write your introduction and conclusion last, after you have fleshed out the body paragraphs.
Writing for Success Copyright © 2015 by University of Minnesota is licensed under a Creative Commons Attribution-NonCommercial-ShareAlike 4.0 International License , except where otherwise noted.
Drafting the English Essay
Creating an outline
The use of "I" (first-person)
Historical present
Drafting body paragraphs
The introduction
The conclusion
Creating an Outline
Making an outline before you start to write has the same advantage as writing down your thesis as soon as you have one. It forces you to think about the best possible order for what you want to say and to think through your line of thought before you have to write sentences and paragraphs.
Remember that an essay and its outline do not have to be structured into five paragraphs.  Think about major points, sections or parts of your essay, rather than paragraphs. The number of sections you have will depend on what you have to say and how you think your thesis needs to be supported. It is possible to structure an essay around two major points, each divided into sub-points. Or you may structure an essay around four, five or six points, depending on the essay's length. An essay under 1500 words may fall naturally into three sections, but let the number come from what you have to say rather than striving for the magic three.
Creating an outline also helps you avoid the temptation of organizing your essay by following the plot line of the text you are writing about and simply retelling the story with a few of your own comments thrown in. If you conscientiously make an outline that is ordered to best support your thesis, which is there in print before your eyes, your essay's organization will be based on supporting your argument not on the text's plotline.
Read more on organizing your essay
Writing the Draft
If you have followed good essay-writing practice, which includes developing a narrowed topic and analytical thesis, reading closely and taking careful notes, and creating an organized outline, you will find that writing your essay is much less difficult than if you simply sit down and plunge in with a vague topic in mind.
Always keep your reader in mind when you write. Work to convince this reader that your argument is valid and has merit. To do this, you must write clearly. The best writing is the product of drafting and revising.
As you write your rough draft, your ideas will develop, so it is helpful to accept the messy process of drafting. Review your sections as you write, but leave most of the revision for when you have a completed first draft. When you revise, you can refine your ideas by making your language more specific and direct, by developing your explanation of a quotation, and by explaining the connections between your ideas. Remember that your goal is clear expression; use a formal tone, avoid slang and colloquial terms, and be precise in your language.
Stylistic Notes for Writing the English Essay
The use of "i".
The judicious use of "I" in English essays is generally accepted. (You may run into a professor who doesn't want you to and says so, and, in that case, don't). The key is to not to overuse "I". When writing your draft, you may find it helpful to get your thoughts flowing by writing "I think that..." but when you revise, you will find that those three words can be eliminated from the sentences they begin.
For example:
I think that these poems also share a rather detached, unemotional, matter-of-fact acceptance of death.
Revised: These poems share a rather detached, unemotional, matter-of-fact acceptance of death.
I think death, dying, and the moments that precede dying preoccupy Dickinson.
Revised: Death, dying, and the moments the precede dying preoccupy Dickinson.
The Historical Present
Instructors generally agree that students should use the the present tense, which is known as the historical present, when describing events in a work of literature (or a film) or when discussing what authors or scholars say about a topic or issue, even when the work of literature is from the past or uses the past tense itself, or the authors and scholars are dead.
Examples of historical present:
In A Midsummer Night's Dream , Bottom is a uniformly comedic figure.
Kyi argues that "democracy is the political system through which an empowerment of the people occurs." 
It is considered more accurate to use the present tense in these circumstances because the arguments put forward by scholars, and the characters presented and scenes depicted by novelists, poets, and dramatists continue to live in the present whenever anyone reads them. An added benefit is that many find the use of the historical present tense makes for a more lively style and a stronger voice.
Drafting Body Paragraphs
The body of the essay will be made up of the claims or points you are making, supported by evidence from the primary source, the work in question, and perhaps some secondary sources. Your supporting evidence may be quotations of words or phrases from the text, as well as details about character, setting, plot, syntax, diction, images and anything else you have found in the work that is relevant to your argument.
Writing successful paragraphs
You may find yourself quoting often, and that is fine. The words from the text are, after all, the support for the argument you are making, and they show that your ideas came from somewhere and are grounded in the text. But try to keep your quotations as short and pertinent as possible. Use quotations effectively to support your interpretation or arguments; be sure to explain the quotation: what does it illustrates and how?
Effectively integrating evidence
Make sure you don't use or quote words whose definition or meaning you are not sure about. As a student of English literature, you should make regular use of a good dictionary; many academics recommend the Oxford English Dictionary . Not knowing what a word means or misunderstanding how it is used can undermine a whole argument. When you read and write about authors from previous centuries, you will often have to familiarize yourself with new words. To write good English essays, you must take the time to do this.
Sample Body Paragraph
This body paragraph is a sample only. Its content is not to be reproduced in whole or part. Use of the ideas or words in this essay is an act of plagiarism, which is subject to academic integrity policy at Trent University and other academic institutions.
"Because I could not stop for Death" describes the process of dying right up to and past the moment of death, in the first person.  This process is described symbolically. The speaker, walking along the road of life is picked up and given a carriage ride out of town to her destination, the graveyard and death. The speaker, looking back, says that she "could not stop for Death – / [so] He kindly stopped for" her (1-2).  Dickinson personifies death as a "kindly" (2) masculine being with "civility" (6). As the two "slowly dr[i]ve" (5) down the road of life, the speaker observes life in its simplicity: the "School," (9), "the Fields of Gazing Grain" (11), and the "Setting Sun" (12), and realizes that this road out of town is the road out of life. The road's ending at "a House that seemed / A Swelling of the Ground" (17-18) is a life's ending at death, "Eternity" (24).  Once in the House that is the speaker's grave, that is, after death, the speaker remains conscious. Her death is not experienced as a loss of consciousness, a sleep or oblivion. Her sense of time does change though:
Since then – 'tis Centuries – and yet Feels shorter than the Day I first surmised the Horses' Heads Were toward Eternity – (20-24) 
It has become difficult for the speaker to tell the difference between a century and a day. But she knows it has been "Centuries" since then, so the implication is that her consciousness has lived on in an eternal afterlife.
What works in the sample paragraph?
The topic sentence makes a clear claim that the rest of the paragraph develops through details, quotations and analysis.
The quotation is followed by the writer's analysis of the quoted words and argument about their implication. This is the best way to use textual evidence.
The Introduction
Often, the introduction is the hardest part to write. Here you make your first impression, introduce the topic, provide background information, define key terms perhaps, and, most important, present your thesis, upon which the entire essay hangs. Many people find it easiest to write the introduction last or to write a very rough introduction that they change significantly once the draft is complete.  
Strategies for writing the introduction
Sample Introduction
This introductory paragraph is a sample only. Its content is not to be reproduced in whole or part. Use of the ideas or words in this essay is an act of plagiarism, which is subject to academic integrity policy at Trent University and other academic institutions.
Emily Dickinson was captivated by the riddle of death, and several of her poems deal with it in different ways. There are many poems that describe, in the first person, the process of dying right up to and including the moment of death, often recalled from a vantage point after death in some sort of afterlife. As well, several poems speculate more generally about what lies beyond the visible world our senses perceive in life. This essay examines four of Dickinson's poems that are about dying and death and one that is more speculative. Two are straightforwardly about dying, while the other two present dying symbolically, but taken together they show many similarities.   Death is experienced matter-of-factly and without fear and with a full consciousness that registers details and describes them clearly. All the poems examined hint at an afterlife which is not described in traditionally Christian terms but which is not contradictory to Christian belief either. Yet death remains a riddle. While one poem may emphasize an afterlife of peace, silence and anchors at rest, others only hint at an ongoing consciousness, and one both asserts that something beyond life exists while also saying that belief is really only a narcotic that cannot completely still the pain of doubt. Dying, the moment of death, and what comes after preoccupy Dickinson: in these poems, death and eternity both "beckon" and "baffle" (Dickinson, "This World is not Conclusion" 5).
What works in this sample introduction?
This essay has a good, narrowed, focused topic.
The introduction does not include a general statement about life or poetry. The essay is about five poems by Dickinson, and right from the beginning, its focus is on that.
The thesis of the essay is one sentence, but it may be more. Note that this thesis statement does not list supporting points; a good thesis statement provides the organizing principle of the essay, and the essay writer has decided to let the supporting points appear throughout the body of the essay.
The Conclusion
An effective conclusion unifies the arguments in your essay and explains the broader meaning or significance of your analysis. It is best to think of the conclusion as an opportunity to synthesize your ideas, not just summarize them. It is also your chance to explain the larger significance of your argument: if your reader now agrees with your thesis, what do they understand about the theme, the text, or the author?
Strategies for writing the conclusion
Sample Conclusion
This concluding paragraph is a sample only. Its content is not to be reproduced in whole or part. Use of the ideas or words in this essay is an act of plagiarism, which is subject to academic integrity policy at Trent University and other academic institutions.
In many ways, "On this wondrous sea" sums up the attitude toward death and eternity seen in all the poems examined. Death is experienced without fear, and life is shown as leading up to death and eternity. What exactly this eternity is like is only hinted at in most of these poems. So, what is beyond continues to "baffle," but none of the poems present death as extinction with nothing beyond; rather what is beyond "beckons." Death and eternity are something known, a grave that is a house, a consciousness living on, a shore to which we come "at last" after a life both stormy and "wondrous."
What works in this sample conclusion?
This paragraph does not just repeat the introduction. It pulls together the main ideas contained in the entire essay to try to point out their larger significance. Rather than a point-by-point list, it is a summary of what it all means taken together.
Understanding The English Essay
Developing a Topic and Thesis for an English Essay
Using Secondary Sources in an English Essay
Glossary of Common Formal Elements of Literature
Documenting Sources in MLA Style (Modern Languages Association)
Microsoft 365 Life Hacks > Writing > Draft Writing: How to Write Your First Draft
Draft Writing: How to Write Your First Draft
Just about any writer knows the sense of dread that can come from staring down an empty page and a blinking cursor.
Whether you're writing to land your dream job, get an A+ in your class, or tell an important story, it might take you many drafts to get to that perfect piece of writing—and the first draft is often the hardest.
With the right approach to draft writing, though, you can alleviate some of this blank page-induced anxiety and begin to get your best ideas down. Use these tips for writing a first draft to get off to a great start.
Write with Confidence using Editor
Elevate your writing with real-time, intelligent assistance
What Should Be Included in Your First Draft?
Your first draft, otherwise aptly known as a "rough draft," is your place to sketch out your ideas. No matter if you're writing a novel, a school paper, or a business letter, the first draft is an opportunity to understand materials you have to work with—it's a chance to better grasp what you think about your subject before you sharpen, shape, and organize these ideas into a polished final product.
When it comes down to it, no two first drafts are quite alike. Sometimes you might come to table with more fully formed thoughts and opinions on your subject and leave your draft writing session or sessions with a nearly completed piece, something that requires only minor changes. Other times, your full first draft might seem shapeless and be full of notes for further exploration, requiring you to dig into more research or take some time away to think things over.
Regardless, you can approach your project with the following tips on how to write a first draft, and you'll be well on your way toward a well-developed piece of writing.
Start with Structure
Before you start drafting your brilliant ideas, it may help to begin with some big-picture thinking and planning.
Consider the type of writing you're doing and the structure that it requires. For instance, if you're writing a cover letter , consider the general structure that your letter will take. Over the course of the letter, you will want to express your interest, relate your experience to the job description, provide examples of your past successes, and close with a call to action. If you're writing a research paper, you will need an introductory paragraph and thesis statement, an essay body that provides evidence in support of that thesis, and a conclusion that sums it all up.
With this idea of the overall structure of your project in mind, you can better understand which parts of your piece you know how you will complete, as well as where might be the best place to start. So, for example, if you're beginning a research paper and have yet to determine a working thesis, you can skip your introduction in favor of developing your evidence and analysis to see where it leads you.
No matter where you ultimately decide to start, the name of the game for first drafts is just getting things down on the page. So, for the sake of efficiency, try to eliminate anything extra that might stand in the way of you and the plain act of writing. If you're easily distracted by the web or bogged down by online research, close your browser, turn off your Wi-Fi connection, or set aside your smartphone. If you're always searching for the perfect word, put away your dictionary and thesaurus. Worried about getting things into the right format? Turn to a pre-made writing template that takes care of that for you so you can focus on writing.
Write Out of Order
In line with this focus on the act of writing is the strategy of writing out of order. As we write, sometimes our minds head to unexpected places. During your first draft, you should follow your thoughts down these new paths. If a new idea for later on in your piece comes to mind, feel free to jump to that place and capture those new thoughts on the page while they're fresh. Likewise, if you hit a dead end in one part of your essay, move forward or back to another place where you have more to contribute.
Leave Holes to Fill
To become a better writer of first drafts, an essential skill you'll need to pick up is being okay with placeholders. In those moments that your forward momentum starts to wane, or you need a particular detail or data point that you don't have in front of you to support your idea, simply leave yourself a note and keep moving. The comment feature that word processors like Microsoft Word and Google Docs have is particularly useful for moments like this: Simply add your comment—whether it's about your lack of an idea or your inkling of an idea you haven't fully formed yet—and you'll know exactly where to find your place during your next time through your piece.
Once you've exhausted your energies toward a first draft or, say, reached the end of the story you're trying to tell, always be ready to walk away. While a deadline might limit the amount of time that you're able to take away from writing, taking a break after your first draft—whether it's hours, days, or even weeks—can be very helpful. Not only will it help to preserve your energy, but it might help you come to your writing with fresh ideas.
For many writers, the experience of reading your old writing and feeling as though the words on the page were written by someone else is a familiar one. As strange as it may seem, this sensation is what you're trying to achieve by walking away from your first draft. This new perspective and bit of distance can enable you to see the material anew and take your writing to new, exciting, and more effective places in your next drafts.
Get started with Microsoft 365
It's the Office you know, plus the tools to help you work better together, so you can get more done—anytime, anywhere.
Topics in this article
More articles like this one.
What's a conditional verb?
Conditional verbs are essential for writing about hypothetical or unlikely scenarios. Learn about conditional verbs and how to use them in English.
What is sentence inversion?
What are irregular plural nouns?
English language rules were meant to be broken. See how irregular plural nouns do just that.
Understanding pronoun cases
Each of the three pronoun cases can replace a different type of noun in a sentence. Learn about pronoun cases and how they work.
Everything you need to achieve more in less time
Get powerful productivity and security apps with Microsoft 365
Explore Other Categories

I nfographics
Show AWL words
Subscribe to newsletter
What is academic writing?
Academic Style
What is the writing process?
Understanding the title
Brainstorming
Researching
First draft
Proofreading
Report writing
Compare & contrast
Cause & effect
Problem-solution
Classification
Essay structure
Introduction
Literature review
Book review
Research proposal
Thesis/dissertation
What is cohesion?
Cohesion vs coherence
Transition signals
What are references?
In-text citations
Reference sections
Reporting verbs
Band descriptors
Show AWL words on this page.
Levels 1-5:     grey  Levels 6-10:   orange 
Show sorted lists of these words.
Any words you don't know? Look them up in the website's built-in dictionary .
Choose a dictionary .  Wordnet  OPTED  both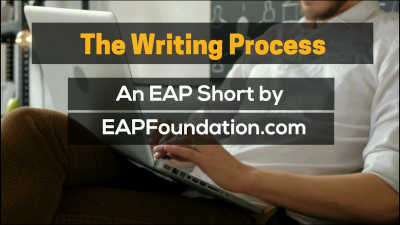 For another look at the same content, check out YouTube » or Youku » , or this infographic » .

After writing an outline , the next stage of the writing process is to write the first draft. This page explains what a first draft is and how to write one . There is also a checklist at the end of the page that you can use to check your own first draft.
What is a first draft?
A draft is a version of your writing in paragraph form. The first draft is when you move from the outline stage and write a complete version of your paper for the first time. A first draft is often called a 'rough draft', and as this suggests, it will be very 'rough' and far from perfect. The first draft will lead on to a second draft, third draft, fourth draft and so on as you refine your ideas and perhaps conduct more research . The paper you submit at the end is often called the 'final draft', and emphasises the fact that writing is a process without a definite end (as even the final draft will not be perfect). It should be stressed that a first draft is only suitable for writing where you have some time to complete it, such as longer, researched essays, rather than an exam essay where there will only be a single draft.
How to write a first draft?
As you write your initial draft, you should try to follow your outline as closely as possible. Writing, however, is a continuous, creative process and as you are writing you may think of new ideas which are not in your outline or brainstorm list, and these can be added if they are relevant. Your outline will probably contain a thesis , which is essentially a plan for the whole paper, and you should keep this in mind to decide whether ideas are relevant. It is possible to begin the drafting process at any stage, and some people recommend writing the main body first and the introduction and conclusion later. This makes sense as it can be difficult to introduce something you have not yet finished, though if your outline is detailed enough it is possible to begin at the beginning. When writing the first draft, the main focus will be the ideas and content, meaning you should not worry about grammar, punctuation or spelling. You may end up abandoning whole sections before the final draft, and slowing down to check grammar or spelling at this stage would be a waste of time. It is useful for the first draft to use double-spacing and wide margins on both sides of the paper so that you can add more details and information when you redraft your work.
In short, when writing a first draft, you should do the following:
try to follow your outline as closely as possible;
add new ideas if they are relevant;
keep your thesis in mind while writing;
begin where you think is best (e.g. main body before introduction);
focus on ideas and content;
do not worry about grammar, punctuation or spelling;
use double-spacing and wide margins for easier redrafting.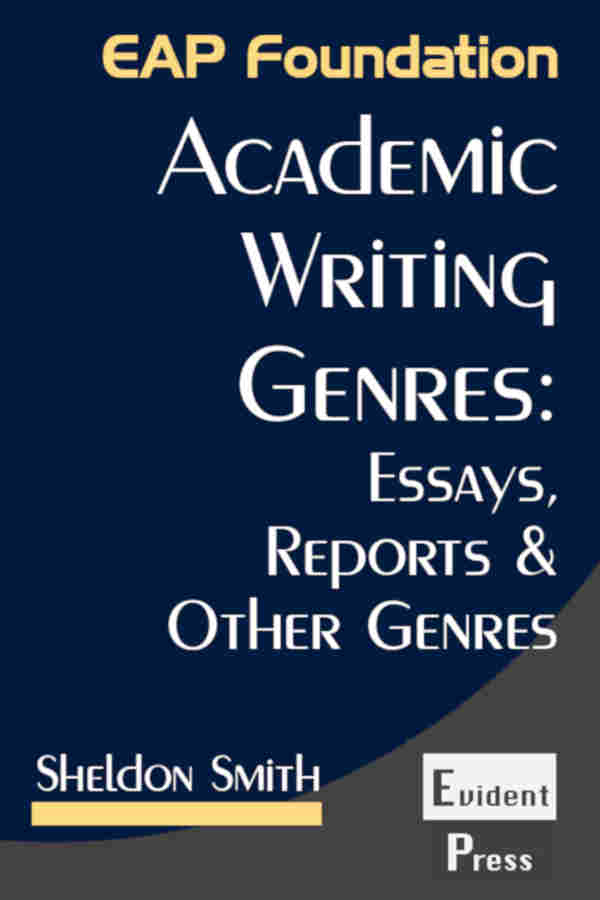 GET FREE EBOOK
Like the website? Try the books. Enter your email to receive a free sample from Academic Writing Genres .
Below is a checklist for your first draft.
Oshima, A. and Hogue, A. (1999) Writing Academic English . New York: Addison Wesley Longman.
University of Arizona (n.d.) The Structure of an Essay Draft . Available at: http://www.u.arizona.edu/~atinkham/Essay_Structure.htm (Access date 1/4/18).
Next section
Read more about checking your work in the next section.
Previous section
Read the previous article about writing an outline .

Author: Sheldon Smith    ‖    Last modified: 02 March 2020.
Sheldon Smith is the founder and editor of EAPFoundation.com. He has been teaching English for Academic Purposes since 2004. Find out more about him in the about section and connect with him on Twitter , Facebook and LinkedIn .
Compare & contrast essays examine the similarities of two or more objects, and the differences.
Cause & effect essays consider the reasons (or causes) for something, then discuss the results (or effects).
Discussion essays require you to examine both sides of a situation and to conclude by saying which side you favour.
Problem-solution essays are a sub-type of SPSE essays (Situation, Problem, Solution, Evaluation).
Transition signals are useful in achieving good cohesion and coherence in your writing.
Reporting verbs are used to link your in-text citations to the information cited.
The Only Guide to Essay Writing You'll Ever Need
Feel passionately about something and want to share it? Write an essay! Disagree with a popular opinion and wish to convince others to join you? Write an essay! Need to write something because the college you dream of attending is making you? Write an essay! 
"Essay" is a loose term for writing that asserts the author's opinion on a topic, whether academic, editorial, or even humorous. There are a thousand different approaches to essay writing and a million different topics to choose from, but what we've found is that good essay writing tends to follow the same framework. 
Give your essays extra polish Grammarly helps you write with confidence Write with Grammarly
Below we discuss that framework and how you can apply it to your essays, whatever types they may be. But first, let's start with a basic overview of how to write an essay.
How to write an essay
The basic steps for how to write an essay are: 
Generate ideas and pick a type of essay to write. 
Outline your essay paragraph by paragraph. 
Write a rough first draft without worrying about details like word choice or grammar.
Edit your rough draft, and revise and fix the details.
Review your essay for typos, mistakes, and any other problems. 
Want to know more? We cover the specifics below, but for now let's talk about the nucleus of any good essay: the topic.
Your essay needs a thesis statement 
There are three things to consider before writing your essay: thesis, type, and audience. Of these, the most important by far is your thesis, or the crux of what your essay is about.
Your thesis, encapsulated in your thesis statement , is the central point you're trying to make. The thesis of Bertrand Russell's essay " In Praise of Idleness ," for example, is that people focus too much on work and don't value time spent idly. Essays can occasionally stray and go into related tangents, but they always come back to that one core idea in the thesis. 
You should always pinpoint your thesis before writing. If you're having trouble nailing it down, ask yourself, "What's the one thing I want my reader to remember when they're done reading my essay?"
The best practice is to include your thesis as soon as possible, even in your topic sentence if it's appropriate. You'll want to reiterate it throughout the essay as well, especially when wrapping up everything in the conclusion. 
The rest of your essay, then, supports your thesis. You can include empirical evidence, testimonials, logical deductions, or even persuasive rhetoric —whatever gets the job done. The point is that you're building upon your initial thesis, not switching to completely different topics. 
6 types of essays
Like any form of writing, essays come in many different types. Sometimes the assignment dictates the type, as with admissions essays, and other times the thesis will determine it. Regardless, it helps to know what your options are, so here are some of the most common essay types: 
1. Argumentative essay
Argumentative essays assert or defend a position. This is the most common type of school paper, so keep that in mind when writing your first college essay . 
2. Admissions essay
Most colleges request an admissions essay in applications, which typically revolve around why you're interested in their school. 
3. Persuasive essay
A persuasive essay is just as it sounds: an essay to persuade or convince the reader of a certain point. It's similar to an argumentative essay— they both strongly favor a particular point of view, but the difference is the end goal: Argumentative essays just have to present their case, while persuasive essays have to present their case and win over the reader. 
4. Compare-and-contrast essay
When you want to devote equal attention to two opposing things, a compare-and-contrast essay works better than argumentative or persuasive essays, which lean to one side over the other.
5. Personal essay
Personal essays are often anecdotal or real-life stories of the authors, like the works of David Sedaris . Because they tend to follow narrative structures, the thesis can be flexible or interpretive. 
6. Expository essay
An expository essay thoroughly explains a certain topic to expand the reader's knowledge. It is similar to an argumentative and persuasive essay in format, but with one key difference: expository essays don't have a bias. 
Know your essay's audience
Your final consideration is who will read your essay—a teacher, an admissions counselor, your peers, the internet at large, etc. 
No matter what you're writing, your audience should influence your language. For one thing, your readers determine whether the essay is formal or casual , which has an enormous impact on language, word choice, and style . Take emojis for example: In a casual essay they might be welcome, but for formal writing they're not the most appropriate choice. 😓
Your audience also affects the essay's tone, or how you sound on an emotional level (enthusiastic, cautious, confident, etc.). If you'd like to know more, you can read about the 10 common types of tone here . 
The essay writing process
If you're writing an essay, research paper , term paper, novel, short story, poem , screenplay, blog article about essay writing—when writing just about anything , really—it's crucial to follow an efficient writing process. Even if you prefer the stream of consciousness style for writing your rough draft, you still need to have an orderly system that allows you to revise and hone. 
For essay writing, we recommend this  six-step writing process :
1 Brainstorming
It always helps to collect your thoughts before you begin writing by brainstorming . Based on your prompt or thesis, try to generate as many ideas as possible to include in your essay. Think of as many as time allows, knowing that you'll be able to set aside the ideas that don't work later. 
2 Preparing
The preparation phase consists of both outlining your essay and collecting resources for evidence. Take a look at the results of your brainstorming session. First, isolate the ideas that are essential to support your thesis and then organize them in a logical and progressive order. In this stage you'll incorporate your essay structure, which we explain below.
If you want empirical evidence or complementary citations, track them down now.  The way you write citations depends on the style guide you're using. The three most common style guides for academics are MLA , APA , and Chicago , and each has its own particular rules and requirements for citing just about  any  kind of source, including newspaper articles ,  websites ,  speeches , and  YouTube videos .
This is the main stage of essay writing where you roll up your sleeves and actually write your first draft . Remember that everything doesn't have to be perfect; this is your first draft, not your final draft, so give yourself the freedom to make errors. If you're focusing on getting every single word right, you'll miss the big picture. 
The revisions stage involves your second draft, your third draft, or even your twelfth draft if necessary. Address all the nuances and subtleties you glossed over in the first draft. 
Pay attention to both word choice and clarity , as well as sophisticated writing techniques like avoiding the passive voice . If you're not confident in your writing skills yet, the Grammarly Editor ensures your writing is readable, clear, and concise by offering sentence structure and word choice suggestions, plus clarity revisions as you write. Grammarly helps catch common mistakes with sentence structure—like run-on sentences, sentence fragments, passive voice, and more.  
5 Proofreading
When all the heavy-duty revisions are finished, it's time for the final polish. Go through your essay and correct misspellings , formatting issues, or grammatical errors. This is also where you can turn to Grammarly's AI-powered writing assistant, which helps catch these common mistakes for you. Or  copy and paste your writing to check your grammar and get instant feedback on grammar, spelling, punctuation, and other mistakes you might have missed.
Essay structure
Essay structure almost always follows a simple beginning-middle-end format, or in this case, an introduction-body-conclusion format. However, it's what's contained within those sections that makes all the difference. 
Introduction
Essays follow the same guidelines for introductions as any other piece of writing, with an extra emphasis on presenting the thesis prominently, ideally in the topic sentence. By the end of your introduction paragraph, your reader should know without a doubt what your essay is about. From there, follow the conventional best practices on how to write an introduction . 
Body paragraphs
The majority of your essay is body paragraphs , all of which support your thesis and present evidence. 
Pay close attention to how you organize your body paragraphs. Some arguments benefit from a logical progression, where one point leads to a second, and that second point leads to a third. Remember that the reader doesn't understand the topic like you do (that's why you're writing the essay), so structure your paragraphs in the way that's best for their comprehension. 
What if you're writing an argumentative essay where you compare and contrast two or more points of view? Do you present your argument first and then share opposing points of view, or do you open with your opposition's argument and then refute it? 
Serious writers can get pretty technical about how to organize an argumentative essay. There are three approaches in particular used often: Aristotlian (classical), Rogerian , and Toulmin . However, these can get exceedingly complicated, so for a simple essay, a basic structure will do just fine:
Counterpoint
Evidence supporting your point and/or disproving counterpoint 
Essay conclusions wrap up or summarize your thesis in a way that's easy for the reader to digest. If you get the chance, you can add a new perspective or context for understanding your thesis, but in general the conclusion should not present any new evidence or supporting data. Rather, it's more of a recap. For more specific tips, read about how to write a conclusion for an essay here . 
Five-paragraph essay
For quick and simple essays, you don't need to get too technical with your essay structure. The five-paragraph essay structure works well in a pinch. This contains:
One introduction paragraph
Three body paragraphs
One conclusion paragraph
While this essay structure might not be flexible enough for more advanced topics, it comes in handy when speed is a factor, like during timed tests. 
Essay writing tips
Master the five fundamentals.
Especially for school essays, your reader will scrutinize how well you handle the fundamentals. Knowing about essay structure and the writing process is one thing, but can you demonstrate an understanding of language style? Can you develop your thesis logically and coherently? Are your references and citations trustworthy?
When you're ready for the next step of essay writing, take a look at the five concepts you must master to write better essays . The tips there pick up where this guide leaves off. 
Seek out another pair of eyes
This tip is not just for essays; it's always advisable to have someone else read over your writing before finalizing it. All too often we miss the forest for the trees, and thinking long and hard on the same topic can give you tunnel vision. The solution is to get a fresh take from someone who's seeing it for the first time. 
Typically you can swap with a friend and edit each others' works. If that's not an option, however, you can also use a writing center or join a writing group online. At the very least, you should sleep on it and take another look when you're refreshed. 
Remember: Grammar and form are essential 
It's not always about what you say, but how you say it. You could have the most obvious, objectively agreeable thesis in the world, but if your writing is incoherent, confusing, and full of mistakes, it's tough to engage with your reader. 
For when your writing needs to make the right impact, Grammarly Premium offers full-sentence rewrites for confusing sentences—from splitting long sentences, cutting extra words, or rearranging key phrases—in addition to catching common grammar mistakes. It also gives you readability-focused formatting suggestions, so you know your writing is clear. It also helps those who are looking to improve their writing skill level in English, with suggestions for commonly misused words and phrases. 
Honing your writing with these elements in mind is key to relaying your point to your reader—and asserting your thesis as effectively as possible.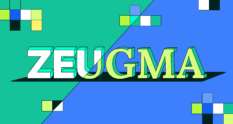 Want to create or adapt books like this? Learn more about how Pressbooks supports open publishing practices.
32 Writing a First Draft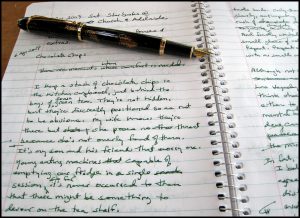 Begin with just writing. I like to call this "writing hot." Just go! It doesn't matter how messy it is. You already have at least one focusing idea. Start there. What do you want to say about it? What connections can you make with it? If you have a working thesis, what points might you make that support that thesis?
Fill in your outline. Your outline has your topic or thesis at the beginning and then what points you might make that will expand on that topic or support that thesis. These didn't have to be detailed when you first wrote them, but now is the time to turn them in to complete sentences.
Research is a great early step because learning what information is available from credible sources about your topic can sometimes lead to shifting your thesis. Saving the research for a later step in the drafting process can mean making this change after already committing sometimes significant amounts of work to a thesis that existing credible research doesn't support. Research is also useful because learning what information is available about your topic can help you flesh out what you might want to say about it.
If you begin with research, remember that you MUST immediately note down where you take any material from. If you take it directly from the source, put quotation marks around the quote instantly.
If you start with research, you will fill in the rest of your paragraphs with all of your own ideas. Don't fill the paper up with other source material and leave no room for your own words.
Essay Structure
You might already be familiar with the five-paragraph essay structure, in which you spend the first paragraph introducing your topic, culminating in a thesis that has three distinct parts. That introduction paragraph is followed by three body paragraphs, each one of those going into some detail about one of the parts of the thesis. Finally, the conclusion paragraph summarizes the main ideas discussed in the essay and states the thesis (or a slightly re-worded version of the thesis) again.
This structure has some pros and some cons.
It helps get your thoughts organized.
It is a good introduction to a simple way of structuring an essay that lets students focus on content rather than wrestling with a more complex structure.
It familiarizes students with the general shape and components of many essays—a broader introductory conversation giving readers context for this discussion, followed by a more detailed supporting discussion in the body of the essay, and ending with a sense of wrapping up the discussion and refocusing on the main idea.
It is an effective structure for in-class essays or timed written exams.
It can be formulaic—essays structured this way sound a lot alike.
It isn't very flexible—often, topics don't lend themselves easily to this structure.
It doesn't encourage research and discussion at the depth college-level work tends to ask for. Quite often, a paragraph is simply not enough space to have a conversation on paper that is thorough enough to support a stance presented in your thesis.
Things to Keep in Mind about Structure in Academic Writing
Using the three-point structure.
You might aim for a thesis that addresses a single issue, or you can use the three-point structure:
"Katniss Everdeen, the heroine of The Hunger Games, creates as much danger for herself as she faces from others over the course of the film."
This thesis allows you to cover your single, narrow topic in greater depth, so you can examine multiple sides of a single angle of the topic rather than having to quickly and briefly address a broader main idea.
"Katniss embodies the human emotions of fear—fear for the safety of our loved ones, fear of failure, and fear of the unknown—making The Hunger Games a profoundly moving film for any audience."
This three-point thesis statement keeps you organized so you can prove your points effectively, and it includes strong statements that will appeal to your reader.
There's No "Right" Number of Supporting Points
There is no prescribed number of supporting points. You don't have to have three! Maybe you have two in great depth, or maybe four that explore that one element from the most salient angles. Depending on the length of your paper, you may even have more than that.
There's More than One Good Spot for a Thesis
Depending on the goals of the assignment, your thesis may no longer sit at the end of the first paragraph, so let's discuss a few places it can commonly be found in academic writing.
It may end up at the end of your introductory information—once you've introduced your topic, given readers some reasonable context around it, and narrowed your focus to one area of that topic. This might put your thesis in the predictable end-of-the-first-paragraph spot, but it might also put that thesis several paragraphs into the paper.
Some academic work, particularly work that asks you to consider multiple sides of an issue fully, lends itself well to an end-of-paper thesis (sometimes called a "delayed thesis"). This thesis often appears a paragraph or so before the conclusion, which allows you to have a thorough discussion about multiple sides of a question and let that discussion guide you to your stance rather than having to spend the paper defending a stance you've already stated.
These are some common places you may find your thesis landing in your paper, but a thesis truly can be anywhere in a text.
Writing Beginnings
Beginnings have a few jobs. These will depend somewhat on the purpose of the writing, but here are some of the things the first couple of paragraphs do for your text:
They establish the tone and primary audience of your text—is it casual? Academic? Geared toward a professional audience already versed in the topic? An interested audience that doesn't know much about this topic yet?
They introduce your audience to your topic.
They give you an opportunity to provide context around that topic—what current conversations are happening around it? Why is it important? If it's a topic your audience isn't likely to know much about, you may find you need to define what the topic itself is.
They let you show your audience what piece of that bigger topic you are going to be working with in this text and how you will be working with it.
They might introduce a narrative, if appropriate, or a related story that provides an example of the topic being discussed.
Take a look at the thesis about Katniss once more. There are a number of discussions that you could have about this film, and almost as many that you could have about this film and its intersections with the concept of danger (such as corruption in government, the hazards of power, risks of love or other personal attachments, etc.). Your introduction moving toward this thesis will shift our attention to the prevalence of self-imposed danger in this film, which will narrow your reader's focus in a way that prepares us for your thesis.
The most important thing at this point in the drafting process is to just get started, but when you're ready, if you want to learn more about formulas and methods for writing introductions, see " Writing Essay Introduction s" presented later in this section of the text.
Writing Middles
Middles tend to have a clearer job—they provide the meat of the discussion! Here are some ways that might happen:
If you state a thesis early in the paper, the middle of the paper will likely provide support for that thesis.
The middle might explore multiple sides of an issue.
It might look at opposing views—ones other than the one you are supporting—and discuss why those don't address the issue as well as the view you are supporting does.
Let's think about the "multiple sides of the issue" approach to building support with our Hunger Games example. Perhaps Katniss may not see a particular dangerous situation she ends up in as being one she's created, but another character or the viewers may disagree. It might be worth exploring both versions of this specific danger to give the most complete, balanced discussion to support your thesis. Take a look at " Writing the Essay Body " in this text.
Writing Endings
Endings, like beginnings, tend to have more than one job. Here are some things they often need to do for a text to feel complete:
Reconnect to the main idea/thesis. However, note that this is different than a simple copy/paste of the thesis from earlier in the text. We've likely had a whole conversation in the text since we first encountered that thesis. Simply repeating it, or even replacing a few key words with synonyms, doesn't acknowledge that bigger conversation. Instead, try pointing us back to the main idea in a new way.
Tie up loose ends. If you opened the text with the beginning of a story to demonstrate how the topic applies to average daily life, the end of your text is a good time to share the end of that story with readers. If several ideas in the text tie together in a relevant way that didn't fit neatly into the original discussion of those ideas, the end may be the place to do that.
Keep the focus clear—this is your last chance to leave an impression on the reader. What do you want them to leave this text thinking about? What action do you want them to take? It's often a good idea to be direct about this in the ending paragraph(s).
How might we reconnect with the main idea in our Hunger Games example? We might say something like, "In many ways, Katniss Everdeen is her own greatest obstacle to the safe and peaceful life she seems to wish for." It echoes, strongly, the original thesis, but also takes into account the more robust exploration that has happened in the middle parts of the paper.
As mentioned about writing introductions above, the most important thing at this point in the drafting process is to just get started (or in this case, to get started concluding), but when you're ready, if you want to learn more about formulas and methods for writing conclusions, see " Writing Essay Conclusions ," presented later in this section of the text.
Text Attributions
This chapter was adapted from " Writing a First Draft " in The Word on College Reading and Writing by Carol Burnell, Jaime Wood, Monique Babin, Susan Pesznecker, and Nicole Rosevear, which is licensed under a CC BY-NC 4.0 Licence . Adapted by Allison Kilgannon.
Image Attributions
" Writing Challenge " by Gene Wilburn is licensed under a CC BY-NC-ND 2.0 Licence .
Advanced English by Allison Kilgannon is licensed under a Creative Commons Attribution-NonCommercial 4.0 International License , except where otherwise noted.
Share This Book

PRO Courses Guides New Tech Help Pro Expert Videos About wikiHow Pro Upgrade Sign In
EDIT Edit this Article
EXPLORE Tech Help Pro About Us Random Article Quizzes Request a New Article Community Dashboard This Or That Game Popular Categories Arts and Entertainment Artwork Books Movies Computers and Electronics Computers Phone Skills Technology Hacks Health Men's Health Mental Health Women's Health Relationships Dating Love Relationship Issues Hobbies and Crafts Crafts Drawing Games Education & Communication Communication Skills Personal Development Studying Personal Care and Style Fashion Hair Care Personal Hygiene Youth Personal Care School Stuff Dating All Categories Arts and Entertainment Finance and Business Home and Garden Relationship Quizzes Cars & Other Vehicles Food and Entertaining Personal Care and Style Sports and Fitness Computers and Electronics Health Pets and Animals Travel Education & Communication Hobbies and Crafts Philosophy and Religion Work World Family Life Holidays and Traditions Relationships Youth
Browse Articles
Learn Something New
Quizzes Hot
This Or That Game New
Train Your Brain
Explore More
Support wikiHow
About wikiHow
Log in / Sign up
Education and Communications
Fiction Writing
Writing Novels
How to Write a Rough Draft
Last Updated: February 6, 2023 Fact Checked
This article was co-authored by Michelle Golden, PhD . Michelle Golden is an English teacher in Athens, Georgia. She received her MA in Language Arts Teacher Education in 2008 and received her PhD in English from Georgia State University in 2015. There are 10 references cited in this article, which can be found at the bottom of the page. This article has been fact-checked, ensuring the accuracy of any cited facts and confirming the authority of its sources. This article has been viewed 286,730 times.
Writing a rough draft is an essential part of the writing process, an opportunity to get your initial ideas and thoughts down on paper. It might be difficult to dive right into a rough draft of an essay or a creative piece, such as a novel or a short story. You should start by brainstorming ideas for the draft to get your creative juices flowing and take the time to outline your draft. You will then be better prepared to sit down and write your rough draft.
Brainstorming Ideas for the Draft
Freewrites often work best if you give yourself a time limit, such as five minutes or ten minutes. You should then try to not take your pen off the page as you write so you are forced to keep writing about the subject or topic for the set period of time.
For example, if you were writing an essay about the death penalty, you may use the prompt: "What are the possible issues or problems with the death penalty?" and write about it freely for ten minutes.
Often, freewrites are also a good way to generate content that you can use later in your rough draft. You may surprised at what you realize as you write freely about the topic.
To use the clustering method, you will place a word that describes your topic or subject in the center of your paper. You will then write keywords and thoughts around the center word. Circle the center word and draw lines away from the center to other keywords and ideas. Then, circle each word as you group them around the central word.
For example, if you were trying to write a short story around a theme like "anger", you will write "anger" in the middle of the page. You may then write keywords around "anger", like "volcano", "heat", "my mother", and "rage".
If you are writing a creative piece, you may look for texts written about a certain idea or theme that you want to explore in your own writing. You could look up texts by subject matter and read through several texts to get ideas for your story.
You might have favorite writers that you return to often for inspiration or search for new writers who are doing interesting things with the topic. You could then borrow elements of the writer's approach and use it in your own rough draft.
You can find additional resources and texts online and at your local library. Speak to the reference librarian at your local library for more information on resources and texts.
Outlining Your Draft
You may use the snowflake method to create the plot outline. In this method, you will write a one line summary of your story, followed by a one paragraph summary, and then character synopses. You will also create a spreadsheet of scenes.
Alternatively, you can use a plot diagram. In this method, you will have six sections: the set up, the inciting incident, the rising action, the climax, the falling action, and the resolution.
No matter which option you chose, you should make sure your outline contains at least the inciting incident, the climax, and the resolution. Having these three elements set in your mind will make writing your rough draft much easier.
Act 1: In Act 1, your protagonist meets the other characters in the story. The central conflict of the story is also revealed. Your protagonist should also have a specific goal that will cause them to make a decision. For example, in Act 1, you may have your main character get bitten by a vampire after a one night stand. She may then go into hiding once she discovers she has become a vampire.
Act 2: In Act 2, you introduce a complication that makes the central conflict even more of an issue. The complication can also make it more difficult for your protagonist to achieve their goal. For example, in Act 2, you may have your main character realize she has a wedding to go to next week for her best friend, despite the fact she has now become a vampire. The best friend may also call to confirm she is coming, making it more difficult for your protagonist to stay in hiding.
Act 3: In Act 3, you present a resolution to the central conflict of the story. The resolution may have your protagonist achieve their goal or fail to achieve their goal. For example, in Act 3, you may have your protagonist show up to the wedding and try to pretend to not be a vampire. The best friend may then find out and accept your protagonist anyway. You may end your story by having your protagonist bite the groom, turning him into her vampire lover.
Section 1: Introduction, including a hook opening line, a thesis statement , and three main discussion points. Most academic essays contain at least three key discussion points.
Section 2: Body paragraphs, including a discussion of your three main points. You should also have supporting evidence for each main point, from outside sources and your own perspective.
Section 3: Conclusion, including a summary of your three main points, a restatement of your thesis, and concluding statements or thoughts.
For example, maybe you are creating a rough draft for a paper on gluten-intolerance. A weak thesis statement for this paper would be, "There are some positives and negatives to gluten, and some people develop gluten-intolerance." This thesis statement is vague and does not assert an argument for the paper.
A stronger thesis statement for the paper would be, "Due to the use of GMO wheat in food sold in North America, a rising number of Americans are experiencing gluten-intolerance and gluten-related issues." This thesis statement is specific and presents an argument that will be discussed in the paper.
Your professor or teacher may require you to create a bibliography using MLA style or APA style. You will need to organize your sources based on either style.
Writing the Rough Draft
You may also make sure the room is set to an ideal temperature for sitting down and writing. You may also put on some classical or jazz music in the background to set the scene and bring a snack to your writing area so you have something to munch on as you write.
You may also write the ending of the essay or story before you write the beginning. Many writing guides advise writing your introductory paragraph last, as you will then be able to create a great introduction based on the piece as a whole.
You should also try not to read over what you are writing as you get into the flow. Do not examine every word before moving on to the next word or edit as you go. Instead, focus on moving forward with the rough draft and getting your ideas down on the page.
For example, rather than write, "It was decided by my mother that I would learn violin when I was two," go for the active voice by placing the subject of the sentence in front of the verb, "My mother decided I would learn violin when I turned two."
You should also avoid using the verb "to be" in your writing, as this is often a sign of passive voice. Removing "to be" and focusing on the active voice will ensure your writing is clear and effective.
You may also review the brainstorming materials you created before you sat down to write, such as your clustering exercise or your freewrite. Reviewing these materials could help to guide you as you write and help you focus on finishing the rough draft.
You may want to take breaks if you find you are getting writer's block. Going for a walk, taking a nap, or even doing the dishes can help you focus on something else and give your brain a rest. You can then start writing again with a fresh approach after your break.
You should also read the rough draft out loud to yourself. Listen for any sentences that sound unclear or confusing. Highlight or underline them so you know they need to be revised. Do not be afraid to revise whole sections or lines of the rough draft. It is a draft, after all, and will only improve with revision.
You can also read the rough draft out loud to someone else. Be willing to accept feedback and constructive criticism on the draft from the person. Getting a different perspective on your writing will often make it that much better.
Video . By using this service, some information may be shared with YouTube.
Community Q&A
You Might Also Like
↑ https://www.umgc.edu/current-students/learning-resources/writing-center/online-guide-to-writing/tutorial/chapter2/ch2-13
↑ https://writing.ku.edu/prewriting-strategies
↑ https://academicguides.waldenu.edu/writingcenter/writingprocess/outlining
↑ http://www.writerswrite.com/screenwriting/cannell/lecture4/
↑ https://www.grammarly.com/blog/essay-outline/
↑ https://writingcenter.unc.edu/tips-and-tools/thesis-statements/
↑ https://writingcenter.unc.edu/tips-and-tools/editing-and-proofreading/
↑ https://www.grammarly.com/blog/rough-draft/
↑ https://writing.wisc.edu/handbook/style/ccs_activevoice/
↑ https://writingcenter.unc.edu/tips-and-tools/revising-drafts/
About This Article
To write a rough draft, don't worry if you make minor mistakes or write sentences that aren't perfect. You can revise them later! Also, try not to read over what you're writing as you go, which will slow you down and mess up your flow. Instead, focus on getting all of your thoughts and ideas down on paper, even if you're not sure you'll keep them in the final draft. If you get stuck, refer to your outline or sources to help you come up with new ideas. For tips on brainstorming and outlining for a rough draft, read on! Did this summary help you? Yes No
Reader Success Stories
Did this article help you?
Eswaran Eswaran
Aug 24, 2016
Rishabh Nag
Aug 21, 2016
Oct 3, 2016
Mabel McDowell
Nov 17, 2017
Featured Articles
Trending Articles
Watch Articles
Terms of Use
Privacy Policy
Do Not Sell or Share My Info
Not Selling Info
Don't miss out! Sign up for
wikiHow's newsletter
How to Write the First Draft
Part 4: How to Write the First Draft
Introduction
By this stage, you will have a final essay plan and a research document that presents your findings from the research stage in an organised and easy-to-use way. Together, these documents provide a clear map and all the information you need to write a well-structured essay , in a fraction of the time it would otherwise take.
This timesaving comes from the fact that you have already made all the big decisions about your essay during the research phase:
You have a clear idea of your answer to the essay question.
You know the main topics you will discuss to support your answer.
You know the best order in which to discuss these topics.
You know how many words should be spent on these topics, based on their importance to supporting your answer.
You know what points you will make under each topic and will discuss each of these in a new paragraph.
You know exactly what information each paragraph of your essay should contain.
You have already compiled your list of references or bibliography, and have easy access to all the details you need to correctly cite and reference your work.
Formal academic language
Before starting to write your essay, you must understand that using formal academic language is essential when writing at university. Formal academic language is clear and concise. You should never use 20 words when 10 will do; and your writing should leave no room for misunderstanding or confusion.
First person should almost always be avoided when writing an essay; however, it is recommended that you check with your tutor or lecturer about their attitude towards the first person and when it should be used, if ever. Conversely, contractions (e.g. shouldn't, could've, he's and hasn't) are always inappropriate in academic writing. The only time you should see a contraction in academic text is in a direct quotation, usually taken from informal or spoken text.
Care should be taken to craft grammatically correct sentences, with no errors of spelling or punctuation. Colloquialisms and idiomatic language should be avoided. (These are characteristics of informal or spoken language.) It is also important to avoid racist, sexist and gender-specific language in your writing. Instead, use inclusive and gender-neutral vocabulary. For more information, please see our blog article ' Simplicity in Academic Writing '.
Introductions
As you already have a clear idea of what your essay will include, you can write your introduction first. Of course, you should always come back to your introduction at the end of writing your essay to make sure that it definitely introduces all the topics you discussed. (You should not discuss any topics in the body of your essay that you have not mentioned in the introduction.)
Some other points to remember when writing your introduction are that you need to clearly state your answer to the essay question (your thesis statement), not just introduce the question. Also, your introduction should include no information that is not directly relevant to your topic. Including irrelevant background information in the introduction is a common mistake made by novice academic writers.
See the following example of a poor introduction. Then, compare it with the example of a good introduction below that. These example introductions are for the same 1,000-word essay used for the examples given in earlier stages of this guide, 'How to Begin' and 'How to Organise Your Research'.
This is an example of a poor introduction: In 1492, Columbus set sail from Spain on a quest to find a new trade route to Asia. Despite the fact that he believed he had landed in the East Indies, Columbus had found another continent entirely. This essay will examine the issue of whether or not indigenous culture was completely decimated in the Americas as a result of Spain's colonisation in the 16th century. It will look at the areas of family, religion and language.
This is an example of a good introduction: Beginning in the sixteenth century, Spanish colonisation of the Americas had a significantly negative effect on the cultural practices of the indigenous population. In particular, the introduction of new diseases and the consequent demographic collapse dramatically weakened indigenous culture and their ability to resist Spanish domination. However, aspects of the culture of some indigenous groups survived and even thrived—it was not completely decimated. Through an examination of the evidence related to religion, family and language, including the effects of colonisation on these areas of society, this essay will demonstrate aspects of indigenous beliefs, customs and practices that managed to endure.
In the example of a poor introduction, background information is included that is not directly relevant to the topic. Also, it does not answer the question, it only introduces it. Finally, it does not introduce all the topics to be discussed (as outlined in the final essay plan), and for those it does introduce, it does not mention them in the order they will be discussed in the essay (as outlined in the final essay plan).
By contrast, the good introduction provides a clear thesis statement; introduces, in order, all the topics to be discussed; and only includes information that is directly relevant to the essay question.
Topic sentences
As explained in 'How to Begin', every paragraph needs a topic sentence. The topic sentence introduces the new topic about to be discussed. It also links the topic back to the essay question, to make it clear why it is relevant and how it advances your argument.
The following are examples of topic sentences for Topic 1 'Disease and demographic impact', Topic 2 'Religion' and Topic 4 'Language', as outlined in the final essay plan in 'How to Finalise Your Essay Plan'. Notice how they link back to the thesis statement: 'Spain's colonisation had a significantly negative effect on the indigenous population of the Americas but some aspects of the culture of some indigenous groups survived and even thrived—it was not completely decimated'.
Topic 1: One of the most obvious negative effects of colonisation was the introduction of diseases that caused rapid demographic collapse among the indigenous population. Topic 2: Missionaries arrived to preach Catholicism to the Native Americans, but they allowed the Native Americans to keep parts of their culture and religion that did not clash with Catholic value and traditions. Topic 4: The Spanish did not force their language on the Native Americans, but there were nonetheless cases of indigenous languages fading out of use and being replaced with Spanish.
A common misconception is that your paragraphs need a concluding sentence for each topic. This is not true, and in fact results in unnecessary repetition, especially in a short essay.
If you have carefully followed the steps outlined in the articles on organising your research and finalising your essay plan, your final essay plan should clearly indicate what information will go in each paragraph of your essay. Each paragraph should contain only one main idea. Care should also be taken to only spend as many words as planned on each paragraph. If you decided in your research and planning stages that 150 words were enough to discuss a certain topic, then stick as closely to that plan as possible. Likewise, unless you have a very good reason for doing otherwise, follow your planned order of paragraphs, as that order should reflect the most logical arrangement and help your essay to flow well.
When writing your paragraphs, you want to choose the best supporting evidence and examples from your research to use. You must also ensure that you are inserting the necessary in-text citations and compiling your final reference list as you are writing, rather than leaving this until the end. This should be easy to do, as all these details are readily available in your research document (see 'How to Organise Your Research').
Conclusions
As explained in 'How to Begin', a conclusion should restate the thesis statement and summarise the points that were made in the body of the essay in the order in which they were made. The conclusion offers an important opportunity to synthesise the points you have made to support your argument and to reinforce how these points prove that your argument is correct. In many ways, the conclusion is a reflection of the introduction, but it is important that it is not an exact repeat of it. A key point of difference is that you have already provided ample evidence and support for your answer to the essay question, so the purpose of your conclusion is not to introduce what you will say, but rather to reiterate what you have said. Further, your conclusion absolutely must not contain any new material not already discussed in detail in the body of your text.
Referencing
It is important that you acknowledge your sources of information in your academic writing. This allows you to clearly show how the ideas of others have influenced your own work. You should provide a citation (and matching reference) in your essay every time you use words, ideas or information from other sources. In this way, you can avoid accidental plagiarism.
Referencing also serves other purposes. It allows you to demonstrate the depth and breadth of your research, to show that you have read and engaged with the ideas of experts in your field. It also allows you to give credit to the writers from whom you have borrowed words or ideas. For your reader, referencing allows them to trace the sources of information you have used, to verify the validity of your work. Your referencing must be accurate and provide all necessary details to allow your reader to locate the source.
Whether you have been provided referencing guidelines to follow, or have selected guidelines that you consider appropriate for your field, these must be followed closely, correctly and consistently. All work that is not 100% your own should be referenced, including page numbers where necessary (see 'How, When and Why to Reference'). Your referencing should be checked carefully at the end of writing to ensure that everything that should have been referenced has been referenced, all in-text citations have corresponding reference list entries and the reference list or bibliography is correctly ordered.
Your document should be neatly and consistently formatted, following any guidelines provided by your tutor or lecturer. Neat formatting shows that you have taken pride in your work and that you understand the importance of following convention.
If no guidelines have been provided to you, we recommend you use the following formatting guidelines:
normal page margins
12 pt Times New Roman or Arial font for the body (10 pt for footnotes)
bold for headings
1.5 or double line spacing for the body (single spacing for footnotes)
a line between each paragraph (or a first line indent of 1.27 cm for each paragraph).
These are the guidelines most commonly preferred by Australian and New Zealand universities.
Learning how to write your first draft can feel overwhelming. To solidify your knowledge, you might like to watch Dr Lisa Lines' video on the topic on our YouTube channel . If you need any further assistance, you can read more about our professional editing service . Capstone Editing is always here to help.
Related Guides
Essay writing: everything you need to know and nothing you don't—part 1: how to begin.
This guide will explain everything you need to know about how to organise, research and write an argumentative essay.
Essay Writing Part 2: How to Organise Your Research
Organising your research effectively is a crucial and often overlooked step to successful essay writing.
Essay Writing Part 3: How to Finalise Your Essay Plan
The key to successful essay writing is to finalise a detailed essay plan, carefully refined during the research stage, before beginning to write your essay.
Part 5: How to Finalise and Polish Your Essay
Before handing in any assignment, you must take the time to carefully edit and proofread it. This article explains exactly how to do so effectively.

UoPeople president wins "Nobel Prize of Education" Learn More
UoPeople president wins "Nobel Prize of Education" >>
Tips for Online Students , Tips for Students
How To Write An Essay: Beginner Tips And Tricks
Many students dread writing essays, but essay writing is an important skill to develop in high school, university, and even into your future career. By learning how to write an essay properly, the process can become more enjoyable and you'll find you're better able to organize and articulate your thoughts.
When writing an essay, it's common to follow a specific pattern, no matter what the topic is. Once you've used the pattern a few times and you know how to structure an essay, it will become a lot more simple to apply your knowledge to every essay. 
No matter which major you choose, you should know how to craft a good essay. Here, we'll cover the basics of essay writing, along with some helpful tips to make the writing process go smoothly.
Photo by Laura Chouette on Unsplash
Types of Essays
Think of an essay as a discussion. There are many types of discussions you can have with someone else. You can be describing a story that happened to you, you might explain to them how to do something, or you might even argue about a certain topic. 
When it comes to different types of essays, it follows a similar pattern. Like a friendly discussion, each type of essay will come with its own set of expectations or goals. 
For example, when arguing with a friend, your goal is to convince them that you're right. The same goes for an argumentative essay. 
Here are a few of the main essay types you can expect to come across during your time in school:
Narrative Essay
This type of essay is almost like telling a story, not in the traditional sense with dialogue and characters, but as if you're writing out an event or series of events to relay information to the reader.
Persuasive Essay
Here, your goal is to persuade the reader about your views on a specific topic.
Descriptive Essay
This is the kind of essay where you go into a lot more specific details describing a topic such as a place or an event. 
Argumentative Essay
In this essay, you're choosing a stance on a topic, usually controversial, and your goal is to present evidence that proves your point is correct.
Expository Essay
Your purpose with this type of essay is to tell the reader how to complete a specific process, often including a step-by-step guide or something similar.
Compare and Contrast Essay
You might have done this in school with two different books or characters, but the ultimate goal is to draw similarities and differences between any two given subjects.
The Main Stages of Essay Writing
When it comes to writing an essay, many students think the only stage is getting all your ideas down on paper and submitting your work. However, that's not quite the case. 
There are three main stages of writing an essay, each one with its own purpose. Of course, writing the essay itself is the most substantial part, but the other two stages are equally as important.
So, what are these three stages of essay writing? They are:
Preparation
Before you even write one word, it's important to prepare the content and structure of your essay. If a topic wasn't assigned to you, then the first thing you should do is settle on a topic. Next, you want to conduct your research on that topic and create a detailed outline based on your research. The preparation stage will make writing your essay that much easier since, with your outline and research, you should already have the skeleton of your essay.
Writing is the most time-consuming stage. In this stage, you will write out all your thoughts and ideas and craft your essay based on your outline. You'll work on developing your ideas and fleshing them out throughout the introduction, body, and conclusion (more on these soon).
In the final stage, you'll go over your essay and check for a few things. First, you'll check if your essay is cohesive, if all the points make sense and are related to your topic, and that your facts are cited and backed up. You can also check for typos, grammar and punctuation mistakes, and formatting errors.  
The Five-Paragraph Essay
We mentioned earlier that essay writing follows a specific structure, and for the most part in academic or college essays , the five-paragraph essay is the generally accepted structure you'll be expected to use. 
The five-paragraph essay is broken down into one introduction paragraph, three body paragraphs, and a closing paragraph. However, that doesn't always mean that an essay is written strictly in five paragraphs, but rather that this structure can be used loosely and the three body paragraphs might become three sections instead.
Let's take a closer look at each section and what it entails.
Introduction
As the name implies, the purpose of your introduction paragraph is to introduce your idea. A good introduction begins with a "hook," something that grabs your reader's attention and makes them excited to read more. 
Another key tenant of an introduction is a thesis statement, which usually comes towards the end of the introduction itself. Your thesis statement should be a phrase that explains your argument, position, or central idea that you plan on developing throughout the essay. 
You can also include a short outline of what to expect in your introduction, including bringing up brief points that you plan on explaining more later on in the body paragraphs.
Here is where most of your essay happens. The body paragraphs are where you develop your ideas and bring up all the points related to your main topic. 
In general, you're meant to have three body paragraphs, or sections, and each one should bring up a different point. Think of it as bringing up evidence. Each paragraph is a different piece of evidence, and when the three pieces are taken together, it backs up your main point — your thesis statement — really well.
That being said, you still want each body paragraph to be tied together in some way so that the essay flows. The points should be distinct enough, but they should relate to each other, and definitely to your thesis statement. Each body paragraph works to advance your point, so when crafting your essay, it's important to keep this in mind so that you avoid going off-track or writing things that are off-topic.
Many students aren't sure how to write a conclusion for an essay and tend to see their conclusion as an afterthought, but this section is just as important as the rest of your work. 
You shouldn't be presenting any new ideas in your conclusion, but you should summarize your main points and show how they back up your thesis statement. 
Essentially, the conclusion is similar in structure and content to the introduction, but instead of introducing your essay, it should be wrapping up the main thoughts and presenting them to the reader as a singular closed argument. 
Photo by AMIT RANJAN on Unsplash
Steps to Writing an Essay
Now that you have a better idea of an essay's structure and all the elements that go into it, you might be wondering what the different steps are to actually write your essay. 
Don't worry, we've got you covered. Instead of going in blind, follow these steps on how to write your essay from start to finish.
Understand Your Assignment
When writing an essay for an assignment, the first critical step is to make sure you've read through your assignment carefully and understand it thoroughly. You want to check what type of essay is required, that you understand the topic, and that you pay attention to any formatting or structural requirements. You don't want to lose marks just because you didn't read the assignment carefully.
Research Your Topic
Once you understand your assignment, it's time to do some research. In this step, you should start looking at different sources to get ideas for what points you want to bring up throughout your essay. 
Search online or head to the library and get as many resources as possible. You don't need to use them all, but it's good to start with a lot and then narrow down your sources as you become more certain of your essay's direction.
Start Brainstorming
After research comes the brainstorming. There are a lot of different ways to start the brainstorming process . Here are a few you might find helpful:
Think about what you found during your research that interested you the most
Jot down all your ideas, even if they're not yet fully formed
Create word clouds or maps for similar terms or ideas that come up so you can group them together based on their similarities
Try freewriting to get all your ideas out before arranging them
Create a Thesis
This is often the most tricky part of the whole process since you want to create a thesis that's strong and that you're about to develop throughout the entire essay. Therefore, you want to choose a thesis statement that's broad enough that you'll have enough to say about it, but not so broad that you can't be precise. 
Write Your Outline
Armed with your research, brainstorming sessions, and your thesis statement, the next step is to write an outline. 
In the outline, you'll want to put your thesis statement at the beginning and start creating the basic skeleton of how you want your essay to look. 
A good way to tackle an essay is to use topic sentences . A topic sentence is like a mini-thesis statement that is usually the first sentence of a new paragraph. This sentence introduces the main idea that will be detailed throughout the paragraph. 
If you create an outline with the topic sentences for your body paragraphs and then a few points of what you want to discuss, you'll already have a strong starting point when it comes time to sit down and write. This brings us to our next step… 
Write a First Draft
The first time you write your entire essay doesn't need to be perfect, but you do need to get everything on the page so that you're able to then write a second draft or review it afterward. 
Everyone's writing process is different. Some students like to write their essay in the standard order of intro, body, and conclusion, while others prefer to start with the "meat" of the essay and tackle the body, and then fill in the other sections afterward. 
Make sure your essay follows your outline and that everything relates to your thesis statement and your points are backed up by the research you did. 
Revise, Edit, and Proofread
The revision process is one of the three main stages of writing an essay, yet many people skip this step thinking their work is done after the first draft is complete. 
However, proofreading, reviewing, and making edits on your essay can spell the difference between a B paper and an A.
After writing the first draft, try and set your essay aside for a few hours or even a day or two, and then come back to it with fresh eyes to review it. You might find mistakes or inconsistencies you missed or better ways to formulate your arguments.
Add the Finishing Touches
Finally, you'll want to make sure everything that's required is in your essay. Review your assignment again and see if all the requirements are there, such as formatting rules, citations, quotes, etc. 
Go over the order of your paragraphs and make sure everything makes sense, flows well, and uses the same writing style . 
Once everything is checked and all the last touches are added, give your essay a final read through just to ensure it's as you want it before handing it in. 
A good way to do this is to read your essay out loud since you'll be able to hear if there are any mistakes or inaccuracies.
Essay Writing Tips
With the steps outlined above, you should be able to craft a great essay. Still, there are some other handy tips we'd recommend just to ensure that the essay writing process goes as smoothly as possible.
Start your essay early. This is the first tip for a reason. It's one of the most important things you can do to write a good essay. If you start it the night before, then you won't have enough time to research, brainstorm, and outline — and you surely won't have enough time to review.
Don't try and write it in one sitting. It's ok if you need to take breaks or write it over a few days. It's better to write it in multiple sittings so that you have a fresh mind each time and you're able to focus.
Always keep the essay question in mind. If you're given an assigned question, then you should always keep it handy when writing your essay to make sure you're always working to answer the question.
Use transitions between paragraphs. In order to improve the readability of your essay, try and make clear transitions between paragraphs. This means trying to relate the end of one paragraph to the beginning of the next one so the shift doesn't seem random.
Integrate your research thoughtfully. Add in citations or quotes from your research materials to back up your thesis and main points. This will show that you did the research and that your thesis is backed up by it.
Wrapping Up
Writing an essay doesn't need to be daunting if you know how to approach it. Using our essay writing steps and tips, you'll have better knowledge on how to write an essay and you'll be able to apply it to your next assignment. Once you do this a few times, it will become more natural to you and the essay writing process will become quicker and easier.
If you still need assistance with your essay, check with a student advisor to see if they offer help with writing. At University of the People(UoPeople), we always want our students to succeed, so our student advisors are ready to help with writing skills when necessary. 
Related Articles
Privacy overview.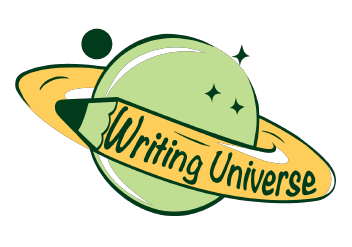 Environment
Information Science
Social Issues
Argumentative
Cause and Effect
Classification
Compare and Contrast
Descriptive
Exemplification
Informative
Controversial
Exploratory
What Is an Essay
Length of an Essay
Generate Ideas
Types of Essays
Structuring an Essay
Outline For Essay
Essay Introduction
Thesis Statement
Body of an Essay
Writing a Conclusion
Essay Writing Tips
Drafting an Essay
Revision Process
Fix a Broken Essay
Format of an Essay
Essay Examples
Essay Checklist
Essay Writing Service
Pay for Research Paper
Write My Research Paper
Write My Essay
Custom Essay Writing Service
Admission Essay Writing Service
Pay for Essay
Academic Ghostwriting
Write My Book Report
Case Study Writing Service
Dissertation Writing Service
Coursework Writing Service
Lab Report Writing Service
Do My Assignment
Buy College Papers
Can't find a perfect paper?
How to Write a Great Essay Draft In College
Table of content.
01. What Makes Essay Drafts Important
02. Four Key Steps WhenWriting the First Draft
03. Do This When Wondering How to Write a Draft Essay
04. Mistakes to Avoid
05. Summary of All Crucial Points
06. Make a Good Draft and Reap Its Benefits
Students grimace at the thought of essay draft whenever they are asked to write one. Sure, some understand its necessity, but most others just wave it off, thinking that drafts are an unnecessary complication professors made up to make their lives more difficult. Who is right and who is wrong here? Let's find out by establishing what a draft is. It's a rough version of the final paper where a writer expresses an outline of their ideas, presenting their skeleton and putting some meat on it.
But just knowing draft essay definition isn't enough, you also have to fully realize its relevance and ways in which it should be created. Drafts are vital components of academic writing process: they could help students understand how their introduction, body, and conclusion are going to look like before their paper is fully written. They give you chances to catch mistakes and discrepancies before they go too far as with their help, you can correct everything on time. Let us expand on this thought and explain how an effective draft should be created.
What Makes Essay Drafts Important
Students are right to assume that writing a draft takes time. But what they usually dismiss is the fact that after this document is ready, they can submit it for preliminary assessment. Professor will take a look at it, underlining its strong and weak points, and if everything is more or less fine, you'll get to keep the draft and transform it into the final essay. This way, the time you spent on it won't disappear into nowhere — your final version will be at least half-done.
Look at any example of a draft essay — sometimes they resemble a finished work because you can already understand writer's point, their evidence, the structure of an essay and conclusion. You'll be expanding a draft to make it into an essay, not writing it from scratch. In addition, even if professor tells you that whole thing needs to be redone because you focused on the wrong theme, it's better to know about it in advance instead of writing an even longer essay and getting a failing grade for it. Look at this file like you would at the sample of final work. This is your opportunity to learn whether you're moving in the right direction and take actions in case you took a wrong turn.
Four Key Steps WhenWriting the First Draft
What is a first draft? It's initial try at building a picture of a future essay. Later, it might be sent back to you for revision or expansion, so you could write a second and third draft. If you want to prevent this situation from happening, it's preferable to do a great job from the first try. These are the steps you should take.
1. Develop an outline
After deciding on what topic you should write about, start planning the points you'll be exploring. Determine which bits should be mentioned in the body — it is the most important thing. For example, if you're working on the theme of English postmodernism, indicate which factors represent it. Place one per each paragraph and add a few more details to them. After this skeleton is ready and you can move on toward the next step.
2. Make a thesis
Thesis is a key statement of students' paper that plays an equally relevant role in your first draft essay, so be sure to devise it early on. Decide, what is the central argument? What do you plan to prove? Your reader should be able to understand your goal simply by reading thesis statement , so make this bit count and base your work on it.
3. Find good sources
You might have to include more sources when working on the final paper, but deciding on key ones is important at this stage. Choose two or three articles or books. Remember that they should be credible and created within the last 5 years. Dedicate each source to a paragraph, determining main ideas you'll be supporting with their help.
4. Write at least 3-5 sentences about each key point
Everything is prepared, so it is time for actual writing. Focus only on key elements — other details should be added in later versions. Craft a short introduction with thesis. Explore every body point from an outline in 3 or 5 sentences; be brief, concise, and don't deviate from the course you've set. Mention sources in support, even if you don't provide full evidence yet. Conclude essay by adding some more sentences in the final part. Remember about limits: go for expressing all relevant factors, not for expanding your rough file just to increase the word count.
Useful information: Use our free conclusion generator is only a few clicks away.
Do This When Wondering How to Write a Draft Essay
In every assignment, there are some considerations that a student should take into consideration. With drafts, at least three could be distinguished. First, remember your goal. Since drafting entails giving shape to different ideas, this process has an unstable structure. Some new ideas might occur; other ideas could disappear. This is a natural occurrence and you shouldn't be worried about it. Just keep your judgment sound: sometimes new direction could help you reach your goal more effectively, but other times, it only distracts. Keep visualizing it and you'll be fine.
The second point worth remembering when drafting an essay is taking a break from writing. Walk somewhere, read something else, and then evaluate your draft. This could reveal some missteps that require correcting. The third consideration is your notes. It isn't obligatory to make them, but at the same time, they could serve as guidelines showing what you intend to work on after draft is returned to you. They are a useful bridge between a draft and a final essay.
Mistakes to Avoid
Looking through a draft essay example is a great idea for seeing what mistakes people make. If you know it, you can learn in advance what to avoid and how to smoothen rough angles of your work. Here are three most frequent errors everyone should be wary of.
Too many details . Common mistake many students make lies in treating a draft like a final essay. They try filling it with all details at once, expressing their opinions fully and not leaving anything out. As a result, they end up with work that equals or exceeds the size of real essay.
No structure . Other students, on the contrary, feel too lazy to bother with this task. What is a draft essay for them? This is an unpleasant necessity. That's why they create a paragraph or two, jumping between points chaotically and hoping that it would be enough. Work performed in such manner is largely useless, and it won't help with an essay in the slightest.
Too much editing. Sure, doing some light editing and is always good since it allows making sure that your sentences are coherent, but when drafting, it is vital not to overdo it. Some students get too focused on eliminating all technical mistakes, to the point where they forget about everything else. Drafts are training exercise for students, not some final version that must be polished perfectly. Content is far more important.
Summary of All Crucial Points
Are you still wondering how to draft an essay? We decided on summarizing the points we mentioned and develop our list with best and worst things students could do in the process of their work. Keep them in mind and you'll stand higher chances of succeeding.
Preliminary research. Conduct thorough research right away. Selecting sources, making an outline , and figuring out potential scope of future work are vital processes that you should take care of as soon as possible. It'll come in handy both in a sample version and in an essay itself.
Present key essay points in your document. Through thesis and brainstorming, determine major points of an essay. Describe them in a draft, giving each of them a few sentences. In most cases, their number doesn't exceed 5, but it depends on an overall size of your planned work.
Leave space for additions. Remember that professor expects you to flesh out your ideas in a real paper, so present only raw facts in your draft. There should be space for expanding them at some later stage. You'll use more evidence, ideas, and arguments there — be sure your word count covers it all.
Don't:
Make document too long. Ideally, draft essay should present about 50-60% of its final version. Students are going to have enough time for expanding paragraphs and fill them with secondary details, so avoid doing it all in one go. Be specific, don't be detailed.
Treat it as a final paper. Don't think that your draft is the same thing as a complete essay. That's not true and it could only confuse you further. These rough essays are exercises, you're only shaping real paper in them. Time for doing more is going to come afterward.
Think it is unimportant. Drafts have an absolute importance, and students shouldn't forget about this fact. By relying on them, you could see how your final essay would look like if you continued pursuing this course. What you invest into it will pay off, so work hard and follow recommendations provided by your teacher.
Make a Good Draft and Reap Its Benefits
Now that you know draft paper definition and the relevance it carries, you shouldn't have problems with understanding why creating it is so essential. Consider this to be your training ground. Explore ideas, build links between them, think about sources that should be used in their support, and work on making solid conclusion. When everything is done, send final work for your professor's assessment. They are going to review and express their opinion on your efforts, both strengths and weaknesses included. In turn, you'll gain an opportunity to correct the essay and elaborate on the strong sides of your text.
Find some great essay draft example in the Internet if you aren't sure how to write your own. Start brainstorming right after that, noting down different essay ideas . Work on each part, from introduction to body and conclusion, exploring an outline of the main essay points. Introduce academic sources in every body paragraph, and that's it! Your draft will inspire your final paper, serving as its strong foundation.
A few hours till deadline?
Let experts write a unique essay and save your time
Blog Navigation
Can't come up with a topic for you paper? We've prepared a collection of essay topics for you
Want to write a winning essay but lack experience? Browse our free essay samples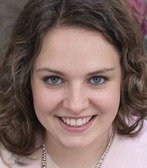 Elizabeth provides educational materials, conducts research, explores and solves student challenges. Her posts are always helpful, innovative, and contain interesting insights.
Perplexity vs ChatGPT
Rytr vs Jasper
Sudowrite vs Jasper
Sudowrite vs ChatGPT
Rytr Black Friday Deals
Jasper AI Black Friday Deals
Copy AI Black Friday Deals
Best AI Detectors
ChatGPT Detector Review
Content at Scale Review
GPTZero Review
Passed AI Review
Winston AI Review
Writefull Review
Writer AI Review
ZeroGPT Review
Best AI Tools for Academic Research
Best AI Chrome extensions for college students
Top AI Coding Tools
Best AI Translation Tools
Best Plagiarism Checker
Copyleaks Review
Grammarly Review
iThenticate Review
Originality AI Review
PlagiarismCheck Review
Plagium Review
Plagscan Review
Quetext Review
Quillbot Review
Scribbr Review
Turnitin Review
Grammarly vs Turnitin
Quillbot vs Grammarly
Scribbr vs Turnitin
Copyleaks vs Turnitin
Quillbot Coupons
Quillbot Black Friday Deals
Grammarly Coupons
Grammarly Black Friday Deals
123HelpMe Review
99Papers Review
Academized Review
AdvancedWriters Review
Affordable Papers Review
Bid4Papers Review
BestCustomWriting Review
BuyEssayFriend Review
CheapWritingService Review
CheapestEssay Review
CoolEssay Review
CustomWritings Review
DoMyEssay Review
DoMyPapers Review
EssayBox Review
Easy Essay Review
EduBirdie Review
EssayHub Review
EssayMarket Review
EssayPro Review
EssayService Review
EssayShark Review
EssayTigers Review
EssayWriter Review
EssayUSA Review
ExtraEssay Review
ExpertWriting Review
FastEssay Review
GradesFixer Review
GradeMiners Review
MyAdmissionsEssay Review
MyAssignmentHelp Review
MyPerfectWords Review
Nerdify Review
PaperCoach Review
Paperhelp Review
PapersOwl Review
PaySomeonetoDoMyHomework Review
PaperWriter Review
SpeedyPaper Review
StudyBay Review
StudyCrumb Review
Studyfy Review
StudyMoose Review
TrustMyPaper Review
Write My Essays Review
WriteMyPaper4Me Review
WritePaperFor.me Review
Best Essay Writing Service Reviews
Best Assignment Writing Service
Fast Essay Writing Service
Cheap Essay Writing Services
Best Homework Help Websites
Best Personal Statement Writing Service
Websites That Write Essays for You
Best Admission Essay Writing Service
Best Research Paper Writing Services
WiseEssays Review
WritePaper Review
Essayservice Coupons
Essayhub Coupons
Essaywriter Coupons
Edubirdie Coupons
Essaypro Coupons
Writemyessay Coupons
Writemypaper4me Coupons
Best Dissertation Writing Services
CopyCrafter Review
HomeWorkHelpGlobal Review
OriginalPhD Review
ProThesisWriter Review
ThesisHelpers Review
ThesisRush Review
Ultius Review
WritersPerHour Review
Best Essay Apps
EssayBot Review
CollegeEssayWritingHelp Review
Essay Writing & Homework Help Review
HW Helper Review
Fast HW Review
MyWriter Review
Writero Review
Best Article Rewriter
AISEO Review
Article Rewriter Review
Article Rewriter Tool Review
Conch AI Review
Duplichecker Review
Frase Review
Hypotenuse AI Review
IvyPanda Review
Paraphrase-Online Review
PrePostSEO Review
Rephrase Review
Rewriter Review
SearchEngineReports Review
Sentence Checkup Review
SEOMagnifier Review
SmallSEOTools Review
Undetectable AI Review
Wordvice Review
Frase Coupons
Best Grammar Checker
Sapling Review
Reverso Review
ProWritingAid Review
LanguageTool Review
GrammarCheck Review
SpellCheckPlus Review
Ginger Software Review
Grammar.com Review
JSpell Review
Ginger vs ProWritingAid
ProWritingAid vs Quillbot
Grammarly vs Ginger
Languagetool vs Prowritingaid
ProWritingAid vs Grammarly
Languagetool vs Grammarly
Prowritingaid Coupon & Promo code 2023
Best Citation Generator
BibGuru Review
BibMe Review
CitationMachine Review
CiteThisForMe Review
EasyBib Review
MyBib Review
TypeSet (SciSpace) Review
EasyBib vs CitationMachine
Easybib Coupon & Promo code 2023
Citation Guides
Paraphrasing Guides
Plagiarism Guides
AceMyHomework Review
AllAssignmentHelp Review
AssignCode Review
Assignmentcore Review
AssignmentExpert Review
AssignmentGeek Review
AssignmentOverflow Review
CallTutors Review
CodersArts Review
CodingHomeworkHelp Review
CodingParks Review
CodingZap Review
ComputerScienceHomeworkHelpers Review
CWassignments Review
DoMyAssignments Review
DoMyCoding Review
DoMyHomework123 Review
DoMyHomeworkforMe Review
DoMyProgrammingHomework Review
FavTutor Review
GeeksProgramming Review
GetCodingHelp Review
GlobalAssignmentHelp Review
GreatAssignmentHelp Review
Homeworkdoer Review
HomeworkforYou Review
HomeworkHelpOnline Review
JavaAssignmentHelp Review
JustDoMyHomework Review
LovelyCoding Review
MyCodingPal Review
MyComputerScienceHomework Review
MyHomeworkDone Review
PayMetoDoYourHomework Review
ProgrammingAssignment Review
ProgrammingHomeworkHelp Review
TheProgrammingAssignmentHelp Review
Tutorbin Review
Python Homework Help Websites
Python Guides
Javascript Guides
HTML Guides
Java Guides
Matlab Guides
Machine Learning Guides
Bug Tracking Tools
Best Free Coding Bootcamps
Statistics Homework Help Sites
Best Coding Challenge Websites
Brainly Review
Chegg Review
CourseHero Review
DuoKnows Review
iDTech Review
JustAnswer Review
Numerade Review
Study.com Review
Studypool Review
Wyzant Review
Best Online Tutoring Websites
Best Online Tutoring Platforms for Teachers
Quizlet Alternatives: Top 6
Brainly vs Chegg
CourseHero vs Chegg
Numerade vs Chegg
Studypool vs Course Hero
Study.com vs Chegg
Course Hero Black Friday Deals
Chegg Black Friday Deals
Study.com Coupons
Study.com Black Friday Deals
Studypool Coupons
Wyzant Coupons
Cambly Review
Preply vs Cambly
iTalki Review
Preply Review
iTalki vs Preply
Preply vs Verbling
Lingoda vs iTalki
Verbling vs iTalki
Lingoda Review
LiveXP Review
Rype Review
Verbalplanet Review
Verbling Review
Preply Black Friday Deals
Lingoda Black Friday Deals
Italki Black Friday Deals
Arabic Guides
English Guides
French Guides
German Guides
Italian Guides
Japanese Guides
Korean Guides
Portuguese Guides
Spanish Guides
History Guides
Philosophy Guides
Excel Homework Help Sites
Math Guides
Algebra Guides
Chemistry Guides
Geometry Guides
Statistics Guides
Accounting Guides
Economics Guides
Biology Guides
Physics Guides
Essay Examples
Annotated Bibliography Examples
Case Study Examples
Coursework Examples
Capstone Project Examples
Dissertation&Thesis Examples
General Research Examples
Research Proposal Examples
Thesis Statement Examples
Admission Essay Examples
Personal Statement Examples
Scholarship Essay Examples
Statement of Purpose Examples
Article Examples
Autobiography Examples
Haiku Examples
Interview Examples
Memoir Examples
Novel Examples
Poem Examples
Screenplay Examples
Short Story Examples
Song Examples
Travelogue Examples
Brochure Examples
Business Email Examples
Business Letter Examples
Business Proposal Examples
Business Report Examples
Cover Letter Examples
Job Application Letter Examples
Meeting Agenda Examples
Meeting Minutes Examples
Newsletter Examples
Business Presentation Examples
Press-release Examples
Progress Report Examples
Resume Examples
White Paper Examples
Analysis Essay Examples
Argumentative Essay Examples
Cause and Effect Essay Examples
Compare and Contrast Essay Examples
Critical Essay Examples
Definition Essay Examples
Descriptive Essay Examples
Evaluation Essay Examples
Expository Essay Examples
Narrative Essay Examples
Persuasive Essay Examples
Reflective Essay Examples
Summary Essay Examples and Samples
Lab Report Examples
Presentation Examples
Process Paper Examples
Speech Examples
Term Paper Examples
Complaint Letter Examples
Evaluation Letter Examples
Fundraising Letter Examples
Grant Application Examples
Hardship Letter Examples
Informal Letter Examples
Recommendation Letter Examples
Reconsideration Letter Examples
Refund Letter Examples
Article Review Examples
Book Review Examples
Film&Movie Review Examples
Song&Music Review Examples
Play Review Examples
Poetry Analysis Examples
Free AI Essay Writer
Plagiarism Checker
AI Detector
Paraphrasing tool
Citation Generator
Dissertation vs Thesis
How Long Is a Dissertation?
How to write a dissertation abstract?
How to write a dissertation proposal?
Writing an Essay
Writing a Research Paper
Writing a Review
Laboratory Report
Process Paper
Coursework Writing Tips
Writing a Term Paper
Writing a Case Study
Writing an Annotated Bibliography
Presentation
Writing a Memoir
Writing a Scholarship Essay
Writing a Personal Statement
Writing a Statement of Purpose
Writing an Admission Essay
Writing an Application Letter
Writing a Song
Writing a Novel
Writing a Haiku
How to Write an Excellent Travelogue – 10 Useful Tips
Writing a Short Story
Writing an Article
Writing a Screenplay
Writing a Book
How to Write an Autobiography: Key Points to Consider
Writing an Evaluation Letter
Writing a College Deferral Letter
Writing a Refund Letter
Writing a Complimentary Letter
Writing a Resignation Letter
Writing a Complaint Letter
Writing a Fundraising Letter
Reconsideration letter: how to write one?
Writing a Grant Application
Writing an Informal Letter
Writing a Hardship Letter
Writing a Reference Letter
Writing a Recommendation Letter
How to Make a Newsletter
Writing a Meeting Agenda
Writing a Business Email
Writing a Progress Report
Writing Meeting Minutes
How to Write a Brochure
Business Presentation
Writing a Business Proposal
Writing a Press Release
Writing a White Paper
Writing a Business Report
Writing a Job Application Letter
Writing a Business Letter
Writing a Business Plan
Writing a Resume
Writing a Cover Letter
Stages of the Writing Process
Grammar Handbook
Writing Essentials
Most Popular
11 days ago
Best Article Rewriter: Top 15
13 days ago
Michael Keaton's 'Beetlejuice 2' Comeback Possibly Revealed in Leaked Image – Explore 'Beetlejuice' Essay Topics
Geogebra review: teaching math with ease, bill gates: ai is about to completely change how you use computers, writing a first draft.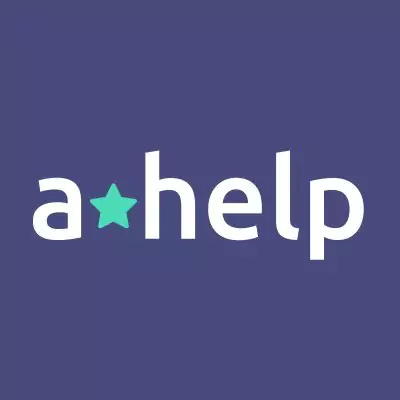 Steps for Writing a First Draft of an Essay
Take a closer look at your assignment and the topic if it was given to you by your instructor. Revise your outline as well. This is needed for your clearer understanding of the tasks you must accomplish within the draft, and to make sure you meet the requirements of the assignment.
Sketch out the introduction of your essay. At this point, don't get stalled on form; introductory part should inform readers about what the topic is, and state your point of view according to this topic. The introduction should also be interesting to read to capture readers' attention, but this task has more to do with thoughtful and scrupulous writing, and thus should be left for later.
Based on your outline, start transferring your ideas to paper. The main task here is to give them the initial form and set a general direction for their further development, and not to write a full paper.
Chalk out the summarizing paragraph of your essay. It should not contain any new ideas, but briefly reintroduce those from the main body, and restate your thesis statement.
Read through the draft to see if you have included the information you wanted to, but without making any further corrections, since this is a task for the second and final drafts.
If you are not sure that you checked everything, send it out for proofreading. Searching through the best essay service reviews, you can get some recommendations of where to look.
Key Points to Consider
While an outline is needed to decide on what to write, the first draft is more about answering a question: "How to write?" In the first draft, you shape your ideas out, and not simply name and list them, as you did in an outline.
When you start writing your thoughts down, it may happen that one idea or concept sparks new connections, memories, or associations. Be attentive to such sidetracks; choose those of them that might be useful for your writing, and don't delve in those that are undesirable in terms of the purpose of your paper (academic, showing opinion). A successful piece of writing is focused on its topic, and doesn't include everything you have to say on a subject.
Making notes for yourself in the margins or even in the middle of the text is a useful practice. This can save you time and keep you focused on the essence of your essay without being distracted by secondary details. For example, such notes could look like this: "As documented, the Vietnam War cost the United States about … (search for the exact sum of money and interpret it in terms of modern exchange rates) U. S. dollars."
When you finish crafting your first draft, it is useful to put it aside and completely quit thinking about writing for a certain period of time. Time away will allow you to have a fresh look at your draft when you decide to revise it.
Do and Don't
Common mistakes when writing a first draft of an essay.
– Editing and revising a draft in process of writing. If you stop after each sentence to think it over, you will most likely lose your flow; besides, many people have an internal editor  or critic  who can't stand it if the material is written imperfectly. Therefore, first you should deal with the whole draft, and only after that proofread and edit it.
– Paying too much attention to secondary arguments, factual material, and other minor peculiarities. The main goal of the first draft is to sketch out your main ideas; you can fill it with details later. If you think you will forget about an important fact or remark, make brief notes in margins.
– Ignoring the role of a first draft in the essay writing process. Though it may seem you are wasting time working on a draft, you are working on the essay itself. You need to understand how your outline works in full written form.
Follow us on Reddit for more insights and updates.
Comments (0)
Welcome to A*Help comments!
We're all about debate and discussion at A*Help.
We value the diverse opinions of users, so you may find points of view that you don't agree with. And that's cool. However, there are certain things we're not OK with: attempts to manipulate our data in any way, for example, or the posting of discriminative, offensive, hateful, or disparaging material.
Comments are closed.
More from Stages of the Writing Process
Jun 17 2015
Choosing an Essay Topic
May 08 2014
Information Sources
Apr 10 2014
Writing an Introduction
Samples for writing a first draft, parental control as a necessary measure in the upbringing of modern children (part 1) essay sample, example.
Remember Me
What is your profession ? Student Teacher Writer Other
Forgotten Password?
Username or Email
How to Organize an Expository Essay
Candice mancini, 26 sep 2017.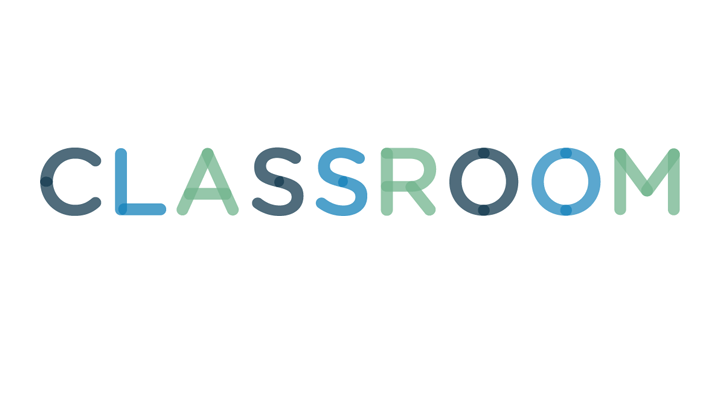 To remind yourself to stick to your argument and be engaging, think of your expository essay as a debate with a friend. Just as in a debate or conversation -- or even a sitcom episode -- your essay needs a beginning, middle and end and should leave your reader satisfied. If your reader is confused or bored by your essay, you have not done your job.
Explore this article
Thesis: Argue and Then Convince
Introduction: Engage, Summarize and Include Thesis
Body Paragraphs: Provide Evidence, Analyze and Transition
Conclusion: Wrap Up Creatively
1 Thesis: Argue and Then Convince
Your paper must contain a clear, well-defined thesis statement that will shape the rest of your paper. A thesis must argue something. For example, "Jazz music rose to popularity in the early 20th century in the United States," is not a thesis. However, "Jazz has been the most influential movement in music history since the Classical period," is. Place your thesis in your introductory paragraph.
2 Introduction: Engage, Summarize and Include Thesis
Begin your introduction with an attention-catching statement about your topic. For instance, "In the early 20th century, 'jazz' was considered a vulgar word connected to sex and mayhem." Follow this with important information that introduces the reader to your paper's key topics. Don't forget to include your thesis statement, which some instructors prefer placed in the final sentence of this paragraph.
3 Body Paragraphs: Provide Evidence, Analyze and Transition
The five-paragraph essay, a common approach to expository writing, is good for beginner writers. Each body paragraph should focus on a subtopic related to your thesis. For example, in one paragraph, discuss the developments of jazz and Classical period music; in another, analyze the influences each had on their societies; and in the last, describe how each influenced future music genres. Analyze each subtopic thoroughly with ample evidence, and connect paragraphs to one another and to the thesis with transition sentences at the end and beginning of each paragraph.
4 Conclusion: Wrap Up Creatively
Create an overview of your paper's main topics. To avoid being repetitive, place the information in a new context, such as discussing jazz in relation to the broader field of music. Consider including an interesting quotation that sheds new light on the topic. Reveal why your thesis is important, without restating it, such as, "Jazz added clarity and complexity to the ragtime-dominated music scene of the 20th century, just as Classical did during the Baroque-heavy 18th century, allowing for newer, bolder sounds."
1 Purdue OWL: Expository Essays
2 A Passion for Jazz: Etymology of Jazz
About the Author
Candice Mancini has always loved matching people with career paths. After earning her master's degree in education from the University at Albany, she spent a decade teaching and writing before becoming a full-time writer. Mancini has published articles and books on education, careers, social issues, the environment and more.
Related Articles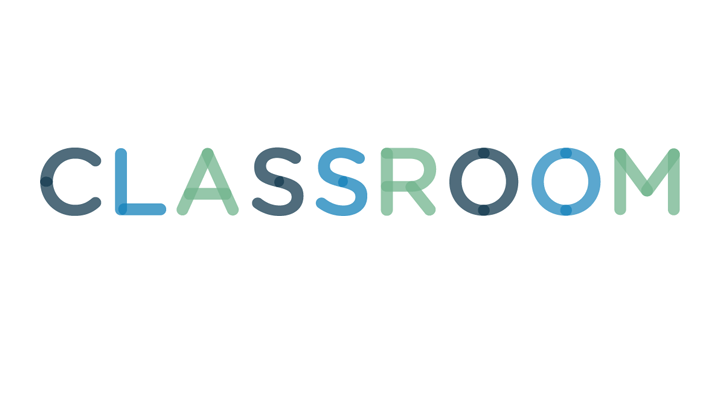 How to Write an Essay Draft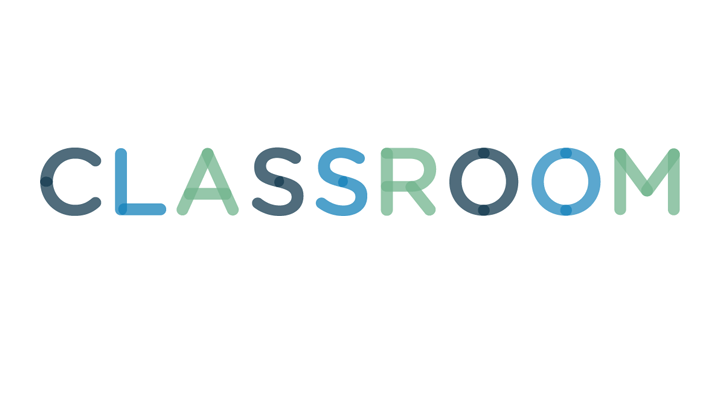 How to Write a Classical Music Report Paper for College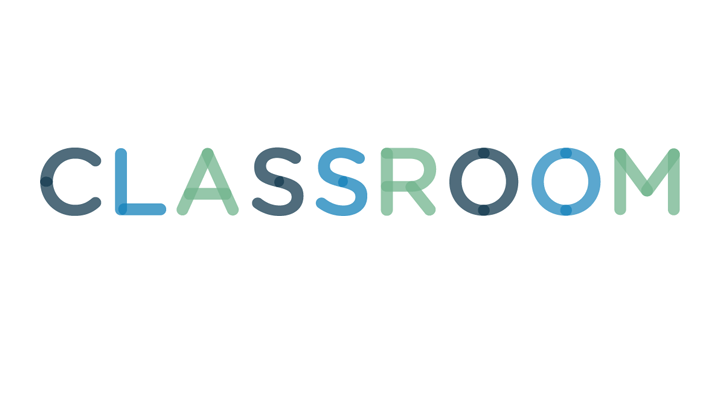 How to Write an Essay That Stands Out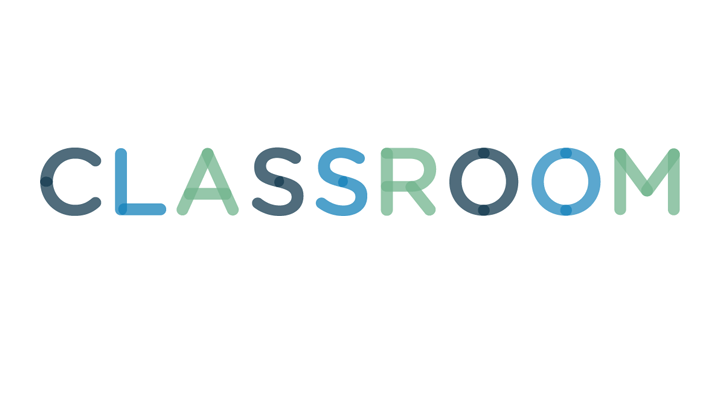 Key Ideas to Help Write an Argument & Persuasion Essay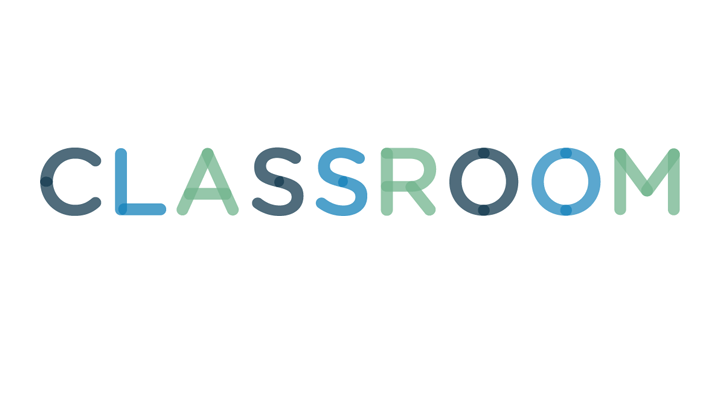 Tips for High School Students on Creating Introductions...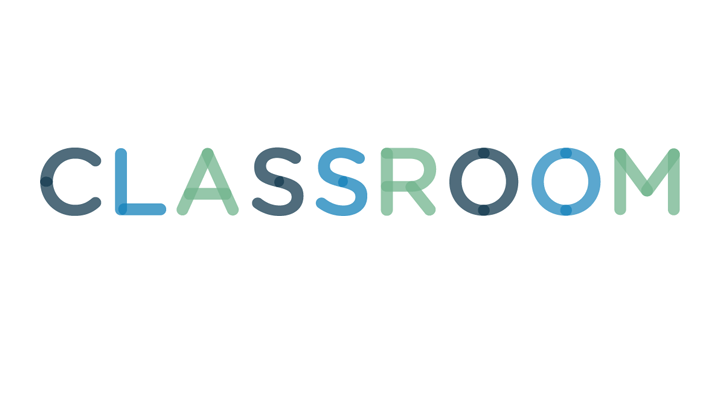 The Difference Between Discursive & Argumentative Essays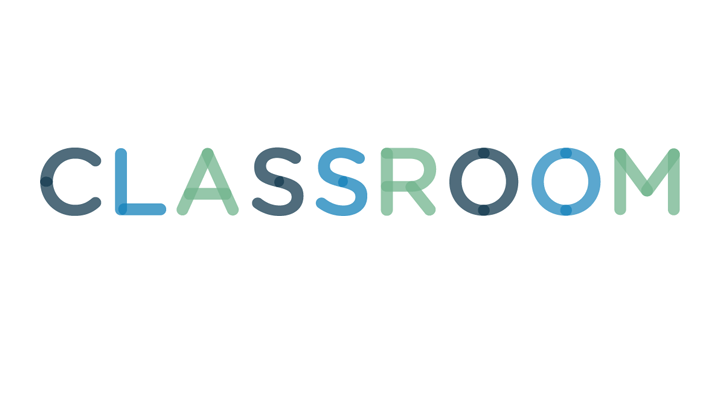 How to Write an Introduction in APA Format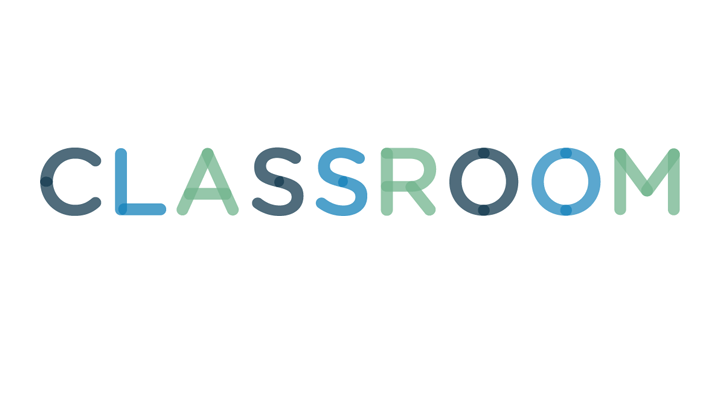 How to Write an Organized Definition Essay (5-Paragraphs)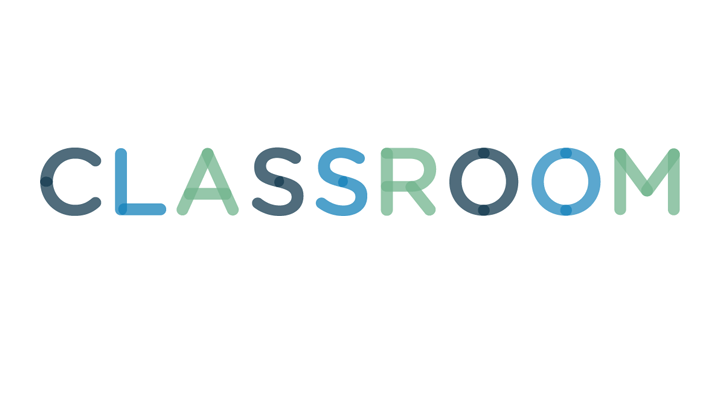 How to Make Your Writing More Interesting for Middle...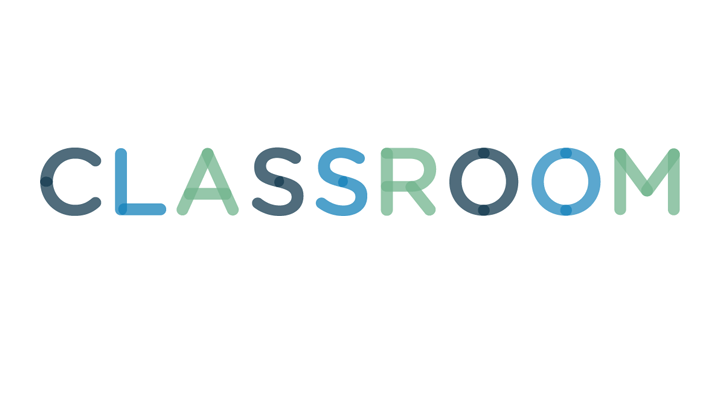 How to End an Informative Paper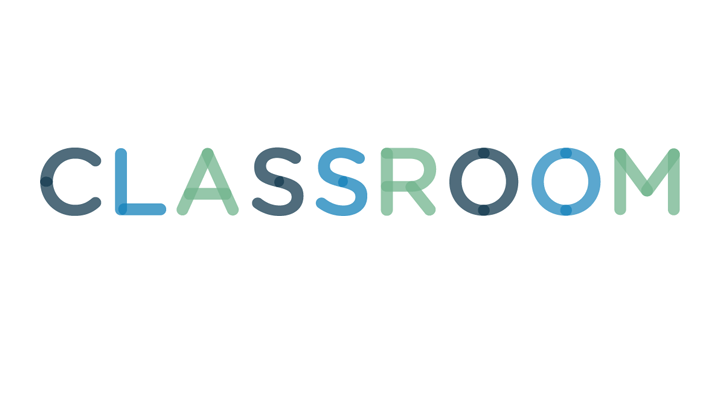 How to Write an Outline for a Comparison Paper in Literature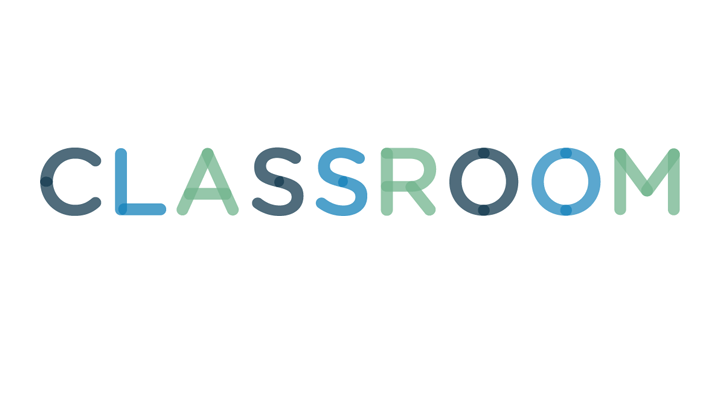 How to Write a Debate Essay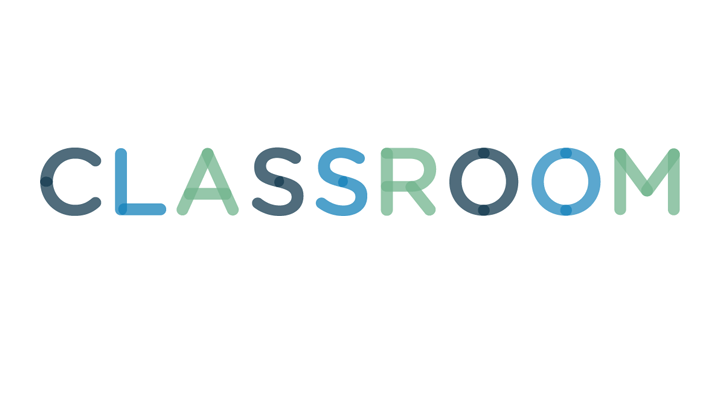 Beginning an Informative Essay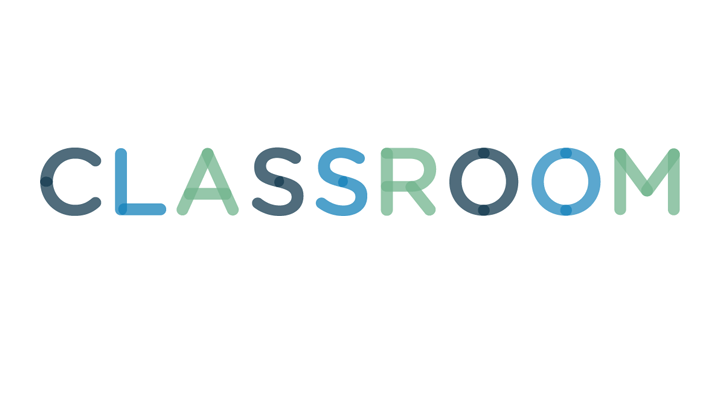 How to Critique a Dissertation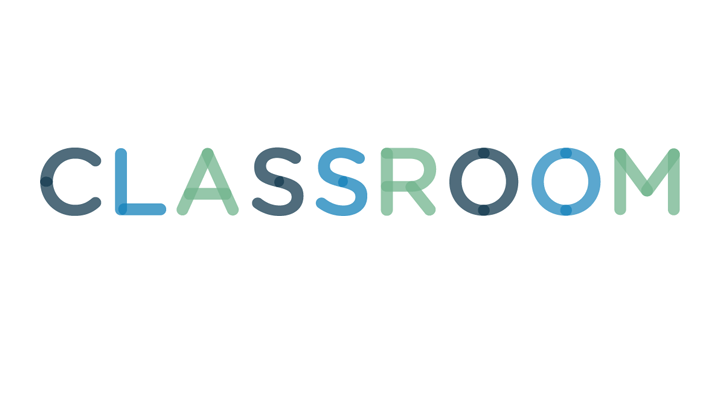 How to Start an Informative Paper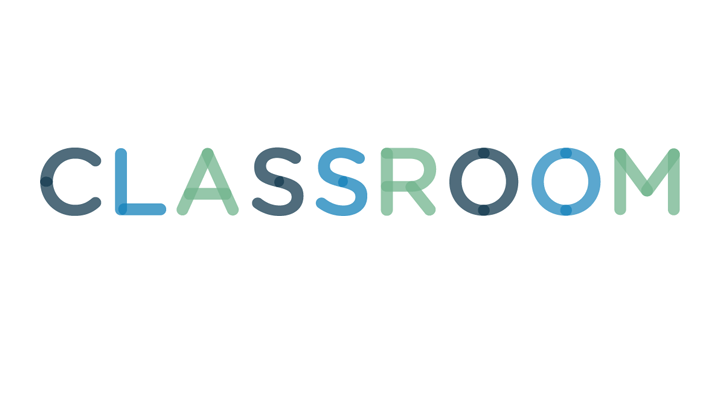 How to Write an Introduction for a Character Analysis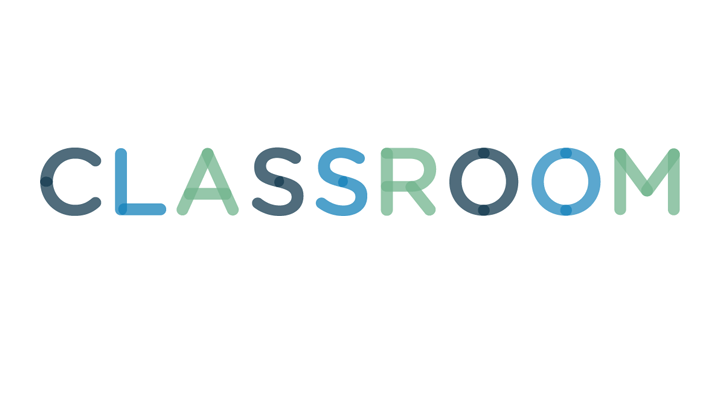 How to Make an Outline for an Informative Essay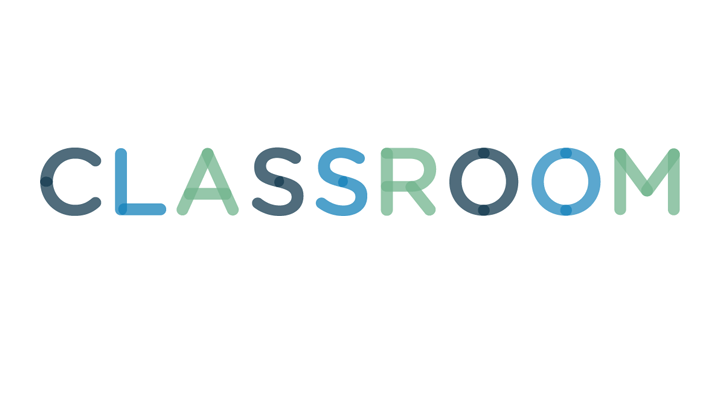 How to Do a Thesis Proposal Presentation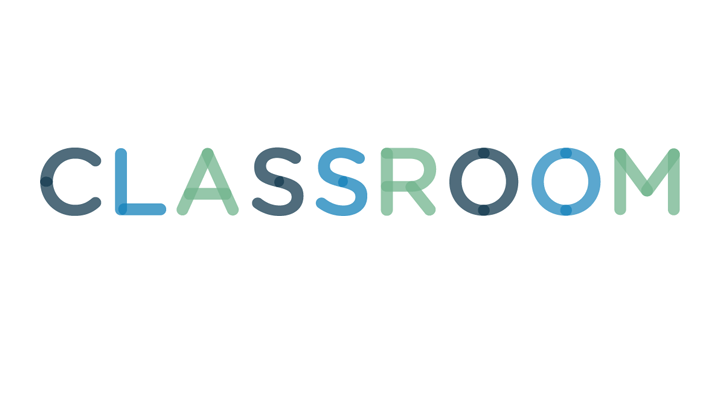 How to Prepare & Write an Informational Report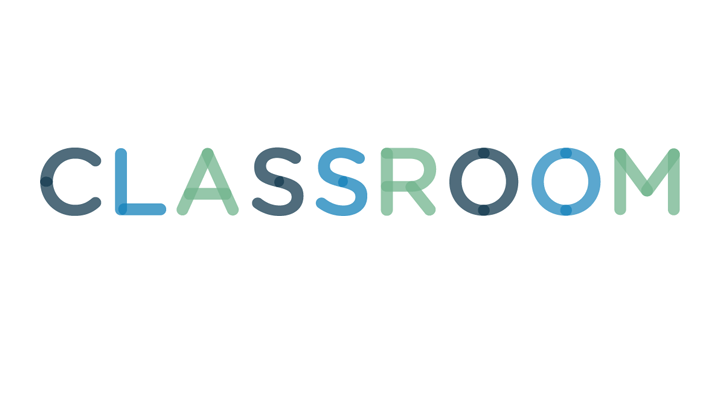 How to Write a Conclusion for a Literary Criticism
Regardless of how old we are, we never stop learning. Classroom is the educational resource for people of all ages. Whether you're studying times tables or applying to college, Classroom has the answers.
Accessibility
Terms of Use
Privacy Policy
Copyright Policy
Manage Preferences
© 2020 Leaf Group Ltd. / Leaf Group Media, All Rights Reserved. Based on the Word Net lexical database for the English Language. See disclaimer .
What are your chances of acceptance?
Calculate for all schools, your chance of acceptance.
Your chancing factors
Extracurriculars.
Creating the First Draft of Your College Application Essay
←6 Personal Essay Brainstorming Exercises
Essential Grammar Rules for Your College Apps →
By the time senior year rolls around, you have already done most of what it takes to get into college. Years of grades, extracurricular activities, and test scores have already stacked up to give admissions officers a sense of your interests and talents. So then why should essays be a big deal, if all of this information about you already exists?
Essays are extremely important because they tie the whole application together. You aren't just a list of accomplishments—you're a person. Your essay is one of the few places in the application where you get to show your values and personality to the selection committee. And that takes a lot of careful planning. In this post, we'll talk about how to write the first draft of a winning college application essay.
How Long Should the College Essay Drafting Process Take?
We recommend giving yourself at least a month to craft your personal statement . For most students, this is the main essay on the Common Application. To get advice on those specific prompts, see CollegeVine's post on How to Write the Common Application Essays 2018-19 (With Examples) . Students using a different application portal can still follow these general drafting guidelines.
For school-specific essays, we recommend starting at least two weeks before the deadline. The drafting process requires a little less soul-searching and a bit more research. If you're at the point where you're writing "Why This School" essays, you can find drafting tips at CollegeVine's Why This College' Essays: Should You Focus on Yourself or the College?
We have students start essays early so that they have time to marinate. You will come up with great ideas between drafts, and words that sounded great at first will stick out if you read the essay several days or weeks later.
These timeline suggestions are on the low end. Starting even earlier never hurt a student.
I'm Smart. Can't I Just Start the Essay the Night Before It's Due?
Sure, it's your essay. However, it's our professional opinion that students who put this off are leaving tens of thousands of dollars on the table.
How can that be? A lot of undergraduate scholarships are based on your college application only. These are "automatic consideration merit awards." So even if you gain acceptance using a last-minute essay (which is not a guarantee), you could be missing out on serious financial aid.
In the rest of this article, we recommend one approach to building a first draft. This is not necessarily how you have to start. If you use this method, then you can be sure no important step is falling through the cracks.
CollegeVine's 5 Steps to a First Draft
1. analyze the prompt.
First, read the prompt. In some cases, you have only one choice. In others, you will be given multiple questions from which to choose. If you have options, read them all before narrowing in on one prompt over another.
Once you have identified a prompt that speaks to you, annotate it. First, underline key words or phrases. Here you can see an example annotated prompt from this year's Common Application prompt choices.
The lessons we take from obstacles we encounter can be fundamental to later success . Recount a time when you faced a challenge, setback, or failure . How did it affect you , and what did you learn from the experience?
By underlining the key parts of the passage, you get a sense of what kinds of answers go well with this essay prompt. For instance, students who annotated this prompt would know that they should be looking for obstacles, challenges, setbacks, or failures in their past.
Next, number the specific requests that the prompt makes. This avoids the common mistake of responding to some but not all of the questions posed. You can see how we break down the same example prompt below:
The lessons we take from obstacles we encounter can be fundamental to later su ccess. (1) Recount a time when you faced a challenge, setback, or failure. (2) How did it affect you, and (3) what did you learn from the experience?
Student who annotated this prompt would know that the essay should accomplish three things:
Let the reader know when they faced a challenge, setback, or failure.
Describe how it affected them.
Share what they learned from the experience.
This whole process only takes a few minutes, but it will help you stay on-topic when it actually comes time to write.
2. Free Write
Next, write without stopping for 30-60 minutes. This gets your creative juices flowing and helps you to uncover ideas you would not have considered otherwise. There are only two rules for a free write:
First, stay on topic.
Second, don't stop writing!
3. Analyze Your Free Write
As soon as you're done, read your free write over again. There will probably be something that surprises you. Put a star next to it. If you find a part that really resonates with you, star that as well. Eye-catching details and stories that grab your attention usually make for good essay material.
Next, look for a "growth" moment in the free write. Most successful essays follow this story arch:
At first I was [A: trait].
Then something important happened: [B: event].
Because of [B: event], I am no longer [A: trait]. Now, I am [C: trait].
If you can fill in [A], [B], and [C] with your own story of how you grew, then you probably have a good essay topic on your hands. Whenever you find one of these growth moments, star it.
4. Pen Your First Draft
By now, you should have an annotated prompt and a free write with a bunch of stars on it. Does anything jump out at you? Is there one essay idea that is more appealing than the others? If no, try the same process with a different prompt.  If yes, then it's time to write your first draft.
This draft doesn't have to be pretty. All you have to do is tell a story that answers the questions you numbered in the prompt. Whenever possible, try to answer these questions with stories from your life. Give examples. Be specific.
5. Review Your First Draft
Once you've written your draft, read it over. All you have to do is answer one question: Are you the hero of your story?
Some essays show the author as the hero, but just as often a friend or family member actually winds up becoming the main focus of a student's essay. At the end of the day, you need to be the main character. Otherwise, colleges and universities will not have enough information about you to make an informed admissions decision.
Read this draft a second time. This time, answer this question: Did you respond to all parts of the prompt?
Make sure you answer each question presented. For the example, this looks like:
(1) Recount a time when you faced a challenge, setback, or failure.
(2) how did it affect you, (3) what did you learn from the experience.
If your essay addresses every question in the prompt, then you just completed a great first draft essay.
I'm Done with My First Draft. What Should I Do Next?
Congratulations! You have now officially completed a first draft of your essay. Rest assured that you are on your way to an application that lets your values and personality shine.
After getting to this point, set the essay aside for a few days or weeks. We recommend reading this over at least two more times before you declare that it is finished. Each time you read, you will likely catch something that needs improving.
Your next step will be to edit and proofread. For tips on how to perfect your essay, see our post of 11 Tips for Proofreading and Editing Your College Essay . Good luck!
You can find additional help by reading these related articles:
How to Craft the Perfect College Application Essay
Find Your College's Application Essay Prompts for 2018-19
Essay Prompt Breakdowns
What Is a Personal Statement?
College Essay Structures & How to Approach Them
'Why This College' Essays: Should You Focus on Yourself or the College?
Want help with your college essays to improve your admissions chances? Sign up for your free CollegeVine account and get access to our essay guides and courses. You can also get your essay peer-reviewed and improve your own writing skills by reviewing other students' essays.
Need help with your college applications?
We've helped thousands of students write amazing college essays and successfully apply to college! Learn more about how our Applications Program can help your chances of admission.
Related CollegeVine Blog Posts
Have a language expert improve your writing
Run a free plagiarism check in 10 minutes, generate accurate citations for free.
Knowledge Base
Research paper
How to Write a Research Paper | A Beginner's Guide
A research paper is a piece of academic writing that provides analysis, interpretation, and argument based on in-depth independent research.
Research papers are similar to academic essays , but they are usually longer and more detailed assignments, designed to assess not only your writing skills but also your skills in scholarly research. Writing a research paper requires you to demonstrate a strong knowledge of your topic, engage with a variety of sources, and make an original contribution to the debate.
This step-by-step guide takes you through the entire writing process, from understanding your assignment to proofreading your final draft.
Table of contents
Understand the assignment, choose a research paper topic, conduct preliminary research, develop a thesis statement, create a research paper outline, write a first draft of the research paper, write the introduction, write a compelling body of text, write the conclusion, the second draft, the revision process, research paper checklist, free lecture slides.
Completing a research paper successfully means accomplishing the specific tasks set out for you. Before you start, make sure you thoroughly understanding the assignment task sheet:
Read it carefully, looking for anything confusing you might need to clarify with your professor.
Identify the assignment goal, deadline, length specifications, formatting, and submission method.
Make a bulleted list of the key points, then go back and cross completed items off as you're writing.
Carefully consider your timeframe and word limit: be realistic, and plan enough time to research, write, and edit.
Here's why students love Scribbr's proofreading services
Discover proofreading & editing
There are many ways to generate an idea for a research paper, from brainstorming with pen and paper to talking it through with a fellow student or professor.
You can try free writing, which involves taking a broad topic and writing continuously for two or three minutes to identify absolutely anything relevant that could be interesting.
You can also gain inspiration from other research. The discussion or recommendations sections of research papers often include ideas for other specific topics that require further examination.
Once you have a broad subject area, narrow it down to choose a topic that interests you, m eets the criteria of your assignment, and i s possible to research. Aim for ideas that are both original and specific:
A paper following the chronology of World War II would not be original or specific enough.
A paper on the experience of Danish citizens living close to the German border during World War II would be specific and could be original enough.
Note any discussions that seem important to the topic, and try to find an issue that you can focus your paper around. Use a variety of sources , including journals, books, and reliable websites, to ensure you do not miss anything glaring.
Do not only verify the ideas you have in mind, but look for sources that contradict your point of view.
Is there anything people seem to overlook in the sources you research?
Are there any heated debates you can address?
Do you have a unique take on your topic?
Have there been some recent developments that build on the extant research?
In this stage, you might find it helpful to formulate some research questions to help guide you. To write research questions, try to finish the following sentence: "I want to know how/what/why…"
A thesis statement is a statement of your central argument — it establishes the purpose and position of your paper. If you started with a research question, the thesis statement should answer it. It should also show what evidence and reasoning you'll use to support that answer.
The thesis statement should be concise, contentious, and coherent. That means it should briefly summarize your argument in a sentence or two, make a claim that requires further evidence or analysis, and make a coherent point that relates to every part of the paper.
You will probably revise and refine the thesis statement as you do more research, but it can serve as a guide throughout the writing process. Every paragraph should aim to support and develop this central claim.
Receive feedback on language, structure, and formatting
Professional editors proofread and edit your paper by focusing on:
Academic style
Vague sentences
Style consistency
See an example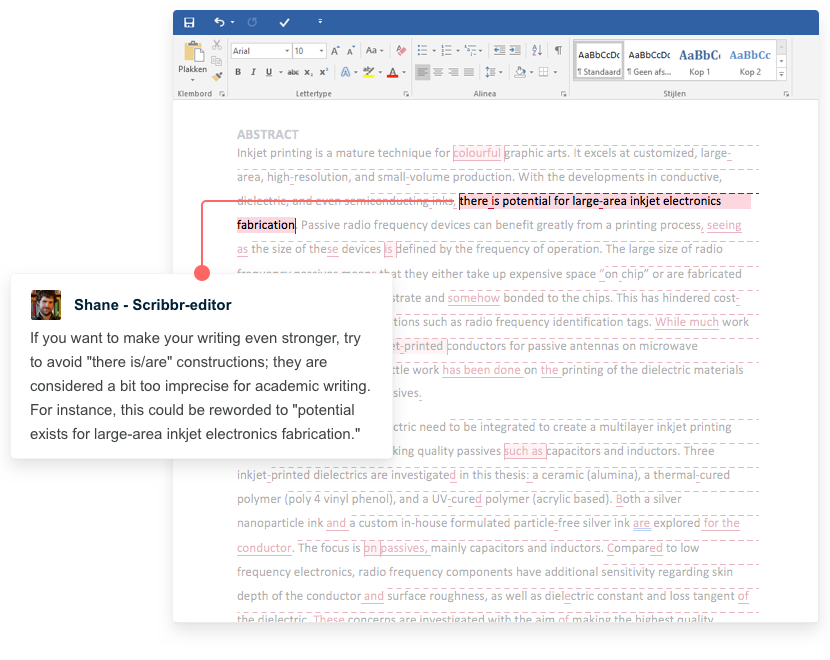 A research paper outline is essentially a list of the key topics, arguments, and evidence you want to include, divided into sections with headings so that you know roughly what the paper will look like before you start writing.
A structure outline can help make the writing process much more efficient, so it's worth dedicating some time to create one.
Your first draft won't be perfect — you can polish later on. Your priorities at this stage are as follows:
Maintaining forward momentum — write now, perfect later.
Paying attention to clear organization and logical ordering of paragraphs and sentences, which will help when you come to the second draft.
Expressing your ideas as clearly as possible, so you know what you were trying to say when you come back to the text.
You do not need to start by writing the introduction. Begin where it feels most natural for you — some prefer to finish the most difficult sections first, while others choose to start with the easiest part. If you created an outline, use it as a map while you work.
Do not delete large sections of text. If you begin to dislike something you have written or find it doesn't quite fit, move it to a different document, but don't lose it completely — you never know if it might come in useful later.
Paragraph structure
Paragraphs are the basic building blocks of research papers. Each one should focus on a single claim or idea that helps to establish the overall argument or purpose of the paper.
Example paragraph
George Orwell's 1946 essay "Politics and the English Language" has had an enduring impact on thought about the relationship between politics and language. This impact is particularly obvious in light of the various critical review articles that have recently referenced the essay. For example, consider Mark Falcoff's 2009 article in The National Review Online, "The Perversion of Language; or, Orwell Revisited," in which he analyzes several common words ("activist," "civil-rights leader," "diversity," and more). Falcoff's close analysis of the ambiguity built into political language intentionally mirrors Orwell's own point-by-point analysis of the political language of his day. Even 63 years after its publication, Orwell's essay is emulated by contemporary thinkers.
Citing sources
It's also important to keep track of citations at this stage to avoid accidental plagiarism . Each time you use a source, make sure to take note of where the information came from.
You can use our free citation generators to automatically create citations and save your reference list as you go.
APA Citation Generator MLA Citation Generator
The research paper introduction should address three questions: What, why, and how? After finishing the introduction, the reader should know what the paper is about, why it is worth reading, and how you'll build your arguments.
What? Be specific about the topic of the paper, introduce the background, and define key terms or concepts.
Why? This is the most important, but also the most difficult, part of the introduction. Try to provide brief answers to the following questions: What new material or insight are you offering? What important issues does your essay help define or answer?
How? To let the reader know what to expect from the rest of the paper, the introduction should include a "map" of what will be discussed, briefly presenting the key elements of the paper in chronological order.
The major struggle faced by most writers is how to organize the information presented in the paper, which is one reason an outline is so useful. However, remember that the outline is only a guide and, when writing, you can be flexible with the order in which the information and arguments are presented.
One way to stay on track is to use your thesis statement and topic sentences . Check:
topic sentences against the thesis statement;
topic sentences against each other, for similarities and logical ordering;
and each sentence against the topic sentence of that paragraph.
Be aware of paragraphs that seem to cover the same things. If two paragraphs discuss something similar, they must approach that topic in different ways. Aim to create smooth transitions between sentences, paragraphs, and sections.
The research paper conclusion is designed to help your reader out of the paper's argument, giving them a sense of finality.
Trace the course of the paper, emphasizing how it all comes together to prove your thesis statement. Give the paper a sense of finality by making sure the reader understands how you've settled the issues raised in the introduction.
You might also discuss the more general consequences of the argument, outline what the paper offers to future students of the topic, and suggest any questions the paper's argument raises but cannot or does not try to answer.
You should not :
Offer new arguments or essential information
Take up any more space than necessary
Begin with stock phrases that signal you are ending the paper (e.g. "In conclusion")
There are four main considerations when it comes to the second draft.
Check how your vision of the paper lines up with the first draft and, more importantly, that your paper still answers the assignment.
Identify any assumptions that might require (more substantial) justification, keeping your reader's perspective foremost in mind. Remove these points if you cannot substantiate them further.
Be open to rearranging your ideas. Check whether any sections feel out of place and whether your ideas could be better organized.
If you find that old ideas do not fit as well as you anticipated, you should cut them out or condense them. You might also find that new and well-suited ideas occurred to you during the writing of the first draft — now is the time to make them part of the paper.
The goal during the revision and proofreading process is to ensure you have completed all the necessary tasks and that the paper is as well-articulated as possible.
Global concerns
Confirm that your paper completes every task specified in your assignment sheet.
Check for logical organization and flow of paragraphs.
Check paragraphs against the introduction and thesis statement.
Fine-grained details
Check the content of each paragraph, making sure that:
each sentence helps support the topic sentence.
no unnecessary or irrelevant information is present.
all technical terms your audience might not know are identified.
Next, think about sentence structure , grammatical errors, and formatting . Check that you have correctly used transition words and phrases to show the connections between your ideas. Look for typos, cut unnecessary words, and check for consistency in aspects such as heading formatting and spellings .
Finally, you need to make sure your paper is correctly formatted according to the rules of the citation style you are using. For example, you might need to include an MLA heading  or create an APA title page .
Scribbr's professional editors can help with the revision process with our award-winning proofreading services.
Discover our paper editing service
Checklist: Research paper
I have followed all instructions in the assignment sheet.
My introduction presents my topic in an engaging way and provides necessary background information.
My introduction presents a clear, focused research problem and/or thesis statement .
My paper is logically organized using paragraphs and (if relevant) section headings .
Each paragraph is clearly focused on one central idea, expressed in a clear topic sentence .
Each paragraph is relevant to my research problem or thesis statement.
I have used appropriate transitions  to clarify the connections between sections, paragraphs, and sentences.
My conclusion provides a concise answer to the research question or emphasizes how the thesis has been supported.
My conclusion shows how my research has contributed to knowledge or understanding of my topic.
My conclusion does not present any new points or information essential to my argument.
I have provided an in-text citation every time I refer to ideas or information from a source.
I have included a reference list at the end of my paper, consistently formatted according to a specific citation style .
I have thoroughly revised my paper and addressed any feedback from my professor or supervisor.
I have followed all formatting guidelines (page numbers, headers, spacing, etc.).
You've written a great paper. Make sure it's perfect with the help of a Scribbr editor!
Open Google Slides Download PowerPoint
Is this article helpful?
Other students also liked.
Writing a Research Paper Introduction | Step-by-Step Guide
Writing a Research Paper Conclusion | Step-by-Step Guide
Research Paper Format | APA, MLA, & Chicago Templates
More interesting articles
Academic Paragraph Structure | Step-by-Step Guide & Examples
Checklist: Writing a Great Research Paper
How to Create a Structured Research Paper Outline | Example
How to Write a Discussion Section | Tips & Examples
How to Write Recommendations in Research | Examples & Tips
How to Write Topic Sentences | 4 Steps, Examples & Purpose
Research Paper Appendix | Example & Templates
Research Paper Damage Control | Managing a Broken Argument
What Is a Theoretical Framework? | Guide to Organizing
What is your plagiarism score?
U.S. Locations
UMGC Europe
Learn Online
Find Answers
855-655-8682
Current Students
Online Guide to Writing and Research
The writing process, explore more of umgc.
The Final Draft
Congratulations! Finishing a writing assignment is something to be proud of. The final draft is what you will submit as your completed paper. By the time you write the final draft, your writing should look polished. Choppy sentences, poor or nonexistent transitions between paragraphs, grammar and spelling errors, and other characteristics of a first draft should all disappear. In addition, your final draft should incorporate comments you have received as well as changes you want to make based on your own evaluation.
Read Your Paper Aloud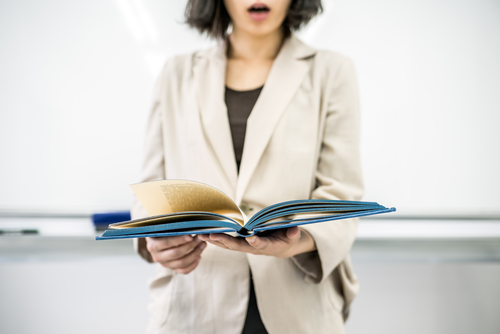 Before you submit your final draft, you should read what you have written aloud all the way through at least once more. If you find something wrong with your paper at the last minute, try to correct it before you hand it in. Check with your instructor before making minor corrections on your final paper. If your paper has too many corrections, you know it needs another revision.
Assessment Checkup
At this point, you can use the following assessment checkup for your final draft. This checklist is shorter than the previous assessment during the drafting phase. You may, however, use either one to your benefit. Here, your evaluation should determine how well your writing assignment achieved its purposes. When your answers to all these questions are a confident yes, your final draft is ready to submit. Click on the tabs to see the assessment items.
Is the assignment complete?
Is the information appropriate?
Is the order of the information logical?
Are the introduction and conclusion clear and related?
Are the style and tone appropriate?
Are the sentences smooth and efficient?
Is the diction appropriate, concrete, and accurate?
Is the paper free of mechanical errors?
Is the assignment in the required format?
Key Takeaways
The final draft is the version of the paper that you will submit to your instructor.
Carefully check the format and presentation of the final draft to ensure that it is as error‑free as possible.
Mailing Address: 3501 University Blvd. East, Adelphi, MD 20783 This work is licensed under a  Creative Commons Attribution-NonCommercial-ShareAlike 4.0 International License . © 2022 UMGC. All links to external sites were verified at the time of publication. UMGC is not responsible for the validity or integrity of information located at external sites.
Table of Contents: Online Guide to Writing
Chapter 1: College Writing
How Does College Writing Differ from Workplace Writing?
What Is College Writing?
Why So Much Emphasis on Writing?
Chapter 2: The Writing Process
Doing Exploratory Research
Getting from Notes to Your Draft
Introduction
Prewriting - Techniques to Get Started - Mining Your Intuition
Prewriting: Targeting Your Audience
Prewriting: Techniques to Get Started
Prewriting: Understanding Your Assignment
Rewriting: Being Your Own Critic
Rewriting: Creating a Revision Strategy
Rewriting: Getting Feedback
Rewriting: The Final Draft
Techniques to Get Started - Outlining
Techniques to Get Started - Using Systematic Techniques
Thesis Statement and Controlling Idea
Writing: Getting from Notes to Your Draft - Freewriting
Writing: Getting from Notes to Your Draft - Summarizing Your Ideas
Writing: Outlining What You Will Write
Chapter 3: Thinking Strategies
A Word About Style, Voice, and Tone
A Word About Style, Voice, and Tone: Style Through Vocabulary and Diction
Critical Strategies and Writing
Critical Strategies and Writing: Analysis
Critical Strategies and Writing: Evaluation
Critical Strategies and Writing: Persuasion
Critical Strategies and Writing: Synthesis
Developing a Paper Using Strategies
Kinds of Assignments You Will Write
Patterns for Presenting Information
Patterns for Presenting Information: Critiques
Patterns for Presenting Information: Discussing Raw Data
Patterns for Presenting Information: General-to-Specific Pattern
Patterns for Presenting Information: Problem-Cause-Solution Pattern
Patterns for Presenting Information: Specific-to-General Pattern
Patterns for Presenting Information: Summaries and Abstracts
Supporting with Research and Examples
Writing Essay Examinations
Writing Essay Examinations: Make Your Answer Relevant and Complete
Writing Essay Examinations: Organize Thinking Before Writing
Writing Essay Examinations: Read and Understand the Question
Chapter 4: The Research Process
Planning and Writing a Research Paper
Planning and Writing a Research Paper: Ask a Research Question
Planning and Writing a Research Paper: Cite Sources
Planning and Writing a Research Paper: Collect Evidence
Planning and Writing a Research Paper: Decide Your Point of View, or Role, for Your Research
Planning and Writing a Research Paper: Draw Conclusions
Planning and Writing a Research Paper: Find a Topic and Get an Overview
Planning and Writing a Research Paper: Manage Your Resources
Planning and Writing a Research Paper: Outline
Planning and Writing a Research Paper: Survey the Literature
Planning and Writing a Research Paper: Work Your Sources into Your Research Writing
Research Resources: Where Are Research Resources Found? - Human Resources
Research Resources: What Are Research Resources?
Research Resources: Where Are Research Resources Found?
Research Resources: Where Are Research Resources Found? - Electronic Resources
Research Resources: Where Are Research Resources Found? - Print Resources
Structuring the Research Paper: Formal Research Structure
Structuring the Research Paper: Informal Research Structure
The Nature of Research
The Research Assignment: How Should Research Sources Be Evaluated?
The Research Assignment: When Is Research Needed?
The Research Assignment: Why Perform Research?
Chapter 5: Academic Integrity
Academic Integrity
Giving Credit to Sources
Giving Credit to Sources: Copyright Laws
Giving Credit to Sources: Documentation
Giving Credit to Sources: Style Guides
Integrating Sources
Practicing Academic Integrity
Practicing Academic Integrity: Keeping Accurate Records
Practicing Academic Integrity: Managing Source Material
Practicing Academic Integrity: Managing Source Material - Paraphrasing Your Source
Practicing Academic Integrity: Managing Source Material - Quoting Your Source
Practicing Academic Integrity: Managing Source Material - Summarizing Your Sources
Types of Documentation
Types of Documentation: Bibliographies and Source Lists
Types of Documentation: Citing World Wide Web Sources
Types of Documentation: In-Text or Parenthetical Citations
Types of Documentation: In-Text or Parenthetical Citations - APA Style
Types of Documentation: In-Text or Parenthetical Citations - CSE/CBE Style
Types of Documentation: In-Text or Parenthetical Citations - Chicago Style
Types of Documentation: In-Text or Parenthetical Citations - MLA Style
Types of Documentation: Note Citations
Chapter 6: Using Library Resources
Finding Library Resources
Chapter 7: Assessing Your Writing
How Is Writing Graded?
How Is Writing Graded?: A General Assessment Tool
The Draft Stage
The Draft Stage: The First Draft
The Draft Stage: The Revision Process and the Final Draft
The Draft Stage: Using Feedback
The Research Stage
Using Assessment to Improve Your Writing
Chapter 8: Other Frequently Assigned Papers
Reviews and Reaction Papers: Article and Book Reviews
Reviews and Reaction Papers: Reaction Papers
Writing Arguments
Writing Arguments: Adapting the Argument Structure
Writing Arguments: Purposes of Argument
Writing Arguments: References to Consult for Writing Arguments
Writing Arguments: Steps to Writing an Argument - Anticipate Active Opposition
Writing Arguments: Steps to Writing an Argument - Determine Your Organization
Writing Arguments: Steps to Writing an Argument - Develop Your Argument
Writing Arguments: Steps to Writing an Argument - Introduce Your Argument
Writing Arguments: Steps to Writing an Argument - State Your Thesis or Proposition
Writing Arguments: Steps to Writing an Argument - Write Your Conclusion
Writing Arguments: Types of Argument
Appendix A: Books to Help Improve Your Writing
Dictionaries
General Style Manuals
Researching on the Internet
Special Style Manuals
Writing Handbooks
Appendix B: Collaborative Writing and Peer Reviewing
Collaborative Writing: Assignments to Accompany the Group Project
Collaborative Writing: Informal Progress Report
Collaborative Writing: Issues to Resolve
Collaborative Writing: Methodology
Collaborative Writing: Peer Evaluation
Collaborative Writing: Tasks of Collaborative Writing Group Members
Collaborative Writing: Writing Plan
General Introduction
Peer Reviewing
Appendix C: Developing an Improvement Plan
Working with Your Instructor's Comments and Grades
Appendix D: Writing Plan and Project Schedule
Devising a Writing Project Plan and Schedule
Reviewing Your Plan with Others
By using our website you agree to our use of cookies. Learn more about how we use cookies by reading our  Privacy Policy .
Essay Draft: How To Write a Draft Essay
What is a Draft Essay?
A draft essay is a piece of writing that you complete quickly and without much revision. It is usually the first step in writing an essay , and it provides you with a foundation on which to build your final essay.
An essay draft can help you get your thoughts down on paper, flesh out ideas, and ensure that your argument is clear and concise.
If you need urgent essay help to write your draft essay paper, hire an essay writer now for A+ and fast essay writing service .
How to Write a Position Paper Essay | Definition, Topics, Outline – Examples
how to write a plot essay
How to Write a Conclusion For An Essay (Examples and template)
250 word essay
How to Write a 1000 Word Essay
Informative speech on gun violence
In this article, we will give you some tips on how to write a draft essay.
How to Write a Draft Essay in 5 Steps
An essay draft is a preliminary version of your essay that you write to get feedback from your instructor or peers.
Writing a draft essay can be helpful in many ways.
Drafting an essay will help you organize your thoughts, spot errors, and make sure that your essay is on track.
Let us go through 5 steps in the essay drafting process:
1. Choose a topic.
The first step in writing a draft essay is to choose a topic. You may have been assigned a topic by your instructor, or you may have the opportunity to choose your own.
If you can choose your essay topic, select one that interests you and that you can write about persuasively.
Once you have chosen an essay topic or selected one from the list of the best topics to write about , move on to step two.
2. Do some research.
Once you have chosen a topic, it is time to do some research. Check out books from the library, search the internet, and talk to experts—do whatever you need to do to get some information about your topic.
As you gather information, take notes so that you can easily find it later when you are ready to start writing. Once you feel like you have enough information, move on to step three.
3. Create an outline.
An outline is a helpful tool for organizing your thoughts and keeping track of what you want to include in your draft essay.
An essay outline can be as simple or as detailed as you want it to be; just make sure that it covers all of the main points that you want to touch on in your essay.
Once you have created an essay outline, move on to step four.
4. Write your draft essay.
Now it is time to start putting your thoughts into words! Begin by summarizing your main argument in one sentence; this will be your thesis statement .
Then, use the information from your research and outline to support your thesis statement with evidence and examples.
As you write, keep in mind the purpose of the draft essay: it does not need to be perfect, so do not worry about grammar or punctuation errors. Just focus on getting your ideas down on paper (or screen).
When you are finished writing the draft essay, move on to step five.
5. Edit and revise your draft essay.
Draft essays are not meant to be perfect; they are simply meant to give you a starting point for further revision and editing.
So don't worry if your first attempt isn't perfect! Just take some time to read through what you have written and make any necessary changes or additions.
Remember: the goal is not perfection at this stage; the goal is simply improvement. – Learn how to revise an essay .
And once you have made all of the changes that you think are necessary congratulations!
You have completed writing a draft essay!
Conclusion: Essay Drafting
In conclusion, essay drafting is an important part of the writing process because it provides writers with a foundation on which they can build their final essays.
By taking the time to write an essay draft before beginning revisions, writers can explore different aspects of their topics without having too much commitment too early on.
Utilize these tips next time you sit down to write an essay draft for the best grades.
Author: tutlance
Background information essay.
formal essay vs informal essay
200 Word Essay
How to write a body paragraph for an essay
How To Write an Autobiography Essay Paper
How to write an interview paper
How to write a film analysis essay with examples, related guides, writing effective essays: tips for students, how to write an effective essay in 5..., how to write a summative essay | definition,..., how to write an ethics essay, topics, outline,..., how to shorten an essay, how to write a photo essay – examples..., proper heading for essay, enduring issues essay, writing a commentary essay, how to write a film analysis essay with..., dialogue essay, short story essay, discussion essay, analysis paper, attention grabbers for essays, how to polish an essay for a better..., peel paragraph, how to write a position paper essay |....
Homework Help
Online Tutors
Essay Writing Services
Do My Math Homework
Assignment Help
Take My Online Math Class
Take My Exam
Take My Test
Take My Course
Dissertation Services
Essay Introduction
Essay Thesis Statement
Essay Hooks
Essay Conclusion
Essay Revision
Essay Title
Essay Format
Essay Outline
Essay Cover Page
Essay Topics
Classification Essay
Analytical Essay
Cause and Effect Essay
Expository Essay
Descriptive Essay
Argumentative Essay
Compare and Contrast Essay
Definition essay
Narrative essay
Persuasive essay
Reflective essay
Literary analysis essay
Proposal essay
Process essay
Reflection Paper
Evaluation Essay
Exemplification essay
Illustration Essay
Informative essay
Rhetorical analysis essay
Review essay
Scholarship essay
Dissertation
Annotated Bibliography
Research Paper
Research Paper Topics
Position Paper
Speech Writing
Summary Writing
Story writing
Swot Analysis
Resume Writing
Business Plan
Grant Writing
Book Writing
Personal Statement
Writing Process
Research Process
Online Tutoring Subjects
Become a Tutor
Forgot Password?
What is a Narrative Essay? How to Write It (with Examples)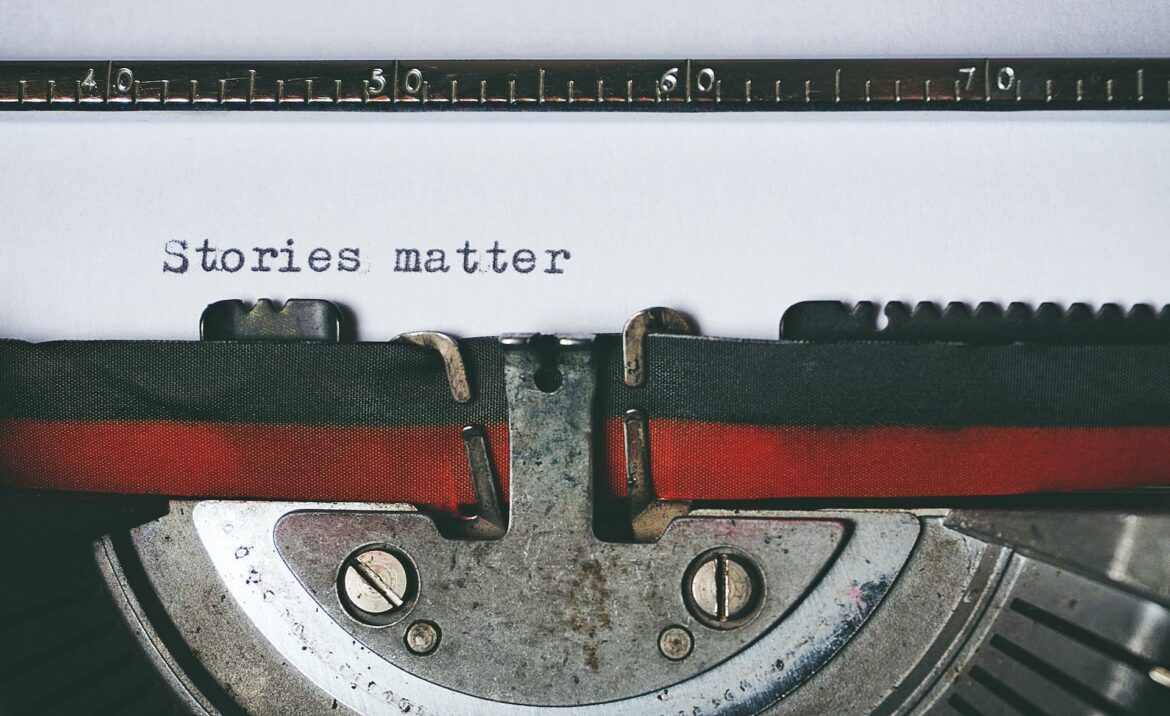 Narrative essays are a type of storytelling in which writers weave a personal experience into words to create a fascinating and engaging narrative for readers. A narrative essay explains a story from the author's point of view to share a lesson or memory with the reader. Narrative essays, like descriptive essays , employ figurative language to depict the subject in a vivid and creative manner to leave a lasting impact on the readers' minds. In this article, we explore the definition of narrative essays, list the key elements to be included, and provide tips on how to craft a narrative that captivates your audience.
Table of Contents
What is a narrative essay, choosing narrative essay topics, key elements in a narrative essay, creating a narrative essay outline, types of narrative essays, the pre-writing stage, the writing stage, the editing stage, narrative essay example, frequently asked questions.
Narrative essays are often based on one's personal experience which allows the author to express himself/herself in compelling ways for the reader. They employ storytelling elements to convey the plot and captivate the reader while disclosing the story's theme or purpose. The author must always have a purpose or theme in mind when writing a narrative essay. These essays may be assigned to high school students to assess their ability to create captivating stories based on personal experiences, or they may be required as part of a college application to assess the applicant's personal traits. Narrative essays might be based on true events with minor tweaks for dramatic purposes, or they can be adapted from a fictional scenario. Whatever the case maybe, the goal is to tell a story, a good story!
In narrative essays, the emphasis is not so much on the narrative itself as it is on how you explain it. Narrative essay topics cover a range of experiences, from noteworthy to mundane, but when storytelling elements are used well, even a simple account can have weight. Notably, the skills required for narrative writing differ significantly from those needed for formal academic essays, and we will delve deeper into this in the next section.
You can talk about any narrative, but consider whether it is fascinating enough, has enough twists and turns, or teaches a lesson (It's a plus if the story contains an unexpected twist at the end). The potential topics for a narrative essay are limitless—a triumphant story, a brief moment of introspection, or a voyage of self-discovery. These essays provide writers with the opportunity to share a fragment of their lives with the audience, enriching both the writer's and the reader's experiences. Narrative essay examples could be a write-up on "What has been your biggest achievement in life so far and what did it teach you?" or "Describe your toughest experience and how you dealt with it?".

While narrative essays allow you to be creative with your ideas, language, and format, they must include some key components to convey the story clearly, create engaging content and build reader interest. Follow these guidelines when drafting your essay:
Tell your story using the first person to engage users.
Use sufficient sensory information and figurative language.
Follow an organized framework so the story flows chronologically.
Include interesting plot components that add to the narrative.
Ensure clear language without grammar, spelling, or word choice errors.
Narrative essay outlines serve as the foundational structure for essay composition, acting as a framework to organize thoughts and ideas prior to the writing process. These outlines provide writers with a means to summarize the story, and help in formulating the introduction and conclusion sections and defining the narrative's trajectory.
Unlike conventional essays that strictly adhere to the five-paragraph structure, narrative essays allow for more flexibility as the organization is dictated by the flow of the story. The outline typically encompasses general details about the events, granting writers the option to prioritize writing the body sections first while deferring the introduction until later stages of the writing process. This approach allows for a more organic and fluid writing process. If you're wondering how to start writing a narrative essay outline, here is a sample designed to ensure a compelling and coherent narrative:
Introduction
Hook/Opening line: The introduction should have an opening/hook sentence that is a captivating quote, question, or anecdote that grabs the reader's attention.
Background: Briefly introduce the setting, time, tone, and main characters.
Thesis statement: State clearly the main theme or lesson acquired from the experience.
Event 1 (according to occurrence): Describe the first major event in detail. Introduce the primary characters and set the story context; include sensory elements to enrich the narrative and give the characters depth and enthusiasm.
Event 2: Ensure a smooth transition from one event to the next. Continue with the second event in the narrative. For more oomph, use suspense or excitement, or leave the plot with cliffhanger endings. Concentrate on developing your characters and their relationships, using dialog to bring the story to life.
Event 3: If there was a twist and suspense, this episode should introduce the climax or resolve the story. Keep the narrative flowing by connecting events logically and conveying the feelings and reactions of the characters.
Summarize the plot: Provide a concise recap of the main events within the narrative essay. Highlight the key moments that contribute to the development of the storyline. Offer personal reflections on the significance of the experiences shared, emphasizing the lasting impact they had on the narrator. End the story with a clincher; a powerful and thought-provoking sentence that encapsulates the essence of the narrative. As a bonus, aim to leave the reader with a memorable statement or quote that enhances the overall impact of the narrative. This should linger in the reader's mind, providing a satisfying and resonant conclusion to the essay.
There are several types of narrative essays, each with their own unique traits. Some narrative essay examples are presented in the table below.
How to write a narrative essay: Step-by-step guide
A narrative essay might be inspired by personal experiences, stories, or even imaginary scenarios that resonate with readers, immersing them in the imaginative world you have created with your words. Here's an easy step-by-step guide on how to write a narrative essay.
Select the topic of your narrative
If no prompt is provided, the first step is to choose a topic to write about. Think about personal experiences that could be given an interesting twist. Readers are more likely to like a tale if it contains aspects of humor, surprising twists, and an out-of-the-box climax. Try to plan out such subjects and consider whether you have enough information on the topic and whether it meets the criteria of being funny/inspiring, with nice characters/plot lines, and an exciting climax. Also consider the tone as well as any stylistic features (such as metaphors or foreshadowing) to be used. While these stylistic choices can be changed later, sketching these ideas early on helps you give your essay a direction to start.
Create a framework for your essay
Once you have decided on your topic, create an outline for your narrative essay. An outline is a framework that guides your ideas while you write your narrative essay to keep you on track. It can help with smooth transitions between sections when you are stuck and don't know how to continue the story. It provides you with an anchor to attach and return to, reminding you of why you started in the first place and why the story matters.

A perfect story and outline do not work until you start writing the draft and breathe life into it with your words. Use your newly constructed outline to sketch out distinct sections of your narrative essay while applying numerous linguistic methods at your disposal. Unlike academic essays, narrative essays allow artistic freedom and leeway for originality so don't stop yourself from expressing your thoughts. However, take care not to overuse linguistic devices, it's best to maintain a healthy balance to ensure readability and flow.
Use a first-person point of view
One of the most appealing aspects of narrative essays is that traditional academic writing rules do not apply, and the narration is usually done in the first person. You can use first person pronouns such as I and me while narrating different scenarios. Be wary of overly using these as they can suggest lack of proper diction.
Use storytelling or creative language
You can employ storytelling tactics and linguistic tools used in fiction or creative writing, such as metaphors, similes, and foreshadowing, to communicate various themes. The use of figurative language, dialogue, and suspense is encouraged in narrative essays.
Follow a format to stay organized
There's no fixed format for narrative essays, but following a loose format when writing helps in organizing one's thoughts. For example, in the introduction part, underline the importance of creating a narrative essay, and then reaffirm it in the concluding paragraph. Organize your story chronologically so that the reader can follow along and make sense of the story.
Proofreading and editing are critical components of creating a narrative essay, but it can be easy to become weighed down by the details at this stage. Taking a break from your manuscript before diving into the editing process is a wise practice. Stepping away for a day or two, or even just a few hours, provides valuable time to enhance the plot and address any grammatical issues that may need correction. This period of distance allows for a fresh perspective, enabling you to approach the editing phase with renewed clarity and a more discerning eye.
One suggestion is to reconsider the goals you set out to cover when you started the topic. Ask yourself these questions:
Is there a distinct beginning and end to your story?
Does your essay have a topic, a memory, or a lesson to teach?
Does the tone of the essay match the intended mood?
Now, while keeping these things in mind, modify and proofread your essay. You can use online grammar checkers and paraphrase tools such as Paperpal to smooth out any rough spots before submitting it for publication or submission.
It is recommended to edit your essay in the order it was written; here are some useful tips:
After crafting your narrative essay, review the introduction to ensure it harmonizes with the developed narrative. Confirm that it adeptly introduces the story and aligns seamlessly with the conclusion.
Revise the conclusion and polish the essay
The conclusion should be the final element edited to ensure coherence and harmony in the entire narrative. It must reinforce the central theme or lesson outlined initially.
Revise and refine the entire article
The last step involves refining the article for consistent tone, style, and tense as well as correct language, grammar, punctuation, and clarity. Seeking feedback from a mentor or colleague can offer an invaluable external perspective at this stage.
Narrative essays are true accounts of the writer's personal experiences, conveyed in figurative language for sensory appeal. Some narrative essay topic examples include writing about an unforgettable experience, reflecting on mistakes, or achieving a goal. An example of a personal narrative essay is as follows:
Title: A Feline Odyssey: An Experience of Fostering Stray Kittens
Introduction:
It was a fine summer evening in the year 2022 when a soft meowing disrupted the tranquility of my terrace. Little did I know that this innocent symphony would lead to a heartwarming journey of compassion and companionship. Soon, there was a mama cat at my doorstep with four little kittens tucked behind her. They were the most unexpected visitors I had ever had.
The kittens, just fluffs of fur with barely open eyes, were a monument to life's fragility. Their mother, a street-smart feline, had entrusted me with the care of her precious offspring. The responsibility was sudden and unexpected, yet there was an undeniable sense of purpose in the air , filling me with delight and enthusiasm.
As the days unfolded, my terrace transformed into a haven for the feline family. Cardboard boxes became makeshift cat shelters and my once solitary retreat was filled with purrs and soothing meows. The mother cat, Lily, who initially observ ed me from a safe distance, gradually began to trust my presence as I offered food and gentle strokes.
Fostering the kittens was a life-changing , enriching experience that taught me the true joy of giving as I cared for the felines. My problems slowly faded into the background as evenings were spent playing with the kittens. Sleepless nights turned into a symphony of contented purring, a lullaby filled with the warmth of trust and security . Although the kittens were identical, they grew up to have very distinct personalities, with Kuttu being the most curious and Bobo being the most coy . Every dawn ushered in a soothing ritual of nourishing these feline companions, while nights welcomed their playful antics — a daily nocturnal delight.
Conclusion:
As the kittens grew, so did the realization that our paths were destined to part. Finally, the day arrived when the feline family, now confident and self-reliant, bid farewell to my terrace. It was a bittersweet moment, filled with a sense of love and accomplishment and a tinge of sadness.
Fostering Kuttu, Coco, Lulu, and Bobo became one of the most transformative experiences of my life. Their arrival had brought unexpected joy, teaching me about compassion and our species' ability to make a difference in the world through love and understanding. The terrace, once a quiet retreat, now bore the echoes of a feline symphony that had touched my heart in ways I could have never imagined.

The length of a narrative essay may vary, but it is typically a brief to moderate length piece. Generally, the essay contains an introductory paragraph, two to three body paragraphs (this number can vary), and a conclusion. The entire narrative essay could be as short as five paragraphs or much longer, depending on the assignment's requirements or the writer's preference.
You can write a narrative essay when you have a personal experience to share, or a story, or a series of events that you can tell in a creative and engaging way. Narrative essays are often assigned in academic settings as a form of writing that allows students to express themselves and showcase their storytelling skills. However, you can also write a narrative essay for personal reflection, entertainment, or to communicate a message.
A narrative essay usually follows a three-part structure: – Introduction (To set the stage for the story) – Body paragraphs (To describe sequence of events with details, descriptions, and dialogue) – Conclusion (To summarize the story and reflect on the significance)
Paperpal is an AI academic writing assistant that helps authors write better and faster with real-time writing suggestions and in-depth checks for language and grammar correction. Trained on millions of published scholarly articles and 20+ years of STM experience, Paperpal delivers human precision at machine speed.   
Try it for free or upgrade to  Paperpal Prime , which unlocks unlimited access to Paperpal Copilot and premium features like academic translation, paraphrasing, contextual synonyms, consistency checks, submission readiness and more. It's like always having a professional academic editor by your side! Go beyond limitations and experience the future of academic writing.  Get Paperpal Prime now at just US$19 a month!  
Related Reads:
How to Write a Conclusion for Research Papers (with Examples)
7 Ways to Improve Your Academic Writing Process
Chemistry Terms: 7 Commonly Confused Words in Chemistry Manuscripts
Paraphrasing in Academic Writing: Answering Top Author Queries
What is a Descriptive Essay? How to Write It (with Examples)
You may also like, what is a descriptive essay how to write..., 4 types of transition words for research papers , what is research methodology definition, types, and examples, scientific writing style guides explained, dangling modifiers and how to avoid them in....
How to Write a University Essay
Writing a strong university essay is an essential skill for academic success. Whether you are crafting an argumentative essay, analytical paper, research paper, or any other type of assignment, following some key steps can help you create a cohesive, insightful, and well-structured piece of writing. Successfully writing  a university essay demands careful research, thoughtful analysis, and precise articulation of ideas; for personalized guidance and support, students can explore resources that offer assistance such as " help me write an essay online " to refine their writing skills and achieve academic excellence. By thoroughly understanding and implementing this process, you can boost your confidence and ability to produce university-level essays.
Choosing a Good Topic
Often the first and most difficult step, picking an essay topic seems daunting with so many possibilities. However, simplifying your approach can set you up for success:
Aim for a topic that genuinely interests you instead of just picking the first idea that springs to mind, even if you have to push yourself out of your comfort zone a bit to find something that sparks your curiosity. An engaged mind writes passionately.
Consider the parameters set forth by your professor such as themes covered in class, assignment goals, or length requirements. This helps narrow your focus.
Brainstorm purposefully using lists, clusters, free-writing, or discussing possibilities with classmates. Be open-minded and creative, noting any subjects that connect naturally with topics you already enjoy studying.
By actively seeking a topic that inspires you on some level, you lay the motivational groundwork to invest fully in researching, writing, and perfecting your work.
Conducting Research
Using a wide variety of authoritative, credible sources to bolster your knowledge gives your essay greater factual authority and dimensional perspective:
Use your college library's array of digital and print resources like scholarly journals, newspapers, academic databases, and books related to your topic. Evaluating source validity helps avoid questionable claims or biased opinions masking as fact.
Incorporate information from lectures or primary documents into your research when possible. By pulling straight from the academic source, you build a solid foundation right within course materials.
As you work through research, consciously compile pertinent facts, compelling statistics, expert perspectives, relevant data and analysis, historical context, authoritative definitions from dictionaries or encyclopedias, and impactful direct quotes that all tie directly back to your core topics and eventual thesis statement.
Aim for depth over breadth in your knowledge base, carefully determining which details, examples and evidence add true value in developing your topics rather than padding your essay arbitrarily with disjointed information. Quality over quantity serves university-level writing.
Developing a Dynamic Thesis Statement
Your thesis statement presents the central position you will argue throughout your essay using researched evidence and analysis. A thoughtfully crafted statement:
Clearly communicates the primary argument or position of agreement or critique regarding your chosen topic or subject.
Defines the key issues and scope of evidence now narrowed from a broad theme into distinct key topics breathing specificity into your approach.
Constructs a perspective adopting a unique interpretation, evaluation, or viewpoint regarding your areas of focus within the larger theme. This gives shape to the voice and tone permeating the piece.
Remains flexible until final revisions. As research and writing progresses, your outlook might shift requiring thesis statement adjustment to align with evolving perspective. Such reflects an open-minded, scholarly approach.
With these framing pillars upholding the architectural integrity of your thesis statement, you create a solid summary of analytical intent from which your essay and its evidentiary support elements now unfold.
Outlining Your Paper
With research compiled and thesis statement set, outlining constitutes the blueprint for transforming scattered information into a structurally sound presentation of concepts, evidence, and conclusions.
Begin constructing your outline by organizing research details and quotes under categorical topic subheadings corresponding back to elements within your thesis statement. This forms the evidentiary basis of your work anchored firmly to your central thesis.
Next, map out the logical progression of these topics introducing each core concept, presenting research-based support tied back explicitly to the central thesis, and analyzing how this evidence substantiates your main argument.Aim for coherence as one subtopic flows naturally into the next within paragraphs and throughout the body of your work.
Finally, compose descriptive subsection headings underscoring the dominant details enclosed within each portion of writing as well as brief concluding remarks showcasing analytical progress made through the presentation of that section's research materials.
With an outline established, you diffuse the complexity of essay creation into compartmentalized groupings arranged in harmonious order. Now, writing flows more smoothly when following this guided structure.
Writing Your Draft
Commence drafting your essay by briefly summarizing your thesis statement and core subtopics without reiterating the precise phrasing verbatim from your introduction. This echoes back foundational ideologies now expounded upon further in essay body paragraphs adhering to outline specifications.
Address outline elements in sequential order presenting research details and direct quotes within text then analyzing relevance and relationship to your thesis statement. Synthesize details into smooth discussion tying central topics together under explanatory subsection headings as outlined.
Vary sentence structure and length avoiding short, choppy sentences or lengthy, tangled ones. Balance simple clarity with rhythmically complex phrasing intermittently. Play with creative analogies, thoughtful commentary, rhetorical questioning and other dynamic writing techniques to enhance engagement.
Limit paragraphs to one core idea minimizing disjointed drift between concepts instead allowing room for thorough topical analysis before moving forward. This strengthens argument cohesion. Provide appropriate citations whenever incorporating external research into writing.
Composing a first draft requires focusing creative energy predominantly on content with best writing flow and more refined phrasing refinement coming later through patient editing and proofreading efforts.
Refining Your Essay
With a solidly drafted foundation established, revision and refinement efforts further hone university essay quality:
As you proofread, rework misplaced or awkwardly phrased sentences for improved clarity, cohesiveness and rhetorical flow. Paragraph organization analysis may also call for necessary reshuffling of sentences or ideas.
Double check that thesis statement messaging permeates throughout essay body paragraph topics staying centered on core argument analysis without straying into tangential subject matter not originally outlined. Rein it in for concision.
Ensure source citations and corresponding research fat trimming where detail overload overshadows thesis focus rather than effectively bolstering key points in patient measured analysis. Remove what fails to fit.
The final refining polish also scrutinizes grammar and formatting precision against university standards for publication-quality perfection leaving your reader with a professional, scholarly impression.
By thoughtfully enhancing essay weak spots through detail deletion, precision additions and holistic fine-tuning, this refinement process lifts papers to elevated levels of academic quality and reader enjoyment. The difference shows.
Rigorous effort culminates with impactful end products. By walking through this comprehensive university essay writing process attentively from thoughtful topic selection to drafted analysis of researched evidence all capped with refined scholarly writing, students construct commanding academic writing voice and skill beneficial well beyond a single assignment. Allow ample incubation time for each step to percolate effectively. Soon, deliberate practice transitions from procedure to second nature. Wield your writing prowess. The page awaits.
RELATED ARTICLES MORE FROM AUTHOR
Mind mapping for studying: how to boost your memory and retention, blended learning: a fusion of traditional and digital education, engaging and interactive learning: the benefits of communicative language teaching, 10 symptoms that could be a sign of pleural mesothelioma, protecting your business from legal issues abroad, what was benjamin franklin's most famous invention: a closer look, contests and sweepstakes as marketing tools: crafting a winning approach, from waste to watts: the power of heat recovery systems.
Welcome to Copilot for Microsoft 365 in Word
Copilot for Microsoft 365 in Word ushers in a new era of writing, leveraging the power of AI. It can help you go from a blank page to a finished document in a fraction of the time it would take to compose text on your own. And while it may write exactly what you need, sometimes it may be "usefully wrong" thus giving you some helpful inspiration. Additionally, Copilot Chat can provide helpful actions based on your document content or obtain additional content from outside resources. 
And if you're looking for something more generic, beyond what's in your draft, you can ask Copilot Chat questions to research, ideate, or iterate on for possible content to add. 
Draft with Copilot
Whether you're creating a new document or working on an existing one, Copilot can help you move forward. In a new, blank document or upon creating new line in an existing document, the Draft with Copilot experience appears. 
The description you provide can be a simple sentence or a more complex request with outlines, notes, or referenced files that you want Copilot to use. You could tell Copilot "Write an essay about baseball" or "C reate a paragraph about time management, " for example. 
The Reference your content  button allows you to search for and include up to three of your existing files as inputs to ground the content Copilot drafts. In the compose box, you can also enter "/" and the name of the file you'd like to reference, which will update the file options shown in the menu for selection. This feature only references the files you select, not any other organizational data.
In the Copilot compose box, enter in details on how you would like Copilot's response to change. For example, write " Make this more concise, " and Copilot will fine tune its response based on your instructions.
In a document with existing content, you can also use the Inspire Me button to have Copilot automatically keep writing for you, based on the content already in your document. 
For more information, see  Start a draft with Copilot in Word.
Transform with Copilot
Sometimes rewriting and editing your documents takes more time and thought than writing your ideas down in the first place. Copilot not only helps you create new content, but it also helps you transform your existing content into a document you can be proud of.
Fine tune the table by entering details into the Copilot compose box about what to adjust in the table, like " Add an empty third column. "
For both Rewrite and Visualize as a table , select < and > to navigate through Copilot's suggestions.
For more information, see  Transform your content with Copilot in Word .
Chat with Copilot
When generating summaries or asking questions about your document, Copilot will provide references with citations to where it retrieved its information from.
For more information, see  Chat with Copilot about your Word document.
Some ideas to try 
Want to practice a bit and see what Copilot can do? Here are some starter ideas. 
Draft with Copilot 
Use the Copilot prompt in the canvas to request content for any of these.  
An article for my team on the importance of taking care of their wellbeing
Create a business plan for a new mobile pet grooming service
Write a marketing plan for a house painting business
Create a cover letter for a Finance Officer role
Ask Copilot about the document
In a document containing existing content, open Copilot Chat and try any of these. 
What are the key points in this doc?
Summarize this document.
Is there a call to action?
Ask Copilot for info that's not in the document
In the Copilot Chat pane try any of these.
I need a chocolate chip cookie recipe.
Show me the chocolate chip cookie recipe ingredients in a table.
Give me an example haiku about Contoso coffee.
Microsoft 365 Copilot is built on Microsoft's comprehensive approach to security, compliance, and privacy. Your data (including prompts, responses, and the business data Copilot uses to formulate its response) isn't used to train the foundation large language models (LLMs) that Copilot uses.
For more information, see Data, Privacy, and Security for Microsoft 365 Copilot .
Current limitations
The content of the chat pane isn't saved, so Copilot won't be able to refer to previous interactions there.
Copilot may not work well with content containing SmartArt, tables, or charts.
Copilot currently supports fewer languages than what's available for the UI. Find more information at Microsoft 365 Copilot supported languages .
Copilot is currently limited to a maximum of around 18,000 to 20,000 words it can process for a single query or prompt for features like generating document summaries and chatting with Copilot.
Keep in mind...
The features described here use GPT, an AI system from OpenAI that creates text based on a prompt. As it is a new system, it may create things you didn't expect. If you find its content to be unexpected or offensive, please send us feedback so we can make it better. Because content generated via AI draws from the internet, it may contain inaccuracies or sensitive material. Be sure to review and verify the information it generates. Also note that similar requests may result in the same content being generated. 
We want to hear from you!
If there's something you like about Copilot—and especially if there's something you don't like—you can submit feedback to Microsoft. Just click the thumb-up or thumb-down button in the response output. This feedback will help us improve your experience in Word. 
Frequently asked questions about Copilot in Word
Copilot for Microsoft 365 in Word
Microsoft Copilot help & learning
Where can I get Microsoft Copilot?
Unleash your productivity with AI
Frequently asked questions: AI, Microsoft 365 Copilot, and Microsoft Designer
Need more help?
Want more options.
Explore subscription benefits, browse training courses, learn how to secure your device, and more.
Microsoft 365 subscription benefits
Microsoft 365 training
Microsoft security
Accessibility center
Communities help you ask and answer questions, give feedback, and hear from experts with rich knowledge.
Ask the Microsoft Community
Microsoft Tech Community
Windows Insiders
Microsoft 365 Insiders
Was this information helpful?
Thank you for your feedback.