How to Cite
Language & Lit
Rhyme & Rhythm
The Rewrite
Search Glass
What Should the Introduction Look Like When Writing an Essay?
The introduction of an essay is usually the first paragraph, and it should do what its name says it will do -- introduce the topic of the essay. Even the shortest essay should include an introduction that will serve as a guide to show readers what to expect while reading the essay. There are a few key components to writing a strong introduction: the hook, connecting information and the thesis statement.
When to Write the Introduction
Many people choose to write the introduction to an essay last. This way, there is less danger of missing key themes from the essay while writing the introduction and thesis statement. Whether you've chosen to write the introduction last or first, be prepared to go back to it several times while writing your essay to check if the themes you've introduced in your introduction are consistent with the content of your essay.
The first sentence of your introduction should draw the reader in. It should be interesting and make the reader want to keep reading. There are several ways to write a hook. You could pose a question, quote a statistic that is related to the topic or begin with a relevant quotation. For example, in an essay exploring the role that money plays in happiness, you could start with the famous Beatles quotation "Money can't buy me love." Many people will recognize this quotation, and your readers may be more interested in the rest of what you have to say.
Connecting Information
After the hook, include connecting information that builds a bridge between your first sentence and your last sentence, which will be your thesis. There are usually two to five connecting sentences in an introduction, depending on how long your essay will be. You can choose to begin giving background information related to your topic in these connecting sentences. These sentences, for example, could follow the Beatles quotation: "Whether this is true or not, many people wonder what actually will make them happy. Some people lead simple lives, surrounded by simple pleasures and family and friends, and others may always be on the lookout for the next fancy gadget that promises to make their lives easier and more enjoyable."
Thesis Statement
The last sentence in the introduction should be the thesis statement. The thesis statement should clearly and concisely provide a guide of what topic or topics your essay will cover. For instance, this thesis statement addresses the question of whether money plays a part in happiness: "While some people may constantly be reaching for that next best thing or the next luxury money can buy, researchers have actually found that above a certain threshold, money has little to no impact on how happy people are." Your essay would then explore aspects of this threshold at which money ceases to be a significant indicator of happiness.
Metro Lyrics: Beatles -- Can't Buy Me Love Lyrics
Great Essays; Keith S. Folse et al.
Great Paragraphs; Keith S. Folse et al.
Megan Ritchie has been a writer for more than 10 years, and has been published in a number of journals and newspapers, including "The Daily Targum" (Rutgers University's daily newspaper) and "The Philadelphia Inquirer." She has a Master's degree in Education from the University of Pennsylvania.
The introduction: Thesis Statement, hook and connecting information
Step 1 Refresh your memory
Step 2 Instruction
Step 3 Writing the two body paragraphs
Step 4 Write a thesis statement
Step 5 Writing an introduction
Step 6 Evaluation
Voor elektronische leeromgeving
Kopieer arrangement
Leerjaar Havo 5 vavo

Dit lesmateriaal is gepubliceerd onder de Creative Commons Naamsvermelding 4.0 Internationale licentie. Dit houdt in dat je onder de voorwaarde van naamsvermelding vrij bent om:
het werk te delen - te kopiëren, te verspreiden en door te geven via elk medium of bestandsformaat
het werk te bewerken - te remixen, te veranderen en afgeleide werken te maken
voor alle doeleinden, inclusief commerciële doeleinden.
Meer informatie over de CC Naamsvermelding 4.0 Internationale licentie .
Aanvullende informatie over dit lesmateriaal
Van dit lesmateriaal is de volgende aanvullende informatie beschikbaar:

Get in Touch with CCC's Learning Commons
Writing an introduction and thesis.
Starting the first paragraph can be one of the most daunting tasks of essay writing, but it does not need to be. Investing some time in planning can save much anxiety and frustration later.
An effective introductory paragraph will engage the reader with some reason to learn about your topic and will warm him or her up to your topic with important background information and ideas before stating your essay's controlling idea (thesis.) It should include the following:
Hook (also called a Lead-in, Opener, or Attention Grabber) that will arouse the interest of as many people possible in your target audience group.
Identification and general discussion of the topic , including why the topic is important and worthy of analysis.
Background info (e.g. history of the controversy, or summary of the literature/ articles.) This is any information necessary to lead down to your controlling idea on the subject, including the who , what , when , where , why , and how.
Explanation that narrows your focus down to your thesis.
Thesis (your controlling idea for the whole essay), possibly including , preceded by or followed by a brief indication of your subtopics. (This latter part is sometimes called a blueprint, roadmap of reasons, forecast of points, etc.).
It is essential that the first sentence "hooks" your intended reader with something that is both interesting at first glance and relevant to the focus of your essay.  Try one or a combination of the following hooks:
Example: The number of emergency room visits associated with energy drinks has more than doubled in this country in the last five years, from about 10,000 to over 20,000.
Example: There I was, stranded with no cell phone beside a remote Colorado road in mid-January. I had long since lost feeling in my feet, and, peeling back my socks, I saw to my horror that my toes were completely black with frostbite.
Example: For a first-time parent, a child is a megaphone, proclaiming that he or she is not the center of the universe anymore.
Example: An important purpose of fiction is to reveal truth.
Example: Has anyone you know ever been the victim of identity theft?
Example: Victor Hugo, the author of Les Miserables , once declared, " He who opens a school door closes a prison."
Options for that Middle Material
You might have a great idea for your hook and even a tentative thesis, but what about the sentences that are supposed to go between them? How are you going to meaningfully and smoothly bridge this gap? It might depend on what kind of essay you are writing. Here are some suggestions, though don't feel locked into that one option just because it is labeled for your type of essay. Also , be aware that some of these options might naturally contain their own hooks.
For a Position/Argument/Persuasive Essay : Be sure to establish that a real controversy exists before giving your position in the thesis. What is the issue? Why do people disagree about it? Are there more than just two sides? How long has this controversy existed? What are the 'roots' or brief history of the conflict? Lead down to your position (thesis), and then your body paragraphs will be the reasons for your position.
For a Solution Essay : Highlight the problem or need. Get the reader to understand that one exists. What is it? Why is it a problem or need? How long has it been around? Who and/or what is affected? Then work down to the thesis, which in this case is your proposed solution. The body paragraphs will then be breaking down your solution into its reasons and/or steps.
For a Compare/Contrast Essay : If the main point of your essay is to show how two things are significantly similar, consider first explaining that people often perceive them as completely different and unrelatable—why is that? If the main point of your essay is to show how two things are significantly different, consider first explaining that people often perceive them as essentially the same—explain why and then lead down to your thesis.
For a Current Events or History Essay : Consider beginning at a different point in time than the one focused on in the body of your paper. For example, if your paper is to focus on a specific current event/situation between Israelis and Palestinians, you might lead in with a brief overview of the groups' long-term history. Alternately, if the focus of the paper is on a historical event or period, you might begin with discussion about the present-day region or nation, or you could begin at a point even further in the past that led up to the period of focus.
For an Illustrative/Descriptive Essay : If your task is to describe a person, place, thing, process, or concept, then you must begin by motivating the reader as to his/her/its appeal or importance (as with any introduction.) For more personal, informal essays, you can relate your own earliest experiences with that person, place, or thing, possibly explaining your first impressions. For more formal essays, highlight his/her/its significance to a larger group of people or to a larger purpose/function.
For a Research/Expository Essay : Explain who is/has been affected, and how much or often. Also be sure to define any major terms that you will be using throughout the paper if they are not necessarily understood by your intended audience.
For a Cause/Effect Essay : If your essay will be focusing on the causes of a particular event, condition, or situation, explain who or what is affected by it. How prevalent is it? If the focus of the essay is on the effects of something, you might provide background by discussing what leads/has led up to it (its causes).
For an Analytical Essay (e.g. literature, philosophy, article response): Before diving into interpretation and analysis, use your introduction to announce the original work and author/theorist, giving background about either or both. Consider a brief summary of the story, concept, or major ideas of the piece, then narrow down to the specific ideas you will be working with in the essay.
A Quick Thesis Formula
Tips for your thesis.
A thesis should be as clear and specific as possible, yet still able to be developed in different ways through your body paragraphs.   Avoid overused, general terms and abstractions: "Communism collapsed due to societal discontent." Communism where? What does "societal discontent" mean? Society can be discontent about anything! Here is an improvement: "Co mmunism collapsed in Eastern Europe because of the ruling elite's inability to address the economic needs of the people ."
The Topic is relatively specific: communism in Eastern Europe. Also, the Main Point (italicized segment) is clear. Now in this example, the Details (how the body paragraphs will be broken down) are only hinted at, but that might be enough for some courses as long as you have strong, guiding topic sentences that connect back to these key words from the thesis.
In some courses though, especially ENGL 1010, you might need to absolutely spell out the breakdown of subtopics in your thesis (a forecasting thesis). So here is an example of one, and to make it even more ENGL 1010-friendly, it is an argumentative thesis. The Topic , Main Point , and Details are indicated:  "The public sale of fireworks in Pennsylvania should be prohibited because of fireworks' danger to people , noise disturbance , and potential damage to property ."
Thesis Pitfalls
Check to make sure your thesis is not…
Too broad or general: "Drugs have a negative effect on society."
Too big to be adequately covered within the assigned length of a paper: "Warfare in Europe has greatly evolved through the centuries with many different forms."
Too narrow a focus to sustain an essay of the required length: "All students should have an alarm clock to wake them up in the morning."
A question: "What will the United States do to curb gun violence?"
An obvious idea: "Spending more money than you earn results in debt."
Combative, insulting, assuming, or confrontational: "Gun nuts need to understand that they don't need to have so many guns because violence is evil."
A basic definition of a word: "Sexism is   prejudice or discrimination based on sex or gender ."
Lacking any strong stand: "Legislation surrounding same-sex marriage is a hotly debated issue today."
Stating a fact, offering little room for expansion: "Sixty-seven percent o f pregnant women have claimed to have a higher level of smell sensitivity."
Containing more than one main idea: "Asbestos abatement is a complicated process, and it is also important to check one's home for radon." (A thesis can have more than one idea, but the hierarchy should be clear. That is, one should be easily identifiable as the main idea, while the others are clearly supporting it)."
Other Introduction Paragraph PItfalls
Writing a very attention-grabbing hook, but failing to connect its meaning with the rest of the paragraph.
Going too deep into your reasons or subtopics within your introduction, and so setting yourself up to be repetitive later in the essay.
Opening with a cliché statement or a very obvious idea.
Referring to your essay or referring to yourself as the writer of the essay ("In this essay I will tell you about…")
Relying immediately on a reference source to define your subject for you. ("According to Webster's Dictionary…" or "Wikipedia states…")
A Final Word
Remember, your introductory paragraph sets the tone for your essay and is your first impression, so it is worth taking your time on. But don't worry if it does not come off sounding exactly right the first time. We are all learners as writers! It is natural and necessary to return to your introduction for revision after you have drafted the rest of your essay, just to make sure it is still consistent with what the paper has evolved into.
We at the Learning Commons are here to help at any stage of the writing process. Please come in anytime to go over what you have so far , even if you haven't written anything down yet . We can help you find your direction. Also check out our handout s "Building Body Paragraphs" and " Writing a Conclusion , " among many others . We hope you take joy in your writing as you investigate a subject that interests you and that you also have the chance to express yourself well.
Adaptations for format / ADA compliance. Authored by : Dann Coble. Provided by : Corning Community College. License : CC0: No Rights Reserved
Authored by : Keith Ward. Provided by : Corning Community College. License : Public Domain: No Known Copyright
Privacy Policy
Clerc Center | PK-12 & Outreach
KDES | PK-8th Grade School (D.C. Metro Area)
MSSD | 9th-12th Grade School (Nationwide)
Gallaudet University Regional Centers
Parent Advocacy App
K-12 ASL Content Standards
National Resources
Youth Programs
Academic Bowl
Battle Of The Books
National Literary Competition
Discover College and Careers (DC²)
Youth Debate Bowl
Immerse Into ASL
Got Skills?
Deaf Youth Pride
Alumni Relations
Alumni Association
Homecoming Weekend
Class Giving
Get Tickets / BisonPass
Sport Calendars
Cross Country
Swimming & Diving
Track & Field
Indoor Track & Field
Cheerleading
Winter Cheerleading
Human Resources
Plan a Visit
Request Info
Areas of Study
American Sign Language
Art and Media Design
Communication Studies
Data Science
Deaf Studies
Educational Neuroscience
Hearing, Speech, and Language Sciences
Infants, Toddlers and Families Graduate Programs
Information Technology
International Development
Interpretation and Translation
Linguistics
M.S. in Accessible Human-Centered Computing
Mathematics
Philosophy and Religion
Physical Education & Recreation
Public Affairs
Public Health
Sexuality and Gender Studies
Social Work
Theatre and Dance
World Languages and Cultures
B.A. in American Sign Language
B.A. in Art and Media Design
B.A. in Biology
B.A. in Communication Studies
B.A. in Communication Studies for Online Degree Completion Program
B.A. in Deaf Studies
B.A. in Deaf Studies for Online Degree Completion Program
B.A. in Education with a Specialization in Early Childhood Education
B.A. in Education with a Specialization in Elementary Education
B.A. in English
B.A. in Government
B.A. in Government with a Specialization in Law
B.A. in History
B.A. in Interdisciplinary Spanish
B.A. in International Studies
B.A. in Interpretation
B.A. in Mathematics
B.A. in Philosophy
B.A. in Psychology
B.A. in Psychology for Online Degree Completion Program
B.A. in Social Work (BSW)
B.A. in Sociology
B.A. in Sociology with a concentration in Criminology
B.A. in Theatre Arts: Production/Performance
B.A. or B.S. in Education with a Specialization in Secondary Education: Science, English, Mathematics or Social Studies
B.S in Risk Management and Insurance
B.S. in Accounting
B.S. in Biology
B.S. in Business Administration
B.S. in Information Technology
B.S. in Mathematics
B.S. in Physical Education and Recreation
B.S. In Public Health
Honors Program
M.A. in Counseling: Clinical Mental Health Counseling
M.A. in Counseling: School Counseling
M.A. in Deaf Education
M.A. in Deaf Education Studies
M.A. in Deaf Studies: Cultural Studies
M.A. in Deaf Studies: Language and Human Rights
M.A. in Early Childhood Education and Deaf Education
M.A. in Elementary Education and Deaf Education
M.A. in Interdisciplinary Studies: Infants, Toddlers and their Families
M.A. in International Development
M.A. in Interpretation: Combined Interpreting Practice and Research
M.A. in Interpretation: Interpreting Research
M.A. in Linguistics
M.A. in Secondary Education and Deaf Education
M.A. in Sign Language Education
M.S. in Speech-Language Pathology
Master of Social Work (MSW)
Au.D. in Audiology
Ed.D. in Transformational Leadership and Administration in Deaf Education
Ph.D. in Clinical Psychology
Ph.D. in Critical Studies in the Education of Deaf Learners
Ph.D. in Hearing, Speech, and Language Sciences
Ph.D. in Linguistics
Ph.D. in Translation and Interpreting Studies
Ph.D. Program in Educational Neuroscience (PEN)
Individual Courses and Training
Certificates
Certificate in Sexuality and Gender Studies
Educating Deaf Students with Disabilities (online, post-bachelor's)
American Sign Language and English Bilingual Early Childhood Deaf Education: Birth to 5 (online, post-bachelor's)
Peer Mentor Training (low-residency/hybrid, post-bachelor's)
Online Degree Programs
ODCP Minor in Communication Studies
ODCP Minor in Deaf Studies
ODCP Minor in Psychology
ODCP Minor in Writing
Quick Links
PK-12 & Outreach
NSO Schedule
Guide to Writing Introductions and Conclusions
202.448-7036
First and last impressions are important in any part of life, especially in writing. This is why the introduction and conclusion of any paper – whether it be a simple essay or a long research paper – are essential. Introductions and conclusions are just as important as the body of your paper. The introduction is what makes the reader want to continue reading your paper. The conclusion is what makes your paper stick in the reader's mind.
Introductions
Your introductory paragraph should include:
1) Hook:  Description, illustration, narration or dialogue that pulls the reader into your paper topic. This should be interesting and specific.
2) Transition: Sentence that connects the hook with the thesis.
3) Thesis: Sentence (or two) that summarizes the overall main point of the paper. The thesis should answer the prompt question.
The examples below show are several ways to write a good introduction or opening to your paper. One example shows you how to paraphrase in your introduction. This will help you understand the idea of writing sequences using a hook, transition, and thesis statement.
» Thesis Statement Opening
This is the traditional style of opening a paper. This is a "mini-summary" of your paper.
For example:
» Opening with a Story (Anecdote)
A good way of catching your reader's attention is by sharing a story that sets up your paper. Sharing a story gives a paper a more personal feel and helps make your reader comfortable.
This example was borrowed from Jack Gannon's The Week the World Heard Gallaudet (1989):
Astrid Goodstein, a Gallaudet faculty member, entered the beauty salon for her regular appointment, proudly wearing her DPN button. ("I was married to that button that week!" she later confided.) When Sandy, her regular hairdresser, saw the button, he spoke and gestured, "Never! Never! Never!" Offended, Astrid turned around and headed for the door but stopped short of leaving. She decided to keep her appointment, confessing later that at that moment, her sense of principles had lost out to her vanity. Later she realized that her hairdresser had thought she was pushing for a deaf U.S. President. Hook: a specific example or story that interests the reader and introduces the topic.
Transition: connects the hook to the thesis statement
Thesis: summarizes the overall claim of the paper
» Specific Detail Opening
Giving specific details about your subject appeals to your reader's curiosity and helps establish a visual picture of what your paper is about.
» Open with a Quotation
Another method of writing an introduction is to open with a quotation. This method makes your introduction more interactive and more appealing to your reader.
» Open with an Interesting Statistic
Statistics that grab the reader help to make an effective introduction.
» Question Openings
Possibly the easiest opening is one that presents one or more questions to be answered in the paper. This is effective because questions are usually what the reader has in mind when he or she sees your topic.
Source : *Writing an Introduction for a More Formal Essay. (2012). Retrieved April 25, 2012, from http://flightline.highline.edu/wswyt/Writing91/handouts/hook_trans_thesis.htm
Conclusions
The conclusion to any paper is the final impression that can be made. It is the last opportunity to get your point across to the reader and leave the reader feeling as if they learned something. Leaving a paper "dangling" without a proper conclusion can seriously devalue what was said in the body itself. Here are a few effective ways to conclude or close your paper. » Summary Closing Many times conclusions are simple re-statements of the thesis. Many times these conclusions are much like their introductions (see Thesis Statement Opening).
» Close with a Logical Conclusion
This is a good closing for argumentative or opinion papers that present two or more sides of an issue. The conclusion drawn as a result of the research is presented here in the final paragraphs.
» Real or Rhetorical Question Closings
This method of concluding a paper is one step short of giving a logical conclusion. Rather than handing the conclusion over, you can leave the reader with a question that causes him or her to draw his own conclusions.
» Close with a Speculation or Opinion This is a good style for instances when the writer was unable to come up with an answer or a clear decision about whatever it was he or she was researching. For example:
» Close with a Recommendation
A good conclusion is when the writer suggests that the reader do something in the way of support for a cause or a plea for them to take action.
202-448-7036
At a Glance
Quick Facts
University Leadership
History & Traditions
Accreditation
Consumer Information
Our 10-Year Vision: The Gallaudet Promise
Annual Report of Achievements (ARA)
The Signing Ecosystem
Not Your Average University
Our Community
Library & Archives
Technology Support
Interpreting Requests
Ombuds Support
Health and Wellness Programs
Profile & Web Edits
Visit Gallaudet
Explore Our Campus
Virtual Tour
Maps & Directions
Shuttle Bus Schedule
Kellogg Conference Hotel
Welcome Center
National Deaf Life Museum
Apple Guide Maps
Engage Today
Work at Gallaudet / Clerc Center
Social Media Channels
University Wide Events
Sponsorship Requests
Data Requests
Media Inquiries
Gallaudet Today Magazine
Giving at Gallaudet
Financial Aid
Registrar's Office
Residence Life & Housing
Safety & Security
Undergraduate Admissions
Graduate Admissions
University Communications
Clerc Center
Gallaudet University, chartered in 1864, is a private university for deaf and hard of hearing students.
Copyright © 2023 Gallaudet University. All rights reserved.
Accessibility
Cookie Consent Notice
Privacy Policy
File a Report
800 Florida Avenue NE, Washington, D.C. 20002

Want to create or adapt books like this? Learn more about how Pressbooks supports open publishing practices.
10 Writing the Introductory Paragraph
The introductory and concluding paragraphs are like the top and bottom buns of a hamburger. They contain basically the same information and are critical for holding the entire piece together.
Learning Objectives
After completing the exercises in this chapter, you will be able to
identify the three main components of an introductory paragraph
understand how to "hook" your reader
identify what background information needs to be included to lead to your thesis
Essay Structure
You learned in the previous chapter that a body paragraph is structured like a hamburger. You can think of your essay as one big burger!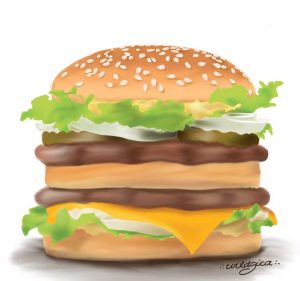 The top bun is the introduction.
The meat and vegetables in the middle are the supporting body paragraphs (several mini-burgers).
The bottom bun is the conclusion.
" Burger "  by wildgica   under license CC BY-NC-ND 3.0 .
The top and bottom bun are both made of bread; they contain the same ingredients (or information) but look a little bit different. The "meat" of your argument is in the supporting body paragraphs.
Structure of the Introductory Paragraph
Your introductory paragraph has three main parts:
Start your introductory paragraph with an interesting comment or question that will get your reader interested in your topic.
a famous or interesting quotation
an anecdote
a startling fact or shocking statistic
a statement of contrast
a prediction
a rhetorical question
the definition of a critical concept
The hook is the very first thing your audience encounters. A good hook should be just one or two sentences. The goal of your hook is to introduce your reader to your broad topic in an interesting way and make your reader excited to read more.
Even though your hook is at the very beginning of your essay, you should actually write your hook LAST!  It will be much easier for you to write an engaging introduction to your topic after you've done all of your research and after you've written your body paragraphs and conclusion.
Watch this video for tips on how to write a captivating and relevant hook [1] :
In part two of this video series, Mister Messinger gives some additional tips about writing hooks, explains some common mistakes that beginning writers make, and warns against using rhetorical questions: rhetorical questions, while fairly easy to write, are often poorly done and not engaging.
Your introductory paragraph should also include some background information. Don't preview the ideas that you'll introduce in your thesis – this is not the place to introduce your supporting points. Instead of giving your argument, explain the critical facts about your topic that an average reader needs to know in order to be prepared for your argument.
Examples of background information related to the broad topic that readers might need to know:
brief historical timeline of critical events
laws or regulations
definitions
current status
The information that you need to provide depends heavily on your topic:
If you are arguing in favour of changing drinking and driving laws, your background information might explain what the current laws are.
If you are arguing that stem cell research should be more heavily supported by the government, you should explain what the current status of stem cell research is.
If you are arguing that culture is learned and not inherited, you might start by defining what "culture" is.
Remember that you are writing for a general audience. Don't assume that your reader has specialized knowledge of your topic.
Remember that you are writing for a general audience, so you shouldn't assume that your readers have any specific knowledge of your topic or that they know any specialized terminology.  The background information that you provide should give your readers the information they need to understand the argument in your thesis.  Be sure, though, that you don't *preview* the thesis. Do not include your argument or any information related to your body paragraphs as background information.
Watch this video for more information about how to include relevant background information [2] :
As you know, the thesis is the most important sentence in your essay. It is placed last in the introductory paragraph. The hook and the background information should lead gracefully to the thesis. The thesis concisely states the answer to your research question by stating the specific topic, implying your stance on the topic, and listing the topics of the supporting body paragraphs.
Learning Check
Consider this short introductory paragraph and answer the questions that follow:
Sample Introductory Paragraph
Let's look at this introductory paragraph that was created by a student for her essay on why the City of Thunder Bay should change its existing laws to allow residents to raise chickens.

The writer's hook is in blue text. The writer is trying to engage the reader on the topic by providing a surprising contrast. What other hooks could the writer have used instead?
The background information is in orange text. The writer realized that her readers wouldn't be able to understand her point of view if they didn't know that the law currently forbids city residents from raising chickens on their property. Is this enough background information for you to understand the thesis? What additional information could the writer have provided?
The thesis is in purple text. The thesis statement is well-written and clearly states all necessary information:
The specific topic (the 'chicken bylaw' in Thunder Bay)
The writer's stance (the bylaw should be changed to allow raising chickens within city limits)
The reasons for the writer's stance (the underlined clauses in the thesis)
When the writer drafts her body paragraphs, she needs to make sure that each underlined idea is the topic of a paragraph and that those paragraphs are organized in the same order as the ideas are presented in the thesis.
Mister Messinger. (2020, July 7). Part 1: Discover how to start essay with an A+ hook: STRONG attention grabbing examples [Video]. YouTube. https://www.youtube.com/watch?v=yvrnVHd-oyM ↵
Mister Messinger. (2020, August 6). How to start an essay: Add background information to write a strong introduction [Video]. YouTube. https://www.youtube.com/watch?v=-bd1t2u-HbE&t=223s ↵
According to Wikipedia: A paraphrase is a restatement of the meaning of a text or passage using other words.
According to Wikipedia: Mosaic Plagiarism – Or "patch writing," is when parts of other works are copied without using quotation marks. It can also be when a student keeps the same structure and meaning of an original passage and only uses synonyms
Writing the Introductory Paragraph Copyright © by Confederation College Communications Department and Paterson Library Commons. All Rights Reserved.
Share This Book