How to Write a Dissertation Discussion Chapter – A Quick Guide with Examples
Published by Alvin Nicolas at August 12th, 2021 , Revised On September 20, 2023
Dissertation discussion is the chapter where you explore the relevance, significance, and meanings of your findings  – allowing you to showcase your talents in describing and analyzing the results of your study.
Here, you will be expected to demonstrate how your research findings  answer the  research questions  established or test the  hypothesis .
The arguments you assert in the dissertation analysis and discussions chapter lay the foundations of your conclusion . It is critically important to discuss the results in a precise manner.
To help you understand how to write a dissertation discussion chapter, here is the list of the main elements of this section so you stay on the right track when writing:
Summary: Start by providing a summary of your key research findings
Interpretations: What is the significance of your findings?
Implications: Why are your findings important to academic and scientific communities, and what purpose would they serve?
Limitations: When and where will your results have no implications?
Future Recommendations : Advice for other researchers and scientists who explore the topic further in future.
The dissertation discussion chapter should be carefully drafted to ensure that the results mentioned in your research align with your research question, aims, and objectives.
Considering the importance of this chapter for all students working on their dissertations, we have comprehensive guidelines on how to write a dissertation discussion chapter.
The discussion and  conclusion  chapters often overlap. Depending on your university, you may be asked to group these two sections in one chapter – Discussion and Conclusion.
In some cases, the results and discussion are put together under the Results and Discussion chapter. Here are some dissertation examples of working out the best structure for your dissertation.
Alternatively, you can look for the required  dissertation structure in your handbook  or consult your supervisor.
Steps of How to Write Dissertation Discussion Chapter
1. provide a summary of your findings.
Start your discussion by summarising the key findings of your research questions. Avoid repeating the information you have already stated in the previous chapters.
You will be expected to clearly express your interpretation of results to answer the research questions established initially in one or two paragraphs.
Here are some  examples of how to present the summary of your findings ;
"The data suggests that",
"The results confirm that",
"The analysis indicates that",
"The research shows a relationship between", etc.
2. Interpretations of Results
Your audience will expect you to provide meanings of the results, although they might seem obvious to you. The results and their interpretations should be linked to the research questions so the reader can understand the value your research has added to the literature.
There are many ways of interpreting the data, but your chosen approach to interpreting the data will depend on the  type of research involved . Some of the most common strategies employed include;
Describing how and why you ended up with unexpected findings and explaining their importance in detail
Relating your findings with previous studies conducted
Explaining your position with logical arguments when/if any alternative explanations are suggested
An in-depth discussion around whether or not the findings answered your research questions and successfully tested the hypothesis
Examples of how you can start your interpretation in the Discussion chapter are –
"Findings of this study contradict those of Allen et al. (2014) that",
"Contrary to the hypothesized association," "Confirming the hypothesis…",
"The findings confirm that A is….. even though Allen et al. (2014) and Michael (2012) suggested B was ….."
3. Implications of your Study
What practical and theoretical implications will your study have for other researchers and the scientific community as a whole?
It is vital to relate your results to the knowledge in the existing literature so the readers can establish how your research will contribute to the existing data.
When thinking of the possible consequences of your findings, you should ask yourself these;
Are your findings in line with previous studies? What contribution did your research make to them?
Why are your results entirely different from other studies on the same topic?
Did your findings approve or contradict existing knowledge?
What are the practical implications of your study?
Remember that as the researcher, you should aim to let your readers know why your study will contribute to the existing literature. Possible ways of starting this particular section are;
"The findings show that A….. whereas Lee (2017) and John (2013) suggested that B", "The results of this study completely contradict the claims made in theories",
"These results are not in line with the theoretical perspectives",
"The statistical analysis provides a new understanding of the relationship between A and B",
"Future studies should take into consideration the findings of this study because"
"Improve your work's language, structure, style, and overall quality. Get help from our experienced dissertation editors to improve the quality of your paper to First Class Standard. Click here to learn more about our Dissertation, Editing, and Improvement Services .
Looking for dissertation help?
Research prospect to the rescue, then.
We have expert writers on our team who are skilled at helping students with dissertations across various disciplines. Guaranteeing 100% satisfaction!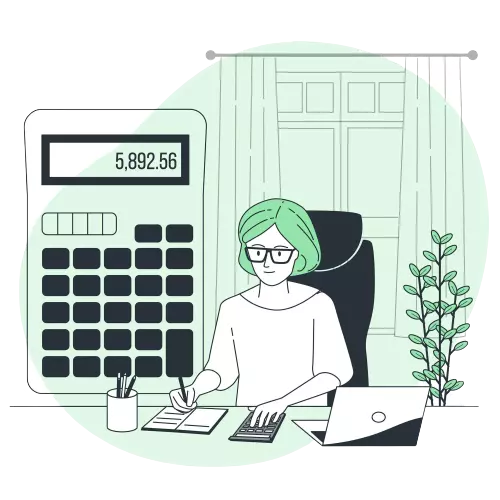 4. Recognise the Limitations of your Research
Almost every academic research has some limitations. Acknowledging them will only add to your credibility as a scientific researcher.
In addition to the possible human errors, it's important to take into account other factors that might have influenced the results of your study, including but not limited to unexpected research obstacles, specific methodological choices , and the overall research design.
Avoid mentioning any limitations that may not be relevant to your research aim, but clearly state the limitations that may have affected your results.
For example, if you used a sample size that included a tiny population, you may not generalise your results.
Similarly, obstacles faced in collecting data from the participants can influence the findings of your study. Make a note of all such  research limitations , but explain to the reader why your results are still authentic.
The small sample size limited the generalisability of the results.
The authenticity of the findings may have been influenced by….
The obstacles in collecting data resulted in…
It is beyond the framework of this research…
5. Provide Recommendations for Future Research
The limitations of your research work directly result in future recommendations. However, it should be noted that your recommendations for future research work should include the areas that your own work could not report so other researchers can build on them.
Sometimes the recommendations are a part of the  conclusion chapter . Some examples;
More research is needed to be performed….
The Purpose of Dissertation Discussion Chapter 
Remember that the discussion section of a dissertation is the heart of your research because a) it will indicate your stance on the topic of research, and b) it answers the research questions initially established in the Introduction chapter .
Every piece of information you present here will add value to the existing literature within your field of study. How you structured your findings in the preceding chapter will help you determine the best structure for your dissertation discussion section.
For example, it might be logical to structure your analysis/discussions by theme if you chose the pattern in your findings section.
But generally, discussion based on research questions is the more widely used  structure  in academia because this pattern clearly indicates how you have addressed the aim of your research.
Most UK universities require the supervisor or committee members to comment on the extent to which each research question has been answered. You will be doing them a great favour if you structure your discussion so that each research question is laid out separately.
Irrespective of whether you are  writing an essay, dissertation, or  chapter of a dissertation , all pieces of writing should start with an  introduction .
Once your readers have read through your study results, you might want to highlight the contents of the subsequent discussion as an introduction paragraph (summary of your results – as explained above).
Likewise, the discussion chapter is expected to end with a concluding paragraph – allowing you the opportunity to summarise your interpretations.
The dissertation analysis & discussion chapter is usually very long, so it will make sense to emphasise the critical points in a concluding paragraph so the reader can grasp the essential information. This will also help to make sure the reader understands your analysis.
Also Read:   Research Discussion Of Findings
Useful Tips 
Presentation of graphs, tables, and figures.
In the 1990s and early 2000s, students spent days creating graphs and charts for their  statistical analysis work . Thanks to technology, you can produce even more accurate graphs and figures today in a shorter period.
Using  Microsoft Word, STATA, SPSS, Microsoft Excel  and other statistical analysis software, we can now draw  beautiful-looking figures, tables , and graphs with just a few clicks and make them appear in our document at the desired place. But there are downsides to being too dependent on technology.
Many students make the common mistake of using colours to represent variables when really they have to print their dissertation paper final copy in black and white.
Any colours on graphs and figures will eventually be viewed in the grayscale presentation. Recognizing different shades of grey on the same chart or graph can sometimes be a little confusing.
For example, green and purple appear as pretty much the same shade of grey on a line chat, meaning your chart will become unreadable to the marker.
Another trap you may fall into is the unintentional stuffing   of the dissertation chapter with graphs and figures. Even though it is essential to show numbers and statistics, you don't want to overwhelm your readers with too many.
It may not be necessary to have a graph/table under each sub-heading. Only you can best judge whether or not you need to have a graph/table under a particular sub-heading as the writer.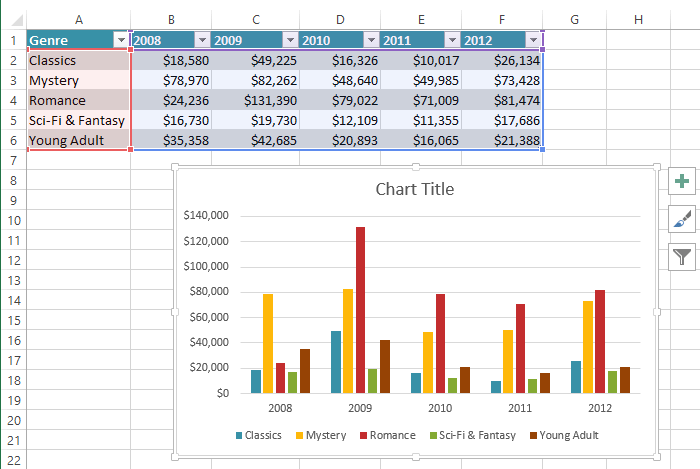 Relating to Previous Chapters  
As a student, it can be challenging to develop your own analysis and discussion of results. One of the excellent discussion chapter requirements is to showcase your ability to relate previous research to your research results.
Avoid repeating the same information over and over. Many students fall into this trap which negatively affects the mark of their overall dissertation paper .
Concise and to-the-point information will help you effectively convey your point to the readers.
Although you must demonstrate how your findings relate to previous research, it is equally important to ensure you are not simply rewriting what has already been said in the introduction  and  literature review  chapters.
The best strategy is to use examples from previous sections to postulate an argument.
Hyperlinks are recommended to take the reader from one section to another. This is especially important for submitting electronic documents as .word or .pdf files. Hyperlinking is tedious and time-consuming, so you should allow for this in your dissertation timeline to avoid rushing in the closing stages.
Also read: How to Write the Abstract for the Dissertation.
Using Subsections and Subheadings
You might want to reflect on the structure of the discussion in your organizstion of the dissertation discussion chapter, and for that, you will need to create sub-sections.
It is essential to keep subsections to the point and as short as possible. Use a layer of subheadings if possible.
For example
Subsection 4.1 of Chapter 4- Discussion can be further divided into sections 4.1.1 and 4.2.2. After three numerical layers (4.1.1, 4.2.2, and 4.2.3), any subheadings need not appear in the contents table.
The titles of all subsections will appear on your table of contents  so choose the wordings carefully. A title too long or too short might confuse the reader. A one or two-word subheading will not give the reader enough information to understand the section.
Likewise, using a research question or long sentences in the subheading is not recommended. It might help to examine how other researchers and writers create these subheadings.
Critical Thinking
Your critical thinking skills are the crux of your dissertation discussion chapter. You will do yourself a great disservice if you fail to put the critical thinking element into the equation.
After all, this exercise aims to showcase clarity in your thoughts and arguments. Markers of the dissertation give more importance to the analysis  and discussion chapter. But you could be marked negatively if this particular chapter lacks critical thinking.
Many students struggle to distinguish between fundamental descriptive analysis and critical thinking with their opinions on the research topic.
Critical thinking is a skill developed over time, and it might be daunting for you to come to terms with the idea of critical thinking and its use in your analysis. But even if you are no expert, you must try your best.
"Still unsure about  how to write a dissertation discussion chapter ? Why not take advantage of our  UK-based dissertation writing service ? Your dissertation is essential to your degree, so you cannot risk failing it.
With our custom writing service , you are guaranteed to have all your dissertation paper elements put into the right place. Our expert academics can help you with your full dissertation paper or a part of it.  Click here to learn more about our dissertation services.
Duplication of Content
Another critical error students make reaffirming the point the graph/chart was supposed to make. Writing out the same information as presented in the graph defeats the whole purpose of having them in the first place.
You will be expected to form your opinions and arguments based on the findings (as presented by the graphs), so keep an eye on this mistake. Finally, avoid simply inserting a graph without any explanation whatsoever.
It should be noted that there is no correct or incorrect number of charts/figures one can use in the dissertation findings and discussion chapter. A balance must be struck.
Avoid Over Interpretation
This is a major no-no when writing a dissertation discussion. Do not make an argument that isn't backed by your collected data.
The results and interpretations that cannot be supported should not be mentioned. Your research will be deemed unauthentic and will also be questioned by your supervisor if you do so. Results should be interpreted without any bias.
How to Write the Findings of a Dissertation.
Do not Speculate
Speculation in the  discussion chapter of your dissertation is discouraged. Your dissertation's discussion is based on your collected data and how it relates to your research questions. Thus, speculating here will undoubtedly undermine your research's credibility.
Also, try not to generalise your findings. If your research is based on a specific population, do not state that the same findings might apply in every case. As indicated previously, it is essential to acknowledge the limitations of your research.
On the other hand, if you think your discussion needs to address other populations as well, start your sentence like this 'We speculate that..' or 'It is speculated that..' This will keep you from getting into any trouble.
What are the elements of the Dissertation Discussion?
The list of the main elements of the discussion chapter are:
Implications : Why are your findings important to academic and scientific communities, and what purpose would they serve?
Future Recommendations: Advice for other researchers and scientists who explore the topic further in future.
What are the steps of writing a Dissertation Discussion Chapter?
Write a summary of the findings
Provide a summary of your findings
Interpretations of Results
Recognise the Limitations of your research
Provide Recommendations for Future Research.
Can we use graphs and charts in the Dissertation Discussion Chapter?
Yes, using graphs to aid your statistical results and enhance presentation is essential, but do not overwhelm it with a lot of graphs in multiple colours. 
You May Also Like
Dissertation conclusion is perhaps the most underrated part of a dissertation or thesis paper. Learn how to write a dissertation conclusion.
Not sure how to write the findings of a dissertation. Here are some comprehensive guidelines for you to learn to write a flawless findings chapter.
Not sure how to write dissertation title page? All dissertations must have a dissertation title page where necessary information should be clearly presented
Ready to place an order?
Useful links, learning resources.

COMPANY DETAILS

When you choose to publish with PLOS, your research makes an impact. Make your work accessible to all, without restrictions, and accelerate scientific discovery with options like preprints and published peer review that make your work more Open.
PLOS Biology
PLOS Climate
PLOS Complex Systems
PLOS Computational Biology
PLOS Digital Health
PLOS Genetics
PLOS Global Public Health
PLOS Medicine
PLOS Mental Health
PLOS Neglected Tropical Diseases
PLOS Pathogens
PLOS Sustainability and Transformation
PLOS Collections
How to Write Discussions and Conclusions
The discussion section contains the results and outcomes of a study. An effective discussion informs readers what can be learned from your experiment and provides context for the results.
What makes an effective discussion?
When you're ready to write your discussion, you've already introduced the purpose of your study and provided an in-depth description of the methodology. The discussion informs readers about the larger implications of your study based on the results. Highlighting these implications while not overstating the findings can be challenging, especially when you're submitting to a journal that selects articles based on novelty or potential impact. Regardless of what journal you are submitting to, the discussion section always serves the same purpose: concluding what your study results actually mean.
A successful discussion section puts your findings in context. It should include:
the results of your research,
a discussion of related research, and
a comparison between your results and initial hypothesis.
Tip: Not all journals share the same naming conventions.
You can apply the advice in this article to the conclusion, results or discussion sections of your manuscript.
Our Early Career Researcher community tells us that the conclusion is often considered the most difficult aspect of a manuscript to write. To help, this guide provides questions to ask yourself, a basic structure to model your discussion off of and examples from published manuscripts.
Questions to ask yourself:
Was my hypothesis correct?
If my hypothesis is partially correct or entirely different, what can be learned from the results?
How do the conclusions reshape or add onto the existing knowledge in the field? What does previous research say about the topic?
Why are the results important or relevant to your audience? Do they add further evidence to a scientific consensus or disprove prior studies?
How can future research build on these observations? What are the key experiments that must be done?
What is the "take-home" message you want your reader to leave with?
How to structure a discussion
Trying to fit a complete discussion into a single paragraph can add unnecessary stress to the writing process. If possible, you'll want to give yourself two or three paragraphs to give the reader a comprehensive understanding of your study as a whole. Here's one way to structure an effective discussion:
Writing Tips
While the above sections can help you brainstorm and structure your discussion, there are many common mistakes that writers revert to when having difficulties with their paper. Writing a discussion can be a delicate balance between summarizing your results, providing proper context for your research and avoiding introducing new information. Remember that your paper should be both confident and honest about the results!
Read the journal's guidelines on the discussion and conclusion sections. If possible, learn about the guidelines before writing the discussion to ensure you're writing to meet their expectations.
Begin with a clear statement of the principal findings. This will reinforce the main take-away for the reader and set up the rest of the discussion.
Explain why the outcomes of your study are important to the reader. Discuss the implications of your findings realistically based on previous literature, highlighting both the strengths and limitations of the research.
State whether the results prove or disprove your hypothesis. If your hypothesis was disproved, what might be the reasons?
Introduce new or expanded ways to think about the research question. Indicate what next steps can be taken to further pursue any unresolved questions.
If dealing with a contemporary or ongoing problem, such as climate change, discuss possible consequences if the problem is avoided.
Be concise. Adding unnecessary detail can distract from the main findings.
Don't
Rewrite your abstract. Statements with "we investigated" or "we studied" generally do not belong in the discussion.
Include new arguments or evidence not previously discussed. Necessary information and evidence should be introduced in the main body of the paper.
Apologize. Even if your research contains significant limitations, don't undermine your authority by including statements that doubt your methodology or execution.
Shy away from speaking on limitations or negative results. Including limitations and negative results will give readers a complete understanding of the presented research. Potential limitations include sources of potential bias, threats to internal or external validity, barriers to implementing an intervention and other issues inherent to the study design.
Overstate the importance of your findings. Making grand statements about how a study will fully resolve large questions can lead readers to doubt the success of the research.
Snippets of Effective Discussions:
Consumer-based actions to reduce plastic pollution in rivers: A multi-criteria decision analysis approach
Identifying reliable indicators of fitness in polar bears
How to Write a Great Title
How to Write an Abstract
How to Write Your Methods
How to Report Statistics
How to Edit Your Work
The contents of the Peer Review Center are also available as a live, interactive training session, complete with slides, talking points, and activities. …
The contents of the Writing Center are also available as a live, interactive training session, complete with slides, talking points, and activities. …
There's a lot to consider when deciding where to submit your work. Learn how to choose a journal that will help your study reach its audience, while reflecting your values as a researcher…
USC Libraries
Research Guides
Organizing Your Social Sciences Research Paper
8. The Discussion
Purpose of Guide
Design Flaws to Avoid
Independent and Dependent Variables
Glossary of Research Terms
Reading Research Effectively
Narrowing a Topic Idea
Broadening a Topic Idea
Extending the Timeliness of a Topic Idea
Academic Writing Style
Choosing a Title
Making an Outline
Paragraph Development
Research Process Video Series
Executive Summary
The C.A.R.S. Model
Background Information
The Research Problem/Question
Theoretical Framework
Citation Tracking
Content Alert Services
Evaluating Sources
Primary Sources
Secondary Sources
Tiertiary Sources
Scholarly vs. Popular Publications
Qualitative Methods
Quantitative Methods
Insiderness
Using Non-Textual Elements
Limitations of the Study
Common Grammar Mistakes
Writing Concisely
Avoiding Plagiarism
Footnotes or Endnotes?
Further Readings
Generative AI and Writing
USC Libraries Tutorials and Other Guides
Bibliography
The purpose of the discussion section is to interpret and describe the significance of your findings in relation to what was already known about the research problem being investigated and to explain any new understanding or insights that emerged as a result of your research. The discussion will always connect to the introduction by way of the research questions or hypotheses you posed and the literature you reviewed, but the discussion does not simply repeat or rearrange the first parts of your paper; the discussion clearly explains how your study advanced the reader's understanding of the research problem from where you left them at the end of your review of prior research.
Annesley, Thomas M. "The Discussion Section: Your Closing Argument." Clinical Chemistry 56 (November 2010): 1671-1674.
Importance of a Good Discussion
The discussion section is often considered the most important part of your research paper because it:
Most effectively demonstrates your ability as a researcher to think critically about an issue, to develop creative solutions to problems based upon a logical synthesis of the findings, and to formulate a deeper, more profound understanding of the research problem under investigation;
Presents the underlying meaning of your research, notes possible implications in other areas of study, and explores possible improvements that can be made in order to further develop the concerns of your research;
Highlights the importance of your study and how it can contribute to understanding the research problem within the field of study;
Presents how the findings from your study revealed and helped fill gaps in the literature that had not been previously exposed or adequately described; and,
Engages the reader in thinking critically about issues based on an evidence-based interpretation of findings; it is not governed strictly by objective reporting of information.
Annesley Thomas M. "The Discussion Section: Your Closing Argument." Clinical Chemistry 56 (November 2010): 1671-1674; Bitchener, John and Helen Basturkmen. "Perceptions of the Difficulties of Postgraduate L2 Thesis Students Writing the Discussion Section." Journal of English for Academic Purposes 5 (January 2006): 4-18; Kretchmer, Paul. Fourteen Steps to Writing an Effective Discussion Section. San Francisco Edit, 2003-2008.
Structure and Writing Style
I. General Rules
These are the general rules you should adopt when composing your discussion of the results :
Do not be verbose or repetitive; be concise and make your points clearly
Avoid the use of jargon or undefined technical language
Follow a logical stream of thought; in general, interpret and discuss the significance of your findings in the same sequence you described them in your results section [a notable exception is to begin by highlighting an unexpected result or a finding that can grab the reader's attention]
Use the present verb tense, especially for established facts; however, refer to specific works or prior studies in the past tense
If needed, use subheadings to help organize your discussion or to categorize your interpretations into themes
II. The Content
The content of the discussion section of your paper most often includes :
Explanation of results : Comment on whether or not the results were expected for each set of findings; go into greater depth to explain findings that were unexpected or especially profound. If appropriate, note any unusual or unanticipated patterns or trends that emerged from your results and explain their meaning in relation to the research problem.
References to previous research : Either compare your results with the findings from other studies or use the studies to support a claim. This can include re-visiting key sources already cited in your literature review section, or, save them to cite later in the discussion section if they are more important to compare with your results instead of being a part of the general literature review of prior research used to provide context and background information. Note that you can make this decision to highlight specific studies after you have begun writing the discussion section.
Deduction : A claim for how the results can be applied more generally. For example, describing lessons learned, proposing recommendations that can help improve a situation, or highlighting best practices.
Hypothesis : A more general claim or possible conclusion arising from the results [which may be proved or disproved in subsequent research]. This can be framed as new research questions that emerged as a consequence of your analysis.
III. Organization and Structure
Keep the following sequential points in mind as you organize and write the discussion section of your paper:
Think of your discussion as an inverted pyramid. Organize the discussion from the general to the specific, linking your findings to the literature, then to theory, then to practice [if appropriate].
Use the same key terms, narrative style, and verb tense [present] that you used when describing the research problem in your introduction.
Begin by briefly re-stating the research problem you were investigating and answer all of the research questions underpinning the problem that you posed in the introduction.
Describe the patterns, principles, and relationships shown by each major findings and place them in proper perspective. The sequence of this information is important; first state the answer, then the relevant results, then cite the work of others. If appropriate, refer the reader to a figure or table to help enhance the interpretation of the data [either within the text or as an appendix].
Regardless of where it's mentioned, a good discussion section includes analysis of any unexpected findings. This part of the discussion should begin with a description of the unanticipated finding, followed by a brief interpretation as to why you believe it appeared and, if necessary, its possible significance in relation to the overall study. If more than one unexpected finding emerged during the study, describe each of them in the order they appeared as you gathered or analyzed the data. As noted, the exception to discussing findings in the same order you described them in the results section would be to begin by highlighting the implications of a particularly unexpected or significant finding that emerged from the study, followed by a discussion of the remaining findings.
Before concluding the discussion, identify potential limitations and weaknesses if you do not plan to do so in the conclusion of the paper. Comment on their relative importance in relation to your overall interpretation of the results and, if necessary, note how they may affect the validity of your findings. Avoid using an apologetic tone; however, be honest and self-critical [e.g., in retrospect, had you included a particular question in a survey instrument, additional data could have been revealed].
The discussion section should end with a concise summary of the principal implications of the findings regardless of their significance. Give a brief explanation about why you believe the findings and conclusions of your study are important and how they support broader knowledge or understanding of the research problem. This can be followed by any recommendations for further research. However, do not offer recommendations which could have been easily addressed within the study. This would demonstrate to the reader that you have inadequately examined and interpreted the data.
IV. Overall Objectives
The objectives of your discussion section should include the following: I. Reiterate the Research Problem/State the Major Findings
Briefly reiterate the research problem or problems you are investigating and the methods you used to investigate them, then move quickly to describe the major findings of the study. You should write a direct, declarative, and succinct proclamation of the study results, usually in one paragraph.
II. Explain the Meaning of the Findings and Why They are Important
No one has thought as long and hard about your study as you have. Systematically explain the underlying meaning of your findings and state why you believe they are significant. After reading the discussion section, you want the reader to think critically about the results and why they are important. You don't want to force the reader to go through the paper multiple times to figure out what it all means. If applicable, begin this part of the section by repeating what you consider to be your most significant or unanticipated finding first, then systematically review each finding. Otherwise, follow the general order you reported the findings presented in the results section.
III. Relate the Findings to Similar Studies
No study in the social sciences is so novel or possesses such a restricted focus that it has absolutely no relation to previously published research. The discussion section should relate your results to those found in other studies, particularly if questions raised from prior studies served as the motivation for your research. This is important because comparing and contrasting the findings of other studies helps to support the overall importance of your results and it highlights how and in what ways your study differs from other research about the topic. Note that any significant or unanticipated finding is often because there was no prior research to indicate the finding could occur. If there is prior research to indicate this, you need to explain why it was significant or unanticipated. IV. Consider Alternative Explanations of the Findings
It is important to remember that the purpose of research in the social sciences is to discover and not to prove . When writing the discussion section, you should carefully consider all possible explanations for the study results, rather than just those that fit your hypothesis or prior assumptions and biases. This is especially important when describing the discovery of significant or unanticipated findings.
V. Acknowledge the Study's Limitations
It is far better for you to identify and acknowledge your study's limitations than to have them pointed out by your professor! Note any unanswered questions or issues your study could not address and describe the generalizability of your results to other situations. If a limitation is applicable to the method chosen to gather information, then describe in detail the problems you encountered and why. VI. Make Suggestions for Further Research
You may choose to conclude the discussion section by making suggestions for further research [as opposed to offering suggestions in the conclusion of your paper]. Although your study can offer important insights about the research problem, this is where you can address other questions related to the problem that remain unanswered or highlight hidden issues that were revealed as a result of conducting your research. You should frame your suggestions by linking the need for further research to the limitations of your study [e.g., in future studies, the survey instrument should include more questions that ask..."] or linking to critical issues revealed from the data that were not considered initially in your research.
NOTE: Besides the literature review section, the preponderance of references to sources is usually found in the discussion section . A few historical references may be helpful for perspective, but most of the references should be relatively recent and included to aid in the interpretation of your results, to support the significance of a finding, and/or to place a finding within a particular context. If a study that you cited does not support your findings, don't ignore it--clearly explain why your research findings differ from theirs.
V. Problems to Avoid
Do not waste time restating your results . Should you need to remind the reader of a finding to be discussed, use "bridge sentences" that relate the result to the interpretation. An example would be: "In the case of determining available housing to single women with children in rural areas of Texas, the findings suggest that access to good schools is important...," then move on to further explaining this finding and its implications.
As noted, recommendations for further research can be included in either the discussion or conclusion of your paper, but do not repeat your recommendations in the both sections. Think about the overall narrative flow of your paper to determine where best to locate this information. However, if your findings raise a lot of new questions or issues, consider including suggestions for further research in the discussion section.
Do not introduce new results in the discussion section. Be wary of mistaking the reiteration of a specific finding for an interpretation because it may confuse the reader. The description of findings [results section] and the interpretation of their significance [discussion section] should be distinct parts of your paper. If you choose to combine the results section and the discussion section into a single narrative, you must be clear in how you report the information discovered and your own interpretation of each finding. This approach is not recommended if you lack experience writing college-level research papers.
Use of the first person pronoun is generally acceptable. Using first person singular pronouns can help emphasize a point or illustrate a contrasting finding. However, keep in mind that too much use of the first person can actually distract the reader from the main points [i.e., I know you're telling me this--just tell me!].
Analyzing vs. Summarizing. Department of English Writing Guide. George Mason University; Discussion. The Structure, Format, Content, and Style of a Journal-Style Scientific Paper. Department of Biology. Bates College; Hess, Dean R. "How to Write an Effective Discussion." Respiratory Care 49 (October 2004); Kretchmer, Paul. Fourteen Steps to Writing to Writing an Effective Discussion Section. San Francisco Edit, 2003-2008; The Lab Report. University College Writing Centre. University of Toronto; Sauaia, A. et al. "The Anatomy of an Article: The Discussion Section: "How Does the Article I Read Today Change What I Will Recommend to my Patients Tomorrow?" The Journal of Trauma and Acute Care Surgery 74 (June 2013): 1599-1602; Research Limitations & Future Research . Lund Research Ltd., 2012; Summary: Using it Wisely. The Writing Center. University of North Carolina; Schafer, Mickey S. Writing the Discussion. Writing in Psychology course syllabus. University of Florida; Yellin, Linda L. A Sociology Writer's Guide . Boston, MA: Allyn and Bacon, 2009.
Writing Tip
Don't Over-Interpret the Results!
Interpretation is a subjective exercise. As such, you should always approach the selection and interpretation of your findings introspectively and to think critically about the possibility of judgmental biases unintentionally entering into discussions about the significance of your work. With this in mind, be careful that you do not read more into the findings than can be supported by the evidence you have gathered. Remember that the data are the data: nothing more, nothing less.
MacCoun, Robert J. "Biases in the Interpretation and Use of Research Results." Annual Review of Psychology 49 (February 1998): 259-287.
Another Writing Tip
Don't Write Two Results Sections!
One of the most common mistakes that you can make when discussing the results of your study is to present a superficial interpretation of the findings that more or less re-states the results section of your paper. Obviously, you must refer to your results when discussing them, but focus on the interpretation of those results and their significance in relation to the research problem, not the data itself.
Azar, Beth. "Discussing Your Findings." American Psychological Association gradPSYCH Magazine (January 2006).
Yet Another Writing Tip
Avoid Unwarranted Speculation!
The discussion section should remain focused on the findings of your study. For example, if the purpose of your research was to measure the impact of foreign aid on increasing access to education among disadvantaged children in Bangladesh, it would not be appropriate to speculate about how your findings might apply to populations in other countries without drawing from existing studies to support your claim or if analysis of other countries was not a part of your original research design. If you feel compelled to speculate, do so in the form of describing possible implications or explaining possible impacts. Be certain that you clearly identify your comments as speculation or as a suggestion for where further research is needed. Sometimes your professor will encourage you to expand your discussion of the results in this way, while others don't care what your opinion is beyond your effort to interpret the data in relation to the research problem.
<< Previous: Using Non-Textual Elements
Next: Limitations of the Study >>
Last Updated: Oct 10, 2023 1:30 PM
URL: https://libguides.usc.edu/writingguide

Langson Library
Science Library
Grunigen Medical Library
Law Library
Connect From Off-Campus
Accessibility
Gateway Study Center

Email this link
Writing a scientific paper.
Writing a lab report
INTRODUCTION
Writing a "good" discussion section
"discussion and conclusions checklist" from: how to write a good scientific paper. chris a. mack. spie. 2018., peer review.
LITERATURE CITED
Bibliography of guides to scientific writing and presenting
Presentations
Lab Report Writing Guides on the Web
This is is usually the hardest section to write. You are trying to bring out the true meaning of your data without being too long. Do not use words to conceal your facts or reasoning. Also do not repeat your results, this is a discussion.
Present principles, relationships and generalizations shown by the results
Point out exceptions or lack of correlations. Define why you think this is so.
Show how your results agree or disagree with previously published works
Discuss the theoretical implications of your work as well as practical applications
State your conclusions clearly. Summarize your evidence for each conclusion.
Discuss the significance of the results
Evidence does not explain itself; the results must be presented and then explained.
Typical stages in the discussion: summarizing the results, discussing whether results are expected or unexpected, comparing these results to previous work, interpreting and explaining the results (often by comparison to a theory or model), and hypothesizing about their generality.
Discuss any problems or shortcomings encountered during the course of the work.
Discuss possible alternate explanations for the results.
Avoid: presenting results that are never discussed; presenting discussion that does not relate to any of the results; presenting results and discussion in chronological order rather than logical order; ignoring results that do not support the conclusions; drawing conclusions from results without logical arguments to back them up.
CONCLUSIONS
Provide a very brief summary of the Results and Discussion.
Emphasize the implications of the findings, explaining how the work is significant and providing the key message(s) the author wishes to convey.
Provide the most general claims that can be supported by the evidence.
Provide a future perspective on the work.
Avoid: repeating the abstract; repeating background information from the Introduction; introducing new evidence or new arguments not found in the Results and Discussion; repeating the arguments made in the Results and Discussion; failing to address all of the research questions set out in the Introduction.
WHAT HAPPENS AFTER I COMPLETE MY PAPER?
The peer review process is the quality control step in the publication of ideas. Papers that are submitted to a journal for publication are sent out to several scientists (peers) who look carefully at the paper to see if it is "good science". These reviewers then recommend to the editor of a journal whether or not a paper should be published. Most journals have publication guidelines. Ask for them and follow them exactly. Peer reviewers examine the soundness of the materials and methods section. Are the materials and methods used written clearly enough for another scientist to reproduce the experiment? Other areas they look at are: originality of research, significance of research question studied, soundness of the discussion and interpretation, correct spelling and use of technical terms, and length of the article.
<< Previous: RESULTS
Next: LITERATURE CITED >>
Last Updated: Aug 4, 2023 9:33 AM
URL: https://guides.lib.uci.edu/scientificwriting
Off-campus? Please use the Software VPN and choose the group UCIFull to access licensed content. For more information, please Click here
Software VPN is not available for guests, so they may not have access to some content when connecting from off-campus.
Frequently asked questions
What's the difference between the discussion and the conclusion.
In a thesis or dissertation, the discussion is an in-depth exploration of the results, going into detail about the meaning of your findings and citing relevant sources to put them in context.
The conclusion is more shorter and more general: it concisely answers your main research question and makes recommendations based on your overall findings.
Frequently asked questions: Dissertation
Dissertation word counts vary widely across different fields, institutions, and levels of education:
An undergraduate dissertation is typically 8,000–15,000 words
A master's dissertation is typically 12,000–50,000 words
A PhD thesis is typically book-length: 70,000–100,000 words
However, none of these are strict guidelines – your word count may be lower or higher than the numbers stated here. Always check the guidelines provided by your university to determine how long your own dissertation should be.
A dissertation prospectus or proposal describes what or who you plan to research for your dissertation. It delves into why, when, where, and how you will do your research, as well as helps you choose a type of research to pursue. You should also determine whether you plan to pursue qualitative or quantitative methods and what your research design will look like.
It should outline all of the decisions you have taken about your project, from your dissertation topic to your hypotheses and research objectives , ready to be approved by your supervisor or committee.
Note that some departments require a defense component, where you present your prospectus to your committee orally.
A thesis is typically written by students finishing up a bachelor's or Master's degree. Some educational institutions, particularly in the liberal arts, have mandatory theses, but they are often not mandatory to graduate from bachelor's degrees. It is more common for a thesis to be a graduation requirement from a Master's degree.
Even if not mandatory, you may want to consider writing a thesis if you:
Plan to attend graduate school soon
Have a particular topic you'd like to study more in-depth
Are considering a career in research
Would like a capstone experience to tie up your academic experience
The conclusion of your thesis or dissertation should include the following:
A restatement of your research question
A summary of your key arguments and/or results
A short discussion of the implications of your research
The conclusion of your thesis or dissertation shouldn't take up more than 5–7% of your overall word count.
For a stronger dissertation conclusion , avoid including:
Important evidence or analysis that wasn't mentioned in the discussion section and results section
Generic concluding phrases (e.g. "In conclusion …")
Weak statements that undermine your argument (e.g., "There are good points on both sides of this issue.")
Your conclusion should leave the reader with a strong, decisive impression of your work.
While it may be tempting to present new arguments or evidence in your thesis or disseration conclusion , especially if you have a particularly striking argument you'd like to finish your analysis with, you shouldn't. Theses and dissertations follow a more formal structure than this.
All your findings and arguments should be presented in the body of the text (more specifically in the discussion section and results section .) The conclusion is meant to summarize and reflect on the evidence and arguments you have already presented, not introduce new ones.
A theoretical framework can sometimes be integrated into a  literature review chapter , but it can also be included as its own chapter or section in your dissertation . As a rule of thumb, if your research involves dealing with a lot of complex theories, it's a good idea to include a separate theoretical framework chapter.
A literature review and a theoretical framework are not the same thing and cannot be used interchangeably. While a theoretical framework describes the theoretical underpinnings of your work, a literature review critically evaluates existing research relating to your topic. You'll likely need both in your dissertation .
While a theoretical framework describes the theoretical underpinnings of your work based on existing research, a conceptual framework allows you to draw your own conclusions, mapping out the variables you may use in your study and the interplay between them.
A thesis or dissertation outline is one of the most critical first steps in your writing process. It helps you to lay out and organize your ideas and can provide you with a roadmap for deciding what kind of research you'd like to undertake.
Generally, an outline contains information on the different sections included in your thesis or dissertation , such as:
Your anticipated title
Your abstract
Your chapters (sometimes subdivided into further topics like literature review , research methods , avenues for future research, etc.)
When you mention different chapters within your text, it's considered best to use Roman numerals for most citation styles. However, the most important thing here is to remain consistent whenever using numbers in your dissertation .
In most styles, the title page is used purely to provide information and doesn't include any images. Ask your supervisor if you are allowed to include an image on the title page before doing so. If you do decide to include one, make sure to check whether you need permission from the creator of the image.
Include a note directly beneath the image acknowledging where it comes from, beginning with the word " Note ." (italicized and followed by a period). Include a citation and copyright attribution . Don't title, number, or label the image as a figure , since it doesn't appear in your main text.
Definitional terms often fall into the category of common knowledge , meaning that they don't necessarily have to be cited. This guidance can apply to your thesis or dissertation glossary as well.
However, if you'd prefer to cite your sources , you can follow guidance for citing dictionary entries in MLA or APA style for your glossary.
A glossary is a collection of words pertaining to a specific topic. In your thesis or dissertation, it's a list of all terms you used that may not immediately be obvious to your reader. In contrast, an index is a list of the contents of your work organized by page number.
The title page of your thesis or dissertation goes first, before all other content or lists that you may choose to include.
The title page of your thesis or dissertation should include your name, department, institution, degree program, and submission date.
Glossaries are not mandatory, but if you use a lot of technical or field-specific terms, it may improve readability to add one to your thesis or dissertation. Your educational institution may also require them, so be sure to check their specific guidelines.
A glossary or "glossary of terms" is a collection of words pertaining to a specific topic. In your thesis or dissertation, it's a list of all terms you used that may not immediately be obvious to your reader. Your glossary only needs to include terms that your reader may not be familiar with, and is intended to enhance their understanding of your work.
A glossary is a collection of words pertaining to a specific topic. In your thesis or dissertation, it's a list of all terms you used that may not immediately be obvious to your reader. In contrast, dictionaries are more general collections of words.
An abbreviation is a shortened version of an existing word, such as Dr. for Doctor. In contrast, an acronym uses the first letter of each word to create a wholly new word, such as UNESCO (an acronym for the United Nations Educational, Scientific and Cultural Organization).
As a rule of thumb, write the explanation in full the first time you use an acronym or abbreviation. You can then proceed with the shortened version. However, if the abbreviation is very common (like PC, USA, or DNA), then you can use the abbreviated version from the get-go.
Be sure to add each abbreviation in your list of abbreviations !
If you only used a few abbreviations in your thesis or dissertation , you don't necessarily need to include a list of abbreviations .
If your abbreviations are numerous, or if you think they won't be known to your audience, it's never a bad idea to add one. They can also improve readability, minimizing confusion about abbreviations unfamiliar to your reader.
A list of abbreviations is a list of all the abbreviations that you used in your thesis or dissertation. It should appear at the beginning of your document, with items in alphabetical order, just after your table of contents .
Your list of tables and figures should go directly after your table of contents in your thesis or dissertation.
Lists of figures and tables are often not required, and aren't particularly common. They specifically aren't required for APA-Style, though you should be careful to follow their other guidelines for figures and tables .
If you have many figures and tables in your thesis or dissertation, include one may help you stay organized. Your educational institution may require them, so be sure to check their guidelines.
A list of figures and tables compiles all of the figures and tables that you used in your thesis or dissertation and displays them with the page number where they can be found.
The table of contents in a thesis or dissertation always goes between your abstract and your introduction .
You may acknowledge God in your dissertation acknowledgements , but be sure to follow academic convention by also thanking the members of academia, as well as family, colleagues, and friends who helped you.
A literature review is a survey of credible sources on a topic, often used in dissertations , theses, and research papers . Literature reviews give an overview of knowledge on a subject, helping you identify relevant theories and methods, as well as gaps in existing research. Literature reviews are set up similarly to other  academic texts , with an introduction , a main body, and a conclusion .
An  annotated bibliography is a list of  source references that has a short description (called an annotation ) for each of the sources. It is often assigned as part of the research process for a  paper .  
In the discussion , you explore the meaning and relevance of your research results , explaining how they fit with existing research and theory. Discuss:
Your  interpretations : what do the results tell us?
The  implications : why do the results matter?
The  limitation s : what can't the results tell us?
The results chapter or section simply and objectively reports what you found, without speculating on why you found these results. The discussion interprets the meaning of the results, puts them in context, and explains why they matter.
In qualitative research , results and discussion are sometimes combined. But in quantitative research , it's considered important to separate the objective results from your interpretation of them.
Results are usually written in the past tense , because they are describing the outcome of completed actions.
The results chapter of a thesis or dissertation presents your research results concisely and objectively.
In quantitative research , for each question or hypothesis , state:
The type of analysis used
Relevant results in the form of descriptive and inferential statistics
Whether or not the alternative hypothesis was supported
In qualitative research , for each question or theme, describe:
Recurring patterns
Significant or representative individual responses
Relevant quotations from the data
Don't interpret or speculate in the results chapter.
To automatically insert a table of contents in Microsoft Word, follow these steps:
Apply heading styles throughout the document.
In the references section in the ribbon, locate the Table of Contents group.
Click the arrow next to the Table of Contents icon and select Custom Table of Contents.
Select which levels of headings you would like to include in the table of contents.
Make sure to update your table of contents if you move text or change headings. To update, simply right click and select Update Field.
All level 1 and 2 headings should be included in your table of contents . That means the titles of your chapters and the main sections within them.
The contents should also include all appendices and the lists of tables and figures, if applicable, as well as your reference list .
Do not include the acknowledgements or abstract in the table of contents.
The abstract appears on its own page in the thesis or dissertation , after the title page and acknowledgements but before the table of contents .
An abstract for a thesis or dissertation is usually around 200–300 words. There's often a strict word limit, so make sure to check your university's requirements.
In a thesis or dissertation, the acknowledgements should usually be no longer than one page. There is no minimum length.
The acknowledgements are generally included at the very beginning of your thesis , directly after the title page and before the abstract .
Yes, it's important to thank your supervisor(s) in the acknowledgements section of your thesis or dissertation .
Even if you feel your supervisor did not contribute greatly to the final product, you must acknowledge them, if only for a very brief thank you. If you do not include your supervisor, it may be seen as a snub.
In the acknowledgements of your thesis or dissertation, you should first thank those who helped you academically or professionally, such as your supervisor, funders, and other academics.
Then you can include personal thanks to friends, family members, or anyone else who supported you during the process.
Ask our team
Want to contact us directly? No problem.  We  are always here for you.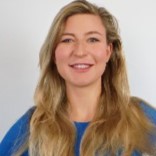 Our team helps students graduate by offering:
A world-class citation generator
Plagiarism Checker software powered by Turnitin
Innovative Citation Checker software
Professional proofreading services
Over 300 helpful articles about academic writing, citing sources, plagiarism, and more
Scribbr specializes in editing study-related documents . We proofread:
PhD dissertations
Research proposals
Personal statements
Admission essays
Motivation letters
Reflection papers
Journal articles
Capstone projects
The Scribbr Plagiarism Checker is powered by elements of Turnitin's Similarity Checker , namely the plagiarism detection software and the Internet Archive and Premium Scholarly Publications content databases .
The Scribbr Citation Generator is developed using the open-source Citation Style Language (CSL) project and Frank Bennett's citeproc-js . It's the same technology used by dozens of other popular citation tools, including Mendeley and Zotero.
You can find all the citation styles and locales used in the Scribbr Citation Generator in our publicly accessible repository on Github .
Dissertation & Thesis Guides
Basics of Dissertation & Thesis Writing
How to Write a Dissertation Discussion Chapter: Guide & Examples
How to Write a Dissertation Discussion Chapter: Guide & Examples
Table of contents
Dissertation discussion section is a chapter that interprets the results obtained from research and offers an in-depth analysis of findings. In this section, students need to analyze the outcomes, evaluate their significance, and compare them to previous research. The discussion section may also explore the limitations of the study and suggest further research perspectives.
If you are stuck with your thesis or dissertation discussion chapter, you are in the right place to complete this section successfully. This article will outline our best solutions and methods on how to write the discussion of a dissertation or thesis. We also will share advanced dissertation discussion examples to help you finalize your PhD work.  Feel like academic writing gives you hassles? Remember that you can always rely on academic experts qualified in your field to get professional dissertation help online .
What Is a Dissertation Discussion?
First and foremost, students need to have a clear understanding of what dissertation discussion is. This is not the same as your results section , where you share data from your research. You are going deeper into the explanation of the existing data in your thesis or dissertation discussion section. In other words, you illustrate practical implications of your research and how the data can be used, researched further, or limited.  What will make your discussion section of a dissertation excellent:
clear structure
practical implication
elaboration on future work on this topic.
This section should go after research methodology and before the dissertation conclusion . It should be directly relevant to questions posed in your introduction.  The biggest mistake you can make is to rewrite your result chapter with other words and add some limitations and recommendation paragraphs. However, this is an entirely different type of writing you need to complete.
Purpose of a Dissertation Discussion Chapter
A dissertation discussion section is critical to explaining students' findings and the application of data to real-life cases. As we mentioned before, this section will often be read right after the dissertation methods . It evaluates and elaborates on findings and helps to understand the importance of your performed thesis research.  A dissertation discussion opens a new perspective on further research on the same field or topic. It also outlines critical data to consider in subsequent studies. In a nutshell, this is the section where you explain your work to a broad audience.
Structure of a Dissertation Discussion Section
Let's start your writing journey of this research part with a clear delineation of what it should include and then briefly discuss each component. Here are some basic things you need to consider for an excellent discussion chapter of dissertation :
Brief summary It does not mean copying an introduction section. However, the first few paragraphs will make an overview of your findings and topic.
Interpretations This is a critical component of your work — elaborate on your results and explain possible ways of using them.
Implication Research work is not just 100+ pages of text. Students should explain and illustrate how it could be used for solving practical problems.
Constraints This is where you outline your limitations. For instance, your research was done only on students, and it may have different results with elderly people.
Recommendations You can also define possible ways of future research on the exact topic when writing a discussion for your thesis or dissertation. Tell readers, for example, that it would be helpful to run similar research in other specific circumstances.
How to Write a Dissertation Discussion Chapter?
One of the most commonly asked questions for our experts is how to write the discussion section of a dissertation or thesis. We understand why it can be complicated to get a clear answer. Students often think that this section is similar to the result chapter and just retells it in other words. But it is not so. Let's go through all steps to writing a discussion in a dissertation, and share our best examples from academic papers.
1. Remind Your Research Questions & Objectives
Writing the discussion chapter of a dissertation is not a big deal if you understand its aim and each component in a text structure. First of all, you need to evaluate how your results help to answer research questions you defined in the beginning. It is not about repeating the result, you did it in previous paragraphs.  However, dissertation or thesis discussion should underline how your findings help to answer the research problem. Start writing from a brief intro by recalling research questions or hypotheses . Then, show how your results answer them or support a hypothesis in your work.
2. Sum Up Key Findings
Next part of your discussion for dissertation is to provide a short summary of previous data. But do not respite the same summary paragraphs from results or introduction of a dissertation . Here researchers should be more thoughtful and go deeper into the work's aims.  Try to explain in a few sentences what you get from running research. For instance, starters usually write the statement that "our data proves that…" or "survey results illustrate a clear correlation between a and b that is critical for proving our working hypothesis…".  A discussion chapter of your dissertation is not just a fixation on results but a more profound summary connected to research goals and purpose. Here is an example: Summary of Findings Example
According to the data, implementing the co-orientation theory was successful and can be used for the same circumstances in the future. As we found, most participants agreed with the importance of those theses on the five fundamental reforms. It means that the results identified a successful government work in choosing the messages to communicate about examined reforms. At the same time, the situation is not so favorable with implementing the principles of two-way symmetrical communications. According to the results, people did not feel that the government had a mutual, open, and equal dialogue with the public about the reforms.
3. Interpret the Results
The most critical part of a discussion section is to explain and enact the results you've got. It is the most significant part of any text. Students should be clear about what to include in these paragraphs. Here is some advice to make this elaboration structured:
Identify correlations or patterns in the data for dissertation discussion.
Underline how results can answer research questions or prove your hypothesis.
Emphasize how your findings are connected to the previous topic studies.
Point out essential statements you can use in future research.
Evaluate the significance of your results and any unexpected data you have.
What others can learn from your research and how this work contributes to the field.
Consider any possible additional or unique explanation of your findings.
Go deeper with options of how results can be applied in practice.
Writing a dissertation discussion chapter can be tough, but here is a great sample to learn from. Example of Interpretations in Disssertation Discussion
Our study underlines the importance of future research on using TikTok for political communication. As discussed above, TikTok is the most commonly used social media platform for many young voters. This means that political discussion will also move to this platform. Our research and typology of political communication content can be used in the future planning of effective political campaigns. For example, we can assume that "play videos" have enormous potential to facilitate complicated topics and provide specific agenda settings. We also identified additional affordances of TikTok used for political communication, such as built-in video editors, playlists for specific topics, a green screen for news explainers, and duets for reflection on news and discussion. It means that these features make TikTok suitable for efficient political communications.
4. Discuss How Your Findings Relate to the Literature
Here we came to the implications of your findings for the dissertation discussion. In other words, this is a few sentences on how your work is connected to other studies on the same research topic or what literature gap you are going to fill with the data and research you launched. Remember to mention how your study address the limitations you have discovered while writing a literature review .  First, outline how your hypothesis relates to theories or previous works in the field. Maybe, you challenged some theories or tried to define your own. Be specific in this section. Second, define a practical implementation of your work. Maybe, it can support recommendations or change legislation.  Discussion chapter of a thesis is a place where you explain your work, make it valuable, and incorporate additional meaning for some specific data.  Example of Implications in Disssertation Discussion
As we pointed out in the literature review, there are few works on using TikTok affordances for political communications, and this topic can be expanded in the future. Government institutions have already understood the importance of this platform for efficient communication with younger audiences, and we will see more political projects on TikTok. That is why expanding research on using TikTok for political communication will be enormous in the following years. Our work is one of the first research on the role of emerging media in war communication and can be used as a practical guide for government's strategic planning in times of emergencies.
5. Mention Possible Limitations
It is pretty tricky to conduct research without limitations. You will always have some, which does not mean that your work is not good. When you write a discussion chapter in a thesis or dissertation, focus on what may influence your results and how changing independent variables can affect your data collection methods and final outcomes.  Here are some points to consider when you structure your dissertation discussion limitation part:
If results can change in case you change the reference group?
What will happen with data if it changes circumstances?
What could influence results?
Critical thinking and analysis can help you to outline possible limitations. It can be the age of the reference group, change of questionnaire in a survey, or specific use of data extraction equipment. Be transparent about what could affect your results.  Example of Complications
Although this study has provided critical first insights into the effects of multimodal disinformation and rebuttals, there are some limitations. First and most importantly, the effects of multimodal disinformation and rebuttals partially depend on the topic of the message. Although fact-checkers reduce credibility of disinformation in both settings, and attitudinal congruence plays a consistent role in conditioning responses to multimodal disinformation, visuals do not have the same impact on affecting the credibility of news on school shootings and refugees.
6. Provide Recommendations for Further Research
Writing a dissertation discussion also makes a connection to possible future research. So, other scientists may complete that. While elaborating on possible implementations of your study, you may also estimate future approaches in topic research.  Here are some points to consider while your discussion in thesis writing:
Outline questions related to your topic that you did not answer in defined study or did not outline as research questions. There are other possible gaps to research.
Suggest future research based on limitations. For example, if you define surveyed people's age as a limitation, recommend running another survey for older or younger recipients.
Example of Recommendations
As we mentioned before, our study has some limitations, as the research was conducted based on data from United State citizens. However, for a better understanding of government communication practices, it would be productive to implement the same research in other countries. Some cultural differences can influence the communication strategies the government uses in times of emergency. Another possible way to examine this topic is to conduct research using a specific period of time. For future studies, it will be beneficial to expand the number of survey recipients. 
7. Conclude Your Thesis/ Dissertation Discussion
You are almost done, the last step is to provide a brief summary of a section. It is not the same as a conclusion for whole research. However, you need to briefly outline key points from the dissertation discussion.  To finalize writing the discussion section of a dissertation, go through the text and check if there is no unimportant information. Do not overload the text with relevant data you did not present in the result section. Be specific in your summary paragraphs. It is a holistic view of everything you pointed out. Provide a few sentences to systemize all you outlined in the text. Example of a Concluding Summary in a Dissertation Discussion Section
To summarize, Airbnb has expertise in communicating CSR and CSA campaigns. We defined their communication strategy about the program for Ukrainian refugees as quite successful. They applied all the principles of CSR communication best practices, used dialogic theory to engage with the public on social media, and created clear messaging on applying for the program. Airbnb examples of CSR communication can be used by other businesses to create a communication strategy for unplanned CSR campaigns. Moreover, it can be further researched how Airbnb's CSR campaign influenced the organizational reputation in the future. 
Dissertation Discussion Example
If we need to share one piece of practical advice, it would be to use thesis or dissertation discussion examples when writing your own copy. StudyCrumb provides the best samples from real students' work to help you understand the stylistic and possible structure of this part. It does not mean you need to copy and paste them into your work.  However, you can use a  dissertation discussion example for inspiration and brainstorming ideas for breaking writing blocks. Here's a doctoral thesis discussion chapter example.
Dissertation Discussion Writing Tips
Before reading this blog, you should already know how to write a thesis discussion. However, we would share some essential tips you need to have in mind while working on the document. 
Be consistent Your dissertation discussion chapter is a part of bigger research, and it should be in line with your whole work.
Understand your reader You are writing an academic text that will be analyzed by professionals and experts in the same field. Be sure that you are not trying to simplify your discussion.
Be logical Do not jump into a new line of discussion if you did not delineate it as a research question at the beginning.
Be clear Do not include any data that was not presented in the result section.
Consider word choice Use such terms as "our data indicate…" or "our data suggests…" instead of "the data proves."
Use proper format Follow the formatting rules specified by a specific paper style (e.g., APA style format , MLA format , or Chicago format ) or provided by your instructor.
Bottom Line on Writing a Dissertation Discussion Chapter
At this stage, it should not be a question for you on how to write a discussion chapter in a PhD thesis or dissertation. Let's make it clear. It is not a result section but still a place to elaborate on data and go deeper with explanations. Dissertation discussion section includes some intro, result interpretations, limitations, and recommendations for future research. Our team encourages you to use examples before starting your own piece of writing. It will help you to realize the purpose and structure of this chapter and inspire better texts! If you have other questions regarding the PhD writing process, check our blog for more insights. From detailed instruction on how to write a dissertation or guide on formatting a dissertation appendix , we've got you covered.
Order dissertation discussion from our proficient writers. They will take a significant burden off of you. Instead, they will carry out high-level academic work in a short time.
FAQ About Dissertation Discussion Chapter
1. where does a discussion section go in a dissertation.
Dissertation discussion section is used to go right after the result chapter. The logic is simple — you share your data and then go to the elaboration and explanation of it. Check the sample thesis we provide to students for details on structure.
2. How long should a dissertation discussion chapter be?
It is not a surprise that dissertation discussion chapter is extremely significant for the research. Here you will go into the details of your study and interpret results to prove or not your hypothesis. It should take almost 25% of your work. 
3. What tense should I use in a dissertation discussion?
Thesis or dissertation discussion used to have some rules on using tenses. You need to use the present tense when referring to established facts and use the past tense when referring to previous studies. And check your text before submission to ensure that you did not miss something.
4. What not to include in a dissertation discussion section?
The answer is easy. Discussion section of a dissertation should not include any new findings or describe some unsupported claims. Also, do not try to feel all possible gaps with one research. It may be better to outline your ideas for future studies in recommendations.
You may also like
LEARNING SKILLS
Writing a Dissertation or Thesis
Results and Discussion
Search SkillsYouNeed:
Learning Skills:
A - Z List of Learning Skills
What is Learning?
Learning Approaches
Learning Styles
8 Types of Learning Styles
Understanding Your Preferences to Aid Learning
Lifelong Learning
Decisions to Make Before Applying to University
Top Tips for Surviving Student Life
Living Online: Education and Learning
8 Ways to Embrace Technology-Based Learning Approaches
Critical Thinking Skills
Critical Thinking and Fake News
Understanding and Addressing Conspiracy Theories
Critical Analysis
Study Skills
Exam Skills
How to Write a Research Proposal
Ethical Issues in Research
Dissertation: The Introduction
Researching and Writing a Literature Review
Writing your Methodology
Dissertation: Results and Discussion
Dissertation: Conclusions and Extras
Writing Your Dissertation or Thesis eBook
Part of the Skills You Need Guide for Students .
Research Methods
Teaching, Coaching, Mentoring and Counselling
Employability Skills for Graduates
Subscribe to our FREE newsletter and start improving your life in just 5 minutes a day.
You'll get our 5 free 'One Minute Life Skills' and our weekly newsletter.
We'll never share your email address and you can unsubscribe at any time.
Writing your Dissertation: Results and Discussion
When writing a dissertation or thesis, the results and discussion sections can be both the most interesting as well as the most challenging sections to write.
You may choose to write these sections separately, or combine them into a single chapter, depending on your university's guidelines and your own preferences.
There are advantages to both approaches.
Writing the results and discussion as separate sections allows you to focus first on what results you obtained and set out clearly what happened in your experiments and/or investigations without worrying about their implications.This can focus your mind on what the results actually show and help you to sort them in your head.
However, many people find it easier to combine the results with their implications as the two are closely connected.
Check your university's requirements carefully before combining the results and discussions sections as some specify that they must be kept separate.
Results Section
The Results section should set out your key experimental results, including any statistical analysis and whether or not the results of these are significant.
You should cover any literature supporting your interpretation of significance. It does not have to include everything you did, particularly for a doctorate dissertation. However, for an undergraduate or master's thesis, you will probably find that you need to include most of your work.
You should write your results section in the past tense: you are describing what you have done in the past.
Every result included MUST have a method set out in the methods section. Check back to make sure that you have included all the relevant methods.
Conversely, every method should also have some results given so, if you choose to exclude certain experiments from the results, make sure that you remove mention of the method as well.
If you are unsure whether to include certain results, go back to your research questions and decide whether the results are relevant to them. It doesn't matter whether they are supportive or not, it's about relevance. If they are relevant, you should include them.
Having decided what to include, next decide what order to use. You could choose chronological, which should follow the methods, or in order from most to least important in the answering of your research questions, or by research question and/or hypothesis.
You also need to consider how best to present your results: tables, figures, graphs, or text. Try to use a variety of different methods of presentation, and consider your reader: 20 pages of dense tables are hard to understand, as are five pages of graphs, but a single table and well-chosen graph that illustrate your overall findings will make things much clearer.
Make sure that each table and figure has a number and a title. Number tables and figures in separate lists, but consecutively by the order in which you mention them in the text. If you have more than about two or three, it's often helpful to provide lists of tables and figures alongside the table of contents at the start of your dissertation.
Summarise your results in the text, drawing on the figures and tables to illustrate your points.
The text and figures should be complementary, not repeat the same information. You should refer to every table or figure in the text. Any that you don't feel the need to refer to can safely be moved to an appendix, or even removed.
Make sure that you including information about the size and direction of any changes, including percentage change if appropriate. Statistical tests should include details of p values or confidence intervals and limits.
While you don't need to include all your primary evidence in this section, you should as a matter of good practice make it available in an appendix, to which you should refer at the relevant point.
For example:
Details of all the interview participants can be found in Appendix A, with transcripts of each interview in Appendix B.
You will, almost inevitably, find that you need to include some slight discussion of your results during this section. This discussion should evaluate the quality of the results and their reliability, but not stray too far into discussion of how far your results support your hypothesis and/or answer your research questions, as that is for the discussion section.
See our pages: Analysing Qualitative Data and Simple Statistical Analysis for more information on analysing your results.
Discussion Section
This section has four purposes, it should:
Interpret and explain your results
Answer your research question
Justify your approach
Critically evaluate your study
The discussion section therefore needs to review your findings in the context of the literature and the existing knowledge about the subject.
You also need to demonstrate that you understand the limitations of your research and the implications of your findings for policy and practice. This section should be written in the present tense.
The Discussion section needs to follow from your results and relate back to your literature review . Make sure that everything you discuss is covered in the results section.
Some universities require a separate section on recommendations for policy and practice and/or for future research, while others allow you to include this in your discussion, so check the guidelines carefully.
Starting the Task
Most people are likely to write this section best by preparing an outline, setting out the broad thrust of the argument, and how your results support it.
You may find techniques like mind mapping are helpful in making a first outline; check out our page: Creative Thinking for some ideas about how to think through your ideas. You should start by referring back to your research questions, discuss your results, then set them into the context of the literature, and then into broader theory.
This is likely to be one of the longest sections of your dissertation, and it's a good idea to break it down into chunks with sub-headings to help your reader to navigate through the detail.
Fleshing Out the Detail
Once you have your outline in front of you, you can start to map out how your results fit into the outline.
This will help you to see whether your results are over-focused in one area, which is why writing up your research as you go along can be a helpful process. For each theme or area, you should discuss how the results help to answer your research question, and whether the results are consistent with your expectations and the literature.
The Importance of Understanding Differences
If your results are controversial and/or unexpected, you should set them fully in context and explain why you think that you obtained them.
Your explanations may include issues such as a non-representative sample for convenience purposes, a response rate skewed towards those with a particular experience, or your own involvement as a participant for sociological research.
You do not need to be apologetic about these, because you made a choice about them, which you should have justified in the methodology section. However, you do need to evaluate your own results against others' findings, especially if they are different. A full understanding of the limitations of your research is part of a good discussion section.
At this stage, you may want to revisit your literature review, unless you submitted it as a separate submission earlier, and revise it to draw out those studies which have proven more relevant.
Conclude by summarising the implications of your findings in brief, and explain why they are important for researchers and in practice, and provide some suggestions for further work.
You may also wish to make some recommendations for practice. As before, this may be a separate section, or included in your discussion.
The results and discussion, including conclusion and recommendations, are probably the most substantial sections of your dissertation. Once completed, you can begin to relax slightly: you are on to the last stages of writing!
Continue to: Dissertation: Conclusion and Extras Writing your Methodology
See also: Writing a Literature Review Writing a Research Proposal Academic Referencing What Is the Importance of Using a Plagiarism Checker to Check Your Thesis?
How To Write The Conclusion Chapter
The what, why & how explained simply (with examples).
By: Jenna Crossley (PhD Cand). Reviewed By: Dr. Eunice Rautenbach | September 2021
So, you've wrapped up your results and discussion chapters, and you're finally on the home stretch – the conclusion chapter . In this post, we'll discuss everything you need to know to craft a high-quality conclusion chapter for your dissertation or thesis project.
Overview: Dissertation Conclusion Chapter
What the thesis/dissertation conclusion chapter is
What to include in your conclusion chapter
How to structure and write up your conclusion chapter
A few tips  to help you ace the chapter
What exactly is the conclusion chapter?
The conclusion chapter is typically the final major chapter of a dissertation or thesis. As such, it serves as a concluding summary of your research findings and wraps up the document. While some publications such as journal articles and research reports combine the discussion and conclusion sections, these are typically separate chapters in a dissertation or thesis. As always, be sure to check what your university's structural preference is before you start writing up these chapters.
So, what's the difference between the discussion and the conclusion chapter?
Well, the two chapters are quite similar , as they both discuss the key findings of the study. However, the conclusion chapter is typically more general and high-level in nature. In your discussion chapter, you'll typically discuss the intricate details of your study, but in your conclusion chapter, you'll take a   broader perspective, reporting on the main research outcomes and how these addressed your research aim (or aims) .
A core function of the conclusion chapter is to synthesise all major points covered in your study and to tell the reader what they should take away from your work. Basically, you need to tell them what you found , why it's valuable , how it can be applied , and what further research can be done.
Whatever you do, don't just copy and paste what you've written in your discussion chapter! The conclusion chapter should not be a simple rehash of the discussion chapter. While the two chapters are similar, they have distinctly different functions.  
What should I include in the conclusion chapter?
To understand what needs to go into your conclusion chapter, it's useful to understand what the chapter needs to achieve. In general, a good dissertation conclusion chapter should achieve the following:
Summarise the key findings of the study
Explicitly answer the research question(s) and address the research aims
Inform the reader of the study's main contributions
Discuss any limitations or weaknesses of the study
Present recommendations for future research
Therefore, your conclusion chapter needs to cover these core components. Importantly, you need to be careful not to include any new findings or data points. Your conclusion chapter should be based purely on data and analysis findings that you've already presented in the earlier chapters. If there's a new point you want to introduce, you'll need to go back to your results and discussion chapters to weave the foundation in there.
In many cases, readers will jump from the introduction chapter directly to the conclusions chapter to get a quick overview of the study's purpose and key findings. Therefore, when you write up your conclusion chapter, it's useful to assume that the reader hasn't consumed the inner chapters of your dissertation or thesis. In other words, craft your conclusion chapter such that there's a strong connection and smooth flow between the introduction and conclusion chapters, even though they're on opposite ends of your document.
Need a helping hand?
How to write the conclusion chapter
Now that you have a clearer view of what the conclusion chapter is about, let's break down the structure of this chapter so that you can get writing. Keep in mind that this is merely a typical structure – it's not set in stone or universal. Some universities will prefer that you cover some of these points in the discussion chapter , or that you cover the points at different levels in different chapters.
Step 1: Craft a brief introduction section
As with all chapters in your dissertation or thesis, the conclusions chapter needs to start with a brief introduction. In this introductory section, you'll want to tell the reader what they can expect to find in the chapter, and in what order . Here's an example of what this might look like:
This chapter will conclude the study by summarising the key research findings in relation to the research aims and questions and discussing the value and contribution thereof. It will also review the limitations of the study and propose opportunities for future research.
Importantly, the objective here is just to give the reader a taste of what's to come (a roadmap of sorts), not a summary of the chapter. So, keep it short and sweet – a paragraph or two should be ample.
Step 2: Discuss the overall findings in relation to the research aims
The next step in writing your conclusions chapter is to discuss the overall findings of your study , as they relate to the research aims and research questions . You would have likely covered similar ground in the discussion chapter, so it's important to zoom out a little bit here and focus on the broader findings – specifically, how these help address the research aims .
In practical terms, it's useful to start this section by reminding your reader of your research aims and research questions, so that the findings are well contextualised. In this section, phrases such as, "This study aimed to…" and "the results indicate that…" will likely come in handy. For example, you could say something like the following:
This study aimed to investigate the feeding habits of the naked mole-rat. The results indicate that naked mole rats feed on underground roots and tubers. Further findings show that these creatures eat only a part of the plant, leaving essential parts to ensure long-term food stability.
Be careful not to make overly bold claims here. Avoid claims such as "this study proves that" or "the findings disprove existing the existing theory". It's seldom the case that a single study can prove or disprove something. Typically, this is achieved by a broader body of research, not a single study – especially not a dissertation or thesis which will inherently have significant and limitations. We'll discuss those limitations a little later.
Step 3: Discuss how your study contributes to the field
Next, you'll need to discuss how your research has contributed to the field – both in terms of theory and practice . This involves talking about what you achieved in your study, highlighting why this is important and valuable, and how it can be used or applied.
In this section you'll want to:
Mention any research outputs created as a result of your study (e.g., articles, publications, etc.)
Inform the reader on just how your research solves your research problem , and why that matters
Reflect on gaps in the existing research and discuss how your study contributes towards addressing these gaps
Discuss your study in relation to relevant theories . For example, does it confirm these theories or constructively challenge them?
Discuss how your research findings can be applied in the real world . For example, what specific actions can practitioners take, based on your findings?
Be careful to strike a careful balance between being firm but humble in your arguments here. It's unlikely that your one study will fundamentally change paradigms or shake up the discipline, so making claims to this effect will be frowned upon . At the same time though, you need to present your arguments with confidence, firmly asserting the contribution your research has made, however small that contribution may be. Simply put, you need to keep it balanced .
Step 4: Reflect on the limitations of your study
Now that you've pumped your research up, the next step is to critically reflect on the limitations and potential shortcomings of your study. You may have already covered this in the discussion chapter, depending on your university's structural preferences, so be careful not to repeat yourself unnecessarily.
There are many potential limitations that can apply to any given study. Some common ones include:
Sampling issues that reduce the generalisability of the findings (e.g., non-probability sampling )
Insufficient sample size (e.g., not getting enough survey responses ) or limited data access
Low-resolution data collection or analysis techniques
Researcher bias or lack of experience
Lack of access to research equipment
Time constraints that limit the methodology (e.g. cross-sectional vs longitudinal time horizon)
Budget constraints that limit various aspects of the study
Discussing the limitations of your research may feel self-defeating (no one wants to highlight their weaknesses, right), but it's a critical component of high-quality research. It's important to appreciate that all studies have limitations (even well-funded studies by expert researchers) – therefore acknowledging these limitations adds credibility to your research by showing that you understand the limitations of your research design .
That being said, keep an eye on your wording and make sure that you don't undermine your research . It's important to strike a balance between recognising the limitations, but also highlighting the value of your research despite those limitations. Show the reader that you understand the limitations, that these were justified given your constraints, and that you know how they can be improved upon – this will get you marks.
Next, you'll need to make recommendations for future studies. This will largely be built on the limitations you just discussed. For example, if one of your study's weaknesses was related to a specific data collection or analysis method, you can make a recommendation that future researchers undertake similar research using a more sophisticated method.
Another potential source of future research recommendations is any data points or analysis findings that were interesting or surprising , but not directly related to your study's research aims and research questions. So, if you observed anything that "stood out" in your analysis, but you didn't explore it in your discussion (due to a lack of relevance to your research aims), you can earmark that for further exploration in this section.
Essentially, this section is an opportunity to outline how other researchers can build on your study to take the research further and help develop the body of knowledge. So, think carefully about the new questions that your study has raised, and clearly outline these for future researchers to pick up on.
Step 6: Wrap up with a closing summary
Quick tips for a top-notch conclusion chapter
Now that we've covered the what , why and how of the conclusion chapter, here are some quick tips and suggestions to help you craft a rock-solid conclusion.
Don't ramble . The conclusion chapter usually consumes 5-7% of the total word count (although this will vary between universities), so you need to be concise. Edit this chapter thoroughly with a focus on brevity and clarity.
Be very careful about the claims you make in terms of your study's contribution. Nothing will make the marker's eyes roll back faster than exaggerated or unfounded claims. Be humble but firm in your claim-making.
Use clear and simple language that can be easily understood by an intelligent layman. Remember that not every reader will be an expert in your field, so it's important to make your writing accessible. Bear in mind that no one knows your research better than you do, so it's important to spell things out clearly for readers.
Hopefully, this post has given you some direction and confidence to take on the conclusion chapter of your dissertation or thesis with confidence. If you're still feeling a little shaky and need a helping hand, consider booking a free initial consultation with a friendly Grad Coach to discuss how we can help you with hands-on, private coaching.
Psst… there's more (for free)
This post is part of our dissertation mini-course, which covers everything you need to get started with your dissertation, thesis or research project. 
You Might Also Like:
17 Comments
Really you team are doing great!
Your guide on writing the concluding chapter of a research is really informative especially to the beginners who really do not know where to start. Im now ready to start. Keep it up guys
Really your team are doing great!
Very helpful guidelines, timely saved. Thanks so much for the tips.
This post was very helpful and informative. Thank you team.
A very enjoyable, understandable and crisp presentation on how to write a conclusion chapter. I thoroughly enjoyed it. Thanks Jenna.
This was a very helpful article which really gave me practical pointers for my concluding chapter. Keep doing what you are doing! It meant a lot to me to be able to have this guide. Thank you so much.
Nice content dealing with the conclusion chapter, it's a relief after the streneous task of completing discussion part.Thanks for valuable guidance
Thanks for your guidance
I get all my doubts clarified regarding the conclusion chapter. It's really amazing. Many thanks.
Very helpful tips. Thanks so much for the guidance
Thank you very much for this piece. It offers a very helpful starting point in writing the conclusion chapter of my thesis.
It's awesome! Most useful and timely too. Thanks a million times
Bundle of thanks for your guidance. It was greatly helpful.
Wonderful, clear, practical guidance. So grateful to read this as I conclude my research. Thank you.
Submit a Comment Cancel reply
Your email address will not be published. Required fields are marked *
Save my name, email, and website in this browser for the next time I comment.
Dissertation Discussion Chapter | How to Write With Examples
The discussion chapter of a dissertation is one of the most important parts of the paper. This is where you must present your findings and interpretation of the data in an engaging and convincing way. The goal of the discussion chapter is to critically examine your data and to situate it within the larger body of literature. In order to do this effectively, you will need to have a clear understanding of the research question and the different methodological approaches that have been used to study it.
Let's discuss its definition, goals, and steps of writing a perfect discussion chapter of your dissertation.
What is a discussion chapter in a dissertation?
In a dissertation, the discussion chapter is where you delve into the meaning, significance and relevance of your findings. It's also where you reflect on what went well and what didn't in your research. The discussion chapter should be concise and focus on interpreting your findings in light of what was already known about the topic of your study, as well as any theoretical or methodological issues that may have emerged during your research. Your aim is to make sense of your findings and position them within the existing body of knowledge on your topic.
How to Write a List of Abbreviations in a Dissertation | Definition, Examples
Chapters of a Dissertation
How to Write Descriptive Statistics in Dissertation & Examples
How to Create a Dissertation Table of Contents | Word Examples, Templates
How to create a conceptual framework for a dissertation + examples
Creating a Theoretical Framework for a Dissertation – Examples
Items to include in the discussion section
The discussion section of a dissertation is one of the most important parts of the paper. This is where you will interpret your data and discuss the implications of your findings. Here are things to include in your discussion:
Description of your findings . What did you discover through your research?
Interpretation of your findings . What do your findings mean?
Discussion of the limitations of your study . What are the limitations of your data and methodology?
Comparison of your findings to other studies . How do your findings compare to other research on this topic?
Discussion of the implications of your findings . What are the implications of your findings for practice or policy?
Recommendations for further research . What are some ideas for future research on this topic?
Concluding remarks . What are your overall conclusions from this study?
Goals of a Thesis Discussion section
The discussion section of a dissertation is one of the most important parts of the document. It is here that the student has an opportunity to critically analyze the data and findings of the study. The discussion section should be well organized and should flow logically from one point to the next. There are seven goals that should be achieved in the discussion section:
To discuss the significance of the study and its findings.
To evaluate the study's strengths and weaknesses.
To discuss alternative explanations for the findings.
To discuss the implications of the findings for theory and practice.
To make recommendations for future research.
To summarize the main points of the discussion.
To draw conclusions about the study as a whole.
How to write the discussion section of a dissertation
You will need to provide a clear and concise interpretation of the data, relating it back to your research question. The discussion section should also include a critical evaluation of the methods used in the study. This is your chance to reflect on what worked well and what could be improved. Ultimately, the goal of the discussion section is to demonstrate your understanding of the data and how it relates to existing literature in the field.
1. Restate your research problem.
You will want to start this section by restating your research problem. This will give your reader a point of reference as you go on to discuss the results of your study. It is important to be clear and concise in your discussion of the problem, as you will need to build on this foundation in the rest of the section. Once you have restated the problem, you can move on to discussing the results of your study and their implications.
2. Give a summary of the key findings.
In this section, you will want to give a brief summary of the key findings of your research. This will help the reader to understand the significance of your work and how it contributes to the field. It is important to be clear and concise in your summary, as you do not want to overwhelm the reader with too much information. Start by giving an overview of the main points of your research, and then provide more detailed information on each point. Be sure to highlight any new or unexpected findings, as these can be particularly valuable to other researchers. Finally, conclude by summarizing the overall impact of your work and its potential implications for future research.
As can be seen from the results, there are a number of key findings that emerge from this study. First, it is clear that there is a strong relationship between academic achievement and motivation. Students who are more motivated to achieve their academic goals are more likely to achieve higher grades. Furthermore, it is also evident that there is a positive correlation between parental involvement and academic achievement. Students whose parents are more involved in their education tend to do better academically than those whose parents are less involved. Finally, the results also showed that students who have access to resources such as tutoring and educational materials tend to perform better academically than those who do not have such resources. These findings suggest that motivation, parental involvement, and access to resources are all important factors in predicting academic success.
3. Discuss the findings and implications.
Now that the findings have been presented, it is time to discuss their implications. This is where the researcher must interpret the data and draw conclusions about what they mean.
This can be a challenging task, as it requires synthesizing a large amount of information into a cohesive argument. However, it is also an opportunity to demonstrate the intellectual rigor of the research process.
In this chapter, the researcher should discuss how the findings fit into existing literature on the topic and what they contribute to our understanding of the issue.
Additionally, the implications of the findings should be carefully considered.
What do they mean for future research?
What policy changes or other real-world applications might be suggested by the findings?
By carefully considering these questions, the researcher can provide valuable insights into the significance of the study.
The findings of this study suggest that there is a need for more support for students who are struggling with mental health issues. The implications of this are two-fold. First, universities need to do more to support students who are struggling with mental health issues. This could include providing more counselling services, running awareness campaigns, and offering training for staff members on how to spot the signs of mental illness. Second, society needs to break down the stigma around mental illness. This will require a change in attitudes, and a willingness to open up about mental health issues. By working together, we can make sure that everyone gets the support they need.
4. Give the limitations to the study.
When writing a dissertation, it is important to include a section discussing the limitations of your study. This gives readers an accurate picture of the scope and purpose of your research, and helps to prevent misunderstandings later on. There are a few things to keep in mind when writing this section. First, be sure to clearly identify the limitations of your study. Second, explain how these limitations affected your results and conclusions. Finally, suggest ways that future research could overcome these limitations. By taking these steps, you will ensure that your discussion of limitations is clear and complete.
Despite the considerable strengths of our study, there are some limitations that should be acknowledged. First, our sample size was relatively small and may not be representative of the wider population. Second, our study was based on self-reported data, which may be subject to recall bias. Finally, we did not have access to data on participants' mental health or substance use history, which could have influenced their responses. Despite these limitations, our study provides valuable insights into the experiences of people with chronic pain.
5. Give the recommendations for further study.
The recommendations for further study presented in this dissertation are based on the findings of the investigation carried out. In order to make these recommendations, a number of issues have been taken into account such as the scope of the study, the nature of the data collected, and the limitations of the study. It is hoped that these recommendations will provide a starting point for future research in this area.
In terms of scope , it is recommended that future studies focus on a specific aspect of the problem under investigation. For example, rather than investigating the general problem of school violence, future studies could focus on a specific type of school violence, such as bullying. This would allow for a more in-depth analysis of the problem and lead to more detailed and specific recommendations.
In terms of data collection , it is recommended that future studies use a mixed-methods approach, combining quantitative and qualitative data. This would allow for a more comprehensive understanding of the problem under investigation. Additionally, it is recommended that future studies use primary data sources, such as surveys and interviews, rather than relying on secondary data sources. This would ensure that the data collected is more reliable and valid.
Finally, in terms of study limitations , it is recommended that future studies address the limitations of this study. Specifically, future studies should use a larger and more representative sample, collect data on participants' mental health and substance use history, and use a longitudinal design. By addressing these limitations, future studies will be able to build on the findings of this study and provide even more insightful recommendations.
Further study is needed in order to determine the most effective methods of soil erosion control. In addition, more research is needed to understand the long-term effects of various soil erosion control methods. For example, it is not clear whether or not hydroseeding is more effective than traditional seedings Methods, or if it is more effective in certain types of soils. In addition, there is a need for more research on the economic benefits of soil erosion control. For example, studies that compare the costs and benefits of different methods would be helpful in determining which methods are most cost-effective. Ultimately, further research on soil erosion control is needed in order to develop more effective methods of mitigating this important environmental problem.
6. Conclusion.
The conclusion is the final section of the discussion, and it should summarize the main points of the argument. It should also provide a clear statement of the researcher's opinion on the issue. The conclusion should be concise and to the point, and it should not introduce any new information. However, it should leave the reader with a sense of closure and a sense of the importance of the research. With these things in mind, the following are some tips for writing a strong conclusion.
In conclusion, this study has shown that there are a number of factors that contribute to soil erosion. In particular, the type of vegetation present, the amount of rainfall, and the slope of the land all have an impact. By understanding these factors, we can take steps to reduce the rate at which soil is eroded. For example, by planting grasses or shrubs on steep slopes, we can help to hold the soil in place and reduce the amount of water that runs off. In addition, by reducing deforestation and managing agricultural land more sustainably, we can help to keep our soils healthy and prevent further erosion. So let us all do our part to protect our soils from erosion.
What to leave out in the discussion section.
The discussion section of a paper is where you interpret your results and draw conclusions based on your findings. However, there are certain things that should be left out of this section.
Avoid simply repeating what you have already said in the introduction and results sections.
Resist the temptation to speculate about the causes of your results.
Do not make grandiose statements that cannot be supported by your data.
Do not introduce new information in the discussion section.
Avoid interpretive claims that go beyond what your data can support.
Do not make recommendations for future research without explaining why this research is needed.
Tips to writing an excellent thesis discussion section
The discussion section of a dissertation is one of the most important parts of the document. This is where you will present your interpretations of the data and connect it to the literature. You will also discuss any limitations of your study and make recommendations for future research. Here are 10 tips to help you write an excellent discussion section:
Start by briefly summarizing the main findings of your study.
Place your findings in the context of existing literature on the topic.
Interpret your data and discuss any patterns or trends that you observed.
Discuss any limitations of your study and explain why these limitations do not invalidate your findings.
Make recommendations for future research based on your findings.
Explicitly state the implications of your findings for theory, practice, or policy.
Use evidence from your study to support your claims and arguments.
Be sure to address counterarguments and alternative explanations for your findings.
Write in a clear, concise, and logical manner.
Need help writing a dissertation chapter?
A dissertation is a culmination of your years of undergraduate study, and it is one of the most important papers you will ever write. The dissertation writing process is not easy and hiring a professional dissertation helper can make it much easier.
At Tutlance, we connect students with top-rated academic writers from around the world. Our platform makes it easy to pay for dissertation online – find a dissertation discussion writer who meets your needs and budget, and we offer a money-back guarantee so you can be confident in your investment.
Whether you need help with research, writing, or editing, our team of experts can assist you every step of the way.
So if you're feeling overwhelmed by writing dissertation chapters, don't hesitate to hire a dissertation writer today.
Author: tutlance
Creating a Theoretical Framework for a Dissertation – Examples
How to Write a Literature Review for a Dissertation + Outline Examples
Dissertation Title Page | How to create with example
How to Write a Dedication for a Dissertation | Structure Examples
Dissertation Printing and Binding | Tips and Best Companies in US, UK, CA
Control variables in a research study | Dissertation control variables
Dissertation Methodology Chapter | Definition, Writing, Examples
Related guides, dissertation literature review outline: structure, format, examples, dissertation printing and binding | tips and best..., dissertation writing checklist for great papers, how to write descriptive statistics in dissertation &..., how to write a dedication for a dissertation..., how to write a dissertation proposal | thesis..., dissertation research results chapter | how to write,..., dissertation conclusion chapter | how to write, structure..., dissertation appendix section | thesis appendices definition &..., tips on how to write a good abstract..., dissertation structure | definition, parts and format, layout..., dissertation title page | how to create with..., how to write dissertation acknowledgements with examples, how to write an abstract for a dissertation..., how to create a dissertation table of contents..., how to create a list of tables and..., how to write a list of abbreviations in..., how to write a dissertation glossary | glossary....
Homework Help
Online Tutors
Essay Writing Services
Do My Math Homework
Assignment Help
Take My Online Math Class
Take My Exam
Take My Test
Take My Course
Dissertation Services
Essay Introduction
Essay Thesis Statement
Essay Hooks
Essay Conclusion
Essay Revision
Essay Title
Essay Format
Essay Outline
Essay Cover Page
Essay Topics
Classification Essay
Analytical Essay
Cause and Effect Essay
Expository Essay
Descriptive Essay
Argumentative Essay
Compare and Contrast Essay
Definition essay
Narrative essay
Persuasive essay
Reflective essay
Literary analysis essay
Proposal essay
Process essay
Reflection Paper
Evaluation Essay
Exemplification essay
Illustration Essay
Informative essay
Rhetorical analysis essay
Review essay
Scholarship essay
Dissertation
Annotated Bibliography
Research Paper
Research Paper Topics
Position Paper
Speech Writing
Summary Writing
Story writing
Swot Analysis
Resume Writing
Business Plan
Grant Writing
Book Writing
Personal Statement
Writing Process
Research Process
Online Tutoring Subjects
Become a Tutor
Forgot Password?
Dissertation Genius
12 Steps to Write an Effective Discussion Chapter
November 5, 2016 by Dissertation Genius
This article gives doctoral dissertation students valuable guidance on how to go about writing their Discussion chapter. The article starts by outlining the main goals and writing approaches. Then the article explains 12 specific steps to take to write an effective discussion chapter.
Discussion Chapter: Main Goals and Writing Approaches
You should always keep in mind the main goals when writing your Discussion chapter. These include stating your interpretations, declaring your opinions, explaining the effects of your findings, and making suggestions and predictions for future research.
With the main goals mentioned, it is interesting to note how to go about writing this chapter. To do this, follow three important suggestions:
Answer those questions posed in the introduction (central research questions)
Show how the answers are supported by the results
Explain how the answers fit relative to the existing body of knowledge about the subject
Keep in mind that the Discussion chapter can be considered the most important part of your dissertation. Therefore, don't be surprised if you may need more than one writing attempt for this chapter.
The 12 Steps to an Effective Discussion Chapter
To make sure your message remains crystal-clear, the Discussion chapter should be short and sweet, but it should fully state, support, elaborate, explain, and defend your conclusions. Take great care to ensure the writing is a commentary and not simply a regurgitation of results. Side (distracting) issues should not be written about because they will cloud the essence of your message. There is no perfect dissertation, but help your reader determine what the facts are and what is speculation.
Here are 12 steps to keep in mind when writing your Discussion Chapter:
Always try to structure your Discussion chapter from the 'specific' to the 'general': expand and transition from the narrow confines of your study to the general framework of your discipline.
Make a consistent effort to stick with the same general tone of the introduction. This means using the same key terms, the same tense, and the same point of view as used in your introduction.
Start by rewriting your research questions and re-stating your hypothesis (if any) that you previously posed in your introduction. Then declare the answers to your research questions – make sure to support these answers with the findings of your dissertation.
Continue by explaining how your results relate to the expectations of your study and to literature. Clearly explain why these results are acceptable and how they consistently fit in with previously published knowledge about the subject. Be sure to use relevant citations.
Make sure to give the proper attention for all the results relating to your research questions, this is regardless of whether or not the findings were statistically significant.
Don't forget to tell your audience about the patterns, principles, and key relationships shown by each of your major findings and then put them into perspective. The sequencing of this information is important: 1) state the answer, 2) show the relevant results and 3) cite the work of credible sources. When necessary, point the audience to figures and/or graphs to 'enhance' your argument.
Make sure to defend your answers. Try to do so in two ways: by explaining the validity of your answer and by showing the shortcomings of others' answers. You will make your point of view more convincing if you give both sides to the argument.
Also make sure to identify conflicting data in your work. Make a good point of discussing and evaluating any conflicting explanations of your results. This is an effective way to win over your audience and make them sympathetic to any true knowledge your study might have to offer.
Make sure to include a discussion of any unexpected findings. When doing this, begin with a paragraph about the finding and then describe it. Also identify potential limitations and weaknesses inherent in your study. Then comment on the importance of these limitations to the interpretation of your findings and how they may impact their validity. Do not use an apologetic tone in this section. Every study has limitations.
Conduct a brief summary of the principal implications of your findings (do this regardless of any statistical significance). Make sure to provide 1-2 recommendations for potential research in the future.
Show how the results of your study and their conclusions are significant and how they impact our understanding of the problem(s) that your dissertation examines.
On a final note, discuss everything this is relevant but be brief, specific, and to the point.
Contact Dissertation Genius for Any Other Inquiries or Concerns About Your Dissertation. We can help!
For any inquiries, questions, or concerns about problems you are facing with your dissertation, contact us and tell us your problem.
We will give you a free consultation and offer strategies to get you on track to receiving your PhD!
Schedule a Free Consultation
Email * Enter Email Confirm Email
What services are you interested in? Dissertation Assistance Dissertation Defense Preparation Dissertation Writing Coaching APA and Academic Editing Literature Review Assistance Concept Paper Assistance Methodology Assistance Qualitative Analysis Quantitative Analysis Statistical Power Analysis Masters Thesis Assistance
Yes, please.
No, thank you.
Comments This field is for validation purposes and should be left unchanged.
535 Fifth Avenue, 4th Floor New York, NY 10017
Free consultation: (877) 875-7687
Dissertation Services
Dissertation Writing Service
Dissertation Assistance Service
Dissertation Consulting Service
Buy Dissertation
Dissertation Abstract Writing Services
Dissertation Formatting Service
Buy Dissertation Methodology
Dissertation Case Study Service
Pay For Dissertation
Dissertation Chapter Writing Services
Dissertation Conclusion Services
Dissertation Data Analysis Services
Dissertation Discussion Writing Services
Dissertation Introduction Writing Service
Dissertation Outline Service
Online Dissertation Help
Write My Dissertation
Do My Dissertation
Help With Thesis Writing Service
Dissertation Writing England
Dissertation Writing Service London
Dissertation Writing Northern Ireland
Dissertation Writing Scotland
Dissertation Writing Wales
Personal Statement Writing Service
Dissertation Subjects
Marketing Dissertation
Digital Marketing Dissertation
Law Dissertation Help
Economics Dissertation
Accounting Dissertation
Business Management Dissertation
Nursing Dissertation
Psychology Dissertation
Social Media Marketing Dissertation
English Literature Dissertation Help
Finance Dissertation
History Dissertation
HRM Dissertation
IT Dissertation
Linguistics Dissertation Help
Supply Chain Management Dissertation Help
Health And Social Care Dissertation
Dissertation Levels
Buy Master Dissertation
MBA Dissertation Writing Service
Buy PhD Dissertation
Masters Dissertation Proposal Help
MBA Dissertation Proposal Help
PhD Data Collection Services
PhD Dissertation Proposal Help
PhD Qualitative Data Analysis Services
Master Thesis Help
PhD Thesis Writing Help
PhD Dissertation Editing
Finance Dissertation Editing
Digital Marketing Dissertation Editing
Accounting Dissertation Editing
Sociology Dissertation Editing
English Literature Dissertation Editing
Economics Dissertation Editing
Linguistics Dissertation Editing
Business Management Dissertation Editing
Psychology Dissertation Editing
Marketing Dissertation Editing
Academic Poster Designing Services
Dissertation PowerPoint Presentation Service
Dissertation Presentation Writing Services
Literature Review Writing Service
Primary Data Collection Service
Qualitative Data Dissertation Services
Research Data Collection Service
Secondary Data Collection Help
DISSERTATION SERVICES
DISSERTATION SUBJECTS
DISSERTATION LEVELS
Buy MBA Dissertation
PhD Dissertation Editing Services
Hire a Writer
Get an expert writer for your academic paper
Check Samples
Take a look at samples for quality assurance
Dissertation Topics
Free customised dissertation topics for your assistance
Dissertation Discussion Chapter
Accounting Dissertation Topics (8)
Banking & Finance Dissertation Topics (10)
Business Management Dissertation Topics (35)
Economic Dissertation Topics (1)
Education Dissertation Topics (12)
Engineering Dissertation Topics (9)
English Literature Dissertation Topics (3)
HRM Dissertation Topics (3)
Law Dissertation Topics (13)
Marketing Dissertation Topics (9)
Medical Dissertation Topics (7)
Nursing Dissertation Topics (10)
Other Topics (10)
Supply Chain Dissertation Topics (2)
Biomedical Science (1)
Business Management Research Topics (1)
Computer Science Research Topics (1)
Criminology Research Topics (1)
Economics Research Topics (1)
Google Scholar Research Topics (1)
HR Research Topics (1)
Law Research Topics (1)
Management Research Topics (1)
Marketing Research Topics (1)
MBA Research Topics (1)
Medical Research Topics (1)
How To (22)
Get a native to improve your language & writing
Enjoy quality dissertation help on any topic
Qualitative & Quantitative data analysis
Dissertation Discussion Chapter: Do's & Don'ts To Write One In 12 Easy Steps
Date published July 11 2020 by Stella Carter
Chapter 1: Introduction
Chapter 2: Literature Review
Chapter 3: Methodology
Chapter 4: Result
You might think that the hardest part of writing the dissertation is completed, right?
Not really.
Discussion is the most important chapter in your dissertation. It allows students to take a fresh perspective of their dissertation results and gives them a chance to provide new and original information to the world. In short, dissertation discussion chapter example is that of a heart. This is the chapter that can either make or break your dissertation, but somehow students fail to fully explore the findings of their dissertation and give the chapter credit it deserves. This is the reason why we have compiled 12 easy steps that you can follow to write the perfect discussion for your dissertation. [ 1 ] [ 2 ] [ 3 ]
How "Dissertation Proposal" Can Help You!
Our top dissertation writing experts are waiting 24/7 to assist you with your university project, from critical literature reviews to a complete masters dissertation.
Table of Contents
The do's and don'ts of writing discussions chapter, examples 1:.
Incorrect: Starting by being too specific to the result.
https://www.scribbr.co.uk/thesis-dissertation/discussion/
https://library.sacredheart.edu/c.php?g=29803&p=185933
https://dissertationgenius.com/12-steps-write-effective-discussion-chapter/
Correct: Going from general to specific
Linking findings to literature
Then to theory
Then to practice
Whether it is a masters' thesis discussion chapter or a PhD discussion chapter. The first and the foremost thing you need to do is structure your discussion chapter properly. The discussion should follow a funnel structure. Everything should taper down to your results.
Examples 2:
Incorrect: Starting directly without stating research question
Correct: Starting by reiterating on the research question
To give the chapter coherence, re-state the research question or the hypothesis that you wished to answer or verify through this dissertation.
Examples 3:
Incorrect: Tone not being consistent with the tone of dissertation
Correct: Narrative style and tone same as the one used throughout dissertation
Make sure that the flow of your dissertation is not deviated.
Examples 4:
Incorrect: Stating the results plainly
Correct: Establish why your dissertation results are accurate and acceptable
Link your results to your literature review, further explain how they are consistent with previously published knowledge. Do not forget to use relevant and appropriate citations.
Examples 5:
Incorrect: The graph shows a perfectly linear relationship
Correct: The graph shows an almost perfectly linear relationship with an anomaly in the middle, due to an external factors
Examples 6:
Incorrect: Posting pictures and tables of your result without explaining them
Correct: Providing clear and detailed explanation for every aspect of your result
Any patterns that you noticed should be pointed out
Principles that were followed
Relationship shown in the result. Can the result be represented as a mathematical equation?
What was the dependent variable and what were the independent variables?
Which independent variables seemed to have the most influence on the result?
Get Free Customize Topics Now
Academic Level Undergraduate Masters PhD Others
Examples 7:
Incorrect: Leaving your answer without proving their credibility
Correct: Providing adequate proves for the authenticity of your answers
You can defend your answer in two possible ways.
i. By proving the validity of your results and answer
ii. By showing the flaws and shortcoming of answers that may have confliction with yours.
By giving both side of the arguments, you will have a better chance of making your point of viewmore convincing.
Examples 8:
T = T = -A, T= +A
Incorrect: Leaving out the unexpected findings without explaining them i.e. explaining only T= +A as it is corresponds with the result
Correct: Explaining both the expected T= +A and possible explanation of T= -A
The conflicting data (if any) in your dissertation results should be identified. These should then be evaluated and discussed. Just like conflicting data, unexpected findings should also be identified and discussed. The proper way to do this is by firstly stating the finding and then describing it. This is a great way to showcase your knowledge as you can also give a possible explanation of what might have caused these unexpected and faulty data.
This practice is considered as a sign of good discussion and an effective way to win over your audience.
Examples 9:
Incorrect: Not discussing the limitations that may have hampered the result
Correct: Identifying potential limitations and weaknesses
Examples 10:
Incorrect: Not providing recommendation for future research
Correct: Making sure to that you state what your results implicate. And also leave a recommendation for future researchers of how they can carry this one forward
Examples 11:
Incorrect: Not establishing significance of your results properly
Correct: Establishing the significance of your study and your findings. Explain how your results have filled the previously present void. And its contribution in the field
Examples 12:
Incorrect: Elongating unnecessarily, providing information that is not relevant
Correct: Being brief, specific and concise
Consult Our Writers to Discuss Your Needs
View different varieties of dissertation topics and samples on multiple subjects for every educational level
Remember, never slack off in the discussion chapter as it is the highlight your dissertation. Use these 12 points to write the best discussion chapter. And share this blog with others, you never know who might need it.
Lastly if you are facing problem and want dissertating writing help in other areas, come visit our website. We do provide other services e.g. consultancy, dissertation proposal service, etc.
Exams Know-how
How to Write a ...
How to Choose the Best Topic for Research: Top 100 Dissertation Topics
Are you searching for inspiration while writing your research paper? In this case, try looking up interesting research topics online. This article contains an abundance of dissertation topics, for every imaginable subject, like fashion or business leadership dissertation topics. You are going to find interesting examples! Don't forget that you can also get research paper help from our professional writing team.
Top 100 Dissertation Ideas 2023
Scholars often believe that today there is a lack of new dissertation topics. Indeed, people conduct research non-stop, and it seems like there is nothing new to discuss. So how to become a professional writer and avoid breaking intellectual property rights then?
Luckily for all enthusiastic scientists out there, there are topics for dissertation that cater to any taste. Our essay writers service presents various research topics suitable for multiple degrees. Do you study the job market, quantum physics, or human behavioral patterns? These and even more dissertation ideas are waiting for you.
How to Opt for a Dissertation Topic?
Sometimes, the immense choice of examples of dissertation topics makes you question your decision about your academic paper. Writers get recommendations from multiple sources. Before you write a dissertation, turn to more experienced people, like counselors or professors. They are likely to suggest great topics for dissertation. We also recommend that you read about how to write a dissertation .
For research and reference purposes, go online to discover new engaging themes. Your colleagues in the field of science communicate via special forums or websites, so join them! Some generous people even publish dissertation ideas and samples for free. Hence, you can develop your unique topic by looking at other people's works.
Which Topic Suits Best for Dissertation?
Whether you search healthy lifestyle, economic crisis, or leadership dissertation topics, the strategy is the same for all of them. These topics for dissertation should meet the following requirements:
Bring novelty to the science field
Cover newsworthy issues
Have enough background data for an academic paper
Undeniably, it is better if the theme heavily appeals to you personally. Then, a sparkle of interest lights up whenever you write your work! On the contrary, less engaging dissertation topics make the whole writing process inefficient. Therefore, opt for themes that draw your attention the most.
  Struggle to meet your essay deadline?
Enter the requirements for your work and get your task done asap.
Where to Find a Unique Dissertation Topic?
Throughout life, people constantly have to present something new to the world. Middle school and high-school students show their skills via essays, college students write a thesis, and Ph.D. candidates compose dissertations. Fortunately, emergency methods, like dissertation writing service , are available for quick and quality results. Still, you might suggest your topics for dissertation.
What is the key to creating a one-of-a-kind topic? First, you have to know well enough what other scholars have already studied. Then, perform further research even if your counterparts have covered all nuances. For instance, higher education dissertation topics can cover themes of college-age population or school bullying. Meanwhile, leadership dissertation topics may connect to ethical issues dealing within companies.
Dissertation Title: How to Make It Sound Perfect
In real life, titles are essential in drawing public attention to anything. Would you rather watch a movie with a boring name or pick a film with a short, witty title? The same goes for books, essays, and other scholarly work. The word becomes an anchor, something that pushes a random person to read your written piece. Here is how you properly compose it.
Let's say that you ponder over higher education dissertation topics. For instance, do you want to study anxiety disorders among students or how online schools are affecting libraries? Raising awareness is crucial in both cases, but you must specify the issue first. For instance, attempt to study an unexpected correlation that current research fails to cover. Use the "how," "what," and "why" words to form several topic ideas.
Once you have specified your exact subject of study, your goal is to fit the title in under fifty words. This task seems unproblematic, but it requires talent. Just two sentences must sum up the contents of the humongous dissertation. So, make the title clear and concise!
What are Some Relevant Ideas to Research in 2023?
How long is a dissertation? It ranges from ten thousand to a hundred thousand words, but length is only the first requirement. Without a doubt, all topics for dissertation have one crucial characteristic: relevancy. To develop top-tier academic work, you need to know the global trends and latest tendencies in your specific science field. It would be detrimental to your success to pick dissertation ideas that scholars have recycled multiple times. So instead, look at what people find exciting in 2022:
Although the theme of AI has been around for a while, it remains fresh and full of potential. One possible research subject is the Metaverse, a virtual reality universe. This concept is quite new, so there are many branches to study. Besides, cybersecurity, especially in the banking sector, would stand out among the interesting examples of dissertation topics.
Neuroscience and neurobiology
As much as scientists study human brains, there are still too many white spots in their knowledge of the human body. Choosing a topic related to cognitive development, brain implants, etc., could lead to a breakthrough in this sphere.
With the negative trends in the global food industry, the theme of agriculture is at its peak importance. Food is something that everybody relates to, regardless of ethnicity, age, job, or social status. Therefore, a dissertation could critically analyze the current state of things and solutions for the food industry in crisis.
List of Dissertation Topics 2023
Today, you can do anything with the Internet, like pay someone to write an essay or find information on the necessary subject. Likewise, you may find business dissertation topics examples or dissertation topics in education, world politics, or other themes. This article suggests multiple ideas for your academic work to make things easier.
Top Dissertation Topics in Accounting
Here is a list of engaging dissertation topics in accounting:
"Financial accounting's contribution to business strategy development."
"The things to take into account when investing in financial markets."
"How project accounting uses risk factors analysis."
"Systematic examination of art galleries cost accounting."
"Can computerized bookkeeping gradually replace accountants?"
"The effect of cryptocurrency on current accounting procedures."
"Predicting new professions in the accounting industry."
"How are auditing standards becoming more international?"
"An examination of the differences and parallels between accounting ethics and organizational culture."
"Investigation of potential new revenue streams for a bank."
Best Public Health Dissertation Topics
In case you are looking for interesting public health dissertation topics, here are a few research questions:
"How is it possible to increase Middle Eastern countries' access to clean, safe drinking water?"
"What is the contribution of technological progress to bettering public health in affluent nations?"
"Examining sexual abuse in an Indian public health environment."
"Evaluation of several US programs to increase kids' physical activity."
"The impact of poverty on public health in African nations."
"A study of the effectiveness of the Italian current healthcare system."
"Disastrous effects of antibiotic resistance in the upcoming year."
"Patient's immune system and drug addiction."
"How does modern technology harm public health?"
"Impact of the recession on social conditions and public health."
Sociology Ideas for Dissertation
You should go online if interested in the social work dissertation topics. Articles like this share newsworthy sociology dissertation topics:
"An analysis of American religious institutions and their impact on social structure."
"Examining attitudes toward and reactions to female child sex offenders."
"Studying the cultural differences in Scandinavian countries."
"Determining the social origins of domestic violence in Russian families."
"Global labor market stratification following the Great Recession."
"Research on how society influences gender relations."
"Analysis of the rise and fall in Japan's fertility rates and their underlying causes."
"The practice of social work with bereaved families."
"Analyze the racial stratification in European nations."
"How can government decrease the stress that social workers endure?"
Dissertation Topics in Education
Whether you want to discover new primary, college, or higher education dissertation topics, you are at the right place:
"Looking at the effect of financial restraints on female education in east Asia."
"Investigating the effects of food sharing in primary education."
"Analysis of the covid pandemic's impact on the education sector."
"Do stress levels among students and performance on standardized tests correlate?"
"What difficulties do parents of Muslim immigrants believe their children will encounter in European schools?"
"What do teachers think about how technology affects students' learning?"
"What difficulties do teachers encounter throughout their first three years of teaching?"
"What do parents think the purpose of sex education is?"
"What learning differences exist between neurodivergent and neurotypical students?"
"How does the number of students in each class influence grades?"
Business Dissertation Topics
Someone who takes an interest in entrepreneurship would be glad to find the following business or mba dissertation topics:
"The modern challenges for startups and small businesses in the USA."
"The impact of competence and leadership style on emerging business leaders in Europe."
"Analyzing how social media and digital platforms will impact business branding in the future."
"Do male subordinates' egos feel threatened by the presence of women in leadership positions?"
"Is Facebook right to create targeted adverts using the user data it collects?"
"Is a business's dispersed leadership more effective than its lone power center?"
"TikTok influencer marketing's contribution to higher sales."
"An analysis of how globalization has affected Chinese companies' operations."
"The socio-cultural context of management and how it affects the dynamics of leadership in Denmark."
"What elements influence the probability of a business filing for bankruptcy?"
Political Science Dissertation Topics
Provided that your field of study is politics, consider the next dissertation topics:
"Contrasting the responses of the Chinese and UK governments to the COVID-19 pandemic."
"Emotion's effect on deliberative democracy."
"Analysis of the single-party political system, including drawbacks and advantages."
"Political choices and environmental management tradeoffs."
"Eastern European social movements in the years following World War II."
"Ukraine's fragmentation and the competing political forces."
"Media bias in the reporting of political news."
"The impact of extremism on political life in the West."
"Political leaders and their individual goals."
"How does US foreign policy affect other nations throughout the world?"
Psychology Dissertation Topics
What if a person struggles to find extensive psychology dissertation topics? The solution is here:
"Examining the connection between technology and postnatal depression."
"Why are some people more prone to feeling depressed in difficult situations?"
"The long-term effects of childhood trauma on adults." 
"Patient's mental health during the coronavirus pandemic."
"Children who are suffering from oncology: modern recovery programs."
"Comparison of cyberbullying and physical bullying psychological impact."
"What elements alter our personalities throughout our lives?"
"What are the key indicators of burnout among executive staff?"
"Effect of physical appearance on how others perceive us."
"Teaching dyslexic kids: potential difficulties."
PhD Dissertation Topics
A Ph.D. candidate might consider historical, mathematical, or art dissertation topics. So let's pick a great research topic:
"US legal system and international criminal law: a comparative study."
"Examination of how globalization leads to changes in international law."
"The initial causes of cultural appropriation in first-world countries."
"What is the social networks' impact on online marketing and creating demand?"
"Cyber-diplomacy is the development of a global civilization in the digital era."
"What differences exist between US and EU immigration laws?"
"Changing careers: information seeking by newcomers." 
"The African-focused foreign policy of China."
"How have feminists' objectives evolved over the last ten years?"
"Bringing the internet of things research and implementation together."
Economics Dissertation Topics
Let's see which dissertation topics in finance and economics can draw attention today:
"Evaluating the cryptocurrency market using behavioral finance perspectives."
"Comparative analysis of financial improvements in China and the US."
"Issues with older adults and online banking."
"Shareholders' effects on the decision-making procedures at banks."
"Unscrupulous bank executives' effects on the organization's sustainability."
"Possible answers to moral problems of corporate social responsibility."
"What impact do taxes have on financial choices?"
"The impact of India's population growth on economic expansion."
"Why are banks so adamantly against digital currency?"
"What will internet banking resemble in ten years?"
Fashion Topics for Dissertation
An artsy person would appreciate research themes about style, like the following examples:
"Is there a need for change after examining the impact of fast fashion on the environment?"
"Comparing fast and ultra-fast supply chain management in the fashion industry."
"Critical analysis of the impact of western fashion on Asia's developing nations."
"How capitalism contributed to the western fashion and cultural values."
"Fashion trends that the K-Pop stars create."
"Examining the Vivienne Westwood brand's appeal to Japanese youth."
"The fixation with attempting an adult look in children's clothing."
"The effects of expensive counterfeit goods on the high-end fashion market."
"The origins of the dark and light academic dress trends."
"How social networks contribute to the development and spread of fashion trends."
In brief, there are plenty of research subjects, from psychology dissertation topics to higher education dissertation topics. If you do proper factual and historical research and cite sources, get ready to receive recognition for your efforts. The key thing is to choose something that lights up your interest.
Also, don't forget to read what is important to look out for when you buy dissertation .
Need assistance with your essay?
Just tell us what kind of assignment you need, and our coursework writing service will give you a helping hand!
Related Articles
Have a language expert improve your writing
Run a free plagiarism check in 10 minutes, automatically generate references for free.
Knowledge Base
Dissertation
How to Write a Discussion Section | Tips & Examples
How to Write a Discussion Section | Tips & Examples
Published on 21 August 2022 by Shona McCombes . Revised on 25 October 2022.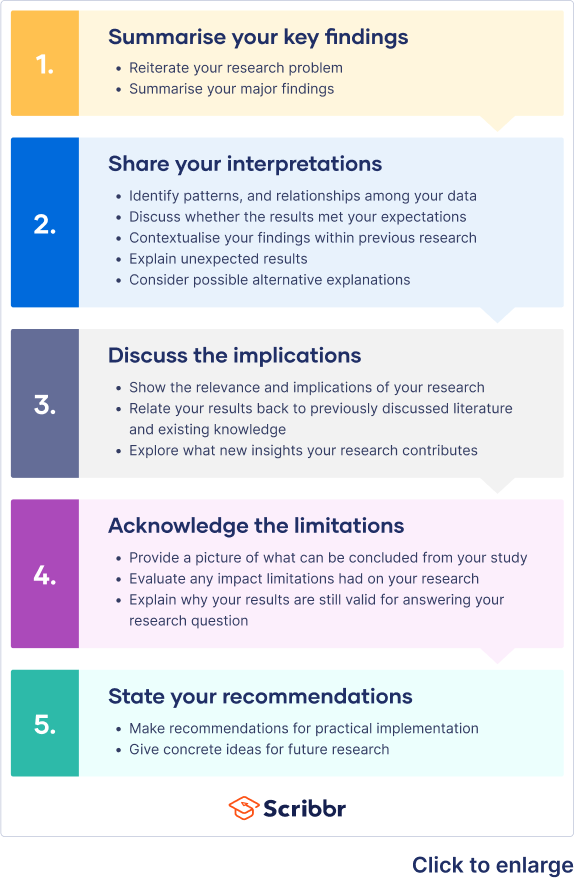 The discussion section is where you delve into the meaning, importance, and relevance of your results .
It should focus on explaining and evaluating what you found, showing how it relates to your literature review , and making an argument in support of your overall conclusion . It should not be a second results section .
There are different ways to write this section, but you can focus your writing around these key elements:
Summary: A brief recap of your key results
Interpretations: What do your results mean?
Implications: Why do your results matter?
Limitations: What can't your results tell us?
Recommendations: Avenues for further studies or analyses
Table of contents
What not to include in your discussion section, step 1: summarise your key findings, step 2: give your interpretations, step 3: discuss the implications, step 4: acknowledge the limitations, step 5: share your recommendations, discussion section example.
There are a few common mistakes to avoid when writing the discussion section of your paper.
Don't introduce new results: You should only discuss the data that you have already reported in your results section .
Don't make inflated claims: Avoid overinterpretation and speculation that isn't directly supported by your data.
Don't undermine your research: The discussion of limitations should aim to strengthen your credibility, not emphasise weaknesses or failures.
Prevent plagiarism, run a free check.
Start this section by reiterating your research problem  and concisely summarising your major findings. Don't just repeat all the data you have already reported – aim for a clear statement of the overall result that directly answers your main  research question . This should be no more than one paragraph.
Many students struggle with the differences between a discussion section and a results section . The crux of the matter is that your results sections should present your results, and your discussion section should subjectively evaluate them. Try not to blend elements of these two sections, in order to keep your paper sharp.
The results indicate that …
The study demonstrates a correlation between …
This analysis supports the theory that …
The data suggest  that …
The meaning of your results may seem obvious to you, but it's important to spell out their significance for your reader, showing exactly how they answer your research question.
The form of your interpretations will depend on the type of research, but some typical approaches to interpreting the data include:
Identifying correlations , patterns, and relationships among the data
Discussing whether the results met your expectations or supported your hypotheses
Contextualising your findings within previous research and theory
Explaining unexpected results and evaluating their significance
Considering possible alternative explanations and making an argument for your position
You can organise your discussion around key themes, hypotheses, or research questions, following the same structure as your results section. Alternatively, you can also begin by highlighting the most significant or unexpected results.
In line with the hypothesis …
Contrary to the hypothesised association …
The results contradict the claims of Smith (2007) that …
The results might suggest that x . However, based on the findings of similar studies, a more plausible explanation is x .
As well as giving your own interpretations, make sure to relate your results back to the scholarly work that you surveyed in the literature review . The discussion should show how your findings fit with existing knowledge, what new insights they contribute, and what consequences they have for theory or practice.
Ask yourself these questions:
Do your results support or challenge existing theories? If they support existing theories, what new information do they contribute? If they challenge existing theories, why do you think that is?
Are there any practical implications?
Your overall aim is to show the reader exactly what your research has contributed, and why they should care.
These results build on existing evidence of …
The results do not fit with the theory that …
The experiment provides a new insight into the relationship between …
These results should be taken into account when considering how to …
The data contribute a clearer understanding of …
While previous research has focused on  x , these results demonstrate that y .
Even the best research has its limitations. Acknowledging these is important to demonstrate your credibility. Limitations aren't about listing your errors, but about providing an accurate picture of what can and cannot be concluded from your study.
Limitations might be due to your overall research design, specific methodological choices , or unanticipated obstacles that emerged during your research process.
Here are a few common possibilities:
If your sample size was small or limited to a specific group of people, explain how generalisability is limited.
If you encountered problems when gathering or analysing data, explain how these influenced the results.
If there are potential confounding variables that you were unable to control, acknowledge the effect these may have had.
After noting the limitations, you can reiterate why the results are nonetheless valid for the purpose of answering your research question.
The generalisability of the results is limited by …
The reliability of these data is impacted by …
Due to the lack of data on x , the results cannot confirm …
The methodological choices were constrained by …
It is beyond the scope of this study to …
Based on the discussion of your results, you can make recommendations for practical implementation or further research. Sometimes, the recommendations are saved for the conclusion .
Suggestions for further research can lead directly from the limitations. Don't just state that more studies should be done – give concrete ideas for how future work can build on areas that your own research was unable to address.
Further research is needed to establish …
Future studies should take into account …
Avenues for future research include …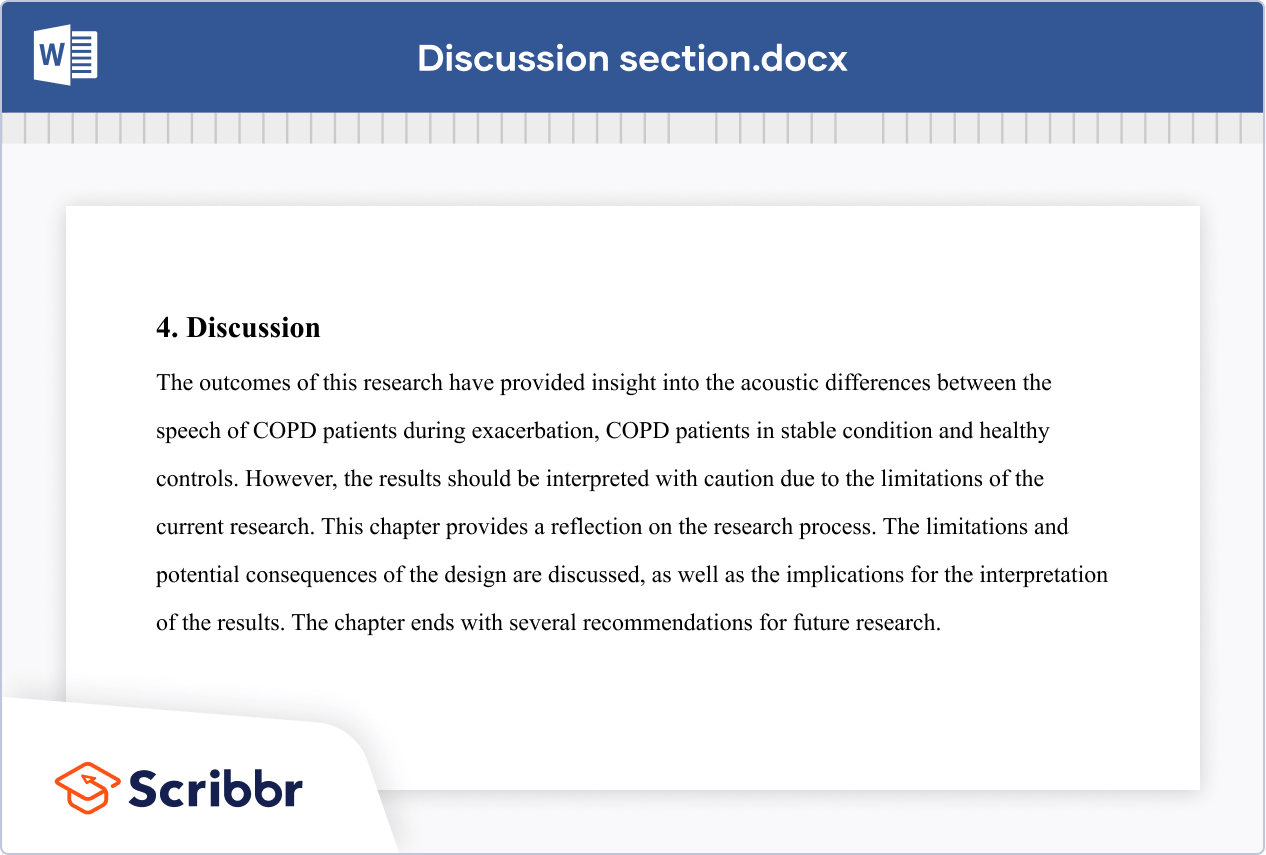 Cite this Scribbr article
If you want to cite this source, you can copy and paste the citation or click the 'Cite this Scribbr article' button to automatically add the citation to our free Reference Generator.
McCombes, S. (2022, October 25). How to Write a Discussion Section | Tips & Examples. Scribbr. Retrieved 9 November 2023, from https://www.scribbr.co.uk/thesis-dissertation/discussion/
Is this article helpful?
Shona McCombes
Other students also liked, how to write a results section | tips & examples, research paper appendix | example & templates, how to write a thesis or dissertation introduction.