Research and Writing Guides
Writing a paper? Don't get lost.
How to structure a thesis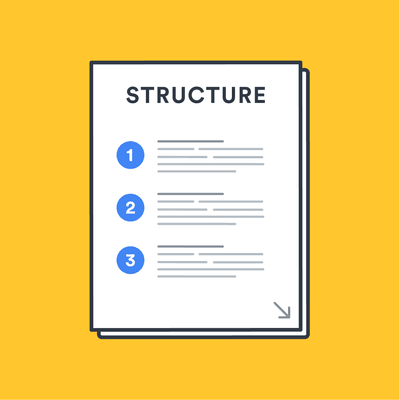 Starting a thesis can be daunting. There are so many questions in the beginning:
How do you actually start your thesis?
How do you structure it?
What information should the individual chapters contain?
Each educational program has different demands on your thesis structure, which is why asking directly for the requirements of your program should be a first step. However, there is not much flexibility when it comes to structuring your thesis.
Abstract : a brief overview of your entire thesis.
Literature review : an evaluation of previous research on your topic that includes a discussion of gaps in the research and how your work may fill them.
Methods : outlines the methodology that you are using in your research.
Thesis : a large paper, or multi-chapter work, based on a topic relating to your field of study.
A typical thesis structure
1. Abstract
The abstract is the overview of your thesis and generally very short. This section should highlight the main contents of your thesis "at a glance" so that someone who is curious about your work can get the gist quickly. Take a look at our guide on how to write an abstract for more info.
Tip: Consider writing your abstract last, after you've written everything else.
2. Introduction
The introduction to your thesis gives an overview of its basics or main points. It should answer the following questions:
Why is the topic being studied?
How is the topic being studied?
What is being studied?
In answering the first question, you should know what your personal interest in this topic is and why it is relevant. Why does it matter?
To answer the "how", you should briefly explain how you are going to reach your research goal. Some prefer to answer that question in the methods chapter, but you can give a quick overview here.
And finally, you should explain "what" you are studying. You can also give background information here.
You should rewrite the introduction one last time when the writing is done to make sure it connects with your conclusion. Learn more about how to write a good thesis introduction in our thesis introduction guide .
3. Literature review
A literature review is often part of the introduction, but it can be a separate section. It is an evaluation of previous research on the topic showing that there are gaps that your research will attempt to fill. A few tips for your literature review:
Use a wide array of sources
Show both sides of the coin
Make sure to cover the classics in your field
Present everything in a clear and structured manner
For more insights on lit reviews, take a look at our guide on how to write a literature review .
The methodology chapter outlines which methods you choose to gather data, how the data is analyzed and justifies why you chose that methodology . It shows how your choice of design and research methods is suited to answering your research question.
Make sure to also explain what the pitfalls of your approach are and how you have tried to mitigate them. Discussing where your study might come up short can give you more credibility, since it shows the reader that you are aware of its limitations.
Tip: Use graphs and tables, where appropriate, to visualize your results.
The results chapter outlines what you found out in relation to your research questions or hypotheses. It generally contains the facts of your research and does not include a lot of analysis, because that happens mostly in the discussion chapter.
Clearly visualize your results, using tables and graphs, especially when summarizing, and be consistent in your way of reporting. This means sticking to one format to help the reader evaluate and compare the data.
6. Discussion
The discussion chapter includes your own analysis and interpretation of the data you gathered , comments on your results and explains what they mean. This is your opportunity to show that you have understood your findings and their significance.
Point out the limitations of your study, provide explanations for unexpected results, and note any questions that remain unanswered.
7. Conclusion
This is probably your most important chapter. This is where you highlight that your research objectives have been achieved. You can also reiterate any limitations to your study and make suggestions for future research.
Remember to check if you have really answered all your research questions and hypotheses in this chapter. Your thesis should be tied up nicely in the conclusion and show clearly what you did, what results you got, and what you learned. Discover how to write a good conclusion in our thesis conclusion guide .
🔲 Introduction
🔲 Literature review
🔲 Discussion
🔲 Conclusion
Frequently Asked Questions about structuring a thesis
The basic elements of a thesis are: Abstract, Introduction, Literature Review, Methods, Results, Discussion, and Conclusion.
It's recommended to start a thesis by writing the literature review first. This way you learn more about the sources, before jumping to the discussion or any other element.
It's recommended to write the abstract of a thesis last, once everything else is done. This way you will be able to provide a complete overview of your work.
Usually, the discussion is the longest part of a thesis. In this part you are supposed to point out the limitations of your study, provide explanations for unexpected results, and note any questions that remain unanswered.
The order of the basic elements of a thesis are: 1. Abstract, 2. Introduction, 3. Literature Review, 4. Methods, 5. Results, 6. Discussion, and 7. Conclusion.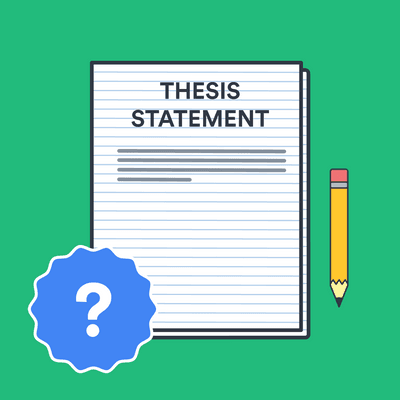 Components of a Thesis
You must be at the end of your academic life as you are looking for a reliable source that can tell you how to write a thesis . Don't worry! You have come to the right place! This article will tell you about the various elements of a thesis and all things to be kept in mind as you start writing one!
So, what is a thesis?
A thesis is a long dissertation or research paper. It starts with a thesis statement which is the main point of your thesis paper . It can be a question, a statement, or an assessment. You will need to prove the thesis statement in your thesis with the help of the data that you collect and the analysis you come up with. These are part of the course requirement for university students, particularly those in the US.
There are different kinds of these- expository, analytical, and persuasive . An expository thesis paper explains a particular topic to the reader. An analytical thesis relies on your analysis of the theme or topic addressed, based on the detailed data you collect. A persuasive thesis paper argues to make and justify depending on your stance on a topic. Choose a suitable type of thesis paper, depending on your theme and thesis statement.
The format for writing a thesis is not usually very subjective; however, a few technical changes can occur in these by students of different institutes. Guidelines are specified by the university/advisor/professor/institute. Go over them before you start writing your thesis.
Here are a few of the essential components that you need to include in a thesis no matter what
A person should be able to get information about the topic of a thesis and its author just by looking at the thesis. The title page of a thesis should include your name, the name of your course, institute, professor, or advisor along with your ID number and the title of your thesis. Write these things in bold letters and space them appropriately. Your details are as important as your thesis.
Table of Contents
An index of all the contents of a thesis is like a good skeleton of the thesis, given at the very beginning. It includes the sections and subsections in the proper order of their occurrence in the thesis. Each heading should be a part of the table of contents along with the page numbers it starts and ends on respectively. The title and its respective page numbers need to be in the same horizontal line or row.
Acknowledgements
Here, you can mention all those who have helped you in your efforts to create an impressionable thesis. We would suggest describing how your colleagues supported you, your advisors guided you and your family looked after you as you worked on your thesis. Make sure you do not miss out on mentioning important people in your life.
Literature Review
The literature review is a list of all the sources of information that you used for reference. It can be substituted with a 'References' section at the end of your thesis. However, it is important to cite sources in a section dedicated to references. Specify the particular sections of research papers, articles, and journal entries you referred to in your thesis. The authors, page numbers, editors, publishers, and organizations need to be mentioned. In-text citations are required as well. The format of citation should be the one mentioned by your university/institute/advisor. The different citation formats are APA, MLA, Chicago, etc.
Thesis statement
The introduction should include the thesis statement. It is the most important thing in your thesis . It should convey the motive of your thesis. Restate the thesis statement in the conclusion. Your thesis statement can be creative, but not complex. You cannot work on something already worked on unless you want to disprove a theory or refer to it as you come up with a different argument. Every point that you explain in your thesis should be related to your thesis statement and should work towards proving the same.
Eg- There is a rise in mental health issues among university students who graduated between 2015 and 2022.
An abstract is like a summary of the thesis at the beginning of your thesis. It gives a reader an idea of what you would be covering in your thesis. Detailed explanations are not needed in the abstract. But it is important to state the main points from most of the sections- methodology, results, analysis, and conclusion. The abstract should not give away your research. It should just be like a concentration of your thesis.
Methodology
Your thesis starts getting detailed from here. A proper description of the methods you will be used to collect information and data relevant to your thesis should be stated in the 'methodology'. Be sure to use methods that are suitable for your research and not those that are redundant. They need to be feasible. You should be able to execute the methods on your own.
Observations or results
This is one of the most important parts of your thesis. Following your methodology, come up with results that support your thesis statement. They need to be organized logically and, in a point-wise format. Highlight the keywords as you explain your results. You can also have a summary of your results if your results are too many and stretch over several pages. This will help readers remember important details.
This is a crucial part of your thesis. Your analysis shows how much you apply your knowledge to the data and come up with interesting implications. The points in the analysis need to be explained well and logically in order. Do not jump from one point to the other. Do not spring up new information out of the blue. Make sure that the explanations are easy to follow for a reader.
A conclusion includes a brief summary of your thesis . It should restate your thesis statement, followed by your findings and what you deciphered from the data you collected. Write down how the research you conducted impacts your field or humankind at large. Convey whether the point you started your thesis with was achieved or not. Did you come across something unexpected? Did your argument or thesis statement change as you started conducting research?
All the extra information and subsidiary data should go in the appendices at the end of your thesis. They should include details that are not directly connected to your thesis in a systematic format. Create different appendices to organize the contents logically. State the subheading along with its page number that contains the point that you are referring to in your appendix. The elements in the appendix should follow the order of their occurrence in the thesis. One should not be on top of the other if the latter comes before the former in the main thesis.
You can also include the following elements in case the format of your thesis is not rigid:
Contributor's Page
This is a list of people who have worked on the thesis. If you are part of a group working on a single thesis, it would be better to include a contributor's page. You can also include the credentials of the group members and the parts covered by them. Any personal details need to be edited before they can be included as part of a contributor's credentials. Only those that are relevant would be better to consider.
Extra information
It is always better to make your thesis rich with details and evidence. Do not hesitate to include as much information as you want. The relevant details can be included in the main body of your thesis. However, subsidiary information needs to go in the appendices at the end of your thesis. Remember to explain each point in your thesis thoroughly. But do not bombard a reader with irrelevant information that can very well go in the appendices. It includes dates, days, and time frames that do not impact the thesis.
Tables, graphs, charts
To make your thesis interesting and inclusive of all forms of information, add graphs, tables, diagrams, images, and/or charts that are relevant to your research. Label these elements properly and insert them wherever necessary. They can be referred to further in your thesis to make a point. You will have to cite these elements in-text and add the citation to the references section of your thesis. Explain the elements properly in your thesis either before or after you have inserted them. They need to be clear to a reader. Extra charts and tables can go in the appendix.
A Final Thesis Checklist
Writing a thesis is no piece of cake. It requires months and at times years of dedication. The compilation can be difficult considering the large volume of information to be included in the thesis. It is easy to get overwhelmed by the work and the sections to be covered. You can take months to complete it. Don't worry if you miss out on writing a particular section. You can always refer to this article and go over the basic elements of a thesis. Cross-check them with the sections and elements in your thesis. Edit your thesis properly before you submit it. Just stop procrastinating and start working! And don't forget to enjoy the process!
-Masha Evans
Leave a Reply Cancel reply
Your email address will not be published. Required fields are marked *
Save my name, email, and website in this browser for the next time I comment.
[email protected]
English English Spanish German French Turkish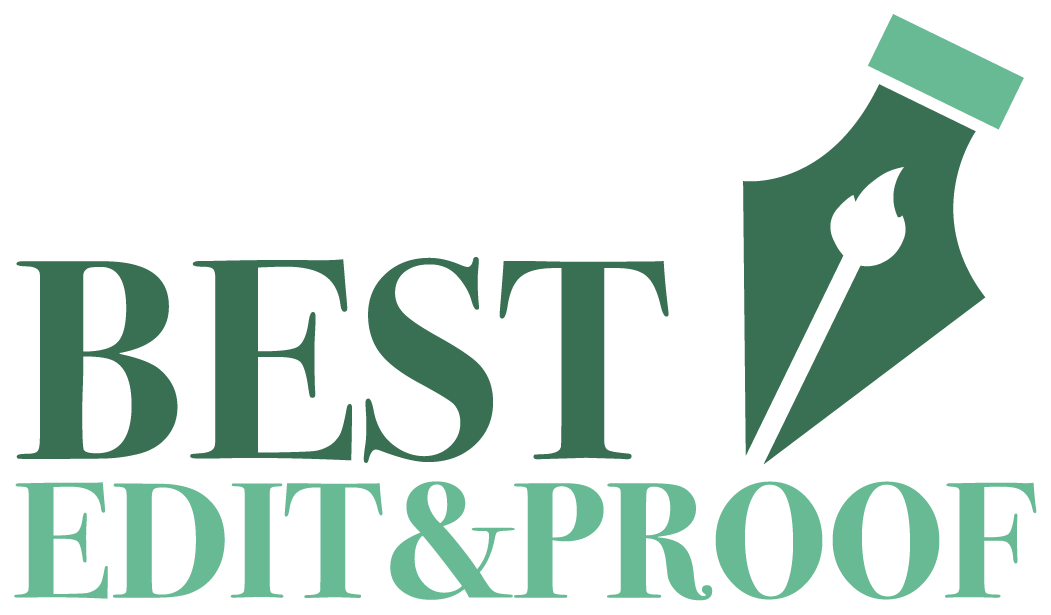 How to Structure a Thesis: A Complete Guide
Writing a thesis can be an overwhelming task for many college and graduate students. Managing all the elements associated with a thesis while ensuring that the quality is not compromised can be challenging. However, what is even more strenuous is deciding on a thesis's layout. "How to structure a thesis" is a question that several final-year students struggle to answer. And understandably so, as all colleges and universities have their guidelines for drafting a thesis. However, there is an immutable structure that's common for every thesis. In this brief guide, we will take a look at this structure and analyze each of its components.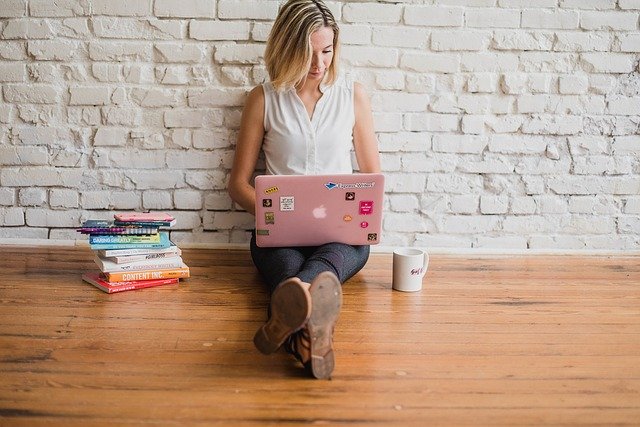 This guide discusses how to structure a thesis effectively. To give you an opportunity to practice proofreading, we have left a few spelling, punctuation, or grammatical errors in the text. See if you can spot them! If you spot the errors correctly, you will be entitled to a 10% discount.
A thesis or dissertation is a long academic document that a master's or doctoral candidate writes to obtain a relevant academic degree. Hence, writing a quality thesis is crucial for college and university students. A good thesis demonstrates a student's academic prowess in their field of study as well as helps hone their analytical and research skills. Writing a thesis can be an overwhelming task for many college and graduate students. Managing all the elements associated with a thesis while ensuring that the quality is not compromised can be challenging. However, what is even more strenuous is deciding on a thesis's layout.
"How to structure a thesis" is a question that several final-year students struggle to answer. And understandably so, as all colleges and universities have their guidelines for drafting a thesis. However, there is an immutable structure that's common for every thesis. In this brief guide, we will take a look at this structure and analyze each of its components. If you are also struggling to initiate the writing process for your thesis, follow this guide and get over your writer's block.
How to Structure a Thesis: Examining the Constituents of a Thesis Structure
Here we have a list of all major sections that a thesis structure generally comprises. The entire thesis structure is segregated into 3 sections, with each section comprising its relevant subsections to facilitate greater legibility.
Front/Preliminary Matter of a Thesis Structure
1. abstract.
An abstract is a concise summary of an entire thesis and consists of the condensation of your entire thesis. A good abstract is precise, concise (usually not more than 250 words) and emphasizes the importance of the document. When writing an abstract, make sure you explicitly mention the crux of your thesis. Also, avoid reiterating what you have mentioned in the title of your document.
Body of a Thesis Structure
2. introduction/preface.
The introduction chapter of your thesis outlines its core arguments, hypotheses, and results. It is longer than the abstract and contains adequate background information on your topic of interest. Furthermore, it establishes the relevance of your thesis by highlighting its contribution to the knowledge base of its topic. Writing a gripping introduction helps the readers understand the context of your thesis. According to USNSW Sydney, the introduction of a thesis should have the following stages:
State the general topic and give some background
Provide a review of the literature related to the thesis subject
Define the terms and scope of the thesis topic
Outline the existing situation
Evaluate the current situation and identify the gap in the literature
Identify the importance of the proposed research
State the main research questions
State the purpose of the study and/or research objectives
State the study hypotheses
Outline the order of information in the thesis
Outline the methodology.
3. Literature review
The literature review chapter sets the premise of your thesis. It examines and evaluates the research works that's been conducted so far on your thesis topic and passively highlights the contributions of your thesis.
A literature review is a survey of academic sources on a specific subject, providing an overview of current knowledge, allowing you to discuss relevant theories, methods, and gaps in the existing research. Writing a literature review contains finding relevant publications, critically analyzing the sources, and explaining your findings in the literature. A well-written literature review doesn't only summarize sources, it also aims to analyze, synthesize, and critically evaluate to give a clear picture of the state of knowledge on the topic.
To write an impeccable literature review, consult a plethora of sources and mention the canon related to your thesis topic. Also, put forward your review in a logical, chronological, and structured manner to better outline the knowledge gaps in your field of study and how your thesis will fill them.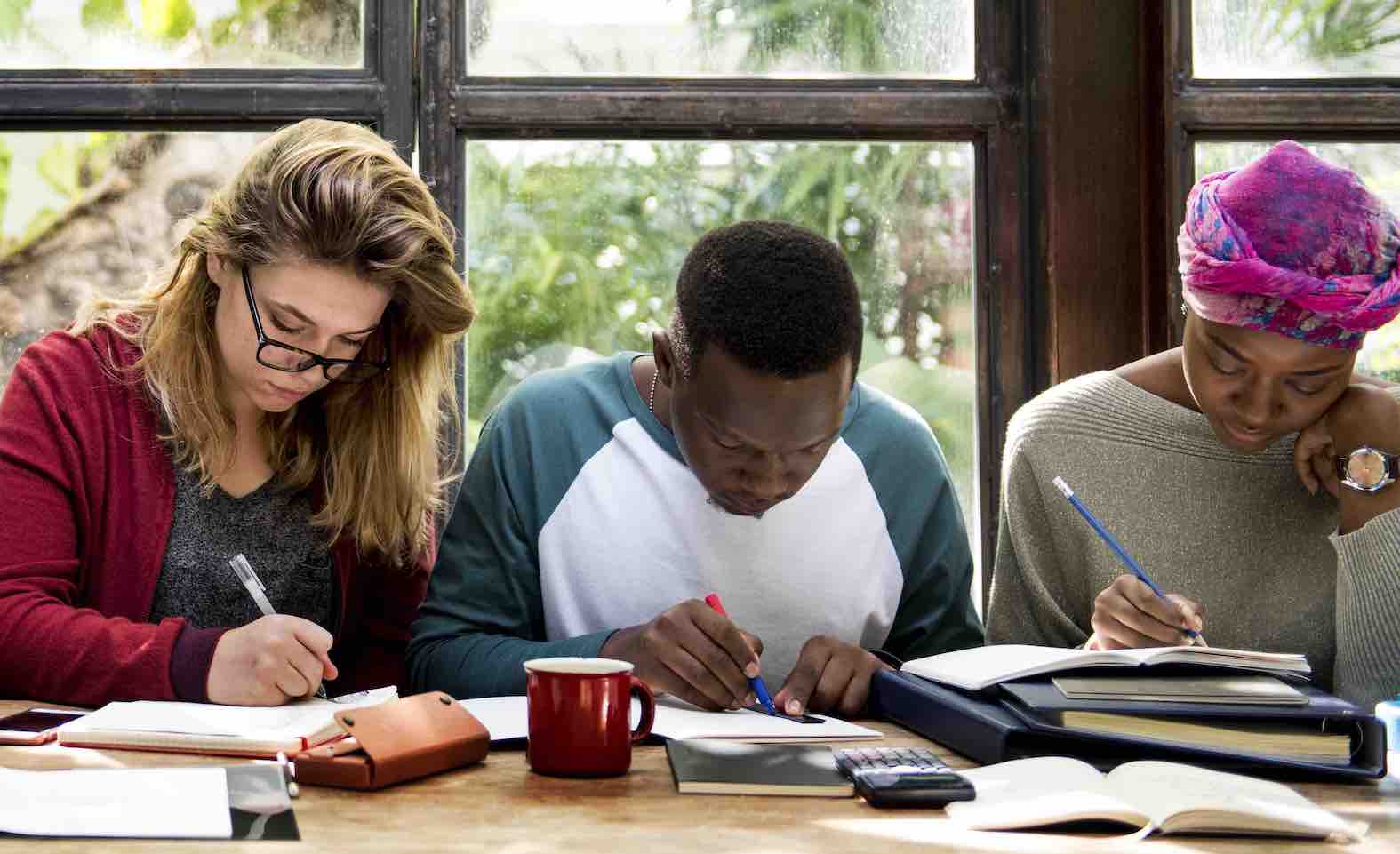 The following simple and straightforward tips can act as the exhaustive rubric and offer meaningful insight to prospective authors on how to formulate a flawless literature review:
Step 1. Probe similar works for a well-structured literature review
Step 2. Analyze, not just synthesize: Authors should provide a detailed critique of the subject
Step 3. Organize your literature review systematically
Step 4. Establish the purview: Authors should specify the scope of the literature review
Step 5. Abstain from plagiarism
Step 6 . Be mindful of the language
4. Methodology
As the name suggests, the methodology section of a thesis consists of all methods and procedures you have used in your thesis. A well-written methodology accentuates the plausibility of your research methods. In addition, it enables your readers to understand why you chose specific methods and how they are justified for your research.
To garner more credibility, you can include the pitfalls and difficulties associated with your choice of research methods. The methodology section is an unavoidable part of a thesis or a research paper. Considering errors in the methodology section enervates the entire thesis.
Follow the steps below to write a perfect methodology for a thesis:
a. Give an outline of the research design
b. Don't forget to define the philosophy behind the research
c. Mention the research approach
d. Introduce the research methods
e. Note the following points to highlight in the methodology. No matter what methodology you have chosen, you have to focus on the following points:
Explain sampling strategy.
Clearly state the procedure of the research paper.
Mention how you collect the data. (Data collection)
Explain how data are analyzed for your research. (Data analysis). Suppose you have written in qualitative strategy like thematic analysis, mention the researcher you have followed.
Mention the validity of the data and result.
Discuss all ethical aspects of your research paper.
f. Avail professional proofreading and editing services
g. Most important tips to compose an impactful methodology for a dissertation
Don't drift from your objective and the purpose of your dissertation.
Explore scholarly research papers and their methodology sections to have a better idea.
Plan a proper writing structure.
Understand your audience and target group.
Don't make mistakes in citing relevant sources. You may use APA and MLA citation
Refer to all the hurdles you have experienced while writing your dissertation.
Make sure to rectify grammatical and punctuation errors.
Ensure that the section is readable and doesn't consist of long and complex sentences. Long sentences can hamper the tone of the methodology.
This section comprises the outcomes of your research work. It includes all the observations you made and the answers to all your hypotheses in the thesis. When writing the "results" chapter, include only factual data and format it to be distinguishable. Use tables, graphs, subheadings, and generic comments for the results. The aim is to enable your readers to discern the result of your research.
6. Discussion
The discussion chapter of your thesis should begin with a brief summarization of the outcome of your research work. It should explain how your results address your hypotheses and highlight any repetitions in your observations. You can also add comments on how you want the readers to interpret your results and about your agreements and disagreements with the available research work in your field.
Writing a flawless thesis requires much more than only subject matter expertise. It requires expertise, experience, and in-depth thinking, along with sharp intelligence. Though most students add a discussion chapter in their thesis or dissertation, many of them end up messing up the essay or missing out on the central issues.
A discussion chapter in a thesis is a place where you have the chance to delving into the analysis, importance, and relevance of your research. This section focuses on explaining and analyzing what you have researched, presenting how it is associated with the existing literature. It is also a place for argument supporting your entire discussion.
We often find that people seek thesis writing help from experienced editing and proofreading services to prepare a flawless discussion chapter. However, the following helpful tips can help you design a perfect master's or Ph.D.. thesis with an excellent discussion chapter:
Understand the objective of your thesis
Determine a clear structure
Usage of grammar and tense
Refer to hypotheses and literature review
Evaluate your results and compare them with existing studies
Understand the limitation of your research
Don't be afraid to be unique
Don't forget to avail a professional thesis editing and proofreading service
Click here to review the details of the aforementioned tips.
The following 5 questions might be helpful to write a sound discussion section:
How well do you understand the objective of your study?
What message is conveyed by your results?
How do your findings compare to findings in literature?
Why should your findings matter?
In what light should your findings be viewed?
7. Conclusion
The final section of your document consists of a precise answer to your hypothesis. In addition, the "conclusion" chapter of your thesis should stress the achievement of the aims of your thesis. You should also include certain limitations of your research to convey the fact that there is still scope for further research in your field.
The end matter of a thesis structure
The components of this section include an acknowledgment, a bibliography, and (occasionally) an appendix.
Parting words
The first step to writing a thesis is to chalk out its layout. Doing so not only helps you deal with the writing process one step at a time but also enables you to better attend to each component of a thesis structure.
Also, before you follow this thesis structure, make sure to check with your university for "how to structure a thesis" guidelines. If the guidelines offered by your institution deviate slightly from what's mentioned in this guide, then make sure to prioritize the former.
If you need us to make your thesis shine, contact us unhesitatingly!
Best Edit & Proof expert editors and proofreaders focus on offering papers with proper tone, content, and style of academic writing, and also provide an upscale editing and proofreading service for you. If you consider our pieces of advice, you will witness a notable increase in the chance for your research manuscript to be accepted by the publishers. We work together as an academic writing style guide by bestowing subject-area editing and proofreading around several categorized writing styles. With the group of our expert editors, you will always find us all set to help you identify the tone and style that your manuscript needs to get a nod from the publishers.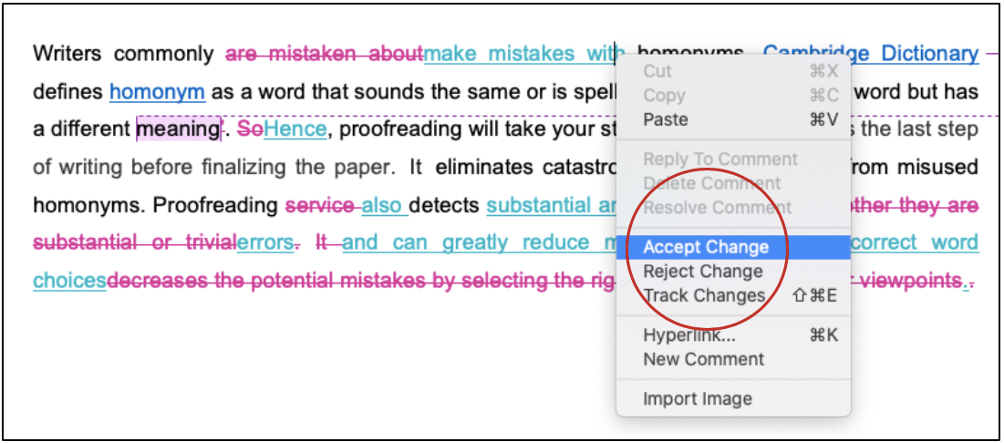 English formatting service for theses and dissertations
You can also avail of our assistance if you are looking for editors who can format your manuscript, or just check on the particular styles for the formatting task as per the guidelines provided to you, e.g., APA, MLA, or Chicago/Turabian styles. Best Edit & Proof editors and proofreaders provide all sorts of academic writing help, including editing and proofreading services, using our user-friendly website, and a streamlined ordering process.
Get a free quote for editing and proofreading now!
Visit our order page if you want our subject-area editors or language experts to work on your manuscript to improve its tone and style and give it a perfect academic tone and style through proper editing and proofreading. The process of submitting a paper is very easy and quick. Click here to find out how it works.
Our pricing is based on the type of service you avail of here, be it editing or proofreading. We charge on the basis of the word count of your manuscript that you submit for editing and proofreading and the turnaround time it takes to get it done. If you want to get an instant price quote for your project, copy and paste your document or enter your word count into our pricing calculator.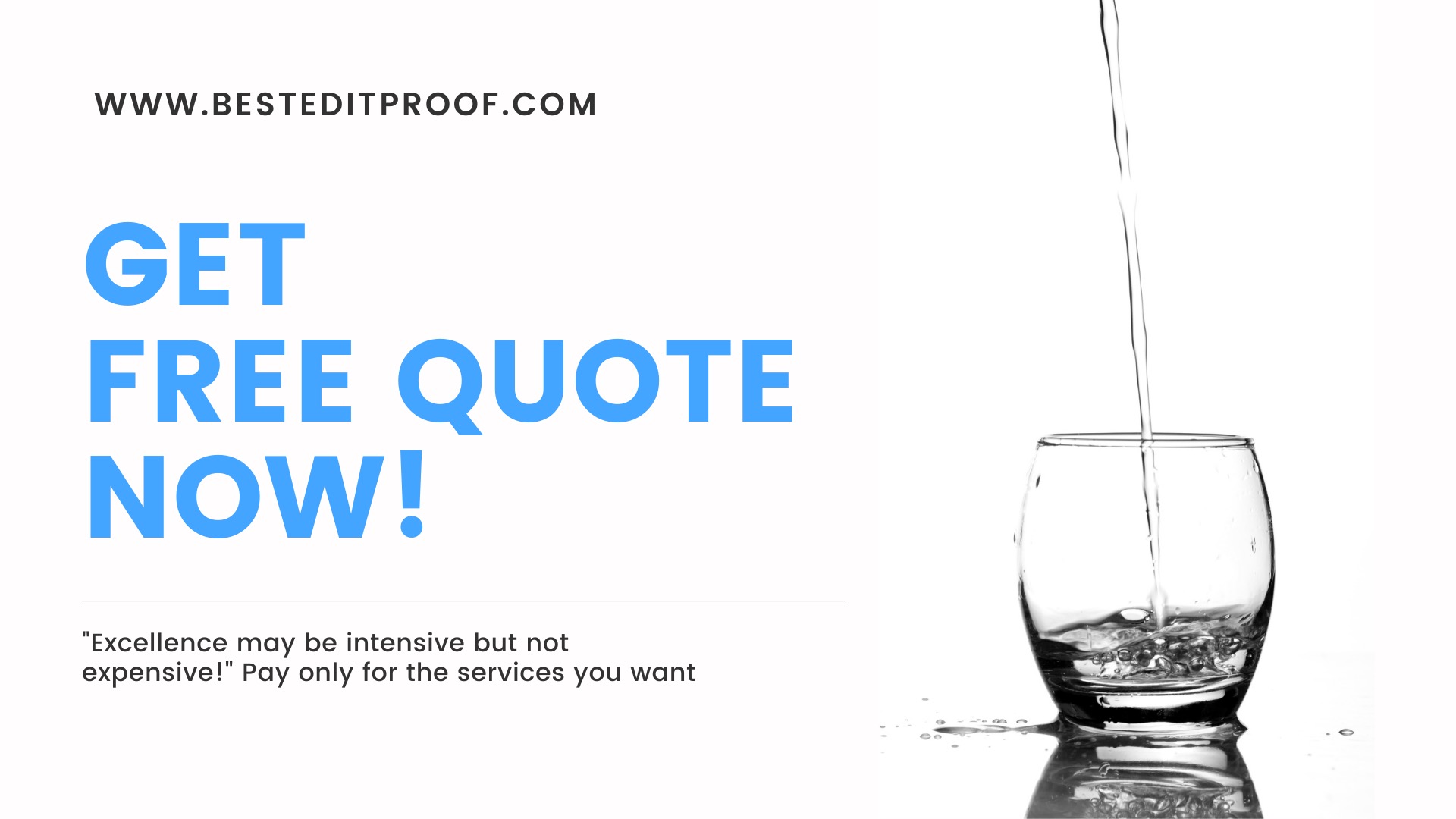 24/7 customer support | Live support
Contact us to get support with academic editing and proofreading. We have a 24/7 active live chat mode to offer you direct support along with qualified editors to refine and furbish your manuscript.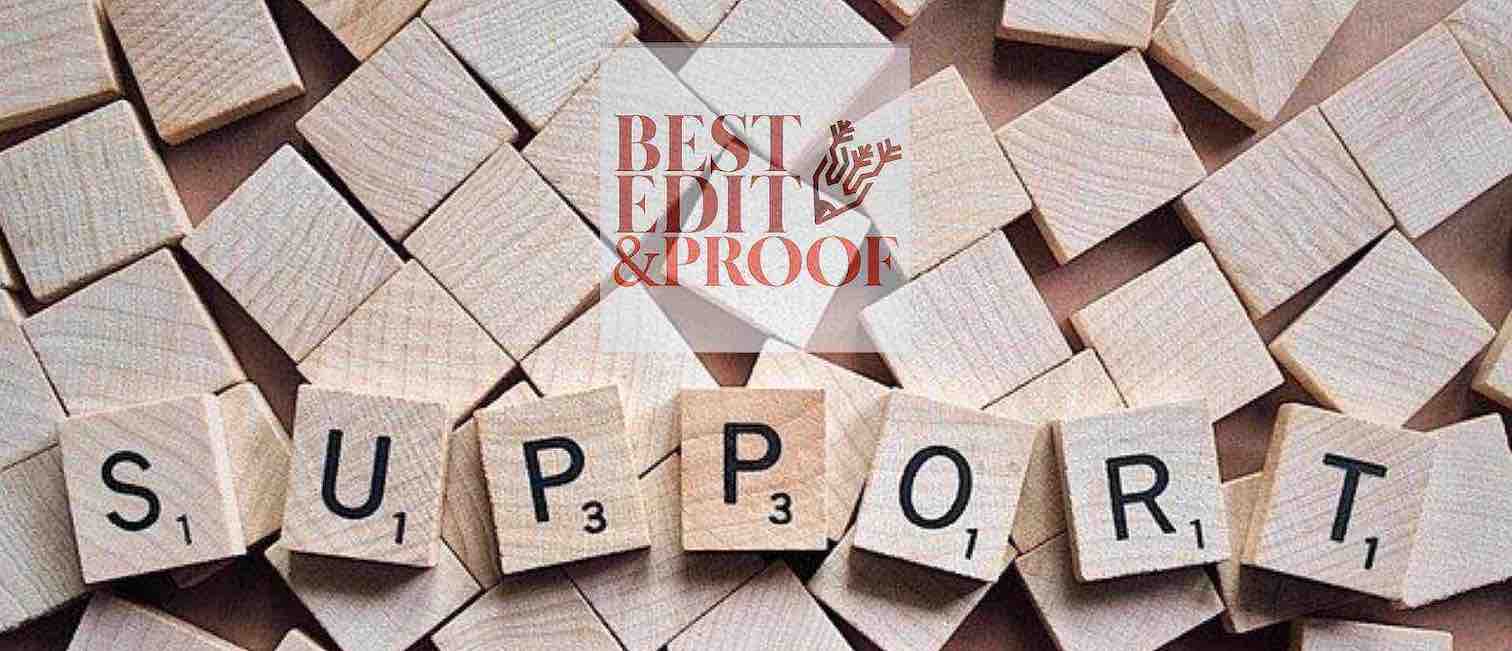 Stay tuned for updated information about editing and proofreading services!
Follow us on Twitter, LinkedIn, Facebook, Instagram, and Medium .
For more posts, click here.
Editing & Proofreading
Citation Styles
Grammar Rules
Academic Writing
Proofreading
Microsoft Tools
Academic Publishing
Dissertation & Thesis
Researching
Job & Research Application
Similar Posts
How to Determine Central Tendency?
How to Specify Study Variables in Research Papers?
Population vs Sample | Sampling Methods for a Dissertation
7 Issues to Avoid That may Dent the Quality of Thesis Writing
How to Ensure the Quality of Academic Writing in a Thesis and Dissertation?
How to Define Population and Sample in a Dissertation?
How can You Establish Experimental Design in Your Dissertation?
How Can You Decide on Tense Usage in Your Dissertation?
Recent Posts
ANOVA vs MANOVA: Which Method to Use in Dissertations?
They Also Read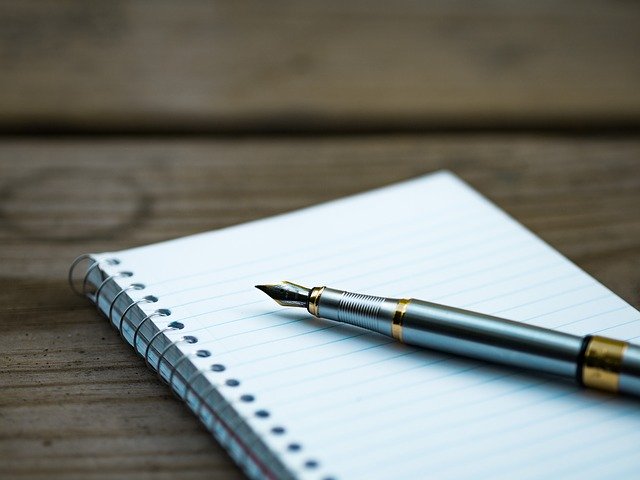 The writer is expected to be very selective with the style and approach of writing custom-made. Here in this article, the primary and essential elements to be taken under consideration while developing engaging content will be illustrated. This article discusses 9 basic principles for effective content writing.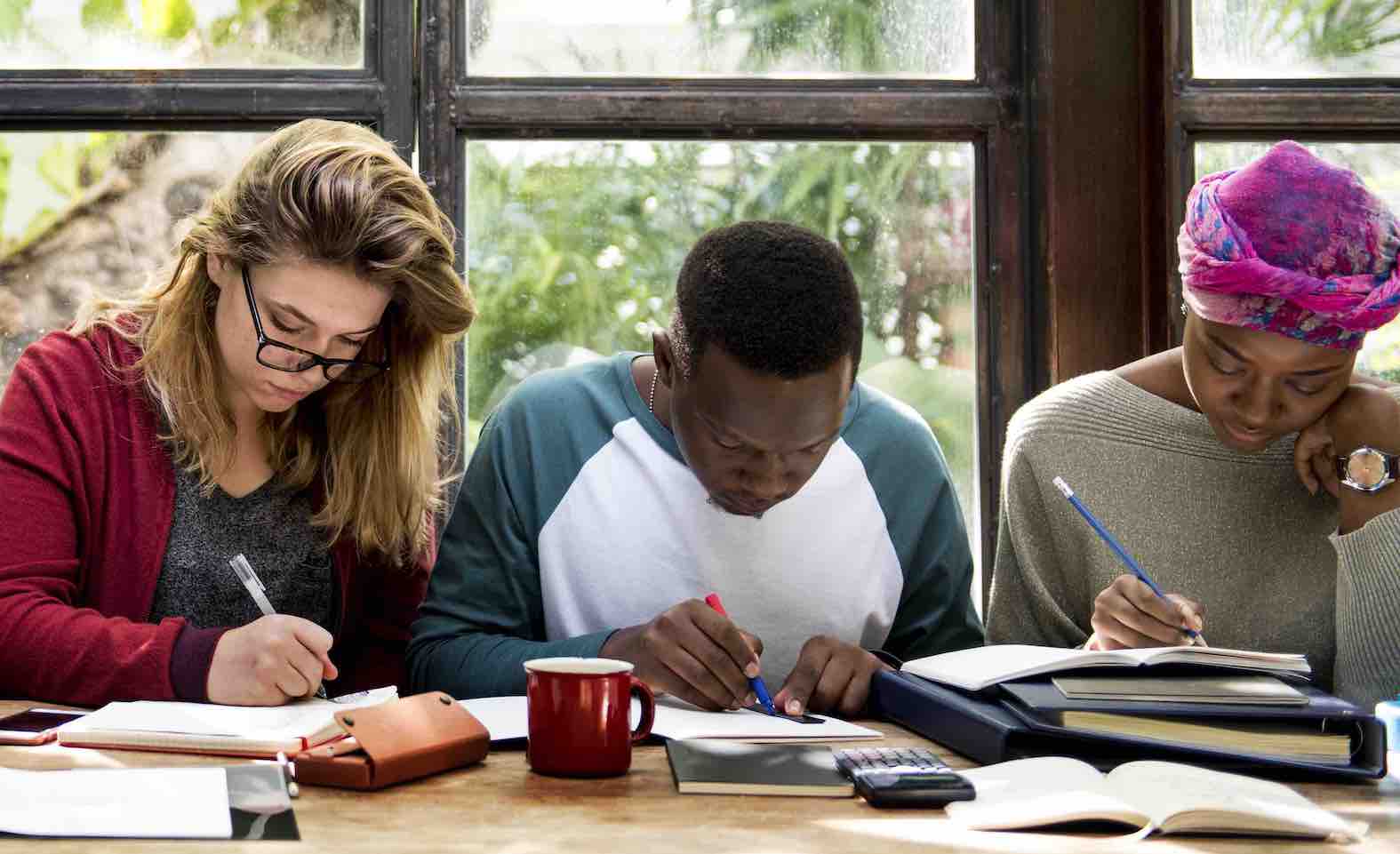 Some students find it difficult to understand and write error-free coursework papers. So, it requires pouring multiple skills, attention, and energy to frame impressive coursework. Here we present few such tips for flawless coursework.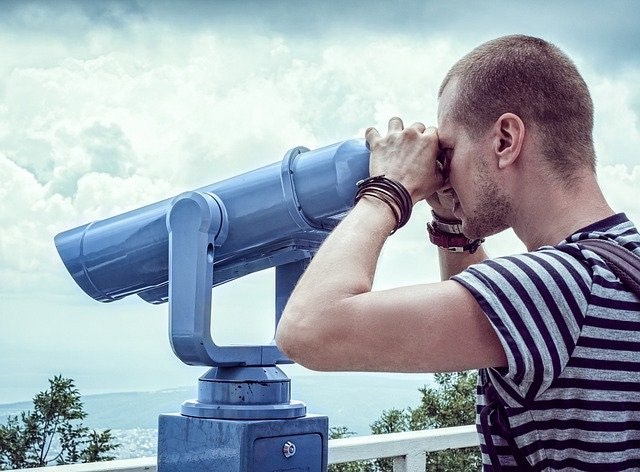 The successful manuscript submission can benefit in accelerating quick publication, the promulgation of your findings, and avoiding the chances of scooping. Plus, it provides a quicker return for you to start working on your next study. This article will guide you through 11 tips for successful manuscript submission.
Although the rules of English capitalization seem simple at first glance, it might still be complicated in academic writing. You probably know you should capitalize proper nouns and the first word of every sentence. However, in some cases, capitalization is required for the first word in a quotation and the first word after a colon. In this article, you will find 15 basic capitalization rules for English grammer.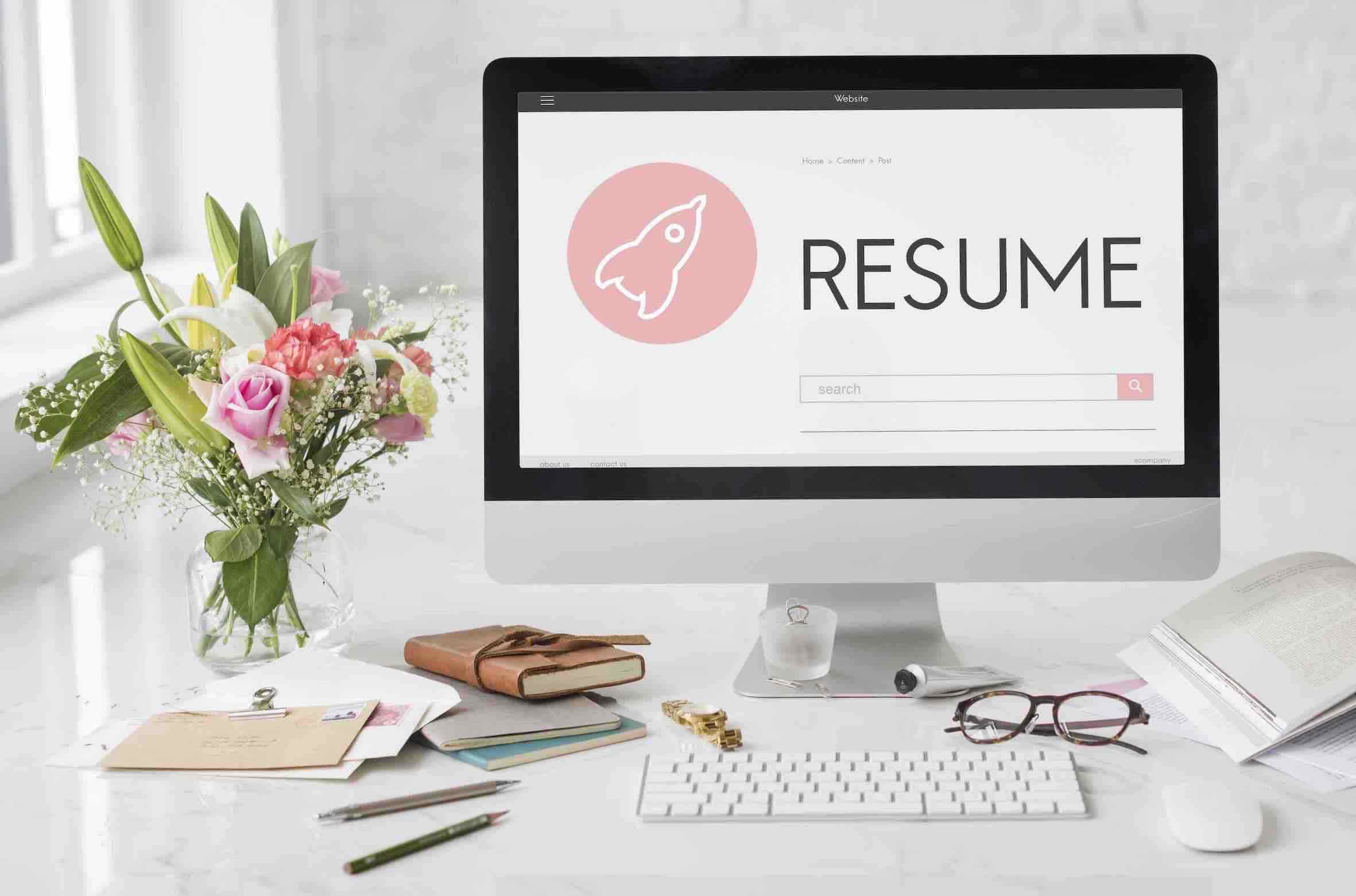 There are several naive job seekers who waste their valuable time and energy designing their resumes instead of writing an eye-catching cover letter. It is too often people looking for a job neglect the importance of a cover letter. This article shows you 10 tips to write a persuasive cover letter for a resume and presents a short guide that will help you draft an impeccable cover letter for a resume.
How to Write Your Thesis
I. thesis structure, list of figures, list of tables, introduction.
Be sure to include a hook at the beginning of the introduction. This is a statement of something sufficiently interesting to motivate your reader to read the rest of the paper, it is an important/interesting scientific problem that your paper either solves or addresses. You should draw the reader in and make them want to read the rest of the paper.
Note: Results vs. Discussion Sections
Ii. crosscutting issues, what are we looking for, planning ahead for your thesis, skimming vs. reading, giving credit.
direct quotes or illustrations without quotation marks, without attribution
direct quotes without quotation marks, with attribution
concepts/ideas without attribution
concepts/ideas with sloppy attribution
omitting or fabricating data or results
III. Editing Your Thesis
Structuring your thesis
Information and services
Higher Degree by Research
HDR candidature support
How to write a thesis
The best structure for your HDR thesis will depend on your discipline and the research you aim to communicate.
Before you begin writing your thesis, make sure you've read our advice on thesis preparation for information on the requirements you'll need to meet.
Once you've done this, you can begin to think about how to structure your thesis. To help you get started, we've outlined a basic structure below, but the requirements for your discipline may be different .
If you need help determining a suitable structure:
read other theses in your discipline – you can search for UQ theses on the Library website. For prime examples, search for theses that received commendations from their examiners
check with your advisor.
A basic thesis structure includes the following sections:
Introduction and literature review
Results or findings.
An abstract is a summary of your entire thesis and should provide a complete overview of the thesis, including your key results and findings.
An abstract is different to your introduction, and shouldn't be used to advertise your thesis — it should provide enough information to allow readers to understand what they'll learn by reading the thesis.
Your abstract should answer the following questions:
What did you do?
How did you do it?
Why was it worth doing?
What were the key results?
What are the implications or significance of the results?
As your abstract will have a word limit, you may be unable to answer every question in detail. If you find yourself running out of words, make sure you include your key findings before other information.
All theses require introductions and literature reviews, but the structure and location of these can vary.
In some cases, your literature review will be incorporated into the introduction. You may also review literature in other parts of your thesis, such as in the methods section.
Other options for structuring an introduction and literature review include:
a brief introductory chapter with a longer, separate literature review chapter
a long introductory chapter with a brief introductory section followed by literature review sections
a brief introductory chapter with detailed literature reviews relevant to the topic of each chapter provided separately in each chapter — this is common in a thesis comprised of publications.
If you have a separate introduction and literature review, they should complement, not repeat, each other.
The introduction should outline the background and significance of the broad area of study, as well as your:
general aims – what you intend to contribute to the understanding of a topic
specific objectives – which particular aspects of that topic you'll be investigating
the rationale for proceeding in the way that you did
your motivation or the justification for your research – the level of detail can vary depending on how much detail you will be including in a literature review.
The literature review should provide a more detailed analysis of research in the field, and present more specific aims or hypotheses for your research. What's expected for a literature review varies depending on your:
program – a PhD thesis requires a more extensive literature review than an MPhil thesis
discipline – analyse well-written examples from your discipline to learn the conventions for content and structure.
To get some ideas about how to structure and integrate your literature review, look at how to write a literature review and an example analysis of a literature review , or talk to your advisor.
A possible structure for your methods section is to include an introduction that provides a justification and explanation of the methodological approach you chose, followed by relevant sub-sections. Some standard sub-sections of a methods chapter include:
How the methods section is structured can depend on your discipline, so review other theses from your discipline for ideas for structure.
Regardless of structure, the methods section should explain:
how you collected and analysed your data – you only need to include enough detail that another expert in the field could repeat what you've done (you don't have to detail field standard techniques or tests)
why you chose to collect specific data
how this data will help you to answer your research questions
why you chose the approach you went with.
You may want to present your results separately to your discussion. If so, use the results section to:
specify the data you collected and how it was were prepared for analysis
describe the data analysis (e.g. define the type of statistical test that was applied to the data)
describe the outcome of the analysis
present a summary and descriptive statistics in a table or graph.
Use tables and figures effectively
Reports usually include tables, graphs and other graphics to present data and supplement the text. To learn how to design and use these elements effectively, see our guides to:
incorporating tables, figures, statistics and equations (PDF, 1.2MB)
graphic presentation (PDF, 2.9MB) .
Use the discussion section to:
comment on your results and explain what they mean
compare, contrast and relate your results back to theory or the findings of other studies
identify and explain any unexpected results
identify any limitations to your research and any questions that your research was unable to answer
discuss the significance or implications of your results.
If you find that your research ends up in a different direction to what you intended, it can help to explicitly acknowledge this and explain why in this section.
Use the conclusion section to:
emphasise that you've met your research aims
summarise the main findings of your research
restate the limitations of your research and make suggestions for further research.
In some cases, the discussion and conclusion sections can be combined. Check with your advisor if you want to combine these sections.
Learning Advisers
Our advisers can help undergraduate and postgraduate students in all programs clarify ideas from workshops, help you develop skills and give feedback on assignments.
How a Learning Adviser can help
Further support
Writing a clear and engaging research paper Thesis and dissertation writing: an examination of published advice and actual practice Scientific writing
Structure of thesis report
When you have a good structure for your thesis, you are already half way in writing your thesis. Since writing a report involves structuring your results and ideas, it is advised to start writing your thesis before the end of the period. You can already start with writing your background, introduction, materials and methods without having any results. This will help you structure your plans. Don't underestimate the time you need to write your thesis. When you have to do everything at the end, most people run out of time, or lose their concentration.
A thesis should be nice to read by the reader, so turn it into a story to guide the reader through it. Avoid a summation of just facts..
The thesis should contain the following chapters:
- Title page
- Summary/abstract
- Table of content
- Introduction
- Background information
- Materials and methods
- Results and discussion (or separate chapters)
- Conclusion
- (recommendations)
- References
Summary: The summary should contain a brief overview of the research and the most important results (usually half a page)
Introduction: Your introduction contains information about why you do the work. It should contain a short description of the problem. If possible, what has already been done (literature). What is still missing in the research, and how you are going to contribute to that field. So it should end with an aim or goal. It could also include a hypothesis, if you are expecting something specific to come out. The introduction section is usually about 1 page.
Background information: The background information contains all information needed to understand your results. This contains information about the ingredients that you use. The background of the methods that you use. Start with the more general concepts and go into more detail from there. This chapter involves the use of literature. Try to turn it into a logical story. Do not just put different literature statements after each other (5-10 pages).
Materials and Methods : The chapter starts with materials. Name all materials and where they were bought, purchased, received as a gift, etc. The methods contain all information about how you did the experiments. This contains all the settings of the equipment as well: temperature, how long you stirred, settings of the equipment. All information should be there, so someone else can do redo your experiment. The material and method section is always written in the past.
Results and Discussion : Since it is very difficult to separate results with discussion, they are often combined in one chapter. This often also makes the flow of the story better. Results are often represented in figures and tables. Not just show the raw data. The figures should be self-explanatory. In the text, do not repeat the data from these tables and figures, but interpret the results. Be critical. What have I measured. Did I do duplicates? What are the error margins? What do the results tell me? How can I explain them? And what do I learn from it?.
In the results section, you should also compare your results with those in literature. What has been done by others, what do they find? And is that similar to my results? At the end, your results should be used to answer your aim/questions or hypothesis that you had at the beginning of your thesis.
Conclusion : this section should contain your most important findings. Start by mentioning your aim, so people know why you did the work. Do not mention all the results again in detail, but describe the results as an overview. You could end the conclusion what kind of implications your results have (in terms of new product development or something. Or use in other field of science). The conclusion is usually max. 1 page.
References: There are a lot of different ways to make a reference list. Check some articles that you read to see the different versions. It is up to you to choose one. However, when you choose one, stick to it. Do not use different version in your list. Since it is easier to know the relevance of a paper, also include the title of the article!
Use of Figures:
- Figures should contain names on both axis with their unity in brackets: Force (N)
- They should not contain any lines on the inside, only if they have a function.
- Remove the lines around the complete Figure (standard in excel)
- Make sure that the size of the symbols and letters are large enough so you can read them.
- Use scientific numbering: 1.105
- Avoid very large numbers for clarity: 10000000 should be 1.107
- Figure numbering should be underneath the Figures
Use of Tables:
- make sure all tables have the same lay-out
- Table columns should contain the parameter with unity in brackets
- Table numbering should be above the Table.
Length of the thesis: There is not a standard length of the thesis. In general a BSc thesis is 25-35 pages, and a MSc thesis between 30-50 pages. Only relevant information should be presented in the thesis itself. Less relevant information and additional info (pre-testing for example) could be presented in the appendix.

20,000+ students realised their study abroad dream with us. Take the first step today
Here's your new year gift, one app for all your, study abroad needs, start your journey, track your progress, grow with the community and so much more.

Verification Code
An OTP has been sent to your registered mobile no. Please verify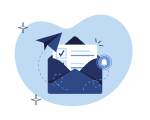 Thanks for your comment !
Our team will review it before it's shown to our readers.

Thesis Format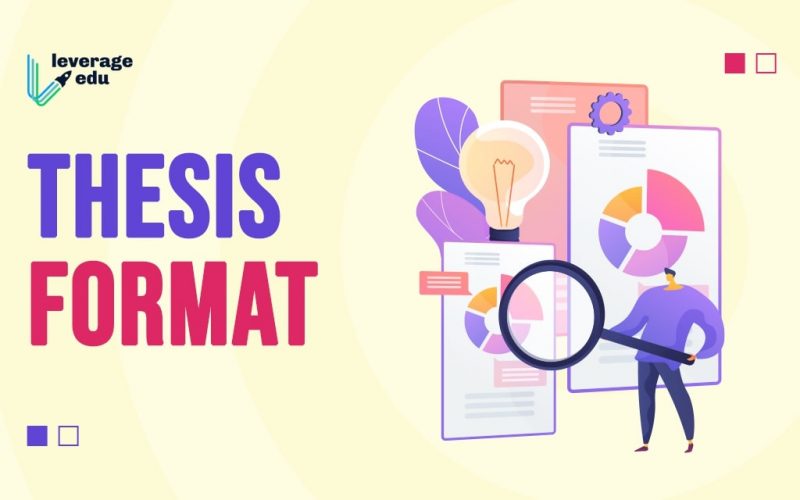 Drafting a thesis or dissertation can be difficult at times. It is just too much work and takes a lot of time to complete but your thesis work can become a lot easier if you know how to structure it. However, thesis structure may slightly vary for different courses but a thesis format is generally the same for most of the courses. This blog includes everything you need to know about a Thesis Format.
This Blog Includes:
What is a thesis and a dissertation, front matter, dissertation format: how to write a dissertation, how to choose topics and titles for thesis or dissertation, tips to write a thesis or dissertation, thesis sample format, dissertation sample, numbering pages, thesis format templates, faqs about thesis format.
A thesis is an academic piece that is meant to include a viewpoint of your findings on the topic you've chosen. It is about 100-150 pages and is supposed to be submitted during the completion of your graduate program to mark an end to your study. While a dissertation is an independent work of research that requires you to demonstrate your research and come to a conclusion. It has no specific length but depending on the course you may be required to not exceed the 60,000 – 80,000 world limit. A dissertation is supposed to be written during your doctoral program. Your dissertation is a contribution to the respective field of your study.
Thesis Writing Format: How to Structure a Thesis?
The format of a Thesis is one of the key similarities that a thesis and a dissertation have. Mentioned below are the structures:
Title – The candidate's department usually gives a standard title page form which everyone is requied to follow. Usually, the title should be informative, consists important keywords, and adequately exhibit the topic of the thesis.
Abstract – The adequate section briefly describes the research problem, alongwith the right methodology that will be used, and what are the key results at the end of the project.
Tabel of Contents – Here the stduent is required to list all the key subject headings and subheadings that are being use din the thesis along witht he accurate page numbers.
List of Figures – This is a list of all the figure numbers, figure titles, and page numbers mentioned in the thesis.
List of Tables – The table list contains all the mentioned table numbers, table titles, and page numbers that is included in the thesis.
Nomenclature – Usually we end of using a lot of unfamiliar symbols and numbers that may not be understandable to everyone, hence, a nomenclature is included where we list all the unfamiliar terms, symbols, acronyms, and their meanings.
Statement of Purpose/Aim/Research Questions
Theory – Usually the student is required to add a theory section if they have developed a theoretical basis for the research topic that includes any governing equations.
Methodology – In this section of the thesis the writer list and describes the key materials and apparatus that were used in the thesis. After mentioning them, the procedure is described briefly with enough details so that it can be utilized by other readers for future research projects.
Results – The results are presented after the above topics with the accurate information accompanied by the tables and graphs for further understanding.
Significance/Implications (Results of the Discussion) – After presenting the results, the significance of it is emphasized for further discussions and what are the topics that has emerged from the following research for further exploration.
Overview of Chapter (Conclusion) – This section reviews the results and states clearly what their significance is in the field of the particular subject. The writer also utilizes this section to comparatively analyse the result in the theoretical expectation what are their opinions after the end of the research.
Acknowledgements – This section mentions all the advisors, sponsors, funding agencies, colleagues, technicians who assisted the researchers to carry out the entire project.
Appendixes – Appendixes are list of information that provides detailed calculations, procedures, data for the entire project.
Bibliography – This section consists of all the referred works in your project. Usually the structure of the bibliography is given by the department and the writer must follow the exact style recommended byt them.
The format of a Dissertation is quite similar to a Thesis format. A dissertation must include the following sections:
Section I: Introduction
Section II: Review of Literature
Section III: Research Methodology
Section IV: Result Presentation
Section V: Summary, Implications and Conclusions
Also Read: How to write a Dissertation?
Select a relevant and interesting topic for your thesis or dissertation.
The topic must be capable of providing you with content to support your arguments.
Do not include shallow questions in your dissertation that are supposed to be answered with a Yes or No. Include questions that provide you with long but worthy answers.
Ask for feedback and advice from your supervisors or teachers more often. Their suggestions can be a great help.
While choosing a title for your thesis or dissertation, select an appropriate title that does justice to your research. The title should be capable enough to demonstrate the purpose of your dissertation or thesis through the title itself.
Also Read: MBA Dissertation Topics to Consider
Apart from using the correct format for your Thesis or Dissertation, there a couple of other tips you can use to make it better.
Set specific goals and deadlines so that you complete the thesis and dissertation on time.
Give at least 2 hours a day to write a dissertation or thesis. 2 or 3 hours are enough for you to start with. You can increase the hours if you feel that you can work under pressure.
Start with a rough draft. Remember that it is not the final draft, you can always make changes if needed in the final dissertation.
While writing a thesis ensure that you include evidence of your personal experience throughout the duration of writing a thesis.
A thesis statement should be extremely precise. It should only include your objective with particular evidence to support the statement.
Proofread your thesis and dissertation and make changes if required.
While choosing a topic for dissertation, you should try to find a topic that you are genuinely concerned about. If you choose a topic that you love, you'll be able to put your thoughts clearly.
Conduct effective research and choose a variety of methods. Do not use just one method. Try to use different methods so that you get a lot of content through the findings.
Do not copy content. Plagiarism is extremely prohibited while writing a thesis or a dissertation. However, you can still use primary sources to support your statements in a thesis but a dissertation is original research work that should only include your findings.
Also Read: Dissertation Topics for Marketing
To make it easier for you to understand the format of a thesis, we've mentioned a thesis sample outline for your reference below:
Mentioned below is a Dissertation Outline sample for your reference:
The Impacts of a Potential Free Trade Agreement Between Mercosur and the European Union – A Structural Gravity Model General Equilibrium Analysis
Thesis Format Guidelines
For writing a thesis, use 1.5 or double-spaced text. When it comes to footnotes, long quotations, bibliography entries (double space between entries), table captions, students must use single spacing.
The thesis should be formatted to be printed on 8.5 x 11-inch paper within your PDF.
A left margin of 1.5 and a top, bottom, and right margin of 1 for thesis format is the ideal sizing.
The title page contains degrees and other titles of committee members. Make sure to use the correct titles, upper case settings, and spacing when writing this page. Get all the relevant signatures and references for this page.
The abstract should be 350 words for a doctorate or 150 words for a master's. It should contain a summary of the results, conclusions or main arguments presented in the thesis beneath a heading called the Abstract, title of the thesis, and name of the writer.
Numbering pages should be on the upper right corner of the page.
Hyperlinks are not the same as complete bibliographic citations.

A Master's thesis is around 80-100 pages excluding the bibliography.
A thesis should have the main 5 chapters that are an introduction, review of literature, methodology, findings, and conclusion.
A dissertation must include at least 8-12 references for every 1,000 words as per the general rule for writing a dissertation.
Bachelor's and master's theses typically include three parts: the first introduces the topic, the body contains a description of how the study was carried out, and the last portion lists the information related to the work.
This was all that you needed to know about how to format your Thesis. Are you interested in pursuing a PhD or Masters for your further studies? Our Leverage Edu experts will provide you with end-to-end assistance starting from your university application to the time you reach your university and commence your studies. Call us at 1800 57 2000 to book a FREE 30-minute counselling session today.
Damanpreet Kaur Vohra
Daman is a creative and enthusiastic writer who loves to create well researched and impactful content for students willing to pursue higher studies abroad, from universities, courses and exams to writing fun blogs for students abroad. When she is not working, you can find her discussing why Lana Del Rey is the iconic popstar of her generation.
Leave a Reply Cancel reply
Save my name, email, and website in this browser for the next time I comment.
Contact no. *

Leaving already?
8 Universities with higher ROI than IITs and IIMs
Grab this one-time opportunity to download this ebook How would you describe this article ?
Please rate this article
We would like to hear more.
Connect With Us
20,000+ students realised their study abroad dream with us. take the first step today..

Resend OTP in

Need help with?
Study abroad.
UK, Canada, US & More
IELTS, GRE, GMAT & More
Scholarship, Loans & Forex
Country Preference
New Zealand
Which English test are you planning to take?
Which academic test are you planning to take.
Not Sure yet
When are you planning to take the exam?
Already booked my exam slot
Within 2 Months
Want to learn about the test
Which Degree do you wish to pursue?
When do you want to start studying abroad.
September 2023
January 2024
What is your budget to study abroad?
Graduate Research Hub
Preparing my thesis
Incorporating your published work in your thesis
Examples of thesis and chapter formats when including publications
The following examples are acceptable ways of formatting your thesis and chapters when including one or more publications.
Essential requirements
All theses with publications must have the following:
Declaration
Preface – noting collaborations, and contributions to authorship
Acknowledgements
Table of contents
List of tables, figures & illustrations
Main text/chapters
Bibliography or list of references
Main text examples
Chapter 1: Introduction
Chapter 2: Literature review
Chapter 3: Methods
Chapter 4: Paper 1 & general discussion
Chapter 5: Paper 2
Chapter 6: Regular thesis chapter – results
Chapter 7 : Regular thesis chapter/general discussion tying in published and unpublished work
Chapter 8: Conclusion
Appendices - May include CD, DVD or other material, also reviews & methods papers
Chapter 2: Methods
Chapter 3: Paper 1
Chapter 4: Regular thesis chapter
Chapter 6: Regular thesis chapter, final preliminary study
Chapter 7: General discussion
Chapter 5: Regular thesis chapter
Chapter 6: Regular thesis chapter
Chapter 7: Regular thesis chapter, final preliminary study
Chapter 8: General discussion
Chapter 4: Paper 2 - e.g. data paper, including meta analyses
Chapter 5: Paper 3
Chapter 6: Paper 4
Chapter 7: Paper 5
Chapter 3: Major paper
Chapter 4: Normal thesis chapter, final preliminary study
Chapter 5: General discussion
Chapter examples
Introduction – including specific aims and hypotheses
Introduction – including specific aims, hypotheses
Methods – results (including validation, preliminary) not included in the paper
Results (including validation, preliminary) not included in paper
Discussion – expansion of paper discussion, further method development
Resources for candidates
Orientation and induction
Mapping my degree
Principles for infrastructure support
Peer activities
Change my commencement date
Meeting expectations
Working with my supervisors
Responsible Research & Research Integrity
Guidelines for external supervisors
Pre-confirmation
Confirmation
At risk of unsatisfactory progress
Unsatisfactory progress
Add or drop coursework subjects
Apply for leave
Return from leave
Apply for Study Away
Return from Study Away
Change my study rate
Check my candidature status
Change my current supervisors
Request an evidence of enrolment or evidence of qualification statement
Change my project details
Change department
Transfer to another graduate research degree
Late submission
Withdraw from my research degree
Check the status of a request
Re-enrolment
Advice on requesting changes
Extension of candidature
Lapse candidature
How to cancel a form in my.unimelb
Resolving issues
Taking leave
About Study Away
Finishing on time
Accepting an offer for a joint PhD online
Tenured Study Spaces (TSS) Usage Guidelines
Tenured Study Spaces Procedures
Research skills
Academic writing and communication skills
Building professional and academic networks
Research internships
Commercialising my research
Writing my thesis
Thesis with creative works
Research Integrity in my Thesis
Graduate researchers and digital assistance tools
TES Statuses
Submitting my thesis
Depositing multiple components for your final thesis record
The Chancellor's Prize
TES Graduate Researcher FAQs
TES Examiner FAQs
Career planning
Publishing my research
Getting support
Key graduate research contacts
Graduate research advice for returning to campus
Melbourne Research Experience Survey
Quality Indicators for Learning and Teaching (QILT)
International Student Barometer (ISB) and Student Barometer (SB)
Current Students
Student Academic Success
1:1 Consultation 1:1 Consultation
Study better Study better
Build digital capabilities Build digital capabilities
Understand assessments Understand assessments
Excel at writing Excel at writing
Enhance your thinking Enhance your thinking
Present confidently Present confidently
Collaborate with others Collaborate with others
Improve your academic English Improve your academic English
Maintain academic integrity Maintain academic integrity
Advance your graduate studies Advance your graduate studies
Workshops Workshops
Feedback studio Feedback studio
About us About us
It is the University's expectation that only those who are well and not presenting with COVID-19 symptoms attend a Monash campus or location. View our latest updates .
Skip to content
Skip to navigation
Thesis chapter
Writing the thesis chapters.
A thesis is built up of a series of chapters that construct a substantiated and convincing response to the research question(s). Typically, a thesis contains the following chapters: an introduction; a literature review; a description of methodology; a report and discussion of results; and a conclusion. A thesis may have five to eight chapters depending on the nature of the study, the required word count and the requirements of the degree.
An introduction is crucial to setting the tone of your thesis – it is the first impression you'll make on your readers (assessors). Briefly, it presents the purpose, context and scope of your research. Likewise, a conclusion is just as crucial – it is the lasting impression you'll make on your readers (assessors). Not only does it give a summary of your thesis, but should provide a clear, convincing answer to your research question(s).
In the methods chapter, you describe and justify in detail how you undertook the research and why you chose such methods and/or theoretical position(s).
In the reporting and discussion chapter(s) , you outline the important findings and how they answer your research question(s). You might also make comparisons with previous studies and discuss the relevance of your findings to the field of study as a whole.
These chapters fit and flow together to create a complete thesis document.
Content Container
Introduction and conclusion thesis chapters.
The introduction chapter tells the reader your research topic and why it needs to be researched. Importantly, this chapter sets out your research question(s) and/or hypothesis. Additionally, this chapter provides definitions of key terms and background information.
The conclusion chapter provides a clear answer to your research question(s) and summarises the key findings. In this chapter, you evaluate the limitations of your research, make recommendations for future research and link back to other research.
Methods thesis chapter
In the methods chapter, you inform your reader how you will undertake the research and why you'll do the research in this way. This chapter provides specific details about the stages of your research – the processes, the sample framework, the theoretical basis, and how outcomes will be measured to address your research question(s) and/or hypothesis.
Reporting and discussion thesis chapters
The reporting and discussion chapters are where you tell your unique research story. These chapters form the bulk of your thesis where you describe, analyse and interpret your data and answer your research question(s). There are many modes of presenting your findings depending on the conventions of your discipline and methodology. While text is common, clearly labelled visuals may be appropriate. The discussion often incorporates links back to your research question(s), connections with previous research and the implications of your research.
Thesis structures
The structure of the thesis will be determined by the conventions and expectations of your discipline. However, the following questions form the basis of a sound structure:
What was done?
Why was it done?
How was it done?
What were the results?
What do they mean?
Why are they important?
An important aspect of thesis structure is signposting. Not only does this help you organise your content but it also helps the reader to follow your thesis. Some common forms of signposting include: headings and subheadings, reader direction, forecasting, recapitulating and giving a brief overview.