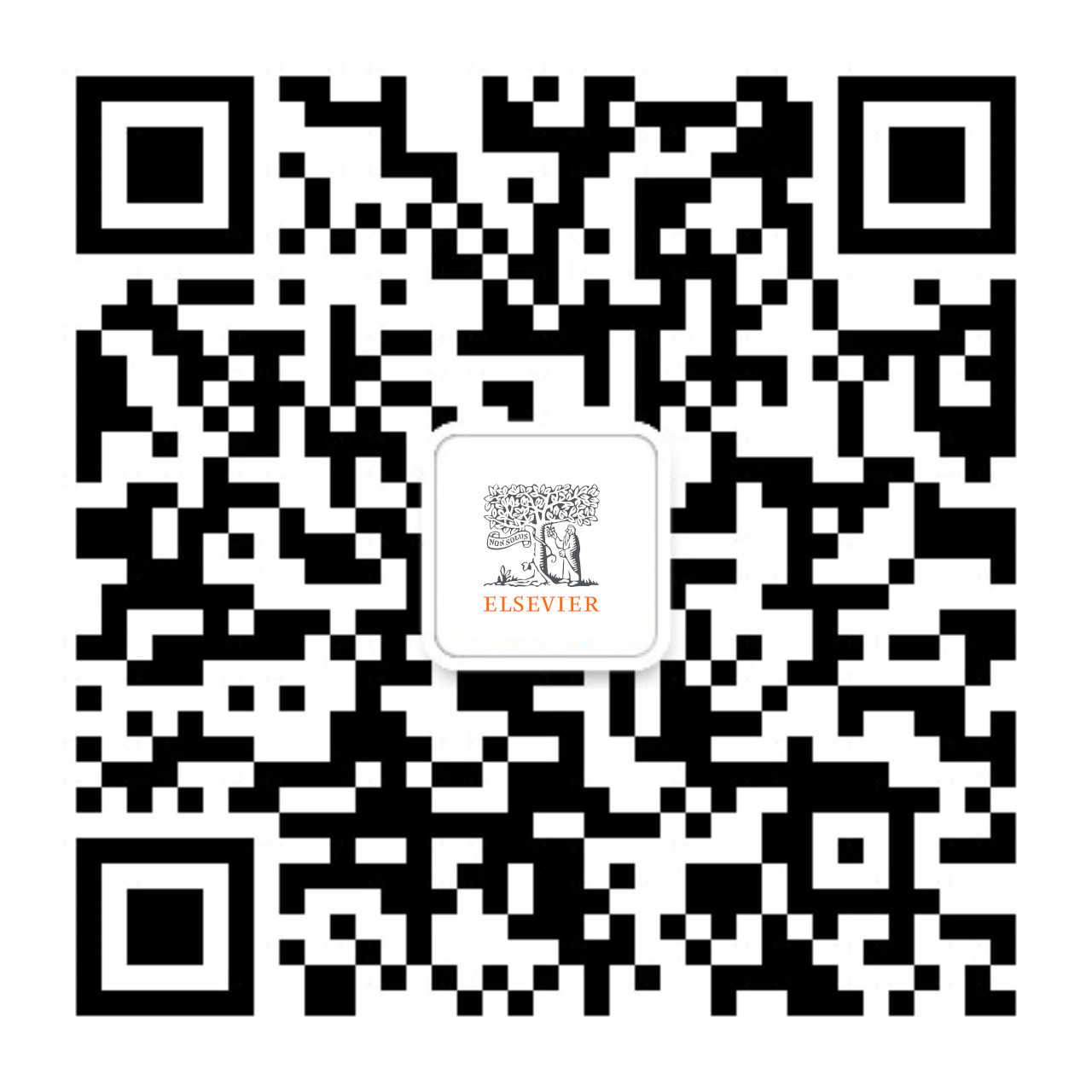 How to Make a PowerPoint Presentation of Your Research Paper
Table of Contents
A research paper presentation is often used at conferences and in other settings where you have an opportunity to share your research, and get feedback from your colleagues. Although it may seem as simple as summarizing your research and sharing your knowledge, successful research paper PowerPoint presentation examples show us that there's a little bit more than that involved.
In this article, we'll highlight how to make a PowerPoint presentation from a research paper, and what to include (as well as what NOT to include). We'll also touch on how to present a research paper at a conference.
Purpose of a Research Paper Presentation
The purpose of presenting your paper at a conference or forum is different from the purpose of conducting your research and writing up your paper. In this setting, you want to highlight your work instead of including every detail of your research. Likewise, a presentation is an excellent opportunity to get direct feedback from your colleagues in the field. But, perhaps the main reason for presenting your research is to spark interest in your work, and entice the audience to read your research paper.
So, yes, your presentation should summarize your work, but it needs to do so in a way that encourages your audience to seek out your work, and share their interest in your work with others. It's not enough just to present your research dryly, to get information out there. More important is to encourage engagement with you, your research, and your work.
Tips for Creating Your Research Paper Presentation
In addition to basic PowerPoint presentation recommendations, which we'll cover later in this article, think about the following when you're putting together your research paper presentation:
Know your audience : First and foremost, who are you presenting to? Students? Experts in your field? Potential funders? Non-experts? The truth is that your audience will probably have a bit of a mix of all of the above. So, make sure you keep that in mind as you prepare your presentation.
Know more about: Discover the Target Audience .
Your audience is human : In other words, they may be tired, they might be wondering why they're there, and they will, at some point, be tuning out. So, take steps to help them stay interested in your presentation. You can do that by utilizing effective visuals, summarize your conclusions early, and keep your research easy to understand.
Running outline : It's not IF your audience will drift off, or get lost…it's WHEN. Keep a running outline, either within the presentation or via a handout. Use visual and verbal clues to highlight where you are in the presentation.
Where does your research fit in? You should know of work related to your research, but you don't have to cite every example. In addition, keep references in your presentation to the end, or in the handout. Your audience is there to hear about your work.
Plan B : Anticipate possible questions for your presentation, and prepare slides that answer those specific questions in more detail, but have them at the END of your presentation. You can then jump to them, IF needed.
What Makes a PowerPoint Presentation Effective?
You've probably attended a presentation where the presenter reads off of their PowerPoint outline, word for word. Or where the presentation is busy, disorganized, or includes too much information. Here are some simple tips for creating an effective PowerPoint Presentation.
Less is more: You want to give enough information to make your audience want to read your paper. So include details, but not too many, and avoid too many formulas and technical jargon.
Clean and professional : Avoid excessive colors, distracting backgrounds, font changes, animations, and too many words. Instead of whole paragraphs, bullet points with just a few words to summarize and highlight are best.
Know your real-estate : Each slide has a limited amount of space. Use it wisely. Typically one, no more than two points per slide. Balance each slide visually. Utilize illustrations when needed; not extraneously.
Keep things visual : Remember, a PowerPoint presentation is a powerful tool to present things visually. Use visual graphs over tables and scientific illustrations over long text. Keep your visuals clean and professional, just like any text you include in your presentation.
Know more about our Scientific Illustrations Services .
Another key to an effective presentation is to practice, practice, and then practice some more. When you're done with your PowerPoint, go through it with friends and colleagues to see if you need to add (or delete excessive) information. Double and triple check for typos and errors. Know the presentation inside and out, so when you're in front of your audience, you'll feel confident and comfortable.
How to Present a Research Paper
If your PowerPoint presentation is solid, and you've practiced your presentation, that's half the battle. Follow the basic advice to keep your audience engaged and interested by making eye contact, encouraging questions, and presenting your information with enthusiasm.
We encourage you to read our articles on how to present a scientific journal article and tips on giving good scientific presentations .
Language Editing Plus
Improve the flow and writing of your research paper with Language Editing Plus. This service includes unlimited editing, manuscript formatting for the journal of your choice, reference check and even a customized cover letter. Learn more here , and get started today!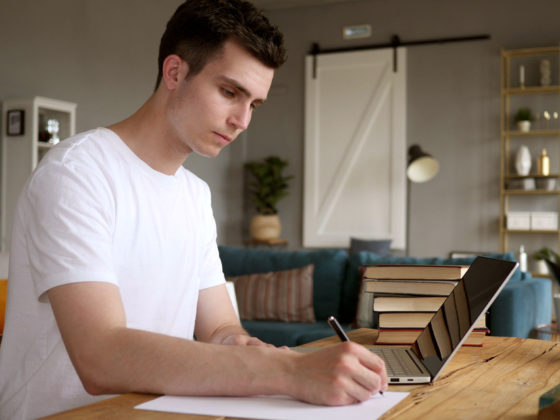 Know How to Structure Your PhD Thesis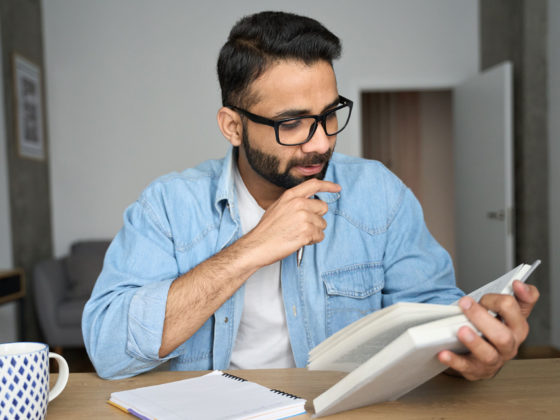 Systematic Literature Review or Literature Review?
You may also like.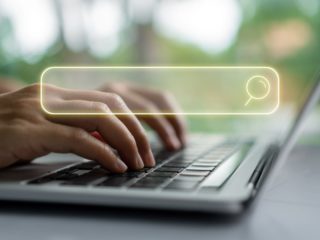 The Importance of Using Strategic Keywords in Research Papers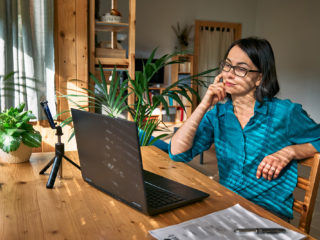 How to Write and Improve your Researcher Profile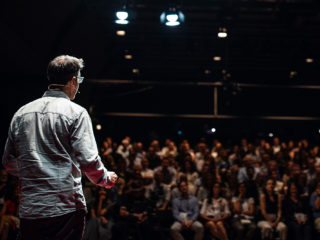 How to Submit a Paper to a Conference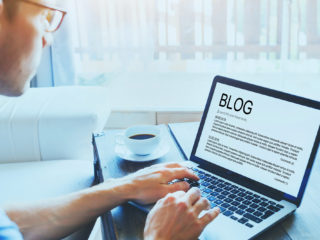 How to Write an Academic Blog Post and Get Noticed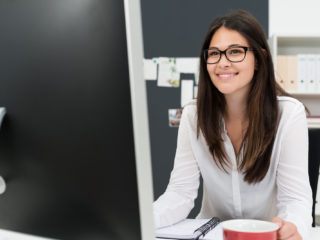 Lay Summary: Promote Your Work Outside Academia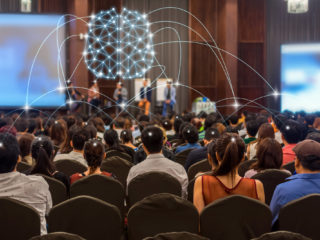 How to Network at an Academic Conference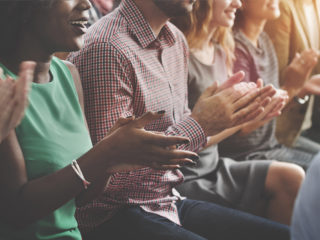 Article Metrics: Measure the Impact of Your Publications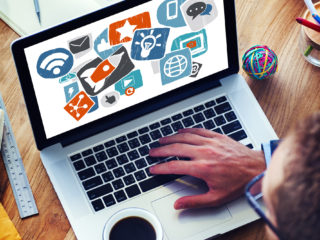 Using Social Media to Promote Research
Input your search keywords and press Enter.
Free vectors, photos and PSD
Free customizable icons
Free online template editor
Free editable illustrations
Free videos and motion graphics
Slidesgo School
Presentation Tips
How to Start a Thesis Defense Presentation
After months and years of hard work, the moment to wrap things all up is finally here—your thesis defense presentation.
Whether you're pursuing a master's degree or doctorate, it's the final step to that much-deserved achievement. 
A thesis defense requires a lot of prior research and preparation. And as important as its content is, so is how you present it because a stunning design with clear data and text hierarchy plays an immense role in comprehension.
In this article, we'll explore how you make your thesis defense .
The organization is the key to success. Establishing some previous steps before any project or work is essential for the result to be very positive. And the defense of a thesis could not be less. 
Below, we will develop all the necessary steps to make a thesis defense presentation and we will give you some tips on how to carry them out.
How to Make an Amazing Presentation
Defining the concept of your thesis presentation, structuring your thesis defense presentation, how do you welcome the audience, tell them why you did this thesis, go into the content by explaining your thesis part by part, how to end the defense of the thesis.
After a long time of research and study, the content of your thesis is ready. Now, you have to find the best way to reflect all that effort behind your work. The information comes across more clearly if you use a visual format, as it attracts the attention of the audience. To present your thesis information in a clear, concise, and ultimately amazing way, you can use one of our unique thesis defense templates , available at Slidesgo.
As an example, in this article, we are going to use the Ecology Thesis template . With it, we will show you what to include in your presentation and how to make an attractive design.
After choosing the Google Slides and PowerPoint template that best suits the needs and subject matter of your thesis, it is time to define an overarching concept.
This is the main theme on which your designs are based. It must be relevant to your thesis as its purpose is to guide your selection of colors, typography, images, style, etc. 
These must be portrayed in a way that supports the main message of your slides and should be aligned with your concept both visually and sociologically.
Once you have defined the concept, you will have to move on to the next step: structuring the content of your thesis. A good structure will show that there is a good organization behind the work, but most importantly: it will highlight your content.
In this article, we are going to show you a structure that could be a good example of how to structure a thesis, but you can adapt it to what your specific content requires.
Before you begin your thesis defense, you should welcome your audience. A good presentation will make you connect with your audience, which will result in more general interest in your work.
Use an appropriate language register (avoid informal language), but be approachable and natural.
"Welcome to the thesis defense on [the title of your thesis]". Next, introduce yourself with your name and give a short description of your background and occupation.
Don't forget to say "thank you for attending!"
To continue establishing that connection with your audience, explain the reasons that led you to do this thesis. Tell the professional reasons, and you can even say some personal ones, which will denote closeness, and your audience will appreciate it.
Now it's time to go into the content of the thesis ! After these preliminary steps, which are just as important as the thesis itself, it is time to explain part by part the structure (which you had previously established). We are going to propose a structure for your project, but the final decision is always yours!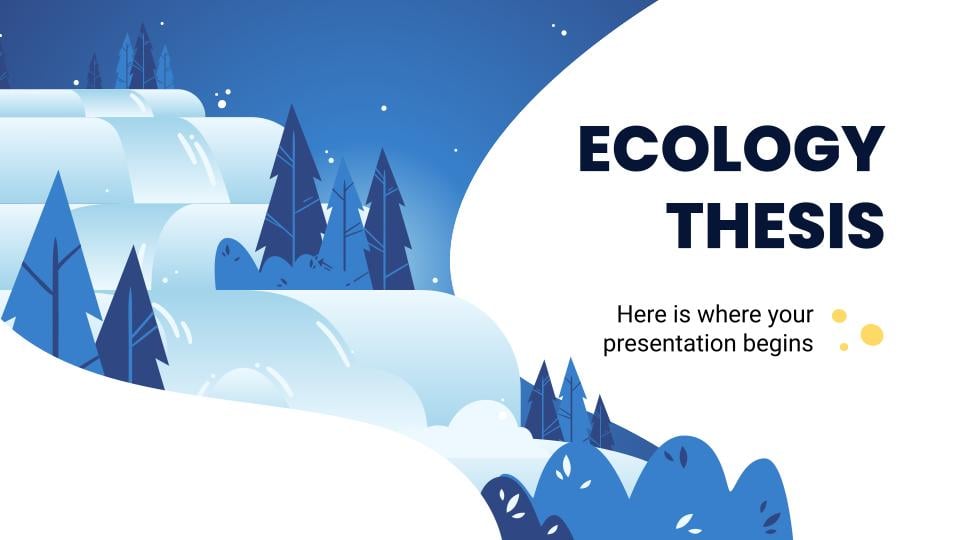 First impressions are very important. Because your title page is the very first thing viewers see, it must be striking and impactful. It also sets the stage for the rest of your slides.
In one glance, the following should be established:
Thesis defense topic
Design style
For instance, the ecology thesis's title page uses illustrations of a natural landscape to represent the topic of nature and a striking shade of blue to set the tone.
The sans serif font used depicts clean-cut typography and style and the thesis topic is written in large and bold typography, which draws attention to it immediately.
Right after your title page, include an introduction slide to provide more details about your topic. 
This means explaining what you hope to answer with your research, its importance to your field, and why you chose it.
Continue to incorporate design elements relevant to your concept. This example has done just that by using a different natural landscape and including animals. For coherence, stick to the same typography and style throughout your presentation.
The aim of the literature review slide is to illustrate your knowledge of your thesis topic and any relevant theories.
Walls of text kill a design. For clarity, we recommend presenting this with bullet points. Each one should be short and sweet and only touch on the basics; you can elaborate on them in your speech. 
Don't forget to be consistent with your design. In our example, we've maintained the tone of blue chosen and added illustrations of leaves in the far corners of the slide. 
Also, address similar research that has been done. This is to showcase your topic's originality and, if relevant, how it's different and/or an improvement from previously done research. 
This is one of the most important parts of a thesis defense presentation.
It allows your viewers to assess the rationality and validity of your approach and consequently, the accuracy of your results.
A great methodology slide explains the what , how, and why :
What method did you use for your research
Why did you choose it
How did you conduct it
Because this part of your thesis will be rather technical, the most effective way to aid understanding is by using graphics like charts and tables. 
Keep text to a minimum to avoid drawing attention away from the graphics. If there is a text that must absolutely be included, consider using bullet points and keep them short.
Don't forget to maintain color, style, and typography coherence.
The results slides are easily the most quantitative part of a thesis defense. 
Here, your aim is to simply introduce your findings. Select the most impactful data and highlight them here.
Just as with methodology, use graphics like charts, tables, and graphs to portray the data in a clear way. And, once again, try not to write too much text. Let the visual content do the talking .
After you've introduced your data, the next step would be to help your audience make sense of it. That means understanding what it means in the context of your thesis research topic and your discipline. 
Simply put, you should answer the question: What do the numbers mean?
The best way to approach this would be to do it as if you were creating an infographic . 
Illustrations like icons are a quick and simple way to represent your message. It also reduces the amount of text on your slide, which makes the information much more digestible. 
For a balanced thesis presentation, you should also address any outliers and anomalies.
To quote bestselling author Robin Sharma, "Starting strong is good. Finishing strong is epic."
That's exactly what to aim for in your conclusion.
Provide an overview of your thesis topic and remind your audience what you set out to answer with your research. In our example, we've used three icons accompanied by a short title and text. 
Following that, reiterate the important points of your research results you want your audience to take away from your thesis defense presentation. 
You can do so by expanding the next slide to have more icons and points, for example.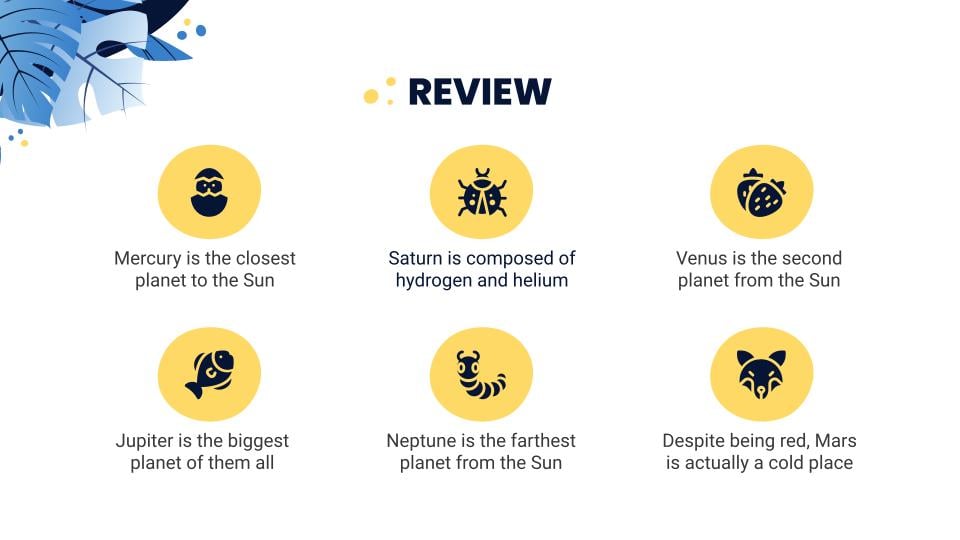 Don't forget to address any shortcomings and limitations in your approach and extra points for suggesting possible improvements for future research.
We are going to give you a little tip to make your thesis defense a success. You can combine your defense with good public speaking techniques. Take a look at our article "How to become a great speaker" .
We hope this article has been of great help, have you already seen our templates to make the presentation of your thesis ? Choose the one that best suits your needs, we are sure that one of them will go perfectly with your thesis presentation! 
Good luck from Slidesgo.
Do you find this article useful?
Related tutorials.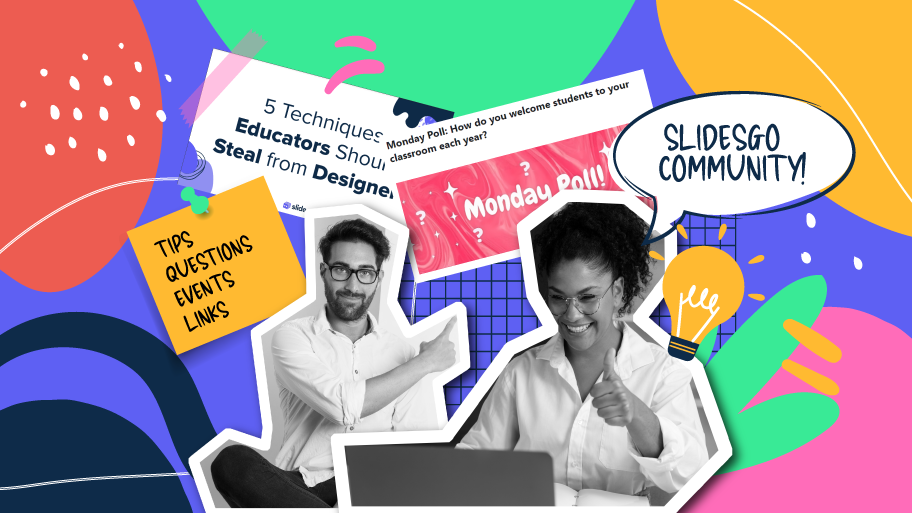 Welcome to Slidesgo Educator Community, Community Circle!
As educators, it's essential to support collaboration and professional development among peers. However, the demands of educating students can sometimes make it challenging to find the time to network with fellow educators. That's why we're excited to introduce our Slidesgo Educator Community, an innovative platform designed especially for educators. In this blog post, we'll dive deeper into why we created this community, what its key features are, and how it can benefit educators.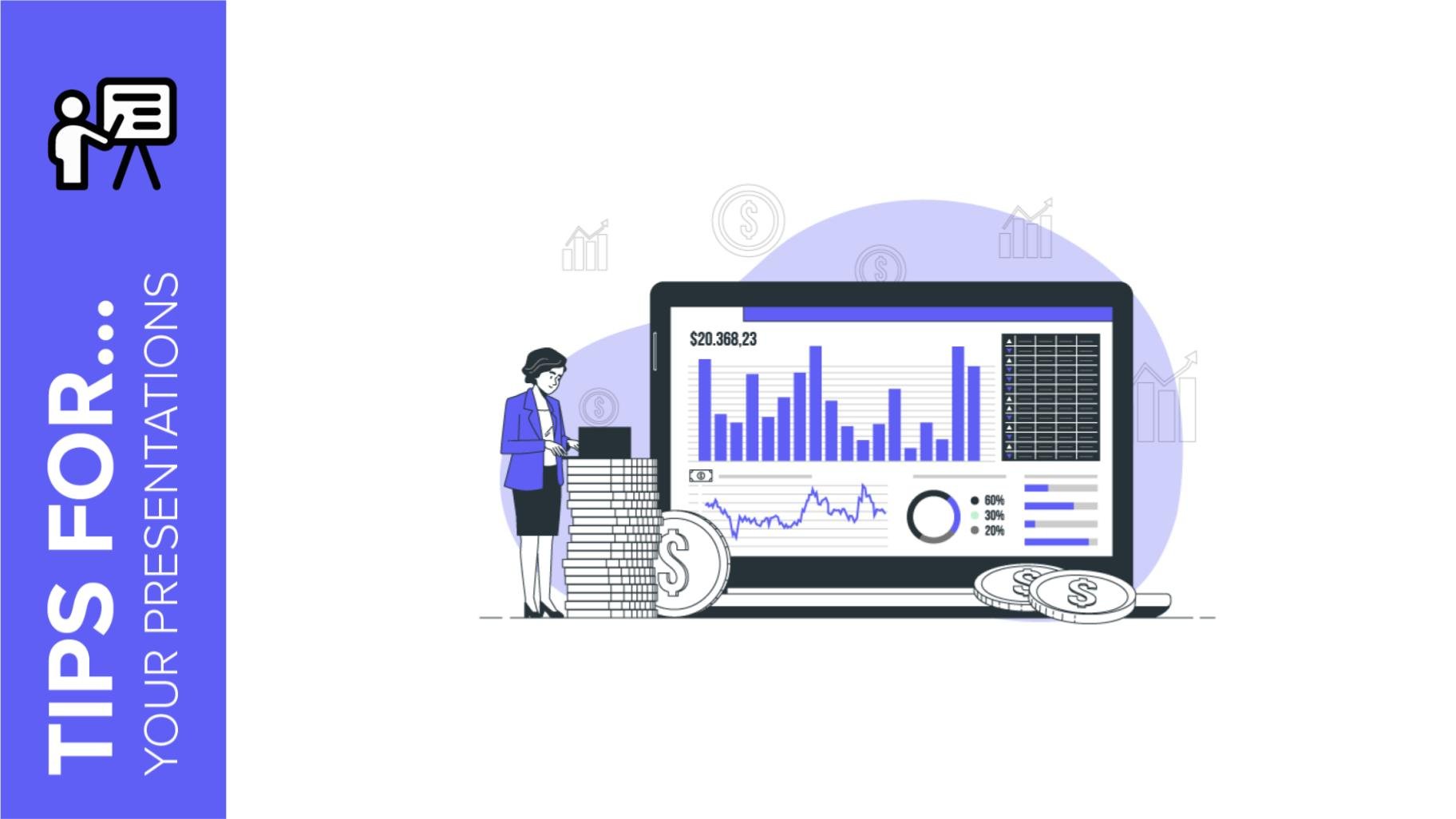 Top 10 tips and tricks for creating a business presentation!
Slidesgo is back with a new post! We want your presentations and oral expositions to never be the same again, but to go to the next level of presentations. Success comes from a combination of two main ingredients: a presentation template suitable for the topic and a correct development of the spoken part. For templates, just take a look at the Slidesgo website, where you are sure to find your ideal design. For tips and tricks on how to make a presentation, our blog contains a lot of information, for example, this post. We have focused these tips on business presentations, so that, no matter what type of company or...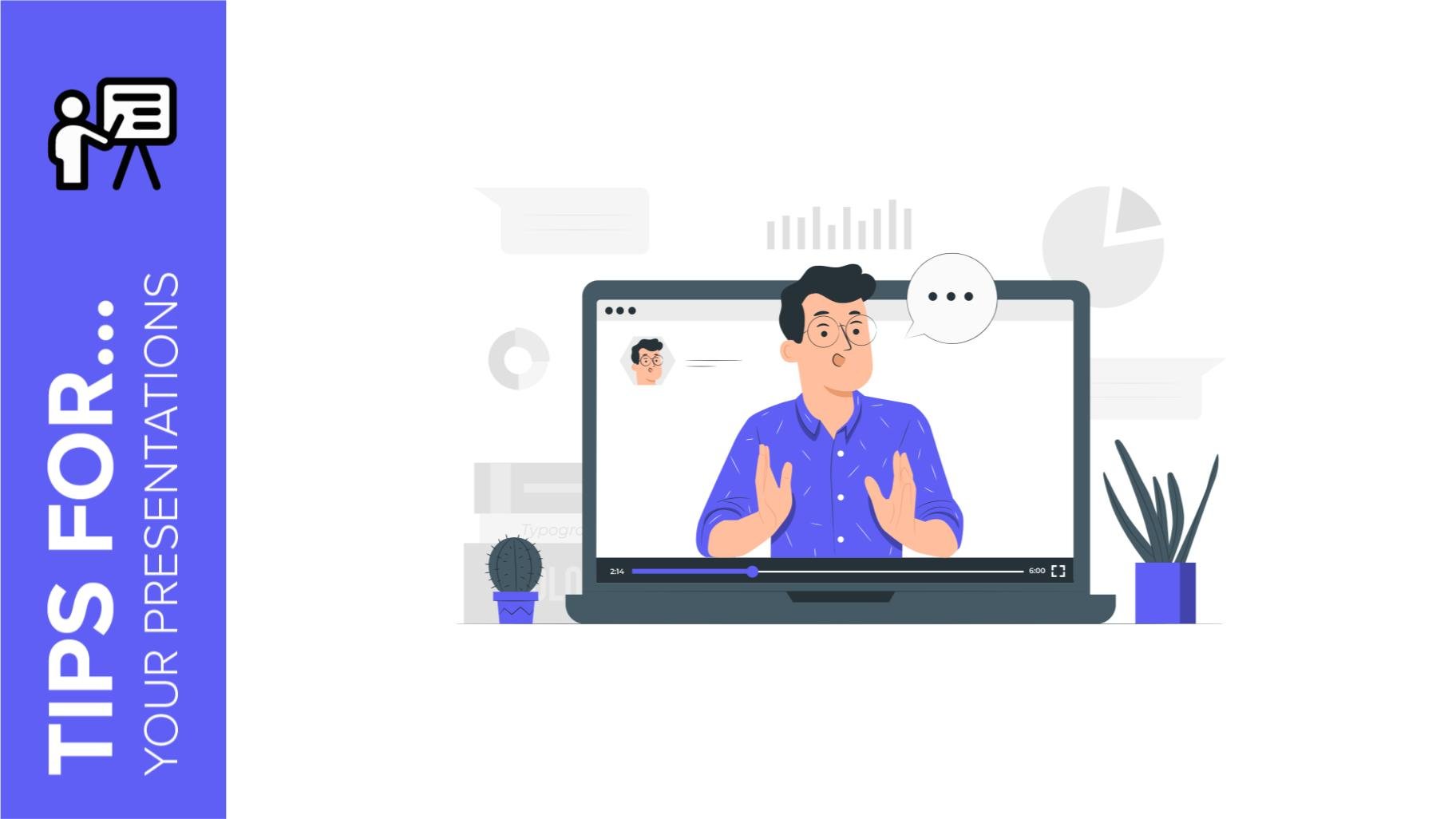 Best 10 tips for webinar presentations
During the last couple of years, the popularity of webinars has skyrocketed. Thousands of people have taken advantage of the shift to online learning and have prepared their own webinars where they have both taught and learned new skills while getting to know more people from their fields. Thanks to online resources like Google Meet and Slidesgo, now you can also prepare your own webinar. Here are 10 webinar presentation tips that will make your speech stand out!
How to create the best presentation for an onboarding process
Slidesgo was once a small project with a handful of people working on it. We're not making this up! But our passion and effort has brought us to where we are today. In the process, our staff has also grown, and let us tell you: it has grown a lot!Do you remember that time when you were the newly-hired employee? You went to the office and thought that everything was too much for you to handle. Lots of faces you've never seen before. Lots of tasks that are suddenly your responsibility. Nearly as much new information as a library could...
GA4 tracking code
Questions about Expos?
Writing Support for Instructors
Developing A Thesis
Think of yourself as a member of a jury, listening to a lawyer who is presenting an opening argument. You'll want to know very soon whether the lawyer believes the accused to be guilty or not guilty, and how the lawyer plans to convince you. Readers of academic essays are like jury members: before they have read too far, they want to know what the essay argues as well as how the writer plans to make the argument. After reading your thesis statement, the reader should think, "This essay is going to try to convince me of something. I'm not convinced yet, but I'm interested to see how I might be."
An effective thesis cannot be answered with a simple "yes" or "no." A thesis is not a topic; nor is it a fact; nor is it an opinion. "Reasons for the fall of communism" is a topic. "Communism collapsed in Eastern Europe" is a fact known by educated people. "The fall of communism is the best thing that ever happened in Europe" is an opinion. (Superlatives like "the best" almost always lead to trouble. It's impossible to weigh every "thing" that ever happened in Europe. And what about the fall of Hitler? Couldn't that be "the best thing"?)
A good thesis has two parts. It should tell what you plan to argue, and it should "telegraph" how you plan to argue—that is, what particular support for your claim is going where in your essay.
Steps in Constructing a Thesis
First, analyze your primary sources.  Look for tension, interest, ambiguity, controversy, and/or complication. Does the author contradict himself or herself? Is a point made and later reversed? What are the deeper implications of the author's argument? Figuring out the why to one or more of these questions, or to related questions, will put you on the path to developing a working thesis. (Without the why, you probably have only come up with an observation—that there are, for instance, many different metaphors in such-and-such a poem—which is not a thesis.)
Once you have a working thesis, write it down.  There is nothing as frustrating as hitting on a great idea for a thesis, then forgetting it when you lose concentration. And by writing down your thesis you will be forced to think of it clearly, logically, and concisely. You probably will not be able to write out a final-draft version of your thesis the first time you try, but you'll get yourself on the right track by writing down what you have.
Keep your thesis prominent in your introduction.  A good, standard place for your thesis statement is at the end of an introductory paragraph, especially in shorter (5-15 page) essays. Readers are used to finding theses there, so they automatically pay more attention when they read the last sentence of your introduction. Although this is not required in all academic essays, it is a good rule of thumb.
Anticipate the counterarguments.  Once you have a working thesis, you should think about what might be said against it. This will help you to refine your thesis, and it will also make you think of the arguments that you'll need to refute later on in your essay. (Every argument has a counterargument. If yours doesn't, then it's not an argument—it may be a fact, or an opinion, but it is not an argument.)
This statement is on its way to being a thesis. However, it is too easy to imagine possible counterarguments. For example, a political observer might believe that Dukakis lost because he suffered from a "soft-on-crime" image. If you complicate your thesis by anticipating the counterargument, you'll strengthen your argument, as shown in the sentence below.
Some Caveats and Some Examples
A thesis is never a question.  Readers of academic essays expect to have questions discussed, explored, or even answered. A question ("Why did communism collapse in Eastern Europe?") is not an argument, and without an argument, a thesis is dead in the water.
A thesis is never a list.  "For political, economic, social and cultural reasons, communism collapsed in Eastern Europe" does a good job of "telegraphing" the reader what to expect in the essay—a section about political reasons, a section about economic reasons, a section about social reasons, and a section about cultural reasons. However, political, economic, social and cultural reasons are pretty much the only possible reasons why communism could collapse. This sentence lacks tension and doesn't advance an argument. Everyone knows that politics, economics, and culture are important.
A thesis should never be vague, combative or confrontational.  An ineffective thesis would be, "Communism collapsed in Eastern Europe because communism is evil." This is hard to argue (evil from whose perspective? what does evil mean?) and it is likely to mark you as moralistic and judgmental rather than rational and thorough. It also may spark a defensive reaction from readers sympathetic to communism. If readers strongly disagree with you right off the bat, they may stop reading.
An effective thesis has a definable, arguable claim.  "While cultural forces contributed to the collapse of communism in Eastern Europe, the disintegration of economies played the key role in driving its decline" is an effective thesis sentence that "telegraphs," so that the reader expects the essay to have a section about cultural forces and another about the disintegration of economies. This thesis makes a definite, arguable claim: that the disintegration of economies played a more important role than cultural forces in defeating communism in Eastern Europe. The reader would react to this statement by thinking, "Perhaps what the author says is true, but I am not convinced. I want to read further to see how the author argues this claim."
A thesis should be as clear and specific as possible.  Avoid overused, general terms and abstractions. For example, "Communism collapsed in Eastern Europe because of the ruling elite's inability to address the economic concerns of the people" is more powerful than "Communism collapsed due to societal discontent."
Copyright 1999, Maxine Rodburg and The Tutors of the Writing Center at Harvard University
Tips for Reading an Assignment Prompt
Asking Analytical Questions
Introductions
What Do Introductions Across the Disciplines Have in Common?
Anatomy of a Body Paragraph
Transitions
Tips for Organizing Your Essay
Counterargument
Conclusions
Strategies for Essay Writing: Downloadable PDFs
Brief Guides to Writing in the Disciplines
Quick Links
Schedule an Appointment
English Grammar and Language Tutor
Harvard Guide to Using Sources
Departmental Writing Fellows
Writing Advice: The Harvard Writing Tutor Blog