Dissertations & projects: Literature-based projects
Research questions
The process of reviewing
Project management
Literature-based projects
On these pages:
"As a general rule, the introduction is usually around 5 to 10 per cent of the word limit; each chapter around 15 to 25 per cent; and the conclusion around 5 per cent." Bryan Greetham, How to Write Your Undergraduate Dissertation
This page gives guidance on the structure of a literature-based project. That is, a project where the data is found in existing literature rather than found through primary research. They may also include information from primary sources such as original documents or other sources.
How to structure a literature-based project
The structure of a literature-based dissertation is usually thematic, but make sure to check with your supervisor to make sure you are abiding by your department's project specifications. A typical literature-based dissertation will be broken up into the following sections:
Abstract or summary
Acknowledgments, contents page, introduction.
Themed Chapters
Use this basic structure as your document plan . Remember that you do not need to write it in the order it will finally be written in.
For more advice on managing the order of your project, see our section on Project Management.
If you use the template provided on our Formatting page, you will see that it already has a title page included. You just need to fill in the appropriate boxes by typing or choosing from the drop-down-lists. The information you need to provide is:
Type of assignment (thesis, dissertation or independent project)
Partial or full fulfilment information
Subject area
Your name (and previous qualifications if applicable)
Month and year of submission
This may not always be required - check with your tutor.
It is independent of the rest of the report - it is a mini-report, which needs to make sense completely on its own.
References should not be included.
Nothing should appear in the abstract that is not in the rest of the report.
Usually between 200-300 words.
Write as a single paragraph.
It is recommended that you write your abstract after your report.
If you choose not to use the template, then you will need to go through the document after it is written and create list showing which heading is on which page of your document.
Purpose: To thank those who were directly involved in your work .
Do not confuse the acknowledgements section with a dedication - this is not where you thank your friends and relatives unless they have helped you with your manuscript.
Acknowledgments are about courtesy, where you thank those who were directly involved in your work, or were involved in supporting your work (technicians, tutors, other students, financial support etc).
This section tends to be very brief , a few lines at the most. Identify those who provided you with the most support, and thank them appropriately.
At the very least, make sure you acknowledge your supervisor!!
Purpose: To state the research problem, provide justification for your research questions and explain your methodology and main findings.
Explain what the problem you will be addressing is, what your research questions are, and why they will help address the issue.
Explain your basic methodology
Define the scope of the dissertation, explaining any limitations.
Layout the structure of the dissertation, taking the reader through each section and providing any key definitions.
Very briefly describe what your main findings are - but leave the detail for the sections below.
It is good practice to come back to the introduction after you have finished writing up the rest of the document to ensure it sets the appropriately scene for subsequent sections.
Background Literature Review
This may be part of your introduction - check what your supervisor advises.
Purpose: Positions your project within the wider literature. Justifies your research questions
As you are undertaking a literature-based project, it can seem odd to include a separate literature review - and indeed some supervisors may suggest it is not necessary. However, most will have a section, either as a separate chapter, or as part of the introduction, that:
Provides a background to your study
Shows where your study fits within the existing literature
Justifies your research questions and methods (your search strategy etc).
For more advice on writing a literature review see the Literature Review pages on this guide.
Purpose: To present the themes you have identified in your research and explain how they contribute to answering your research questions
You will typically have 3-5 themed chapters. Each one should contain:
An introduction to the theme - what things it means and what it incorporates.
How the theme was addressed within the literature - this should be analytical not just descriptive.
A conclusion which shows how the theme relates to the research question(s).
Ensuring your themed chapters flow
Choosing the order of your theme chapters is an important part of the structure to your project. For example, if you study History and your project covers a topic that develops over a large time period, it may be best to order each chapter chronologically. Other subjects may have a natural narrative running through the themes. Think about how your reader will be able to follow along with your overall argument.
Although each chapter must be dedicated to a particular theme, it must link back to previous chapters and flow into the following chapter. You need to ensure they do not seem like they are unrelated to each other. There will be overlaps, mention these.
Some literature-based projects will focus on primary sources. If yours does, make sure primary sources are at the core of your paragraphs and chapters, and use secondary sources to expand and explore the theme further.
Purpose: To present the conclusion that you have reached as a result of both the literature review and the analysis in your thematic chapters
A conclusion summarises all the points you have previously made and it should not include any evidence or topics you have not included in your introduction or main body. There should be no surprises.
It should be about 5-10% of your word limit so make sure you leave enough words to do it justice. There will be marks in the marking scheme specifically allocated to the strength of your conclusion which cannot be made up elsewhere.
Some conclusions will also include recommendations for practice or ideas for further research. Check with your supervisor to see if they are expecting either or both of these.
Questionnaires
Transcriptions
Correspondence
If you have information that you would like to include but are finding it disrupts the main body of text as its too cumbersome, or would distract from the main arguments of your dissertation, the information can be included in the appendix section. Each appendix should be focused on one item.
Appendices should not include any information that is key to your topic or overall argument.
Reference list
It is good practice to develop a reference list whilst writing the project, rather than leaving it until the end. This prevents a lot of searching around trying to remember where you accessed a particular source. If using primary sources, it also allows you to monitor the balance between primary and secondary sources included in the project. There is software available to help manage your references and the university officially supports RefWorks and EndNote.
For more advice on reference management, see our Skills Guide: Referencing Software
<< Previous: Structure
Next: Scientific >>
Last Updated: Apr 28, 2023 3:46 PM
URL: https://libguides.hull.ac.uk/dissertations
Login to LibApps
Library websites Privacy Policy
University of Hull privacy policy & cookies
Website terms and conditions
Accessibility
Report a problem
Literary Criticism
Introduction
Literary Theories
Steps to Literary Criticism
Find Resources
Cite Sources
thesis examples
SAMPLE THESIS STATEMENTS
These sample thesis statements are provided as guides, not as required forms or prescriptions.
______________________________________________________________________________________________________________
The thesis may focus on an analysis of one of the elements of fiction, drama, poetry or nonfiction as expressed in the work: character, plot, structure, idea, theme, symbol, style, imagery, tone, etc.
In "A Worn Path," Eudora Welty creates a fictional character in Phoenix Jackson whose determination, faith, and cunning illustrate the indomitable human spirit.
Note that the work, author, and character to be analyzed are identified in this thesis statement. The thesis relies on a strong verb (creates). It also identifies the element of fiction that the writer will explore (character) and the characteristics the writer will analyze and discuss (determination, faith, cunning).
Further Examples:
The character of the Nurse in Romeo and Juliet serves as a foil to young Juliet, delights us with her warmth and earthy wit, and helps realize the tragic catastrophe.
The works of ecstatic love poets Rumi, Hafiz, and Kabir use symbols such as a lover's longing and the Tavern of Ruin to illustrate the human soul's desire to connect with God.
The thesis may focus on illustrating how a work reflects the particular genre's forms, the characteristics of a philosophy of literature, or the ideas of a particular school of thought.
"The Third and Final Continent" exhibits characteristics recurrent in writings by immigrants: tradition, adaptation, and identity.
Note how the thesis statement classifies the form of the work (writings by immigrants) and identifies the characteristics of that form of writing (tradition, adaptation, and identity) that the essay will discuss.
Further examples:
Samuel Beckett's Endgame reflects characteristics of Theatre of the Absurd in its minimalist stage setting, its seemingly meaningless dialogue, and its apocalyptic or nihilist vision.
A close look at many details in "The Story of an Hour" reveals how language, institutions, and expected demeanor suppress the natural desires and aspirations of women.
The thesis may draw parallels between some element in the work and real-life situations or subject matter: historical events, the author's life, medical diagnoses, etc.
In Willa Cather's short story, "Paul's Case," Paul exhibits suicidal behavior that a caring adult might have recognized and remedied had that adult had the scientific knowledge we have today.
This thesis suggests that the essay will identify characteristics of suicide that Paul exhibits in the story. The writer will have to research medical and psychology texts to determine the typical characteristics of suicidal behavior and to illustrate how Paul's behavior mirrors those characteristics.
Through the experience of one man, the Narrative of the Life of Frederick Douglass, An American Slave, accurately depicts the historical record of slave life in its descriptions of the often brutal and quixotic relationship between master and slave and of the fragmentation of slave families.
In "I Stand Here Ironing," one can draw parallels between the narrator's situation and the author's life experiences as a mother, writer, and feminist.
SAMPLE PATTERNS FOR THESES ON LITERARY WORKS
1. In (title of work), (author) (illustrates, shows) (aspect) (adjective).
Example: In "Barn Burning," William Faulkner shows the characters Sardie and Abner Snopes struggling for their identity.
2. In (title of work), (author) uses (one aspect) to (define, strengthen, illustrate) the (element of work).
Example: In "Youth," Joseph Conrad uses foreshadowing to strengthen the plot.
3. In (title of work), (author) uses (an important part of work) as a unifying device for (one element), (another element), and (another element). The number of elements can vary from one to four.
Example: In "Youth," Joseph Conrad uses the sea as a unifying device for setting, structure and theme.
4. (Author) develops the character of (character's name) in (literary work) through what he/she does, what he/she says, what other people say to or about him/her.
Example: Langston Hughes develops the character of Semple in "Ways and Means"…
5. In (title of work), (author) uses (literary device) to (accomplish, develop, illustrate, strengthen) (element of work).
Example: In "The Masque of the Red Death," Poe uses the symbolism of the stranger, the clock, and the seventh room to develop the theme of death.
6. (Author) (shows, develops, illustrates) the theme of __________ in the (play, poem, story).
Example: Flannery O'Connor illustrates the theme of the effect of the selfishness of the grandmother upon the family in "A Good Man is Hard to Find."
7. (Author) develops his character(s) in (title of work) through his/her use of language.
Example: John Updike develops his characters in "A & P" through his use of figurative language.
Perimeter College, Georgia State University, http://depts.gpc.edu/~gpcltc/handouts/communications/literarythesis.pdf
<< Previous: Cite Sources
Next: Get Help >>
Last Updated: Sep 11, 2023 3:37 PM
URL: https://libguides.uta.edu/literarycriticism
University of Texas Arlington Libraries 702 Planetarium Place · Arlington, TX 76019 · 817-272-3000
Internet Privacy
Accessibility
Problems with a guide? Contact Us.
Have a language expert improve your writing
Run a free plagiarism check in 10 minutes, generate accurate citations for free.
Knowledge Base
Dissertation
What Is a Thesis? | Ultimate Guide & Examples
What Is a Thesis? | Ultimate Guide & Examples
Published on September 14, 2022 by Tegan George . Revised on July 18, 2023.
A thesis is a type of research paper based on your original research. It is usually submitted as the final step of a master's program or a capstone to a bachelor's degree.
Writing a thesis can be a daunting experience. Other than a dissertation , it is one of the longest pieces of writing students typically complete. It relies on your ability to conduct research from start to finish: choosing a relevant topic , crafting a proposal , designing your research , collecting data , developing a robust analysis, drawing strong conclusions , and writing concisely .
Thesis template
You can also download our full thesis template in the format of your choice below. Our template includes a ready-made table of contents , as well as guidance for what each chapter should include. It's easy to make it your own, and can help you get started.
Download Word template Download Google Docs template
Table of contents
Thesis vs. thesis statement, how to structure a thesis, acknowledgements or preface, list of figures and tables, list of abbreviations, introduction, literature review, methodology, reference list, proofreading and editing, defending your thesis, other interesting articles, frequently asked questions about theses.
You may have heard the word thesis as a standalone term or as a component of academic writing called a thesis statement . Keep in mind that these are two very different things.
A thesis statement is a very common component of an essay, particularly in the humanities. It usually comprises 1 or 2 sentences in the introduction of your essay , and should clearly and concisely summarize the central points of your academic essay .
A thesis is a long-form piece of academic writing, often taking more than a full semester to complete. It is generally a degree requirement for Master's programs, and is also sometimes required to complete a bachelor's degree in liberal arts colleges.
In the US, a dissertation is generally written as a final step toward obtaining a PhD.
In other countries (particularly the UK), a dissertation is generally written at the bachelor's or master's level.
Here's why students love Scribbr's proofreading services
Discover proofreading & editing
The final structure of your thesis depends on a variety of components, such as:
Your discipline
Your theoretical approach
Humanities theses are often structured more like a longer-form essay . Just like in an essay, you build an argument to support a central thesis.
In both hard and social sciences, theses typically include an introduction , literature review , methodology section ,  results section , discussion section , and conclusion section . These are each presented in their own dedicated section or chapter. In some cases, you might want to add an appendix .
Thesis examples
We've compiled a list of thesis examples to help you get started.
Example thesis #1:   "Abolition, Africans, and Abstraction: the Influence of the 'Noble Savage' on British and French Antislavery Thought, 1787-1807" by Suchait Kahlon.
Example thesis #2: "'A Starving Man Helping Another Starving Man': UNRRA, India, and the Genesis of Global Relief, 1943-1947″ by Julian Saint Reiman.
Example thesis #3:  "An Introduction to Higher-Order Frames in Communication: How Controversial Organizations Maintain Legitimacy Over Time" by Kees Smeets
The very first page of your thesis contains all necessary identifying information, including:
Your full title
Your full name
Your department
Your institution and degree program
Your submission date.
Sometimes the title page also includes your student ID, the name of your supervisor, or the university's logo. Check out your university's guidelines if you're not sure.
Read more about title pages
The acknowledgements section is usually optional. Its main point is to allow you to thank everyone who helped you in your thesis journey, such as supervisors, friends, or family. You can also choose to write a preface , but it's typically one or the other, not both.
Read more about acknowledgements Read more about prefaces
A faster, more affordable way to improve your paper
Scribbr's new AI Proofreader checks your document and corrects spelling, grammar, and punctuation mistakes with near-human accuracy and the efficiency of AI!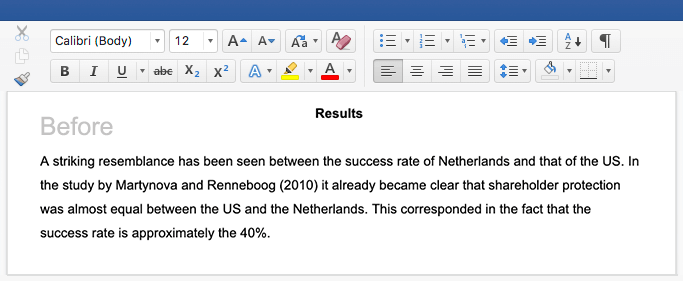 Proofread my paper
An abstract is a short summary of your thesis. Usually a maximum of 300 words long, it's should include brief descriptions of your research objectives , methods, results, and conclusions. Though it may seem short, it introduces your work to your audience, serving as a first impression of your thesis.
Read more about abstracts
A table of contents lists all of your sections, plus their corresponding page numbers and subheadings if you have them. This helps your reader seamlessly navigate your document.
Your table of contents should include all the major parts of your thesis. In particular, don't forget the the appendices. If you used heading styles, it's easy to generate an automatic table Microsoft Word.
Read more about tables of contents
While not mandatory, if you used a lot of tables and/or figures, it's nice to include a list of them to help guide your reader. It's also easy to generate one of these in Word: just use the "Insert Caption" feature.
Read more about lists of figures and tables
If you have used a lot of industry- or field-specific abbreviations in your thesis, you should include them in an alphabetized list of abbreviations . This way, your readers can easily look up any meanings they aren't familiar with.
Read more about lists of abbreviations
Relatedly, if you find yourself using a lot of very specialized or field-specific terms that may not be familiar to your reader, consider including a glossary . Alphabetize the terms you want to include with a brief definition.
Read more about glossaries
An introduction sets up the topic, purpose, and relevance of your thesis, as well as expectations for your reader. This should:
Ground your research topic , sharing any background information your reader may need
Define the scope of your work
Introduce any existing research on your topic, situating your work within a broader problem or debate
State your research question(s)
Outline (briefly) how the remainder of your work will proceed
In other words, your introduction should clearly and concisely show your reader the "what, why, and how" of your research.
Read more about introductions
A literature review helps you gain a robust understanding of any extant academic work on your topic, encompassing:
Selecting relevant sources
Determining the credibility of your sources
Critically evaluating each of your sources
Drawing connections between sources, including any themes, patterns, conflicts, or gaps
A literature review is not merely a summary of existing work. Rather, your literature review should ultimately lead to a clear justification for your own research, perhaps via:
Addressing a gap in the literature
Building on existing knowledge to draw new conclusions
Exploring a new theoretical or methodological approach
Introducing a new solution to an unresolved problem
Definitively advocating for one side of a theoretical debate
Read more about literature reviews
Theoretical framework
Your literature review can often form the basis for your theoretical framework, but these are not the same thing. A theoretical framework defines and analyzes the concepts and theories that your research hinges on.
Read more about theoretical frameworks
Your methodology chapter shows your reader how you conducted your research. It should be written clearly and methodically, easily allowing your reader to critically assess the credibility of your argument. Furthermore, your methods section should convince your reader that your method was the best way to answer your research question.
A methodology section should generally include:
Your overall approach ( quantitative vs. qualitative )
Your research methods (e.g., a longitudinal study )
Your data collection methods (e.g., interviews or a controlled experiment
Any tools or materials you used (e.g., computer software)
The data analysis methods you chose (e.g., statistical analysis , discourse analysis )
A strong, but not defensive justification of your methods
Read more about methodology sections
Your results section should highlight what your methodology discovered. These two sections work in tandem, but shouldn't repeat each other. While your results section can include hypotheses or themes, don't include any speculation or new arguments here.
Your results section should:
State each (relevant) result with any (relevant) descriptive statistics (e.g., mean , standard deviation ) and inferential statistics (e.g., test statistics , p values )
Explain how each result relates to the research question
Determine whether the hypothesis was supported
Additional data (like raw numbers or interview transcripts ) can be included as an appendix . You can include tables and figures, but only if they help the reader better understand your results.
Read more about results sections
Your discussion section is where you can interpret your results in detail. Did they meet your expectations? How well do they fit within the framework that you built? You can refer back to any relevant source material to situate your results within your field, but leave most of that analysis in your literature review.
For any unexpected results, offer explanations or alternative interpretations of your data.
Read more about discussion sections
Your thesis conclusion should concisely answer your main research question. It should leave your reader with an ultra-clear understanding of your central argument, and emphasize what your research specifically has contributed to your field.
Why does your research matter? What recommendations for future research do you have? Lastly, wrap up your work with any concluding remarks.
Read more about conclusions
In order to avoid plagiarism , don't forget to include a full reference list at the end of your thesis, citing the sources that you used. Choose one citation style and follow it consistently throughout your thesis, taking note of the formatting requirements of each style.
Which style you choose is often set by your department or your field, but common styles include MLA , Chicago , and APA.
Create APA citations Create MLA citations
In order to stay clear and concise, your thesis should include the most essential information needed to answer your research question. However, chances are you have many contributing documents, like interview transcripts or survey questions . These can be added as appendices , to save space in the main body.
Read more about appendices
Once you're done writing, the next part of your editing process begins. Leave plenty of time for proofreading and editing prior to submission. Nothing looks worse than grammar mistakes or sloppy spelling errors!
Consider using a professional thesis editing service or grammar checker to make sure your final project is perfect.
Once you've submitted your final product, it's common practice to have a thesis defense, an oral component of your finished work. This is scheduled by your advisor or committee, and usually entails a presentation and Q&A session.
After your defense , your committee will meet to determine if you deserve any departmental honors or accolades. However, keep in mind that defenses are usually just a formality. If there are any serious issues with your work, these should be resolved with your advisor way before a defense.
If you want to know more about AI for academic writing, AI tools, or research bias, make sure to check out some of our other articles with explanations and examples or go directly to our tools!
Research bias
Survivorship bias
Self-serving bias
Availability heuristic
Halo effect
Hindsight bias
Deep learning
Generative AI
Machine learning
Reinforcement learning
Supervised vs. unsupervised learning
 (AI) Tools
Grammar Checker
Paraphrasing Tool
Text Summarizer
AI Detector
Plagiarism Checker
Citation Generator
The conclusion of your thesis or dissertation shouldn't take up more than 5–7% of your overall word count.
If you only used a few abbreviations in your thesis or dissertation , you don't necessarily need to include a list of abbreviations .
If your abbreviations are numerous, or if you think they won't be known to your audience, it's never a bad idea to add one. They can also improve readability, minimizing confusion about abbreviations unfamiliar to your reader.
When you mention different chapters within your text, it's considered best to use Roman numerals for most citation styles. However, the most important thing here is to remain consistent whenever using numbers in your dissertation .
A thesis or dissertation outline is one of the most critical first steps in your writing process. It helps you to lay out and organize your ideas and can provide you with a roadmap for deciding what kind of research you'd like to undertake.
Generally, an outline contains information on the different sections included in your thesis or dissertation , such as:
Your anticipated title
Your abstract
Your chapters (sometimes subdivided into further topics like literature review , research methods , avenues for future research, etc.)
A thesis is typically written by students finishing up a bachelor's or Master's degree. Some educational institutions, particularly in the liberal arts, have mandatory theses, but they are often not mandatory to graduate from bachelor's degrees. It is more common for a thesis to be a graduation requirement from a Master's degree.
Even if not mandatory, you may want to consider writing a thesis if you:
Plan to attend graduate school soon
Have a particular topic you'd like to study more in-depth
Are considering a career in research
Would like a capstone experience to tie up your academic experience
Cite this Scribbr article
If you want to cite this source, you can copy and paste the citation or click the "Cite this Scribbr article" button to automatically add the citation to our free Citation Generator.
George, T. (2023, July 18). What Is a Thesis? | Ultimate Guide & Examples. Scribbr. Retrieved September 25, 2023, from https://www.scribbr.com/dissertation/thesis/
Is this article helpful?
Tegan George
Other students also liked, dissertation & thesis outline | example & free templates, writing strong research questions | criteria & examples, 10 research question examples to guide your research project, what is your plagiarism score.
Thesis Statements for a Literature Assignment
A thesis prepares the reader for what you are about to say. As such, your paper needs to be interesting in order for your thesis to be interesting. Your thesis needs to be interesting because it needs to capture a reader's attention. If a reader looks at your thesis and says "so what?", your thesis has failed to do its job, and chances are your paper has as well. Thus, make your thesis provocative and open to reasonable disagreement, but then write persuasively enough to sway those who might be disagree.
Keep in mind the following when formulating a thesis:
A Thesis Should Not State the Obvious
Use Literary Terms in Thesis With Care
A Thesis Should be Balanced
A Thesis Can be a Blueprint
Avoid the Obvious
Bland: Dorothy Parker's "Résumé" uses images of suicide to make her point about living.
This is bland because it's obvious and incontestable. A reader looks at it and says, "so what?"
However, consider this alternative:
Dorothy Parker's "Résumé" doesn't celebrate life, but rather scorns those who would fake or attempt suicide just to get attention.
The first thesis merely describes something about the poem; the second tells the reader what the writer thinks the poem is about--it offers a reading or interpretation. The paper would need to support that reading and would very likely examine the way Parker uses images of suicide to make the point the writer claims.
Use Literary Terms in Thesis Only to Make Larger Points
Poems and novels generally use rhyme, meter, imagery, simile, metaphor, stanzas, characters, themes, settings and so on. While these terms are important for you to use in your analysis and your arguments, that they exist in the work you are writing about should not be the main point of your thesis. Unless the poet or novelist uses these elements in some unexpected way to shape the work's meaning, it's generally a good idea not to draw attention to the use of literary devices in thesis statements because an intelligent reader expects a poem or novel to use literary of these elements. Therefore, a thesis that only says a work uses literary devices isn't a good thesis because all it is doing is stating the obvious, leading the reader to say, "so what?"
However, you can use literary terms in a thesis if the purpose is to explain how the terms contribute to the work's meaning or understanding. Here's an example of thesis statement that does call attention to literary devices because they are central to the paper's argument. Literary terms are placed in italics.
Don Marquis introduced Archy and Mehitabel in his Sun Dial column by combining the conventions of free verse poetry with newspaper prose so intimately that in "the coming of Archy," the entire column represents a complete poem and not a free verse poem preceded by a prose introduction .
Note the difference between this thesis and the first bland thesis on the Parker poem. This thesis does more than say certain literary devices exist in the poem; it argues that they exist in a specific relationship to one another and makes a fairly startling claim, one that many would disagree with and one that the writer will need to persuade her readers on.
Keep Your Thesis Balanced
Keep the thesis balanced. If it's too general, it becomes vague; if it's too specific, it cannot be developed. If it's merely descriptive (like the bland example above), it gives the reader no compelling reason to go on. The thesis should be dramatic, have some tension in it, and should need to be proved (another reason for avoiding the obvious).
Too general: Edna St. Vincent Millay wrote many poems with love as the theme. Too specific: Edna St. Vincent Millay wrote "Love is not all: it is not meat nor drink" in <insert date> after <insert event from her life>. Too descriptive: Edna St. Vincent Millay's "Love is not all: it is not meat nor drink" is a sonnet with two parts; the first six lines propose a view of love and the next eight complicate that view. With tension and which will need proving: Despite her avowal on the importance of love, and despite her belief that she would not sell her love, the speaker in Edna St. Vincent Millay's "Love is not all: it is not meat nor drink" remains unconvinced and bitter, as if she is trying to trick herself into believing that love really does matter for more than the one night she is in some lover's arms.
Your Thesis Can Be A Blueprint
A thesis can be used as roadmap or blueprint for your paper:
In "Résumé," Dorothy Parker subverts the idea of what a résumé is--accomplishments and experiences--with an ironic tone, silly images of suicide, and witty rhymes to point out the banality of life for those who remain too disengaged from it.
Note that while this thesis refers to particular poetic devices, it does so in a way that gets beyond merely saying there are poetic devices in the poem and then merely describing them. It makes a claim as to how and why the poet uses tone, imagery and rhyme.
Readers would expect you to argue that Parker subverts the idea of the résumé to critique bored (and boring) people; they would expect your argument to do so by analyzing her use of tone, imagery and rhyme in that order.
Citation Information
Nick Carbone. (1994-2023). Thesis Statements for a Literature Assignment. The WAC Clearinghouse. Colorado State University. Available at https://wac.colostate.edu/repository/resources/writing/guides/.
Copyright Information
Copyright © 1994-2023 Colorado State University and/or this site's authors, developers, and contributors . Some material displayed on this site is used with permission.