Archives du BAC (43 594)
Art (11 067)
Biographies (6 181)
Divers (47 485)
Histoire et Géographie (17 992)
Littérature (30 287)
Loisirs et Sports (3 296)
Monde du Travail (32 204)
Philosophie (9 555)
Politique et International (18 683)
Psychologie (2 959)
Rapports de Stage (6 990)
Religion et Spiritualité (1 442)
Sante et Culture (6 438)
Sciences Economiques et Sociales (23 592)
Sciences et Technologies (11 307)
Société (10 939)
Page d'accueil
/ Philosophie
/ La Liberté
Dissertation sur l'art
Par clemdav • 5 Janvier 2013 • Dissertation • 992 Mots (4 Pages) • 3 924 Vues
I. L'art, signe humain par excellence
Longtemps, l'art a désigné une technique, un savoir-faire, celui de l'artisan en vue de produire des objets. Mais depuis la Renaissance, l'art relève de l'artiste, d'une création unique, non utilitaire.
A. Quelle est la nature de l'œuvre d'art ?
• Le mot art désigne toute technique qui résulte d'un apprentissage et permet de produire un résultat (l'art de l'artisan ou du poète renvoie à la maîtrise talentueuse d'un métier qui se donne à voir dans une production.
• Mais chez les Grecs et les Romains, toute activité manuelle, étant réservée aux esclaves, était dépréciée. D'où la distinction entre les « arts mécaniques » qui visent l'utile et les « arts libéraux », arts des hommes libres (philosophie, musique, logique)
• Depuis le 18e, l'art relève de l'esthétique (science qui traite du beau et du sentiment qu'il fait naître en nous, d'où les « beaux-arts »). Les œuvres d'arts se démarquent alors des productions utilitaires.
B. Le besoin d'art
• L'activité artistique est l'une des premières manifestations de la culture humaine (témoignage artistique dans les grottes préhistoriques). La création artistique montre que l'homme est capable de se détacher de l'utilitaire pour créer « autre chose ». L'homme est un être conscient, capable de se donner une représentation de lui-même. L'œuvre d'art extériorise ce qu'il est. L'art apparait comme l'expression d'un besoin essentiellement humain, universellement partagé.
• Les œuvres d'art laissées par les civilisations sont ainsi des traces qui nous permettent de mieux appréhender les cultures de l'intérieur (signe que le superflu est ici nécessaire). Quelles étaient les préoccupations spirituelles de ces hommes, leur vision du monde ?
II. Qu'est-ce que l'art ?
A. L'art : un détournement de la vérité
• Beaucoup de philosophes antiques se méfient de l'art car la perception d'une œuvre provoque une émotion affective qui nous détourne de la réalité et donc de la vérité. Dans La République (livre X), Platon chasse de la cité idéale les poètes car ils séduisent même les sages et font prendre l'apparence pour la réalité.
• L'art travestit donc le vrai. Il imite non la vérité des idées, mais l'apparence de notre monde sensible, qui n'est lui-même qu'une image du monde intelligible. L'artiste pour Platon est donc un faussaire.
B. L'imitation de la nature a pour objet la vie humaine
• Pour Aristote, certes l'art est une imitation de la nature, mais celle-ci appartient à la nature même de l'homme, « imiter est une tendance naturelle aux hommes ». Ce goût d'imiter permet d'apprendre et de progresser.
• Aristote pense que l'art prépare à la connaissance, en suscitant curiosité et étonnement. Il défend l'art comme une purification. Vertus apaisantes de l'art.
C. L'art est une prise de conscience
• Pour Hegel, l'imitation est une tâche superflue et présomptueuse. L'imitation n'apporte que la satisfaction d'éprouver son habilité technique. Seule la création réalise la nature humaine, et le beau est une forme de manifestation de l'Esprit. Il est l'un des moyens par lesquels l'homme se révèle à lui-même. L'art est un langage qui répond à la nécessité de communiquer, de se représenter. L'œuvre d'art manifeste la liberté de l'homme
0b914002f2182447cd9e906092e539f3
Dissertation,   the dissertation.
After the successful completion of the general examination, a topic and adviser for the dissertation should be chosen. Students should discuss potential topics with several faculty members before beginning. The final prospectus should be approved not later than 3 months (within the academic calendar -- September through May) of passing the general examinations in order to be considered to be making satisfactory progress toward the degree. This is the time when the Thesis Reader and Dissertation Proposal form should be completed and submitted to the department office or DGS. Three signatures are now required on the thesis acceptance certificate. Two of the three signatories must be GSAS faculty. The primary adviser must be in the department of History of Art and Architecture; the secondary adviser need not be. In addition to the primary and secondary advisers the student may have one or more other readers. Two readers must be in the department.
Thesis Defense
The Department of History of Art and Architecture requires that all Ph.D. dissertations (of students entering in September 1997 and beyond) be defended. At the defense, the student has the opportunity to present and formally discuss the dissertation with respect to its sources, findings, interpretations, and conclusions, before a Defense Committee knowledgeable in the student's field of research. The Director of the thesis is a member of the Defense committee. A committee is permitted to convene in the absence of the thesis Director only in cases of emergency or other extreme circumstances. The Defense Committee may consist of up to five members, but no fewer than three. The suggested make-up of the members of the committee should be brought to the Director of Graduate Studies for approval. Two members of this committee should be from the Department of History of Art and Architecture. One member can be outside the Department (either from another Harvard department or outside the University). The Defense will be open to department members only (faculty and graduate students), but others may be invited at the discretion of the candidate. Travel for an outside committee member is not possible at this time; exceptions are made rarely.  We encourage the use of Skype or conference calling for those committee members outside of Cambridge and have accommodation for either.  A modest honorarium will be given for the reading of the thesis for one member of the jury outside the University. A minimum of one month prior to scheduling the defense, a final draft of the dissertation should be submitted to two readers (normally the primary and secondary advisors). Once the two readers have informed the director of graduate studies that the dissertation is "approved for defense," the candidate may schedule the date, room, and time for the defense in consultation with the department and the appointed committee. This date should be no less than six weeks after the time the director of graduate studies has been informed that the dissertation was approved for defense. It should be noted that preliminary approval of the thesis for defense does not guarantee that the thesis will be passed. The defense normally lasts two hours. The candidate is asked to begin by summarizing the pertinent background and findings. The summary should be kept within 20 minutes. The Chair of the Defense Committee cannot be the main thesis advisor. The Chair is responsible for allotting time, normally allowing each member of the committee 20 to 30 minutes in which to make remarks on the thesis and elicit responses from the candidate. When each committee member has finished the questioning, the committee will convene in camera for the decision. The possible decisions are: Approved; Approved with Minor Changes; Approved Subject to Major Revision (within six months); Rejected. The majority vote determines the outcome. --Approved with minor changes: The dissertation is deemed acceptable subject to minor revisions. The dissertation is corrected by the candidate, taking into account the comments made by the committee. The revisions will be supervised by the primary adviser. Upon completion of the required revision, the candidate is recommended for the degree. --Approved subject to major revision within six months: The dissertation is deemed acceptable subject to major revisions. All revisions must be completed within six months from the date of the dissertation defense. Upon completion of the required revisions, the defense is considered to be successful. The revisions will be supervised by the primary adviser. --Rejected: The dissertation is deemed unacceptable and the candidate is not recommended for the degree. A candidate may be re-examined only once upon recommendation of two readers. Rejection is expected to be very exceptional. A written assessment of the thesis defense will be given to the candidate and filed in the Department by the Chair of the Defense Committee. Candidates should keep in mind the Graduate School of Arts and Sciences deadlines for submission of the thesis and degree application when scheduling the defense.
Submitting the Dissertation
Students ordinarily devote three years to research and writing the dissertation, and complete it prior to seeking full-time employment. The dissertation will be judged according to the highest standards of scholarship, and should be an original contribution to knowledge and understanding of art. The final manuscript must conform to University requirements described in the Supplement The Form of the Doctoral Thesis distributed by the Graduate School of Arts and Sciences.
Graduate students should negotiate with their readers the timing of submission of drafts prior to final revisions. However, the complete manuscript of the dissertation must be submitted to the thesis readers not later than August 1 for a November degree, November 1 for a March degree, and April 1 for a May degree (this in order to provide both the committee with time to read and the candidate to revise, if necessary). The thesis readers may have other expectations regarding dates for submission which should be discussed and handled on an individual basis. The student is still responsible for distribution of the thesis to the committee for reading. In cases where a thesis defense is scheduled, the thesis must be submitted to the primary adviser at least one month prior to the defense. The thesis defense must be scheduled at least two weeks prior to the university deadline for thesis submission.
A written assessment by dissertation readers must be included with the final approval of each thesis including suggestions, as appropriate, on how the dissertation might be adapted for later publication.
The Dissertation is submitted online.   The Dissertation Acceptance Certificate (original) must be on Harvard watermark paper and is submitted directly to the registrar's office once it is signed.
Degree Application and Deadlines
Commencement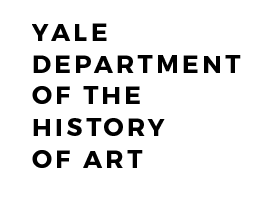 Department of the History of Art
You are here, dissertations, completed dissertations.
1942-present
DISSERTATIONS IN PROGRESS
As of July 2023
Bartunkova, Barbora , "Sites of Resistance: Antifascism and the Czechoslovak Avant-garde" (C. Armstrong)
Betik, Blair Katherine , "Alternate Experiences: Evaluating Lived Religious Life in the Roman Provinces in the 1st Through 4th Centuries CE" (M. Gaifman)
Boyd, Nicole , "Science, Craft, Art, Theater: Four 'Perspectives' on the Painted Architecture of Angelo Michele Colonna and Agostino Mitelli" (N. Suthor). 
Brown, Justin , "Afro-Surinamese Calabash Art in the Era of Slavery and Emancipation" (C. Fromont)
Burke, Harry , "The Islands Between: Art, Animism, and Anticolonial Worldmaking in Archipelagic Southeast Asia" (P. Lee)
Chakravorty, Swagato , "Displaced Cinema: Moving Images and the Politics of Location in Contemporary Art" (C. Buckley, F. Casetti)
Chau, Tung , "Strange New Worlds: Interfaces in the Work of Cao Fei" (P. Lee)
Cox, Emily , "Perverse Modernism, 1884-1990" (C. Armstrong, T. Barringer)
Coyle, Alexander , "Frame and Format between Byzantium and Central Italy, 1200-1300" (R. Nelson)
Datta, Yagnaseni , "Materialising Illusions: Visual Translation in the Mughal Jug Basisht, c. 1602." (K. Rizvi)
de Luca, Theo , "Nicolas Poussin's Chronotopes" (N. Suthor)
Dechant, D. Lyle . " 'daz wir ein ander vinden fro': Readers and Performers of the Codex Manesse" (J. Jung)
Del Bonis-O'Donnell, Asia, "Trees and the Visualization of kosmos in Archaic and Classical Athenian Art" (M. Gaifman)
Demby, Nicole, "The Diplomatic Image: Framing Art and Internationalism, 1945-1960" (K. Mercer)
Donnelly, Michelle , "Spatialized Impressions: American Printmaking Outside the Workshop, 1935–1975" (J. Raab)
Epifano, Angie , "Building the Samorian State: Material Culture, Architecture, and Cities across West Africa" (C. Fromont)
Fialho, Alex , "Apertures onto AIDS: African American Photography and the Art History of the Storage Unit" (P. Lee, T Nyong'o)
Foo, Adela , "Crafting the Aq Qoyuniu Court (1475-1490) (E. Cooke, Jr.)
Franciosi, Caterina , "Latent Light: Energy and Nineteenth-Century British Art" (T. Barringer)
Frier, Sara , "Unbearable Witness: The Disfigured Body in the Northern European Brief (1500-1620)" (N. Suthor)
Gambert-Jouan, Anabelle , "Sculpture in Place: Medieval Wood Depositions and Their Environments" (J. Jung)
Gass, Izabel, "Painted Thanatologies: Théodore Géricault Against the Aesthetics of Life" (C. Armstrong)
Gaudet, Manon , "Property and the Contested Ground of North American Visual Culture, 1900-1945" (E. Cooke, Jr.)  
Haffner, Michaela , "Nature Cure: "White Wellness" and the Visual Culture of Natural Health, 1870-1930" (J. Raab)
Hepburn, Victoria , "William Bell Scott's Progress" (T. Barringer)
Herrmann, Mitchell, "The Art of the Living: Biological Life and Aesthetic Experience in the 21st Century" (P. Lee)
Higgins, Lily , "Reading into Things: Articulate Objects in Colonial North America, 1650-1783" (E. Cooke, Jr.)
Hodson, Josie , "Something in Common: Black Art under Austerity in New York City, 1975-1990" (Yale University, P. Lee)
Hong, Kevin , "Plasticity, Fungibility, Toxicity: Photography's Ecological Entanglements in the Mid-Twentieth-Century United States" (C. Armstrong, J Raab)
Kang, Mia , "Art, Race, Representation: The Rise of Multiculturalism in the Visual Arts" (K. Mercer)
Keto, Elizabeth , "Remaking the World: United States Art in the Reconstruction Era, 1861-1900." (J. Raab)
Kim, Adela , "Beyond Institutional Critique: Tearing Up in the Work of Andrea Fraser" (P. Lee)
Koposova, Ekaterina , "Triumph and Terror in the Arts of the Franco-Dutch War" (M. Bass)
Lee, Key Jo , "Melancholic Materiality: History and the Unhealable Wound in African American Photographic Portraits, 1850-1877" (K. Mercer)
Levy Haskell, Gavriella , "The Imaginative Painter": Visual Narrative and the Interactive Painting in Britain, 1851-1914" (T. Barringer, E. Cooke Jr)
Marquardt, Savannah, "Becoming a Body: Lucanian Painted Vases and Grave Assemblages in Southern Italy" (M. Gaifman)
Miraval, Nathalie , "The Art of Magic: Afro-Catholic Visual Culture in the Early Modern Spanish Empire" (C. Fromont)
Mizbani, Sharon , Water and Memory: Fountains, Heritage, and Infrastructure in Istanbul and Tehran (1839-1950) (K. Rizvi)
Molarsky-Beck, Marina, "Seeing the Unseen: Queer Artistic Subjectivity in Interwar Photography" (C. Armstrong)
Nagy, Renata , "Bookish Art: Natural Historical Learning Across Media in Seventeenth-century Northern Europe" (Bass, M)
Olson, Christine , "Owen Jones and the Epistemologies of Nineteenth-Century Design" (T. Barringer)
Petrilli-Jones, Sara , "Drafting the Canon: Legal Histories of Art in Florence and Rome, 1600-1800" (N. Suthor)
Phillips, Kate , "American Ephemera" (J. Raab)
Potuckova, Kristina , "The Arts of Women's Monastic Liturgy, Holy Roman Empire, 1000-1200" (J. Jung)
Quack, Gregor , "The Social Fabric: Franz Erhard Walther's Art in Postwar Germany" (P. Lee)
Rahimi-Golkhandan, Shabnam , "The Photograph's Shabih-Kashi (Verisimilitude) – The Liminal Visualities of Late Qajar Art (1853-1911)" (K. Rizvi)
Rapoport, Sarah , "James Jacques Joseph Tissot in the Interstices of Modernity" (T. Barringer, C. Armstrong)
Riordan, Lindsay , "Beuys, Terror, Value: 1967-1979" (S. Zeidler)
Robbins, Isabella , "Relationality and Being: Indigeneity, Space and Transit in Global Contemporary Art" (P. Lee, N. Blackhawk)
Sen, Pooja , "The World Builders " (J. Peters)
Sellati, Lillian , "When is Herakles Not Himself? Mediating Cultural Plurality in Greater Central Asia, 330 BCE – 365 CE" (M. Gaifman)
Tang, Jenny , "Genealogies of Confinement: Carceral Logics of Visuality in Atlantic Modernism 1930 – 1945" (K. Mercer)
Thomas, Alexandra , "Afrekete's Touch: Black Queer Feminist Errantry and Global African Art"  (P. Lee)
Valladares, Carlos , "Jacques Demy" (P. Lee)
Verrot, Trevor , "Sculpted Lamentation Groups in the Late Medieval Veneto" (J. Jung)
Von-Ow, Pierre , Visual Tactics: Histories of Perspective in Britain and its Empire, 1670-1768."  (T. Barringer)
Wang, Xueli , "Performing Disappearance: Maggie Cheung and the Off-Screen" (Q. Ngan)
Webley, John , "Ink, Paint, and Blood: India and the Great Game in Russian Culture" (T. Barringer, M. Brunson)
Werwie, Katherine , "Visions Across the Gates: Materiality, Symbolism, and Communication in the Historiated Wooden Doors of Medieval European Churches" (J. Jung)
Wisowaty, Stephanie , "Painted Processional Crosses in Central Italy, 1250-1400: Movement, Mediation and Multisensory Effects" (J. Jung)
Young, Colin , "Desert Places: The Visual Culture of the Prairies and the Pampas across the Nineteenth Century" (J. Raab)
Zhou, Joyce Yusi, "Objects by Her Hand: Art and Material Culture of Women in Early Modern Batavia (1619-1799) (M. Bass, E. Cooke, Jr.)
USF Research
USF Libraries
Digital Commons @ USF > College of The Arts > School of Art and Art History > Theses and Dissertations
Art and Art History Theses and Dissertations
Theses/dissertations from 2022 2022.
Assessing Environmental Sensitivity in San Diego County, California, for Bird Species of Special Concern , Eda Okan Kilic
Theses/Dissertations from 2021 2021
Empress Nur Jahan and Female Empowerment: A Critical Analysis of a Long-Forgotten Mughal Portrait , Angela N. Finkbeiner
Theses/Dissertations from 2019 2019
Seeing King Solomon through the Verses of Hafez: A Critical Study of Two Safavid Manuscript Paintings , Richard W. Ellis
Moving Away from The West or Taking Independent Positions: A Structural Analysis for The New Turkish Foreign Policy , Suleyman Senturk
A Quiet Valley at Roztoky : Testimony of Singularity in the Landscape Imagery of Zdenka Braunerová , Zdislava Ungrova
Theses/Dissertations from 2018 2018
Mirror Images: Penelope Umbrico's Mirrors (from Home Décor Catalogs and Websites) , Jeanie Ambrosio
Theses/Dissertations from 2016 2016
Incongruous Conceptions: Owen Jones's Plans, Elevations, Sections and Details of the Alhambra and British Views of Spain , Andrea Marie Johnson
An Alternative Ancien Régime? Elisabeth Vigée-Lebrun in Russia , Erin Elizabeth Wilson
Theses/Dissertations from 2015 2015
Sarah Sze's "Triple Point": Modeling a Phenomenological Experience of Contemporary Life , Amanda J. Preuss
Cross-Cultural Spaces in an Anonymously Painted Portrait of the Ottoman Sultan Mahmud II , Alison Paige Terndrup
Theses/Dissertations from 2013 2013
The Choir Books of Santa Maria in Aracoeli and Patronage Strategies of Pope Alexander VI , Maureen Elizabeth Cox
Theses/Dissertations from 2012 2012
Painting Puertorriqueñidad: The Jíbaro as a Symbol of Creole Nationalism in Puerto Rican Art before and after 1898 , Jeffrey L. Boe
Franz Marc as an Ethologist , Jean Carey
Renegotiating Identities, Cultures and Histories: Oppositional Looking in Shelley Niro's "This Land is Mime Land" , Jennifer Danielle Mccall
Theses/Dissertations from 2010 2010
Empty Streets in the Capital of Modernity: Formation of Lieux de Mémoire in Parisian Street Photography From Daguerre to Atget , Sabrina Lynn Hughes
Theses/Dissertations from 2009 2009
Intervention in painting by Marlene Dumas with titles of engagement: Ryman's brides, Reinhardt's daughter and Stern , Susan King Klinkenberg
Self-fashioning, Consumption, and Japonisme : The Power of Collecting in Tissot's Jeunes Femmes Regardant des Objets Japonais , 1869 , Catherine Elizabeth Turner
Theses/Dissertations from 2008 2008
Kandinsky's Dissonance and a Schoenbergian View of Composition VI , Shannon M. Annis
Theses/Dissertations from 2007 2007
Re-Thinking the Myth of Perugino and the Umbrian School: A Closer Look at the Master of the Greenville's Jonas Nativity Panel , Carrie Denise Baker
I'm Not Who I Was Then, Now: Performing Identity in Girl Cams and Blogs , Katherine Bzura
Manifestations of Ebenezer Howard in Disneyland , Michelle M. Rowland
The assimilation of the marvelous other: Reading Christoph Weiditz's Trachtenbuch (1529) as an ethnographic document , Andrea McKenzie Satterfield
Theses/Dissertations from 2006 2006
Rethinking the Monumental: The Museum as Feminist Space in the Sexual Politics Exhibition, 1996 , Devon P. Larsen
Vision and Disease in the Napoleonic Description de l'Egypte (1809-1828): The Constraints of French Intellectual Imperialism and the Roots of Egyptian Self-Definition , Elizabeth L. Oliver
Theses/Dissertations from 2005 2005
The articulate remedies of Dolores Lolita Rodriguez , Hyatt Kellim Brown
Negotiating Artistic Identity through Satire: subREAL 1989-1999 , Anca Izabel Galliera
From Chapel to Chamber: Liturgy and Devotion in Lucantonio Giunta's Missale romanum , 1508 , Lesley T. Stone
Theses/Dissertations from 2004 2004
Ensenada , Julia DeArriba-Montgomery
Threatening Skies , Brandon Dunlap
Apocalypth pentagram , Matthew Alan Guest
African Costume for Artists: The Woodcuts in Book X of Habiti antichi et moderni di tutto il mondo , 1598 , Laura Renee Herrmann
The Artist and Her Muse: a Romantic Tragedy about a Mediocre and Narcissistic Painter Named Rachel Hoffman , Rachel Gavronsky Hoffman
Procession: The Celebration of Birth and Continuity , I Made Jodog
The Thornton Biennial: The Kruszka Pavilion: The 29YR Apology , Ethan Kruszka
american folk , Preston Poe
A Simple Treatise on the Origins of Cracker Kung Fu Or Mai Violence , Mark Joseph Runge
"My Journey" , Douglas Smith
Twilight , Britzél Vásquez
Advanced Search
Email Notifications and RSS
All Collections
USF Faculty Publications
Open Access Journals
Conferences and Events
Theses and Dissertations
Textbooks Collection
Useful Links
School of Art and Art History Homepage
Rights Information
SelectedWorks
Submit Research
Home | About | Help | My Account | Accessibility Statement | Language and Diversity Statements
Privacy Copyright
UKnowledge > College of Fine Arts > Art and Visual Studies > Theses & Dissertations
Theses and Dissertations--Art and Visual Studies
This collection was known as Theses and Dissertations--Art before July 1, 2012.
Theses/Dissertations from 2022 2022
ART EDUCATION IN MEDICAL EDUCATION: BENEFITS AND CHALLENGES , Sara K. Brown
Theses/Dissertations from 2021 2021
THE TRUST-BASED CLASSROOM: AN ANALYSIS OF CURRENT TRENDS IN SOCIAL AND EMOTIONAL LEARNING AND THE DEVELOPMENT OF A NEW TRUST-BASED APPROACH TO ART EDUCATION , Ellen Prasse
Theses/Dissertations from 2019 2019
Sketch-Plan Book: A Teacher's Planning Resource for the Secondary Classroom , Katherine M. Avra
IN BLACK AND WHITE: RICHMOND'S MONUMENT AVENUE RECONTEXTUALIZED THROUGH THE PHOTOGRAPHIC ARCHIVE , Charlsa Anne Hensley
Photography, Visual Culture, and the (Re)Definition/Queering of the Male Gaze , David Nicholas Martin
Theses/Dissertations from 2018 2018
FROM PRACTICE TO PERFORMANCE: THE IMPORTANCE OF BALLET IN DEGAS'S DANCER PAINTING PROCESS , Whitney LeeAnn Hill
Theses/Dissertations from 2017 2017
PROFESSIONAL COLLABORATION: THE VALUE OF MEANINGFUL CONVERSATION FOR THE STUDIO ART EDUCATOR , Christopher L. Bryant
FROM BLUES TO THE NY DOLLS: THE ROLLING STONES AND PERFORMANCE OF AUTHENTICITY , Mariia Spirina
HAYASHI YASUO AND YAGI KAZUO IN POSTWAR JAPANESE CERAMICS: THE EFFECTS OF INTRAMURAL POLITICS AND RIVALRY FOR RANK ON A CERAMIC ARTIST'S CAREER , Marilyn Rose Swan
Theses/Dissertations from 2016 2016
Reimagining Needed Funding for Elementary Art Programs in Fayette County Public Schools , Lori M. Barnett
A Study on Student Learning in Higher Education: Art Exhibition Motivation , Olivia M. Lussi
Theses/Dissertations from 2015 2015
The Truth of Night in the Italian Baroque , Renee J. Lindsey
Theses/Dissertations from 2014 2014
FROM GEOLOGY TO ART HISTORY: CERAMIST ALEXANDRE BRONGNIART'S OVERLOOKED CONTRIBUTION TO THE DEVELOPING SCIENCE OF ART HISTORY IN THE EARLY NINETEENTH CENTURY , Julia A. Carr-Trebelhorn
The Image of Antinoös: Sexy Boy or Elder God? , Ashlee R. Chilton
LEARNING TO RETELL STORIES THROUGH COMPARATIVE TEACHING: WRITING AND DRAWING , Rachel L. Lindle
Edward Steichen and Hollywood Glamour , Alisa Reynolds
Looking to the Future, Selling the Past: Churchill Weavers Marketing Strategies in the 1950s , Cassandra White-Fredette
USING VIDEO BASED INSTRUCTION TO TEACH ART TO STUDENTS WITH AUTISM SPECTRUM DISORDER , Anthony W. Woodruff
Theses/Dissertations from 2012 2012
FROM CELLULOID REALITIES TO BINARY DREAMSCAPES: CINEMA AND PERCEPTUAL EXPERIENCE IN THE AGE OF DIGITAL IMMERSION , Edwin Lloyd McGuy Lohmeyer
APPLYING SPECIFIC ARTS ACTIVITIES TO IMPROVE THE QUALITY OF LIFE FOR INDIVIDUALS WITH ALZHEIMER'S DISEASE AND DEMENTIA , Ann Christianson Tietyen
Theses from 2011 2011
PRAGMATIC MODERNISM: PROJECT [ PROJEKT ] AND POLISH DESIGN, 1956-1970 , Mikolaj Czerwinski
DEFYING THE MODERNIST CANON: MIKHAIL LARIONOV'S ARTISTIC EXPERIENCE BEYOND THE CANVAS , Ella Hans
THE ART OF NOTHINGNESS: DADA, TAOISM, AND ZEN , Erin Megan Lochmann
CONSTRUCTING THE REAL: THE NEW PHOTOGRAPHY OF CREWDSON, GURSKY AND WALL , Melissa A. Schwartz
Theses from 2007 2007
FROM EXCEPTION TO NORM: DEACCESSIONING IN LATE TWENTIETH CENTURY AMERICAN ART MUSEUMS , Julianna Shubinski
Advanced Search
Notify me via email or RSS
Browse by Author
Author Corner
New Title Here
Below. --> connect.
Law Library
Special Collections
Copyright Resource Center
Graduate School
Scholars@UK
Home | About | FAQ | My Account | Accessibility Statement
Privacy Copyright
University of Kentucky ®
An Equal Opportunity University Accreditation Directory Email Privacy Policy Accessibility Disclosures