Home » Top 10 Dissertation Editing Services of 2023
Academic Editing and Proofreading
What is Predatory Publishing?
Tips to Self-Edit Your Dissertation
Top 10 Essay Editing Services of 2023
Academic Research
Research Paper Outline: Templates & Examples
Academic Writing & Publishing
How does LaTeX based proofreading work?
The A-Z Of Publishing Your Article in A Journal
How To Craft Winning Admission Essays
How to Improve Your Scientific Writing: A Short Guide
The Ethics of Academic Research
Checklist: Is my Article Ready for Submitting to Journals?
Difference Between Paper Editing and Peer Review
What are the different types of peer review?
How to deal with rejection from a journal?
Editing and Proofreading Academic Papers: A Short Guide
Primary and Secondary Sources
How to Carry Out Secondary Research
The Results Section of a Dissertation
Types of Research Articles to Boost Your Research Profile
The Top 5 Dos & Don'ts of Academic Writing | Useful Examples
8 Types of Peer Review Processes You Should Know
What is Journal Article Editing? 3 Reasons You Need It
How to Write a Lab Report: Examples from Academic Editors
How to Create In-Text Citations and Reference Page in APA 7
MLA 9th Edition Paper Format Guidelines
Chicago Title, Cover Page & Body | Paper Format Guidelines
How to Write a Thesis Statement: Examples & Tips
Chicago Style Citation: Quick Guide & Examples
Top 10 Dissertation Editing Services of 2023
How to Format a College Essay: Format Template & Tips
APA Header, Cover Page & Body – Paper Format Guidelines
5 Powerful Personal Statement Examples (Template Included)
Additional Resources
Plagiarism: How to avoid it in your thesis?
7 Useful MS Word formatting tips for dissertation writing
Formatting Tips on MS Word for Dissertations
Final Submission Checklist | Dissertation & Thesis
How to Write a MEAL Paragraph? Writing Plan Explained in Detail
10 Most Common Grammar Mistakes & How to Avoid Them
Em Dash vs. En Dash vs. Hyphen: Quick Guide by English Editors
Citation and Referencing
Citations and References: What Are They, and Why They Matter
How to Format MLA-Style Papers
Citing References: APA, MLA, and Chicago
Why is it Important to Cite Your Sources?
How to Cite Sources in the MLA Format
MLA Citation Examples: Cite Essays, Websites, Movies & More
APA Citation Examples: The Bible, TED Talk, PPT & More
10 Best Free Plagiarism Checkers of 2023 [100% Free Tools]
Dissertation Writing Guide
The 5 Things to Look for in a Dissertation Editing Service
Why is it important to add references to your thesis?
The Only Dissertation Toolkit You'll Ever Need!
Writing a Dissertation Proposal
Top 10 Best Academic Research Resources
How to Prepare for Your Dissertation Defense
The Acknowledgments Section of a Dissertation
Abstract: An Introduction
The Table of Contents Page of a Dissertation
The Introduction Chapter of a Dissertation
The Literature Review of a Dissertation
How to Choose a Topic for Your Dissertation
Thesis Editing: What is It and Why Do You Need It?
5 Thesis Writing Tips for Master Procrastinators
How to Write a Dissertation | 5 Tips from Academic Editors
The Title Page of a Dissertation
Top 10 Free Citation Generators in 2023 | Quick & Easy
The Research Methodology Section of a Dissertation
Essay Writing Guide
Essential Research Tips for Essay Writing
How to structure your essay?
What is an Essay?
Types of Essays
How to Pick the Perfect Essay Topic
What is a Mind Map? Free Mind Map Templates & Examples
Top 10 Essay Writing Tools in 2023 | Plan, Write, Get Feedback
How to Write an Impactful Personal Statement (Examples Included)
Still have questions? Leave a comment
Add Comment
Checklist: Dissertation Proposal
Enter your email id to get the downloadable right in your inbox!
Examples: Edited Papers
Need editing and proofreading services.
Tags: dissertation editing , dissertation editing services , dissertation proofreading , dissertation proofreading services , thesis editing services , thesis proofreading services
The thought of editing and proofreading can give the heebie-jeebies to even the most seasoned writers. It's only natural for students and everyday scribblers to break a sweat when they have to undertake such arduous tasks. And it's even more important that you send in your dissertation for editing before turning it in. All that intensive reading, technical precision, the unfamiliar or forgotten grammar rules, and syntax? Yeah, all things vexing. It's best you leave it to experts. And that's why PaperTrue is here, as are many others who assist you in creating error-free dissertations for those perfect A's!
This week on the PaperTrue blog, we look at the Top 10 Dissertation Editing and Proofreading Services . Let's dive into the list:
#1 PaperTrue
We have conveniently put PaperTrue on the top position before introducing you to other candidates. PaperTrue provides professional editing and proofreading to ensure your academic documents are error-free and impactful, with improved flow and formatting.
Our expert editors are native English speakers from diverse academic backgrounds, who know how to thoroughly process your projects, having cared for their own in the past.
PaperTrue ensures your work is free from all English language errors (grammar, punctuation, spelling, and typography) and has an improved style, clarity, sentence structure, and coherence.
View PaperTrue's samples edits and get your free one here .
Pricing: Express editing of a 1000-word academic document within 24 hours will cost you US $36.
#2 Scribendi
Scribendi provides a wide array of English editing and proofreading services which include academic editing (dissertation, thesis, and proposal editing), admission essay editing, business editing, and editing for authors, along with editing of various personal documents such as cover letters and resumes.
Pricing: A 24-hour proofread of a 1000-word academic text will cost you about US $40.
#3 Wordy
This UK based firm provides online disseration editing, proofreading and copy-editing services. They promise to create great content regardless of whether you're writing a book, a business presentation, an academic article or an email. What we like about Wordy is that they've worked hard to keep things easy for the clients, placing an order on this website is hassle-free. Take a tour and get to know the ordering process and what to expect from the job.
They process your work across 11 major file formats including MS Word, Powerpoint, Excel, PDF, LaTeX, Google docs and more.
Pricing: A proofing job for 1000 words will cost you a little over US $40.
#4 Editage
This one is for all your academic editing purposes as Editage focuses solely on English language editing services for Academic, Scientific Manuscripts, Articles, and Papers. So even if authors and job seekers have no business here, students looking to publish papers in prestigious journals can bet their money on this one. After all, this service is recommended by more than 1600 international journals.
Their 4-step exhaustive editing process is laid out here .
Pricing: You can have your Papers checked with Editage for prices starting at $30 USD per 1000 words.
#5 Enago
Apart from the standard dissertation editing and proofreading, Enago also offers additional translation, statistical analysis, video abstracts, medical writing, and publishing help. What also makes them special is that they have a rewards club, a common ploy for customer retention seldom found on such websites. They also claim a near 100% client satisfaction and have websites up and running in other regional languages like Chinese and Korean.
Enago's editing team has Ph.D./Master's qualified native English-speaking editors with vast experience. Also, every paper you submit to them is reviewed by a highly specialized subject-area expert to ensure technical accuracy.
Pricing: Enago has its services bundled in various packages which you can check here . Prices look more on the steeper side to us.
#6 Kibin
Kibin has a single editing and proofreading focus on Essays and they like to proclaim themselves as the #1 authority on everything essay writing. The other stalwarts on this list would like to disagree. We can organize a formal debate sometime later, but sure, we'll let them have it for now.
A unique offering found on Kibin is a huge Essay Examples Library you could refer to, draw inspiration from, and get started with your essays. Subsequently have them edited for word choice, sentence structure, idea flow, and logic along with the standard round of grammar, spelling, and punctuation check. All essay editing is done with track changes.
Pricing: A standard editing affair of 24 hours for a 1000 word document is priced at the US $40.
#7 Proofreadingpal
A Two-proofreader model is what Proofreading Pal prides on. Every submission is edited by not one, but two professional proofreaders who check for grammar, punctuation, capitalization, verb tense, spelling, sentence structure and clarity.
Pricing: Depending on the kind of document and formatting style, a 24-hour turnaround can cost you between US $30-$100.
#8 Wordvice
Wordvice is a sidekick to scholars, researchers, students, writers, and businesses around the world who edits academic and professional writing . A typical job consists of improving the style, sentence structure, clarity and coherence of your writing.
What sets them apart is their dedicated focus on admissions and scholarship editing services to critique undergraduate, graduate, and professional school essays, along with scholarship applications and recommendation letters. You can check their entire range of utilities here .
Pricing alert: A 1000-word academic document worked within 24 hours hits US $80.
#9 EliteEditing
Australia's most trusted dissertation editing service has world-class, PhD-qualified editors to provide you with academic editing services. Elite editing can help you with any academic document, they've got the entire range covered.
They even provide expert coaching to improve your academic writing post-order. The editors return each piece of reviewed work with a comprehensive letter which explains all the changes made to your document and advice on how to improve it further.
Pricing: You will have to shell out AUS $130 for a 24-hour turnaround of a 1000 word academic document.
#10 EditMyEnglish
The last name on this list tells you what all the bigwigs on this list do: Edit your English. This one is just explicit about it. EditMyEnglish, an affiliate of Grammar Labs, LLC, was started in Indiana in 2004 to serve the large international student population at Purdue University and has since expanded to almost every university in the US and around the world.
They provide dissertation editing and proofing services across the board; Academic, Business and Literary. Expert editors carefully modify your documents to ensure that it is 100% grammatically correct with tracked changes in your document. View their sample edit here .
Pricing: The price calculator on this website is broken so we can't determine how much would it be for the standard measure. But the per-page cost is USD $6.49. Fit in 1000 words in a single page for the best deal!
There you have it, our top 10 picks of the online editing and proofreading biz.
If you feel these services are too pricey or want to trust yourself with the job, you could try these editing and proofreading tools available for free download:
Grammarly:
The popular app and extension for your browser that checks grammar, spelling, plagiarism and more. Once added, it seamlessly fits itself into most writing platforms including MS Word, WordPress, Facebook, Twitter and more. It's now being pitched as being your "Free Grammar Assistant."
But there obviously are many limitations with the free version on the app, it only does a basic grammar and spelling checks. To avail full features , you must buy the premium version.
Ginger Grammar Checker:
The Ginger Grammar Checker corrects a vast range of English Language errors. It offers free grammar and spell-check as well as premium online proofreading software. Plugins are available for most browsers, if not that you can just visit the website and feed in your text there for a free check .
Hemingway App:
The front page of the website cleverly explains what the software does and how it can help you. The grammar checker is sharp and won't let a single error slide in your writing. Being fast and efficient makes it ideal for self-editing academic texts, fiction, and non-fiction writing.
Want to keep reading? Here are the newest articles we've worked on:
How to Write a Dissertation
APA Formatting Guidelines
Create In-Text Citations and Reference Page in APA
APA Citation Examples
Found this article helpful?
8 comments on " Top 10 Dissertation Editing Services of 2023 "
Thanks for sharing such an informational blog which will surely be a big help to the students who are creating a thesis or working on dissertation work
Useful blog, great work
Dissertation editing is an essential service and this blog helps you find the best company for it. Awesome work!
I'd like to know more about services and payment information
Hi Adarsh! You can visit our website to know more about our services. Please feel free to reach out to us if you have any more questions.
Thanks for the information, especially on grammar checker apps.
Thanks for sharing!
A very helpful blog you have posted on dissertation editing services. As this is a very much-needed service, your editing will help a lot.
Leave a Comment: Cancel reply
Your email address will not be published.
Your Organization Needs a Technical Editor: Here's Why
Writing for the web: how your readers want to read content, writing content to achieve a higher readability, writing a screenplay: a comprehensive step-by-step guide.
Subscribe to our Newsletter
Get carefully curated resources about writing, editing, and publishing in the comfort of your inbox.
How to Copyright Your Book?
If you've thought about copyrighting your book, you're on the right path.
© 2023 All rights reserved
Terms of service
Privacy policy
Self Publishing Guide
Pre-Publishing Steps
Fiction Writing Tips
Traditional Publishing
Editing and Proofreading
Academic Writing and Publishing
Partner with us
Case studies
Top 10 Online Dissertation Editing Services of 2023
If you're writing a dissertation, chances are you are working on the most important project of your life. A dissertation represents months, maybe years, of hard work. It's only natural that you want to make sure the final version of your dissertation is the best possible version of the document. You want to make sure the technical knowledge is written concisely and lucidly, and that there are no errors in the document. So trust us when we say, we understand the importance of editing and proofreading a dissertation. That's why we have come up with a comprehensive list of the 10 best editing and proofreading services for dissertations in 2023.
1) WriteSmartly
WriteSmartly prides itself on using only human editors and not relying on any software for editing and proofreading documents. While editing and proofreading software has its uses, for 100% accuracy, you still want a human correcting your documents, as natural language processing programs always throw up an error or two due to a machine's innate lack of understanding of how language functions.
WriteSmartly provides proofreading, editing, paraphrasing & rewriting, translation, and content writing services. The pricing model is time-sensitive; the earlier you want the delivery, the more it costs. A 24-hour delivery for proofreading and editing for a 1,000-word document costs USD 37.
2) TrueEditors
TrueEditors also offers a time-sensitive pricing model with four options of delivery: 48 hours, 24 hours, 12 hours, and 4 hours. A 48-hour delivery for a 1,000-word document costs USD 42. In addition to proofreading and editing, TrueEditors offers paraphrasing services for correcting any awkward phrases that may be present in the document.
It also offers a plagiarism check to make sure the document is original. That's why TrueEditors is one of the best PhD dissertation editing services out there.
3) Scribendi
Scribendi is one of the top dissertation editing services of 2023. Scribendi's editors will not only remove the errors in your writing, but will also provide relevant and accurate suggestions to improve the writing style and make the document better on the whole.
At a price of USD 40 for a 24-hour proofread, Scribendi is also one of the more affordable dissertation editing services out there.
Wordy is a UK-based editing and proofreading firm that covers books, business presentations, academic articles, and more. The hassle-free website experience is a major in Wordy's favor, as the firm has worked hard to make things simple for its clients and offer a smooth and easy user experience.
Wordy can process 11 file formats, including MS Word, MS Excel, PDF, Powerpoint, Google Docs, and more. Proofreading a 1,000-word document on Wordy will cost you a bit more than USD 40.
Editage is a UK firm specializing in proofreading and editing academic articles. If you are a PhD student looking for a reliable proofreading service for your dissertation, Editage is the one to pick. Editage complements its editing services with a subject expert, who is matched with your paper using an AI algorithm.
The subject expert provides a second level of assurance to the editing, as the information as well as language in your dissertation is vetted and improved. Starting at USD 30 for a 1,000-word document, Editage is one of the cheapest academic article editing services out there.
Enago's editing team is made up of PhD/Masters-qualified native English-speaking editors with vast experience in their subject matter. This means that documents submitted to Enago are vetted by a highly specialized subject expert to ensure technical accuracy. This makes Enago perfect for academics looking for a one-stop solution for all their dissertation editing needs.
However, the proficient editing at Enago comes at a higher price than other rivals on this list; editing a document of up to 5,000 words in 21 days costs USD 840 at Enago, with rates going up with word count and delivery speed.
Kibin is more of a specialized editing and proofreading service for essays and other literary forms, but they also proofread academic articles. Along with the standard grammar and punctuation checks, Kibin also checks your word choice and sentence structure to make sure the content is written in a lucid, refined manner.
With prices starting at USD 40 for a 24-hour delivery of a 1,000-word document, Kibin is a good choice if you are a bit short on time and need a reliable editing service for your dissertation.
8) ProofreadingPal
ProofreadingPal offers a two-person editing service that ensures that every document is edited by not one, but two editors. However proficient editors may be, a change of perspective can be extremely helpful when editing documents. The presence of a second editor adds a valuable safety net to the process, enhancing the appeal of the document and ensuring 100% error removal.
Depending on the word count and range of services required, a 24-hour delivery of a document can cost you anywhere between USD 30 and USD 100.
9) Wordvice
Wordvice edits academic and professional writing of various kinds and offers a dedicated crew for admissions and scholarship editing services for undergraduate, graduate, and professional school essays. With editors looking at improving the style, clarity, and coherence of your dissertation, Wordvice is one of your best choices for editing and proofreading dissertations.
A 24-hour delivery of a 1,000-word academic document can cost up to USD 80 at Wordvice .
10) EliteEditing
EliteEditing offers a comprehensive array of editing and proofreading services for all kinds of academic content, making it one of the best dissertation editing services out there. The highlight of EliteEditing's service is that every reviewed document comes with a letter from the editor explaining all the changes made to the document and advice on how to improve it further.
This kind of attention to detail is what makes EliteEditing the best choice if you are a type-A person who needs everything to be just right. Editing a 1,000-word document in 24 hours costs up to AUS 130.
Author Kenny S. The WriteSmartly Team
Leave a Reply Cancel reply
Your email address will not be published. Required fields are marked *
Save my name, email, and website in this browser for the next time I comment.
Dissertation & Thesis Editing
Books and Journal Articles
Coaching and Consultation
Research Assistance
Quantitative
Qualitative
Coaching & Consultation
Document Review Service
Meet The Team
Client Testimonials
Join Our Team
Get In Touch
Editing and Statistics Packages
Self-Publication Services Pricing
Make Payment
Building Dr. You – Dissertation Help by PhDs
Our team of phd's offer expert doctoral-level services in editing , data analysis , style formatting , and other academic services and solutions tailored to your project needs..
Contact Us Submit Documents for a Quote
Take Your Academic Writing to the Next Level
We are a team of PhD-educated academic consultants, editors, and project managers who provide support and solutions to help you navigate your path to completion. Whether you are writing a dissertation, an article, or a book, we have got your back .
Dr. Allen Roda, PhD, Ethnomusicology, New York University CEO and Editor in Chief
Meet Our Team
Services Tailored to You
Use our professional PhD editors to improve your writing, the strength of your argument, and the structure of your document to ensure it adheres to doctoral-level standards and your university's guidelines.
Our professional team of methodologists and statisticians can advise you on what methodology you need to use to address your project aims and objectives. They can also conduct your analyses for you to ensure your research meets the academic standards required for a PhD, and in peer-review for publication.
It can be daunting to write a literature review. Let our PhD-editors create an annotated bibliography for you. We'll find the most relevant and up-to-date research in your field, help you identify gaps in the literature and explain how each study relates to your topic .
Style formatting can be a nightmare. Our professional editors can format your document and guarantee compliance with your university or academic style guidelines for, e.g., APA , APA , Chicago/Turabian , Harvard , AMA, and MLA
Get one-to-one support from our PhD editors and statisticians to develop your project and help keep you on track .
The world is waiting to hear about your research. Our team of professional editors offer a variety of services to help you share your ideas in a journal article or book with academic or wider audiences.
Why Choose Dissertation Editor?
Our team has helped 3,500+ graduates from over 500 universities get their phd., every d|e team member has a phd. our editors therefore understand precisely how to conduct research, and how to write a dissertation and journal articles., we offer personalized support with prompt and reliable academic services tailored to meet your specific needs., we will support you until your dissertation is ultimately approved by your committee or reviewers., how we work, w e do not take a one-size-fits-all approach to editing and pricing., we carefully assess your document and provide a tailored service that directly correlates to the work your project requires; nothing more, nothing less., we offer discounted editing and data analysis packages if you want to work with us long-term..
Got a Question? Contact Us!
Submit Documents for a Quote
We maintain high professional standards in our services while simultaneously remaining staunchly committed to the integrity of academic authorship.
Please refer to our Academic Integrity Policy for a full statement of our commitment.
I could not be more pleased with Dissertation Editor! The editor I worked with was knowledgeable, skilled, and professional. Not only was the editing detailed and impeccable, but I also I learned so much about dissertation writing through my editor's comments. Dissertation Editor is a reliable and trustworthy company with high standards and excellent customer service! Thank you for your support!
- Stephen M.
More Testimonials
Dissertation Editor
+1 857-600-2241 info@dissertation-editor.com 1 Mifflin Place, Suite 400, Cambridge, MA 02138
© 2023 PhD Advantage, LLC , all rights reserved.
Academic Integrity Policy Policies, Terms & Conditions Referral Rewards Privacy Policy Site map
One-stop-shop for dissertation editing services
Bring your PhD dissertation to the next level with the help of Scribbr's experienced dissertation editors.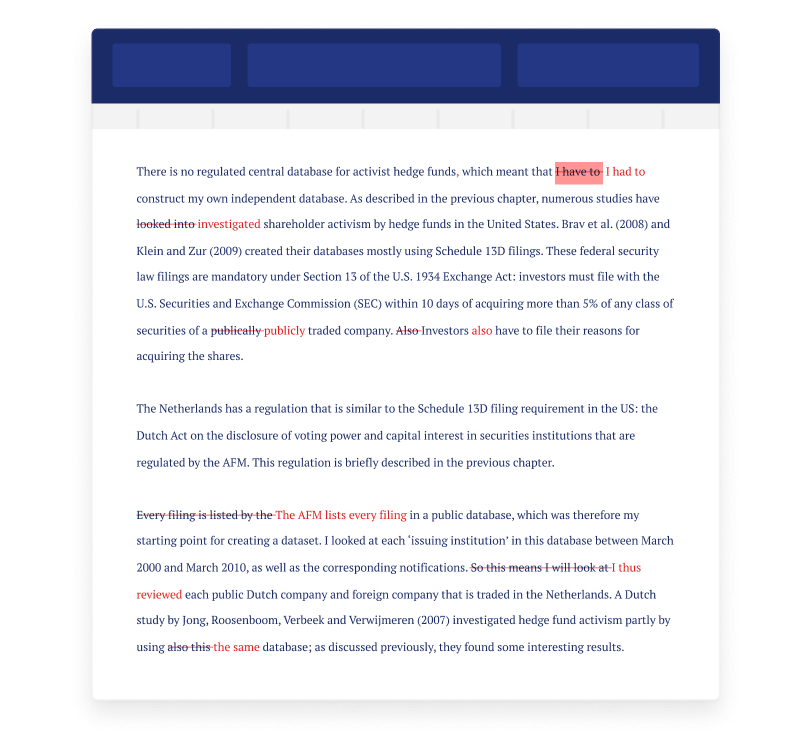 Proofreading & Editing
Dissertation Editing Services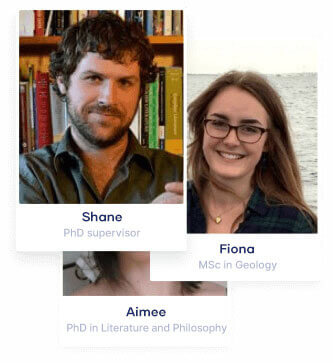 Scribbr dissertation editors
All  Scribbr editors have completed our Scribbr Academy training program. Their work and experience meet the high standards required to proofread PhD dissertations.
Plus, your deadline is guaranteed. You'll receive a free text message as soon as your editor is done proofreading, so you can immediately start working on their recommendations.
Get personalized feedback
Your editor will provide you with personalized comments to help you take your dissertation to the next level.
We'll pair you with an editor that understands your field of study. You can rest assured that they're qualified to edit your subject matter.
Choose the type of editing you want
Scribbr offers proofreading, copy editing, and line editing. However, we split the elements of these edits into separate services such as the Structure Check and Clarity Check.
Read more about the types of editing we offer , so you can choose which Scribbr services will best help you get the feedback you need.
If there's something in particular you're seeking, you can always contact us .
Improve your academic tone and grammar
Have trouble keeping track of your verb tenses? Unsure whether you're using the correct sentence structure?
Our Scribbr editors undergo a rigorous training process to make sure they catch all those pesky language mistakes you might miss in your own writing. That way, you can focus on the content of your dissertation.
Professional editing in just 24 hours
Add-on dissertation editing services.

Structure Check
Our Structure Check is designed to help you optimize the organization of your dissertation.
Your dissertation editor will ensure that you have all the required components in the right chapters and in the right order. This service will also help you prevent repetition and improve headings and transitions between paragraphs.
Learn more »

Clarity Check
We'll help you make sure that your argument is clear and understandable with our Clarity Check .
Your dissertation editor can help you write a clear and concise story by assessing your text against our guiding checklists. If what you've written isn't presented logically or if you contradict yourself, we'll help you fix it.

Citation Editing & Paper Formatting
Our Citation Editing and Paper Formatting services ensure your sources are cited correctly and your formatting is perfect.
Your paper formatting expert will make sure all elements in your paper follow the APA 7th edition formatting guidelines. You can also choose style-agnostic formatting, our "Scribbr Style." A citation expert will edit your in-text citation and reference entries in a citation style of your choosing.

LaTeX files? We've got you!
We convert LaTeX files to Word files for free so that our editors can use Track Changes .
That way, when your editor is finished, you can easily accept or reject the necessary changes.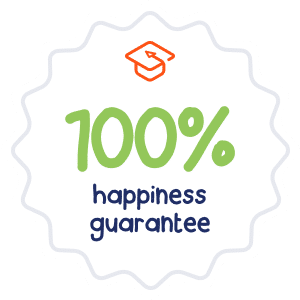 100% happiness guaranteed
We want you to be completely happy with your edited dissertation. If you're not 100% satisfied with any of the services you receive from us, we'll make sure to change that.
Simply let us know what went wrong and what solution would suit you best.
You'll always get a personal response as soon as we receive your questions or feedback.
Customers rate our proofreading service excellent!
Scribbr helped me with my academic paper.
Scribbr helped me with my academic paper editing and proofreading and I really appreciate their work, it was useful and improved my writing skills.
ALL candidate improvements
Very swiftly, corrections and ALL candidates for simplications or other improvement were indicated.
Fantastic service
Fantastic service, excellent comments.
Fast and constructive feedback
Fast and constructive feedback; comprehensive explanation why "a" and not "b"; not only took the dissertation linguistically to the next level, I also learned a lot for writing my future articles.
EXCELLENT RESOURSE WITH QUITE EASY…
EXCELLENT RESOURSE WITH QUITE EASY EXAMPLES AND EXPLAINATION. NO NEED TO SWITCH ON ANOTHER RESOURCE AFER READING FROM SCRIBBR.. HATS OFF TO THE ENTIRE TEAM
Excellent service
Very prompt professional response with clear communication , would definitely use again.
Choose Scribbr for your PhD
Scribbr has been with me since the start of my PhD, and it's been a great help to proofread, check and provide a second opinion before any submissions. I've been a loyal customer for almost 2 years now and will continue to support Scibbr.
Scribbr's Exceptional Proofreading and Editing Services - Highly Recommended!
I highly recommend Scribbr's proofreading and editing services. My editor Marissa's attention to detail was exceptional. Her revisions not only improved the quality of my document, but also taught me a lot of English writing, which exceeded all of my expectations every time. The Scribbr team communicated clearly and promptly throughout the process. Scribbr truly cared about helping me produce the best possible work.
High-Quality and Efficient Proofreading and Editing Service with Scribbr
I am extremely impressed with the high-quality and efficient proofreading and editing service provided by Scribbr. I want to express my sincere gratitude to my editor, Marissa, for her exceptional work and conscientious attitude. Her revisions and suggestions were insightful and easy to understand, and it felt like I was attending a lively English lesson. I learned a lot from her feedback. Thank you, Marissa, and the entire Scribbr team for your outstanding service!
Clear feedback provided and example provided.
Fast service, detailed feedback
Scribbr has a great user interface that allows tailoring my order to my needs. The service was of great quality, the editor enhanced my paper substantially and I have learnt a lot from the process and the comments.
The annotations were excellent.
The annotations were excellent, especially in terms of text cohesion and links between paragraphs. Not to mention the quality of the language review and the response time, which was much higher than average. I just have to thank and highlight the excellence of the quality.
I allready wrote the editor a personal…
I allready wrote the editor a personal message
Scribbr is a perfect and reliable…
Scribbr is a perfect and reliable service partner. Since my master time I use the services of Scribbr.
The customer service is amazing and has a quick response, I really like it
a very good experience
Very professional job
Very professional job. Will do it again with them for sure.
Scribbr is very serious and helpful
Danke Alex und Scribbr für Eure tolle Arbeit. Ich bin mehr als zufrieden. Scribbr is very serious and helpful. The work is done on time and with full satisfaction. I can recommend Scribbr one hundred percent. I am more than satisfied with Alex's work as a proofreader. Kind regards, Abaas
Good feedback.
Amazing, easy to use
3 more reasons to choose Scribbr
Free sample edit.
If your document is bigger than 30,000 words, you'll receive a free sample edit of 2,000 words to make sure you're 100% happy with the editor's work before we proofread your entire document.
Transparent pricing
Our price calculator provides you with an instant quote based on the number of words you want to have proofread, the turnaround time, and any additional services. Proofreading starts at $0.017 per word.
Authority in academic writing
With over 250 free articles on academic writing and 5 million monthly visitors, the Scribbr Knowledge Base is the starting point for many academics writing their research papers.
Ready to try the best dissertation editing services?
Ask our team.
Want to contact us directly? No problem.  We  are always here for you.
Email [email protected]
Start live chat
Call +1 (510) 822-8066

Frequently asked questions
Yes, if your document is longer than 30,000 words, you will get a sample of approximately 2,000 words. This sample edit gives you a first impression of the editor's editing style and a chance to ask questions and give feedback.
How does the sample edit work?
You will receive the sample edit within 24 hours after placing your order. You then have 24 hours to let us know if you're happy with the sample or if there's something you would like the editor to do differently.
Read more about how the sample edit works
At Scribbr, we promise to make every customer 100% happy with the service we offer. Our philosophy: Your complaint is always justified – no denial, no doubts.
Our customer support team is here to find the solution that helps you the most, whether that's a free new edit or a refund for the service.
Yes, in the order process you can indicate your preference for American, British, or Australian English .
If you don't choose one, your editor will follow the style of English you currently use. If your editor has any questions about this, we will contact you.
The fastest turnaround time is 24 hours.
You can upload your document at any time and choose between three deadlines:
Yes, regardless of the deadline you choose, our editors can proofread your document during weekends and holidays.
Example: If you select the 24-hour service on Saturday, you will receive your edited document back within 24 hours on Sunday.
Yahoo Finance
5 Best Dissertation Editing Services Online
Top-Reviewed Editors in the U.S.
Los Angeles, CA --News Direct-- Essay Guide
If you are a student who speaks English as a second language, you understand the need to check your work for errors before submitting it. When writing a lengthy thesis or dissertation, this becomes more important.
Even if your native language is English, having another pair of eyes to help you edit the most important written work of your life is always a good idea. To help you find a professional service and save you time on research, we have found, tested, and ranked five top dissertation editing services for you.
If you want your dissertation to be taken seriously, you need to have it edited by a professional who understands style, academic tone, clarity, formatting, flow, word choice, and conciseness.
The key to completing a high-quality dissertation is a thorough proofreading process. It helps your paper flow better and makes your ideas easier to understand.
Do you need assistance editing your dissertation? Here are a few of the top editing services:
#1. ThesisRush
ThesisRush focuses on writing, editing, and proofreading master's and doctoral projects. Here, you can ask a professional to edit your dissertation and have it polished to perfection in just a few hours.
ThesisRush was founded in 2009 and has since become a successful business with hundreds of professional human editors ready to help you bring your Ph.D. dissertation to the next level.
Your editor will eliminate all spelling, punctuation, and grammar errors, as well as make sure that your work meets all academic standards.
When you place an order, ThesisRush handpicks the best editor for your task depending on your requirements, word count and field of study. All dissertation editors and proofreaders on the platform are experts in what they do since they have to undergo a rigorous hiring process.
Every applicant has to pass a language proficiency test, demonstrate their English language prowess, and prove that they are capable of efficiently working under short deadlines.
If you need help with dissertation writing, each page (300 words) costs a minimum of $17.55. Page rates for editing start at $11.70. The cost of a proofreading service is $9.94 per page.
Prices increase with urgency but are still affordable even for extremely quick turnarounds. The fastest turnaround time is just three hours.
If you're a first-time client, you can save about 10% off your first order by contacting customer service and asking for a welcome discount.
In the present day, ThesisRush claims that during the busiest times, it can finish over 300 orders per day. The company consistently gains new customers thanks to the buzz surrounding its dedicated emphasis on its consumers' needs.
#2. PaperHelp
PaperHelp is an excellent choice if you need budget-friendly dissertation or thesis editing for your doctoral studies. It's a site where you can meet competent writers and editors who have successfully finished over 802,000 papers. The website offers several paid services, including assistance with writing assignments, addressing problems, and editing/proofreading.
What's more, PaperHelp's authors aren't simply competent professionals; they're also well-trained experts who keep in touch with you as the project progresses. You shouldn't have any concerns about entrusting them with your paper. A professional editor will look through your manuscript for typos and other errors while also checking if you've followed the guidelines for the assignment. Besides, there is a two person editing service available for those who don't want to rely just on one expert.
They will identify all types of errors, including misspellings, grammatical errors, redundancies, and missing commas, as well as anything else required for a high grade.
PaperHelp's editing and proofreading services, as well as their premium dissertation writing assistance, are offered at reasonable rates.
If you require writing of the highest quality and a non-plagiarized dissertation or thesis, the price is acceptable and reasonable. The pricing starts from $15 per page for a 14-day deadline.
#3. EssayPro
EssayPro is a prominent academic paper writing and editing service. The company provides quick turnarounds on many types of academic documents at affordable prices. EssayPro's mission is to deliver superior research papers to its clients. It has received thousands of positive reviews for over five years.
EssayPro can help you with editing a variety of papers, including essays, term papers, speeches or presentation materials, annotated bibliographies, dissertations, and other parts of a larger project. One of the most appealing aspects of EssayPro is how quickly you can complete assignments with its help.
The business employs writers with advanced degrees in a wide range of disciplines. It will assign an expert in your field to your order. The website offers a quick and simple setup.
You can utilize this service if you need to produce a more elaborate or thorough paper. For a Ph.D. dissertation, editing costs start at $7.80 per page with a 14-day turnaround.
#4. SpeedyPaper
SpeedyPaper is an American company that provides students with on-demand writing assistance. The company is highly regarded as a leader in its field. In 2014/2015, the platform launched as an online academic writing organization providing grading and marking, rewriting and paraphrasing, issue solving, and proofreading and editing services.
Editing prices range from $11 per page (14-day turnaround) to $31 per page (6-hour turnaround) , depending on how fast you need your dissertation edited. SpeedyPaper has a wide variety of services available, as well as excellent customer service and quick turnaround times.
In addition, customer evaluations of SpeedyPaper's services consistently rave about the company's professionalism, speed, and helpful 24/7 support staff. The website and mobile app for SpeedyPaper are easily accessible and comprehensible.
Many SpeedyPaper testimonials attest to the simplicity of its site. It openly highlights and briefly outlines the key aspects of its service. There is always live chat available.
#5. MyAdmissionsEssay
MyAdmissionsEssay is a student-oriented, professional writing and editing service that focuses mainly on essays. Namely admission essays and scholarship editing services. However, it still provides help with other papers as well, such as research papers, dissertations, theses, and CV/resume creation. Across the United Kingdom, the United States, and Europe, it has a staff of over 170 writers and editors.
CoreForce LTD, the website's owner, also runs PaperHelp. Rates for both writing and editing/proofreading may be found on their website. The price is determined by the student's academic status and the degree of urgency. Prices for editing within 14 days start at $14 per page.
Some Tips for Choosing a Reliable Editing Service
Hiring a professional to edit your dissertation also entails paying someone to have access to almost 20,000 words into which you put your blood, sweat, and tears. Therefore, make sure they're worth your money by checking off the items on this list.
Cost: It is essential to strike a balance between reasonable costs and optimal standards. Always consider the level of difficulty of the task being provided to you when evaluating the fairness of the fee being charged. You may find a wide variety of deals, freebies, and revisions from several online proofreading services. Cheaper prices might sometimes indicate poor editing, so it's best to be cautious!
Duration: After spending a significant portion of your time writing the dissertation, you shouldn't have to spend an equal amount of time editing it. When editing a dissertation, the amount of time required might occasionally change (and this could work either way). So it's advisable to handle it before moving on to payment.
Security and Safety: When it comes to your dissertation, there is no such thing as being too safe. The security of your document might be compromised with a single click, and plagiarism could happen in the blink of an eye. Make sure the company to which you are entrusting your task is reputable, and check on the website for recognized payment platforms.
The Kind of Service Provided: In general, editing places a greater emphasis on correcting grammatical and syntactical errors. However, if you are working on a dissertation, you should seek services that provide academic editing from experts who are trained and experienced enough to edit your work.
Customer Service: Maintaining consistent communication with expert editors may not always be possible and may even, at times, contribute to unnecessary delays. Therefore, it's crucial to deal with a service that is always accessible to improve communication.
Even if you can't find the perfect service, you should be able to find one that will be useful to you. Check the reviews, be very explicit when communicating with the editor, and, most importantly, enjoy your extra free time.
Frequently Asked Questions
What's the benefit of hiring a dissertation editor.
Editing is the process of having a qualified expert with solid linguistics expertise make corrections and suggestions to improve the quality of your document.
So, if you're still on the fence about whether or not to get your dissertation edited, here are some reasons why you might consider doing so. Students, especially non-native English speakers, frequently lack the skills to use language and expressions correctly.
Editing a thesis ensures that the final product is coherent and straightforward. A significant improvement in clarity and readability will inspire readers and teachers to respect the effort you put into it and fully understand your conclusions.
Thesis or dissertation editing can help you ensure that your thesis contains accurate spelling, proper sentence structure, and consistent formatting throughout.
Why do I need dissertation editing?
Your paper can be rejected if it is too wordy, overstuffed with unrelated text, or falls short of the standards. Thorough editing is recommended before submission to prevent this and to make a great first impression. This is one of the primary reasons why proper editing is necessary.
Can a dissertation editing service improve the clarity of my writing?
Definitely, yes. A good dissertation/thesis editing service will concentrate on the areas of your writing that need improvement. They can determine where a concept might be clarified more fully and where a weaker concept should be cut back. Outlines not only help you keep track of your thoughts while you write, but they also guarantee that your ideas and conclusions flow together sensibly.
In other words, a reliable editor is not just useful for catching grammatical and typographical errors. The service may help you comprehend the writing process more thoroughly, overcome its difficulties, and better recognize any potential problems with your dissertation.
Many people don't catch their own errors, such as overused words and illogical conclusions. When you have an expert in the field go through the material, you can more deeply grasp the content's quality and how it may be improved.
How much does it cost to edit a Ph.D. dissertation?
The cost varies widely. Prices for dissertation editing services are determined by factors like experience, skill, length, and depth of the dissertation, difficulty of the subject, deadline, etc. There are too many variables to give an estimated or average cost. Checking the price before placing an order using the dedicated forms on different platforms is the simplest way to determine the cost.
How much does it cost to proofread a dissertation?
Once again, it varies. However, because this doesn't include style, narrative, formatting, etc., it is far less expensive than editing. Most academic editing services incorporate proofreading within their editing process; hence, customers do not have to pay an additional fee for this service if they initially make an order for editing.
How long does it take to edit a dissertation?
Full-length dissertations (100–250 pages) usually take 7–12 business days to edit, whereas academic articles with fewer than 50 pages typically take 5–7 business days. To find out how long your thesis editing will take, you will need to check with your editor. Keep in mind that the price rises the sooner the deadline is.
What does a dissertation editor do?
A thesis or dissertation proofreader fixes grammar, spelling, and punctuation mistakes; enhances syntax; assures text clarity and coherence; and upholds format, font, and style uniformity. The experienced editor also determines if the thesis adheres to the required style standards and submission guidelines.
What is the difference between editing and proofreading?
Editing is the process through which a professional editor makes modifications and suggestions to your work to enhance its quality, most notably in the areas of language use and emotion. Editing improves the clarity and readability of your work by eliminating errors and removing unnecessary details. If your academic article is edited properly, even if English is not your first language, the reader should get the sense that you are a proficient writer.
Conversely, proofreading is less in-depth than editing and is thus a less expensive service, but it still plays a crucial function. Proofreading dissertations is the process of fixing typographical, grammatical, spelling, punctuation, and other surface faults in written work. While both are essential to the revision process, editing and proofreading are distinct tasks with distinct purposes. While proofreading is a final check to verify accuracy before publishing, editing gives you the chance to improve your content.
What are the traits of a good editor?
Expertise in Editing: For thesis editing, authors should contact proficient editors with extensive experience. Given their background, the editors can readily understand the thesis's breadth and grasp how much it has to be revised before submission.
Quality: The writer should see a clear improvement in the thesis as a whole after editing. Selecting an expert who is renowned for producing the highest caliber of thesis editing and preparing it for submission is essential.
Proficiency in the Subject Matter: Choosing a thesis editor with credentials, experience, and an in-depth understanding of the content's field is crucial. Someone who is skilled in physics, for example, might struggle to edit a thesis on biology. Therefore, it is always possible to get top-quality thesis editing by matching the thesis with subject area knowledge.
Timely Delivery: Deadlines for submitting theses can be fairly short. Before sending the thesis to be edited, the student must take into account the editor's capacity to complete the work within the specified time frames. No matter how carefully edited the thesis is, a delivery delay can cause the author to miss the submission date, defeating the purpose of having the thesis edited.
Familiarity with the Essential Guidelines: The proofreader must be knowledgeable about the submission requirements since thesis editing goes beyond simply improving the language. The process also includes making sure the thesis complies with the submission standards.
Have an Eye for Detail: Authors seek editing services to provide a thesis that is free of errors and ready for submission. As a result, the editor should have a keen eye for even the tiniest of flaws that might compromise the quality of the thesis.
When hiring an editor, carefully consider the contents of the service they provide to ensure that you pay for something that is both cost-effective and most suited to your requirements. Many editing sites post examples of their work online so that you can see the caliber of the job they will do as well as how they will deliver their edits and suggestions.
It is recommended that you get your dissertation checked by a language expert before submitting it.
Editing is the final step that will enable you to feel proud of yourself without reservation. It's easy to get a passing grade with the assistance of a dissertation editing service.
Professional editing services are necessary for such an important project as a dissertation, because they ensure technical accuracy and consistent academic style of the edited document. Thankfully, there are a ton of sites that offer affordable, high-quality editing services.
For help improving your dissertation's arguments, flow, and organization, check out one of the companies on this recommended list. These reasonably priced services are staffed by experienced editors with expertise in a wide range of disciplines.
Contact Details
Timothy Whitaker
[email protected]
View source version on newsdirect.com: https://newsdirect.com/news/5-best-dissertation-editing-services-online-758588894
Dissertation Editing Fast, Affordable, Professional
We'll help with your work in progress, checking for clarity, organization, tone, and other content issues, as well as providing a first pass on spelling, grammar, and typographical errors.
Try before you buy.
Get an instant quote. Services are available 24/7.
Get Professional Dissertation Editing to Achieve Academic Success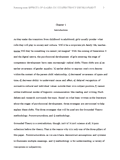 If you're writing your thesis or dissertation, you're likely working on the most important project of your life. However, the reality of academic life is that your supervisor won't always be available , or they may be too overburdened by their own projects to give you the feedback you need. And feedback is especially important for early drafts if you want to provide work that showcases your academic abilities.
Get us involved . We can provide the help you need for your dissertation or thesis, revising your work for style, clarity, organization, word choice, concision, and tone. We'll show you where you need to provide more support for your arguments and offer constructive criticism that will help you improve your writing . We will correct any spelling, grammar, or typographical errors, cleaning things up and allowing you to focus on creating great content. What's more, we can handle the time-consuming and frustrating task of formatting your citations and references to a style guide for you.
We have experienced dissertation editors in every academic field. They have worked on countless projects (including their own) in academia. Our selection criteria ensure that your work will be assigned to an editor who will help make your work a success . You deserve to graduate with work that lets you stand out from your peers and that impresses your supervisor and the entire faculty.
Professional editing and proofreading are now even more affordable.
With Scribendi's 10% student discount , you can take your documents to the next level. Our expert editors can enhance your essays, research papers, assignments, and personal documents with ease. Simply fill out this form to receive your coupon and start improving today. Don't miss out on this limited time offer!
What will you receive?
An edited document in which misspellings, grammar errors, and typos have been corrected
Changes and suggestions to help improve clarity, flow, structure, and readability
Formatting of your citations and references to the style guide of your choice, if desired
Tracked revisions so that you can see and review all the changes that have been made
In-depth critical commentary on your paper
A short summary of the work that has been done and any major concerns
What types of documents can you use this service for?
Dissertations
Thesis and dissertation proposals
Rest assured, whether you're working on commercially sensitive data or conducting a groundbreaking scholarly analysis, your manuscript will be kept confidential . Uploads and downloads to our server are securely encrypted , and we have very strict privacy policies. We accept most major file types .
Help is just a click away. Get an instant quote below so that you can place your order today !
Get an Instant Quote and Place Your Order
10 Best Dissertation Editing Services
| Candace Osmond
Candace Osmond
Candace Osmond studied Advanced Writing & Editing Essentials at MHC. She's been an International and USA TODAY Bestselling Author for over a decade. And she's worked as an Editor for several mid-sized publications. Candace has a keen eye for content editing and a high degree of expertise in Fiction.
A dissertation is likely to be the most challenging piece of work a postgraduate student has to complete. It definitely makes me grateful that my uni days are far behind me. A dissertation needs to be organized, coherent, and error-free for the researcher to clearly present their findings.
Perfect your writing with the help of our list of the best dissertation editing services to hire. These awesome companies can increase your chances of getting published in scholarly journals and improve your research career. Cool, right?
What is the Best Dissertation Editing Service?
The best dissertation editing service knows the type of service your dissertation needs. If your paper centers on Social Science, the editors should be knowledgeable about the subject and its concepts. Otherwise, they won't give meaningful feedback and suggestions for revision.
The best editing service should also have many years of experience. If you're hiring a freelancer, find out how long they've been editing. Ask for a sample edit to check if they are suitable for your writing project. In my opinion, a sample edit is one of the best solutions to find out if you're a good match.
Their rates also determine their services. The best dissertation editing service can edit your paper at a reasonable price. They should have a fixed pricing model based on your deadline and word count.
What Does a Dissertation Editor Do?
A dissertation editor is an editor that works with seasoned writers to improve their dissertations. They should be experts in research projects, format, university standards, and the specific topic.
Dissertation editors read, critique, and edit dissertations as other editors do with various documents. But dissertation editors need to pay extra attention to the subject matter, its concepts, and how they relate to the research findings.
These experts have a huge role in the numerous revisions and iterations these papers go through. The paper's strength will dictate whether the student will be given the title Ph.D.
How Can I Edit My Dissertation?
I mean, yes, you can, but I wouldn't recommend it. The best way to edit your dissertation is to hire an editor. An experienced editor will instantly spot the strengths and weaknesses of your work. They will correct all your mistakes at every level, from typos to structural flaws.
As a writer, your job is to edit while writing the paper. Start your dissertation with an awareness that you will have to revise, cite sources, and proofread. Doing so will help you take notes on which parts of the paper require careful writing.
While writing, try to figure out your strengths and weaknesses. Do you need help forming grammatically correct sentences? Perhaps you need a refresher on the subject matter you're writing about. Gather resources that will help you overcome these issues.
Finally, learn the writing standards of your university when it comes to dissertations. Should you use APA, MLA, or Chicago Style for citations? Check if there's a template provided for your paper before submission.
How Do I Find a Thesis Editor?
Several thesis or dissertation editors market themselves on the internet. You'll find freelancers on platforms like Upwork or Freelancer. But it's much better to hire editors from reputable companies like TrueEditors, ProofreadingPal, and Scribendi.
Make sure the dissertation editor can address all your writing needs. If you need help with your syntax, word choice, and format, a copy editor might help. However, if you need help with the overall content flow, a specialized editor will help you.
How Much Does Thesis Editing Cost?
The price for dissertation editing varies based on the company you're working with. These services usually have pricing calculators that customize their rates according to the turnaround time and word count.
Editor World estimates the average cost for dissertation editing services is $0.02 per word. Since dissertations usually have 10,000 to 50,000 words, the price can reach up to $1000.
How Much Does It Cost to Proofread a Dissertation?
According to Editor World, the average cost for general dissertation proofreading is $0.017 per word. That means a 50,000-word dissertation of a doctoral student may cost up to $850.
Proofreading involves correcting mechanical errors like misspellings, grammar mistakes, and formatting issues. The process is usually the same for all documents, whether dissertation, creative writing, or business.
If you want to save money, try hiring an all-in-one editor and proofreader for your dissertation. You may also look for experienced freelancers with more affordable rates. Just make sure to ask for editing samples before hiring them, trust me.
Top 10 Online Dissertation Editing Services
After researching and reading up on testimonials, I definitely think this list has your best options. So, take a moment, read through, and see which one will work for your dissertation editing needs.
TrueEditors
TrueEditors provides the dissertation editing help you need through their academic editing services. The trusted company can perform several levels of editing and specialized editing for the academic writer.
Online editing dissertations may include in-depth feedback about your arguments and logical gaps. Students can also receive suggestions about their documents' ambiguities and lack of cohesion.
But if you only need basic grammar and sentence structure checks, TrueEditors can also help you. Other services they offer include referencing, writing style guides, and layout. I definitely think this is a great all-in-one service provider.
Their pricing starts at #39 for a 1000-word paper delivered in 24 hours.
WriteSmartly
Regardless of your academic background, WriteSmartly has the best human editors that provide thesis editing services. The editing team can edit and proofread your academic writing pieces at a reasonable price.
The customer reviews for WriteSmartly are high, and I can see why. Their edits are clean, accurate, and logical. Aside from correcting your English language errors, they can also fix your flow, structure, and style guides.
The cost of a 1000-word text for editing and proofreading services with a turnaround time of 2 hours is $37.
Scribendi is one of the most popular companies that offer expert editing for your academic article. While they are not known for literary editing, the company has a vast experience in business, educational, and legal documents.
Scribendi's technical accuracy is incomparable. Even writers whose second language is English will sound as fluent as native English speakers in their professional writing.
Proofreading dissertations usually come after the English editing process. Scribendi's thesis editor will check your document for inconsistencies, flow issues, and structural problems. Then, they will look for bad grammar or formatting.
A 1,000-word document with a delivery time of 24 hours costs $40 at Scribendi. That's a great value, if you ask me.
Wordy has several expert editors who offer a wide range of editing services. Their proficient editors can perform UK-based editing and promise to create great content.
They can help you with your dissertation, essay, business presentation, and email.
The company does elite editing because of its extensive knowledge of standard grammar rules. In fact, the professional editing service features 56 subject fields in which they are experts. They can process 11 major file formats and cut 30% off your writing time.
Wordy has reasonable prices based on a time-sensitive pricing model. A 1,000-word academic document with a 24-hour delivery costs $40. Again, another great value.
I just cannot doubt the positive reviews on Editage . This reliable editing service can edit your academic documents regardless of your academic discipline. You can count on this UK-based company if you're a Ph.D. student looking for standard dissertation editing.
The team's experienced editors can help you with professional school essays, books, and letters. They will pair you with the most suitable dissertation editor with expertise in your field. Perhaps they also have the necessary software for editing your writing mistakes.
Editage will not make unnecessary edits to your work, such as removing your original voice or changing all passive voice sentences into active ones.
A 1000-word academic document only costs $30.
Enago has Ph.D./Master's qualified native English-speaking editors who won't let a single error slide on your dissertation. The company offers various options for editing, such as basic English editing, publication support packs, and translation.
The online dissertation editing service ensures technical accuracy and an in-depth subject review. They can perform an array of editing for scientific research, social science, and even business editing at a high delivery speed.
Enago can also assist you with non-fiction writing and personal documents. However, they thrive more in academic articles. Plus, their prices are pretty high.
The average price for a 5,000-word paper with a 21-day deadline is $840.
Kibin is known for its essay writing and creative writing editing services. But they can also do editing services for dissertations. The company offers several choices for editing, including student editing, admissions editing, and business editing.
Kibin is one of the editing platforms you can trust when proofreading documents. They will lighten your load by automatically correcting errors and providing expert feedback on your work.
Their rates start at $40 for a 24-hour delivery time of a 1000-word essay.
ProofreadingPal
Despite the plethora of companies offering Ph.D. editing services, ProofreadingPal remains competitive in the market. This company is unique because it offers a two-person editing service to provide two fresh pairs of eyes on your document.
They can perform editing for authors of books, non-fiction, and research articles. They can also help students with basic assignments and admission essays.
ProofreadingPal has a transparent pricing policy. A document submitted in 24 hours may cost between $30 and $100, depending on the word count.
Whether you need scholarship editing services or online dissertation services, Wordvice is the best company. Their editors can do proficient editing by improving your tone, style, and flow. They also provide comments and feedback for revision.
All you have to do is submit your dissertation for editing and make your payment based on their fixed prices. A 1000-word scholarly paper costs $80 for a 24-hour delivery time.
Wordvice does not offer content writing services. Don't expect them to write a whole essay or thesis proposal for you.
EliteEditing
Last on the list is Elite Editing. This company can give you quick editing and proofreading services without compromising quality. They are an Australian company that caters to all types of scholarly content, from admission essays to dissertations.
Elite Editing's editors have extensive work experience at major magazine companies and universities. Some have worked in Fortune 500 but still offer affordable services.
A 1000-word essay with a 24-hour delivery time costs AUS130.
Seek Dissertation Editing Help
A document as critical as a dissertation requires professional editing services. Fortunately, many companies can perform high-quality editing without costing an arm and leg.
Choose from my list of the best dissertation editing services to fix your arguments, flow, and overall structure. These affordable services have experienced editors who are experts in diverse fields of study.
Help Us Improve!
- Did we make a mistake? - Do you have feedback or suggestions on how we can improve?
Subscribe to our newsletter
Get grammar tips straight to your inbox
Grammarist is a participant in the Amazon Services LLC Associates Program, an affiliate advertising program designed to provide a means for sites to earn advertising fees by advertising and linking to Amazon.com. When you buy via the links on our site, we may earn an affiliate commission at no cost to you.
2023 © Grammarist, a Found First Marketing company. All rights reserved.
Top 10 Online Dissertation Editing Services of 2023
Writing a dissertation needs a lot of effort and time. If you are putting tons of effort and time into something, you will naturally want the final version to be flawless. Keeping in mind to put all the commas and colons in the right place can be an extra headache, so, it is best to rely on online dissertation editing services. We value your time and understand the seriousness of your dissertation's final editing and proofreading before turning it in. You don't want to get a low grade just because the sentence form, spelling, or grammar aren't up to par. So, just for your convenience, we have listed down below the top 10 online dissertation editing services of 2023.
1) TrueEditors
TrueEditors provides one of the best and affordable online dissertation editing and proofreading services. Proofreading and editing both are included in a single fee. A 1,000-word paper delivered in 24 hours costs USD 39.
Right punctuation, syntax, and typography are thoroughly checked during proofreading.
Editing for the theme, sound, word use, and sentence form in depth is done.
Native English speakers with master's and doctoral degrees comprehend the technicality of your document.
It is fast, low-cost, discreet, and readily accessible 365 days a year
TrueEditors provides paraphrasing services to help you fix any uncomfortable phrases in your paper. It also includes a plagiarism search to ensure that the text is unique. TrueEditors is one of the best Ph.D. dissertation editing facilities on the market because of the points mentioned above.
2) WriteSmartly
WriteSmartly takes pride in using only human editors to rewrite and proofread articles, rather than relying on automation. Although editing and proofreading software has its place, you can also have a person correct your documents for 100 percent accuracy, as natural language processing systems are prone to making mistakes due to a machine's inherent lack of knowledge of how language works.
Proofreading, editing, paraphrasing & rewriting, translation, and material writing are all resources offered by WriteSmartly. The pricing model is time-sensitive, which means that the faster you like the delivery, the more it would cost. For a 1,000-word text, a 24- hour proofreading and editing service costs USD 37.
3) Scribendi
Scribendi is a top dissertation editing provider for the year 2023. Scribendi's editors will not only correct any inconsistencies in the writing, but they will also make appropriate and accurate recommendations to improve the writing style and overall quality of the paper.
Scribendi is also one of the most economical dissertation editing providers, charging USD 40 for a 24-hour proofread.
Wordy is a proofreading and editing company based in the United Kingdom that works on novels, corporate presentations, scholarly journals, and more. The company has worked tirelessly to keep it easier for its customers and have a seamless and quick customer interface, which is a big plus in Wordy's favor.
Wordy supports 11 different file formats, including Microsoft Word, Microsoft Excel, PDF, Powerpoint, Google Docs, and more. On Wordy, proofreading a 1,000-word text would set you back a little more than USD 40.
Editage is a proofreading and publishing company based in the United Kingdom. Editage is the tool to use if you are a Ph.D. student looking for a dependable proofreading service for your dissertation . Editage's editing services are complemented by a topic specialist who is suited to the paper using an AI algorithm. The topic specialist adds a second layer of assurance to the editing process by vetting and improving the facts and vocabulary of your dissertation.
Editage is one of the most affordable academic paper editing services available, with prices starting at USD 30 for a 1,000-word text.
To address the strong academic writing and publishing needs of research writers, particularly those with English as a second language, they offer three levels of editing: Top Impact Editing, Substantive Editing, and Copy Editing. Regardless of the service you use, they promise that your paper will never be disqualified due to bad grammar or formatting. Enago's editorial staff consists of Ph.D./Masters-qualified native English-speaking editors with extensive subject-matter knowledge.
Enago's expert editing, on the other hand, is more expensive than its competitors; editing a text of up to 5,000 words in 21 days cost USD 840, with prices increasing as word count and distribution speed increase.
Kibin is mostly an essay and other literary editing and proofreading facility, but they also proofread scholarly papers. Kibin tests the word use and sentence form in addition to the usual grammar and punctuation checks to ensure that the text is written in a lucid, polished manner. It is affordable as well.
Kibin is a decent option if you are low on time and need a professional editing service for your dissertation . Rates start at USD 40 for a 24-hour distribution of a 1,000-word manuscript.
8) ProofreadingPal
ProofreadingPal is a two-person editing service, ensuring that each text is reviewed by two editors rather than just one. A shift of view, no matter how skilled an author is, can be immensely beneficial when reading papers. A 24-hour distribution of a document will cost anything between USD 30 and USD 100, depending on the word count and the number of resources needed.
The inclusion of a second editor provides a vital safety net to the process, improving the document's appeal and ensuring that all errors are corrected.
9) Wordvice
Wordvice edits a variety of scholarly and career literature and has a dedicated team for undergraduate, college, and professional school admissions and scholarship editing. Wordvice charges up to USD 80 for a 24-hour distribution of a 1,000-word scholarly paper.
Wordvice is one of your better options for editing and proofreading dissertations, with editors focused on optimizing the style, consistency, and coherence of your work.
10) EliteEditing
If you are a perfectionist and want everything to be just right then EliteEditing is the best editing website for you. EliteEditing is one of the best dissertation editing providers because it has a wide range of editing and proofreading services for all types of scholarly content. It will cost up to AUS 130 to edit a 1,000-word text in 24 hours.
EliteEditing's service is distinguished by the fact that each reviewed document is accompanied by a letter from the editor outlining all of the revisions made to the document as well as suggestions on how to develop it further.
-Isabell S.
Leave a Reply Cancel reply
Your email address will not be published. Required fields are marked *
Save my name, email, and website in this browser for the next time I comment.
Dissertation/thesis proofreading and editing services
Our editors have helped over 77,000 students and academics get better results by improving their academic writing.
Subject-matter experts
Experienced US and UK editors in your academic discipline.
A reputation for quality
Read our independently verified reviews on TrustPilot .
A British–American agency
Founded in Cambridge, England. Headquartered in Chicago, IL, USA.
Get better results with our thesis and dissertation editing service
Don't lose precious marks for weaknesses in your writing style; get better results with our thesis and dissertation editing service.
Experienced native English-speaking thesis and dissertation editors
Every year, our subject-specialist editors help thousands of students get better results through our thesis and dissertation editing services.
Specialists in ESL editing
We specialise in helping ESL students match the writing abilities of their native English-speaking classmates. We'll ensure that your document reads in a confident academic style, with clarity of expression, free from English errors.
"I am very happy with the review. In particular, I am happy that the reviewer gave explanations for the changes she made."
🇺🇸 United States
How we will edit your dissertation or thesis
Our experienced editors are available 24/7/365 to rigorously review and comprehensively improve your writing.
Microsoft Word's Track Changes We use Word's Track Changes feature to highlight our amendments. We have alternative options for other formats, including PDF and Overleaf/LaTeX .
Improved style and appropriate register
We'll improve your style and diction to ensure that your dissertation or thesis has a confident academic tone and an appropriate register.
I've changed "needn't occur" to "is unnecessary" to enhance the formality of the text. In general, contractions (needn't, can't, won't, etc.) should be avoided in academic writing. Dr Smith, PhD
Perfect clarity and structure
We'll correct or query awkward phrasing and ambiguity to ensure that your writing is clearly expressed and easy to understand.
I would recommend being more specific here; do the physiological properties of FES systems create a challenging control problem or do they have to solve or address a challenging control problem? Dr Smith, PhD
Grammar, punctuation and readability
We fix errors related to grammar, punctuation and readability.
When a theory or model is named after two or more entities, the nouns are conventionally joined using an en dash. The same rule applies whenever the elements of a compound are considered equivalent, so the phrases "parent–child relationship", "cost–benefit analysis", etc., use an en dash rather than a hyphen. Dr Smith, PhD
General feedback and advice
We provide feedback and advice on the composition of the writing, both within the document and in the Editor's Summary Report (for documents over 3,000 words).
To make sure an abbreviation is consistently applied throughout the document, a useful tip is to search for the term using Control F (Command F on a Mac). Dr Smith, PhD
Get the support of highly experienced academic editors
We'll ensure that your dissertation or thesis is submitted in the best possible condition by assigning it to an academic editor with expertise in your field.
Each year, our editors review more than 6,000 dissertations and theses from a range of subject areas for students and PhD candidates from all over the world. Our clients' feedback is overwhelmingly positive, and we work hard on each order to keep it this way.
Don't lose precious marks for weaknesses in your English and academic style
At most universities, up to 20% of your grade depends on the quality of your writing.
Our editors will ensure that you don't lose precious marks due to weaknesses in your writing ability. We'll improve academic tone, register, flow and structure to help ensure that your writing is well received by the grading professor.
Are you an ESL student or academic?
Writing in a second language is challenging, and doing so to an academic standard is even more difficult. Even educated native speakers sometimes have trouble with the many obscure stylistic conventions that characterise academic writing.
As current and former academics, our editors know exactly what grading professors do—and don't—want to see in a dissertation or thesis.
Hire the experts to help
Nothing influences your final degree classification more than the mark you receive for your dissertation or thesis.
If you choose to hire us to review and improve your dissertation or thesis, you are making an investment in your education and the result of your degree or doctorate. Our previous clients will attest to this.
Subject-matter expertise
There is no substitute for subject-matter expertise. With 300+ editors spanning the full spectrum of academic disciplines, we can pair most documents with a professional in your subject area.
Medical sciences
Life sciences
Physical sciences & engineering
Social sciences
Business & economics
More than 300 experienced academic editors
All of our editors hold advanced degrees from leading global universities.
Our editors are members of professional editing bodies, including the Board of Editors in the Life Sciences (BELS) and the Council of Science Editors (CSE).
Our rigorous selection process ensures that we work with only the best editors.
Anthropology, Engineering, Civil Engineering
10 Years' Experience
1,023 Papers Edited
Qualifications:
PhD Anthropology, University of Wisconsin MA Anthropology, Colorado State University BS Civil Engineering, Washington University in St. Louis BS Engineering Science, Manchester College
Religion, Philosophy of Religion, Information Systems
20 Years' Experience
2,109 Papers Edited
PhD Religion, Syracuse University MBA Computer Information Systems, Suffolk University MA Philosophy of Religion, Hartford Seminary BA Religion, Syracuse University
History of Science, Philosophy of Science, Mathematics
152 Papers Edited
PhD History of Science & Medicine, Yale University MA History & Philosophy of Science, University of Melbourne MSc Mathematics, University of Auckland
Ecology, Rural Development, Biological Sciences
8 Years' Experience
786 Papers Edited
PhD Ecology, Rutgers University MA Rural Development, University of Sussex BA Biological Sciences, Mount Holyoke College
Micropalaeontology, Earth Sciences
25 Years' Experience
1,068 Papers Edited
PhD Micropalaeontology, University College London BSc (Hons) Geological Sciences, University of Aston in Birmingham
History, Social Sciences, Humanities
560 Papers Edited
PhD History, Boston University BA History, DePaul University
Anthropology, Ecology, Classics
9 Years' Experience
1,067 Papers Edited
PhD Anthropology, Goldsmiths, University of London MRes Anthropology, Goldsmiths, University of London MSc Anthropology & Ecology, University College London BA Classics & Anthropology, University of Palermo
Women's Studies, Gender Studies
3 Years' Experience
423 Papers Edited
MA Women's, Gender, and Sexuality Studies, University of Cincinnati BA English Literature, Wichita State University
Business, Marketing
3,109 Papers Edited
MBA Business and Marketing, Keller Graduate School BA in English, University of Wisconsin at Parkside
Statistics, Mathematics
36 Years' Experience
2,348 Papers Edited
MS Statistics, Northwestern University BA Mathematics, Northwestern University
Public Policy, National Security, Strategic Studies, Politics
26 Years' Experience
2,879 Papers Edited
Master of Public Policy, University of Oxford MA National Security and Strategic Studies, U.S. Naval War College BA Politics, Western Illinois University
Literature, Translation, Interculturality
7 Years' Experience
834 Papers Edited
MA Translation and Interculturality, University of Sevilla BA English Literature & Creative Writing, University of Warwick
Political Science
5 Years' Experience
459 Papers Edited
MA Political Science, Case Western Reserve University BA Political Science, John Carroll University
Marine Biology
856 Papers Edited
MSc Marine Biology, National Taiwan Ocean University HBSc Biology, Trent University
Literature, Humanities
356 Papers Edited
MA Literature, University of Dallas BA Literature, Thomas More College of Liberal Arts
Organic Geochemistry, Geology, Geophysics
6 Years' Experience
100 Papers Edited
PhD Organic Geochemistry, Imperial College London MSci Geology and Geophysics, Imperial College London
Psychology, Criminal Psychology, Child Development, Social Welfare Policy, Prison Reform
210 Papers Edited
Master of Social Work, Aurora University BA Russian, University of Illinois at Chicago
Law, Politics, Economics, Business
15 Years' Experience
1,598 Papers Edited
PhD Politics, University of California LLM, Columbia Law School LLB, University of Cape Town Law School Bachelor of Business Science, Law & Economics, University of Cape Town
Psychology, Affective Disorders, Behavioral Sciences
80 Papers Edited
MSc Affective Disorders, King's College London BA Psychological and Behavioural Sciences, Christ's College, University of Cambridge
Competitive pricing and guaranteed quality
The Cambridge Quality Guarantee states that, should you not be entirely satisfied with our service and can cite fair justifications, you will be eligible for a full or partial refund.*
We offer a premium-quality service at competitive prices.
Price Per 1000 Words - 24 Hours
Price Per 1000 Words - 48 Hours
$90 £76 €88
$86 £72 €84
$59 £50 €58
$51 £43 €50
$44 £37 €43
$34 £29 €33
ProofreadingPal
$41 £34 €40
$38 £32 €37
$45 £38 €44
$40 £34 €39
Cambridge Proofreading & Editing LLC
$28.90 £23.90 €26.90
$25.90 £22.90 €24.90
See what our clients have to say
We rely on word-of-mouth referrals from satisfied clients.
"A very good dissertation editing service. I had two editors review my file, so there were a great deal of changes made. I accepted almost all of them and I think my dissertation is much better for it."
Keep me signed for 2 weeks
COVID-19 business hours: We are open 24/7, as always. Our editors are working in safe environments, and are eager to serve you, now more than ever.
You need a modern browser to use this website
Instant Quote free sample edit
Dissertation Editing and Proofreading
Our dissertation editing goes above and beyond the basics of grammar, spelling, punctuation, word choice, sentence structure, etc. Your WordsRU academic editor will also check your dissertation for compliance with the citation style you are using, as well as any school or department requirements for form and style.
We can also assist you in formatting the front matter (title page, signature page, etc.) and back matter (appendices) to meet your university, school, or department requirements.
WordsRU has considerable experience with editing prospectuses, idea papers, proposals, and final dissertation reports.
Turn your words into great writing!

549 518 Pages Edited

25 494 Happy Customers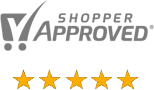 See more customer reviews
Awesome service, as always!
Impress Your Committee—the First Time!
Mistakes cost you. Let our team find the errors before your advisor does.
Preparation is key. Set yourself up for success with our expert feedback.
Exceed expectations. Start your future!
We edit for results

Fast proofreading and editing, deadline guaranteed

Free sample edit with your first job.

Check out feedback given by real WordsRU customers!
Get a Quote
Don't Take Our Word For It

March 13, 2023
(United States of America)

January 29, 2023
(United Kingdom)

Our academic areas of expertise
What wordsru's essay editing service can do for you.
A lthough we do not write academic content for you, your editor will make suggestions, comments, and recommendations for how you can add text and improve your content, if necessary.
W hether you are persuading or arguing, presenting a point of view, summarizing the points of another text, evaluating, analyzing, investigating, or simply telling a story, your essay needs: an introduction that lays out your purpose, content that is organized and direct, and an insightful conclusion.
Y ou have done the research, explored the theme, and drafted a paper that expresses your ideas. But is your essay truly finished? There may be problems in your work that you have overlooked.
W e will return two copies of your essay: a marked copy with all corrections and comments showing and a revised copy that has the corrections cleanly integrated and comments removed. Please note that the revised copy will NOT be ready to submit to your professor! You should review and address any comments or suggestions the editor has made. For example, the reference list may need additional information, or some paragraphs might require more details.
W ordsRU will not "close the door" on you once the major editing has been completed. Your editor will remain available to answer questions, clarify comments, and review brief passages that you revise. Furthermore, the chief editor oversees every step of the editing process, and is always available for any questions or concerns you may have.
FAQ (Frequently asked questions)
My chair/mentor/advisor told me that he/she wants my final draft right away how long will it take to edit.
We will meet your deadline whenever possible. If your deadline is short, we offer expedited service (for an additional fee). The chief editor will work with you to establish a deadline that works for you and also allows the editor to conduct a thorough and complete edit.
I'm already paying for tuition, books...you name it! Is editing expensive?
WordsRU understands the cost of being a student! Knowing this, the chief editor will offer you the best price possible. We also know that having your dissertation edited is essential to its acceptance, so our editing services offer the most for your money. WordsRU's editors will help your paper move faster through the acceptance process because we catch the writing, form, and style issues early, and drastically reduce the time you would otherwise spend revising. Since your reviewers will be able to read strictly for content, you and your committee can focus on what is most important: your research!
What if I have questions after the editor returns my prospectus, idea paper, proposal, or final dissertation report?
We invite your questions after the edit is completed! Your editor will remain available to answer your questions, explain any comments or recommendations, and even review specific passages that you may have revised, based on the edit.
My school/department requires a form to be filled out by the editor. Will you do that?
Of course! Either your editor or the chief editor (who is ultimately responsible for the work) will be happy to fill out your form.
What if my dissertation is not approved?
WordsRU provides a comprehensive and thorough academic editing service, as well as an opportunity for you to ask questions after the edit. We cannot promise that your Chair, Mentor, or Advisor will approve your dissertation; however, if any issues are found that are directly related to the edit, we will correct the issues free of charge.
My school/department has very strict rules related to formatting. Will the editor help me with formatting?
If you let the WordsRU chief editor know about any particular issues or concerns you want addressed in the edit, we will factor those into your job. We are very familiar with many university and college guidelines and can ensure that your paper meets their requirements, including formatting. If we don't already have your school's dissertation guidelines, the editor will gladly review and follow any guidelines you provide.
I need a few references added, but I'm in a hurry. I can supply the websites, and all you have to do is look them up and add them. Is this included in your editing service?
WordsRU has a very firm policy when it comes to academic papers of all kinds. We will not conduct research, write, add to, or alter your content, nor conduct data analysis. We believe that students' work should be their own. If you have incomplete references, your editor will indicate what information is needed, so that you can look it up and add it.
Can I talk to a live person?
Absolutely! The chief editor is available both by phone and the message feature on the job page you create. Your editor will be available through the message feature only, but will promptly answer your messages. Plus, the chief editor stays in the background throughout the entire process, from your initial contact with WordsRU to completion of the job—and even afterwards, should you need more editing.
Your dissertation deserves to shine! WordsRU's skilled editors will relieve you of the hassle of revising and perfecting your work. Come one step closer to completing your degree; get a free quote today!