Dissertation Editing
Dissertation Coaching
Free Consultation
Choosing a Thesis Advisor: A Complete Guide
One of the most important choices that you will make about your dissertation or thesis happens before you write a single word. Choosing a thesis advisor or dissertation advisor (often referred to as a dissertation chair) will have a significant impact on your entire dissertation writing experience, and for many years to come. For many doctoral students, their thesis advisor is their single greatest influence in graduate school.
Selecting a thesis advisor is a big decision with far-reaching implications. The stakes are very high, and it is imperative to choose your thesis advisor wisely. There are many factors to consider when choosing a thesis advisor, from expertise to personality, and it pays to think carefully and weigh your options before approaching a faculty member to chair your dissertation committee . While there are subtle differences between a dissertation chair and a thesis advisor, we'll focus on the commonalities in this article.
These are commonly asked questions about selecting a thesis advisor:
What does a thesis advisor do?
How should I choose my thesis advisor?
What makes a faculty member a good thesis advisor?
What if it doesn't work out with my thesis advisor?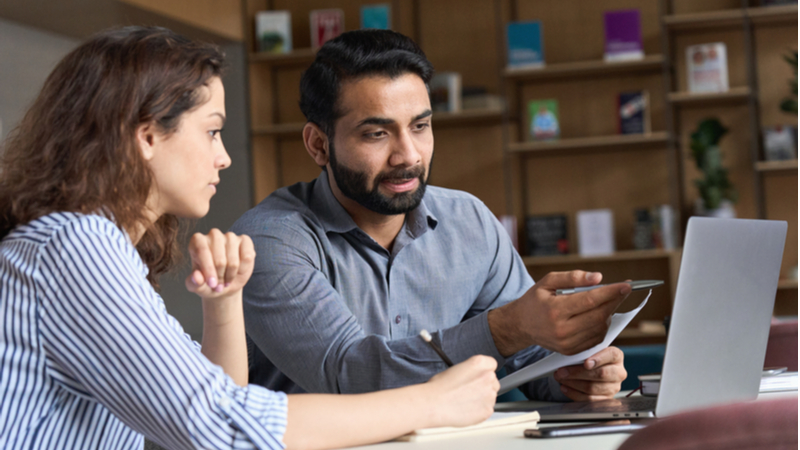 Thesis Advisor Responsibilities
While writing a dissertation is a largely solitary pursuit, a good thesis advisor will be with you every step of the way. While you are very much in the driver's seat, it is your thesis advisor's job to keep you off the guardrails. And deploy the airbag, if necessary. There are a few purposes that your thesis advisor will serve during your time together.
Guidance . While the dissertation process is new to you, your thesis advisor will know it very well. She will help you navigate the obstacles and pitfalls that have derailed many projects–department politics, university regulations, funding, research opportunities, etc. Your thesis advisor will also serve as a sounding board as you distill the nebulous concept of your research project into a fully-formed idea that you can move forward with.
Organization . A good thesis advisor will run a tight ship and keep your dissertation project moving like clockwork. As a researcher, it's very easy to get lost in the minutiae of the literature, and it's not difficult to find yourself trapped down a rabbit hole of scholarship. Regular milestones set by your thesis advisor are a great way to stay on track and maintain forward momentum.
Mentorship. While an effective thesis advisor will ensure that you see your project to fruition, a great one will be with you for decades. Though I graduated with my Ph.D. in 2012 and I'm now an associate professor myself, my thesis advisor remains a guiding light in my career. Your thesis advisor can be a cornerstone of your professional network.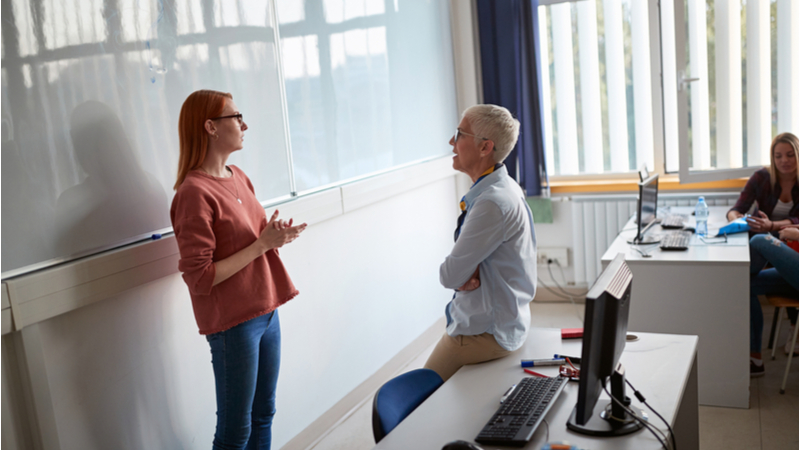 Choosing a Thesis Advisor
So, how do you select a faculty member to chair your dissertation committee? With extreme care. Once you have set your sights on a dissertation chair or thesis advisor, the next step is the Big Ask. I remember being very nervous to approach the faculty member who became my chair– it seemed like such an imposition, but, as a grad student in her department, I was already on her radar. Keep in mind, your faculty members are expecting to be asked to chair dissertation committees, and they may even be a little flattered that you chose them.
While chairing and serving on dissertation committees is a requirement for the tenured and senior faculty members in your department, it's a lot of work. Make no mistake: accepting the role of your dissertation chair makes them nervous, too. As a faculty member, I can say with absolute certainty that a good dissertation chair will be almost as invested in your dissertation as you are.
What Makes a Strong Thesis Advisor?
There exists a gulf between what many students desire in a dissertation chair or thesis advisor and what they actually need. While there may be a temptation to approach one of your department's superstar faculty members to chair your committee, this may not serve you in the long term. Faculty members who have made a name for themselves through an abundance of publications, grants, awards, and conference appearances typically have jam-packed schedules, and it may be difficult for them to make you and your dissertation a priority.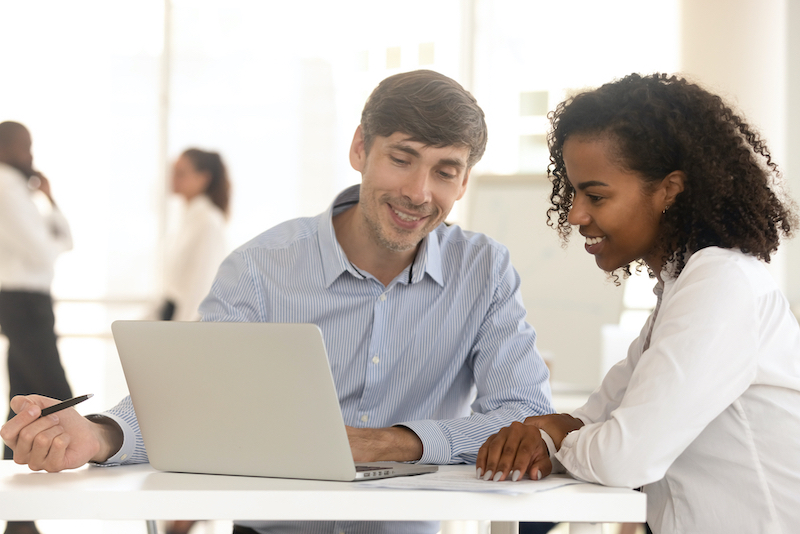 A safer bet that is likely to have a more rewarding outcome is to work with a faculty member who has already shown enthusiasm for your work. Select a thesis advisor who makes time for you, and one who always responds to your emails. This is the person you want in your corner during the sometimes stressful journey of researching and writing a dissertation. Also, it never hurts to spend some time talking to potential dissertation chairs or dissertation advisors. Get all of your questions answered, and then make a decision.
What If It Doesn't Work Out?
The possibility that your thesis advisor is a bad fit for your project or is incompatible for some other reason is a worst-case scenario that lurks in the furthest reaches of every graduate student's mind. There's no way to sugarcoat it: this is not a good situation to be in, and it can derail dissertations. The soundest strategy for dealing with an internecine conflict with your thesis advisor is prevention.
This is why it is vital to do your homework and put a lot of thought into choosing your thesis advisor. Find someone you are compatible with and make sure you're on the same page. Check in with them regularly, and keep them updated. Clear communication is a great way to ensure a solid partnership with your dissertation chair. Don't forget, your dissertation chair should also be making your success a priority. You should be comfortable enough to ask questions and let them know what's on your mind.
The good news is that a bad fit isn't likely to happen. Most grad students have a completely workable relationship with their dissertation chairs, and for many it turns into a long friendship built on mutual respect and admiration. Personally, every time I serve on a doctoral student's dissertation committee, I feel a tremendous amount of pride and satisfaction when they take their place in the academic world. It's truly an honor to help them achieve such a major milestone in their academic career, and I'm delighted to be part of it.
Related posts: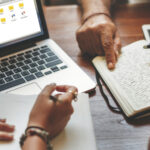 Courtney Watson, Ph.D.
Courtney Watson, Ph.D. is an Associate Professor of English at Radford University Carilion, in Roanoke, Virginia. Her areas of expertise include undergraduate and graduate curriculum development for writing courses in the health sciences and American literature with a focus on literary travel, tourism, and heritage economies. Her writing and academic scholarship has been widely published in places that include  Studies in American Culture ,  Dialogue , and  The Virginia Quarterly Review . Her research on the integration of humanities into STEM education will be published by Routledge in an upcoming collection. Dr. Watson has also been nominated by the State Council for Higher Education of Virginia's Outstanding Faculty Rising Star Award, and she is a past winner of the National Society of Arts & Letters Regional Short Story Prize, as well as institutional awards for scholarly research and excellence in teaching. Throughout her career in higher education, Dr. Watson has served in faculty governance and administration as a frequent committee chair and program chair. As a higher education consultant, she has served as a subject matter expert, an evaluator, and a contributor to white papers exploring program development, enrollment research, and educational mergers and acquisitions.
Comments are closed.
How to Finish Your Dissertation in Half the Time
Learn how to avoid the pitfalls preventing you from finishing your dissertation faster.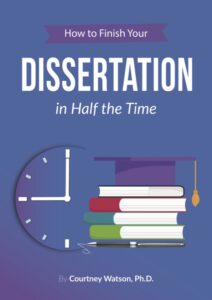 Subscribe to get the free eBook!
Dr. Courtney Watson In the News
" See It for Yourself " in With Good Reason: Beyond the Book July 22, 2022
" I Thought You'd Never Ask: Consent in Contemporary Romance " in New Frontiers in Popular Romance (McFarland) June 13, 2022
Common Errors
Dissertation Success
Presentation
Quantitative Analysis
Surviving Grad School
"How to Finish Your Dissertation in Half the Time"
Graduate School
Student and Advisor Responsibilities
Responsibility
A thesis is required for all programs leading to a Plan A master's degree, and a dissertation is required for the doctor of philosophy degree. This manual was written by the Graduate School to help you and your committee members to prepare theses and dissertations. Its purpose is to define uniform format standards. The word "thesis" refers to both the thesis and the dissertation unless otherwise noted.
Advisor's Responsibility
Your advisor serves as a mentor both while you are doing the thesis work and while the results of that work are prepared for the thesis. Although you have primary responsibility for the content, quality, and format of the thesis, the advisor and the Graduate Advisory Committee must be consulted frequently. They approve the final document before it is submitted to the Graduate School. Advisors are particularly asked to insure that the abstract summarizes clearly and concisely the major points of the thesis.
Student's Responsibility
Your are responsible for making all arrangements for the preparation and submission of the thesis as well as any additional copies required by the department. you should also consider the following:
1. Consult a style manual approved by your department for correct format for quotations, footnotes, and bibliographical items. 2. Refer to the Graduate School Thesis and Dissertation Formatting Guide for guidelines regarding correct format for thesis presentation (including illustrative materials). 3. Edit draft for correct sentence structure, grammar, paragraphing, punctuation, and spelling. 4. Prepare tables in the form in which they are to be printed. 5. Furnish numbering and legends for all tables and illustrative materials. 6. Proofread final copy and check to see that corrections are made accurately. 7. Present a copy to the Graduate Advisory Committee for their review. 8. Submit the final committee approved version electronically.
GA4 Tracking Code
fa51e2b1dc8cca8f7467da564e77b5ea
Make a Gift
Join Our Email List
Advising Senior Theses
Every thesis writer and thesis project is unique, and arguably the single most important thing that you can do as a thesis adviser is to get to know your student well and to be supportive and attentive as they work towards their spring deadline. The amount of structure that different concentrations offer their students can also have a significant impact on how you think about your role as an adviser. In some cases you may feel like an extension of the department's undergraduate office, encouraging your student to follow its well-articulated pathway towards completion and nudging your student to heed (albeit perhaps with some discretion) its recommended proposal or draft deadlines. In other cases you may be the one responsible for translating the concentration's somewhat vague guidelines into an actionable roadmap of recommended thresholds and dates. It's well worth establishing a healthy line of communication with the concentration's undergraduate office (and with anyone else involved in advising your student's academic work) from the start of your advising relationship.
Regardless of the precise structure and obligations surrounding your position as an adviser, there are a number of things which you can do to help just about any student have a meaningful, and successful, experience with the senior thesis. Here are five key contributions which you can make:
Manage expectations
In an ideal world, every student would enter the thesis process fully prepared for every aspect of scholarly work. They all would know how to ask an analytical question suitable for a 60- or 100-page paper, how to find relevant data, how to draw lucid figures, how to format every footnote or methods section, … . Likewise, we might wish that every thesis topic lent itself equally well to the particular constraints of Harvard's resources and academic calendar. If only that essential cache of Russian manuscripts existed in a published English translation in Widener! If only this experimental protocol took two weeks rather than four months! In reality, however, every thesis involves some compromise—perhaps significant compromise. One of your most important jobs as a thesis adviser is to roleplay your student's future audience, and to help your student understand that the most successful theses ask questions that are not only meaningful, but that can be answered at least somewhat plausibly by the set of skills, resources, and time that is available to a Harvard undergraduate. Insofar as a student is determined to tackle a dissertation-sized question, the adviser can at least remind the student that it will be important to frame the results as a "partial" answer or a "contribution towards" an answer in the introduction.
Encourage self-knowledge
As with the previous point about managing expectations, it is important that an adviser be able to remind their student that the senior thesis is not, and will not be, the moment when students magically become "better" people than they already are. Students who have been night owls during their first three years of college are unlikely to transform miraculously into the type of scholars who rise at 6am and write 1000 words before breakfast—no matter how much they yearn to emulate some academic role model. Students who have participated actively in a sport or other extracurricular are unlikely to be able to simply recoup those hours for thesis work—cutting back three hours/week at The Crimson is at least as likely to translate into three more hours spent bantering in the dining hall as it is into three hours spent poring over the administrative structure of the Byzantine Empire. The point is that students can benefit from being reminded that they already know how to do the kind of work expected of them on the thesis, and that it may be counterproductive—if not downright unhealthy—to hold themselves to new or arbitrary standards.
Motivate to start writing early
With relatively few exceptions, most of the writing projects assigned in college are sufficiently modest that students can wait to start writing until they have figured out the full arc of what they want to say and how they want to say it. It's possible, in other words, to plan and hold the entirety of a five-page essay in one's head. This is simply not true of a senior thesis. Theses require the author to take a leap of faith—to start writing before the research is done and long before they know exactly what they want to say. Students may be reluctant to do this, fearing that they might "waste" precious time drafting a section of a chapter that ultimately doesn't fit in the final thesis. You can do your student a world of good by reminding them that there is no such thing as wasted writing. In a project as large as a thesis, writing is not merely about reporting one's conclusions—it is the process through which students come to figure out what their conclusions might be, and which lines of research they will need to pursue to get there.
Model strategies
While academic research and writing can and should be a creative endeavor, it is also undeniably true that even professional scholars draw upon a relatively constrained set of well-known strategies when framing their work. How many different ways, after all, are there to say that the conventional wisdom on a topic has ignored a certain genre of evidence? Or that two competing schools of thought actually agree more than they disagree? Or that fiddling with one variable has the power to reframe an entire discussion? Students may struggle to see how to plug their research into the existing scholarly conversation around their topic. Showing them models or templates that demystify the ways in which scholars frame their interventions can be enormously powerful.
Keep contact and avoid the "shame spiral"
As noted above, the senior thesis is a long process, and while it's rarely a good idea for students to change their work habits in an effort to complete it, it is important that they be working early and often. Occasionally students do become overwhelmed by the scope of the project, and begin to feel defeated by the incremental nature of progress they are making. Even a good week of work may yield only a couple of pages of passable writing. Ideally a student feeling overwhelmed would come to their adviser for some help putting things into perspective. But for a student used to having a fair amount of success, the struggles involved in a senior thesis may be disorienting, and they may worry that they are "disappointing" you. For some, this will manifest as a retreat from your deadlines and oversight—even as they outwardly project confidence. They may begin bargaining with themselves in ways that only serve to sink them deeper into a sense of panic or shame. ("I'm long past the deadline for my first ten pages—but if I give my adviser a really brilliant fifteen-page section, he won't mind! Surely I can turn these four pages into fifteen if I stay up all night!") One of the best things that you can do as an adviser is keep contact with your student and make sure to remind them that your dynamic is not one of "approval" or "disapproval." It is important that they maintain a healthy and realistic approach to the incremental process of completing the thesis over several months.
For more information...
The Art of Thesis Writing: A handout for students
Harvard's Academic Resource Center on Senior Theses
Senior Thesis Tutors at the Harvard College Writing Center
Designing Your Course
In the Classroom
Getting Feedback
Equitable & Inclusive Teaching
Writing Letters of Recommendation
Teaching and Your Career
Teaching Remotely
Tools and Platforms
The Science of Learning
Bok Publications
Other Resources Around Campus
/images/cornell/logo35pt_cornell_white.svg" alt="advisor dissertation thesis"> Cornell University --> Graduate School
Faculty guides to advising & mentoring research degree students.
Graduate students view effective advising, mentoring, and positive, productive relationships with faculty as important to their success in graduate school and on the job market.
The importance of positive and productive faculty-graduate student relationships is supported by research literature on graduate student satisfaction, students' publishing rates during graduate school, and degree completion support, as well as by the findings of Graduate School surveys of graduate students and alumni.
Faculty Guide to Advising Research Degree Students
Advising and mentoring.
Advising and mentoring are often used interchangeably, and faculty may serve in both roles for a student.
Advisor Responsibilities
The faculty advisor is responsible for guiding students in meeting the requirements and expectations of the graduate field and the Graduate School for the degree.
Required coursework
Exams required by the graduate field or the Graduate School
Effective research proposals/prospectus
Research projects
Thesis or dissertation
Along with the graduate student, completes the required annual Student Progress Review (SPR) on the timeline expected by the graduate field.
Writes informed letters of recommendation for a student's job or postdoc applications, often serving in this role for many years after a student graduates.
Mentor Responsibilities
A faculty advisor who also serves as a faculty mentor provides support and guidance that extends beyond the scope of advising and may include any of the following:
Communicates with their mentee about the mutual expectations for their mentoring relationships
Co-constructs a mutual expectations agreement plan with their mentee
Demystifies the structure, culture, and unstated expectations of graduate education
Supports their mentee in building out their professional and mentor network by purposefully introducing them to professional colleagues
Suggests opportunities for career exploration or job applications
Provides nominations for award recognitions and letters of recommendation for the job market
Actively advocates for mentees within the graduate program and in the broader academic or professional community beyond Cornell
May serve as a role model and source of inspiration
May become a professional peer and potential collaborator, in the future
Mentoring relationship may persist over time
Some faculty may serve as both an advisor and mentor to particular students, or only an advisor or only a mentor to other students.
Faculty can encourage graduate students who they advise and/or mentor to cultivate a network of multiple mentors with varied expertise who will provide different functions based on changing needs as graduate students progress through their programs from new students to independent scholars and researchers.
Creating a Culture of Belonging and Respect
Cornell students arrive here from across the world and represent a diversity of social identities, lived experiences, and academic interests. Advisors and mentors play a crucial role in helping students develop a sense of belonging and community within their degree programs, research groups, and the university more broadly.
Advisors and mentors should not only be sensitive to, but also responsive to, the individual differences and experiences of graduate student advisees and mentees. Adopting culturally-aware advising and mentoring practices can help advisors and mentors become more sensitive and responsive to the individual differences and experiences of advisees and mentees.
A Culturally Aware Advising and Mentoring Approach
A culturally aware approach to advising and mentoring requires advisors and mentors to develop an understanding of the lived experiences and social identities of graduate student advisees and mentees. This approach requires advisors and mentors to identify and recognize their own culturally shaped beliefs, perceptions, and judgments and to be cognizant of the cultural differences and similarities between themselves and their advisees and mentees. It also requires advisors and mentors to gain both intrapersonal and interpersonal cultural awareness and skills to recognize and respond to cultural diversity related issues that may arise in their advising and mentoring relationships.
Become aware of implicit biases and how to mitigate them
Learn how to have meaningful conversations about identity and difference with graduate student advisees and mentees
Become more familiar with the potential impact of social identity in challenging conversations, and to learn how to engage empathetically with conflicting perspectives
Avoid making assumptions about the lived experiences and social identities of students by listening and learning from students about their individual experiences and needs
This approach helps create an inclusive, supportive environment where graduate students have the opportunity to feel valued and respected for their individual experiences, differences, and contributions. Students feel a greater sense of belonging within their degree programs, while advisors and mentors better understand the unique backgrounds of their students, which can help inform their individualized advising and mentoring strategies.
For more information, see Byars-Winston, Angela et al. "Pilot Study of an Intervention to Increase Cultural Awareness in Research Mentoring: Implications for Diversifying the Scientific Workforce." Journal of clinical and translational science vol. 2,2 (2018): 86-94. doi:10.1017/cts.2018.25.
Visit the Faculty Advancing Inclusive Mentoring (FAIM) website.
Center for the Improvement of Mentored Experiences in Research (CIMER) Culturally Aware Mentoring Resources
The Intergroup Dialogue Project, in collaboration with the Graduate School, provides annual sessions, Intergroup Dialogue Skills in an Academic Context: Engaging in Challenging Conversations Across Difference , to help advisors and mentors practice tools for communicating across difference and to equip advisors and mentors to employ the LARA (listen, affirm, respond, and add) method within their advising and mentoring practices.
Visit the Graduate School's Implicit Bias Resources page to access tools to help understand and mitigate implicit bias.
Visit the Graduate School's Office of Inclusion and Student Engagement Faculty Resources page to access a recording of Sweeney Windchief's talk on Culturally Attuned Mentoring Paradigms – Relationships in Community Context .
Visit the Office of Faculty Development and Diversity page of Resources to Engage in Conversations About Race and Anti-Racism .
See Inside Higher Ed, Sathy, V., Hogan, K. A., & Sims, C. M. (2020, July 1). A Dozen Plus Ways You Can Foster Educational Equity . Inside Higher Ed.
Advising New Students
The transition to graduate school for new students, and the transition to Cornell for those who may have completed some or all of a graduate degree program elsewhere, can be both an exciting and challenging time.
Location, climate, culture, requirements, and expectations may be new and difficult to navigate. Even the logistics and routines that become commonplace after a short time, such as those involving housing, transportation, weather, nutrition, and wellness, might be overwhelming during the first few weeks and months.
Tips and Resources
Effective advising and mentoring includes knowing about and referring students to the resources they need to help manage these challenges.
Graduate student handbooks, available in most fields, describe the graduate field degree requirements, the field's expectations related to successful study and research, and the resources available to students.
Peer mentoring programs, available in some graduate fields, pair new students with current students to help acclimate them to graduate study at Cornell.
Encourage new students to attend the Graduate Student Orientation .
The Navigating Graduate School page on the Graduate School website lists resources to help admitted and arriving students.
Encourage students to use the Graduate School and other campus resources throughout their time pursuing a Cornell degree.
Advising International Students
International students comprise nearly half of all Graduate School students. With varying levels of English language fluency and experience with the American system of higher education, international students may need additional resources or information to acclimate.
Required Admission Supplement for International Students
Financial Certification
Visas: Special Topics
Summer Program for English and Culture (SPEAC)
The English Language Support Office (ELSO)
Orientation for international graduate and professional students
Visa counseling
Tax and employment advice
Other supports for international students
International Teaching Assistant Language Assessment
International Teaching Assistant (ITA) Summer Training Program
International Teaching Assistant Program (ITAP)
Advising First Generation and Students from Historically Underrepresented Backgrounds
Students who identify with one or more identities historically underrepresented in graduate education – racial/ethnic, gender, sexual orientation, disability, first generation college students, veterans – are more likely to find themselves as being the only or one of few from their social identity groups. Consequently, positive and productive advising and mentoring relationships are especially important to supporting their progression, academic and professional development, and success.
About a third of doctoral recipients identify as first generation college students whose parents do not have a college degree. Though first generation students are represented across all demographic groups, they are more likely to identify with other backgrounds historically underrepresented in the academy. They are also more likely to be from lower to modest socioeconomic backgrounds, potentially making it difficult to cover costs associated with some social and professional activities such as research conferences.
Tip: Making formal and informal professionalization and socialization activities more accessible to all advisees and mentees can help mitigate these challenges.
First generation and other students from backgrounds historically underrepresented in graduate education that did not have access to certain mentoring experiences may lack insights on the sociocultural norms, systems, structures, and unwritten rules of academia, potentially negatively impacting their academic acculturation and successful progression through their graduate studies. This lack of critical knowledge, which can be learned, has the potential to negatively impact their academic acculturation and successful progression through their graduate studies.
Tip: Demystifying the unwritten rules, language, and norms of graduate education especially within the context of a specific graduate field can help mitigate these challenges.
Advisors and mentors play a critical role in helping students identify resources within and beyond their graduate programs to support their development of a sense of belonging and community at Cornell. Regardless of a student's background, it is essential for advisors and mentors not to make assumptions or generalizations about students based on any aspect of their social identities or lived experiences.
Tip: Expressing interest in students as whole individuals, listening to what they choose to share about their experiences, and asking about their specific interests and needs help advisors and mentors make informed suggestions on which opportunities and resources might best meet the academic and professional development needs of advisees and mentees.
For more information, visit the Faculty Advancing Inclusive Mentoring (FAIM) website or contact the Graduate School Office of Inclusion and Student Engagement .
Advising Students with Families
About 30% of Cornell's graduate and professional students have a spouse or partner; almost 10% have one or more children. Many also have responsibility, financial or otherwise, for other family members. These students manage their time, work, and finances with a focus on their family and may ask for advice or share their challenges with faculty who provide a more supportive climate.
Act as a role model for work-life balance.
Communicate and support flexibility in your students' schedules, particularly around personal and holiday time.
Refer students to the Cornell resources that support students with families, such as student-parent dependent care grants , the Cornell Child Care Center , health insurance for dependents, medical care for children, and the lactation rooms.
Become familiar with the Students with Families website, which includes policy updates, special events, and resources for students' spouses/partners and children.
Developing Effective Advising Relationships
Effective (and efficient) advising relationships begin by discussing expectations early on. Transparency about expectations and timely communication are two essential factors associated with good advising and mentoring that graduate students often mention. Cornell graduate students also note the importance of faculty approachability, support, honest and regular feedback, and a recognition that both advisor and advisee and mentor and mentee can benefit from strong, positive relationships.
Developing a shared understanding of expectations
A shared understanding of mutual expectations within an advising or mentoring relationship begins at the first meeting and is continually refined over time. Covering topics, like the ones listed below, will allow both of you to discuss and align expectations.
Ask students about the areas where they might need support: writing, teaching, research, professional networking, etc.
Discuss goals, work style preferences, and communication style – and the degree to which these are in alignment (or the degree to which flexibility and adaptation will be needed).
Suggest areas where the advisor can help based on strengths, skills, knowledge, and availability.
Consider other faculty and administrators who can provide support or mentoring beyond the advisor's own expertise and/or availability.
Be aware of campus resources and refer students to those resources freely and without judgement.
Talk about logistics including frequency of in-person meetings and progress updates by email.
Begin to make plans and set deadlines for meeting degree requirements, such as Q and A exams.
Discuss funding plans.
Discuss needs and expectations for presenting and publishing research, especially in fields where collaborative research and co-authorship are common.
Encourage students to look for information and advice from across campus.
Encourage students to develop a network of mentors.
Tips for Sensitive Conversations
Often, students are not comfortable speaking with their advisor about weaknesses and challenges. Sometimes it helps to refer a student to the Graduate School or another campus office.
"Most students experience stress at some point in graduate school. They find that the deans in the Graduate School are helpful with talking about a range of difficulties, finding community, or resolving problems…even challenges with their advisor!"
"I often suggest to students that they talk to someone at Cornell Health about…motivation, procrastination, anxiety about writing, feelings of isolation, etc."
Advising for Degree Progression and Completion
Effective advisors help their students understand and meet degree and other expectations for successful completion of their program.
Make degree requirements readily available, preferably as part of the graduate field's online graduate student handbook.
Provide students with additional requirement details pertinent to their individual needs or plans.
The expected quality of work
The importance of meeting deadlines
Expectation for establishing professional and social networks in graduate school and in the discipline
Encouragement for attending conferences and making presentations, presenting posters and papers, writing for publication, securing funding, preparing early for the job market, etc.
Provide students with important information specific to your discipline, for example: the length of time it might take to get required approvals to conduct research projects (e.g., from animal care or human participant review boards) and how to continue productivity while waiting for approval, getting timely feedback from faculty on drafts of proposals or dissertation chapters, or how to strategically engage each member of a special committee for greater support and efficiency.
Providing Feedback on Academic Performance
Regular and candid communications about academic progress can help a student be more productive, efficient, and confident that they are moving in an advisor-approved and supported direction for degree completion.
Course requirements
Special committee formation
Fellowship applications and feedback
Field and Graduate School exams
Proposal or prospectus
Research and publications
Consider asking students to use a planning tool like the Individual Development Plan (IDP) in which students outline their academic, research, and professional development plans.
Review and assess progress
Recognize accomplishments
Identify obstacles
Promptly discuss problems and help provide options for addressing them.
Supporting Student Well-being
Mental health and well-being are the foundation for academic and life success.
Not all stress is problematic. Some stress can increase students' functioning, and overcoming challenges is an important part of developing resilience; however, extreme psychological distress can undermine a student's ability to persist and impact degree completion.
Nationally, graduate students report higher levels of depression or anxiety compared to the general population. This is true for Cornell graduate students as well. According to the Cornell Doctoral Experience Surveys (2019 and 2021), over half of Cornell Ph.D. degree students have reported mental health concerns as being a major or minor obstacle to their academic success.
Effective advisors actively create and promote a culture of well-being.
Provide clear expectations , timeline and assessment criteria.
Motivate through positive rather than negative reinforcement.
Get to know your students personally, professionally, and academically.
Encourage your students to get to know each other.
A sense of academic and social belonging improves self-efficacy, mental health, productivity, and satisfaction.
Demonstrate and communicate a belief in a student's ability to grow by acquiring new knowledge and skills.
Provide honest feedback that encourages self-reflection and steady progress forward.
Normalize failure and help-seeking behaviors as part of the process of learning.
Encourage self-reflection practices that allow students to gain greater self-awareness.
Share your own professional journey.
Support student career exploration (within and beyond academia) and preparation.
Validate the importance of rest and self-care in relation to academic performance, mental health, and well-being.
Endorse the practice of taking meaningful breaks and actively managing stress.
Addressing Concerns about Students
At times you may have concerns about your students' well-being and may be unsure what to do. Cornell has resources for you to engage with to support the student's well-being.
Safety: Cornell University Police : 607-255-1111.
Students in crises: Student Support and Advocacy Services in the office of the Dean of Students focus areas include campus-wide case management and crisis response services. Case management consists of building 1-on-1 helping relationships with students while coaching them toward resources, self-care, and self-advocacy. Students experiencing non-crisis physical, psychological, safety, and patterns of academic concern should be referred to this office via this form by selecting the Student of Concern in the Report Type drop-down menu. To reach the Administrator on-Call after-hours , call the Cornell University Dispatch at 607-255-1111 and request to be connected to the Administrator on-Call.
Students in distress: Cornell Health Counseling and Psychological Services (CAPS) counselors are available to assist faculty and staff members regarding students in distress. Contact them at 607-255-5155. During business hours, press 1 for urgent concerns or 2 to be connected with a CAPS receptionist. When Cornell Health is closed, your call will be answered by the answering service, and an on-call health care provider will return your call within 30 minutes.
The Graduate School Office of Graduate Student Life can help determine how best to support academic and student life concerns. We can help brainstorm strategies to support difficult situations, discuss next steps, connect with other campus resources, and make action plans.
Your director of graduate studies is a great resource if you are concerned about the well-being of your student and is often aware of other resources or strategies to best support you and your student.
Disabilities or accommodations: If your student is asking for academic flexibility because of a particular concern (i.e. medical, disability, or experience), refer the student to the Student Disability Services (SDS) Office. SDS will make sure that the institution has fulfilled all legal obligations and provides structure and a process to support both advisor and student in negotiating what is an appropriate accommodation.
There may be times that your student will be best supported through other Cornell offices; please become familiar with other available resources .
Guiding Students' Professional and Career Development
Students engage in professional development opportunities and begin career exploration at varying times. Perceptions about the job market both within and beyond academia can create considerable concern and anxiety, while exploring and preparing for a variety of career options can foster confidence and competence.
Encourage students to utilize the services and engage in the events and programs provided by the Career & Professional Development team within the Graduate School.
Provide encouragement and guidance as your students prepare to enter the job market.
Refer students to resources available on campus, recognizing that advisors may not have direct experience with a specific type of job.
Refer students to designated faculty or career professionals in your field.
Encourage students to attend professional meetings of regional groups or organizations.
Assist students with preparing application materials for appropriate funding opportunities.
Pathways to Success , the Graduate School's professional development framework for graduate students and postdoctoral scholars, is designed to support student success now and into their future careers. Programming is organized into the following thematic focus areas:
Navigate Academia
Build Your Skills
Create Your Plan
Prepare for Your Career
Pathways to Success events and programming are organized and sponsored by the following units within and partners of the Graduate School:
Fellowship application writing workshops
Information sessions
LinkedIn profile workshops
Communicating your research
Career panels
Building Mentoring Skills
NextGen Professors Program
Inclusive excellence workshops
Scholarship of Teaching and Learning
Additional workshops as part of the CIRTL network
Graduate School Primer workshop series for new students
Perspectives workshop series for continuing students
Weekly Walks
Pause and Unplug Yoga
Financial education
Dean's Scholars
Summer Success Symposium
Graduate Students Mentoring Undergraduates
Future Professors Institute
Colman Leadership Program
Academic Jobs Search Series
Postdoc Leadership Program
One-on-one tutoring
Individual academic job search consultations
Online institutional memberships with career components
Additional Pathways to Success Partners
Graduate Writing Service
Cornell Writes! , a digital newsletter on writing sponsored by the Knight Institute for Writing in the Disciplines the Cornell University Graduate School.
Cornell Writing Centers
Ready to Write! online resources for writers
Get Set Program
International TA Program
Teaching Portfolio Program
CTI Fellowship
Graduate and international student career advisor
Job search resources
Job-search curriculum with step-by-step process for exploring careers beyond academia
Speaking Groups
Summer Thesis and Dissertation Writer's Blocks
Nature Masterclasses
Responsible Conduct of Research training and resources
Research Support
Instruction Support
Digitization and Copyright
Current Awareness
Scholarly Publishing
Workshops (asynchronous and synchronous)
Memberships
Through Cornell's institutional memberships with a number of organizations, graduate students also have access free individual memberships with a number of organizations, including the National Center for Faculty Diversity and Development and ImaginePh.D. .
See Free Memberships for Cornell Graduate Students and Postdocs .
Special Challenges in Advising
Special challenge: avoiding email's pitfalls.
Emails often lack nuance, and messages can appear overly demanding or aggressive. Communicating in person is often the best way to foster a positive and effective relationship.
If you need to communicate by email, consider the following tips:
All emails, faculty and student, should be responded to in a timely manner and within two weeks.
For emails requiring a more rapid response, indicate the date by which you need a response.
If students do not respond, consider appropriate next steps to determine if the student is alright or if there are problems that require other resources.
Consequences for non-responsive students should be discussed with the DGS and can include a notification that funding will be withdrawn or the advisor will resign.
Special Challenge: Resolving Conflict
Conflict can be present in any relationship. The power dynamic created by the advisor's supervision, evaluation, and funding roles can make students hesitant to address differences in opinion or approaches. The stakes can feel too high and the outcome too fraught with fear of losing funding or an advisor.
Tips and resources
Graduate Faculty's Code of Legislation
Student Code of Conduct
Policy on Academic Misconduct
Research Misconduct
Graduate School Grievance Policy
Intellectual Property
Graduate Student Assistantships (Policy 1.3)
Communicate regularly and work to clarify any miscommunication.
Talk to the field director of graduate studies (DGS) who can suggest a resolution and also facilitate a conversation with both parties present.
Consult the Office of the University Ombuds .
Associate Dean for Academics, [email protected]
Associate Dean for Inclusion and Student & Faculty Engagement, [email protected]
Senior Assistant Dean for Graduate Student Life, [email protected]
If the conflict can't be resolved to the satisfaction of both parties, the advisor may choose to resign, or the student may choose to get a new advisor.
Students can consult with the Graduate School Associate Dean for Academics or the Senior Assistant Dean for Graduate Student Life about changing advisors. The Graduate School's Code of Legislation provides detailed guidance on changes to special committee membership and committee member resignations.
Challenge: Working with Students Who Want to Leave Graduate School
On occasion a student with whom you are working will decide to leave Cornell for another graduate program or to leave graduate study altogether. These students may find it difficult to discuss their decision. They may believe that leaving a graduate program is a sign of failure or feel guilty that they are letting others, like their advisor, down.
Discuss sound reasons for leaving constructively, for example, a poor fit or timing issues.
Consider other personal or professional reasons, remembering that students often return for graduate study at Cornell or elsewhere.
Consider whether the student will benefit from your advice, especially if there are areas in which the student truly needs to improve to be successful in graduate school.
In cases where the student's academic progress has been inadequate or where there has been conflict or unresolvable mismatch in communication or work styles between student and advisor, refer the student to the DGS or to someone in the Graduate School for this conversation and feedback. The Graduate School can help develop a supportive exit plan to the degree that is possible.
(In situations where the student is leaving related to academic or research misconduct or academic integrity violations, the Graduate School will have been involved from the outset; please contact the Associate Dean for Academics if you have questions.)
Special Challenge: Conflicts of Interest
Conflicts of interest can impact advising and result in inappropriate decisions affecting students. The focus should always be on what is in the student's best interest.
Romantic, sexual, or personal relationships with the student
Intellectual conflicts of interest related to students' freedom to publish research resulting from thesis and dissertation research
Financial conflicts of interests related to outside professional activities, including those in the private sector on faculty-supported projects
The American Association of University Professors (AAUP) cautions that a "conflict of interest does not entail an accusation of wrongdoing. … A conflict of interest refers to a factual circumstance wherein an impartial observer might reasonably infer that a conflict is present."
Faculty should enlist their department chair or others to help manage potential conflicts of interest.
Advisors who want advice when considering whether a potential conflict of interest concerning a student exists, and whether such a conflict can be reasonably managed or should be avoided, can consult with their department chair, the Graduate School, Cornell's Office of Policy , or the Office of the Vice Provost for Research , depending on the specific circumstance.
Personal Relationships with Graduate Students and the Consensual Relationship Policy
Cornell's consensual relationship policy, Policy 6.3 (December 21, 2018) describes relationships that are prohibited as well as those that are not prohibited but that must be disclosed.
Prohibited sexual or romantic relationships include (1) those where a member of the Cornell community has academic or professional authority over a student, (2) those between a faculty member and an undergraduate student, and (3) those where a faculty member holds a position of authority or is likely to do in the foreseeable future.
The policy specifically addresses relationships with graduate and professional students this way:
Because a graduate or professional student's educational pursuits may evolve and that student may become academically aligned with a large number of faculty members or others who are affiliated with the same graduate field or degree program, the university discourages all intra-field/degree program relationships that are romantic or sexual in nature. When a romantic relationship develops under these circumstances that may not directly violate Provisions 1-3 above, it is nonetheless important that the faculty member or other person in authority promptly discloses the relationship to Academic HR Consensual Relationship Reporting ( [email protected] ).
In addition, relationships that meet one or more of the following criteria must also be disclosed to Academic HR:
Faculty in a position of authority over a student when the relationship existed prior to one or both parties coming to Cornell.
Faculty in a position of authority where both parties are in the same graduate field or degree program (albeit without an academic or supervisory relationship).
Faculty currently in a relationship that is in violation of the current policy
Further, the policy notes that "if clarification is desired regarding whether a relationship requires disclosure," faculty should contact Academic HR Consensual Relationship Reporting ( [email protected] ).
Internal and External Educational Resources & Tools
Faculty Advancing Inclusive Mentoring
Cornell Graduate School Practical Steps for Supporting Social Justice & Addressing Inequities
Cornell Graduate School Faculty Resources for Supporting Graduate Student Diversity, Inclusion, and Well-being
Cornell University Office of Faculty Development and Diversity – Resources for Mentors and Mentees
University of Michigan, Rackham Graduate School – Faculty and Graduate Student Mentoring and Advising Guides
National Academics – The Science of Effective Mentoring in STEMM
National Center for Faculty Development and Diversity (NCFDD): Re-Thinking Mentoring: How to Build Communities of Inclusion, Support and Accountability (Focus is on mentoring faculty, but content can be adapted to be relevant to working with graduate students.)
NCFDD: Creating a Harassment Free Lab
NCFDD: How to Engage in Healthy Conflict (Focus is more on faculty to faculty interactions, but content can be adapted to be relevant to working with graduate students.)
National Research Mentoring Network (NRMN) Resources for Faculty Mentors
Clinical & Translational Science Institute: Online Mentor Training Modules (These modules are currently available at no charge to people affiliated with the University of Minnesota and external users who create a guest account with the university.)
Center for the Improvement of Mentored Experiences in Research (CIMER) – Mentor Curricula and Training: Entering Mentoring
University of Minnesota Mentoring Modules – External Registration Guide
Duke University – Graduate School Mentor Toolkit
University of Colorado Boulder – Graduate School Advising Agreement
Nature – The Key to a Happy Life is in the Manual
Faculty Advancing Inclusive Mentorship: FAIM
Faculty Advancing Inclusive Mentoring (FAIM) is an equity-based systemic change initiative that provides a framework for inclusive mentorship applicable across graduate education and the professoriate. Bolstering this framework are resources and tools intended to be adapted and adopted to meet the contextual needs of mentors and mentees.
FAIM is a collaboration of the Cornell Graduate School and Provost Office of Faculty Development and Diversity and the TRUST Alliance, which includes collaborators at Cornell, Montana State, and Purdue Universities. Learn more and access FAIM resources for supporting mentoring within graduate education on the FAIM website .
Skip to Content
Catalog Home
Institution Home
Graduate Catalog /
Academic Resources /
Advising & Mentoring PhD Students /
Choosing a Dissertation Advisor
Introduction.
While some graduate groups may assign an advisor to a student upon admission to the program, in many graduate groups the responsibility for finding a dissertation advisor rests with the student. The choice of a faculty member who will supervise the dissertation work required to fulfill degree requirements is one of the most critical decisions a graduate student will make. A student will spend several years working with the faculty member of choice, and that choice will significantly affect the direction of the student's career. Choosing a dissertation advisor, therefore, is an extremely important decision for doctoral students, although it is not immutable, as will be discussed later.
A student undertaking dissertation work needs an advisor who will be not only academically competent in a particular area but also willing to act as the student's advocate when necessary. It is important that the student be able to work and communicate effectively with the advisor and not feel overwhelmed or intimidated in the relationship. Dissertation work can be lonely and isolating, and support from an advisor can be a crucial connection.  Each student requires the guidance of someone who will stimulate thought, who has sufficient interest in the student's topic to produce new insights jointly, and who will challenge the student to think in a novel manner about the research.
Obtaining Information on Potential Advisors
Advisors generally serve as the dissertation supervisor. Students should be familiar with the University rules about who can supervise dissertation research and serve on a dissertation committee.  Several resources and strategies can help students identify an appropriate faculty advisor, as follows.
The graduate group website or handbook is a valuable source of information on potential advisors. Many graduate groups have developed websites that profile affiliated faculty members, including their areas of research, recent publications, and other academic activities. Literature searches can provide further information on the publications and preferred journals of particular faculty members. The graduate group chair can also provide valuable advice on potential advisors and can help students to become familiar with any specific graduate group policies on supervision.
Students can get to know potential advisors by taking a course, doing a lab rotation, acting as a teaching assistant, and/or attending seminars and other presentations by the faculty member.
Graduate students currently working with the potential advisor are an invaluable source of information. Students who are working or have worked with a particular advisor can be asked about their experience with that advisor and about the advisor's expectations and working methods. Getting to know these students is also useful because anyone choosing to work with a faculty advisor would likely have close, future interactions with their students. Talking to multiple students is always encouraged given the possibly strong and differing opinions one might hear.
Students should make an appointment to meet potential advisors. Meeting a potential advisor is an essential step in determining whether a faculty member would be a good fit in terms of mentoring and interpersonal style and research interested. The following is a list of issues that might be covered in such a meeting: 
How many graduate students do you advise? (Students may not want to pick a faculty member who has too many students already.)
Typically, how often do you meet with your students?
Typically, how much time do you expect students to take to complete their dissertation?
How will we agree upon my research topic?
Are there sufficient funds available for the research project?
What will be the sources of my stipend/funding? What are ways you can provide assistance for finding additional funding if/when my stipend expires?
What level of independence is expected of your graduate students?
Is there any specific knowledge I need to have before starting to work with you?
Will I have the opportunity to attend conferences? Publish papers? Present work at colloquia? Are there funds available for me to do so?
Are you planning a sabbatical leave soon? If so, what arrangements for continued supervision will be made during your absence?
What opportunities would I have in this area of research when I graduate?
How do you typically assist students on the job market?
Will guidelines be drawn up for working together?
How will I receive feedback on my progress?
These questions are designed to help the student and the potential advisor determine whether a good match exists. Where appropriate, the student may also want to ask about the order of authorship on publications and intellectual property issues.
For students who are able to pick an advisor, the choice of a dissertation advisor is a decision to be made with a great deal of care and consideration. Discussion of the topics listed above will also give faculty members a sense of what students expect in terms of meetings, feedback, turn-around time on submitted work, etc. Taking time to explore these issues should result in a productive relationship for both student and advisor that culminates in a dissertation of original research, completed within a reasonable period of time.
Changing Advisors
There may be situations in which a student must change advisors. Some situations are beyond the student's control; for example, when an advisor leaves the University or otherwise becomes unavailable. In other situations, the student may want to choose a different advisor; for example, if the focus of the research project changes to something outside of the current advisor's expertise, or if work styles do not mesh well.
In these latter situations, students should understand that while there can be risks in changing advisors, it usually can be negotiated in a positive manner. Students deciding to change advisors should be sure to consult the graduate group for any specific policies and procedures that apply and be sure to ascertain if funding may change under a new advisor. Students should always be professional and respectful in interactions with the current advisor and potential new advisor and be certain that the proposed new advisor is willing and able to add them as a new advisee before discussing such a change with the current advisor. Students should focus discussions on interests and goals and not on negative incidents or difficulties. The potential new advisor, as well as leaders or other members of the graduate group, may have advice regarding how to broach this change with the current advisor.
Print Options
Print this page.
The PDF will include all information unique to this page.
A PDF of the entire 2023-24 catalog.
A PDF of the 2023-24 Undergraduate catalog.
A PDF of the 2023-24 Graduate catalog.
3.3.1 Academic Advising: Policy
Main navigation.
1. Responsibilities of Advisors
2. Co-Advisors
3. Advisors from Other than the Student's Home Department
4. Change or Replacement of Advisor
Related Content
Last updated on: Wednesday, April 18, 2018
Provides that all graduate students are to receive appropriate advising throughout their degree programs.
Effective academic advising is a critical component of a successful graduate degree program. At Stanford, all matriculated graduate students are to be advised by a member of the faculty. The nature of academic advising may differ for different programs and at different stages in a degree program. 
By the start of their first term of graduate study, students should select or be paired by the degree program with faculty advisors who assist them in planning a program of study to meet degree requirements. The process for the selection or assignment of advisors for incoming students, sometimes referred to as program advisors, academic advisors, or first-year advisors, varies and should be explained in writing to incoming students. The timing and process by which students may change from this initial advisor to a more permanent advisor should also be explained.
The degree program should also ensure that doctoral students are informed in a timely fashion about procedures for selecting a principal dissertation advisor, reading committee members, and orals committee members. Degree programs should make every effort to assist doctoral students who are not yet admitted to candidacy in finding an appropriate principal dissertation advisor, and dissertation co-advisor if appropriate.  
Students are obliged to follow degree program procedures for identifying advisors and committee members for their dissertation reading and university oral examinations and ensure the membership of those committees is aligned with university policies (see  GAP 4.7  Doctoral Degrees, University Orals Examinations and Committees  and  GAP 4.8  Doctoral Degrees, Dissertations and Dissertation Reading Committees ). 
Authority: 
Committee on Graduate Studies (policy)
Degree programs (implementation)
Applicability: 
Applicable to all graduate students, faculty who advise graduate students, and degree programs.
Related Pages: 
3.3.2 Academic Advising: Implementation
1. Responsibilities of Advisors
General responsibilities of faculty advisors.
The university requires that within each degree program minimum advising expectations be set for both advisor and advisee. Such minimum expectations must differentiate between master's and doctoral programs, and between different types of advisors (academic/program vs. research.) These degree program expectations must be distributed to faculty and graduate students on an annual basis at the start of each academic year and must be easily accessible on the web. Faculty are expected to affirm that they have received the advising expectations. Each faculty member has the prerogative to augment the degree program's advising expectations with their specific additional expectations, while remaining consistent with the degree program's advising policies. 
Faculty advisors are to: 
serve as intellectual and professional mentors to their graduate students
provide knowledgeable support concerning the academic and non-academic policies that pertain to graduate students
help to prepare students to be competitive for employment
maintain a high level of professionalism in the relationship
establish and collaboratively maintain expectations of the advisor/advisee relationship, consistent with degree program standards.
Dissertation Advisors
The principal dissertation advisor (also called thesis advisor or research advisor), who must be a member of the Academic Council, establishes a critically important relationship with the doctoral student. The principal dissertation advisor provides guidance and direction to the doctoral student's research, as well as evaluation of the student's progress, often in the context of a research group. As a mentor and a role model, the dissertation advisor plays a critical role in the student's development as an academic researcher. In many cases, the dissertation advisor is expected to provide financial support for the doctoral student, typically from research grants and contracts.
The dissertation advisor will normally serve as a member of the student's oral examination committee, and as the chair of the student's doctoral dissertation reading committee.  
Because of the critical importance of this role, and the potential significance of difficulties that may arise in this relationship, degree programs should designate a resource for faculty members and graduate students to call on for assistance in resolving difficulties. This role may be filled by the department chair, the faculty Director of Graduate Studies, or a specially designated resource in the degree program. Students, faculty, and staff may also consult with campus resources including VPGE, the  Graduate Life Office , the  School Dean's Offices , and the  University Ombuds  or  School of Medicine Ombuds .
Back to top
2. Co-Advisors
At their discretion, students may identify a co-advisor in addition to the principal dissertation advisor; normally both principal advisor and co-advisor are members of the Academic Council. A former Stanford Academic Council member, emeritus professor, or non-Academic Council member may serve as co-advisor with the appointment of a principal dissertation advisor who is currently on the Academic Council (see  GAP 4.8 Doctoral Degrees, Dissertations and Dissertation Reading Committees ). Professors who have recently become emeritus and have been recalled to active duty may serve as principal dissertation advisors, though they are no longer members of the Academic Council. Requests for further exceptions to the requirement that the principal dissertation advisor be a current member of the Academic Council, for example for recently retired emeritus professors who are still actively engaged on campus, but not recalled to active duty, will be reviewed by the Office of the Vice Provost for Graduate Education.
3. Advisors from Other than the Student's Home Department
It is expected that faculty advisors will hold an appointment in the student's major department or program. An advisor may be appointed from outside the major department subject to the approval of the major department; a co-advisor who is a member of the department is recommended.  Departmental approval is conveyed by means of recording the name of the advisor in the PeopleSoft Student Administration record. Students enrolled in an interdisciplinary graduate program (IDP) should have a faculty advisor who is affiliated with the program. Interdisciplinary program approval of an advisor outside the department is automatic, since by definition IDPs only have affiliated faculty, not departmental faculty.
4. Change or Replacement of Advisor
Students may change advisors at different time points in their program. For example, in some degree programs it is typical to change sometime within the first two years from an assigned first-year or program advisor to a principal dissertation advisor selected by agreement of the student, faculty, and degree program. Students may change advisors for other reasons, for example, if their research interests change or if their advisor leaves Stanford. Occasionally, a student's research may diverge from the area of competence of the advisor, or irreconcilable differences may occur between the student and the faculty advisor. In such cases, the student or the faculty advisor may request a change in assignment. The degree program should make every reasonable effort to facilitate the change and to pair the student with another suitable advisor, which may entail some modification of the student's research project.
In the rare case where a student's dissertation research on an approved project is in an advanced stage and the dissertation advisor is no longer available, every reasonable effort must be made to appoint a new advisor, usually from the student's reading committee. This may also require that a new member be added to the reading committee before the draft dissertation is evaluated, to keep the reconstituted committee in compliance with the university requirements for its composition. (Advisor changes are made with the  Change of Dissertation Adviser or Reading Committee Member  form).
In the event that a student's advisor leaves Stanford University or becomes emeritus, and has not been recalled to active duty, that advisor may continue to work with the graduate student as a co-advisor and serve on the oral and dissertation reading committees, with the appointment of a principal dissertation advisor who is currently a member of the Academic Council (see  GAP 4.8 Doctoral Degrees, Dissertations and Dissertation Reading Committees ). Professors who have recently become emeritus and have been recalled to active duty may serve as principal dissertation advisor, though they are no longer members of the Academic Council. Requests for further exceptions to the requirement that the principal dissertation advisor be a current member of the Academic Council, for example for recently retired emeritus professors who are still actively engaged on campus, will be reviewed by the Office of the Vice Provost for Graduate Education.
Related Policies
GAP 4.7 Doctoral Degrees, University Oral Examinations and Committees
GAP 4.8 Doctoral Degrees, Dissertations and Dissertation Reading Committees
Related Student Services Sections
Related information and forms.
Policies & Best Practices for Advising Relationships at Stanford  (pdf)
Guidelines for Faculty-Student Advising at Stanford  (pdf)
Change of Dissertation Adviser or Reading Committee Member form

Survival Skills for Thesis and Dissertation Candidates pp 53–57 Cite as
Roles and Responsibilities of a Research Advisor
Robert S. Fleming 3 &
Michelle Kowalsky 4  
First Online: 15 September 2021
816 Accesses
Part of the Springer Texts in Education book series (SPTE)
Rather than taking a journey alone, many travelers will decide to have a companion accompany them on their trip. This is often the case when one is embarking on a long trip or traveling to a destination to which they had not traveled before.
This is a preview of subscription content, access via your institution .
Buying options
Available as PDF
Read on any device
Instant download
Own it forever
Available as EPUB and PDF
Compact, lightweight edition
Dispatched in 3 to 5 business days
Free shipping worldwide - see info
Tax calculation will be finalised at checkout
Purchases are for personal use only
Bibliography
Joyner, R. L., Rouse, W. A., & Glatthorn, A. A. (2013). Writing the Winning Thesis or Dissertation: A Step-by-Step Guide . Thousand Oaks, CA: Corwin Press.
Google Scholar  
Nygaard, L. (2017). Writing your master's thesis: From A to Zen . Sage.
Parija, S. C., & Kate, V. (2018). Thesis writing for Master's and Ph.D. program . Singapore: Springer.
Download references
Author information
Authors and affiliations.
Rohrer College of Business, Rowan University, Glassboro, NJ, USA
Robert S. Fleming
Campbell Library, Rowan University, Glassboro, NJ, USA
Michelle Kowalsky
You can also search for this author in PubMed   Google Scholar
Corresponding author
Correspondence to Robert S. Fleming .
Rights and permissions
Reprints and Permissions
Copyright information
© 2021 The Author(s), under exclusive license to Springer Nature Switzerland AG
About this chapter
Cite this chapter.
Fleming, R.S., Kowalsky, M. (2021). Roles and Responsibilities of a Research Advisor. In: Survival Skills for Thesis and Dissertation Candidates. Springer Texts in Education. Springer, Cham. https://doi.org/10.1007/978-3-030-80939-3_11
Download citation
DOI : https://doi.org/10.1007/978-3-030-80939-3_11
Published : 15 September 2021
Publisher Name : Springer, Cham
Print ISBN : 978-3-030-80938-6
Online ISBN : 978-3-030-80939-3
eBook Packages : Education Education (R0)
Share this chapter
Anyone you share the following link with will be able to read this content:
Sorry, a shareable link is not currently available for this article.
Provided by the Springer Nature SharedIt content-sharing initiative
Find a journal
Publish with us
Have a language expert improve your writing
Run a free plagiarism check in 10 minutes, generate accurate citations for free.
Knowledge Base
Dissertation
What Is a Thesis? | Ultimate Guide & Examples
What Is a Thesis? | Ultimate Guide & Examples
Published on September 14, 2022 by Tegan George . Revised on July 18, 2023.
A thesis is a type of research paper based on your original research. It is usually submitted as the final step of a master's program or a capstone to a bachelor's degree.
Writing a thesis can be a daunting experience. Other than a dissertation , it is one of the longest pieces of writing students typically complete. It relies on your ability to conduct research from start to finish: choosing a relevant topic , crafting a proposal , designing your research , collecting data , developing a robust analysis, drawing strong conclusions , and writing concisely .
Thesis template
You can also download our full thesis template in the format of your choice below. Our template includes a ready-made table of contents , as well as guidance for what each chapter should include. It's easy to make it your own, and can help you get started.
Download Word template Download Google Docs template
Table of contents
Thesis vs. thesis statement, how to structure a thesis, acknowledgements or preface, list of figures and tables, list of abbreviations, introduction, literature review, methodology, reference list, proofreading and editing, defending your thesis, other interesting articles, frequently asked questions about theses.
You may have heard the word thesis as a standalone term or as a component of academic writing called a thesis statement . Keep in mind that these are two very different things.
A thesis statement is a very common component of an essay, particularly in the humanities. It usually comprises 1 or 2 sentences in the introduction of your essay , and should clearly and concisely summarize the central points of your academic essay .
A thesis is a long-form piece of academic writing, often taking more than a full semester to complete. It is generally a degree requirement for Master's programs, and is also sometimes required to complete a bachelor's degree in liberal arts colleges.
In the US, a dissertation is generally written as a final step toward obtaining a PhD.
In other countries (particularly the UK), a dissertation is generally written at the bachelor's or master's level.
Here's why students love Scribbr's proofreading services
Discover proofreading & editing
The final structure of your thesis depends on a variety of components, such as:
Your discipline
Your theoretical approach
Humanities theses are often structured more like a longer-form essay . Just like in an essay, you build an argument to support a central thesis.
In both hard and social sciences, theses typically include an introduction , literature review , methodology section ,  results section , discussion section , and conclusion section . These are each presented in their own dedicated section or chapter. In some cases, you might want to add an appendix .
Thesis examples
We've compiled a list of thesis examples to help you get started.
Example thesis #1:   "Abolition, Africans, and Abstraction: the Influence of the 'Noble Savage' on British and French Antislavery Thought, 1787-1807" by Suchait Kahlon.
Example thesis #2: "'A Starving Man Helping Another Starving Man': UNRRA, India, and the Genesis of Global Relief, 1943-1947″ by Julian Saint Reiman.
Example thesis #3:  "An Introduction to Higher-Order Frames in Communication: How Controversial Organizations Maintain Legitimacy Over Time" by Kees Smeets
The very first page of your thesis contains all necessary identifying information, including:
Your full title
Your full name
Your department
Your institution and degree program
Your submission date.
Sometimes the title page also includes your student ID, the name of your supervisor, or the university's logo. Check out your university's guidelines if you're not sure.
Read more about title pages
The acknowledgements section is usually optional. Its main point is to allow you to thank everyone who helped you in your thesis journey, such as supervisors, friends, or family. You can also choose to write a preface , but it's typically one or the other, not both.
Read more about acknowledgements Read more about prefaces
An abstract is a short summary of your thesis. Usually a maximum of 300 words long, it's should include brief descriptions of your research objectives , methods, results, and conclusions. Though it may seem short, it introduces your work to your audience, serving as a first impression of your thesis.
Read more about abstracts
A table of contents lists all of your sections, plus their corresponding page numbers and subheadings if you have them. This helps your reader seamlessly navigate your document.
Your table of contents should include all the major parts of your thesis. In particular, don't forget the the appendices. If you used heading styles, it's easy to generate an automatic table Microsoft Word.
Read more about tables of contents
While not mandatory, if you used a lot of tables and/or figures, it's nice to include a list of them to help guide your reader. It's also easy to generate one of these in Word: just use the "Insert Caption" feature.
Read more about lists of figures and tables
If you have used a lot of industry- or field-specific abbreviations in your thesis, you should include them in an alphabetized list of abbreviations . This way, your readers can easily look up any meanings they aren't familiar with.
Read more about lists of abbreviations
Relatedly, if you find yourself using a lot of very specialized or field-specific terms that may not be familiar to your reader, consider including a glossary . Alphabetize the terms you want to include with a brief definition.
Read more about glossaries
An introduction sets up the topic, purpose, and relevance of your thesis, as well as expectations for your reader. This should:
Ground your research topic , sharing any background information your reader may need
Define the scope of your work
Introduce any existing research on your topic, situating your work within a broader problem or debate
State your research question(s)
Outline (briefly) how the remainder of your work will proceed
In other words, your introduction should clearly and concisely show your reader the "what, why, and how" of your research.
Read more about introductions
A literature review helps you gain a robust understanding of any extant academic work on your topic, encompassing:
Selecting relevant sources
Determining the credibility of your sources
Critically evaluating each of your sources
Drawing connections between sources, including any themes, patterns, conflicts, or gaps
A literature review is not merely a summary of existing work. Rather, your literature review should ultimately lead to a clear justification for your own research, perhaps via:
Addressing a gap in the literature
Building on existing knowledge to draw new conclusions
Exploring a new theoretical or methodological approach
Introducing a new solution to an unresolved problem
Definitively advocating for one side of a theoretical debate
Read more about literature reviews
Theoretical framework
Your literature review can often form the basis for your theoretical framework, but these are not the same thing. A theoretical framework defines and analyzes the concepts and theories that your research hinges on.
Read more about theoretical frameworks
Your methodology chapter shows your reader how you conducted your research. It should be written clearly and methodically, easily allowing your reader to critically assess the credibility of your argument. Furthermore, your methods section should convince your reader that your method was the best way to answer your research question.
A methodology section should generally include:
Your overall approach ( quantitative vs. qualitative )
Your research methods (e.g., a longitudinal study )
Your data collection methods (e.g., interviews or a controlled experiment
Any tools or materials you used (e.g., computer software)
The data analysis methods you chose (e.g., statistical analysis , discourse analysis )
A strong, but not defensive justification of your methods
Read more about methodology sections
Your results section should highlight what your methodology discovered. These two sections work in tandem, but shouldn't repeat each other. While your results section can include hypotheses or themes, don't include any speculation or new arguments here.
Your results section should:
State each (relevant) result with any (relevant) descriptive statistics (e.g., mean , standard deviation ) and inferential statistics (e.g., test statistics , p values )
Explain how each result relates to the research question
Determine whether the hypothesis was supported
Additional data (like raw numbers or interview transcripts ) can be included as an appendix . You can include tables and figures, but only if they help the reader better understand your results.
Read more about results sections
Your discussion section is where you can interpret your results in detail. Did they meet your expectations? How well do they fit within the framework that you built? You can refer back to any relevant source material to situate your results within your field, but leave most of that analysis in your literature review.
For any unexpected results, offer explanations or alternative interpretations of your data.
Read more about discussion sections
Your thesis conclusion should concisely answer your main research question. It should leave your reader with an ultra-clear understanding of your central argument, and emphasize what your research specifically has contributed to your field.
Why does your research matter? What recommendations for future research do you have? Lastly, wrap up your work with any concluding remarks.
Read more about conclusions
In order to avoid plagiarism , don't forget to include a full reference list at the end of your thesis, citing the sources that you used. Choose one citation style and follow it consistently throughout your thesis, taking note of the formatting requirements of each style.
Which style you choose is often set by your department or your field, but common styles include MLA , Chicago , and APA.
Create APA citations Create MLA citations
In order to stay clear and concise, your thesis should include the most essential information needed to answer your research question. However, chances are you have many contributing documents, like interview transcripts or survey questions . These can be added as appendices , to save space in the main body.
Read more about appendices
Once you're done writing, the next part of your editing process begins. Leave plenty of time for proofreading and editing prior to submission. Nothing looks worse than grammar mistakes or sloppy spelling errors!
Consider using a professional thesis editing service or grammar checker to make sure your final project is perfect.
Once you've submitted your final product, it's common practice to have a thesis defense, an oral component of your finished work. This is scheduled by your advisor or committee, and usually entails a presentation and Q&A session.
After your defense , your committee will meet to determine if you deserve any departmental honors or accolades. However, keep in mind that defenses are usually just a formality. If there are any serious issues with your work, these should be resolved with your advisor way before a defense.
If you want to know more about AI for academic writing, AI tools, or research bias, make sure to check out some of our other articles with explanations and examples or go directly to our tools!
Research bias
Survivorship bias
Self-serving bias
Availability heuristic
Halo effect
Hindsight bias
Deep learning
Generative AI
Machine learning
Reinforcement learning
Supervised vs. unsupervised learning
 (AI) Tools
Grammar Checker
Paraphrasing Tool
Text Summarizer
AI Detector
Plagiarism Checker
Citation Generator
The conclusion of your thesis or dissertation shouldn't take up more than 5–7% of your overall word count.
If you only used a few abbreviations in your thesis or dissertation , you don't necessarily need to include a list of abbreviations .
If your abbreviations are numerous, or if you think they won't be known to your audience, it's never a bad idea to add one. They can also improve readability, minimizing confusion about abbreviations unfamiliar to your reader.
When you mention different chapters within your text, it's considered best to use Roman numerals for most citation styles. However, the most important thing here is to remain consistent whenever using numbers in your dissertation .
A thesis or dissertation outline is one of the most critical first steps in your writing process. It helps you to lay out and organize your ideas and can provide you with a roadmap for deciding what kind of research you'd like to undertake.
Generally, an outline contains information on the different sections included in your thesis or dissertation , such as:
Your anticipated title
Your abstract
Your chapters (sometimes subdivided into further topics like literature review , research methods , avenues for future research, etc.)
A thesis is typically written by students finishing up a bachelor's or Master's degree. Some educational institutions, particularly in the liberal arts, have mandatory theses, but they are often not mandatory to graduate from bachelor's degrees. It is more common for a thesis to be a graduation requirement from a Master's degree.
Even if not mandatory, you may want to consider writing a thesis if you:
Plan to attend graduate school soon
Have a particular topic you'd like to study more in-depth
Are considering a career in research
Would like a capstone experience to tie up your academic experience
Cite this Scribbr article
If you want to cite this source, you can copy and paste the citation or click the "Cite this Scribbr article" button to automatically add the citation to our free Citation Generator.
George, T. (2023, July 18). What Is a Thesis? | Ultimate Guide & Examples. Scribbr. Retrieved November 8, 2023, from https://www.scribbr.com/dissertation/thesis/
Is this article helpful?
Tegan George
Other students also liked, dissertation & thesis outline | example & free templates, writing strong research questions | criteria & examples, 10 research question examples to guide your research project, what is your plagiarism score.
Theses and Dissertations
Defense and submission.
Below is an overview of the main steps in preparing, defending, and submitting your thesis or dissertation. For detailed instructions on each step, see The Graduate School's  Guide for Electronic Submission of Thesis and Dissertation (PDF) , in addition to this video recording from a workshop given on the subject. 
Schedule your defense and apply for graduation in DukeHub ( defense and graduation deadlines ).  
At least 30 days before your defense: Confirm or update your defense committee.  
Give your thesis/dissertation to your advisor for inspection, and prompt your advisor to send a letter to [email protected] stating that it is complete and ready to defend. Note: For students in School of Medicine Ph.D. programs, their advisor letters are generated through T3.  
Request your DGSA to send a departmental defense announcement to  [email protected] . Note: For students in School of Medicine Ph.D. programs, their departmental defense announcements are generated through T3.  
At least 2 weeks before your defense: Submit your complete, correctly formatted dissertation/thesis to ProQuest (initial submission). Also provide it to each member of your committee.  
Optional: After you receive an email through ProQuest from the Graduate School administrator who reviewed your thesis/dissertation format, you may make an appointment for a brief, virtual meeting with the administrator to discuss any questions you have about the defense process or the recommended formatting revisions.  
A few days before your defense, The Graduate School will generate your final examination certificate and email it to the chair/co-chair(s) of your examination committee and the DGSA of your department. Note:  For students in School of Medicine Ph.D. programs, their final examination certificates are generated and released through T3.  
Defend your dissertation. After your final examination, your committee members will vote on whether you passed or failed. Your chair and DGS will record the votes on your final examination certificate, sign it, and submit it to The Graduate School. Your committee may vote that you passed but still require minor edits or corrections before final submission.  
As soon as possible after your defense, submit to [email protected] the Non-Exclusive Distribution License and Thesis/Dissertation Availability Agreement ("embargo agreement") signed by yourself and your thesis/dissertation advisor.  
Within 30 days after your successful defense, or by the established final submission deadline (whichever is first): Submit the final version of your dissertation/thesis to ProQuest.
Guide for Electronic Submission of Thesis and Dissertation (PDF)
We provide the following templates for your convenience and to help you eliminate common formatting errors. However,  all submitted theses and dissertations must meet the specifications listed in the ETD guide . The manuscript must be a completed document, formatted correctly, with no sections left blank.
Word Template for Thesis/Dissertation (Word)
LaTex Template for Thesis/Dissertation (ZIP)
Notes about the LaTex Template
This LaTex template is for both master's and Ph.D. students. Master's theses must also have an abstract title page. This LaTex template may not show one, so please be sure to add it.
Neither The Graduate School nor OIT supports LaTex beyond providing this template.
When you submit your thesis or dissertation electronically, you will also permit Duke University to make it available online through  DukeSpace  at Duke Libraries. See the pages below for more information about ETDs:
ETDs Overview
ETD Availability
ETD Copyright Information 
ETD Technical Help 
Check out the writing support  offered by The Graduate School, such as writing spaces, consultations, and access to online writing workshops, communities, and resources.
Continuous Registration
Students who have achieved candidacy and are working on a thesis or dissertation are expected to comply with the enrollment requirements as set forth in the sections entitled Course Load    and Continuous Enrollment   . Advice or assistance from a member of the faculty in the preparation of the thesis or dissertation should not be expected unless the student is officially enrolled.
Students are required to be continuously enrolled (i.e., each Fall and Spring semester), including the semester in which the thesis or dissertation is submitted to, and accepted by, the university. Failure to enroll in thesis/dissertation courses may delay graduation and may result in the loss of financial assistance and other privileges. A student not enrolled in a Fall or Spring term is not eligible for a teaching or research assistantship during that term. The student should consult the individual college requirements regarding summer registration for thesis or dissertation credit hours.
Students may enroll in absentia for thesis/dissertation courses if arrangements are made through the department of their major at least two weeks before the registration period. Registration for all other students must be completed in the prescribed manner during the announced registration period. The thesis or dissertation course is considered part of a student's current course load.
Thesis/Dissertation Committee
The thesis/dissertation committee (also called advisory committee) advises the student on research and writing of the thesis /dissertation, conducts the final oral examination (as required by the program) and approves the final version of the thesis/dissertation. A thesis/dissertation committee should include at least three members. The thesis/dissertation committee must have members from the student's graduate program/academic unit. It may have additional members that are serving as an external committee member. The majority of members must be currently active in the scholarship of the field.
One committee member will serve as the chair of the thesis/dissertation committee. In some cases, two committee members may be appointed as co-chairs and will share the chair responsibilities.
If a student's thesis/dissertation chair is a faculty member whose primary appointment is not in the graduate program offering the degree, then they must receive approval from the graduate program director/department chair to serve as a co-chair with a faculty member from the program also serving as co-chair. If the academic unit/graduate program has specified departmental or college policies regarding thesis/dissertation committee members, the student will follow the specified procedures of the graduate program/academic unit as long as they do not conflict with the policy outlined here.
The thesis/dissertation chair (or co-chairs) is (are) the student's mentor(s) and guide(s) through the degree program. Students should consult the departmental policy regarding the appropriate number of thesis/dissertation committee members, the process for the selection of the committee members and the process to request changes in the committee membership. If the chair of a student's dissertation committee leaves the University and the student is near completion of the degree and wants the chair to continue to serve in this role, the student, in consultation with the graduate program director and committee members, should ask a current member of the University of Houston faculty to serve as the co-chair of the committee.
A prospective committee member who is not a member of the University of Houston faculty may receive approval to serve on a thesis/dissertation committee by the chair of the committee. The chair has the responsibility of confirming that the prospective committee member has the requisite qualifications (typically, a terminal degree, subject matter expertise, and active in the field) to serve on the committee. When the committee chair approves a non-UH committee member to serve on the committee, they should provide a CV/resume from that member as part of the committee composition record.
Changes to the Thesis/Dissertation Committee require the approval of the student, new committee members, and the graduate program director. The graduate director (and department chair) will have the authority to make changes in case of a disagreement over the committee composition. In case a dispute goes beyond the department, the associate dean for graduate studies (and dean) will have this authority to appoint committee members and/or appoint an external thesis/dissertation chair to oversee the proceedings. Exceptions to this process may be granted by petition to the Vice Provost and Dean of the Graduate School.
All thesis/dissertation committee members should be entered into the student information system when the committee is formed to facilitate accurate academic records. Exception: At this time, committee members not employed by the University of Houston cannot be entered into the student information system.
A graduate program may have stricter requirements with respect to the final exam/defense and these requirements should be clearly articulated in the written policies and procedures or catalog entry for the graduate program.
Final Exam/Defense
The thesis/dissertation committee will conduct a final exam/defense as specified in the degree requirements. The final exam/defense should be scheduled such that the thesis/dissertation is available in nearly final form so that the committee has adequate time to review the document prior to the final exam/defense. While the final exam/defense may broadly cover the disciplinary field of the candidate's training, the primary questioning should be related to the thesis/dissertation. A positive evaluation by the thesis/dissertation committee - with at most one dissension - is required for a student to pass. The dissenting member should indicate their dissent on the approval form. At the discretion of the thesis/dissertation committee and per the graduate program rules, a student may be given one opportunity to repeat a final exam/defense for the master's/doctoral degree. The repeat exam/defense must be held no later than the end of the next fall/spring semester (summer terms excluded). A graduate program may have stricter requirements with respect to the final exam/defense and these requirements should be clearly articulated in the written policies and procedures or catalog entry for the graduate program.
A student enrolled in a thesis/dissertation course should receive a grade of S/U each semester until the semester in which the thesis/dissertation is defended and finalized. Upon completion of the thesis/dissertation, the student is awarded a letter grade commensurate with performance in that course. A final grade of B or better is required on the completed thesis/dissertation in order for the student to graduate. Colleges will ensure that the thesis or dissertation has been submitted and approved, and a letter grade of B or better assigned to the thesis/dissertation course, prior to certifying the student's graduation.
This letter grade may be applied to thesis/dissertation course hours up to a maximum of 12 cumulative total letter-graded credit hours of Dissertation coursework for a Doctoral degree and a maximum of 6 cumulative total letter-graded credit hours of Master's Thesis coursework for a Master's degree. Once students are enrolled in thesis/dissertation courses, they must continuously enroll in them until a degree is conferred. (Also see section on the 99-Hour Doctoral Cap   .)
Preparation of Document
The University of Houston uses an electronic thesis/dissertation submission process for submission of the final, official version of the document to the university. Please check with your specific department or college for details regarding the steps for submitting a thesis or dissertation to your college and the university.
Approval of Document Proposal
Students must receive approval of their thesis or dissertation proposal from their thesis or dissertation committee. In some departments, students may not begin research prior to admission to candidacy without the approval of an advisor. The committee is approved by the dean of the college upon the advice of the appropriate department chair or in accordance with college policies. Students must check with their departments or programs for deadlines regarding the submission of the thesis or dissertation proposal.
The thesis or dissertation must present evidence of a mastery of the literature in an area of study, a significant contribution to knowledge, and the ability to conduct independent research.
Every thesis, dissertation or other research project involving the use of Human subjects must be approved by the Committee for the Protection of Human Subjects before research is started. Students should consult their faculty advisors for information. For additional information or an application form, contact the Office of Research Policies, Compliance and Committees , 316 Ezekiel W. Cullen Building, (713) 743-9104.
Suggested Form
As a general rule, the format and style of presentation should conform to the most acceptable standards of scientific and scholarly writing in the discipline. For instances in which this general rule is an inadequate guide, reference should be made to a style manual approved by the college or department.
Before preparing the thesis or dissertation, the student should obtain a copy of the guide for the preparation and submission of theses and dissertations from the appropriate college office.
Approval of the Final Draft
The final draft of the thesis or dissertation must be completed and submitted to the advisory committee as early as stipulated by the committee, but no later than the deadlines specified by the college. After students have received approval of the final draft from their advisory committee, they must submit it to the college for approval no later than the deadline specified by the college.
Electronic Submission
Once they have received approval from the college, students must submit the college-approved thesis or dissertation electronically for archiving by the University. Students will submit the work and faculty will approve it using Vireo, following the instructions found at the following link: http://www.uh.edu/graduate-school/thesis/ . Students must submit their documents in Portable Document Format (PDF) per the guidelines on the web site, following all program, department, and/or college-specific requirements. Students may have hard copies of their theses or dissertations bound for personal use, and they should check whether their specific program, department, college, or library requires a bound copy as well.
After your thesis/dissertation has been approved by your advisor and college in Vireo, your document's content is considered finalized and you are not allowed to make any changes.
Deadline for Completed Submission
All student, department, and college approval processes for submission of thesis or dissertation-including college approval of defended thesis or dissertation, assignment of final grade(s) for thesis or dissertation courses by the faculty advisor, and all components of electronic submission to the university for archiving-must be completed no later than the final grading deadline for faculty for session 1 (regular academic session) of the academic term, as published in the graduate  Academic Calendar   .
Early Submission
If a student meets all of the requirements described above for completed submission of thesis or dissertation prior to the last day to add a class in session 1 (regular academic session) of the academic term, they are eligible to request via petition to have their minimum required enrollment reduced to one credit hour. Such petitions are approved at the discretion of the Associate Dean for graduate studies of the respective college and filed with the Graduate School. Such petitions must be submitted to and approved by the Associate Dean for graduate studies no later than the last day to add classes in session 1 (regular academic session) of the academic term, as published in the graduate Academic Calendar   . Students who meet this early submission deadline and do not submit a petition to request a reduced minimum required enrollment by the last day to add a class in session 1 (regular academic session) for the academic term are required to remain in the required three credit hours of enrollment. 
Previous Publication of Materials
Students who have previously published portions of their electronic thesis or dissertation in professional journals or in books must demonstrate who ultimately retains the copyright to the published works before material can be made publicly available in UH Libraries' Vireo repository. It is the student's responsibility to determine copyright ownership; he/she should consult the contracts signed between the corresponding author and the publisher to determine the copyright holder.
Future Publication of Materials
It is recommended that any future publication (article or book) include a note indicating that the material is, or is based upon, a thesis or dissertation submitted in partial fulfillment of the requirements for the designated degree at the University of Houston.
Take Down Policy
The University of Houston Institutional Repository (UH IR) is intended to be a permanent archive of, and provide persistent access to, deposited theses and dissertations, among other materials. When authors submit their thesis or dissertation to the Vireo system, it will be deposited in the UH IR pending any embargo, and will only be removed under special circumstances, including copyright violations, plagiarism, or falsification of data . When authors leave the University, their material will remain in the repository. Authors who wish to request the removal of items that they, or others, have submitted to UH IR should contact the Library by emailing [email protected] . The requesters should provide a full statement of the rationale for removing the item, which will be reviewed by UH Libraries and the Graduate School. In cases where material is removed, the citation/metadata information will remain displayed.
Dissertation & Thesis Editing
Books and Journal Articles
Coaching and Consultation
Research Assistance
Quantitative
Qualitative
Coaching & Consultation
Document Review Service
Meet The Team
Client Testimonials
Pricing & Payments
Make Payment
Editing and Statistics Packages
Self-Publication Services Pricing
What does a Dissertation Advisor, Dissertation Chair, or Thesis Advisor do?
20th October 2016
Tagged under: Uncategorized
Read More Client Testimonials
Dissertation Editor
+1 857-600-2241 info@dissertation-editor.com 1 Mifflin Place, Suite 400, Cambridge, MA 02138
© 2023 PhD Advantage, LLC , all rights reserved.
Academic Integrity Policy Policies, Terms & Conditions Referral Rewards Privacy Policy Site map

Completing Your Degree
Select Section
Formatting Your Thesis or Dissertation
The document that you submit for format approval must be a complete, defense-ready document. This means you should choose your style guide in consultation with your chair, write an abstract that meets the Graduate College guidelines, and thoroughly check your document for consistency, grammar, punctuation, etc. Keep in mind that a significant portion of the formatting (i.e., margins, spacing and pagination) will be done by the ASU Format Wizard . The ASU Format Wizard is required for all students that have a document that goes through Graduate College format review. Please review the ASU Graduate College Format Manual  before creating your document, and use the Format Checklist for students and Format Checklist for chairs and co-chairs .
Preparing for the format process
Choose a style guide
All students are required to follow a standard style guide or accepted journal in their field. A style guide should be used in addition to the ASU Graduate College Format Manual . Although format advisors do not review your document for strict adherence to style guide requirements, you must use a style guide, in conjunction with the Format Manual, to format your document. You and your chairperson are responsible for ensuring your document follows your style guide.
Be aware that the Graduate College requirements outlined in this document supersede those of your style guide or journal.
Using your style guide
Any aspect of your document that is not addressed in the Format Manual is subject to the guidelines of your chosen style guide. You will use your style guide to format the following elements (if applicable) of your thesis/dissertation:
Heading structure and style (e.g., centered or flush left, etc.) for each level
Table format (e.g., gridlines) and style of table titles (e.g., italics, above the table)
Style of figure captions (e.g., flush left, below the figure)
Citation method (e.g., numbers or author names) and format (e.g., parentheses or brackets)
Reference list (or notes/bibliography) format (e.g., author-date, publication type, alphabetical, etc.)
Quotation format (e.g., spacing/indenting of block quotes)
Consult with your chair and department as there are often specific recommendations regarding which style guide you should use. Make sure you use the most current version of the selected style guide to be confident that you are following the publication standards in your field of study.
The format advising office created the following quick reference PDF guides to assist you in using the most common style guides:
Write your abstract
Your abstract should present a succinct summary of the research and results of the work you completed for your thesis/dissertation. Many researchers read abstracts to determine the relevance, reliability and quality of a source; therefore, if you create a clear and concise abstract, others are more likely to read your entire document.
You may find it helpful to review other abstracts from your field or visit the  ETD/Proquest website . Writing assistance is also available from  ASU Writing Centers .
Your abstract may be utilized as a resource by other researchers, thus the Graduate College has developed the following guidelines to assist you in writing an abstract that is both informative and concise:
Structure your paragraph(s) to include: - An introduction to the study or project which helps place the research in context - A clear description of your methods of analysis or experiment process - A summary of your results and conclusions
Proofread carefully for spelling, grammatical, or punctuation errors
Maintain a professional tone and avoid colloquialisms
Do not include bibliographic citations in the abstract
Do not write in the future tense; past or present tense is preferred
You may use special characters and foreign alphabets if necessary
Never use "we," "us" or "our" since your document is not co-authored
Wherever an acronym first occurs in the text, write it out in full, followed by the acronym in parenthesis (e.g., "Graduate Program Services (GPS)")
Please keep in mind that while you want to be as specific as possible, you must not exceed the maximum word-length guidelines. All students must limit their abstracts to 350 words or less. Your chair/advisor can assist you in selecting the most appropriate information to include in your abstract.
Revise your document
Before your document is submitted to the Graduate College, you and your committee should thoroughly review your document and check for technical as well as grammatical errors. Additionally, you should have at least two other readers proofread your document to make corrections and catch typographical errors. If you need further assistance, you may also visit  ASU's Writing Centers .
You must work diligently to ensure that your document is free of sentence fragments, fused sentences, comma splices, agreement errors, punctuation errors, etc. Remember that although the format advisor may catch some of these errors, it is ultimately the responsibility of you and your chair to ensure your document is error-free for publication.
Email a format advisor
Unsure how to interpret the Format Manual? Have a situation that seems unique?  Email a format advisor . Typically, an ASU Graduate Format Advisor will be able to address e-mail inquiries within three (3) business days. However, as the semester deadlines approach, students should expect to wait up to ten (10) business days for a response.
Please Note: Format advisors do not provide advice regarding the use of software, and cannot instruct students on how to use software.
Formatting your document
To assist students with formatting their thesis or dissertation, the Graduate College provides a formatting tool, called the Format Wizard, in Microsoft Word and LaTeX. This tool will help with formatting the preliminary pages of your document, fixing the margins, and setting pagination. Please keep in mind that, regardless of whether you use the Formatting Wizard or not, you must still review your document to ensure compliance with the Graduate College standards. The  ASU Graduate College Format Manual  is the rubric with which your document is reviewed and will supersede your style guide and the Format Wizard.
ASU Format Wizard
The ASU Format Wizard is a resource used to provide assistance as you write your thesis or dissertation under the supervision of your committee chair. The Format Wizard is designed to help students with basic format requirements such as margins and spacing, and may greatly streamline the format process for you. This tool will also format preliminary matter and page numbers for you; however, it will not format your citations or create your headings.
You will need to carefully review the final document generated through the Format Wizard to ensure it adheres with your selected style guide requirements. Your document must satisfy professional standards of published research. Both your committee and the Graduate College expect to see evidence of careful attention to style and format in the document that you present to fulfill the requirements for your graduate degree.
You must not assume that the Format Wizard will do all of the formatting for you. You will have to go through your document to make any changes necessary to meet Graduate College standards. Please use the software option that you are comfortable editing, as the Graduate College will not provide assistance in using your software.
Preview the  Format Wizard Instructions (PDF)
Access the  ASU Format Wizard .
Please use the Format Wizard in conjunction with the format guide, keeping in mind that some updates may need to be done manually.
Microsoft Word users
Current issues we are resolving include the alignment of page numbers for entries in the table of contents and the alignment of the page numbers throughout the document.
LaTeX users
Please refer to the LaTeX template on the website  https://github.com/GarenSidonius/ASU-Dissertation-Template
Submitting your document
Students must submit documents through their iPOS by clicking on the Format tab and uploading a Word or PDF document as an attachment. If you are attaching multiple files, the documents must be submitted as a compressed zip file.
The document should be uploaded to your iPOS 10 business days prior to the defense.
Documents should only be submitted after consultation with the student's committee/chair and must be a complete, defense-ready document (i.e. meets standards set by the  ASU Graduate College Format Manual , complete content).
The Graduate Format team will not review incomplete documents or those that have not been formatted according to the format manual. If students submit a partial or incomplete document, the document will be returned without evaluation and revisions will be requested before further review.
Students must be enrolled in at least (1) credit hour during the semester they plan to defend their thesis/dissertation and while working on format revisions.
Non-thesis culminating events (Applied Projects, Capstone Courses, Comprehensive Exams or Portfolios) do not need format approval from the Graduate College. For questions regarding documents that require special format, please email  [email protected] .
Revision process
A format advisor checks your work against the ASU Graduate College Format Manual requirements. They also spot-check for misspellings, inconsistencies, typographical errors, and grammatical problems, but a thorough review of the entire document for these errors is the responsibility of you and your chair.
Graduate College may return the document to you for additional revisions. Turnaround time for review fluctuates depending upon the volume of documents, and increases as the semester deadlines approach, but you should expect a response within 3 – 5 business days. Your document will be reviewed as quickly as possible, and you will be contacted electronically upon completion of the review (correspondence is done via your ASU email, so check frequently).
After you have made the required corrections outlined in the email and reviewed the entire document, you will need to upload your revised document in your iPOS. This process will continue until your document is ready for electronic submission through ETD/ProQuest.
To avoid jeopardizing your graduation, be sure to submit your final revisions by the posted semester deadline (graduation deadlines). If the deadline is not met, you will be required to register (and pay) for one (1) graduate-level credit hour the following semester to be able to graduate.
Final document submission to ProQuest
You will receive an email from the Graduate College format advisor notifying you that your document is ready for electronic submission through ETD/ProQuest. Read the email carefully as you may receive instructions before  final submission to ETD/ProQuest . You must have received format approval from the Graduate College and your final defense result from your committee.
When can I expect to get my format review revisions?
Turnaround time depends on the time during the semester when you submit your document for initial review. As a general rule, the closer document submission is to the semester deadlines, the longer it will take for your review to be completed due to the increased volume of documents received. Regardless, your document will be reviewed as quickly as possible and you will be notified of the results by email.
How long do people typically have to make revisions?
Format revisions can be made after the defense, along with any changes recommended by the committee.
I am from out of town, and I'm concerned about how to go through the format review process long-distance. Can you offer any advice?
Documents should be uploaded in the students iPOS and then once approved, uploaded to ProQuest. Please note that the students' defense must be scheduled prior to format submission and that the document must be submitted at least ten business days prior to the scheduled defense ( 10 Working Day Calendar ). Students' final defense results or 'Final Pass' are electronically entered by the committee chair in the iPOS. This indicates that the defense committee has given final approval of the thesis/dissertation. Students can see the status of their document and their defense through their MyASU account.
Would it be possible for me to meet with a format advisor to have my document checked for any changes that need to be made before I submit for format review?
We cannot conduct a review before you submit your document and schedule your defense. We encourage all students to use the  ASU Format Wizard  to build the shell, page margins, and preliminary matter of their document. For specific information please consult the  ASU Graduate College Format Manual  or the standard formatting requirements.
If I am still in the process of revising the text, am I able to submit my work for a format review? In other words, does the document need to be completely finished before I give it to you?
Your document must be completed before you submit it for format review. However, it is likely that your committee will suggest revisions that may require the inclusion of additional material. As such, you may make changes to your document after initial format review, as suggested by your committee.
Could you clarify which dates belong on the Title Page?
The center of your Title Page should list the month and year of your defense. The bottom of your Title Page should have the month and year of your graduation (December, May, or August), and should be located just above the 1-inch margin.
My abstract is 482 words. The Format Manual says 350 words maximum. Is this mandatory?
Yes! If an abstract is longer than 350 words, potential readers may only be able to read up to that point. For more information on writing your abstract, see the  ASU Graduate College Format Manual .
My document includes photographs for which I have obtained permission to use. Where in the document do I include this statement of permission?
Documents that make use of copyrighted material or research involving human or animal subjects must include a statement indicating that the publisher or appropriate university body has approved the use of material or research. You should include any approval documents in an appendix and follow the formatting as expressed in the  ASU Graduate College Format Manual .
References, footers and endnotes
What do I do about direct quotes from an online journal? Since there are no page numbers, how do I indicate where the quote came from?
For citing online sources, refer to the style guide you chose to write your document. If your style guide does not have specific instructions, you may also refer to the Columbia Guide to Online Style.
Are there any size requirements for the endnotes?
Endnotes should be the same size as the text. For footnotes, however, the size may be smaller.
How do I insert approval documents or other original printed materials in the appendix? Is this done by scanning, or is there another process?
You may scan or photocopy as long as you maintain the 1.25-inch side margins and the 1-inch top and bottom margins. Images may be reduced as necessary to retain the proper margins but must stay legible.
How are tables within appendices numbered-consecutively or numbered within the appendix (e.g., Tables 1-5 in Appendix A, Tables 1-5 in Appendix B)?
Refer to your style guide concerning tables in appendices, or if your style guide does not address this issue, defer to your chair/advisor's recommendation.
Beyond format review: finishing up
What steps need to be completed after my defense?
Once all corrections have been made and approved by your committee, your committee chair will electronically enter your Final Pass in the iPOS. After the Graduate College receives your final defense result and all format revisions have been completed, the student will receive an email approval to proceed to ETD/ProQuest. Make sure to check your email regularly for any additional revision requests after submitting to ProQuest. Be sure to check both your ASU email as well as the email used to register with ProQuest. Please see MyASU for further information, and always check the graduation deadlines and procedures tab.
ETD/ProQuest
How do I order bound copies of my thesis/dissertation?
You may order bound copies of your document through ETD/ProQuest. Alternatively, you may also go to any third party bindery to obtain bound copies if desired. Locating a third party vendor is the responsibility of the student; ASU Graduate College does not endorse outside vendors.
I ordered a copy of my thesis/dissertation through ProQuest. Why haven't I received it yet?
Unfortunately ASU cannot answer questions regarding the purchase of bound documents. Purchasing questions and comments should be directed to ProQuest's Support section at  www.etdadmin.com/asu
Harvard Library
Research Guides
Faculty of Arts & Sciences Libraries
Computer Science Library Research Guide
Find dissertations and theses.
Get Started
What is Peer Review?
How to get the full-text
Find Conference Proceedings
Find Patents This link opens in a new window
Find Standards
Find Technical Reports
Find Videos
Ask a Librarian This link opens in a new window
Engineering Librarian
How to search for Harvard dissertations
DASH , Digital Access to Scholarship at Harvard, is the university's central, open-access repository for the scholarly output of faculty and the broader research community at Harvard. Most Ph.D. dissertations submitted from March 2012 forward are available online in DASH.
Check HOLLIS, the Library Catalog, and refine your results by using the Advanced Search and limiting Resource Type to Dissertations
Search the database ProQuest Dissertations & Theses Global Don't hesitate to Ask a Librarian for assistance.
How to search for Non-Harvard dissertations
Library Database:
ProQuest Dissertations & Theses Global
Free Resources:
Many universities provide full-text access to their dissertations via a digital repository. If you know the title of a particular dissertation or thesis, try doing a Google search.
Related Sites
Formatting Your Dissertation - GSAS
Ph.D. Dissertation Submission - FAS
Empowering Students Before you Sign that Contract! - Copyright at Harvard Library
Select Library Titles
<< Previous: Find Conference Proceedings
Next: Find Patents >>
Last Updated: Oct 17, 2023 5:12 PM
URL: https://guides.library.harvard.edu/cs
Harvard University Digital Accessibility Policy
Watch the workshop recording: Finish Your Dissertation or Thesis Once and For All
Career & Tools
Did you miss our Special Guest Workshop with Alison Miller but want to learn to be more productive and effective at writing and conducting academic research? Would you like to develop and use a sound project-management approach to completing your dissertation or thesis? Then be sure to watch the recording from the event! Read on for more info and a link to the video.
If you missed our Special Guest Workshop with Alison Miller today but still want to learn how to:
Be productive and effective at writing and conducting academic research
Develop and use a sound, project-management approach to completing a dissertation or thesis
Increase motivation, create meaningful accountability and overcome common pitfalls such as writer's block, self-doubt, procrastination, and perfectionism
Work effectively with faculty and prepare for successful proposal and final defense meetings
Develop a strong foundation for success in post-graduate school life
... then be sure to check out the video of the event below! You can also view the recordings from Alison's 2019 workshop , 2021 workshop , and 2022 workshop .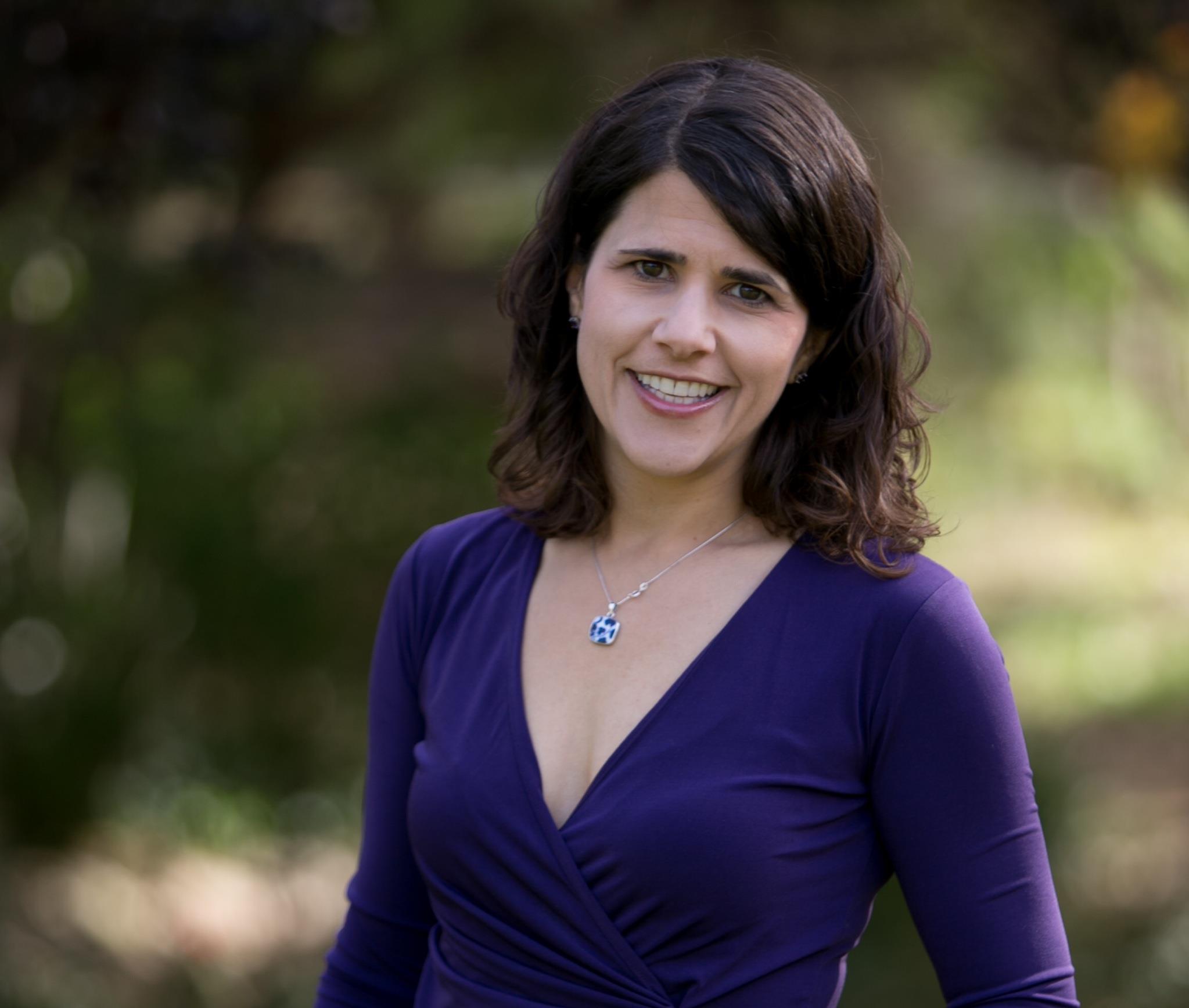 Alison Miller, Ph.D., is the owner of The Dissertation Coach , a company that offers coaching, consulting, and workshops to graduate students and faculty, and The Academic Writers' Space , a coworking membership community that supports academics to build a sustainable path to consistent productivity. Alison has a Ph.D. in Clinical Psychology from the University of Illinois at Chicago and a BA in psychology from Cornell University.
Help | Advanced Search
Computer Science > Computer Vision and Pattern Recognition
Title: etdpc: a multimodality framework for classifying pages in electronic theses and dissertations.
Abstract: Electronic theses and dissertations (ETDs) have been proposed, advocated, and generated for more than 25 years. Although ETDs are hosted by commercial or institutional digital library repositories, they are still an understudied type of scholarly big data, partially because they are usually longer than conference proceedings and journals. Segmenting ETDs will allow researchers to study sectional content. Readers can navigate to particular pages of interest, discover, and explore the content buried in these long documents. Most existing frameworks on document page classification are designed for classifying general documents and perform poorly on ETDs. In this paper, we propose ETDPC. Its backbone is a two-stream multimodal model with a cross-attention network to classify ETD pages into 13 categories. To overcome the challenge of imbalanced labeled samples, we augmented data for minority categories and employed a hierarchical classifier. ETDPC outperforms the state-of-the-art models in all categories, achieving an F1 of 0.84 -- 0.96 for 9 out of 13 categories. We also demonstrated its data efficiency. The code and data can be found on GitHub ( this https URL ).
Submission history
Access paper:.
Download PDF
Other Formats

References & Citations
Google Scholar
Semantic Scholar
BibTeX formatted citation

Bibliographic and Citation Tools
Code, data and media associated with this article, recommenders and search tools.
arXivLabs: experimental projects with community collaborators
arXivLabs is a framework that allows collaborators to develop and share new arXiv features directly on our website.
Both individuals and organizations that work with arXivLabs have embraced and accepted our values of openness, community, excellence, and user data privacy. arXiv is committed to these values and only works with partners that adhere to them.
Have an idea for a project that will add value for arXiv's community? Learn more about arXivLabs .
Recreate your Alerts for ProQuest Dissertations & Theses Global
Article Number: 000095531
How to recreate your alerts
If you have a my research account:.
Log into your My Research account and go to the 'Alerts' tab
Locate the Alert(s) that contain(s) ProQuest Dissertations & Theses Global in the 'Databases' field in the 'Databases' field
Make a copy of the information about the alert:
The text in the 'Searched for' field
Any parameters you included with your search that are displayed in the 'Limited by' field, if applicable (if it does not show it's because you didn't use any limiters in your search).
The information on the 'Frequency' field

After April 1 st , go to ProQuest Dissertations & Theses Global , log into your My Research account, recreate your search with the above parameters and click on 'Create Alert' on the list of results to set up the new alert.
If you don't have a My Research account:
Look for one of the previously received alert emails from ProQuest for your search
Make a copy of the information about the alert that displays on the email:
The Alert Name you gave to this alert
The text in the 'Search for' field
The information about the frequency of the alert, which displays at the top: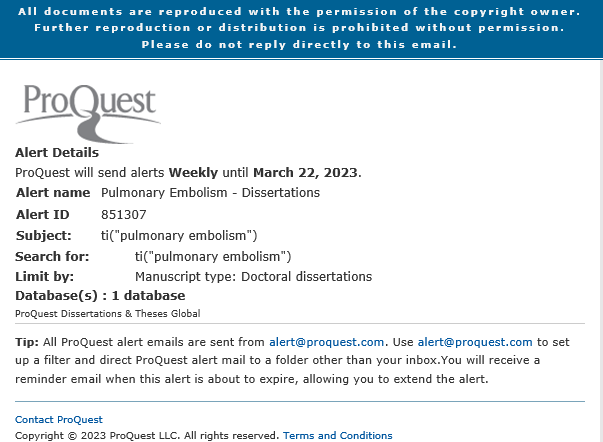 After April 1 st , go to ProQuest Dissertations & Theses Global , recreate your search with the above parameters and click on 'Create Alert' on the list of results to set up the new alert.
If you want to be able to see and manage all your alerts, you should consider creating a My Research account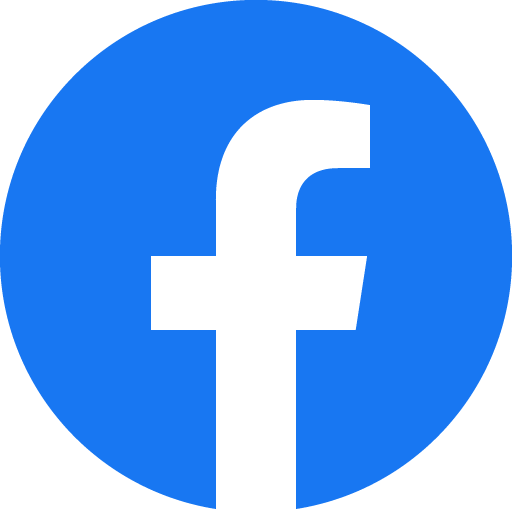 https://support.proquest.com/s/article/Recreate-your-Alerts-for-ProQuest-Dissertations-Theses-Global?language=en_US
Privacy regulations require that we get your consent to continue to collect, store and use the personal information submitted for account creation or collected while using our services.
I consent to the collection and use of my personal information consistent with the Privacy Policy . I acknowledge that use of the service is subject to the Terms & Conditions .
Report a Problem with this Article
Submit a case.
Having an issue? Submit a Support Case and we'll get right on it.
Chat with Us
Chat is now available. If you are looking for quick feedback, chat with us now.
We're here to help. Give us a call if you aren't finding answers to your questions.

ProQuest ExLibris is committed to empowering researchers and librarians around the world.
Copyright © 2023 ProQuest LLC